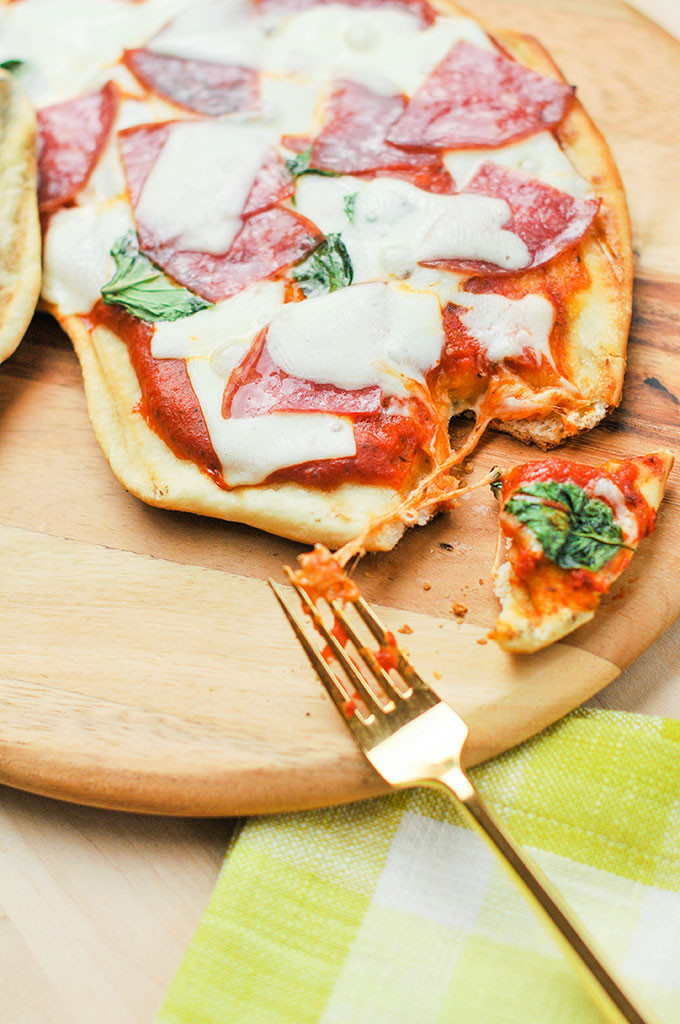 Guys. GUYS! I'm just all about the food. I'm all about the eating. I'm about the dinner table and the memories made around it. Every summer, we get so excited to break out the grill and ham it up every night. We make this Grilled Margherita Pizza around the clock every summer. It's a staple at our house, and it's usually one we make anytime we are entertaining. And you should probs make it, too. But beware: you will have people knocking at your door every night. Just sayin'. Keep on reading for recipe!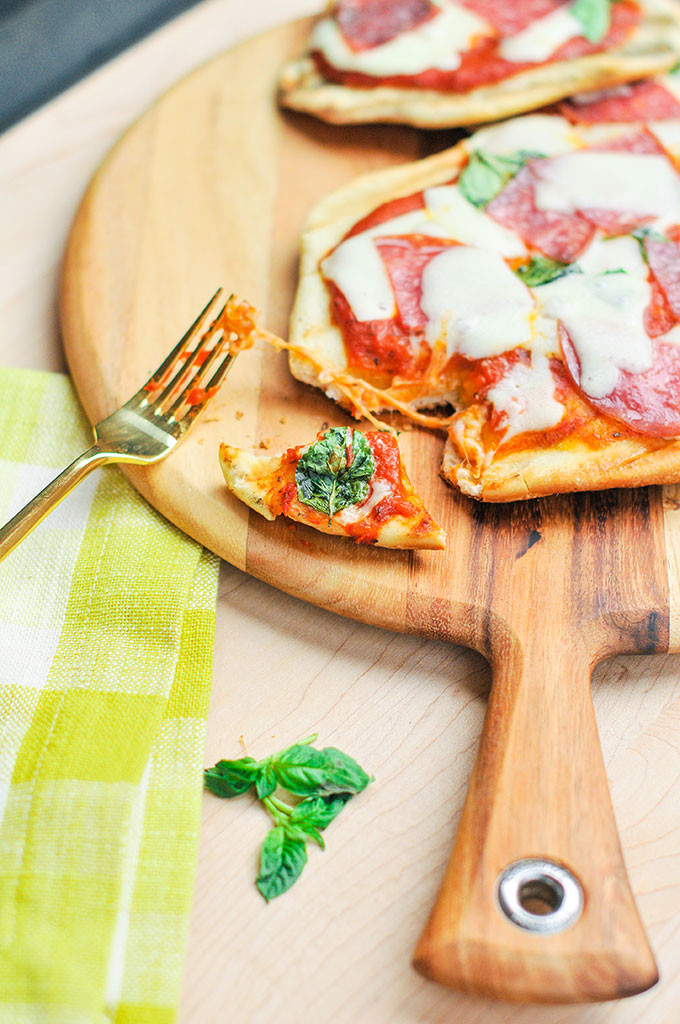 It's really all about the ingredients. Now, we are meat-eaters in our home. Carnivores. But you can forget the pepperoni. I only go for the Italian stuff – Genoa Salami. It is sooooo good.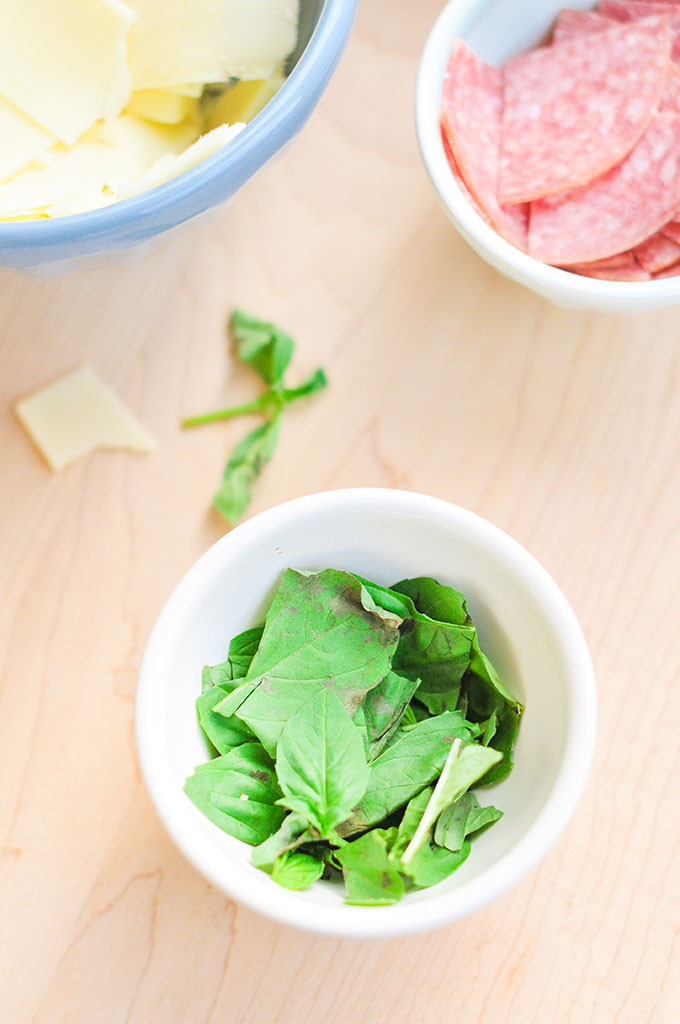 Fresh basil to show your pals the amount of class you possess. Fresh basil just oozes success.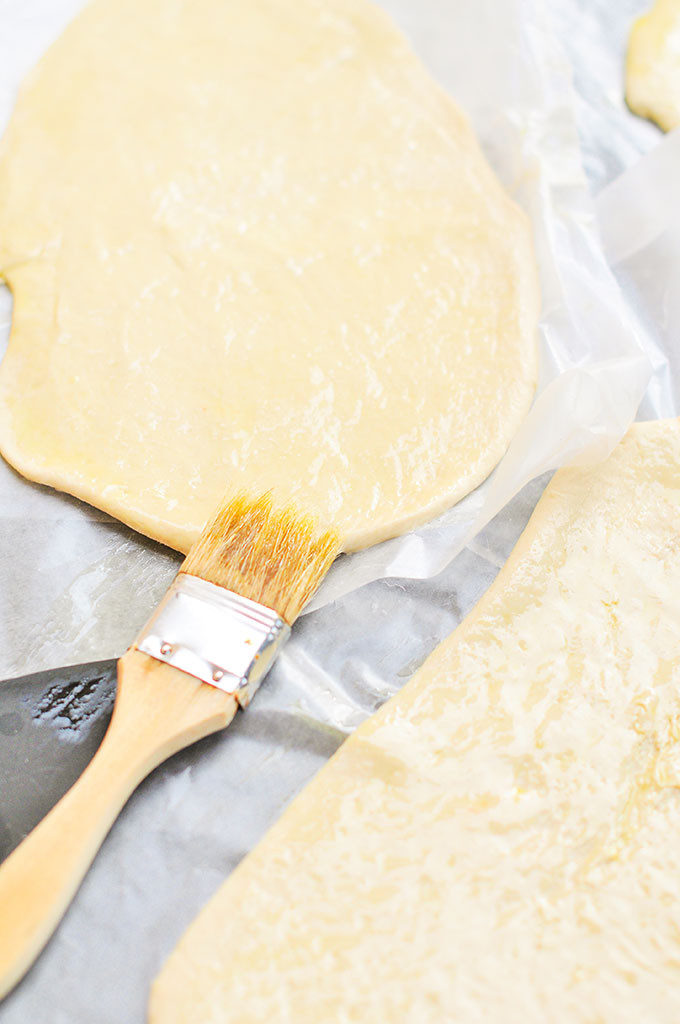 The other key factor to the success of this pizza is that the dough is homemade. And it takes, like, five minutes to put together, and an hour to rise. So make the bread, and then go watch an episode of Scandal…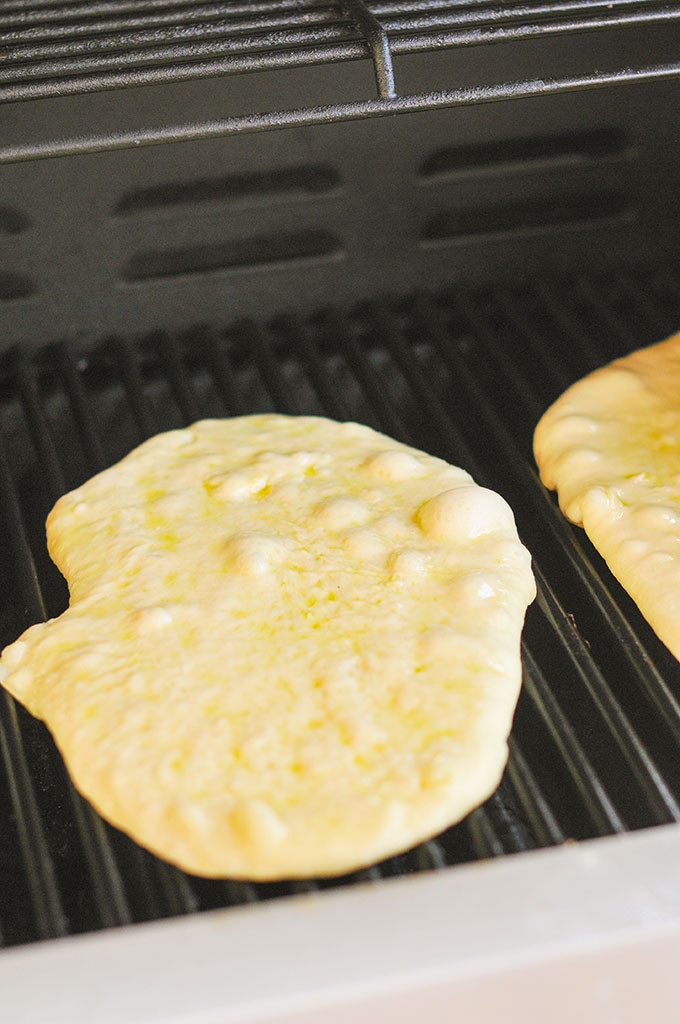 Hey bubbles. Does anyone remember sitting on the sidewalk on a hot day and popping the little bubbles in the tar that filled the sidewalk cracks? No? Just me?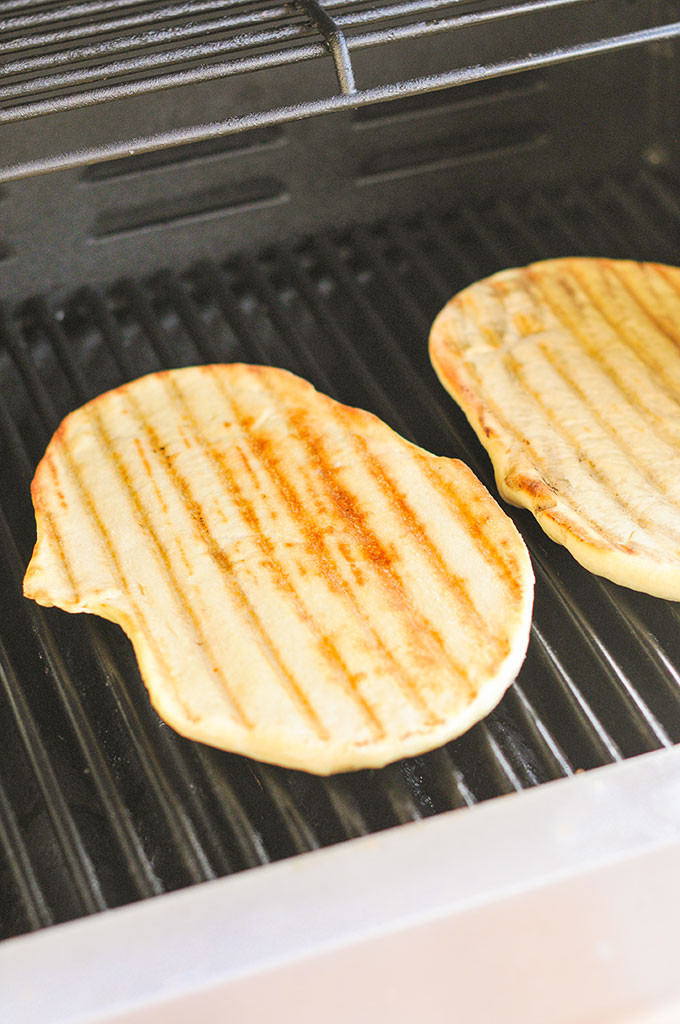 You get those grill lines and you know that it works. We just got this grill a few weeks ago. And it changes lives. We have been rocking the $30 charcoal grill for years. And, it's been hard on the grilled-pizza-lover in all of us.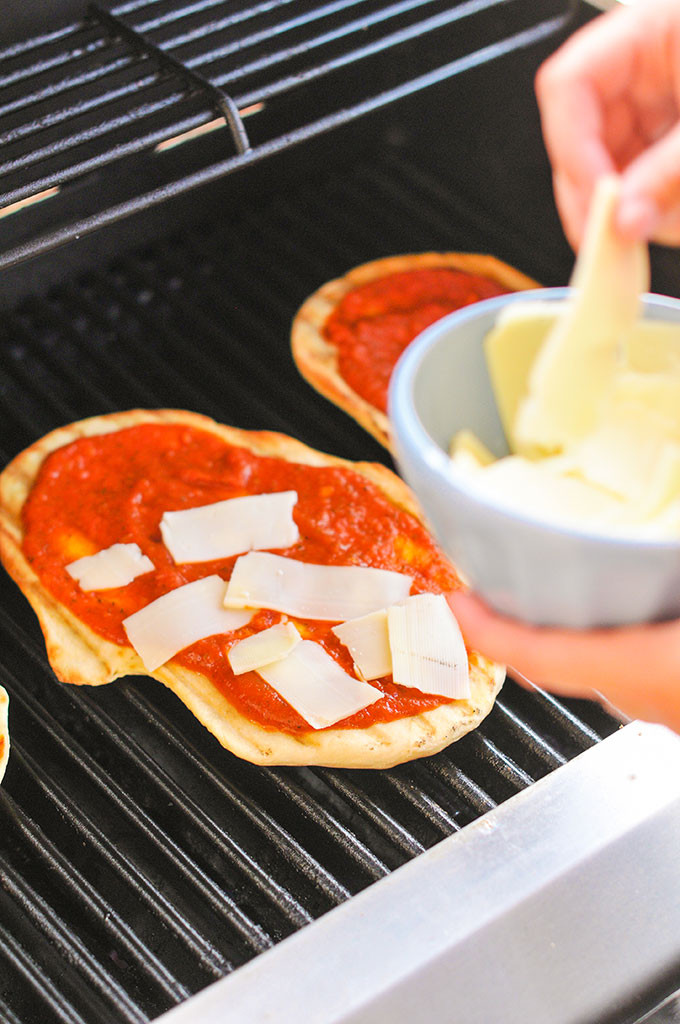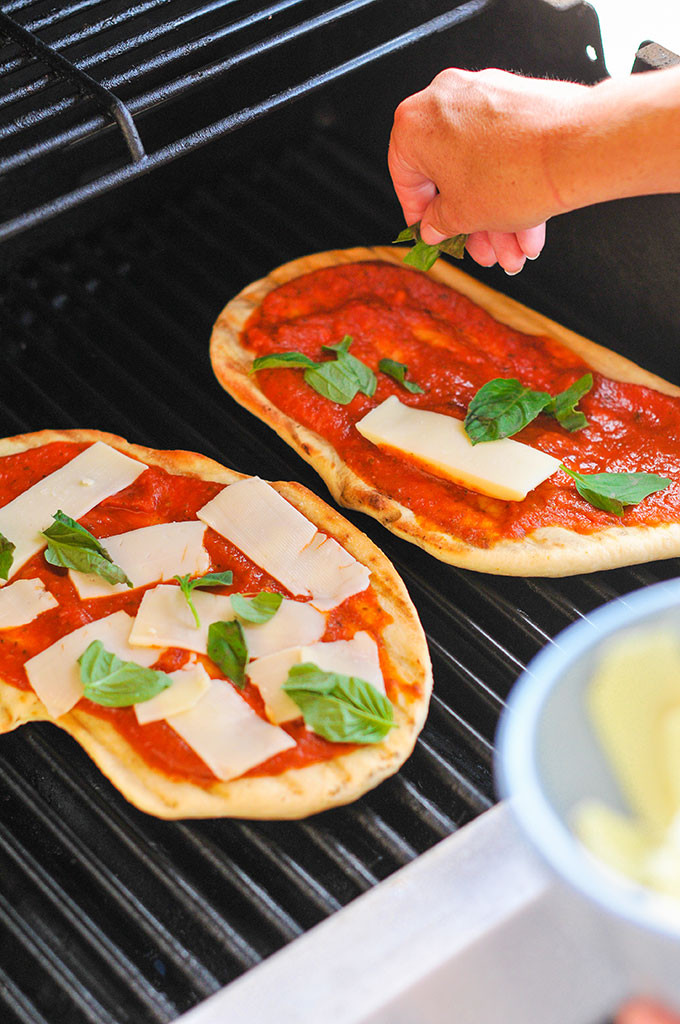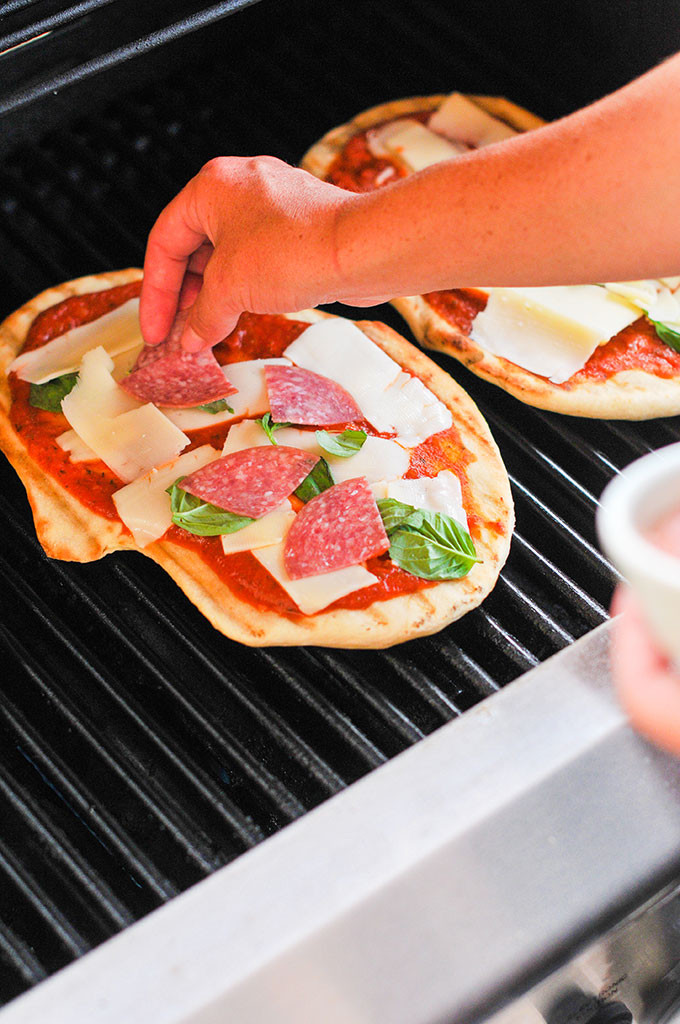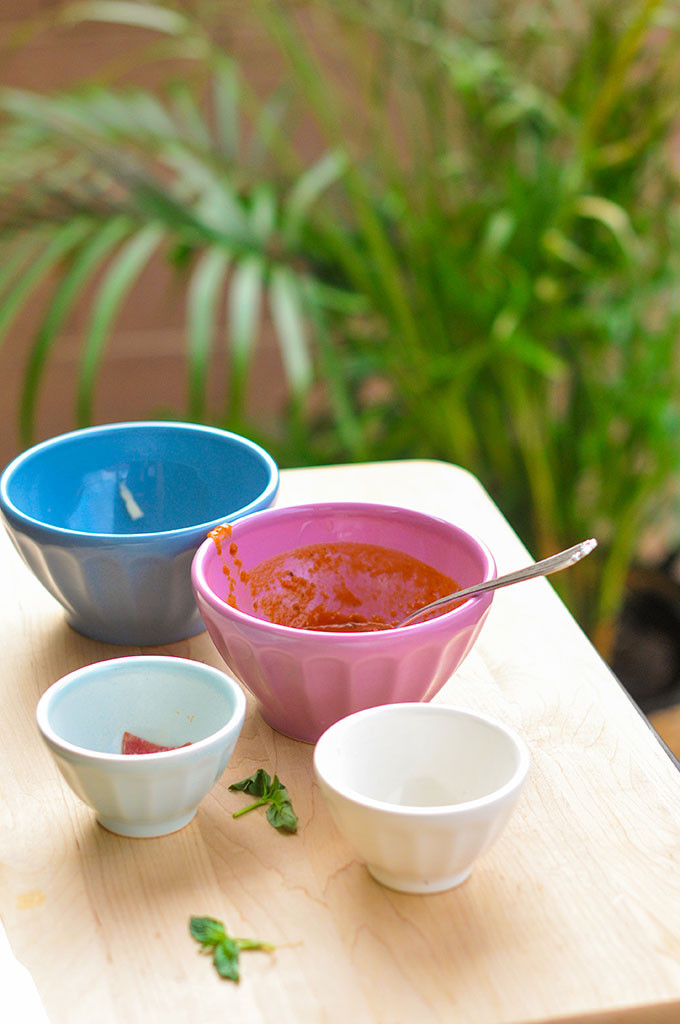 Use it all up, my friends. Use it all up. If there's extra salami, just eat it.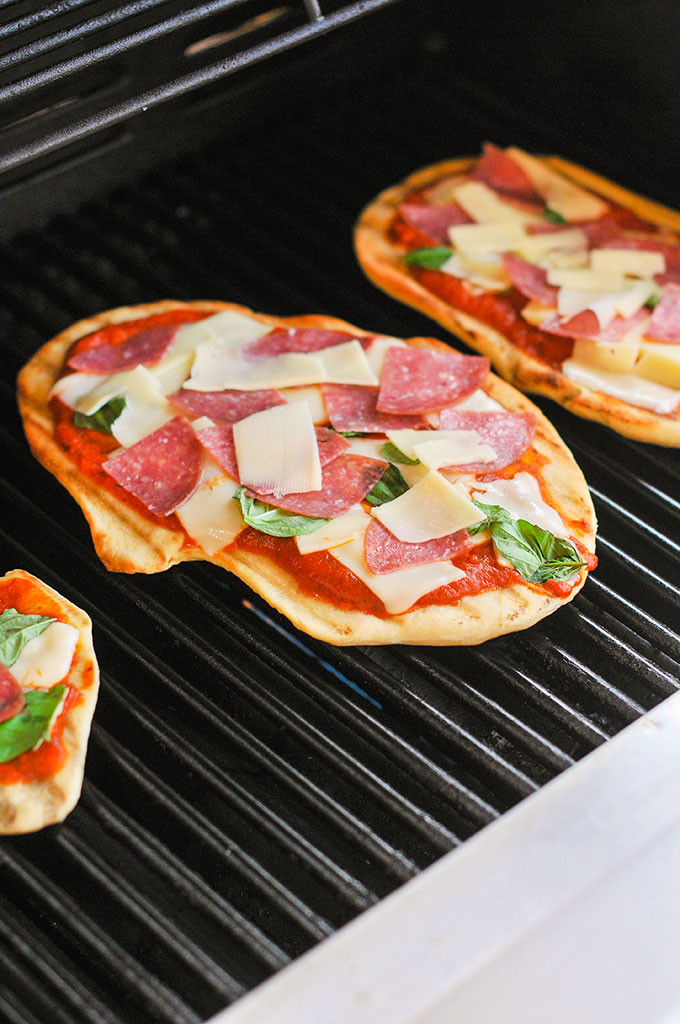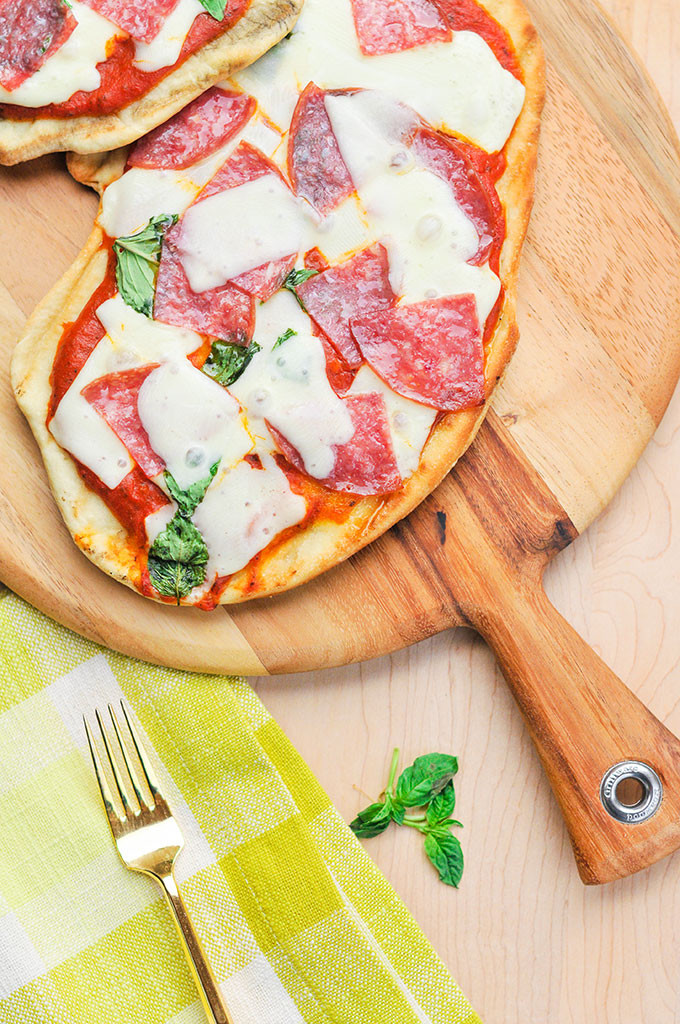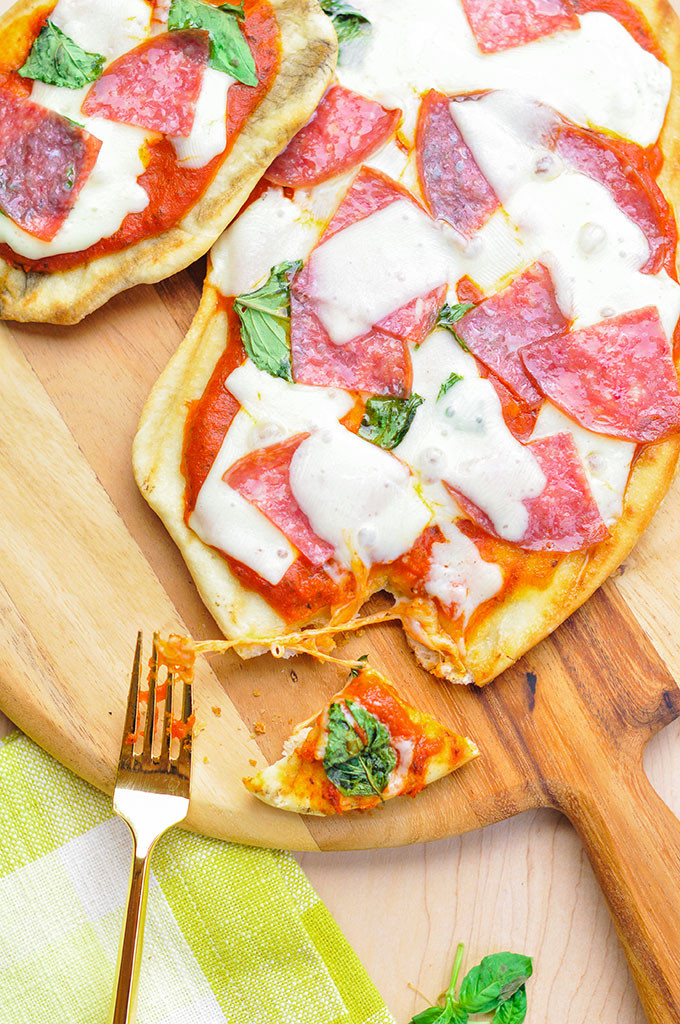 The melty goodness. If you don't eat dairy, you just should just toss your beliefs out the window because melty cheese is the best cheese. Does anyone remember putting a bunch of cheese on a plate and then microwaving it until it was really melted and chewy and delicious? No? Just me?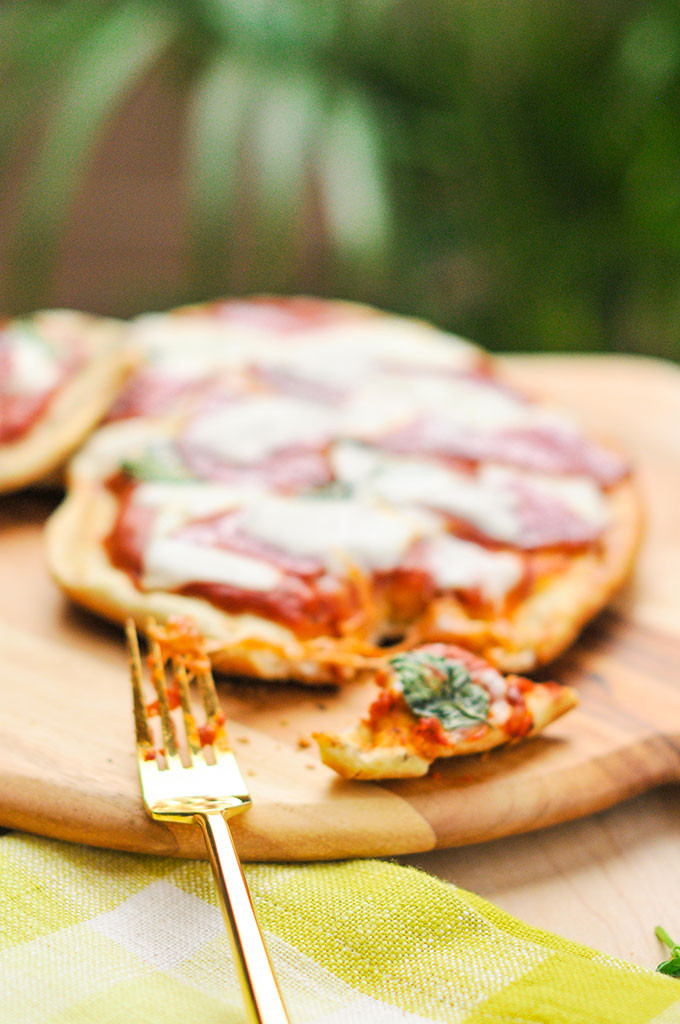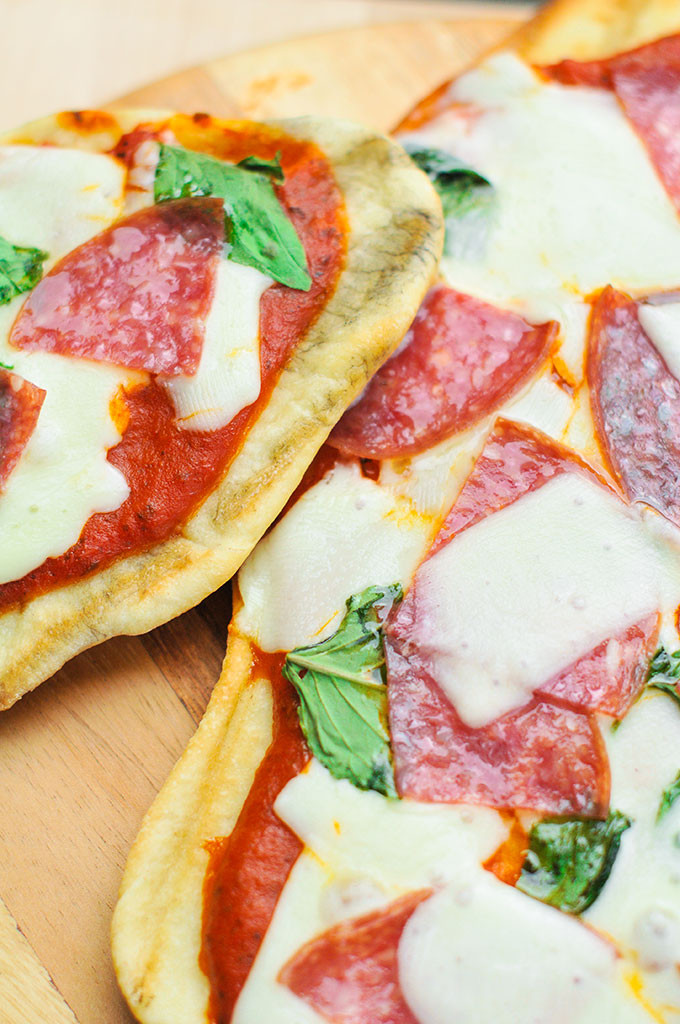 This pizza reminds me a lot of one of our fave Denver restaurants, Pizza Republica. When we lived there, we ate at PR religiously. I even revealed my pregnancy with Vita to Logan there! And we have it on video! You all want to see that. I know it.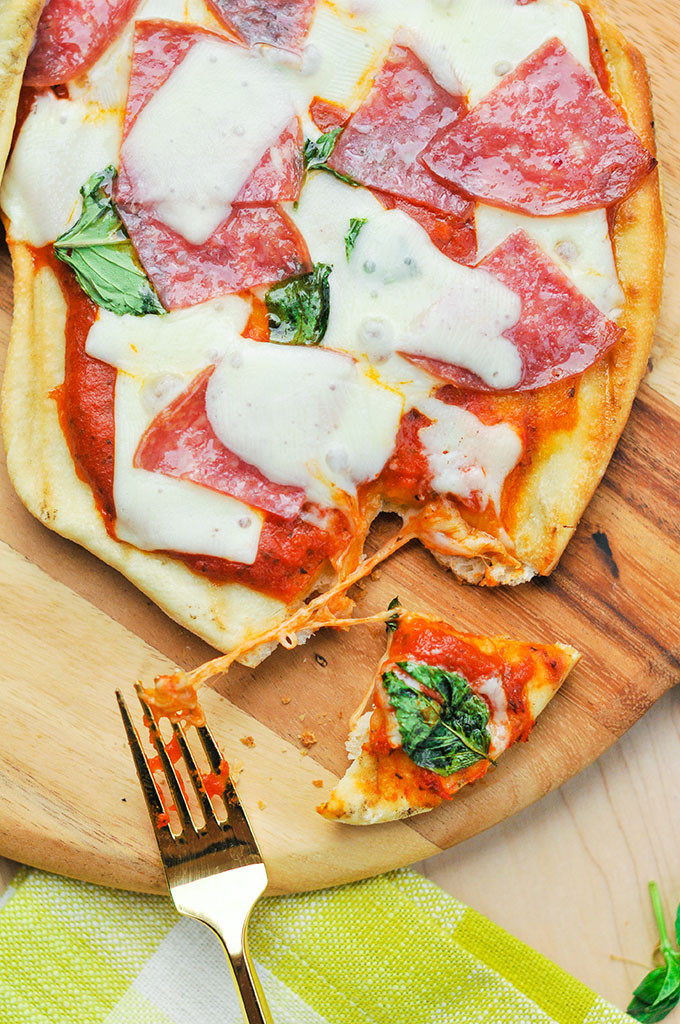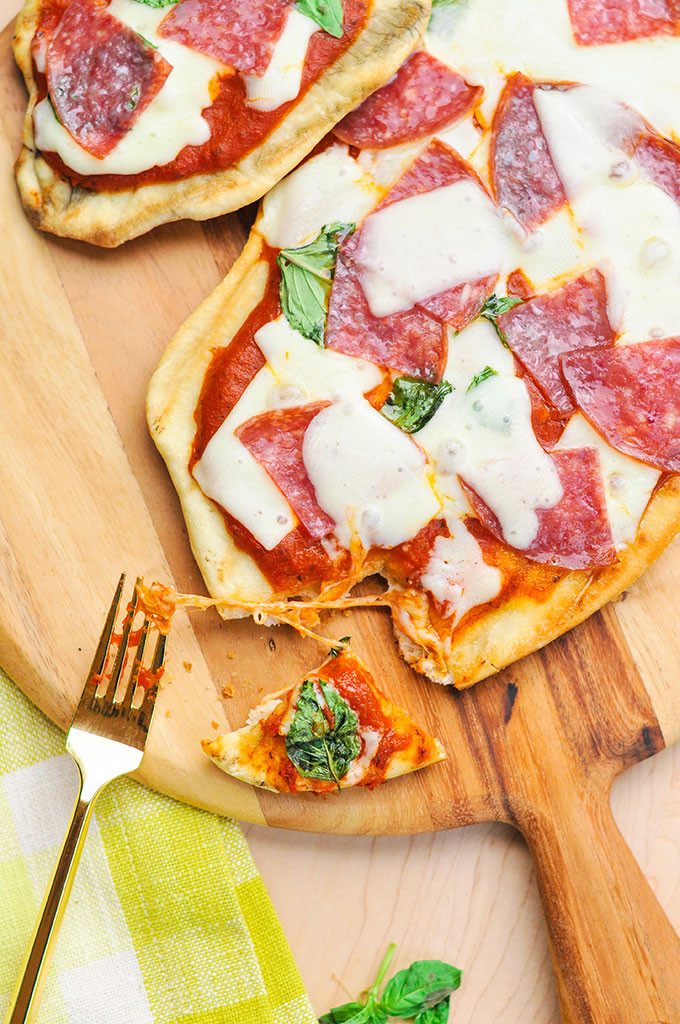 Grilling pizzas is the way you do pizza. It's also a fun activity to do with dinner guests as each can assemble their own!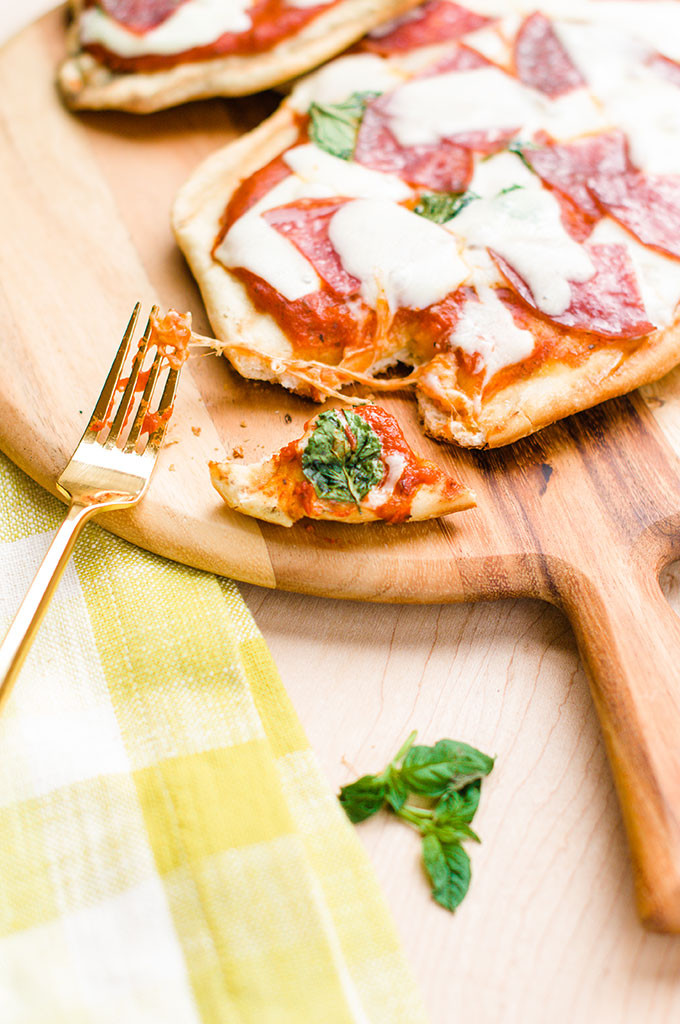 Grilled Margherita Pizza (serves 4)
For The Dough
In a stand mixer fitted with the dough hook, combine the flour, yeast, salt, and sugar. Slowly drizzle in the water and oil until a rough dough forms. Let it rest for several minutes and then knead with the dough hook for 10 minutes. If you don't have a stand mixer, you can simply mix and knead with your hands for the same amount of time. After kneading, the dough should be a smooth ball. Place in an oiled bowl and cover with plastic wrap. Let the dough rise for 1 hour or until doubled in size. Punch it down and turn out onto a lightly floured surface. Split the dough into two balls. Cover with a towel and let the dough raise for an additional ten minutes. While the dough is rising, turn on your grill to high and let it warm up for 10-15 minutes before reducing the heat to medium.
Once your dough has finished rising, separate each half again so you end up with 4 balls of dough. Roll each out until 1/4-1/2″ thick. Brush the tops with oil and place the oiled side on the grill. Quickly brush the top of each pizza with a thin layer of oil. Let it cook for 7 minutes. Little bubbles will rise, so simply pop those with a fork. Once the bottom side of each pizza is golden brown, flip each pizza. Quickly add the toppings to the tops of each. Start with a layer of tomato sauce, then add the basil, mozzarella, and finally, the salami. Reduce the heat of the grill to medium-low and drop the lid.Allow to cook for 4-6 more minutes until the cheeze has melted. Remove from the grill and let cool for a few minutes. Enjoy!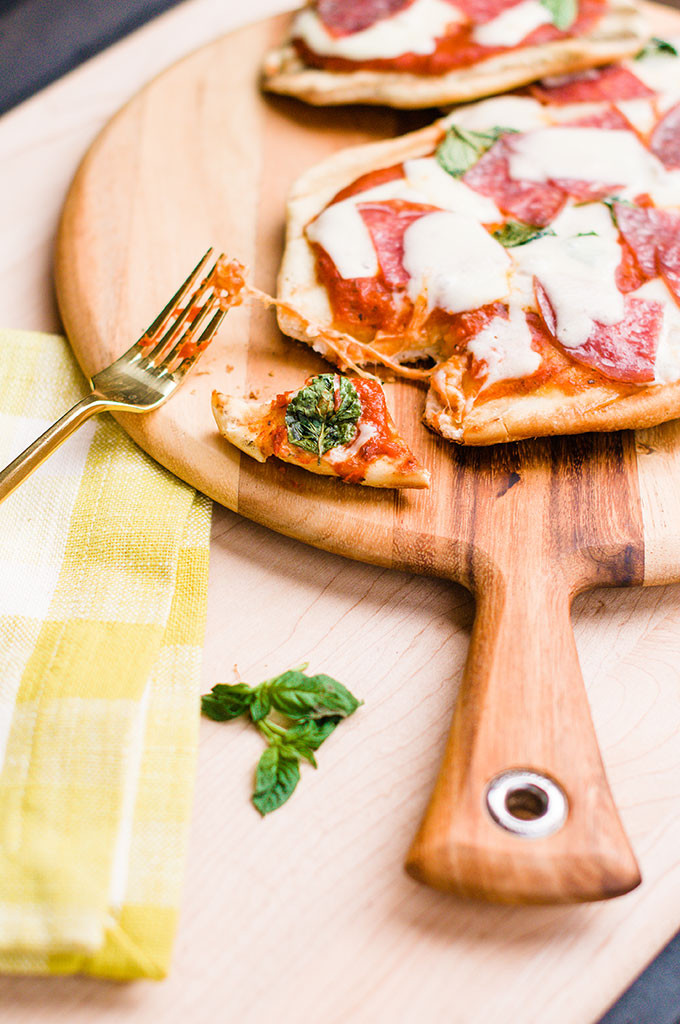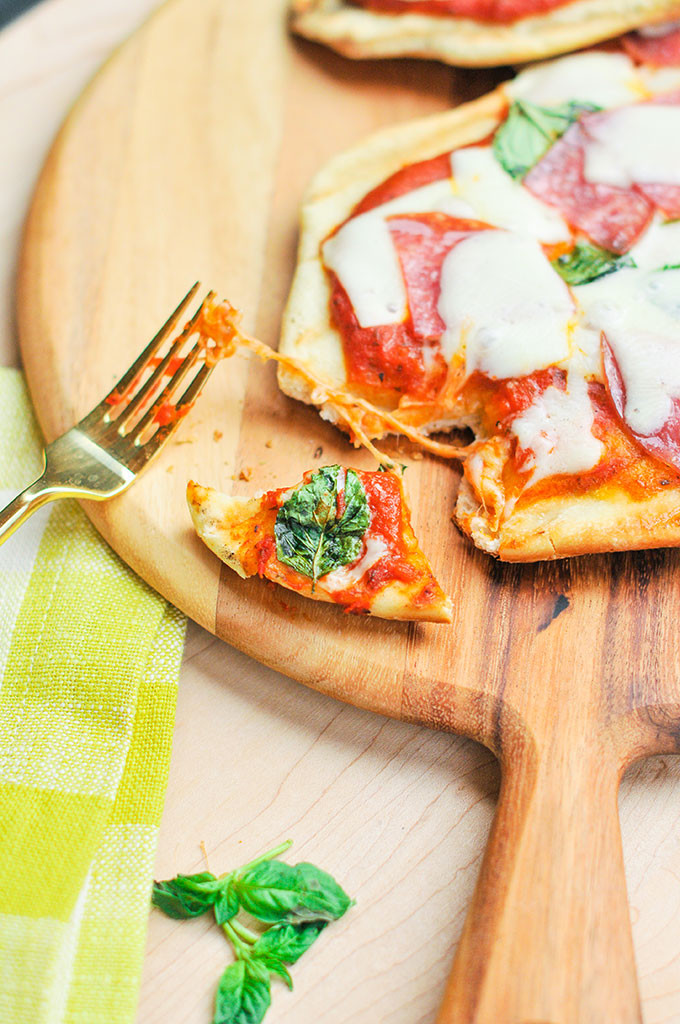 It's the greatest. I mean it. We'd eat this every night of the Summer if I was ambitious enough to make dough after dough after dough!
What about you?! Have you ever grilled a pizza or flatbread? What do you plan to grill this summer?
photography & styling \\ Lexy Ward