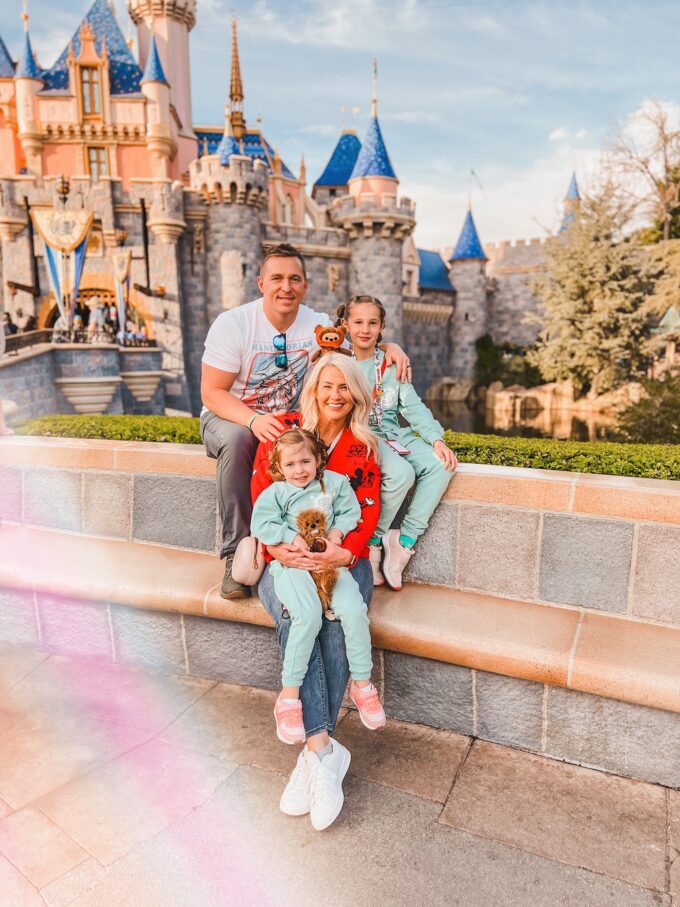 Alright. Alright. Alright. Every time I take a lil' trip to Disney, I get inundated with requests about all the gear I wear each day. I have a rule in our house about character clothing and words on shirts – THEY'RE NOT ALLOWED UNLESS THEY'RE DISNEY. Honestly, I'm not a huge stickler on this, but my family knows that I tend to lean towards clothing in solids and patterns that can be worn together easily. But when a Disney trip comes around, I can't control myself. Give me all the characters. All the words. All the color. All of it. I enjoy putting together family outfits that aren't 100% matchy-matchy, or that have a loose theme, and I'm sharing what I wore to Disneyland a few weeks ago with links to buy, try, and instructions for any DIY. (I'm sorry but I just couldn't help myself with the direction that sentence was going…) Ready?!
What I Wore To Disneyland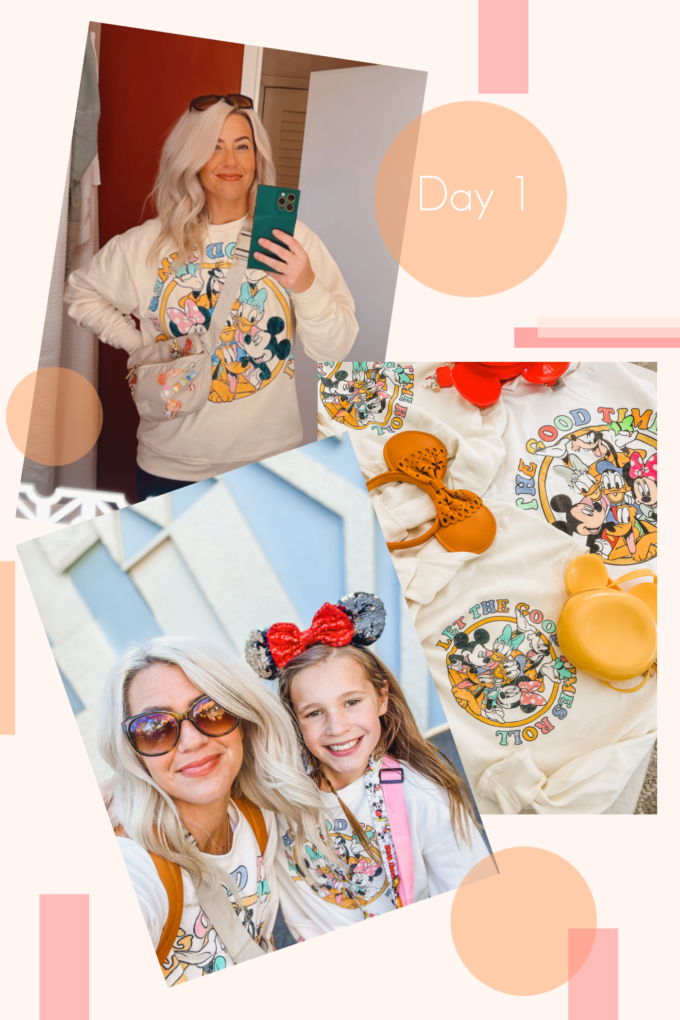 For Christmas in 2021, we decided to buy Magic Key passes to Disneyland for our family. We live within driving distance (about 7-ish hours) so we can make it work and we love love LOVE the parks so much. We purchased the key with the schedule that worked best for our school year calendar, and I only wish we lived in Cali so we could go a lot more. I snagged this Let The Good Times Roll sweatshirt from ShopDisney for me and the girls. They didn't make this design in a sweatshirt sized for men, but I was able to do a lot of digging on the web and found a company that prints this design on t-shirts. Logan is so lucky I work so hard to source this stuff. I snagged him one and we placed these shirts under the Christmas tree with a note about the passes and the Disney magic that awaits our family. I was so pumped to have us all match our first day back at the parks as a family!
Because I bought this last year, the link at ShopDisney is no longer valid. You can try to find it on eBay, Poshmark, and a few other sites online, though you might have to pay a premium because folks like to jack up the prices for this kind of stuff. Hate that!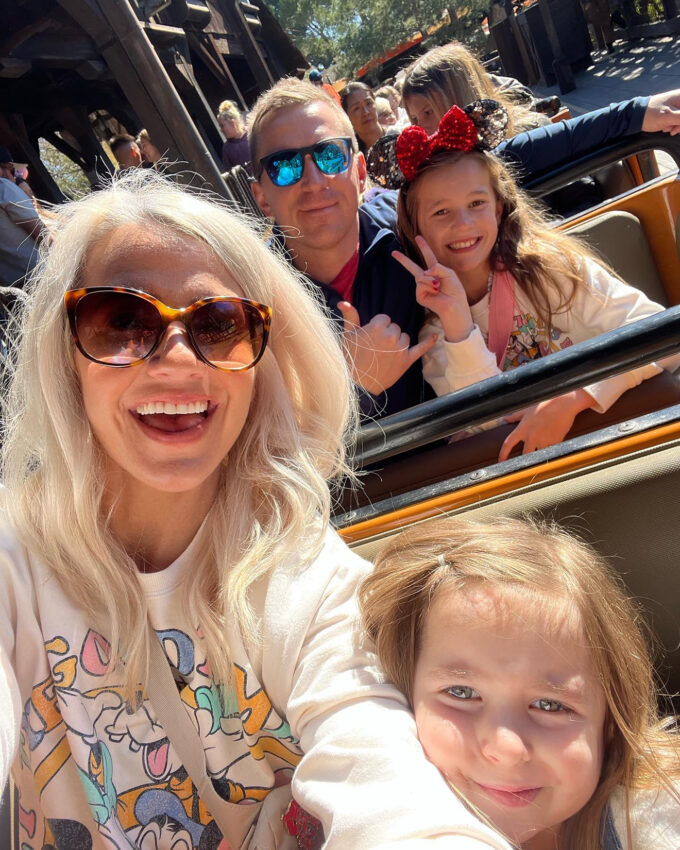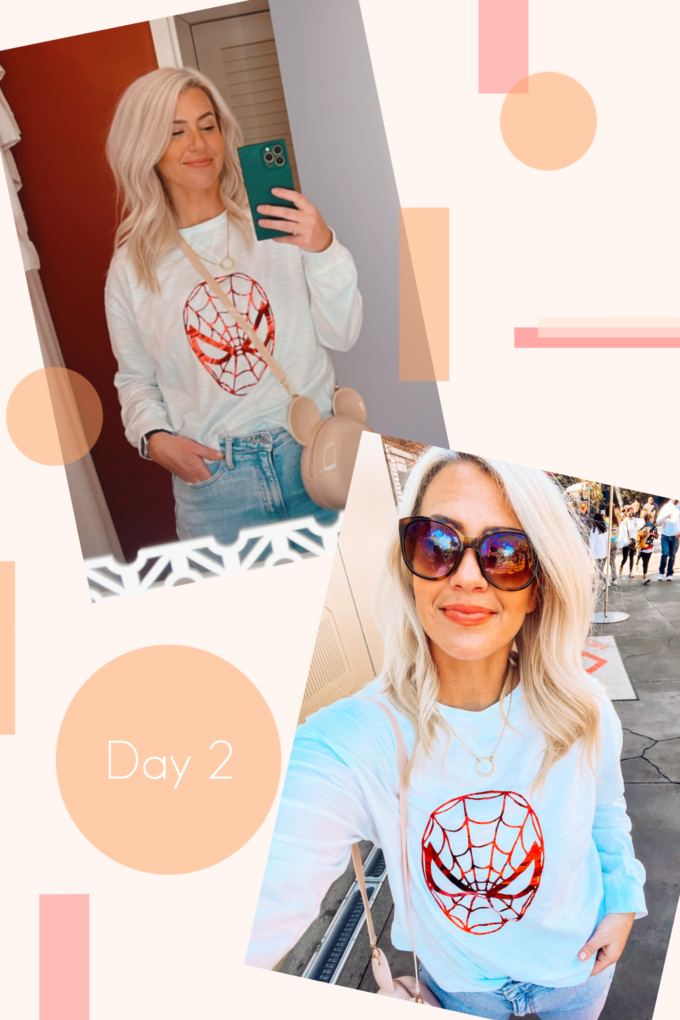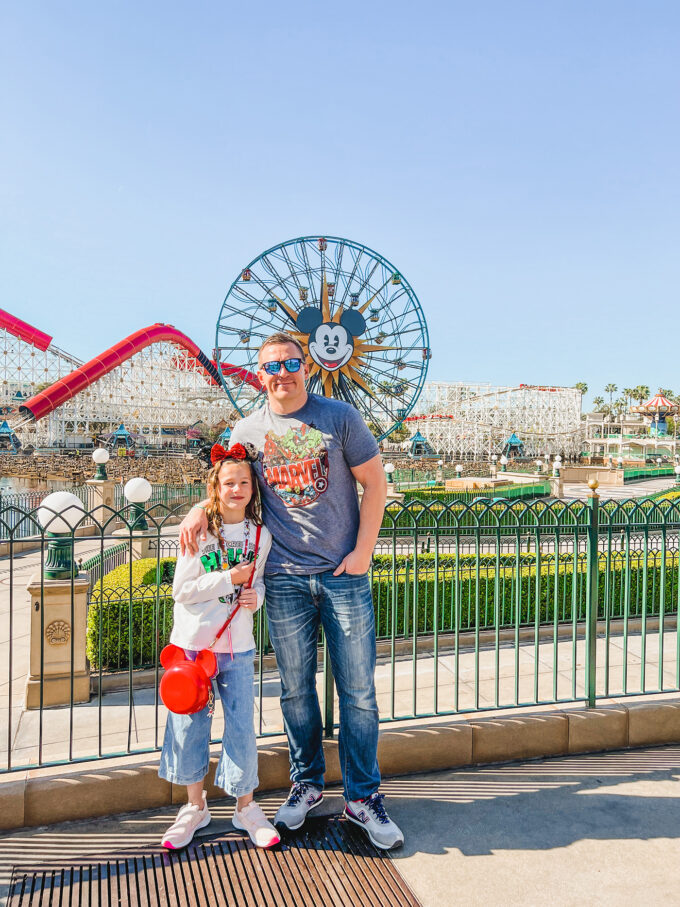 For our first day at California Adventures, we went with a Marvel theme and each wore a fave character's design. I snagged that Hulk sequin t-shirt from Zara for V and then planned to make some elaborate Avengers tee for Logan. But he told me to just buy something and save myself the stress. Sometimes that man is so zen it hurts. 😉  There are a ton of different tees out there in the world for Marvel-loving men and this is the one we opted to get Logan.
I got a lot of requests about my shirt this day and I actually added the Spiderman face using some red foil iron on by Cricut. I tell you what, if you enjoy making matching clothes for your family to wear at the Disney parks, I can't stress how much ya need a Cricut cutting machine. I bought this white tee and added some blue dye to it to give it a subtle blue hue. The red foil Spiderman was the icing on the cake and I loved wearing this around Avengers Campus. One mom came up to me because she knew her son would love a shirt like mine and she said, "OF COURSE YOU MADE IT! Just my luck!" She wasn't a DIYer, but I explained how easy it was to make something like this. If you're reading this, you know who you are and I hope you pulled the trigger to start making!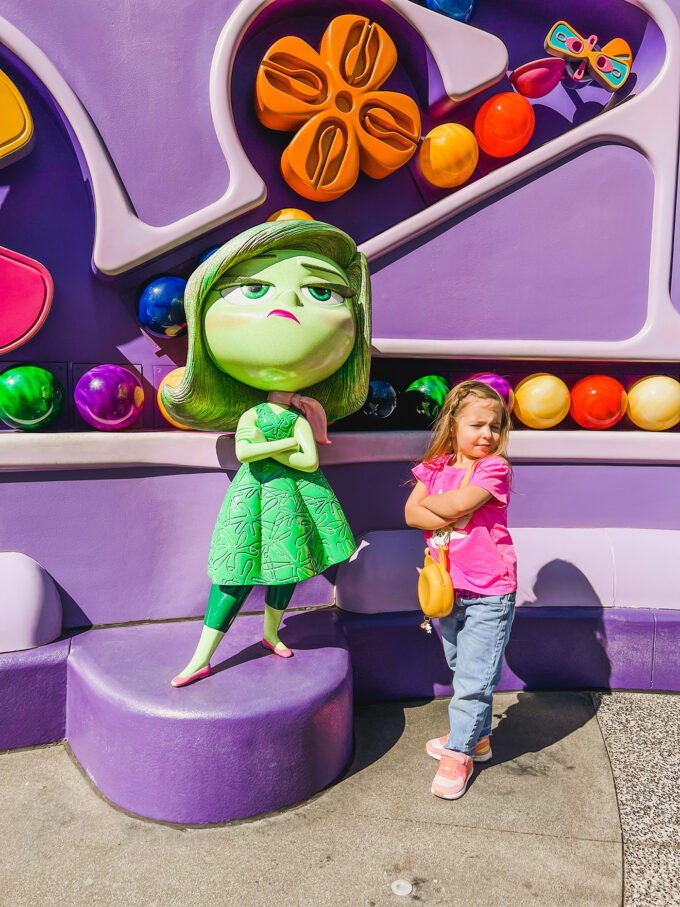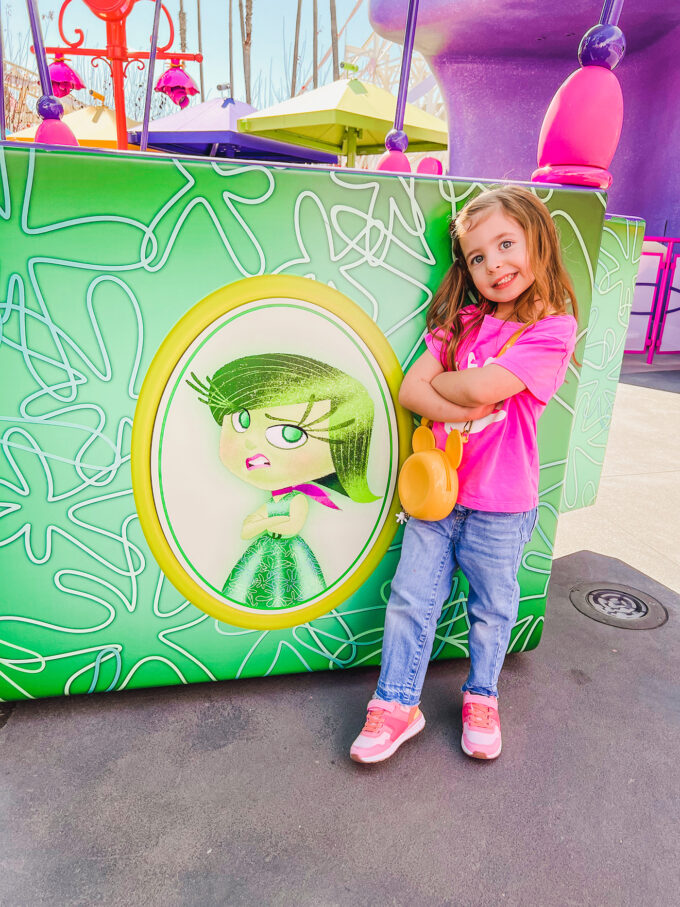 We found her spirit animal. It's uncanny.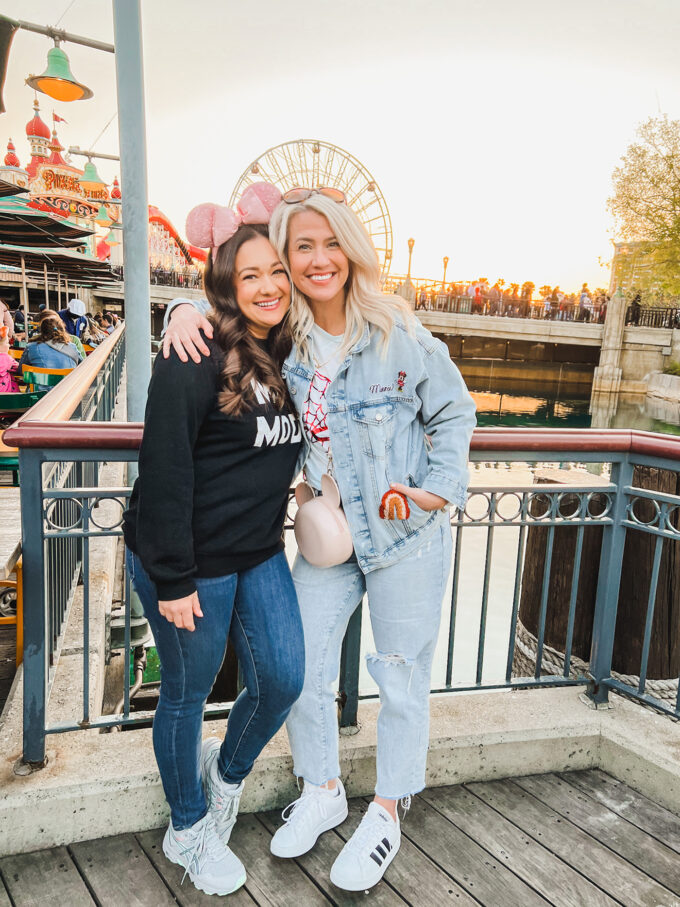 I really love visiting Disneyland because it's so easy to run into some favorite friends! Hi, Leah! (If you're wanting the deets on the Mickey purse, keep reading!)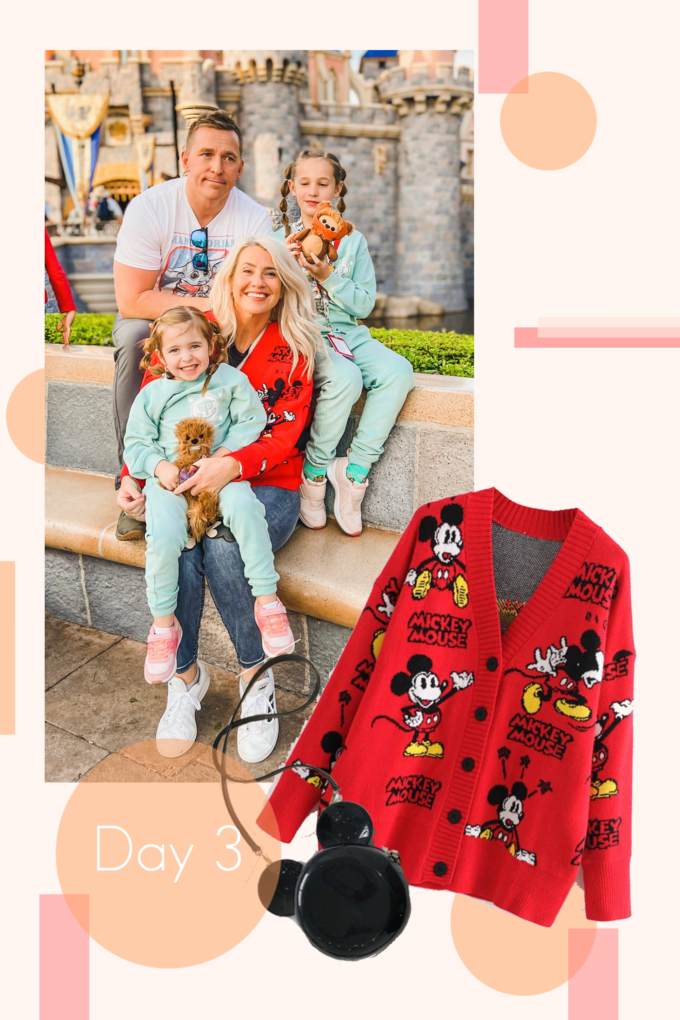 I know this is what you've come for. You want the deets on the sweater and the bag! I got so many messages about the white version of this sweater that I wore to my BFF Disney trip back in November and I bought the red version because I'm extra and I knew that it belonged in my closet. The original white one is from Zara from a few years back and the red one can be found here!
DISCLAIMER: I'm a huge believer of supporting and shopping local. I try to buy items from friends and makers I know personally, and from a few of my go-to shops on Etsy. But this red sweater was a find on AliExpress and when I saw it, I just loved it so much (and I loved the low price!). Don't judge me.
The same goes for the Mickey purse! These jelly bags have been my all-time most popular accessory in my Disney arsenal. I started with the black and the beige, and then added a red and yellow (in a mini size for the girls!).  The shipping takes a few weeks to arrive as the customs process slows things down, but they're a great quality and my girls love matching me! So many employees at the parks and Disney shops have complimented the bags and said things like, "I love your bag! I haven't seen that one here yet!" and then I have to deliver the news that I bought them from a discount website in China. 😂 The prices has gone up a few dollars since I bought them a year ago, but it's still reasonable and the shipping costs are low. Totally worth it IMO! I got a lot of requests for the link after my last trip so I guarantee you're going to start seeing these bags pop up on some of your fave influencer accounts! I'm a trend setter. For products from AliExpress. 😉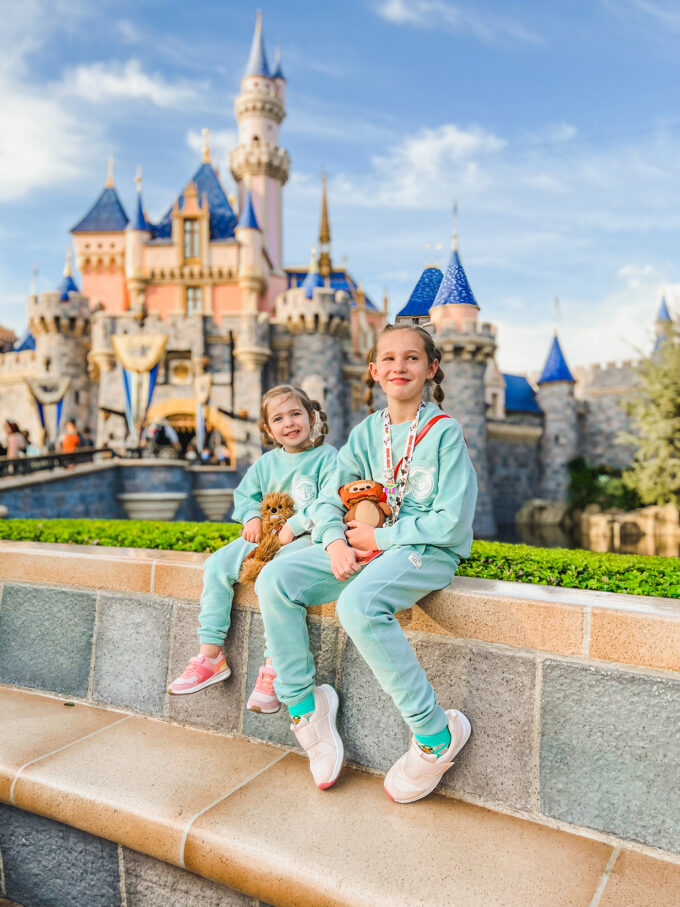 These sweats. THESE SWEATS! They're may absolute favorite thing. I spotted them on clearance at H&M for $13 for the set. I knew I wanted to add some kind of nod to It's A Small World. I had originally bought and cut out this design from an SVG I bought on Etsy, but it was too small and delicate that I decided to scrap it and just go for the smiley mascot from the ride! I cut it from white Everyday Iron On from Cricut, and used my Easy Press to attach the design to the pocket on the girls' sweatshirts.
I know that not everyone loves to DIY, but I'm always looking for fun solids that can get a little update with some type of iron on design or patchwork. The kids section of H&M is one of my fave spots to look for solids or stylish Disney gear. Just take a peek at these cute Mickey joggers I snagged for Mara! Primary is another pick for colorful kids clothes that doesn't skimp on quality!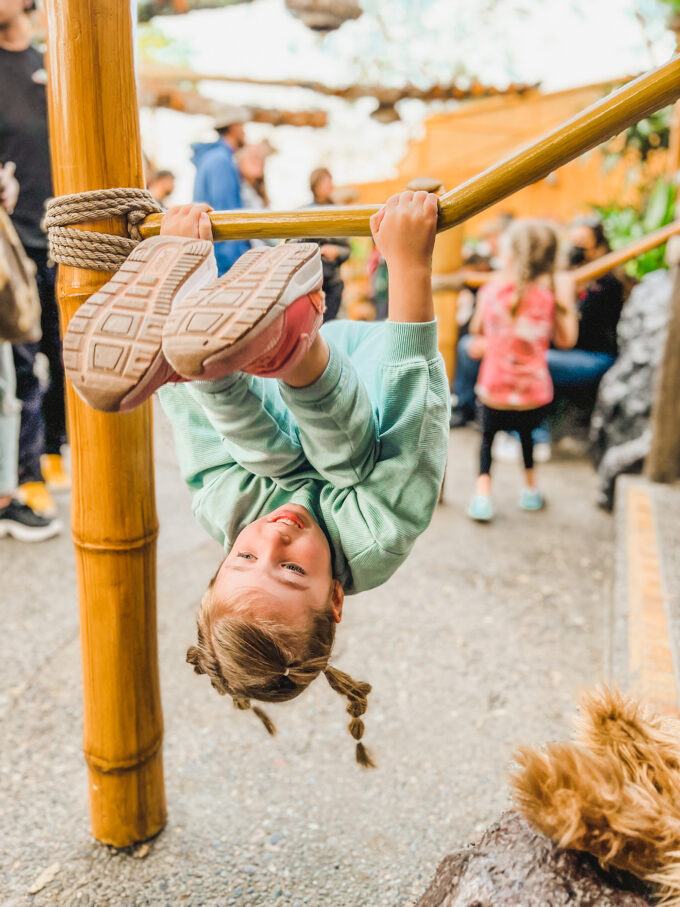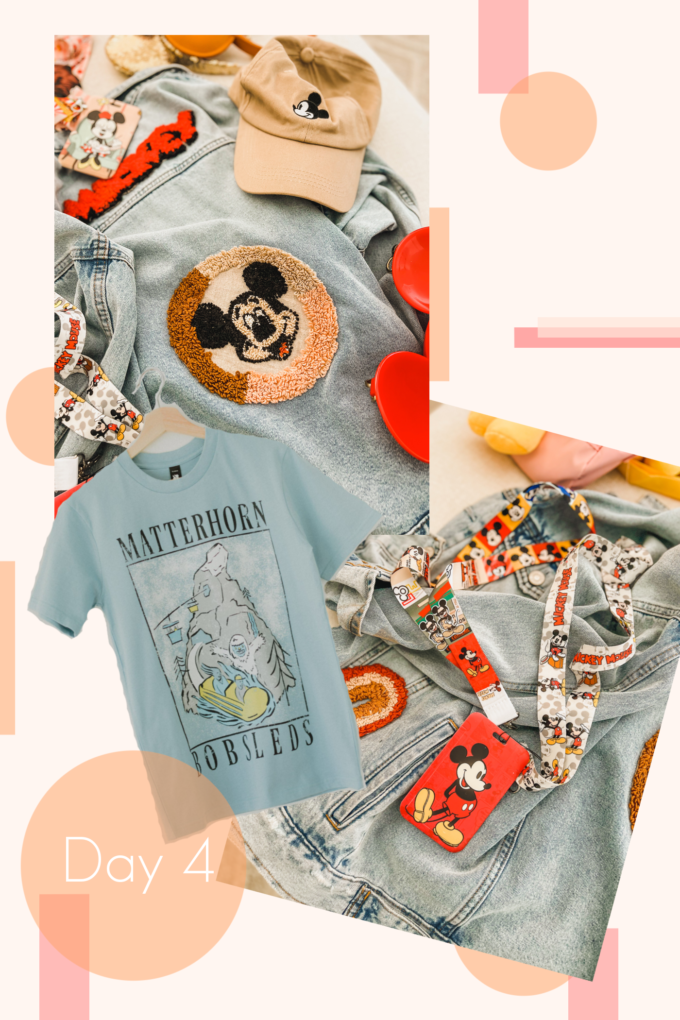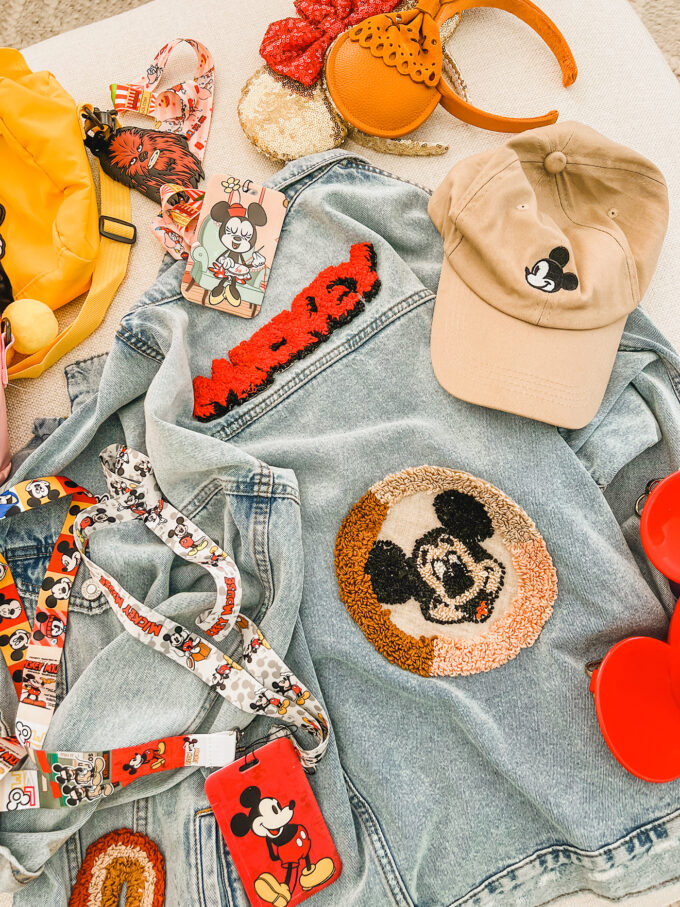 About that denim jacket… this is my pride and joy. I punch-needled a bunch of patches for our Disney Creators trip back in 2020. Remember the beginning of 2020? It was so magical. And then the world ended. But before that, I made these patches for my jacket and have continued to add to it over the years.
For day 4, I paired the jacket with my favorite Costco leggings (truly the BEST) and my Matterhorn tee from Subtle Dust. This tee is pure gold because of its icy blue color and the length! It's the right amount of cozy and I can't recommend it enough. Threw on this Mickey hat that's my go-to for the last park day when I don't want to wash my hair.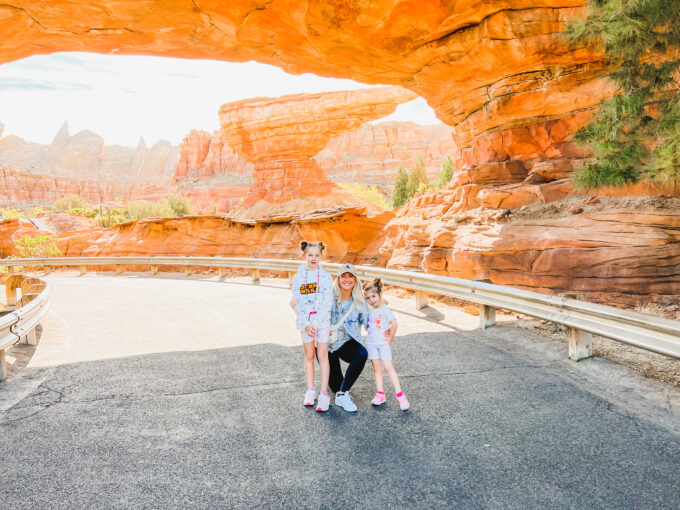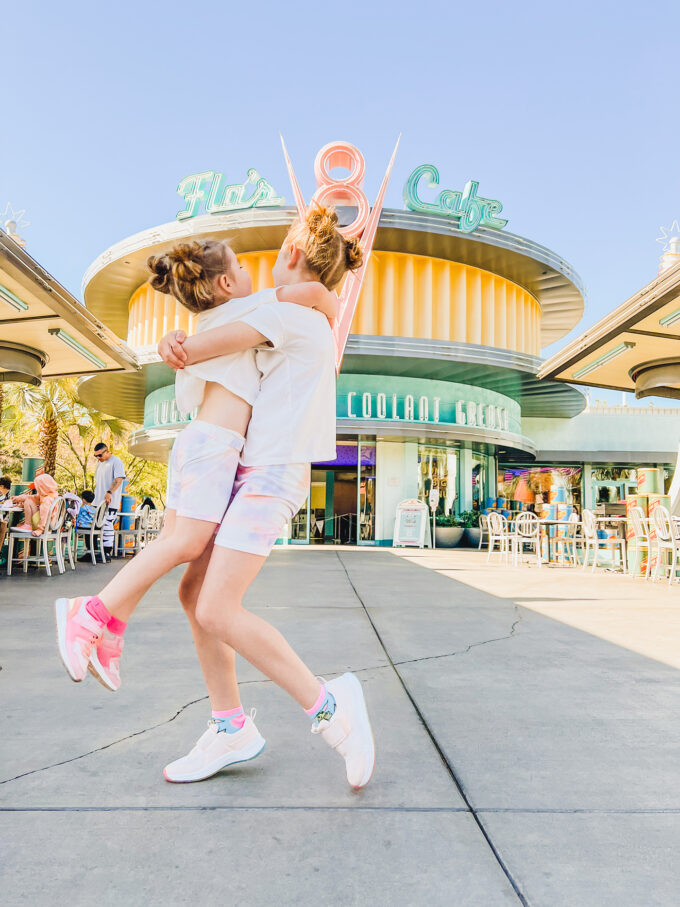 I've turned into my mother and love any opportunity to have the girls match. I found these cute Minnie Mouse bike short/tee sets and they were great to keep the girls comfortable. Day 4 was our hottest day, so it was nice for them to lack the layers!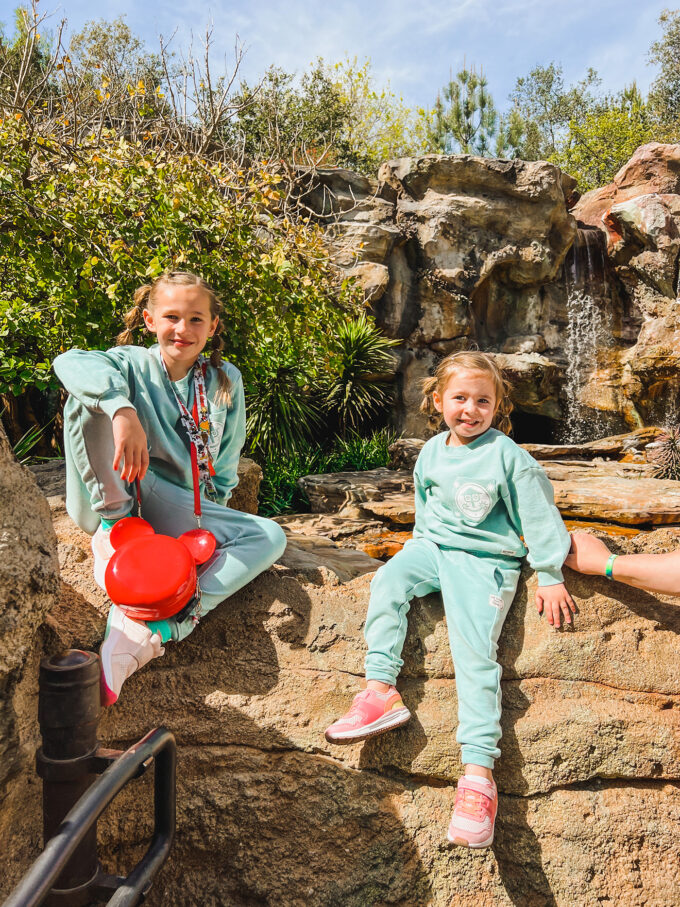 OMG. The red bag. Right?!?!? So perfect.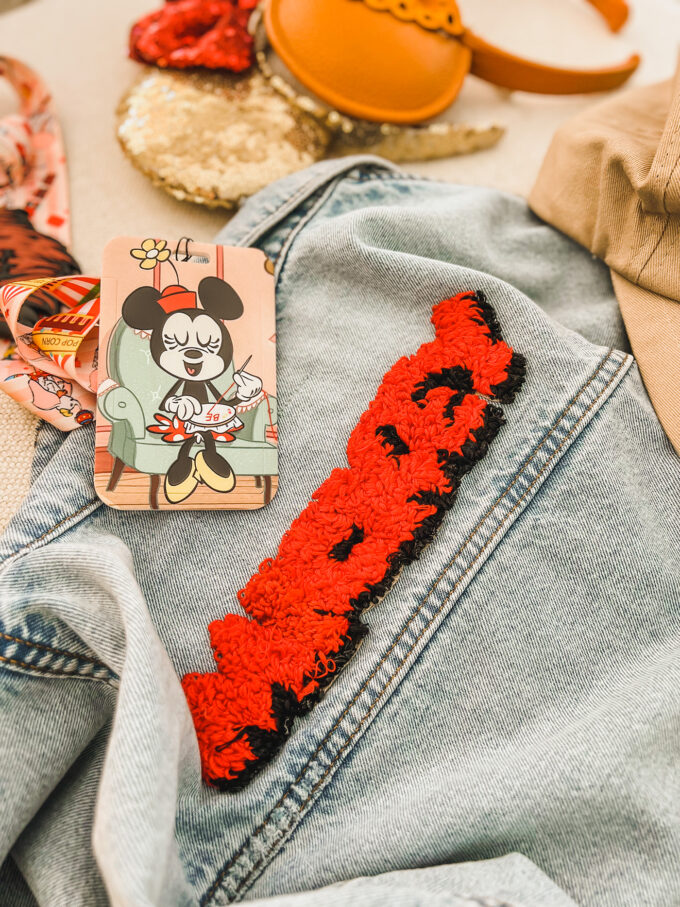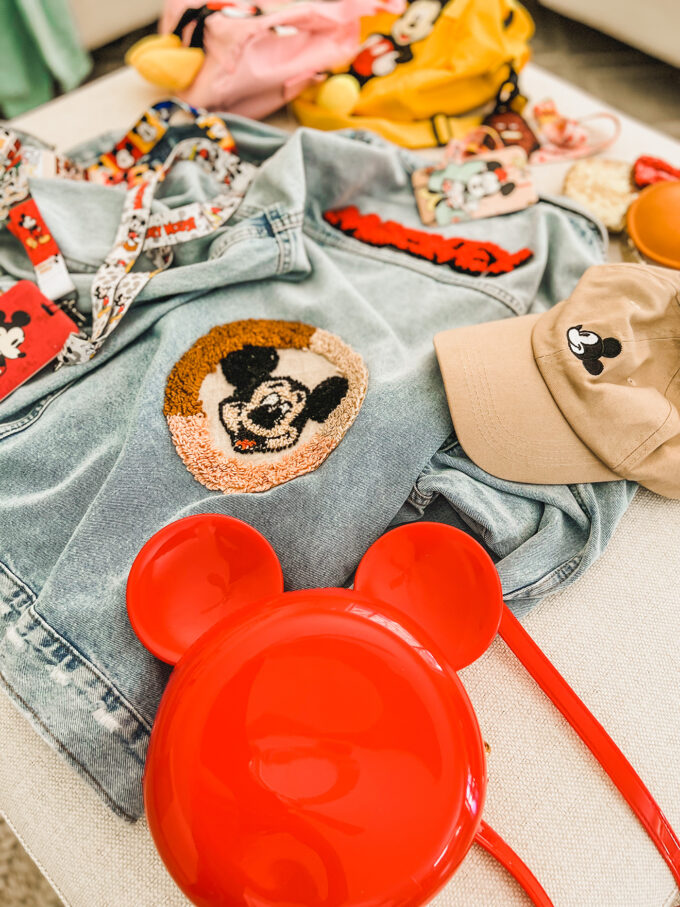 It's really all about the Disney fashion accessories in this family. Snagged the lanyards and pink and yellow bags above from Ali as well! The lanyards were for the girls to start their pin collections and they were a hit!
Those mouse overalls are my favorite hand-me-down of Vita's. They're available here!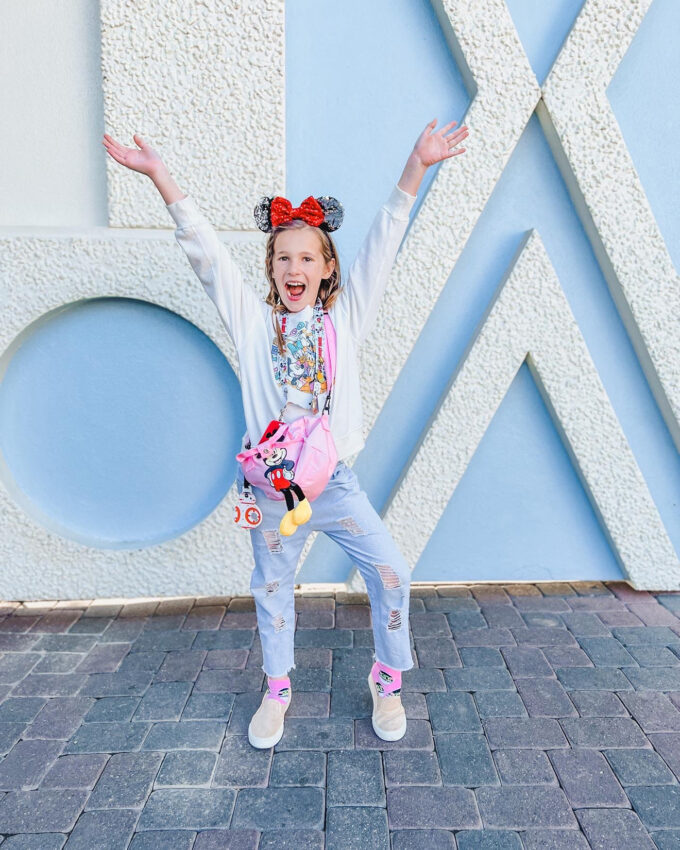 Is she the cutest or what?! Rocking her best accessories and living her best life.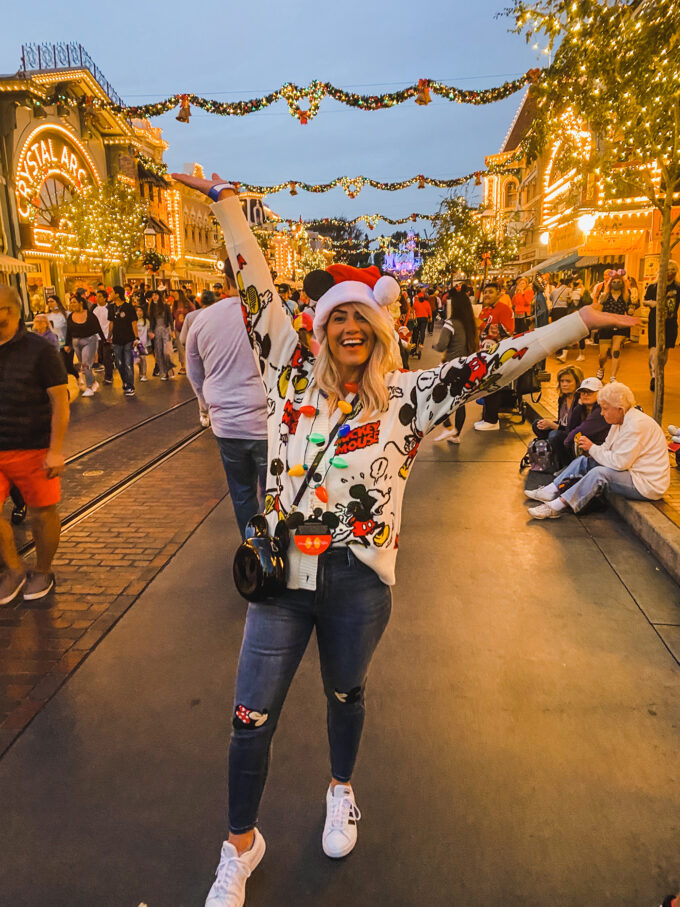 I wonder where she gets it… Can we just move into Disneyland already??
That's it for this trip! If there's something I missed that you're wondering about, feel free to message me and I'll do my best to track it down! If you want to see more about our Disney trips, be sure to take a stroll around my Instagram page and highlights!