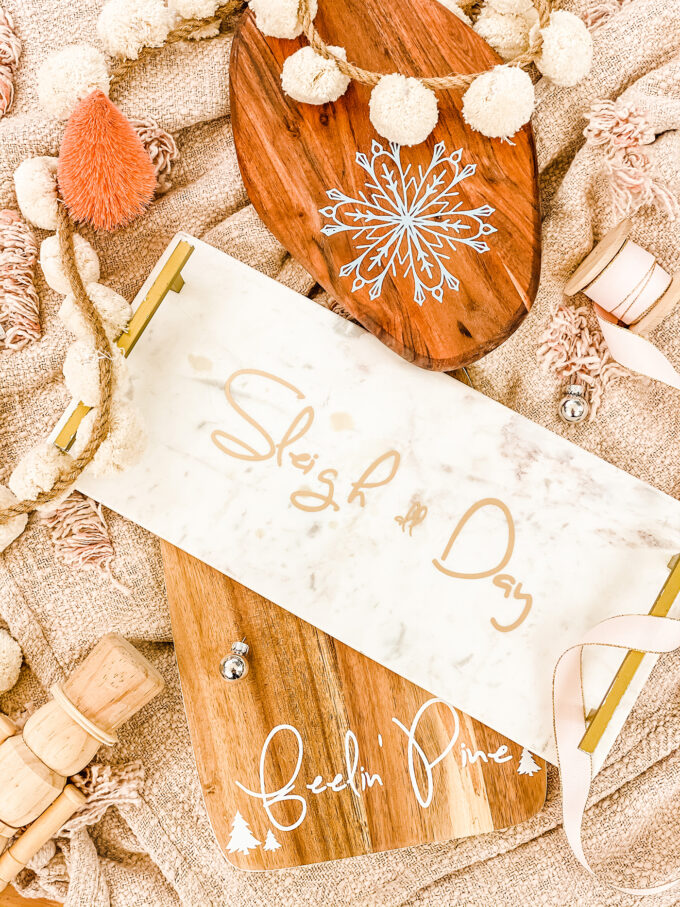 We all know how much I love my Cricut machines, so I've got another fun gift idea for you this year! These DIY Punny Cutting Boards are the perfect holiday gift for your friends! I wanted something with a good pun, but also still pretty. Because I'm shallow like that. And these were born! I've been so excited to share them with you and today is the day! Read on to see how to make your own!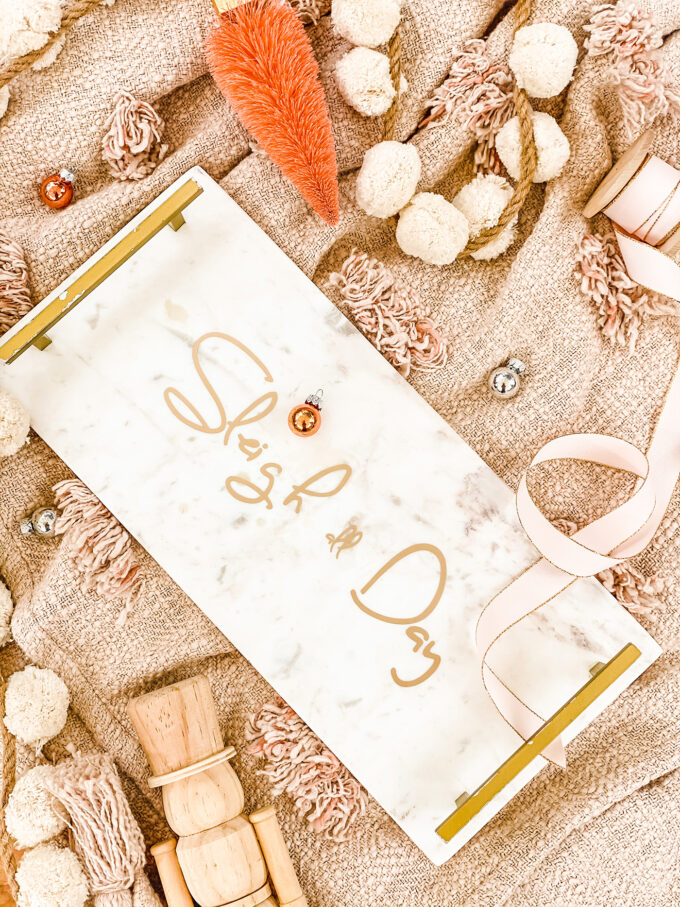 DIY Punny Cutting Boards
MATERIALS NEEDED:
Cricut machine – (I used Joy because it's so small and cute, but also recommend the Maker or the Explore Air 2)
Permanent Smart Vinyl in Champagne, White, & Powder Blue
Scissors
Assorted cutting boards & serveware
Start by clicking this link to take you directly to the project in Cricut Design Space. These 3 designs are already pre-loaded. I sized them for my cutting boards, but you can make them smaller or larger depending on the size of the boards you are using.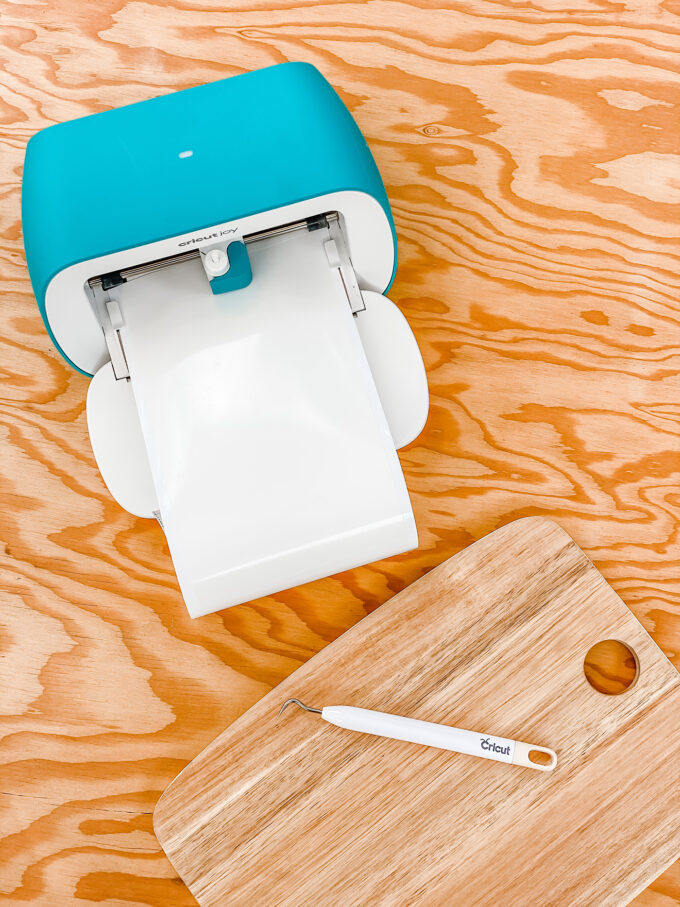 When you're ready, click "Make It" and then feed the vinyl into your machine using the color you want for each design. I used Joy because it's just so dang easy to feed the smart vinyl into the machine without a mat. These designs are cut in about 1-2 minutes and then they're ready to go. Unload the vinyl from the machine and use a pair of scissors to trim around each design.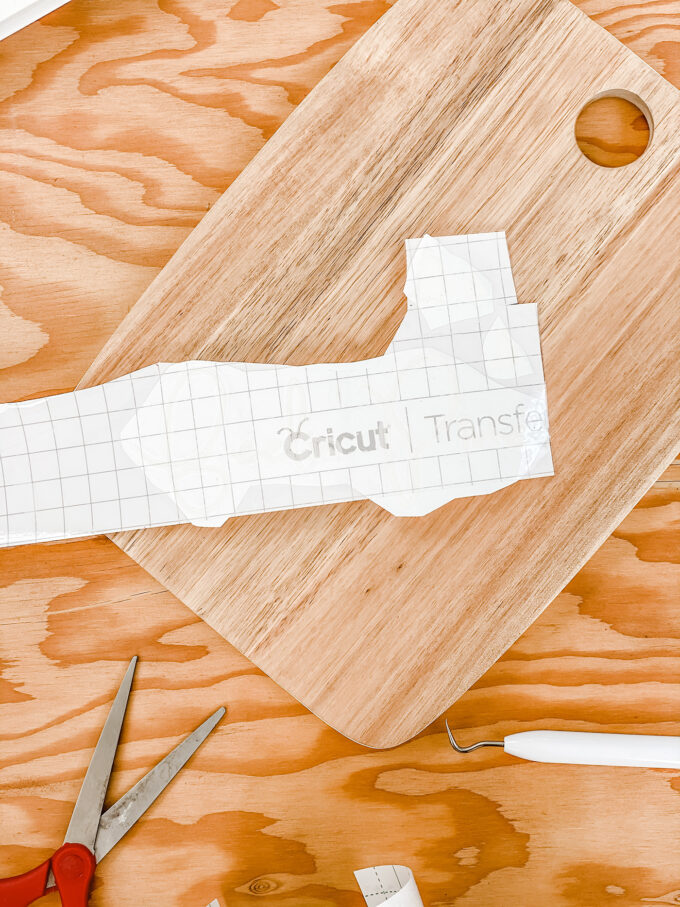 Cover each design with transfer tape. *A note about the transfer tape – just use the regular kind for any vinyl that is NOT thick glitter vinyl. I wasn't paying attention to the first round of this project and mistakenly used StrongGrip Transfer Tape. That stuff is tough and I could NOT get my design to peel away when placed on my cutting board. So pay attention and just use the regular transfer tape and it will go onto the boards like butter.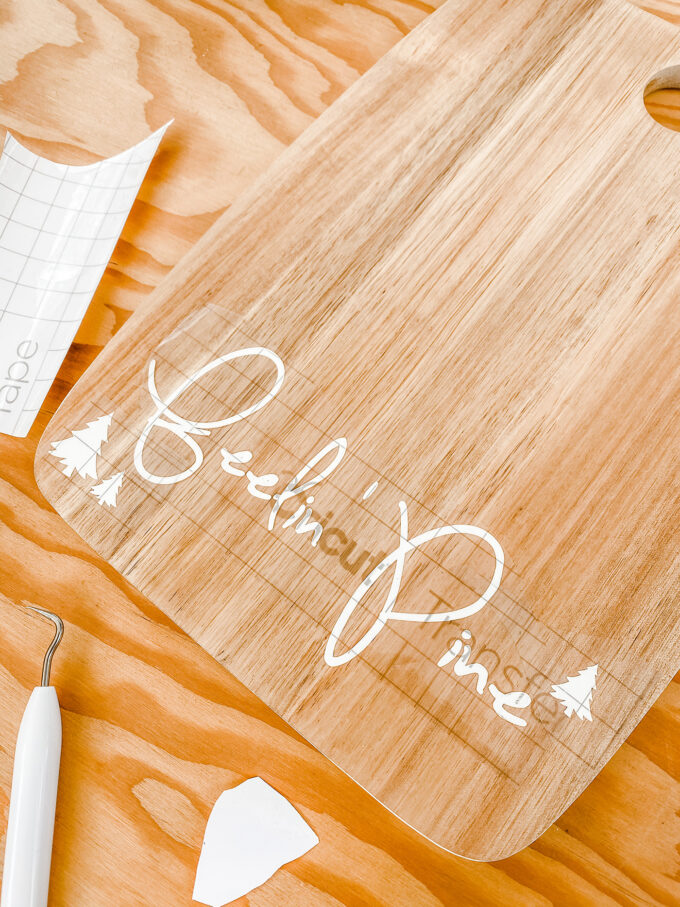 Once each design is on the transfer tape, apply them to your cutting boards. Make sure to use the scraper to really rub and make sure each part of the design sticks to the board and peels away from the tape.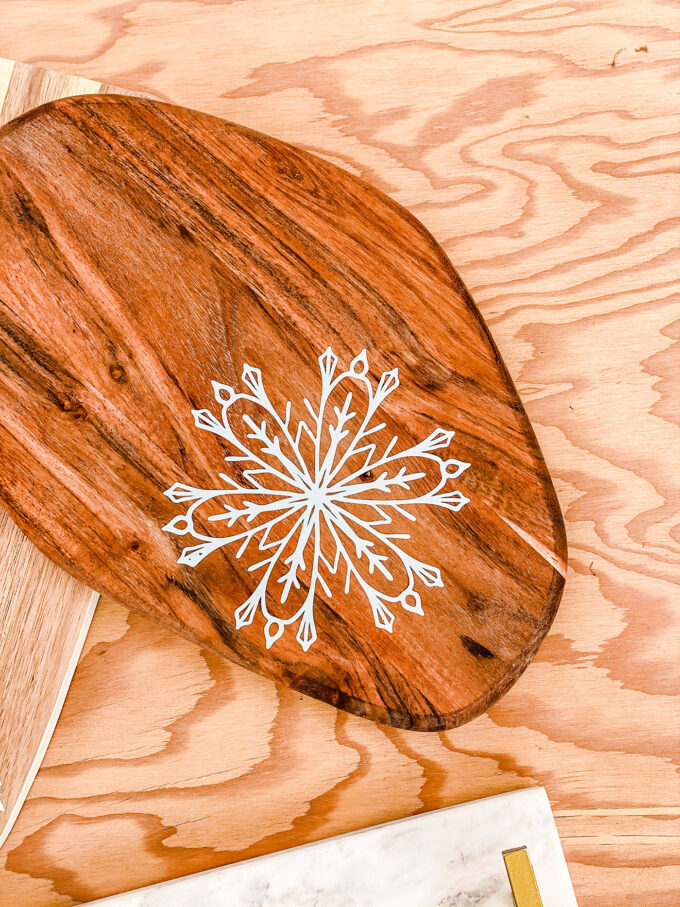 And that's it! You're done! Admire your handiwork!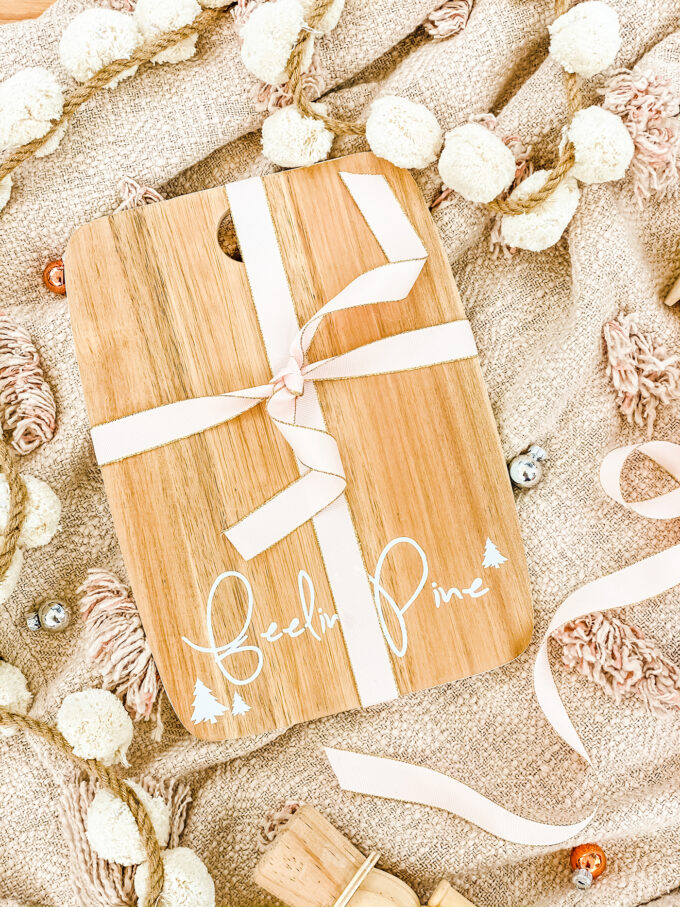 I plan to give these to a few friends, but I'm also REALLY wanting to keep them for myself. I have no shame. What's wrong with me?!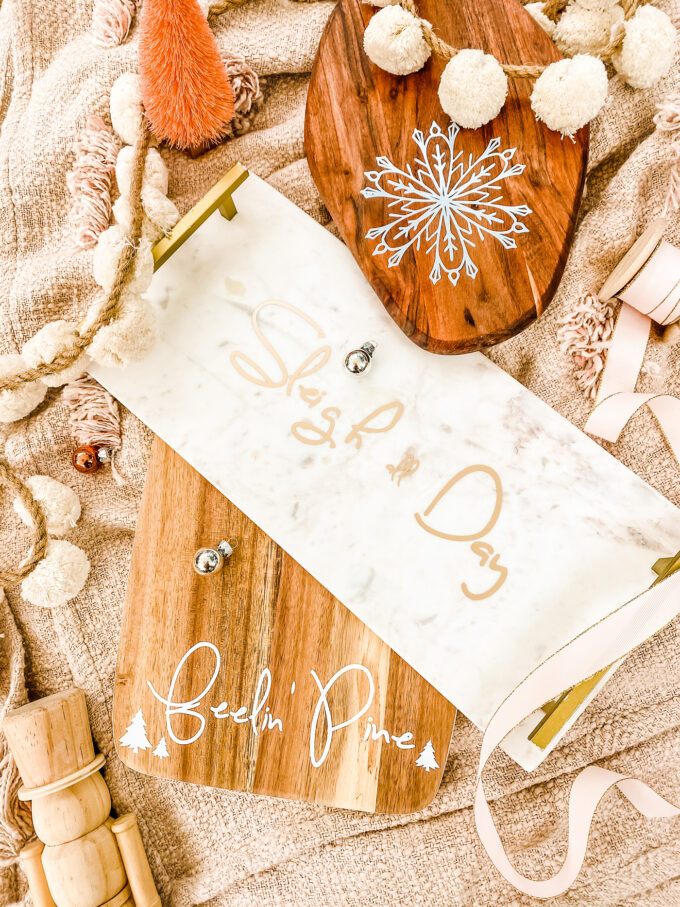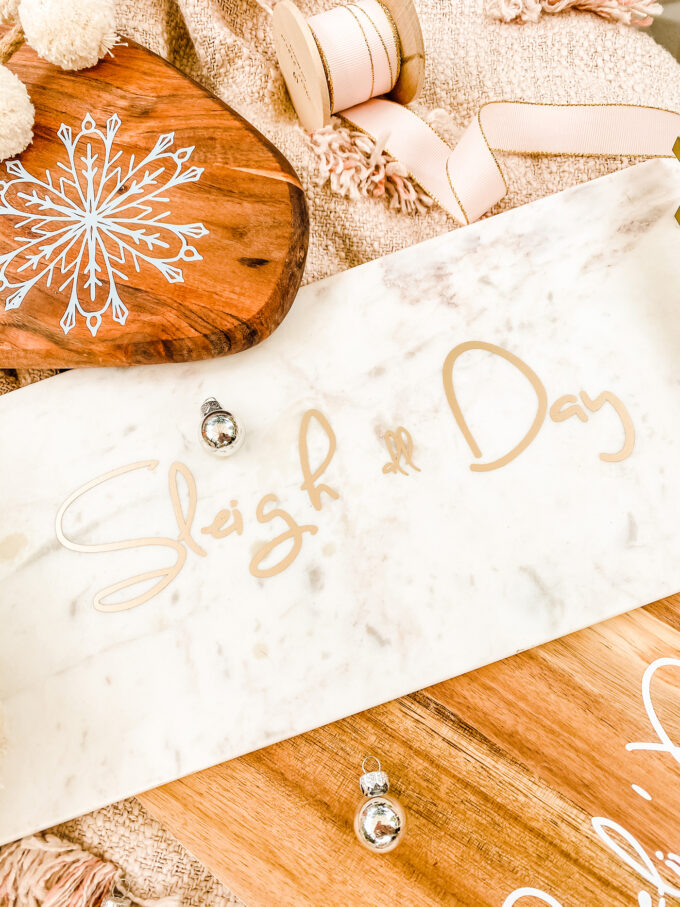 I love to make the gifts I give as personal and unique as possible. These DIY punny cutting boards totally fit that bill! Cricut wins again!
Click here to be taken to the project directly in Design Space! 
To see more holiday project ideas using the Cricut machine, check out this debossed foil gift wrap sleeve or these retro house gift stickers!
**This post is in partnership with Cricut, a company that believes crafting is for everyone. I love them and love you for continuing to support the brands that help us keep creating! Happy holidays!