This is a sponsored conversation written by me on behalf of Cricut. The opinions and text are all mine.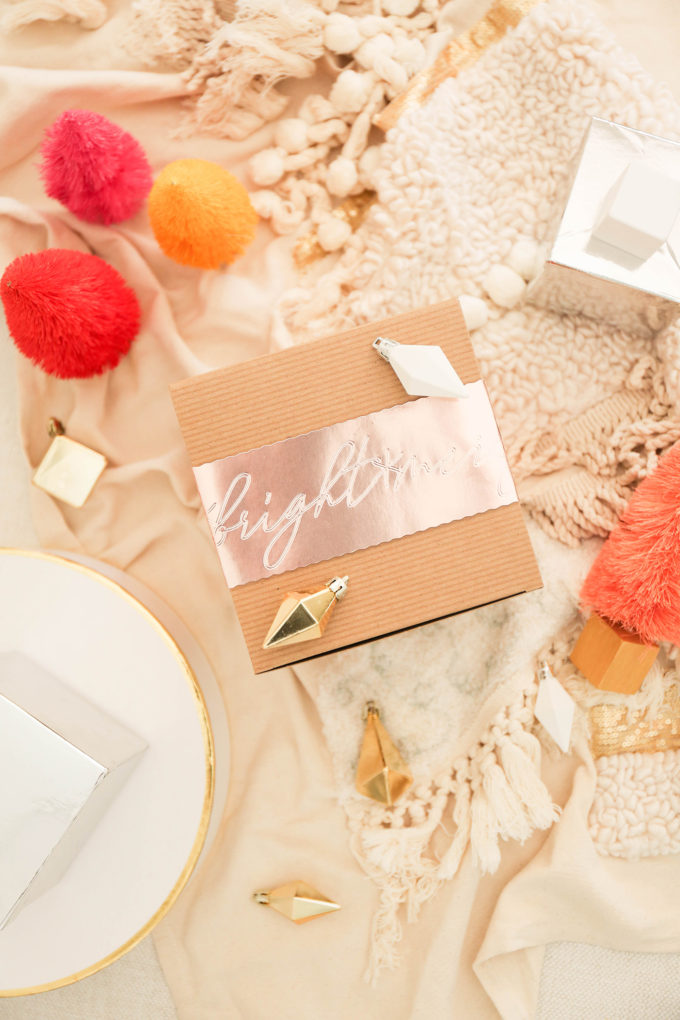 Taking a break from the October fun to talk about the holidays! As much as I try to prepare for them, they always creep up and I'm just never ready! Maybe if I start thinking about things two months ahead of time, I'll be on the ball in every holiday aspect. My gifting game is usually pretty strong. Mostly because I'm a sucker for beautiful gift wrap. I love beautifully wrapped packages and I usually put as much thought into the gift wrap as I do the actual gift. Now that I've got the Cricut Maker, I wanted to try to make things a little more personal. And this DIY gift wrap took me just a few minutes to make and you can whip out your own in no time! Literally, it's a piece of paper taped to a box in the most beautiful way.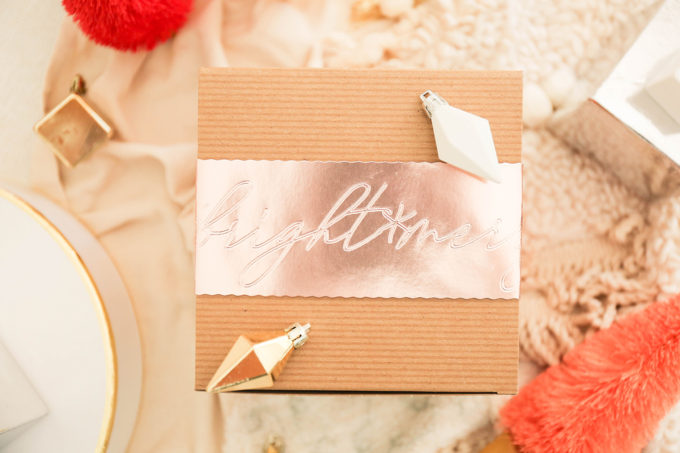 DIY Gift Wrap with Debossed Sleeve
Materials needed: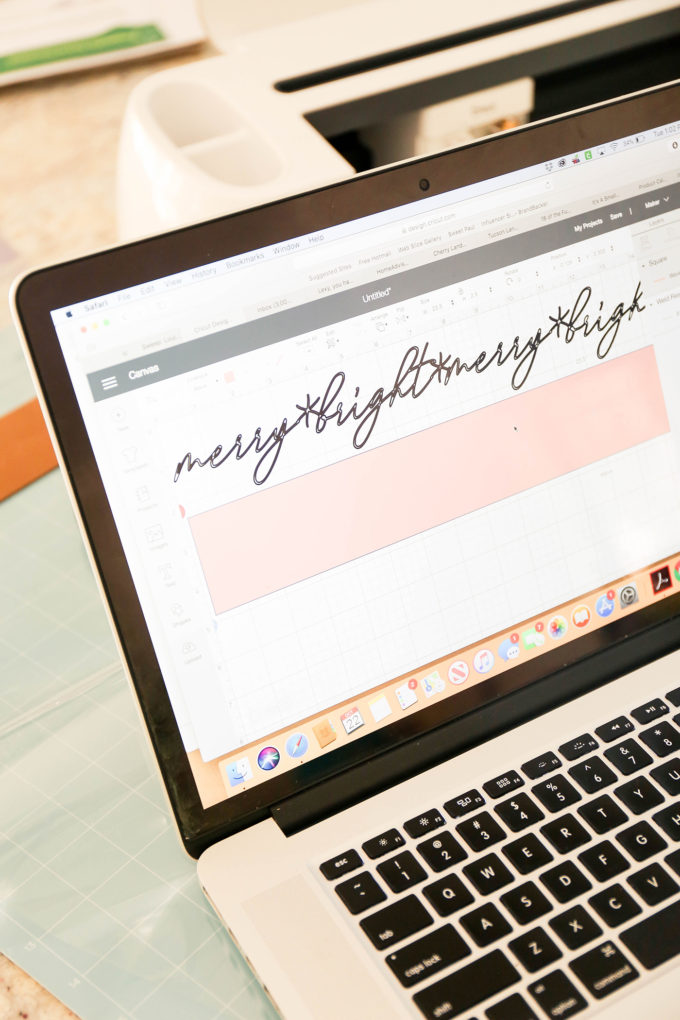 Once you have your materials, follow this link to be taken directly to the project in Design Space. You'll first deboss the words using the Maker and the Fine Debossing Tip and then cut the strips out with the Wavy Blade.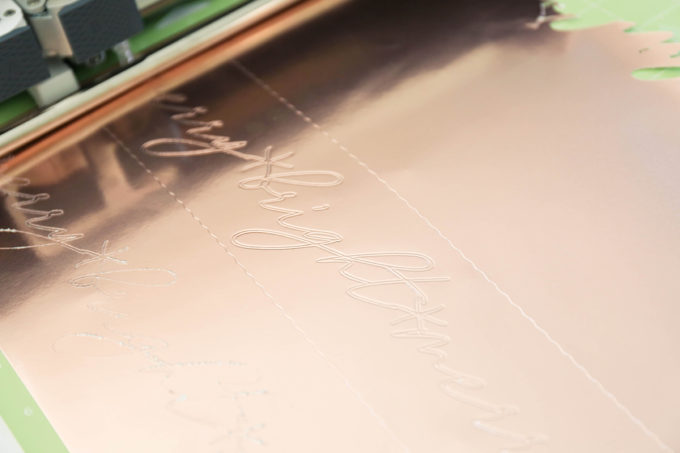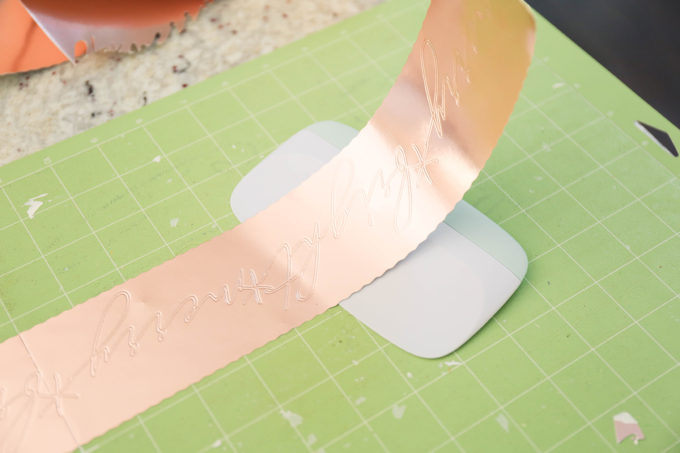 When peeling the paper away from the mat, do it gently! It can tear and bend so just be patient and go slowly.
Now add the sleeves to your presents! I used these 6″x6″ kraft boxes and attached the sleeves with double-sided tape. The Maker can cut up to 24″ long, so you can make a pretty long sleeve. Cut several strips and gently overlap them with the tape.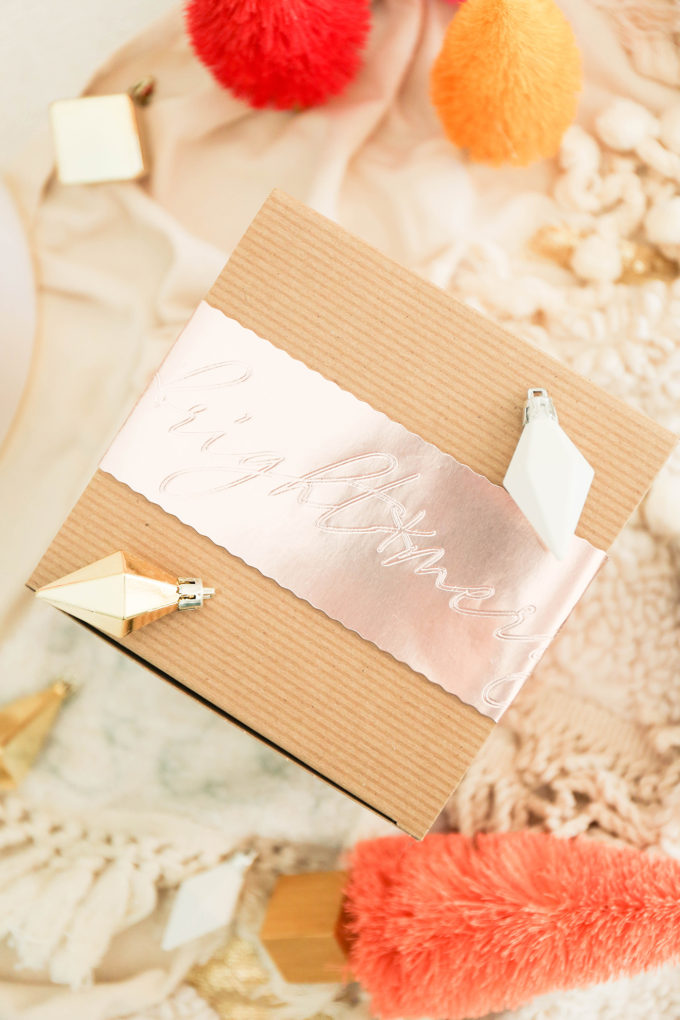 I love how these turned out! The pink foil is this light blush color and the font used seems pretty whimsical in its simplicity. I kind of can't wait to make a bunch of personalized gift sleeves with names engraved and debossed into them. You can swap out the engraving tip and debossing tip so quickly and can crank out a bunch of gift tags in no time! This took only minutes to make and has a huge impact, so I love being able to use the Cricut Maker to make heartfelt personalized gifts for those I love!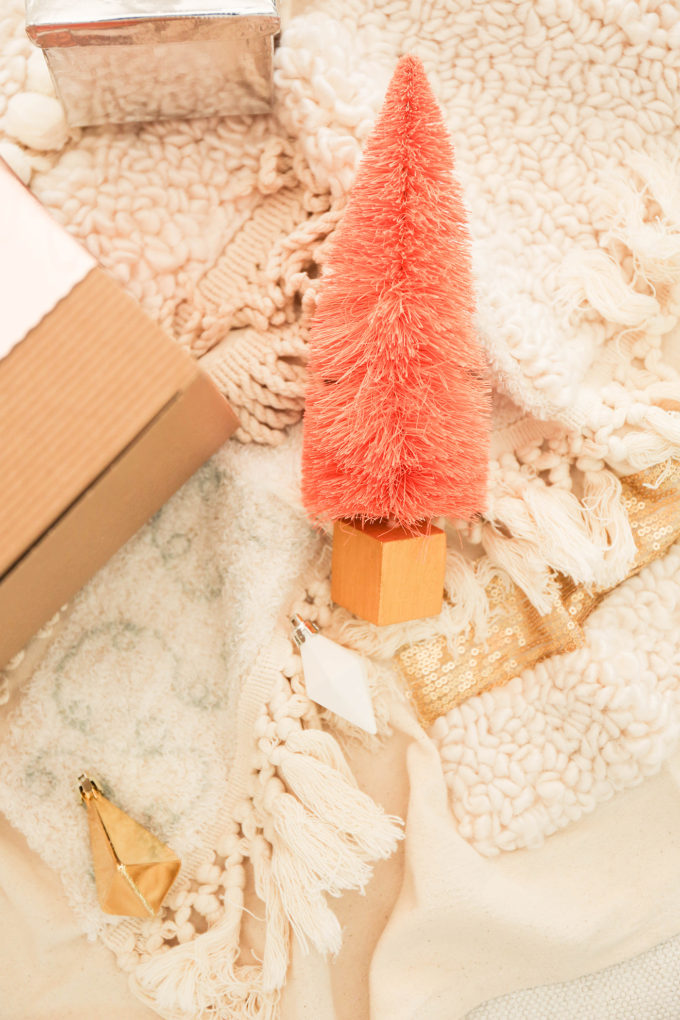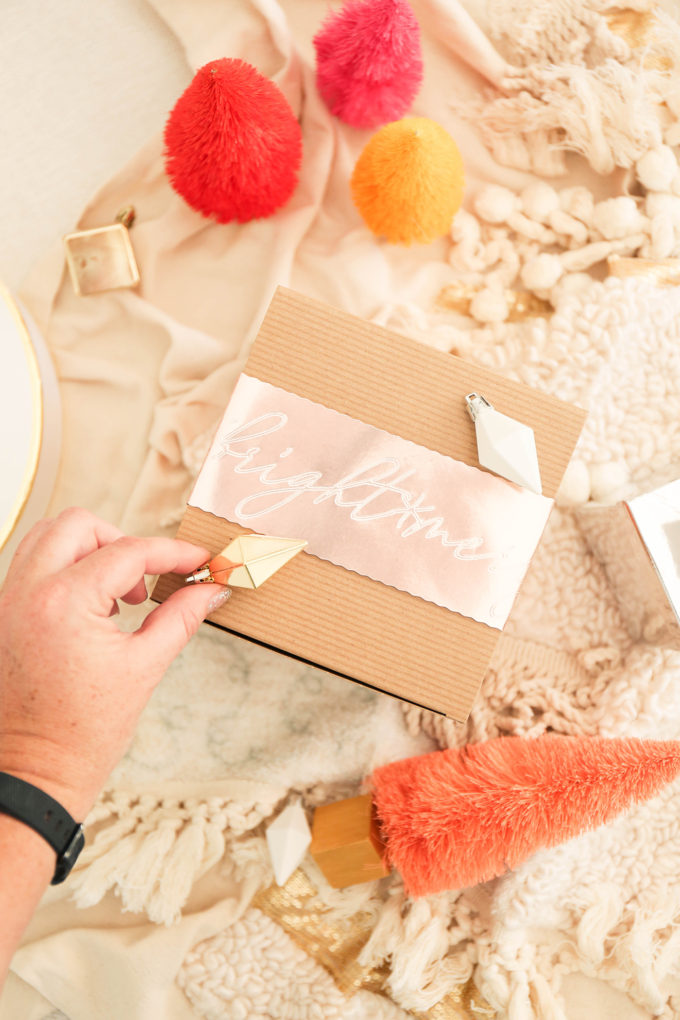 Every year, my girlfriends and I get together and throw a mini "fave things" party. If you've never heard of those, it's where you share your favorite thing with everyone! If your fave thing is a special kind of hot chocolate, you get one for everyone attending the party. Bonus? You leave the party with more gifts. 🙂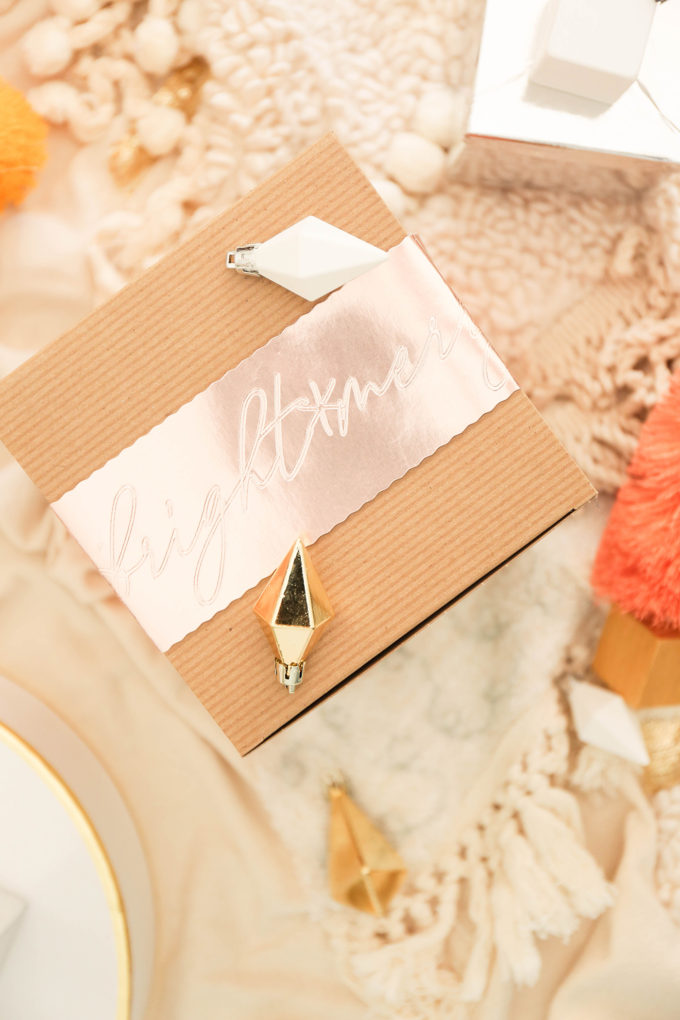 But anyway! I always get so excited about this party because I put a lot of effort into personalizing each gift as much as I can. Even if it feels like a "bulk" gift, I find some little way to personalize the gift or the way it's wrapped. And I'm thinking this is how this year's gifts will look: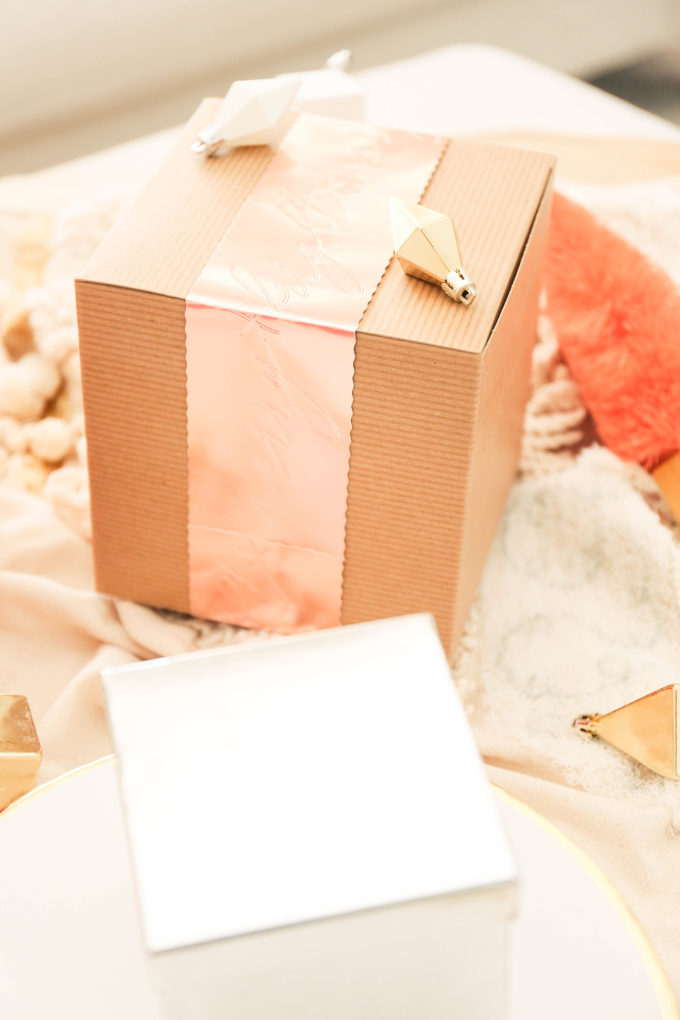 You can see the tiny seam in the paper, but it's super discreet! And I really just love the merry * bright * merry * bright * pattern going on. DIY gift wrap is so fun. Gah!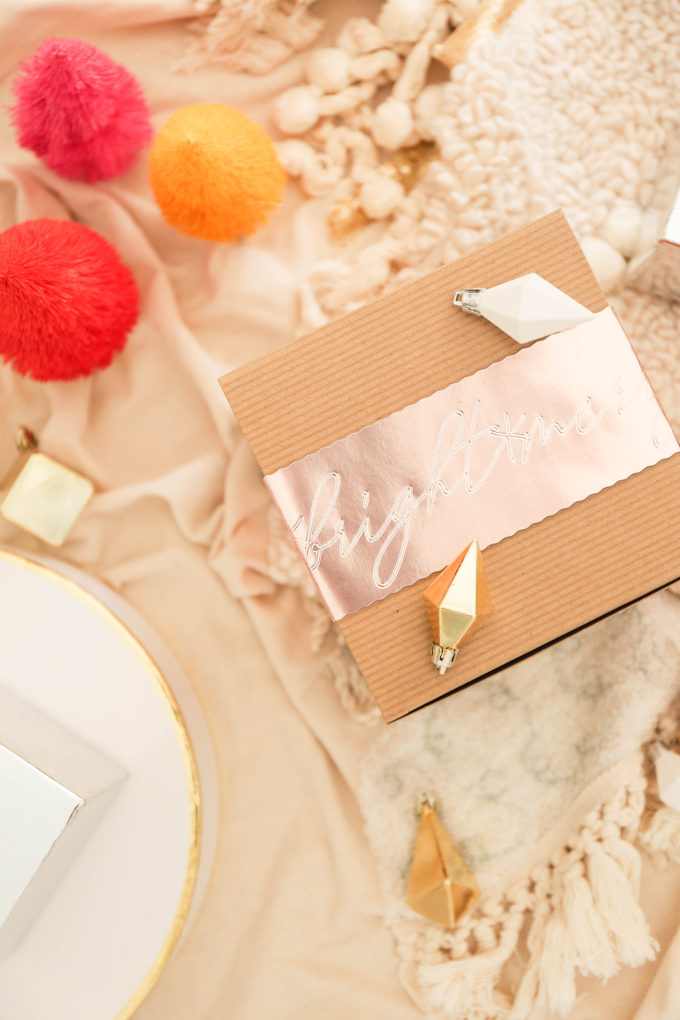 We're about to enter the crazy-hectic-wonderful-exhausting-amazing-end-of-the-year-season. Are you ready? Are you afraid? My life might be a mess in all sorts of areas, but I'm feeling pretty zen when it comes to the wrapping of the presents.
If you're like me and want to personalize all the things this holiday season, snag a Maker and hop to it! Check out a few of my other fave Maker projects like these engraved leather bibs and acrylic keychains! Or this baller rainbow backpack!
concept, styling, & photography \\ Lexy Ward