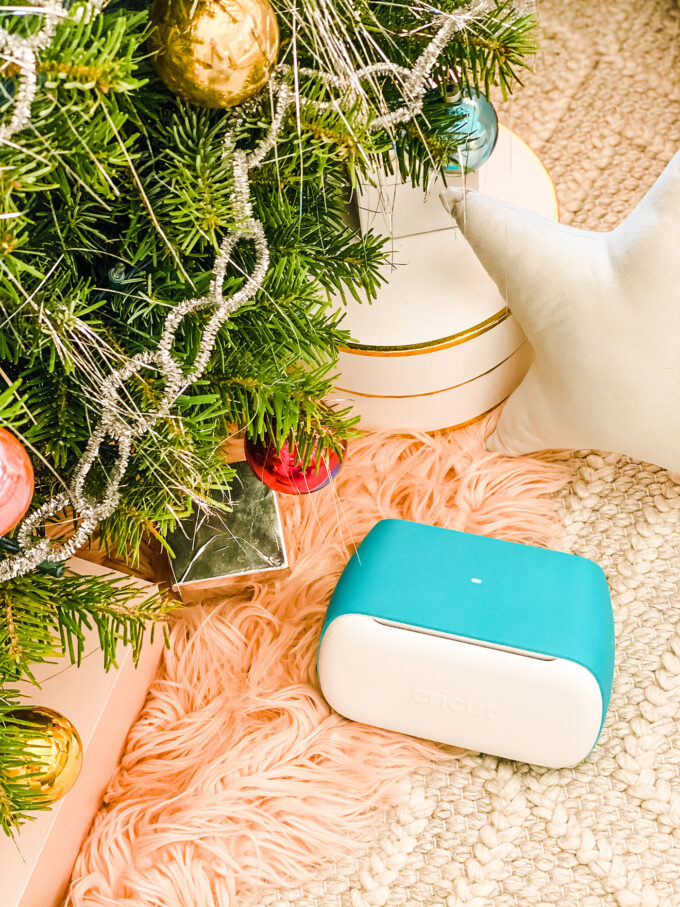 Today is part 2 of our holiday gift series with Cricut! Yesterday, I shared a simple project for DIY Punny Cutting Boards. They came together in about 10 minutes and they look incredible (if I do say so myself). I get a lot of questions & DMs about the collection of Cricut machines whenever I share them on social so I thought I'd share my thoughts right here. The Cricut machines are, hands down, some of my very favorite crafting tools. I used to put them in the "scrapbook-only" category, but MAN! I was wrong. I don't scrapbook. And I use the Cricut almost weekly. And even daily at certain points during the year. Every now and then I find something new and awesome about these machines so it's nice to come here and gush all about it. I could do it all day!
Why do you love it so much?
Back in 2014, I was given my very first Cricut machine, The Cricut Explore. I wasn't sure how much I was going to use it until I went to an event hosted by the folks at Cricut. I was blown away seeing all of the many uses for the machine. Back then, the Explore could cut paper, vinyl, fabric, aluminum foil, cork, foam, and more. I started using the Explore to personalize items for my office, gifts & decor used for events and workshops, and even decor in my own home.
Fast forward a few years and Cricut had released a few other machines like the Air and the EasyPress (a perfect accessory for iron-on projects). When they released the Maker, I was a little obsessed. It cuts leather. It cuts wood. It can etch and engrave and deboss and even write with markers & pens! I am always trying to figure out a new project that the Maker CAN'T help me with and I have yet to find something. (I probably shouldn't mention this here, but I'm actually planning to discover if it can cut some clay or not. We'll see!)
It truly is incredible to look at this machine and discover what it can do. Time and again, readers will comment with their astonishment at the capabilities of the Maker. It's the ultimate in holiday gifts! Give a Maker to the Maker in your life.
What if I'm not a big crafter?
It don't matter. Yes, I am a crafter by trade, but there are so many simple uses for these machines. If you like to sew, or own a small shop that needs personalized packaging, or you have some professional hobbies, I can see a major need for the Maker. It does everything. And I love having it in my tool arsenal for when I have a need for some mega cutting power for wood & leather crafts. It's also fun for those simple projects like cutting paper for cake toppers and party decor, giving your school backpacks a lil' update, or making clothes.
I'm new to the Cricut world and don't know where to start!
There are a TON of tutorials for getting started with any of the Cricut machines. I suggest taking a stroll through Cricut's Design Space and browsing all of the many different projects. Is there a specific DIY you had in mind? Looking for paper mantel decor for the holidays? Need to make a bunch of items for your child's class? The sky really is the limit when it comes to what you can do with the Cricut. The best thing you can do is just START. Get it out of the box. Play around with it. Try a few different techniques to find which ones you'll fall in love with. (hint: all of them)
I want the tool, but don't have the space!
Have I introduced you to Cricut Joy? If you're new here, maybe you haven't heard me gush about it, but this tiny tool packs a mighty punch. It's about the size of a clock radio and chic enough to keep out on a shelf all the time. The folks at Cricut took some of the most popular capabilities of the bigger machines and condensed them into Joy. You can still cut paper, vinyl, and more, and you can forget about needing to use a mat! Joy comes with its very own "SMART" materials that are mat-less and just as sturdy. Additionally, Joy also has a drawing capabilities so you can still label and draw to your heart's content with Cricut's pens. My Maker is quite large so it stays stored in the garage and I just pop out there to grab it every time I need it. But with Joy, I can just keep it out and use it whenever I like! It's that easy. I've also taught V how to use it and that was the best thing ever. It's the PERFECT holiday gift this year!
Is it worth the $$$?
Everyone's financial situation is different. This is where you have to weigh how much time and money you spend on making. For me, I really enjoy creating with my hands and seeing my ideas come to life. I use the Cricut for so many things at home and for work. I absolutely love the Maker and use it for some of my bigger projects or for cuts that are larger than what Joy can do. However, I love having Joy for some of those smaller quicker projects. I also love Joy's more affordable price point. It can do all of the basics of the bigger machines, but you do lose out on some other factors (cut size, material options, etc.). ALL THIS TO SAY, if you're wanting to give this kind of DIY a try, but are more of a dabbler than a die-hard crafter, absolutely give Cricut Joy a try. And if you've been wanting to try the Maker for ages, do it already! You'll find that it fills that crafty void you've been feeling.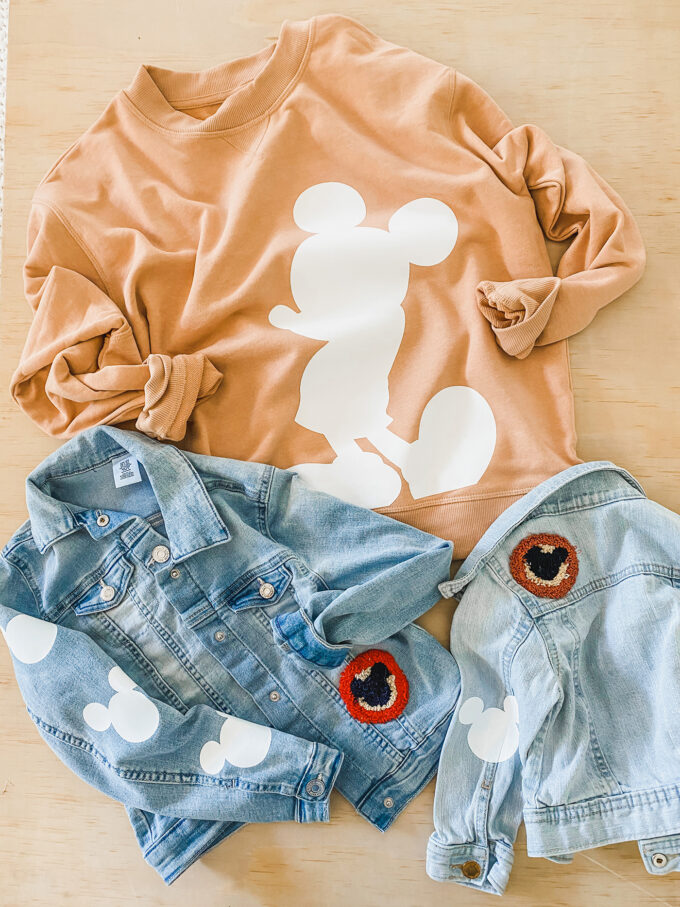 Bonus! Soooo many items are on sale over at Cricut's online shop. Snag a bundle of accessories to go along with your new machine, or if you're a seasoned pro, time to restock your supplies! I've created a super bundle below to get you started with my favorite accessories to use with Cricut Joy!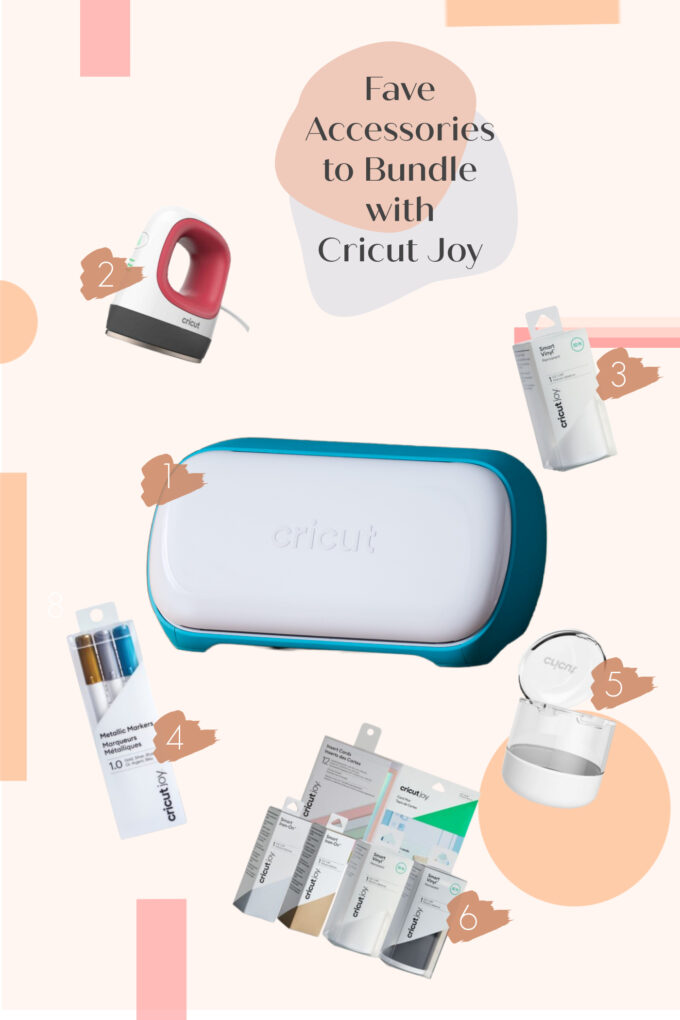 1. Cricut Joy – $10 off and free shipping right now!
6. Cricut Joy Essentials Bundle
Whether you're a novice or a pro, I can't recommend Cricut enough. It is a fantastic gift that encourages creativity in anyone! Be the ultimate giver this year and gift one to a friend that needs some creativity in their life! (Or just gift one to yourself. I won't tell.)
Check out some of my fave Cricut projects right here!
**This post is in partnership with Cricut, a company that believes crafting is for everyone. I love them and love you for continuing to support the brands that help us keep creating! Happy holidays!