This is a sponsored conversation written by me on behalf of Cricut. The opinions and text are all mine.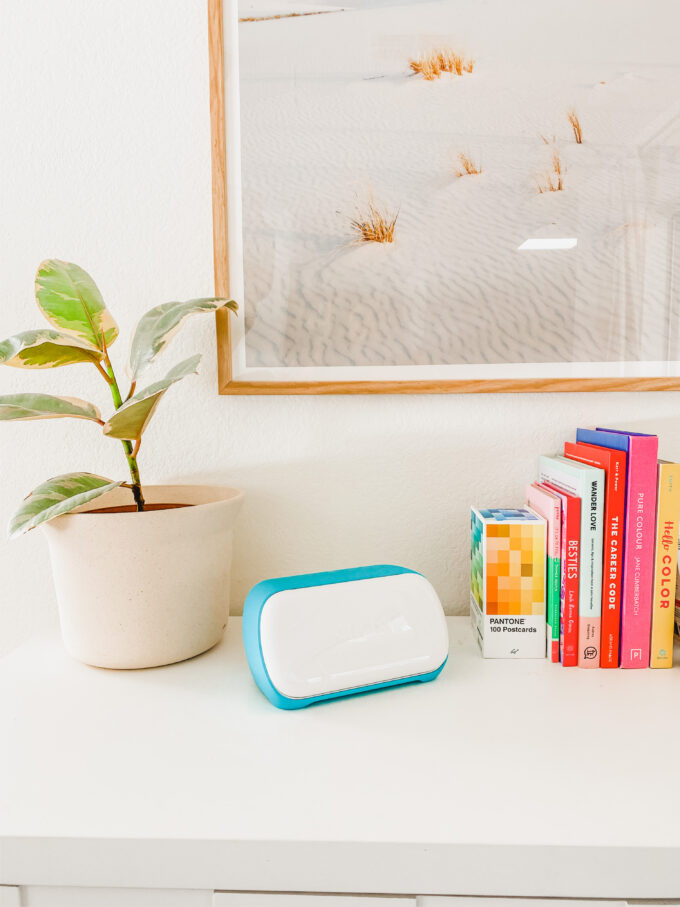 The cat's outta the bag! A few weeks ago, Cricut announced the release of their newest machine – Cricut Joy!  This little guy packs a tiny and powerful punch and is just my new fave buddy when it comes to whipping out all the tiny things lately! Last month, I flew to Cricut's headquarters in Utah to learn all about Cricut Joy and the many MANY awesome accessories that accompany it. I can finally share my take on it and I'm super excited to give y'all a look at Cricut Joy & what it can do. It came in so handy when prepping for our trip to Disney World last week so I hope you're ready!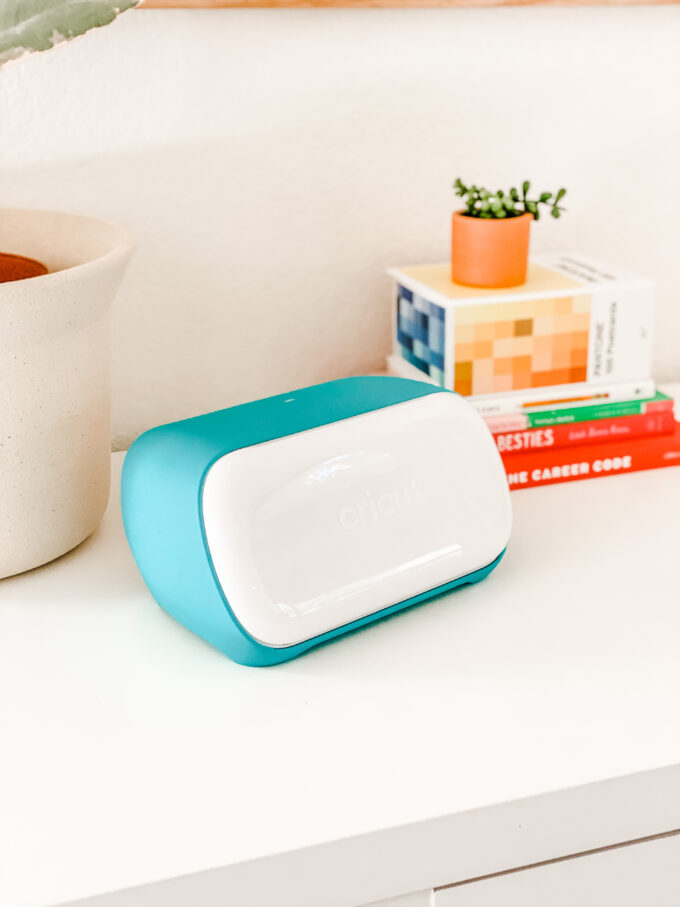 What is Cricut Joy?
Cricut Joy is Cricut's smallest cutting machine EVER. It's a little bigger than the size of my clutch. It's a perfect machine for those that dabble a bit in DIY, but aren't ready to commit to or might be intimidated by the many larger machines out there. Everyone wants to be able to add a littler personalization to their life so this is kind of the perfect solution. I'm a die hard fan of my label maker, but haven't broken it out once since I got my Cricut Joy.
How big of a project can I make with Cricut Joy?
It cuts images up to 4 inches wide and 4 feet long or repeated cuts UP TO 20 FEET LONG in certain colors! What?!?! We are getting ready to redo Vita's bedroom and the girl wants decals. So I plan to utilize the heck out this feature. The sky is really the limit here. Check out Cricut's little video all about Cricut Joy to really see the possibilities!
Aside from the magical cutting, it can draw! It can draw any shape and can write in a variety of styles found on Design Space or designed by you.
It's simple! There is a place for one blade, and one pen. So you don't have to break the bank buying all the various tools because this can do so so much while keeping you cool and collected.
It Goes Everywhere
Cricut Joy doesn't look like a regular cutting machine. It's super sleek and stylish and is similar in size to a small radio or clock. It looks good on any counter or shelf, and it's pretty enough to keep out on the regular. Because it's so small, it's easy to take from room-to-room for all of the projects you have. I don't have a designated craft room or office in our home, so when I use my other cutting machines, I have to really designate a large space for my projects because of all of the materials involved. With Cricut Joy, I can send a quick project to the machine right from my phone and we're ready to go.
What if I already have another machine like the Maker or Cricut Explore?
I feel like this was on my mind when I first saw Cricut Joy. I own a Cricut Maker that can do pretty much everything I want it to do. But the beauty of Cricut Joy is that it's an amazing companion machine to that. When I'm cutting leather bibs, I've obviously broken out my Maker because I require a stronger cutting pressure. Cricut Joy is perfect for the small and simple stuff. We recently needed a bunch of Mickey Mouse stickers for our trip to Disney World and used Cricut Joy to crank out about 30 of them in just a few minutes. I feel like we all have little projects around the house that can be done in seconds – labels for the pantry, backpack accessories (if you know Vita, you KNOW she loves to customize everything), and more. This machine can do all of that for you, and it doesn't require a lot of work to do so.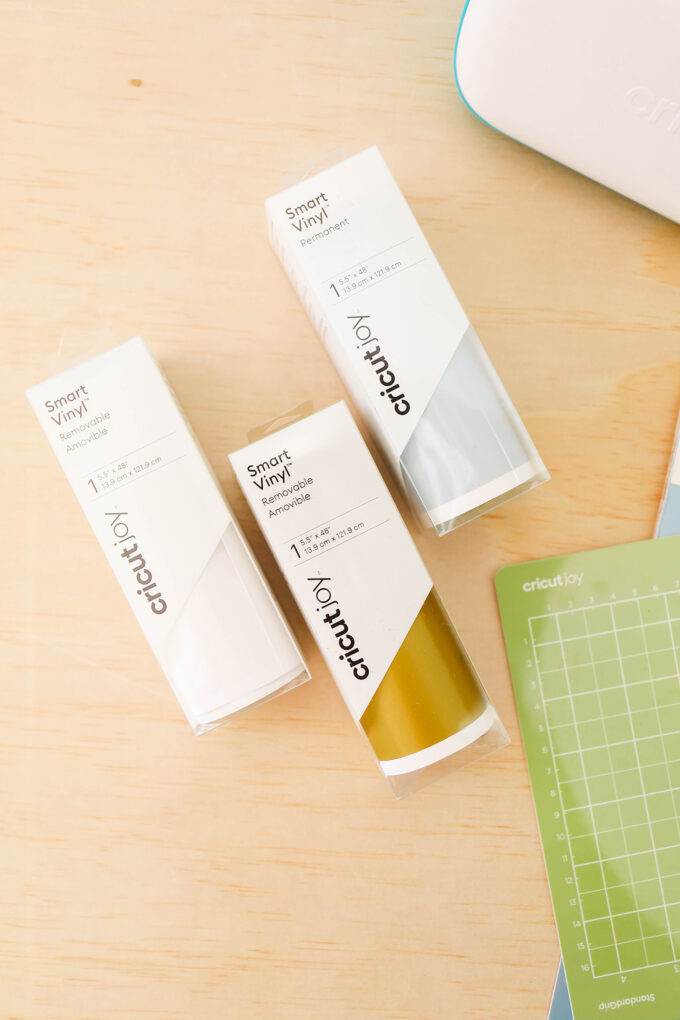 What materials can I use with Cricut Joy?
With the launch of Cricut JOY, comes a collection of new and amazing tools. I've been using Cricut's new Smart Materials and the best part about them is that they are MATLESS! Forget the mat! You just open the material right from the box and feed it into the machine. Choose from Cricut Joy Smart Vinyl, Cricut Joy Smart Iron-On, and more. You can even break out the Cricut Joy Infusible Ink! They each come in a long list of colors and patterns, so you're sure to find something that will work for your project.
Can I still use my other materials for the other machines?
YES! Cricut released smaller versions of various mats so you can trim your materials down and use those for Cricut Joy projects. No wasting going on. Nope!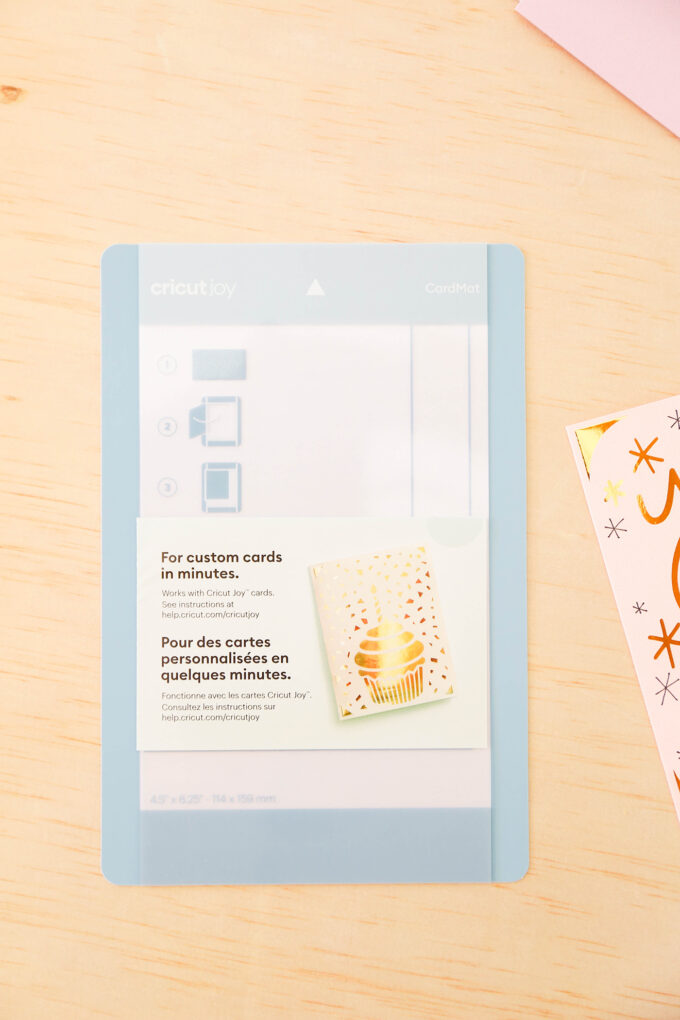 Make cards in minutes with Cricut Joy Insert Card Sets!
So, I've never been a HUGE card maker! I'm always running around at the last second searching the store aisles for a good card for every occasion. But I've been able to crank out a crazy amount of cards using the new Cricut Joy Insert Card Sets! They come with inserts to make the prettiest designs, and they're cut in literal seconds using the new Cricut Joy CardMat to spell it out for people like me that need step-by-step instruction. Genius move, Cricut folks.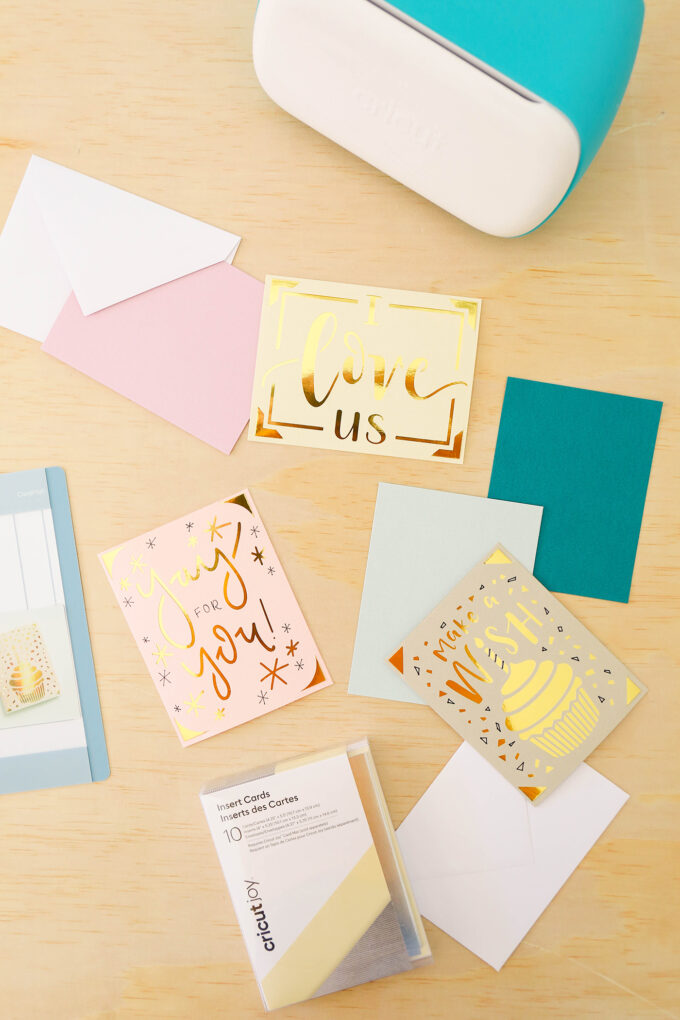 The sets come with packs of 10-12 cards and a variety of color choices. Use one of the many designs in Design Space or go ahead and design your own! Make a card for your child's teacher, or for your husb when you forgot to get him one for your anniversary. (I'm just using examples here. That's not me. wink wink.)
Create right from your phone!
Cricut Joy has bluetooth built right in, so I can just connect to it right from my iPhone. It's nice to only need a power cord to get going! I had Vita find the perfect Mickey Mouse shape for some stickers we needed for our trip. She was able to size them from my phone and we had stickers in minutes! To make a project like this, simply find an image in the library or upload your own to Design Space. Size it to fit Cricut Joy's cutting measurements and hit go! The machine will tell you when it's ready to load so you can just open up your matless material and feed it right into the machine.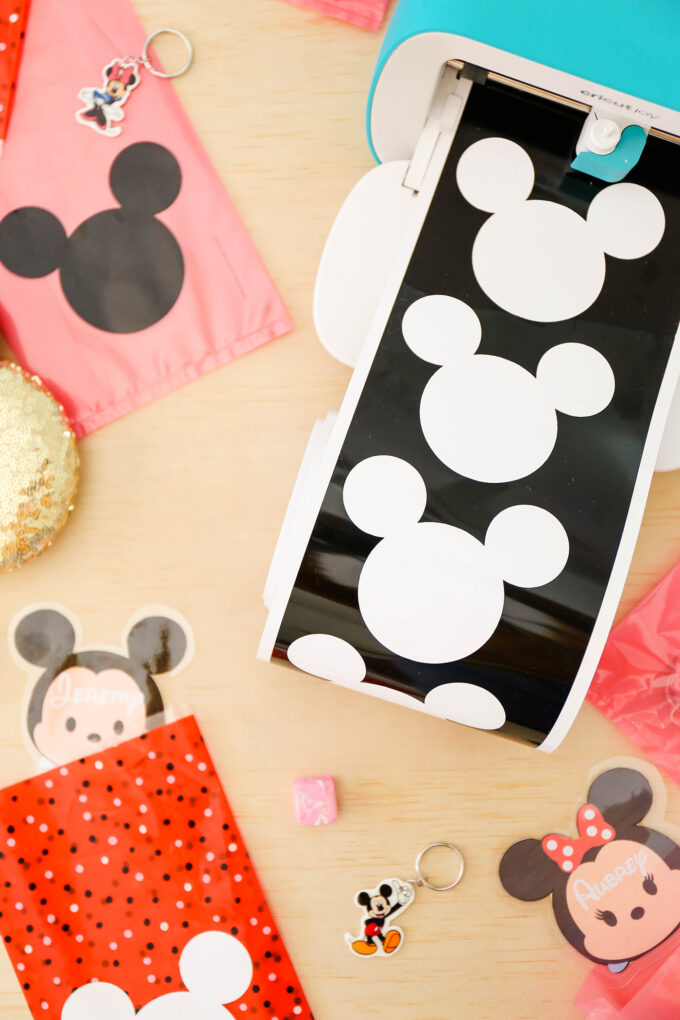 We used the Cricut Joy Smart Vinyl in black and white. It's matless and saved so much time. When feeding any material into Cricut Joy, it measures your material and will let you know how much you need for your specified project. So if you are putting in scraps, you'll know if you have enough or need to resize your project before cutting.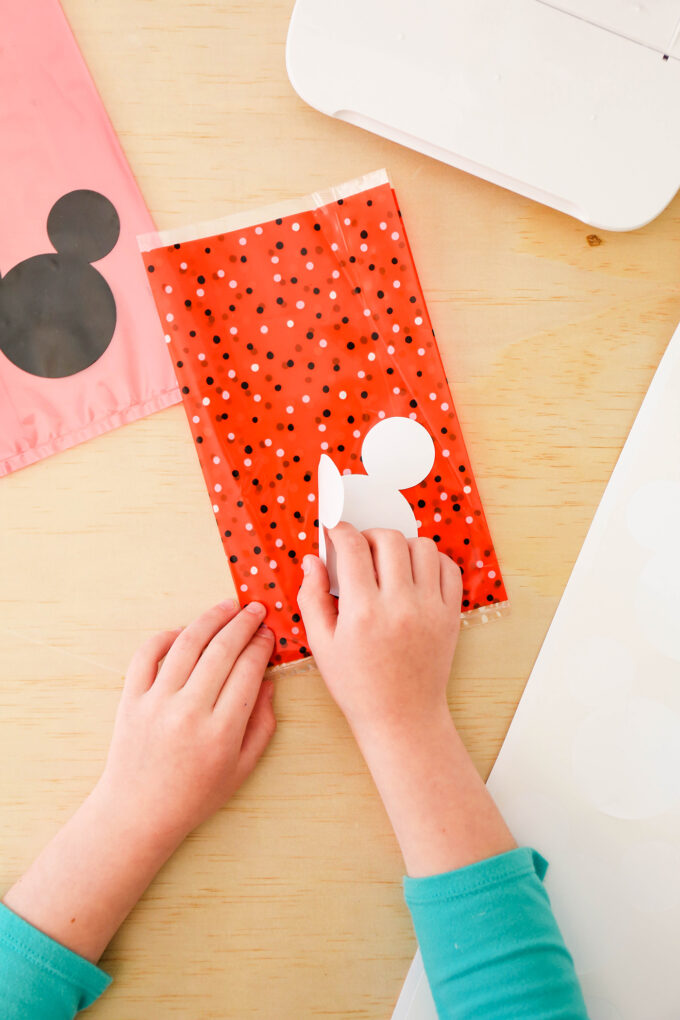 After the shapes were cut, we weeded each of them directly from the backing. I darkened the image below so you could see the outline.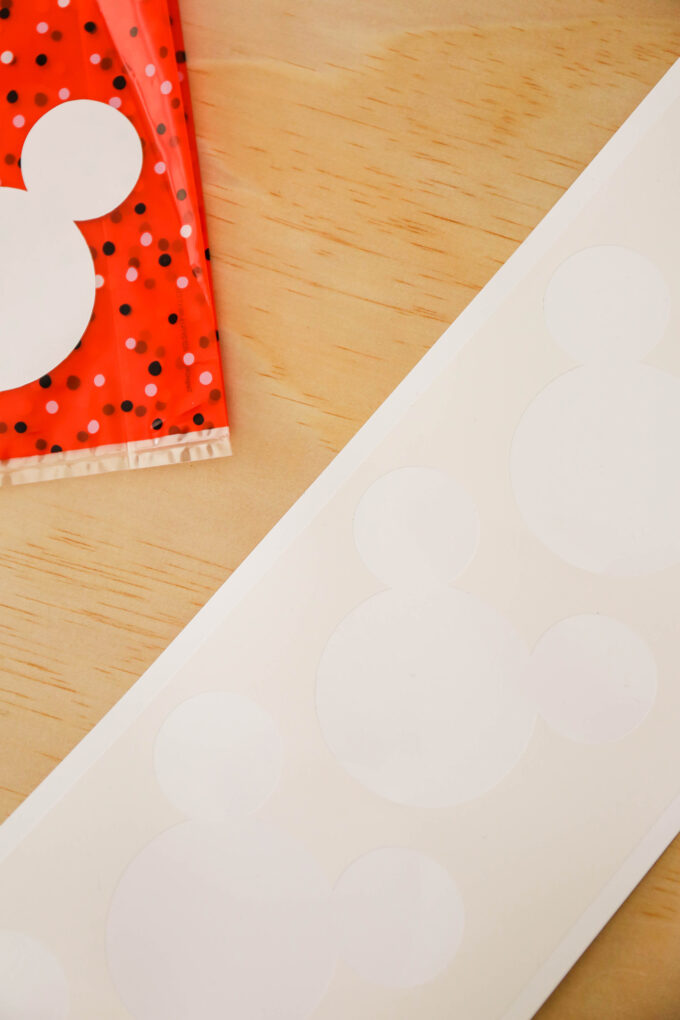 I can't really tell you just how awesome it is to have matless material. I don't have to worry about the mat adhesive weakening, or storage for something of the size. These Smart Materials are flexible and strong, and roll right up as you cut or when they're in storage!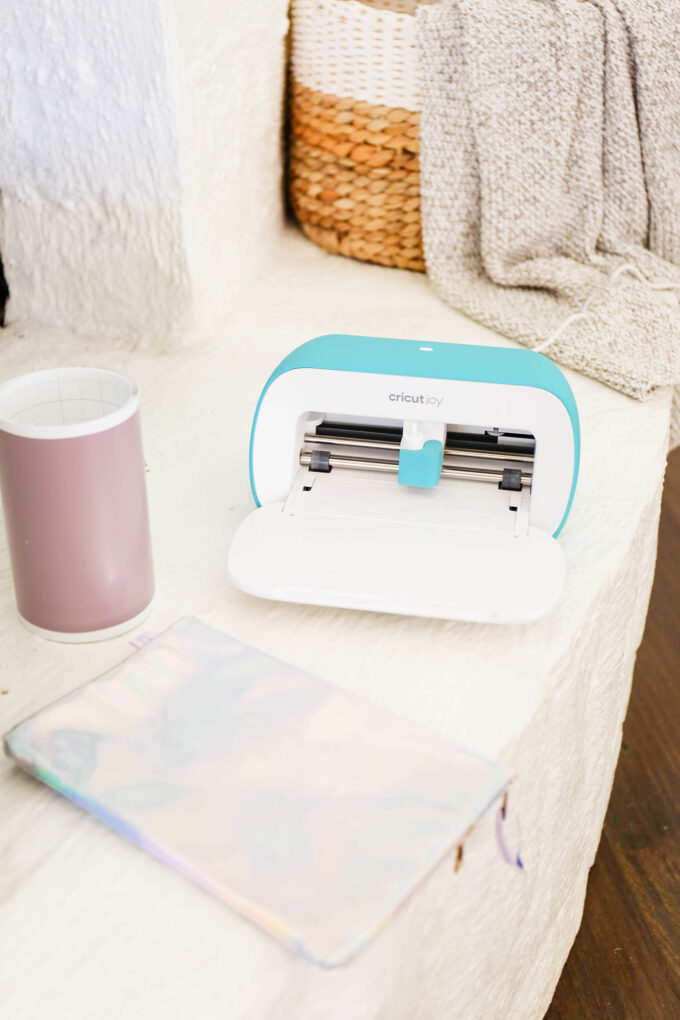 Oh hey. Cricut Joy's just kicking it on our fireplace while we plot out the design for a few projects.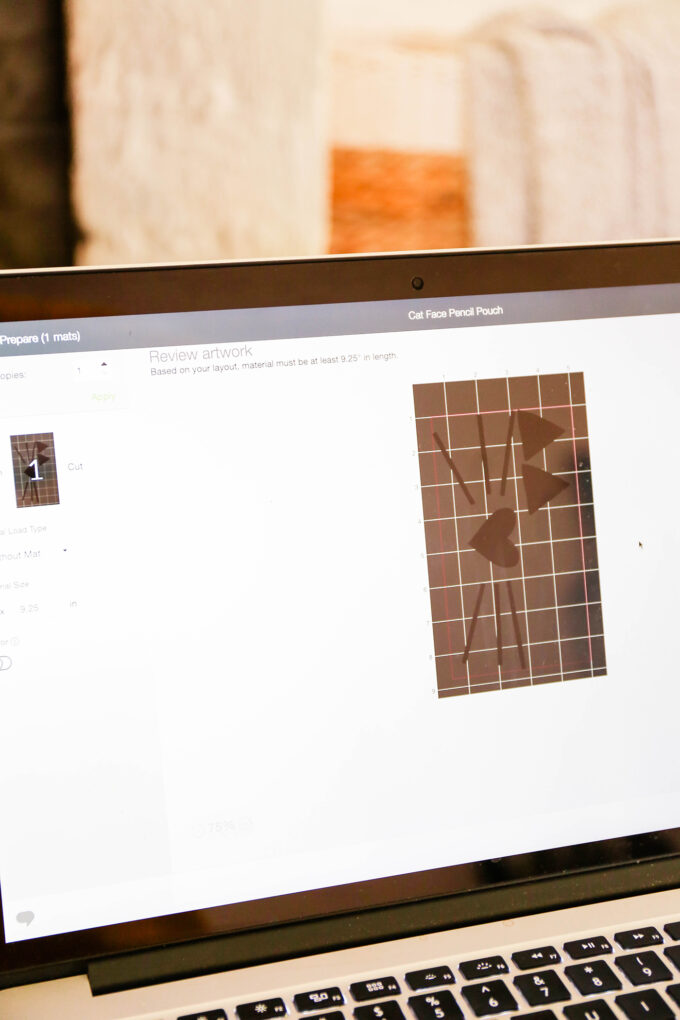 We couldn't stop at just the stickers. Vita needed a new backpack after hers broke. She saw a backpack with a cat face in Target that she loved, but the material of the backpack was just one of those that would get so dirty so fast. We compromised on this wipeable holographic one when I told her we could quickly add a cat face to it. (Can I get a high-five for that mom decision????)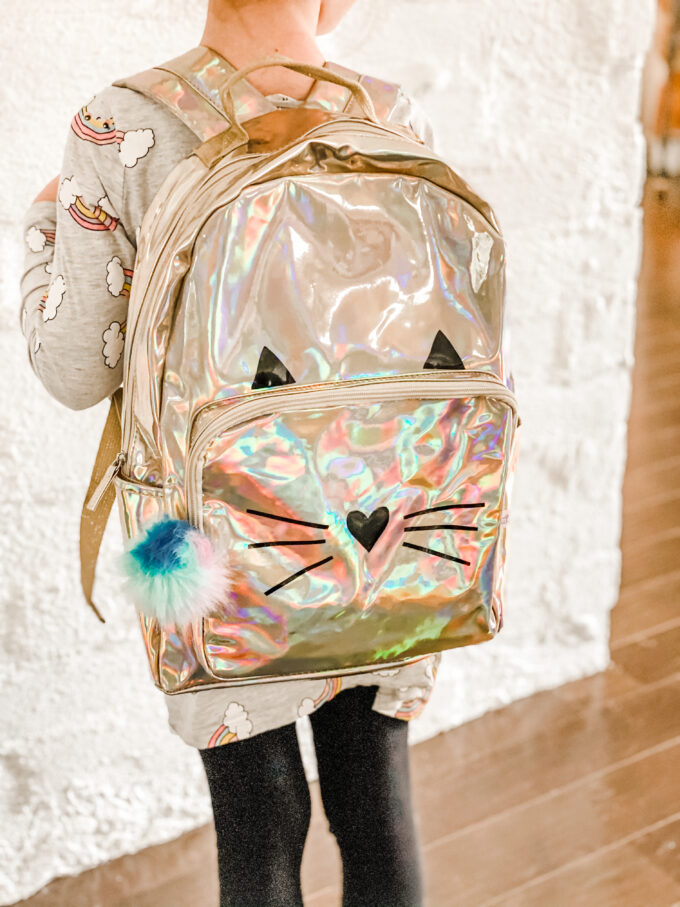 Once again, this was done in about 5 minutes start to finish. I'm obsessed and want you to snag one so you can be obsessed, too! Cricut has really done the work to make DIY possible for every skill level. Whether you're a pro who is just needing a companion machine for the simple stuff, or a beginner who wants to add a little customization into their life, Cricut Joy is definitely the way to go. And let's not even talk about how cute and small it is! It looks good anywhere!
It's small enough to fit inside a purse and can travel with you wherever you go. I literally almost packed it in our suitcases before Disney because I was so sure there would be a need for it and it's just so compact!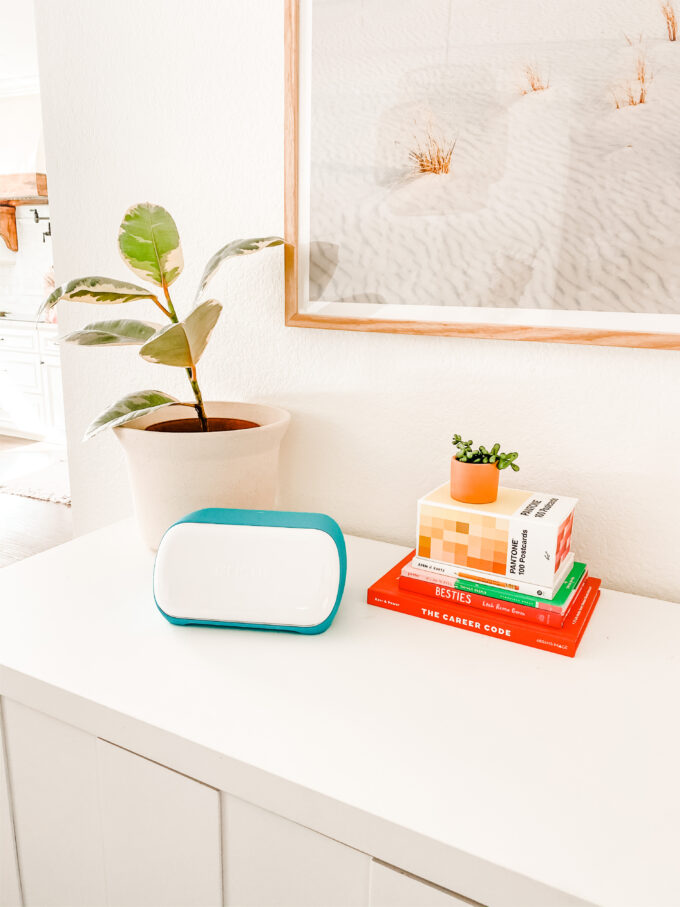 If you've been on the fence about cutting machines before, know that this is one of those machines that makes almost anything possible. It's small. It's cute. It's affordable. And it's available on March 1st. Head over here to make sure you are notified the minute Cricut Joy is available online and in stores! I'll just be cranking out different DIY projects over here and will report back and to share more about Cricut Joy & what it can do! Happy making!