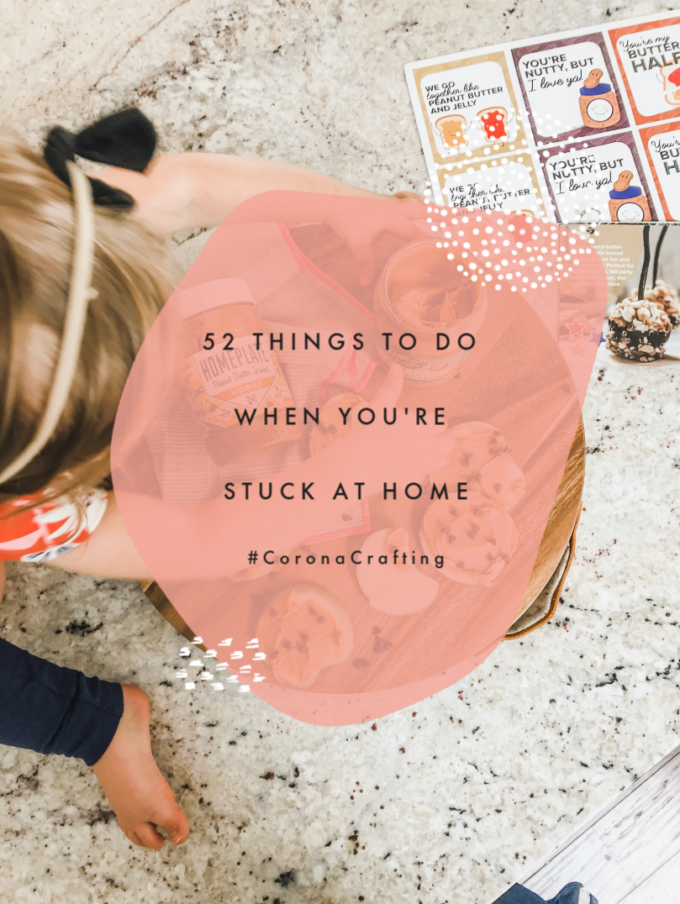 Chances are, you're practicing some social distancing and are looking for things to do when you're stuck at home. I have worked from home for years (perk/curse of blogging) but it has been more of a challenge with Vita home from school. It's now up to us as parents to teach, feed, entertain, protect, and enrich the lives of our children (don't know that I signed up for this when I first became a parent…) while still managing things from a work/life perspective. Life is rough. But maybe something on this list will help you and your littles have some fun while we all wait this out.
Above all else, please remember that we're all just doing whatever we can to keep our heads above water. It's not about how creative or productive you are. You're doing a great job doing whatever is comfortable for you and your family to feel at your most normal. You're doing a great job.
Mmmkay here we go.
52 Things To Do When You're Stuck At Home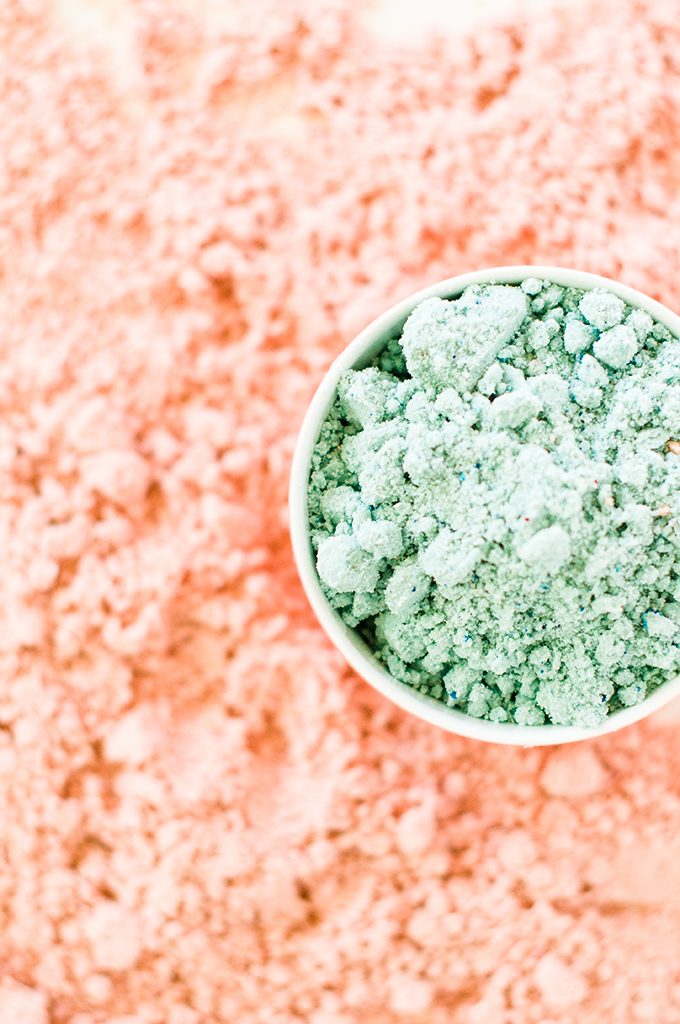 Make Cloud Dough
Probably one of my favorite crafts to make with the kids and it keeps them entertained for hours. Also, I like to pick the colors, but my kids are getting older and a little more bossy. Get my recipe here.
Make Paper Plate Rainbows
If you've got a bunch of paper plates lying around, cut them in half and paint some rainbows. We glued strands of tissue paper to the bottom, but if you're in a pinch, you could use toilet paper. I kid. I kid. That stuff is too important these days. Tutorial here.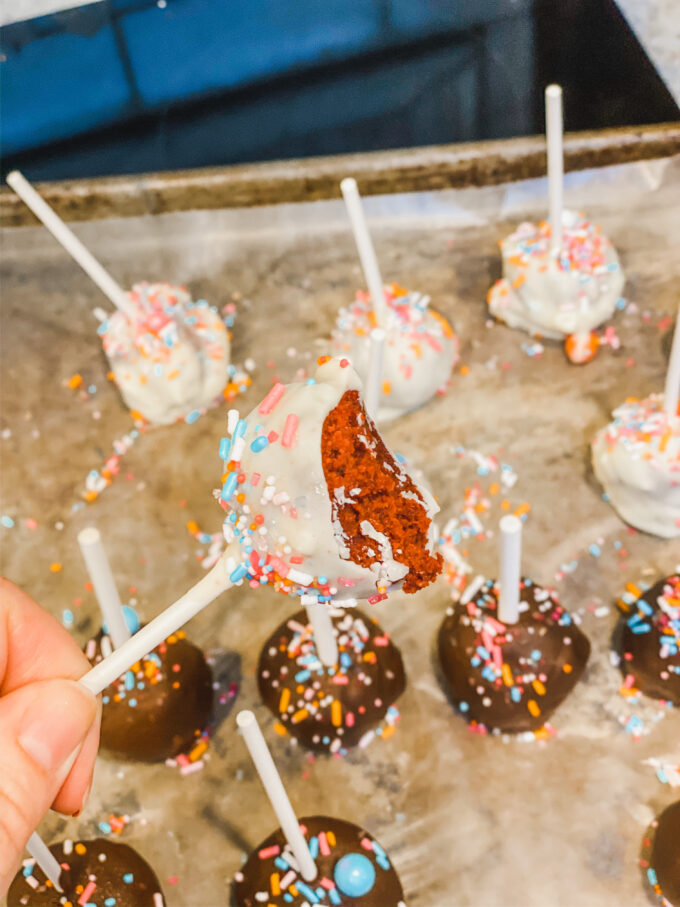 Make Cake Pops
Marz would die if she couldn't have a cake pop every few days. The girl is an addict and I am happy to oblige. You need a cake mix, a can of frosting (unless you're happy to whip up your own from scratch), sprinkles, and chocolate! You can use sucker sticks, toothpicks, or even straws to make them "pops". Bake your cake according to the directions and let it cool. Crumble it into a large mixing bowl and add 3/4 can of frosting. Roll into balls and freeze for a few hours on a cookie sheet. After they're frozen, melt some chocolate and dip the balls in it. Work in batches so the balls stay frozen until they're ready to dip. Cover with sprinkles and enjoy.
Bake Bread
I've heard the rumor that bread is in short supply right now. Bake your own with your kids! You can make loaves, rolls, or braids. This is a great skill for kids to learn at any age.
Reorganize Closets
Can I get an amen for the Type A folks out there??? I have been meaning to go through our closets, dressers, and storage to switch out things we aren't wearing or no longer need. Now's the time!
Popsicle Bath
If your kids are freaking out from boredom, strip them down and give them a popsicle in the bathtub. The sticky mess doesn't have a chance. And your kids will happily enjoy a cool snack while chillin' in the warm water.
Learn To Sew
I've got an old sewing machine that I'm teaching Vita to use. But when I was a kid, my grandmother taught me to sew by hand. I just made a few pillows, but still! This is one of those activities that will keep the kids busy for a long time.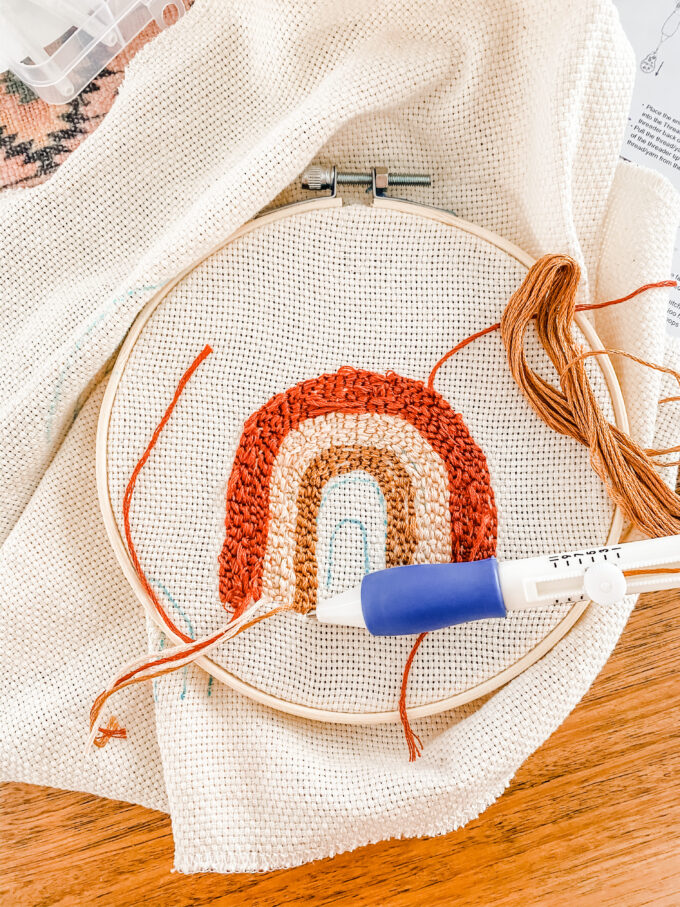 Learn to Punch Needle
I recently took up punch needling to make a bunch of patches for our trip to Walt Disney World. And I'm hooked. (that pun was not intended, but MAN it works!) You can still order supplies from amazon and here is my fave starter kit for beginners. It comes with TONS of thread!
Have A Mega Coloring Session
My kids are cuh-razy for coloring. Sometimes, I wish it wasn't so. To avoid them using up my supply of printer paper, I roll out a large piece of kraft wrapping paper on the floor, tape down the corners, and tell them to go to town.
Make Paper Dolls
There are a million and one tutorials out there, but I'm partial to this cute articulated version from Handmade Charlotte!
Make Play Dough
You cannot go wrong with this 2-ingredient recipe from Almost Makes Perfect. Making it now!
Have A Scavenger Hunt
While the kids are sleeping the night before, hide things around the house or make a list of things already out. Look for shapes or colors to keep things simple. Give each kid the list and let them run around the house checking things off as they find them.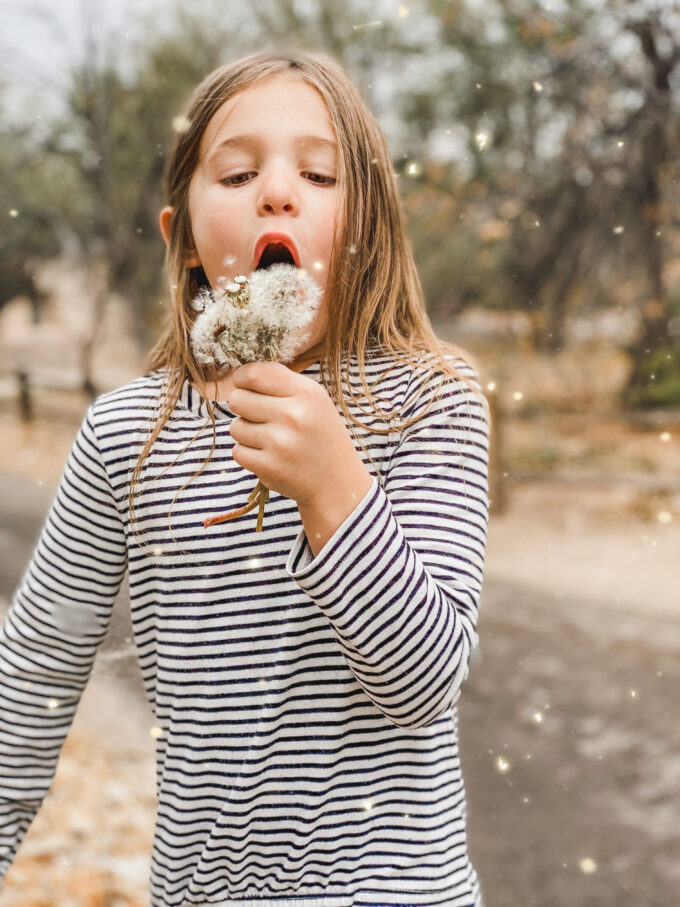 Get Outside
If the weather is nice where you are, get outside! We've been taking walks morning and evening. Picking flowers. Riding bikes. Playing baseball and soccer. Blowing bubbles. Sunshine is just good for the soul and is probably the easiest on this list of things to do.
Break Out The Sidewalk Chalk
We have a amassed quite a collection of sidewalk chalk over the years. Head to your local dollar store or make your own. Write messages for neighbors and passersby on the sidewalk to put a smile on their faces during this quiet time.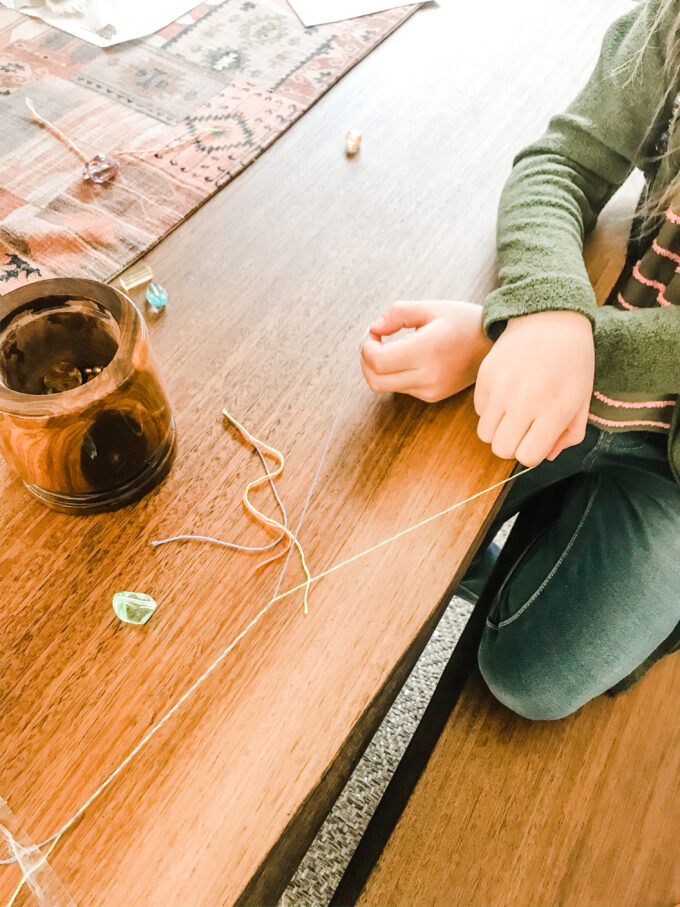 Make Friendship Bracelets
You can use yarn, thread, or thick string. Vita made a list of all of her friends at school and has been making bracelets for each one. I taught her how to braid yesterday, so she could use three strands. But you can keep it simple with two strands and just do a simple twist. "Add beads for a little 'pizzazz'." – Vita
Try Moon Sand Ice Cream Play
I have been religiously reading The Mama Notes for ideas for my kids. Her Moon Sand and Sensory Play Foam recipes are too good.
Mani/Pedi Time
You can paint your nails or your kids can. If you're worried about messes, I love this cardboard idea by @JessPartyof4 on Instagram!

Make Shrinky Dinks
Vita's current favorite project. I've been hoarding shrinky dink paper for ages and she finally found my stash. We just whipped out 30+ Disney character keychains for some friends on our Disney Cruise! You can color your own, or use this special paper in your printer, bake them at 325 degrees Fahrenheit for 3-4 minutes and you're good to go.
Make Magnets
Turn some toys or letter blocks into magnets! Grab a hot glue gun and some magnet dots and add them to the backs of each toy. Have fun and be creative with this one!
Create A Bucket List
Make a list of fun things to do together while you're at home. Watch fifty movies on Disney+? Do it.
Write Letters To Neighbors
My friend Mique created fun little shamrocks to place on neighbors' cars and doors. Her kids wrote quick personal messages on each and then quickly delivered them around the neighborhood. A genius way to give some love to the neighbs without actually having to put in any face time. 😉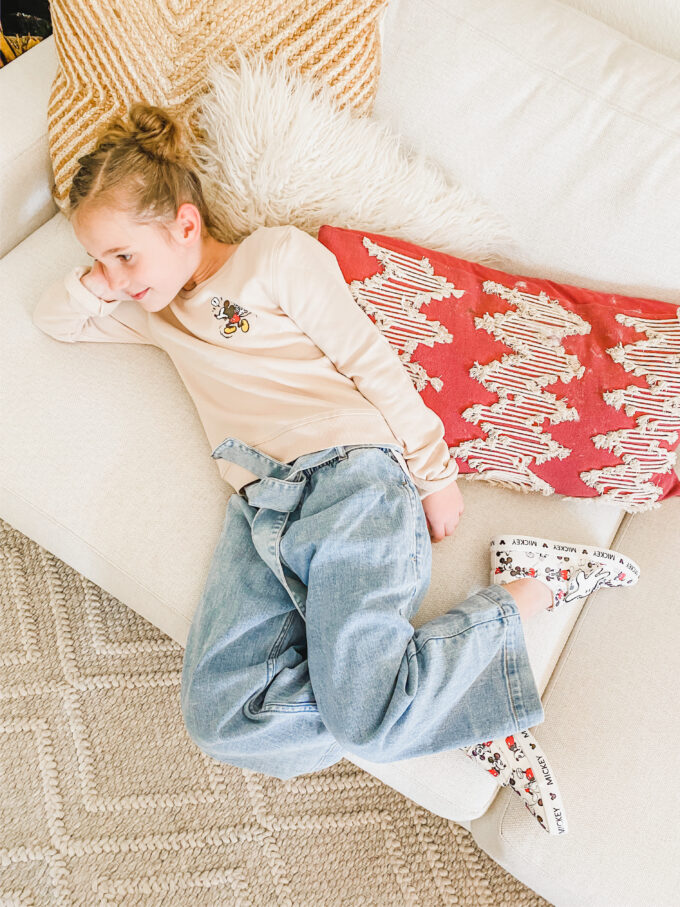 Have A Fashion Show
One of my girls' favorite things to do. Let them dress up however they like and parade around to some music. The sassier the better. I've occasionally joined in and we usually end in fits of laughter.
Have A Movie Night
Pop some popcorn. Have sodas. Grab the licorice. Create little snack boxes for everyone. We're planning to have a movie night tomorrow and I CAN'T WAIT.
Camp Outside (weather permitting)
We're the lucky few in AZ where it's pretty warm right now. I'm thinking we might put up our tent in the backyard and pile in the blankets, pillows, and sleeping bags. If you can't camp outside (and depending on the size of your tent!), set it up indoors to mix things up.
Create An Obstacle Course – for kids or toys
All of our sports have been cancelled, so this is a good way to sneak in some physical activity. Use hula hoops, jump rope, boxes, furniture, etc.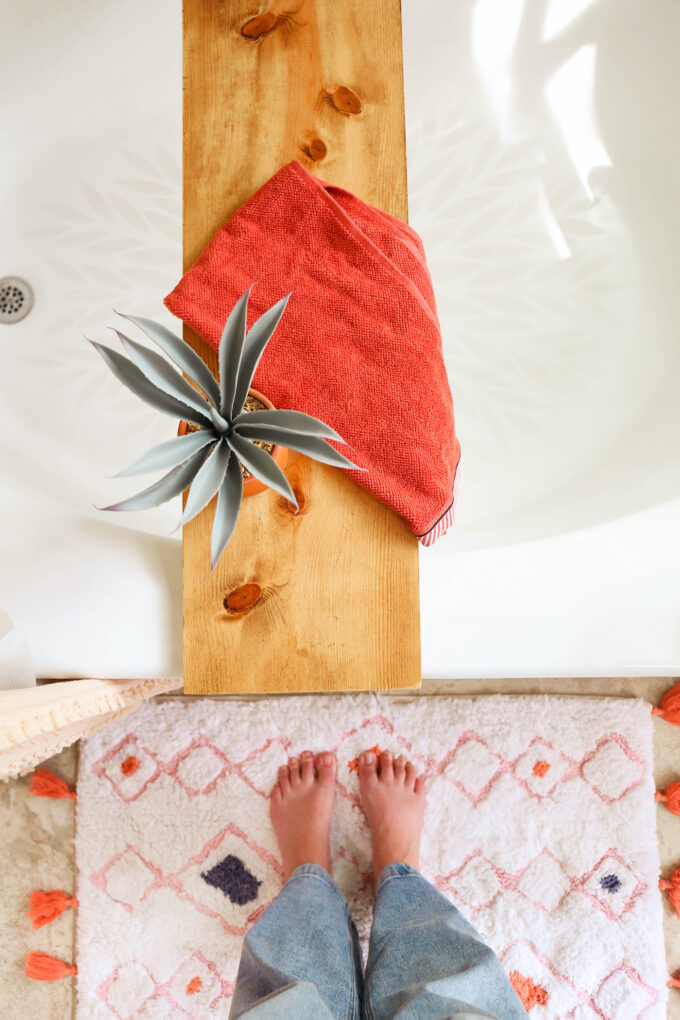 Tackle A House Project
I've got my own bucket list of house projects I'm hoping to tackle right now. A few months ago, I removed our shower door, removed and scraped the caulk, and cleaned the porcelain all in one afternoon. I hung a shower curtain that added a little more texture and have never loved my bathroom more.
Reorganize Bedrooms
This is one of my favorite activities. Move furniture around! Add pillows. Put the bed on the other side of the room. Hang curtains. Hang shelves. Organize books.
Paint Some New Art
Let the kids paint on cardboard or cardstock. I have a bunch of old canvases out in the garage that I am planning to break out ala @marylauren on Instagram.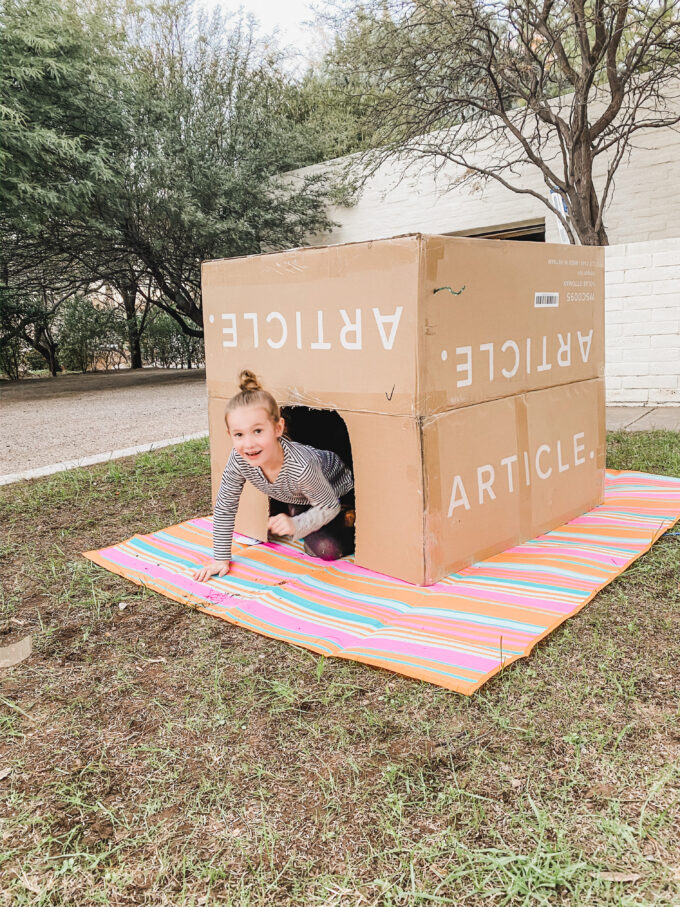 Build A Fort
I've never met a fort I didn't like. Let kids use their imaginations to create a tiny hideaway. For extra fun, add in cardboard to create doors or windows!
Make Cinnamon Rolls
Whether you make them from scratch, or make them from a can, this is the ultimate comfort food. So make some and then sit on the couch looking at all the hilarious memes out there.
Bake A Cake
This list could have honestly been just about baking stuff.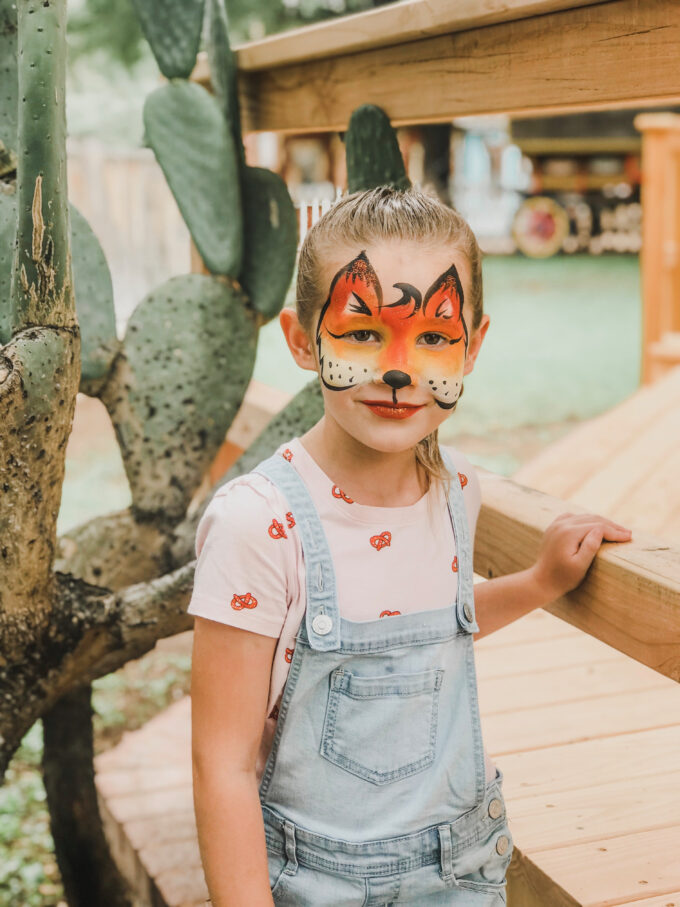 Paint Faces
You can use actual face paint, or grab some old makeup that you don't use anymore. It doesn't have to be perfect. Remember that!
Let The Kids Pick The Snack
Tell your kids they're in charge of making the snacks for the day. Provide them with a list of approved ingredients, or just throw caution to the wind and hope they come out with something edible.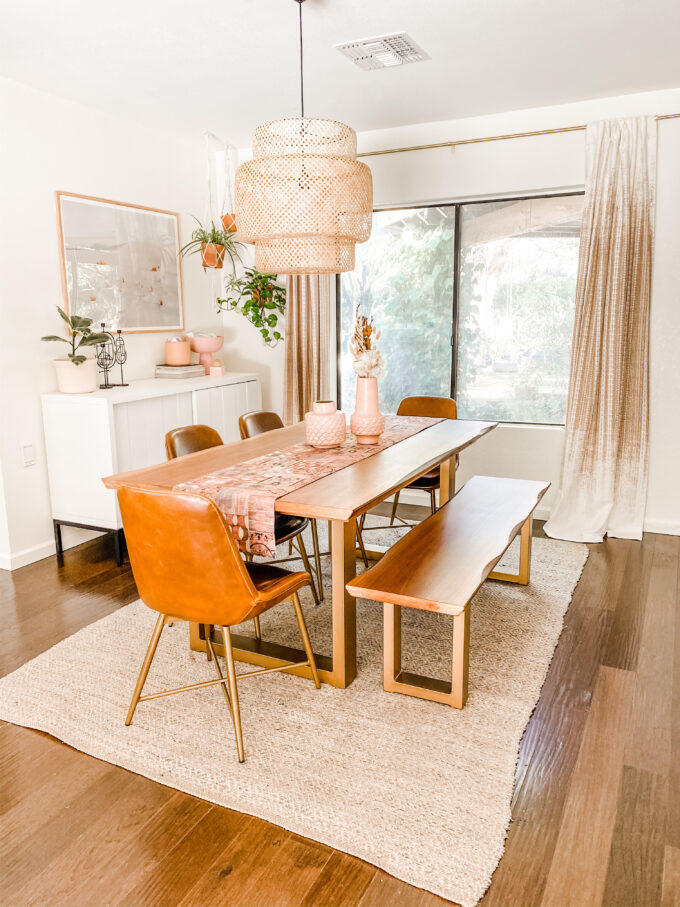 Clean The House
I know. I know. This doesn't sound fun. But give each kid a chore-tivity and offer a reward for when they're done. My six year old is quite the talented duster with a pledge wipe.
Make Polymer Earrings
You've seen them all over the internet for a long long time. And they're ridiculously easy to make. Grab the Sculpey or Fimo and follow my favorite tutorial from my girl, Brittni of Paper & Stitch!

Have An Ice Cream Party
I don't really need to provide detail here.
Make Funnel Cakes
There's a good chance the county fair doesn't happen for me this year. So I'll need funnel cakes at home STAT.
Rainbow-ify Your Food
Adding food coloring is the quickest way to blow kids' minds. Rainbow crepes. Rainbow drinks. Rainbow cupcakes. Add it to everything.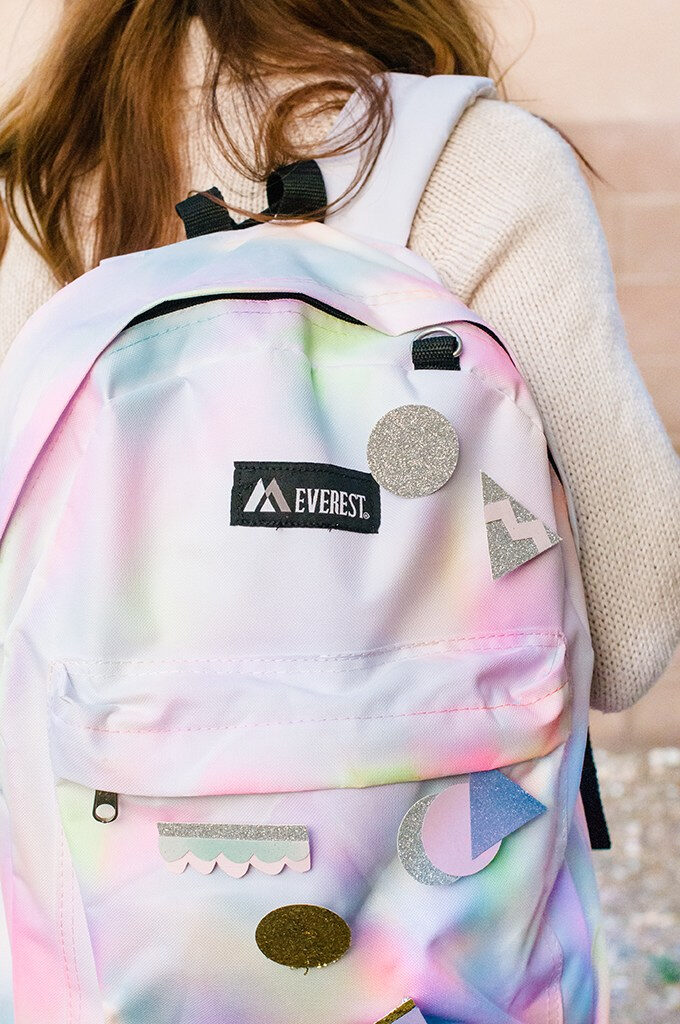 Make Paper Brooches
Cut out assorted paper in different shapes and glue to pins. Tutorial here.
Do Yoga with The Kids
My favorite version is Cosmic Kids on Youtube or Amazon. They're short (15-20 minutes), and so entertaining for the littles while also helping them improve balance and flexibility.
Go On a Photo Walk
Make a list of things you're hoping to capture, grab the camera, and go. While out, be mindful of germs and keep yourself and others safe!
Organize Toys
Grab all the red toys! Line everything up from big to small. Put them in to categories and let your kids do the work. This actually provides hours of entertainment.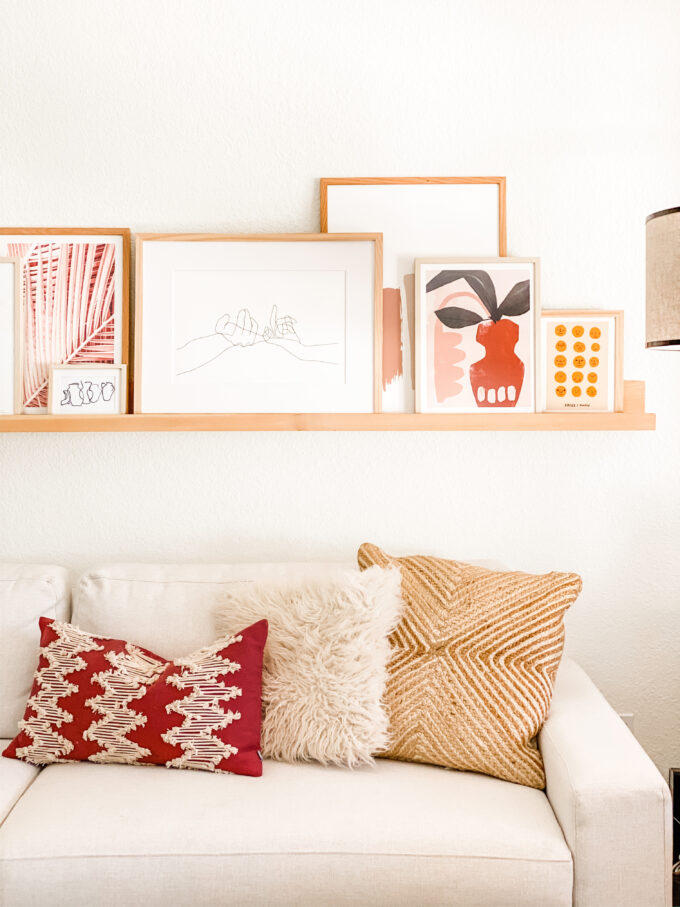 Style Your Shelves
I enjoy updating our shelves from time to time. It's one of my favorite things to do. Switching out art, or adding new plants or trinkets. Do other adults move things around often?
Watch New Shows
This is a judgment-free zone. I've been binge-ing on the old faves like The Office and mourning the disappearance of Friends. Current recs include Love Is Blind and Parenthood. Just added Love Island to my queue.
Watch Disney Parades on YouTube
We've been watching a new parade each night and my kids are obsessed. Vita actually said it feels like we're there. And we just were and have been so sad to not only be home, but know that all of the parks are closed and others are missing that Disney Magic.
Disney Imagineering In A Box
This is a super fun program all about Disney's Imagineers and how they use their skills to do what they do. The videos are fun, detailed, and mega informative. Read more here!
Learn How To Draw Disney Characters
Animator Michael Woodside is sharing video tutorials for drawing your fave Disney characters! See the videos here.
Virtually Tour National Parks
Thank goodness for the internet, right? Here's a great roundup of parks to check out online!
Read bedtime stories with Josh Gad
The man who voices Olaf is reading bedtime stories every night on Twitter. Who knows how long this magic will continue, but I am here for it! Follow him over there – @JoshGad!
Watch Broadway Online
If you're missing some of your fave performances, catch a filmed version here!
Doodle with Mo Willems
Everyone's fave pigeon artist is sharing his tips for doodling via The Kennedy Center!
Snag A Free Subscription to Tons of Educational Resources
The list of free subscriptions is continually added to this Google Doc!
_______
If you're feeling the DIY itch, take a stroll through the archives and find a DIY project that suits your fancy. And check out the #homegrownchallenge hashtag on Instagram for loads of ideas for families and folks of all ages to stay entertained and uplifted during this time!
There are sooooooo many inspirational accounts to follow on Instagram with activity ideas and things to do. Check out @themamanotes, @studiodiy, @busytoddler for a few more ideas, and follow me @theproperblog for all your meme needs. I apologize for the obscene amount of #coronavirus memes I have been sharing. I just can't help myself.  And if you have some other resources, please let me know and I'll be sure to update this list!!!!! Hang in there, guys. xx