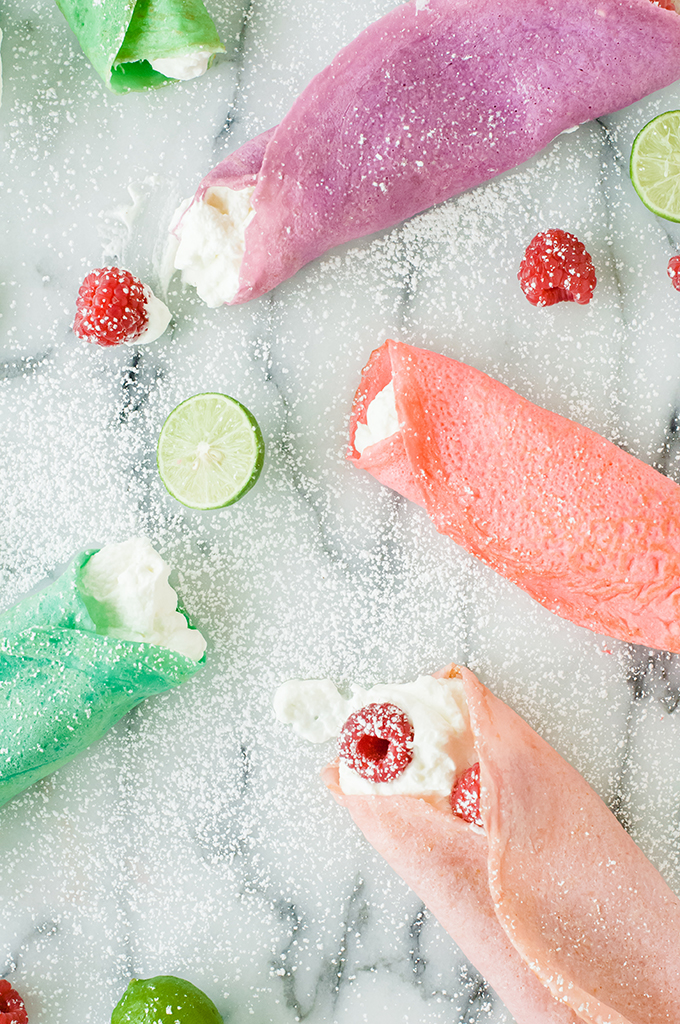 So listen up! I hereby decree this week to be #TheGreatCrepeChallenge. I love crepes. They're a sacred food item in our home. Logan's alias is actually Crepe Master Flex. So you know we don't joke around with these things. I've got a bunch of crepe recipes for you guys this week and we are starting today with these rainbow crepes with key lime whipped cream! I mean, it's so whimsical it hurts.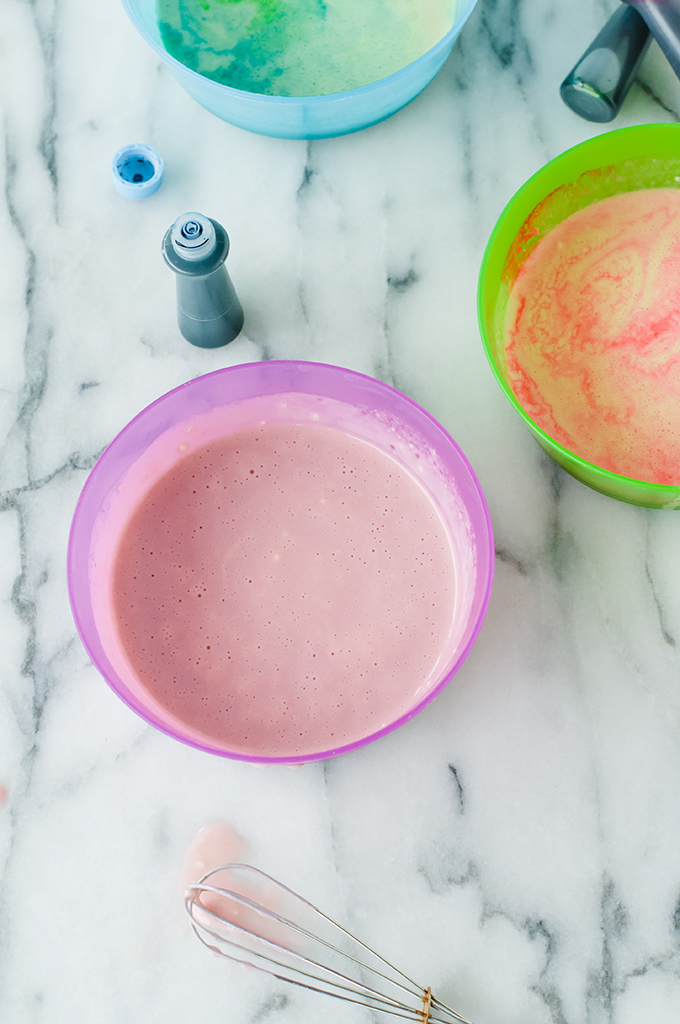 I grew up with crepes in the home. Except I was all cute and small and called them rolly pancakes. Because that's what they do. So flexible! So delish! And how fun are they when they're in a bunch of rainbow colors?! Unstoppable. (Be sure to get the recipe at the bottom of the post!)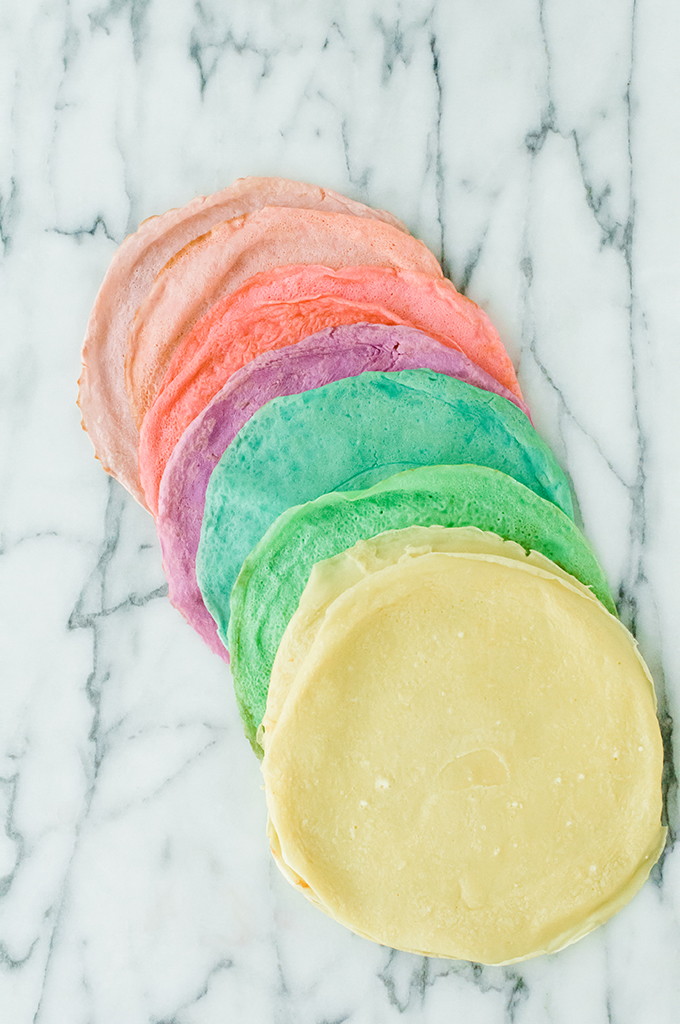 Once you've mixed up the batter. Separate it into a few miniature bowls and add a few drops of food coloring. Whisk it up really well.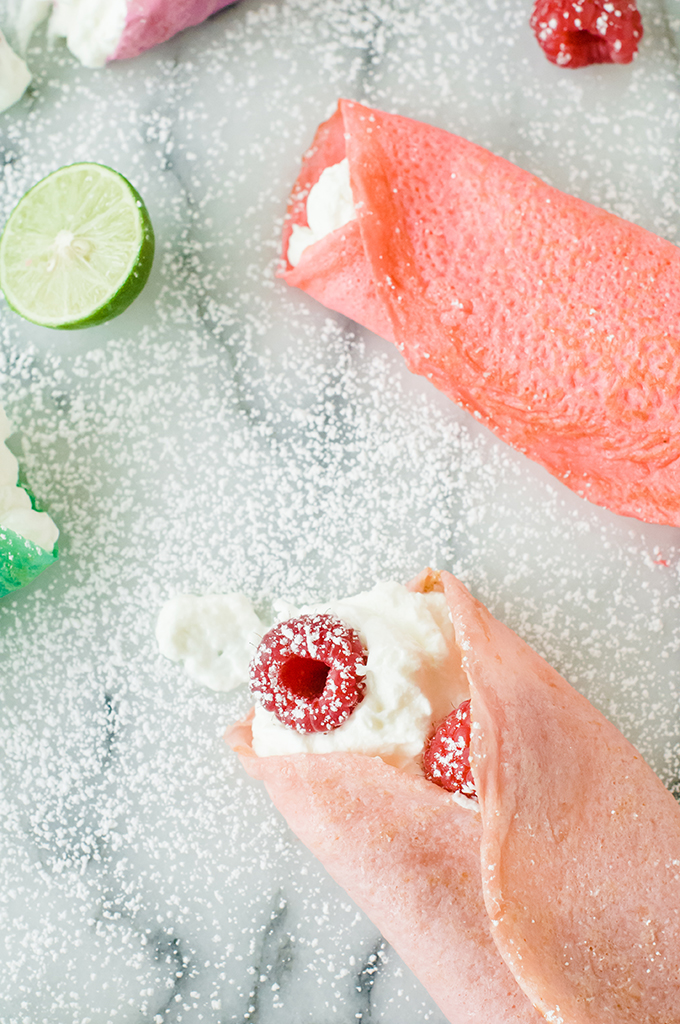 After they're cooked, place them on a plate and allow them a few minutes to cool. You can place them on top of each other. They won't stick together!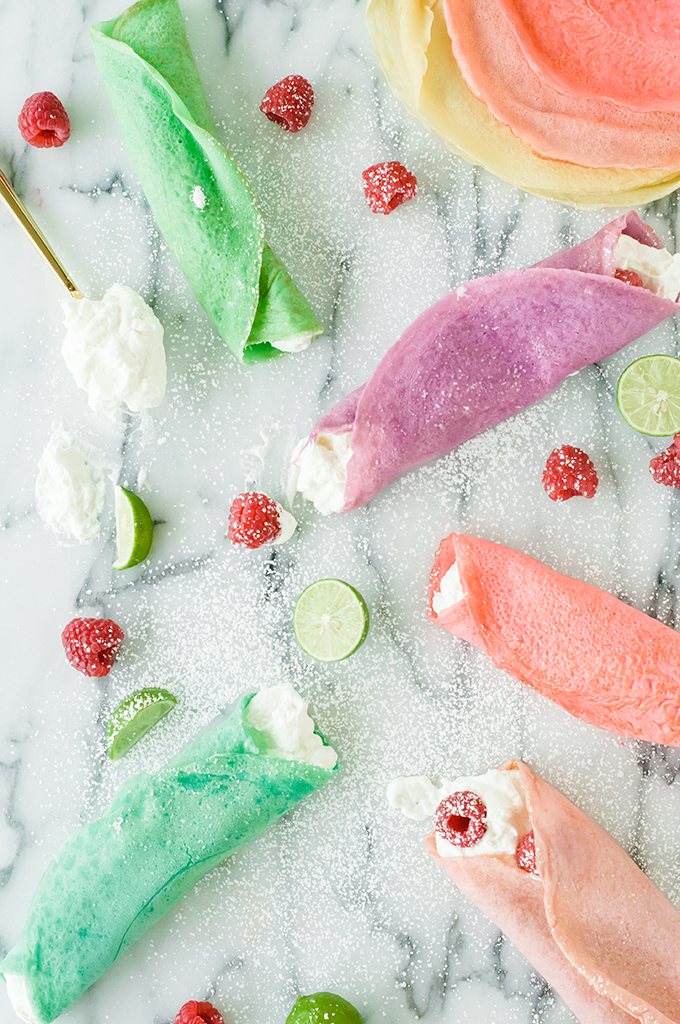 Fill 'em up with some whipped cream. Extra points when you use the key lime whipped cream we love so much. Out of all the citrus fruits available, lime adds something special to food, wouldn't you agree? Of course, you would!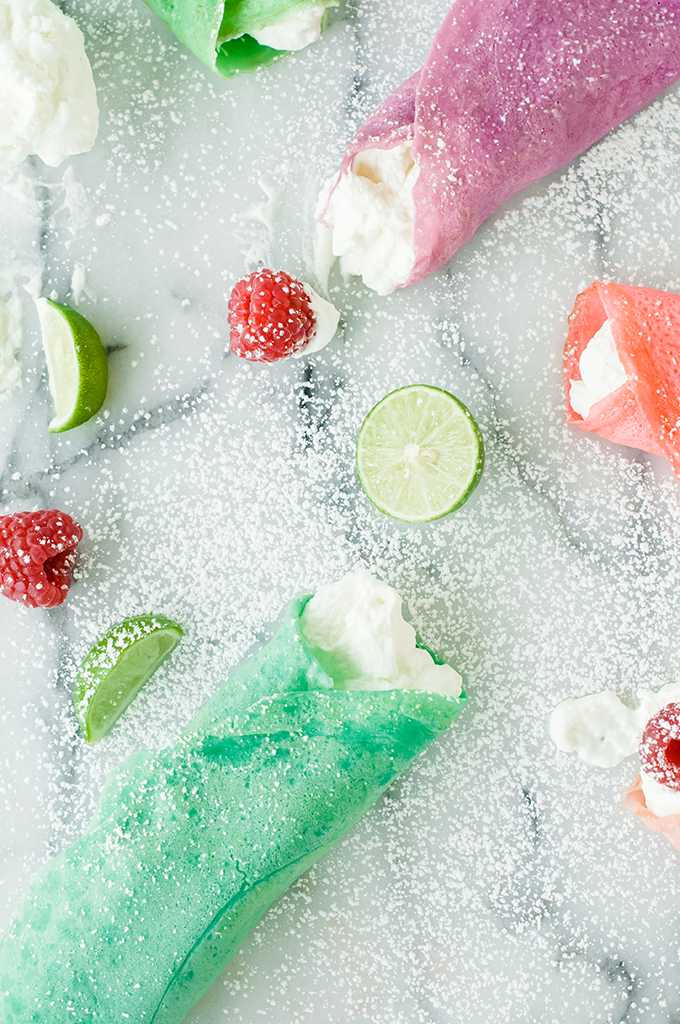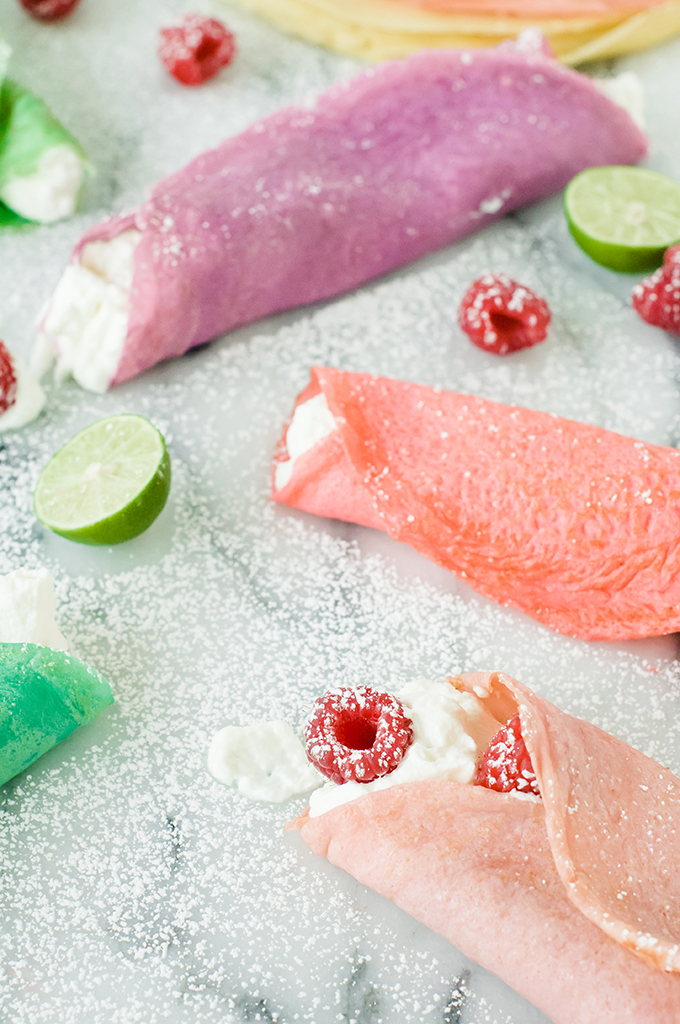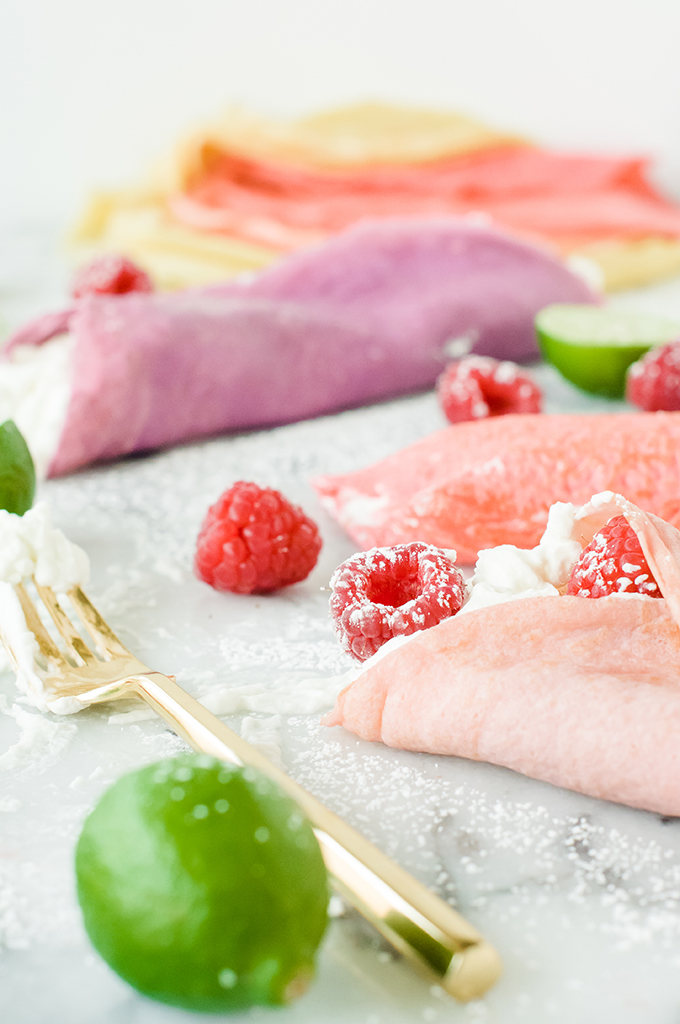 The purple ones are just calling to me!
Make your own rainbow crepes with key lime whipped cream
4 eggs
1 cup milk
1 cup flour
1/2 tsp salt
1 tsp vanilla
2 tbsp butter
Melt the butter in a small skillet. In a large mixing bowl, combine the eggs, milk, salt, vanilla, and butter. Slowly whisk in the flour (whisk the flour before adding to the milk mixture or sift it into the milk mixture to avoid lumps in the mix). 


Warm a skillet over medium heat. Spray with cooking spray and pour a bit of mixture into the center of the skillet. I wouldn't pour more than 1/4 cup to make sure the crepes aren't too thick! Once you've poured in the batter, immediately pick up the pan and tilt it around to let the batter fill the bottom of the pan evenly. Cook for about a minute and then flip it by gently lifting an edge of the crepe with a spatula.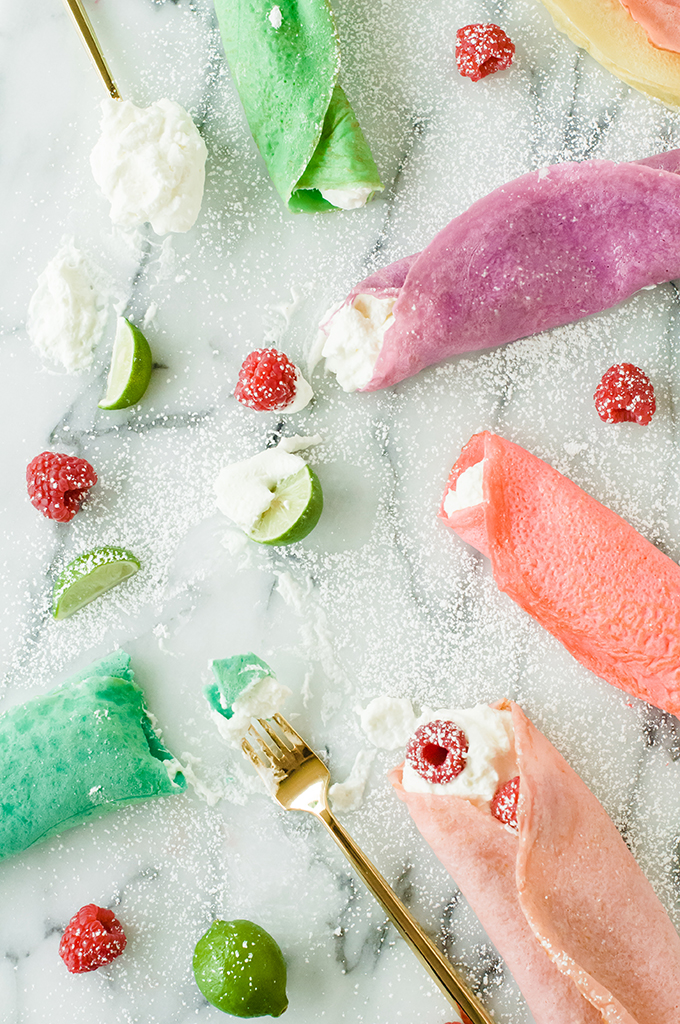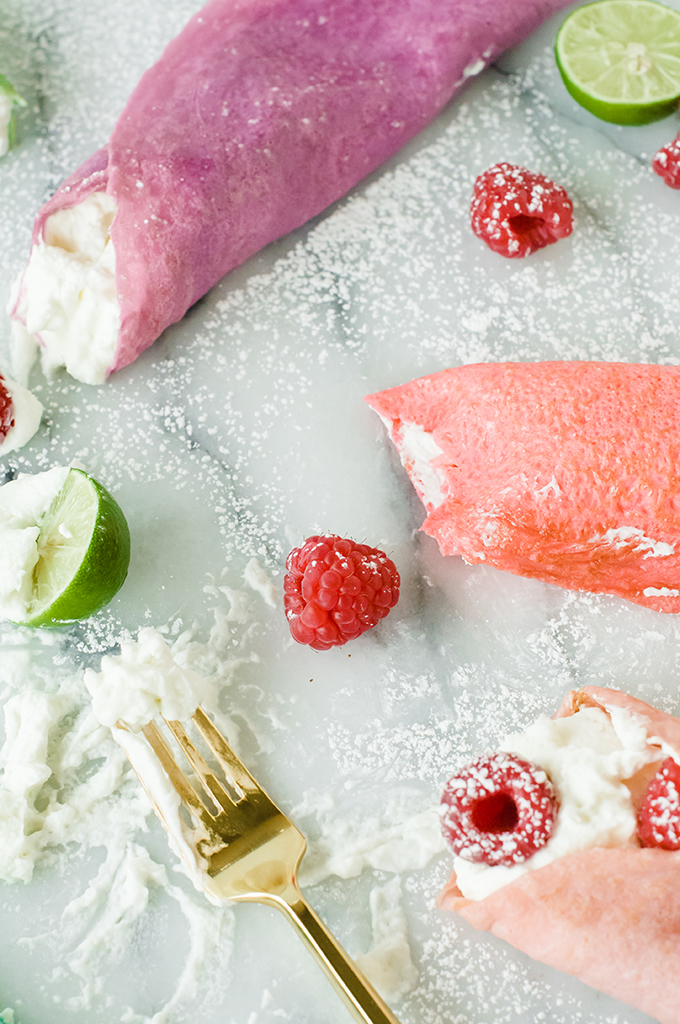 make the whipped cream
1 cup heavy whipping cream
3 tablespoons confectioner's sugar
1 key lime
In a stand mixer fitted with the whisk attachment, beat the whipping cream on high for a few minutes until soft peaks form. Slowly sprinkle in the confectioner's sugar and squeeze the key lime to juice it over the whipped cream. Mix for a few more minutes until fluffy and cloud-like peaks form. And you're done! Try not to devour it right away.
Fill the crepes up with whipped cream and some raspberries or strawberries and then hide somewhere away from the kids or the pets or the spouses and quickly shove some crepes down your throat! What? You don't do that? So I hide so I can have a snack or two. What else would I do when there is a crepe at stake?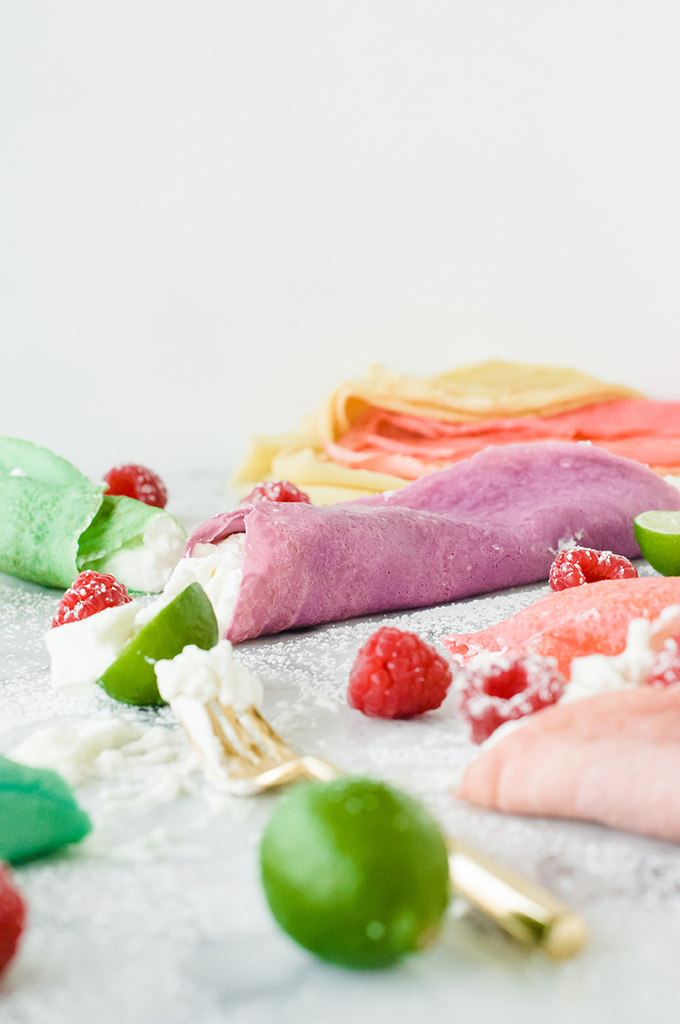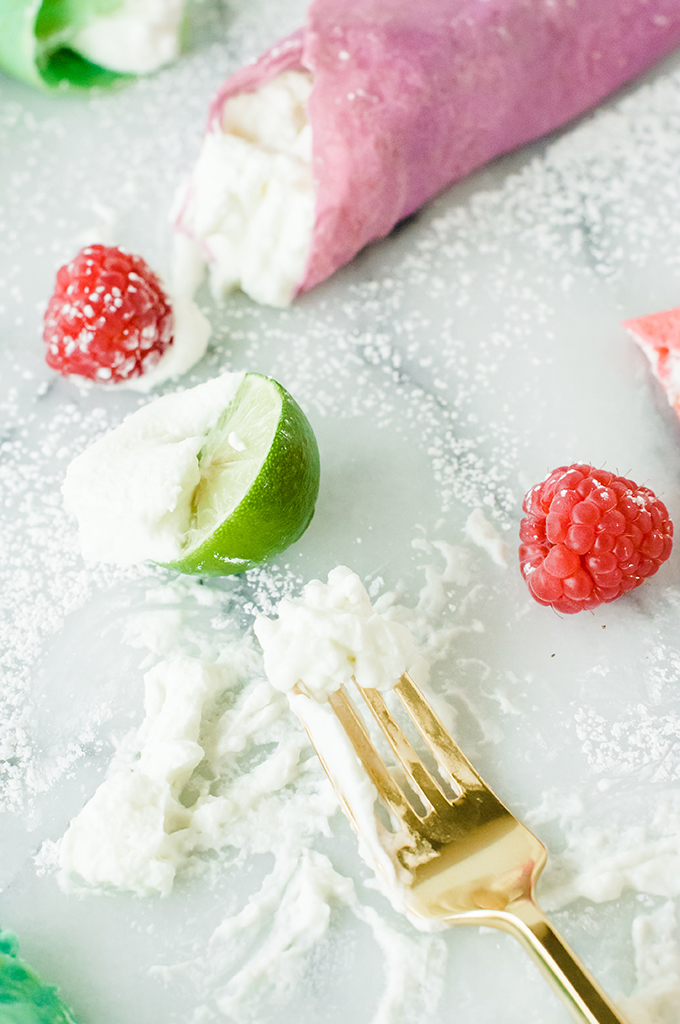 Fun, right? It's not that tricky to add a little color to your breakfast and the kids (or the kid in you!) will go crazy for them! Be sure to check back tomorrow for another installment of #TheGreatCrepeChallenge! Here's a lil' sneak peek that I shared over on Instagram! Hint: it involves chocolate and flowers. The winningest combo IMO!
What are some of your favorite flavor combinations for the crepe? I'd love to hear!
recipe, styling, & photography \\ Lexy Ward