This post was originally published a few years ago, but I'm on a peach-kick and wanted to bring it back to life!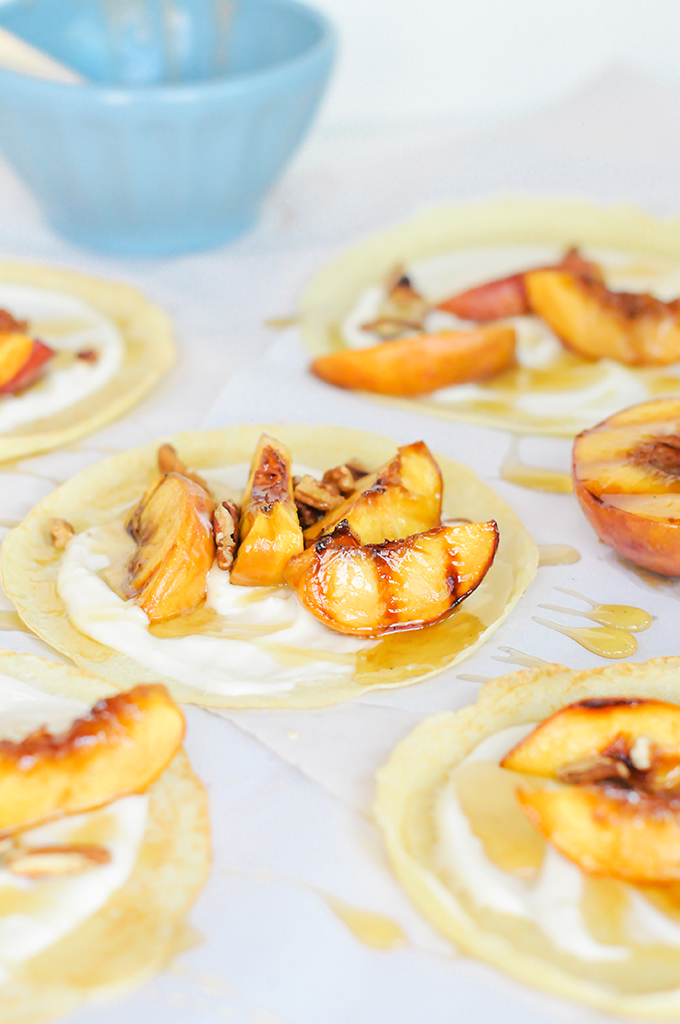 Grilled peaches. I feel like that's all I need to say in this post and that you would be able to walk through life knowing all you will ever need to know. Something happens when you throw a peach on the grill. It's just actual magic. After all of the crepe recipes we've shared this week for #TheGreatCrepeChallenge, this one is the chill one. No food coloring. You don't have to make 40+ to make a cake (but did you see the cake?!), you simply have to just whip up some tasty cream, heat up the grill, and call it a day. So let's, mmkay? Scroll down to learn how to make your own crepes with grilled peaches and maple cream!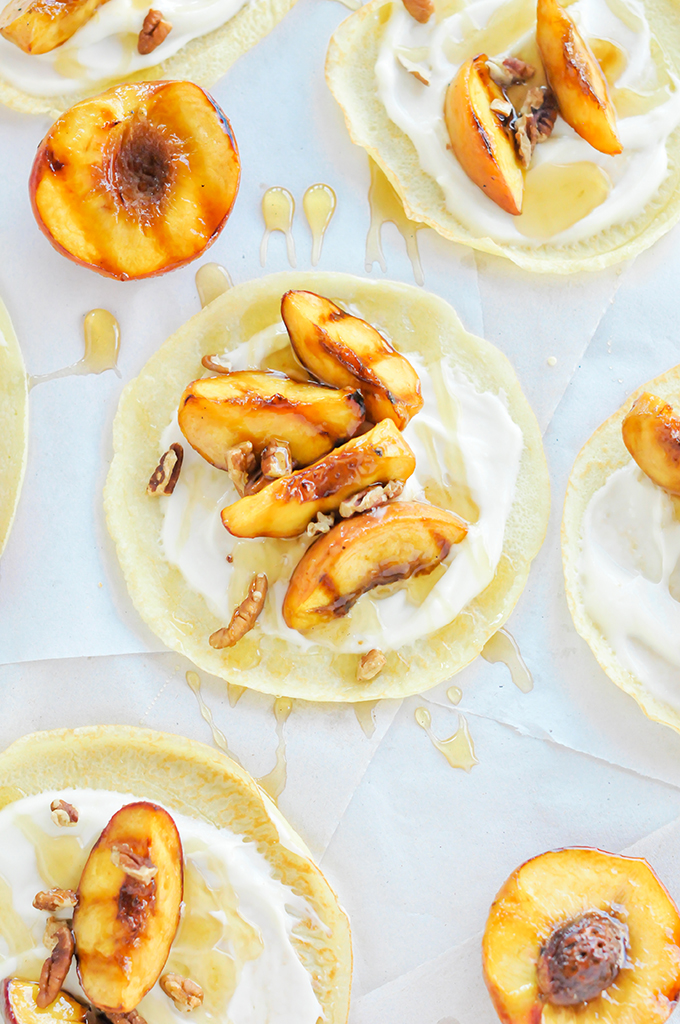 Mmm. Look at those peaches. Don't just all sorts of dirty jokes come to mind? No? Just me? Just me and my dirty peach jokes? Sorry.
First, we need to coat the peaches before grilling.
 Ingredients:
1/2 cup melted butter
1 cup brown sugar
After slicing and pitting the peaches, use a pastry brush to coat every side of the peaches in the brown sugar mixture.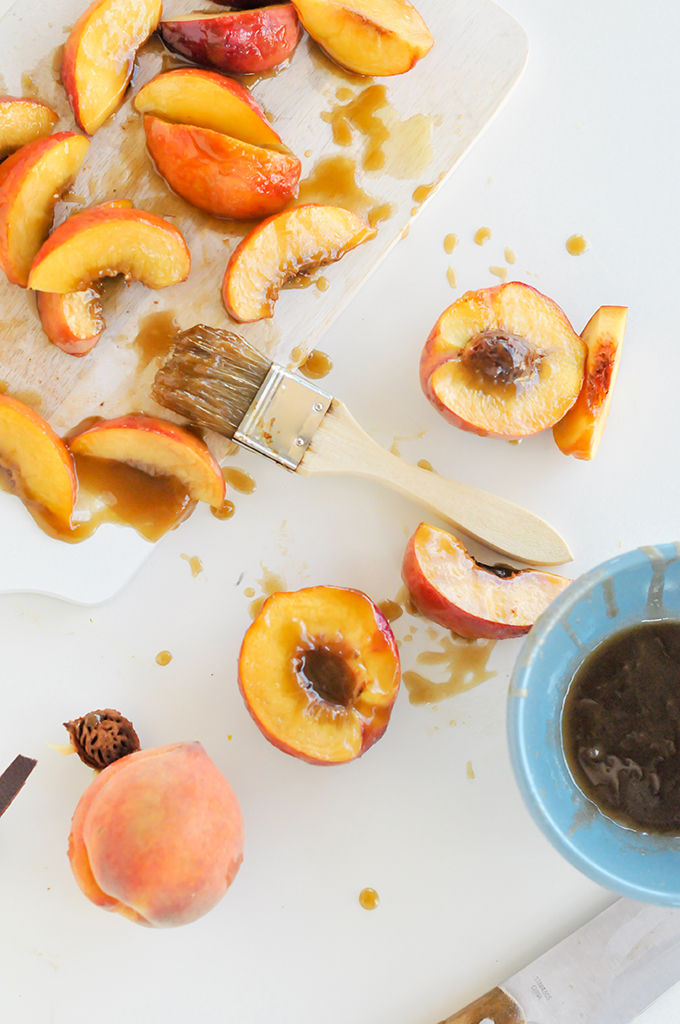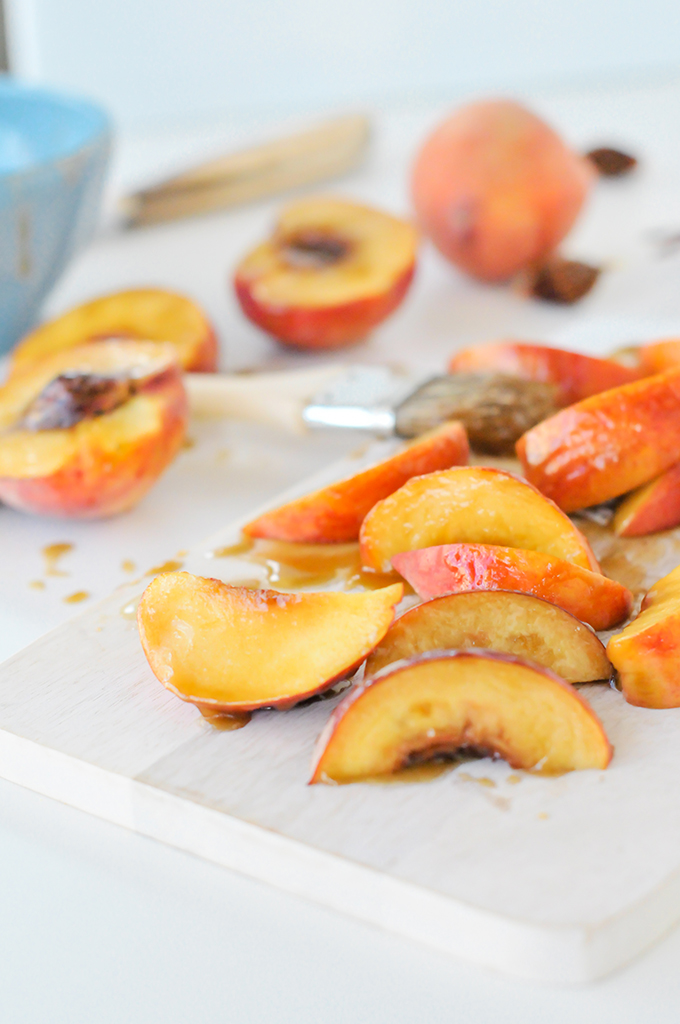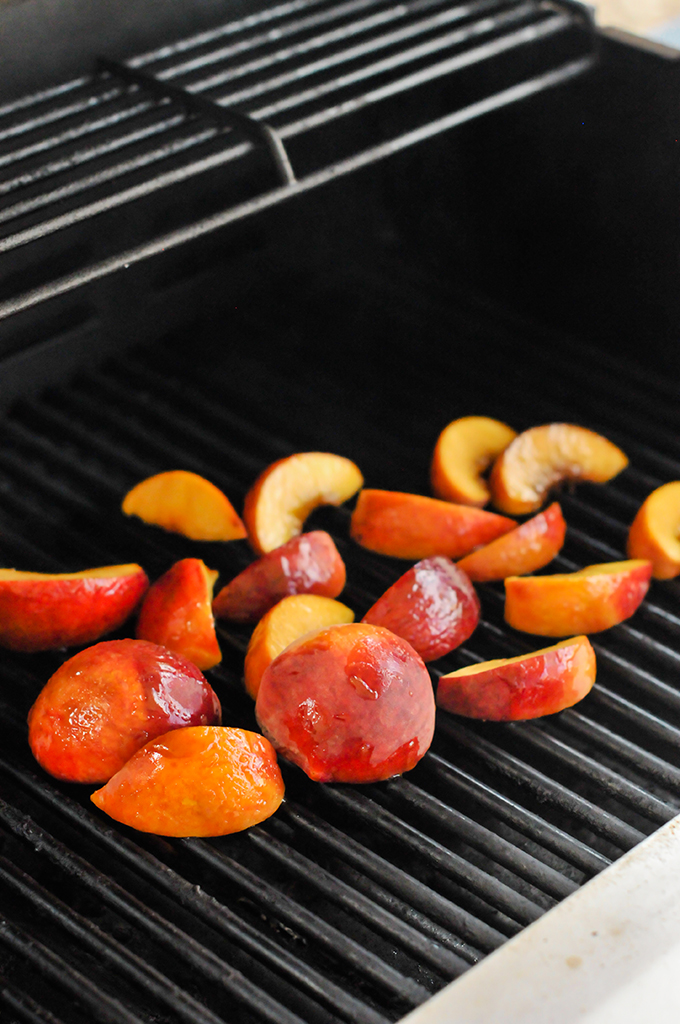 Place them on the grill and cook on high heat for 7  minutes on each side. Let them get those awesome grill lines that just demand respect.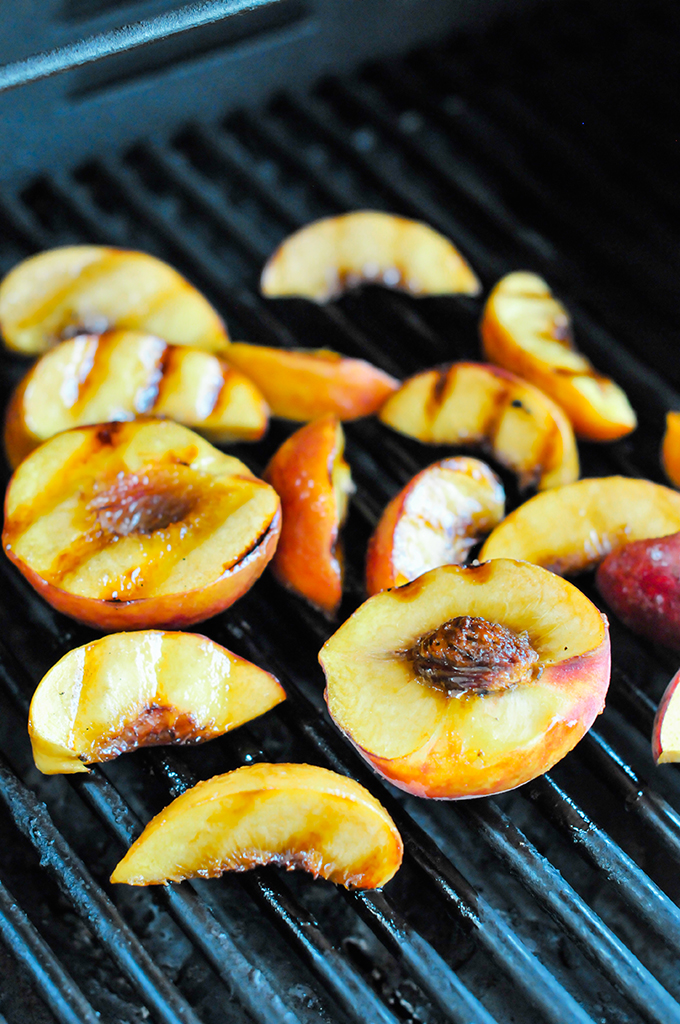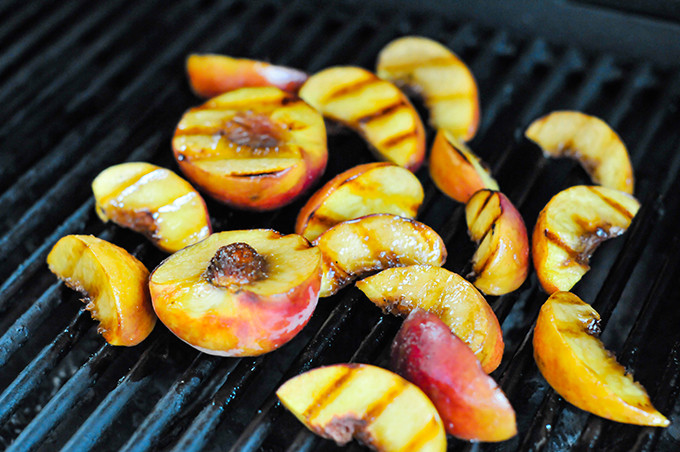 See?? I respect the peach. Can't fight it —— #respectthepeach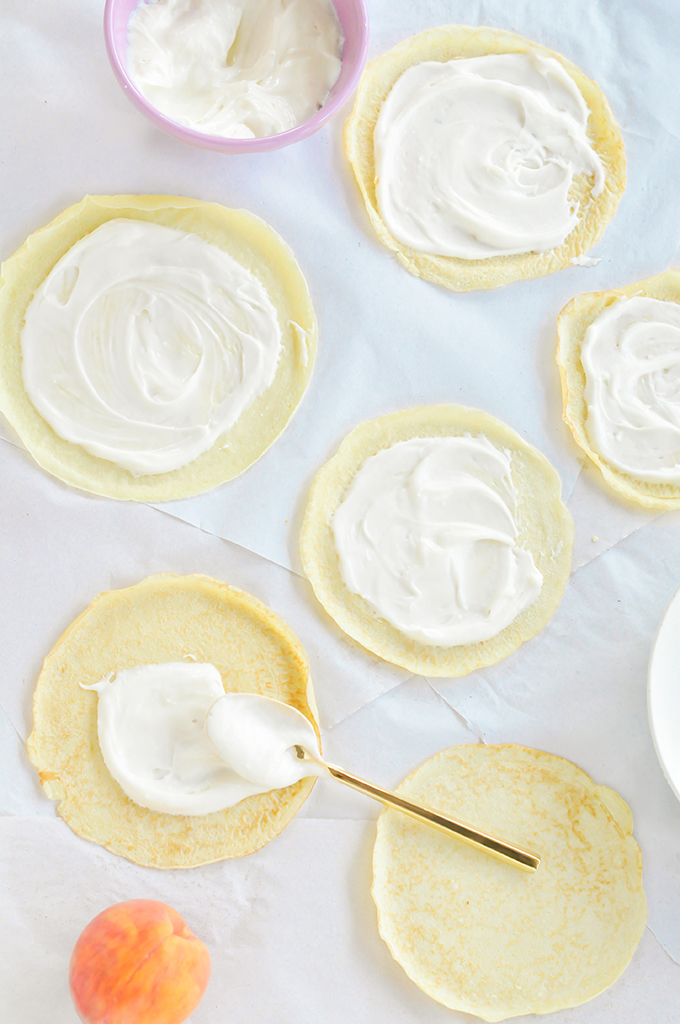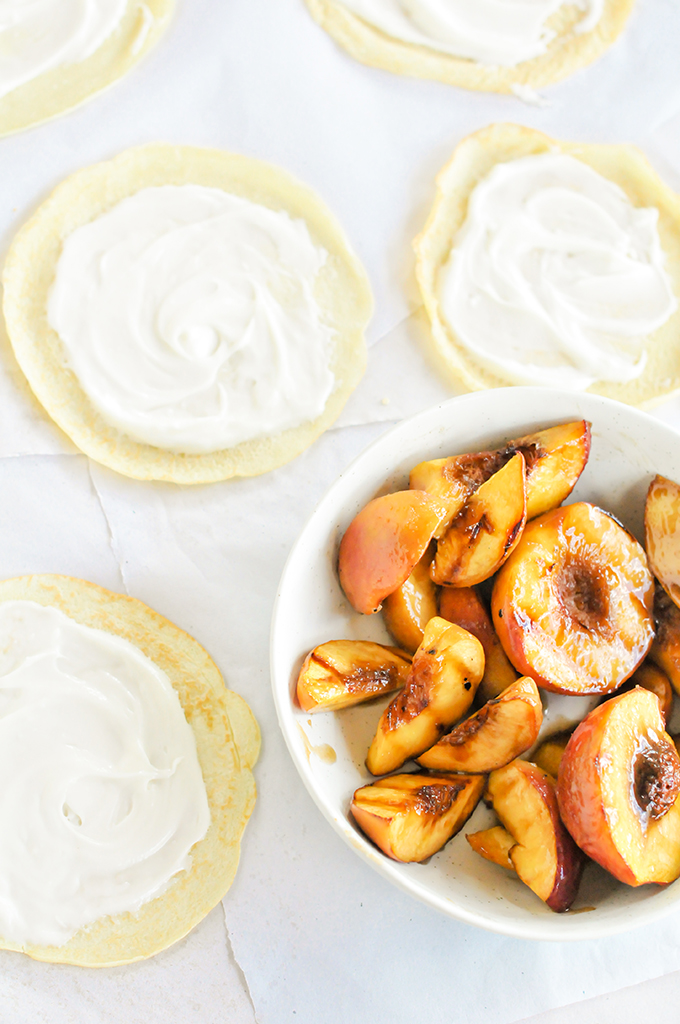 Remove the peaches from the grill and rub more of the brown sugar mixture all over them. Place them on top of the cream-covered crepes (recipe below!)
Make the crepes
4 eggs
1 cup milk
1 cup flour
1/2 tsp salt
1 tsp vanilla
2 tbsp butter
Costco-sized jar of Nutella
Melt the butter in a small skillet. In a large mixing bowl, combine the eggs, milk, salt, vanilla, and butter. Slowly whisk in the flour (whisk the flour before adding to the milk mixture or sift it into the milk mixture to avoid lumps in the mix). Read all about the art of crepe-making in our post about rainbow crepes!
Once you've cooked your desired number of crepes, set them aside to cool.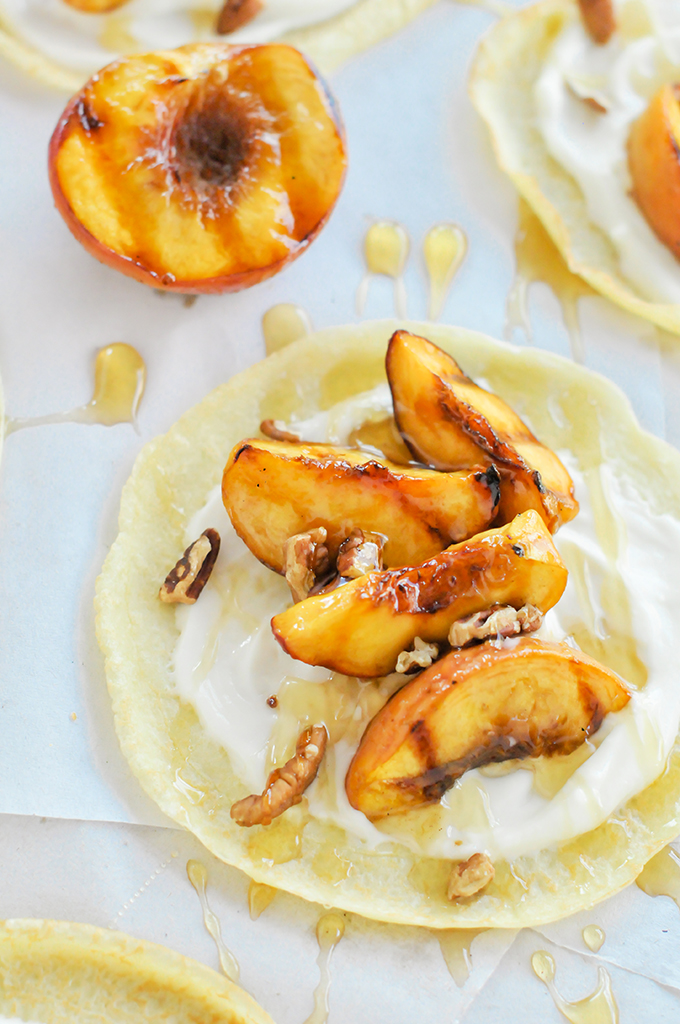 Make the maple cream
8oz cream cheese
1/4 cup plain greek yogurt
3 tbsp pure maple syrup (or any other syrup or honey you love!)
3/4 cup confectioner's sugar
In a bowl with a mixer, combine the cream cheese and yogurt and beat until creamy. Add the maple syrup and beat again. Slowly add the confectioner's sugar. You may need more or less depending on your desired consistency.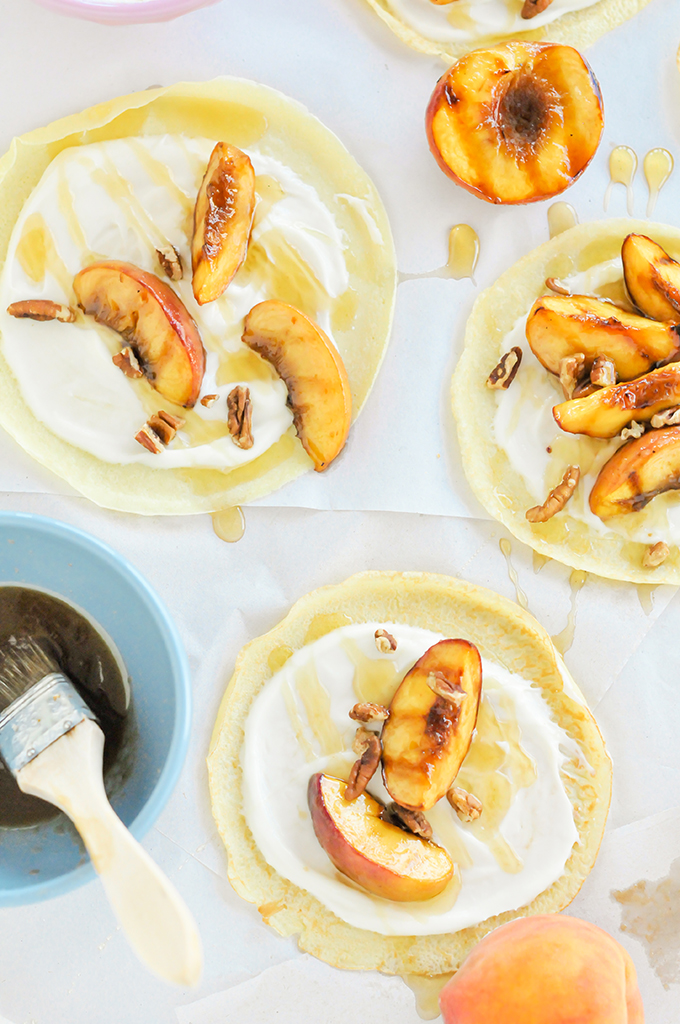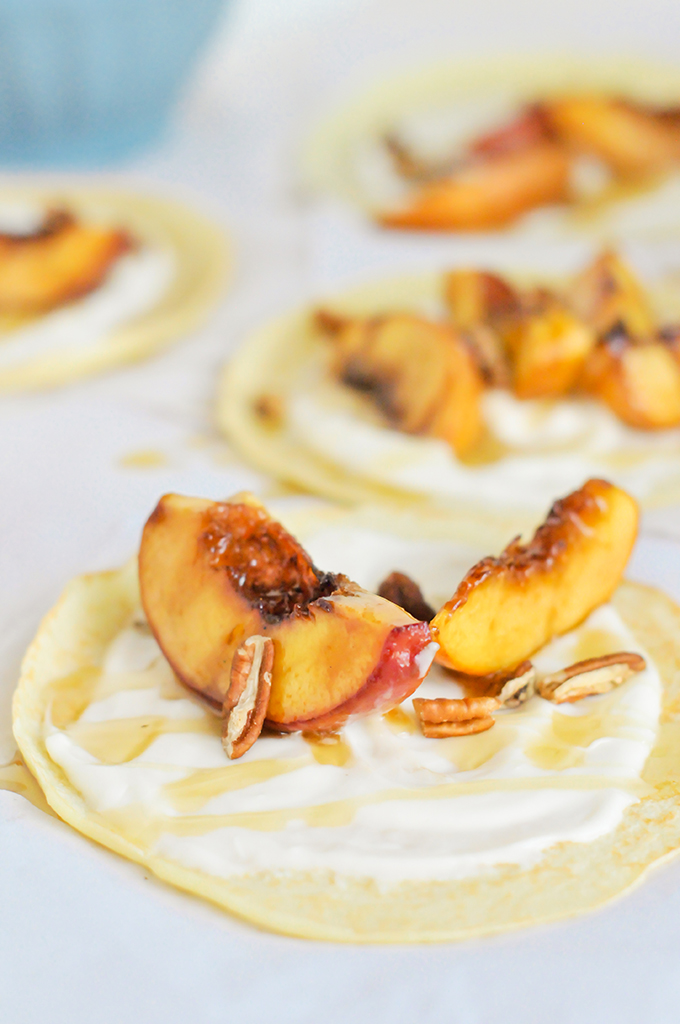 It's time to assemble the masterpiece! Spread a dollop of the cream on each crepe. Place a few of the grilled peaches (hot off the grill!) on each crepe. Drizzle with maple syrup or honey and then sprinkle with pecans. The pecans are totally optional, but they really do improve one's quality of life. Unless you have a nut allergy, and then, well, no quality. None. If that's you, skip the pecans! They're still tasty!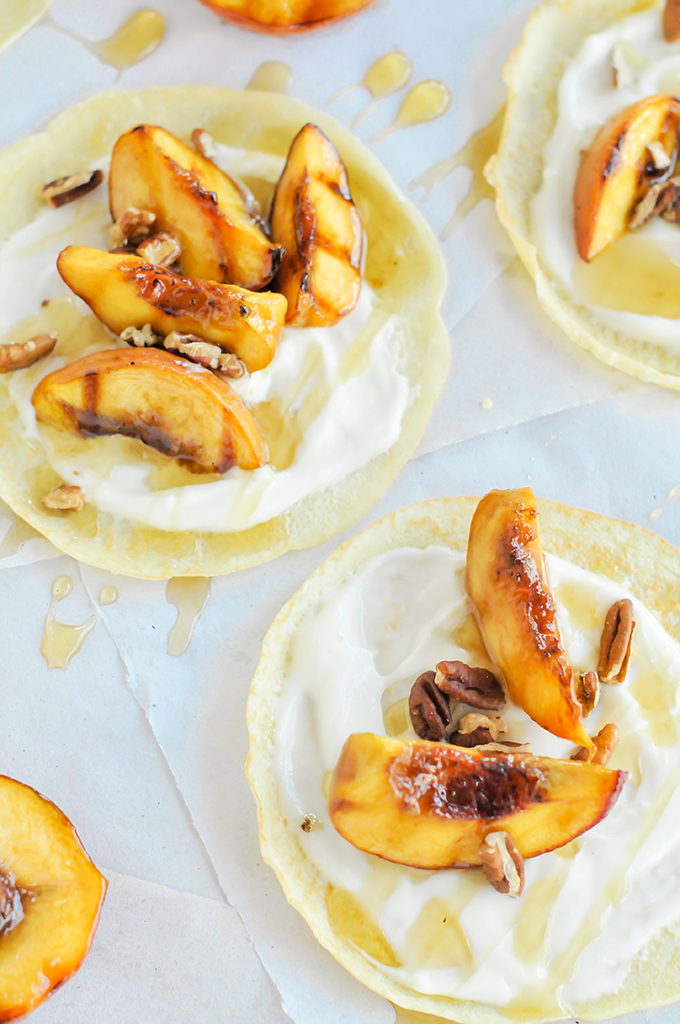 I gotta say, it's tough to be diabetic and have to shoot these. Luckily, our neighbors were more than willing to devour them for me! 😉 One and done. That's supposed to be my motto? Sugar.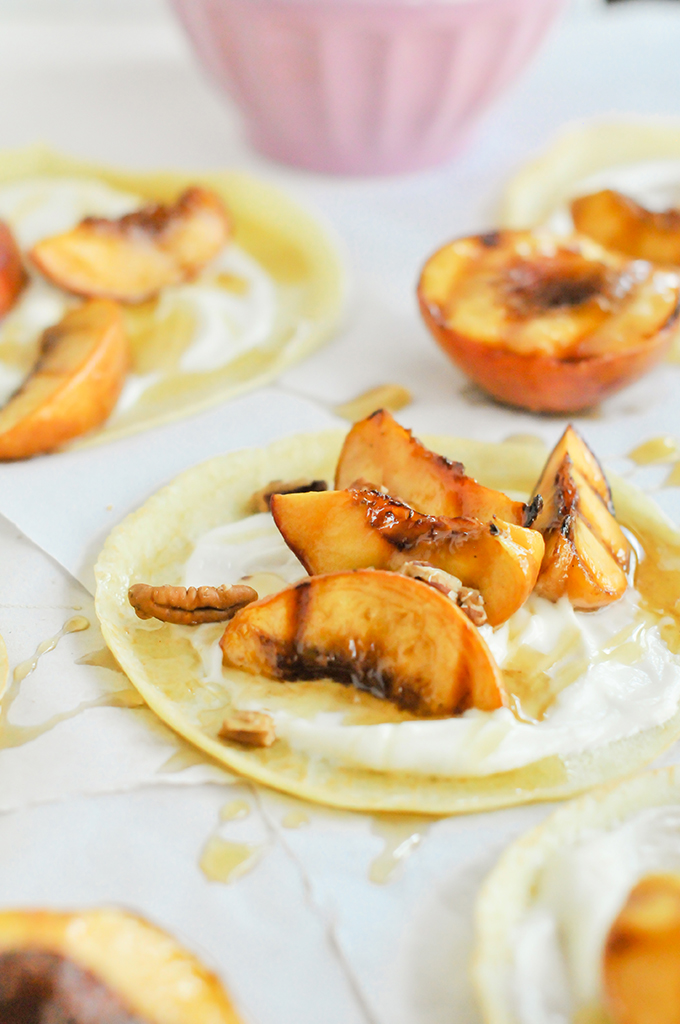 Roll 'em up and swallow 'em whole. Actually, I think it's best to savor these for the fest seconds you can. After rolling, drizzle with maple or honey and sprinkle with nuts!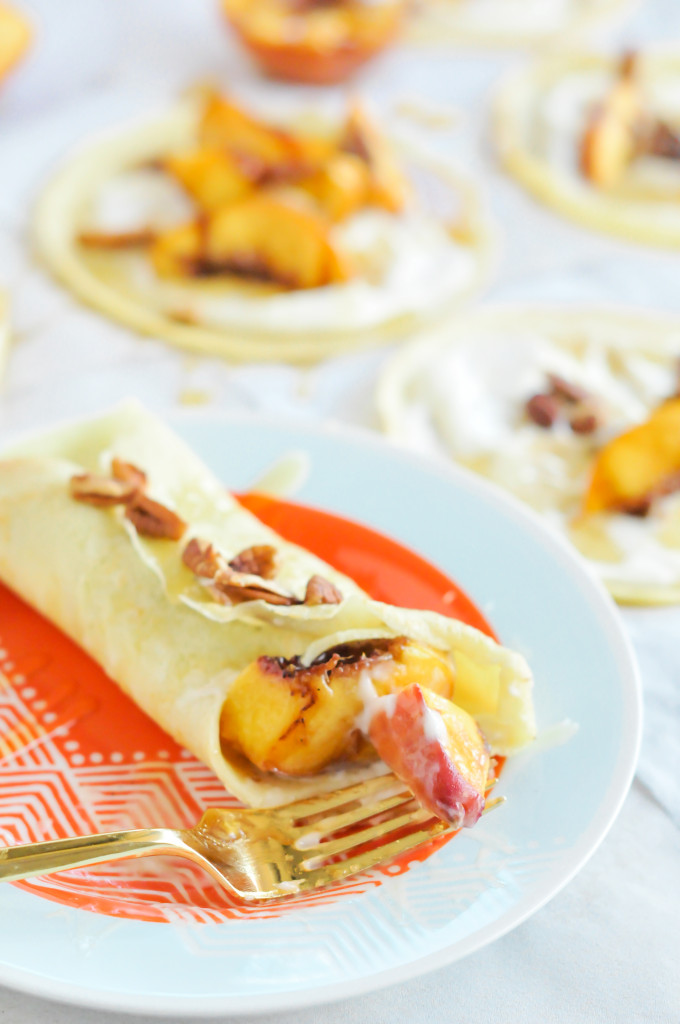 What do you think? Are you a fan of peaches? Would you ever grill them? I'm kind of on a fruit-grilling kick and looking for suggestions!
recipe, styling, & photography \\ Lexy Ward