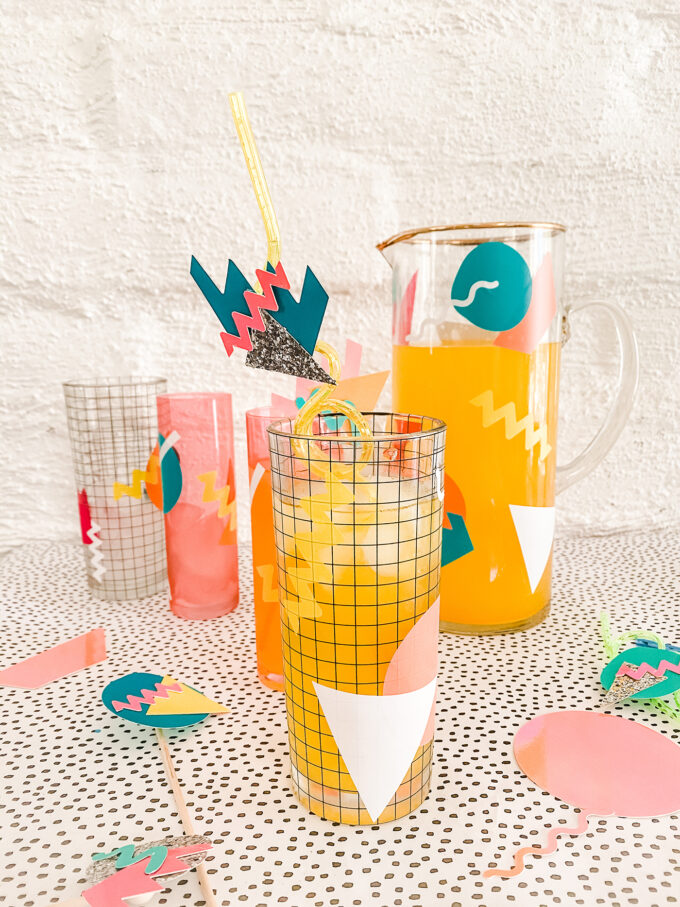 I wish that I could record my conversations with Vita on the daily. She's obsessed with various decades and is always jealous that I was born in the 80s. (And she's constantly sulking about the fact that I wore chokers in the 90s and she has no chokers. NO CHOKERS!) I was talking to her about what it was like to crimp hair way back when and she wanted to spend a little time with my crimper and then one thing led to another and we were making lemonade and dressing up our beverages with this DIY 80's drink decor. (One of the many MANY reasons I love my Cricut Maker and break it out all the time!) This project takes just a few minutes and is as easy as layering stickers or pieces of paper in random fashion. See how we made them below! And be sure to check the reels video on my Instagram feed to spot us in all our high-pony-80's-goodness!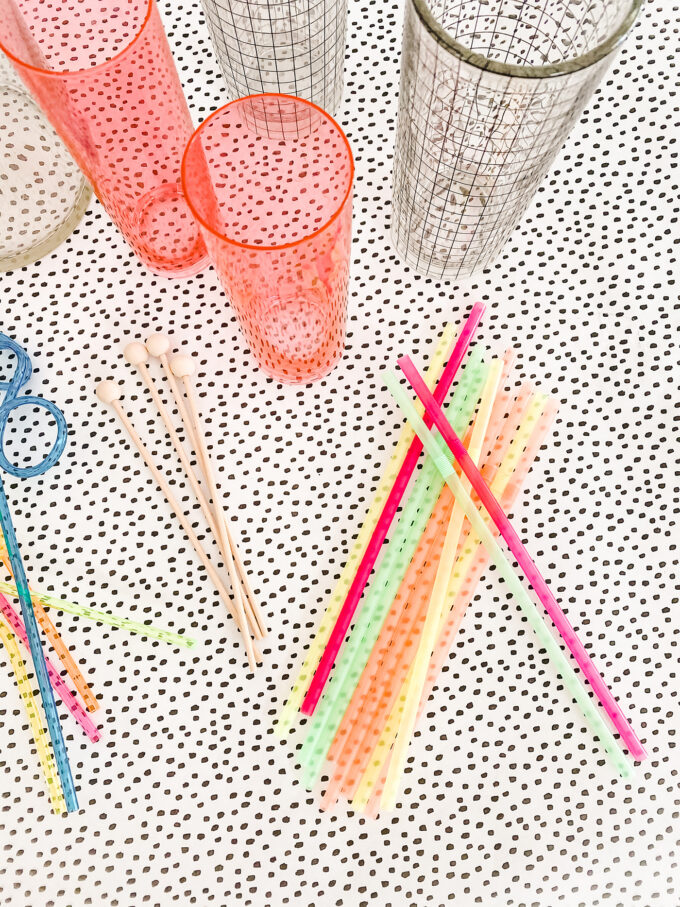 I have these grid-patterned glasses from a few years back and knew they'd be perfect for adding some neon 80's decals. I also snagged some crazy straws and some solid-colored glasses and a clear pitcher. It looks a little boring right now, but just wait for it. I have some wooden drink stirrers that were perfect to pair with some smaller pink glasses.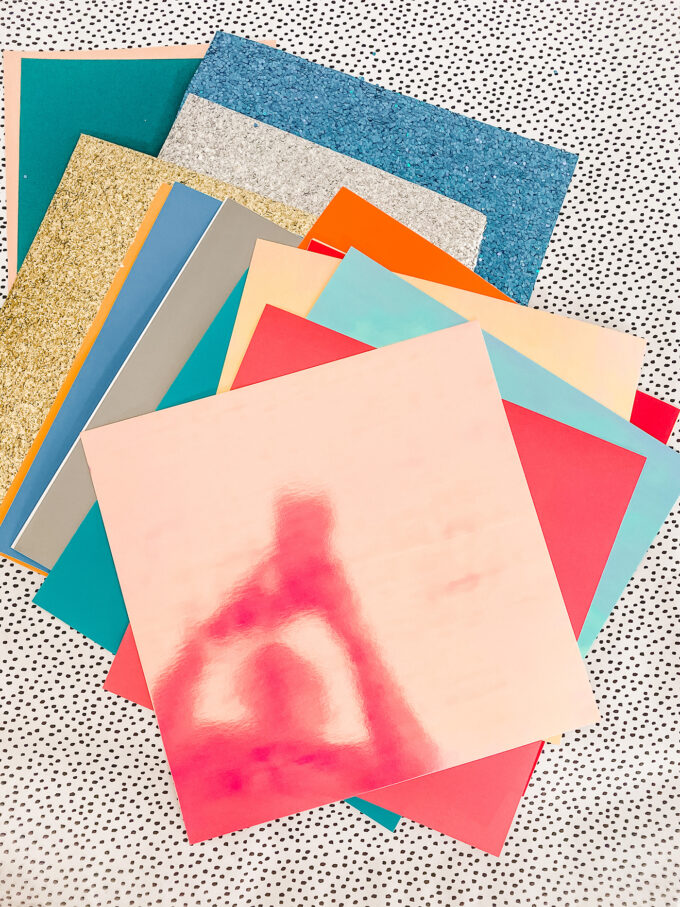 DIY 80's Drink Decor
You'll need:
cardstock in bright colors (throw in some glitter for good measure)
cups & pitcher – paper, plastic, or glass!
crazy straws
wooden drink stir sticks
Start by opening the project in Design Space. Customize, if needed. Then hit "make it" and cut the shapes from different types of cardstock and vinyl.
I added a bunch of different shapes in various sizes. I've colored each in a different neon shade. This is just a suggestion as you can change out the colors yourself and also adjust the sizes based on your needs.
The vinyl can be peeled off the mat easily and then just add different colors and shapes and be sure to layer for that ultra 80's vibe. You'll end up with something like: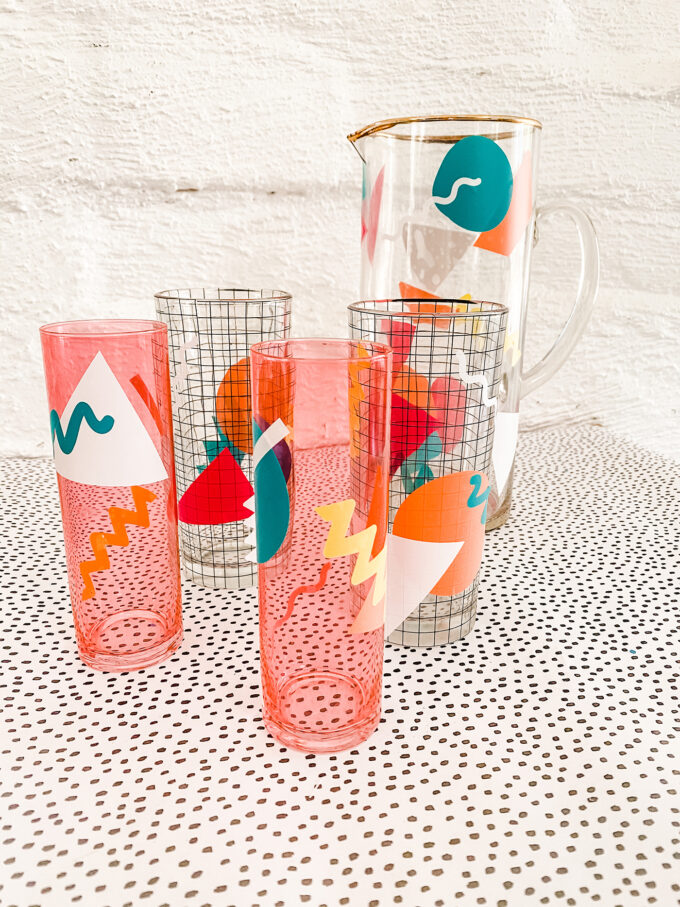 Rad, right? Can I just bring back all of the phrases from the 80's for this post? I especially love the shapes on those grid glasses. So much fun!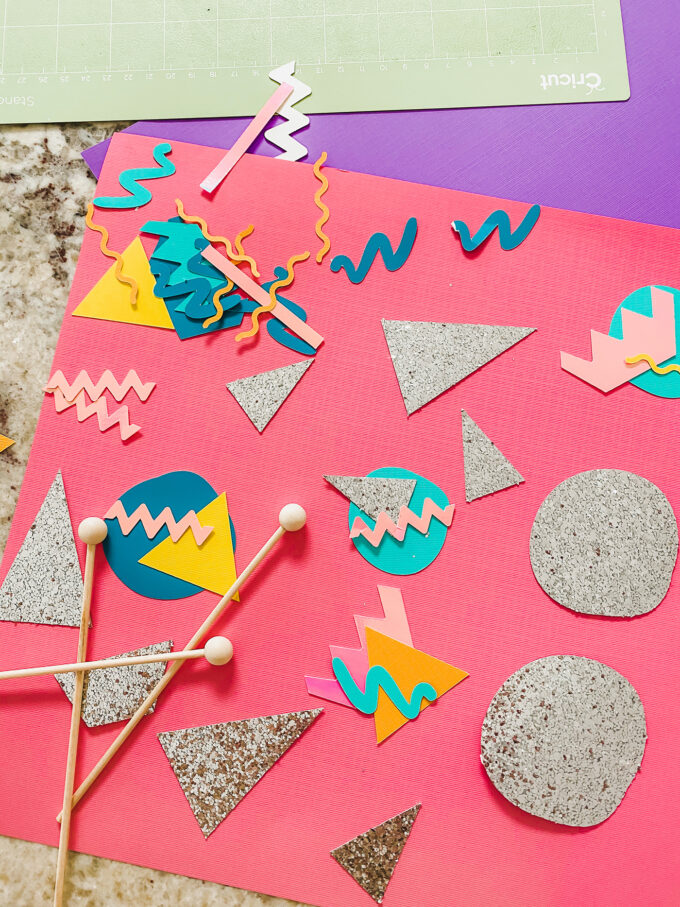 Use a scraper to remove the papers easily from your mat. Then play around with stacking and layering until you come up with mini versions that you like. Using a glue stick or hot glue gun, layer all of the shapes together and then attach to your straws and drink stirrers with a small dollop of hot glue.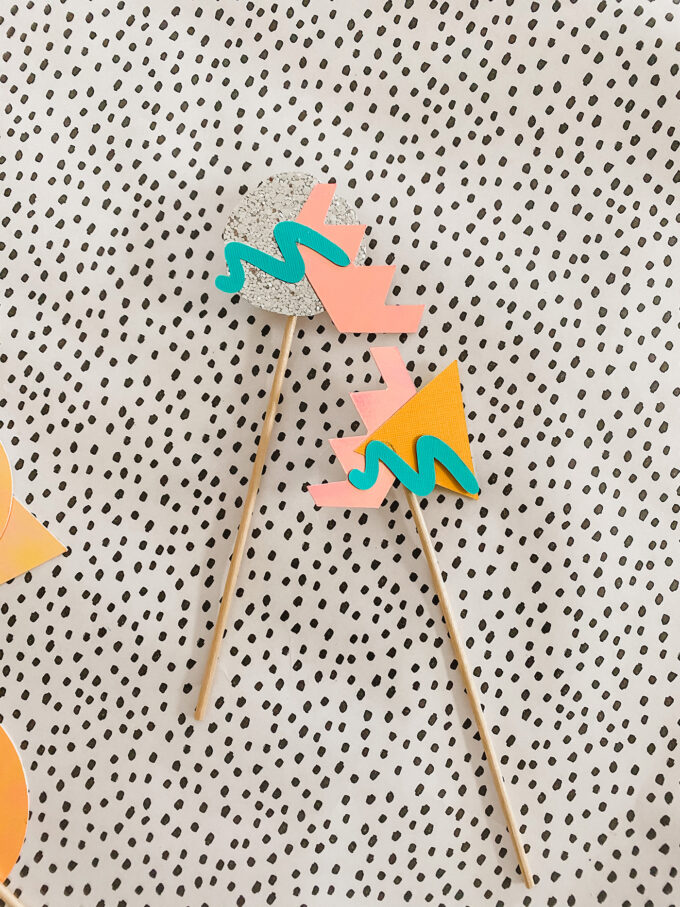 Easy peasy! You can make them all the same or make each one different, but they're so addicting to whip out!
From this: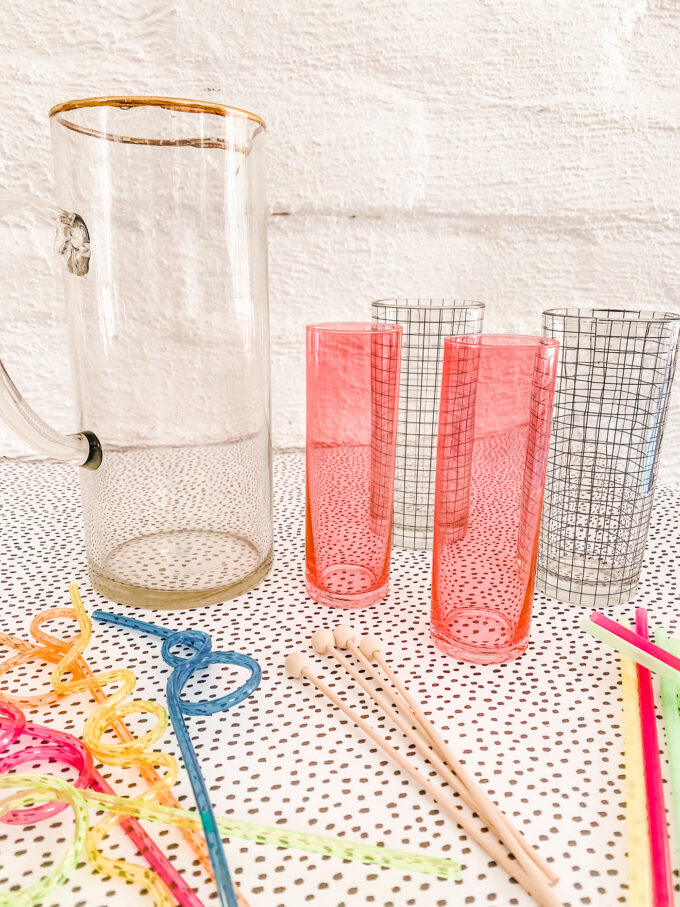 To this: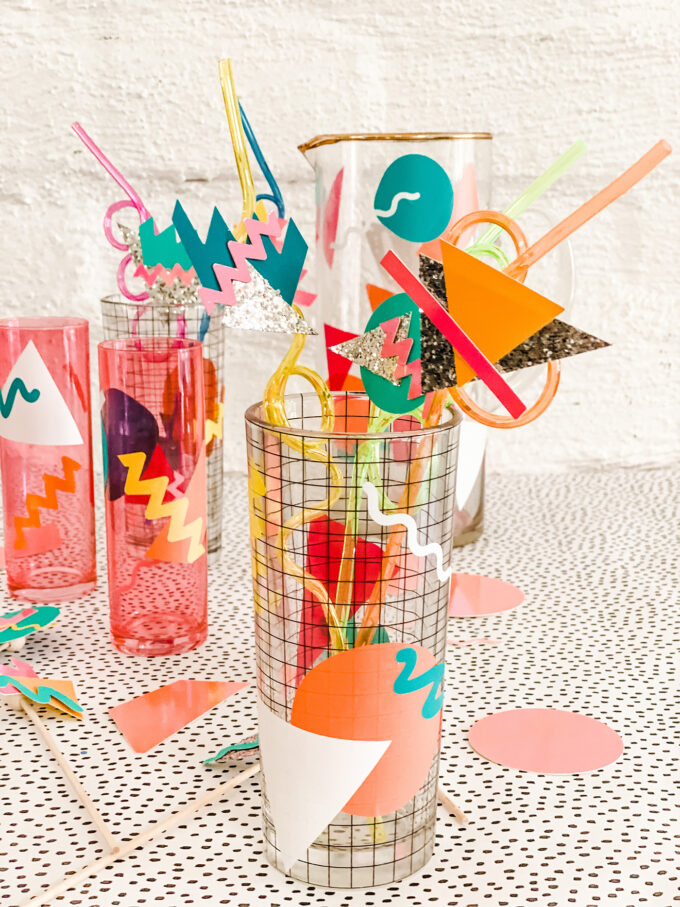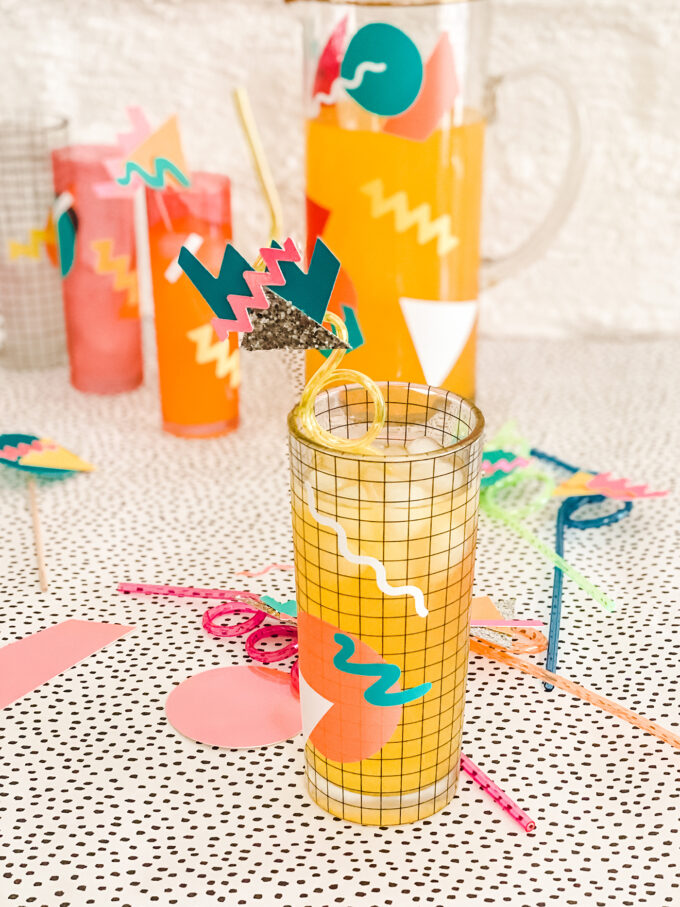 Now pour some lemonade and break out the Pop Tarts. This is the kind of occasion that calls for them! And if you're wondering if V was ultra-impressed with our 80's lemonade sesh, it blew her mind. I'm off to shop for some sweatbands for all of us now!
Looking for other fun projects to make with your Cricut? Click here!
*This post is in partnership with Cricut, a company that believes anyone can be a maker. Thank you for supporting the brands that help support PROPER and our little crafting family!