---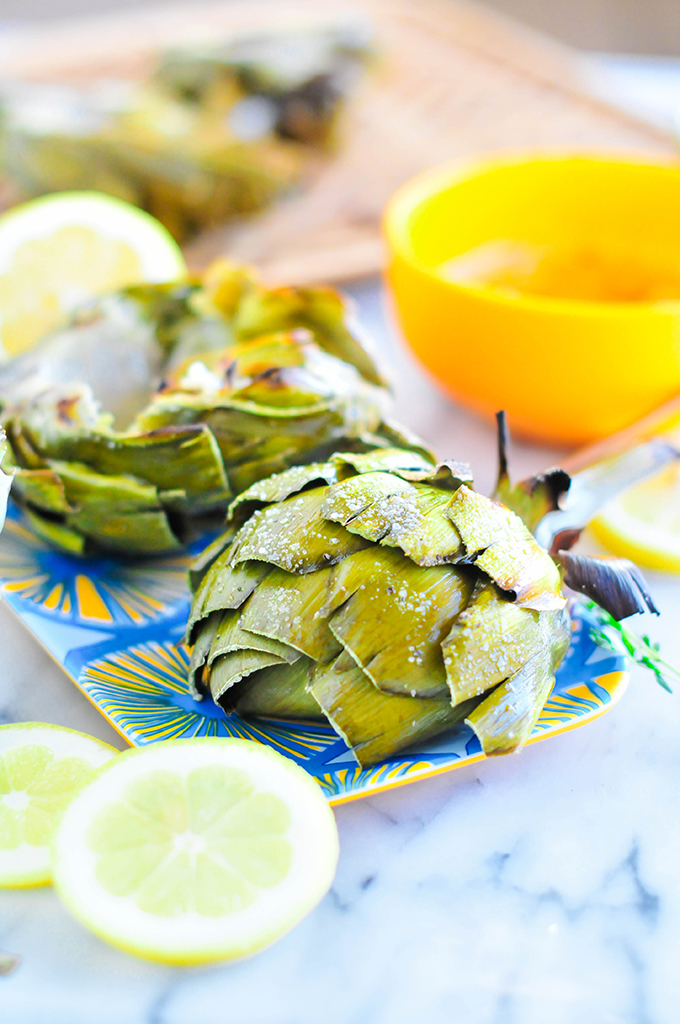 Okay. So this is basically the secret to a happy marriage. I'm not joking when I tell you that we make grilled artichokes with lemon butter every week. Logan is a bit obsessed with the artichoke. But it's not just any artichoke. They have to be my artichokes. And they have to be grilled. It's an art, really. First we steam and then we grill and then we devour. My marital happiness rests on these artichokes and I've learned to just be okay with that. Because I want you to have a happy life, I'm sharing the recipe for these suckers below. Kick off your weekend and make some tonight!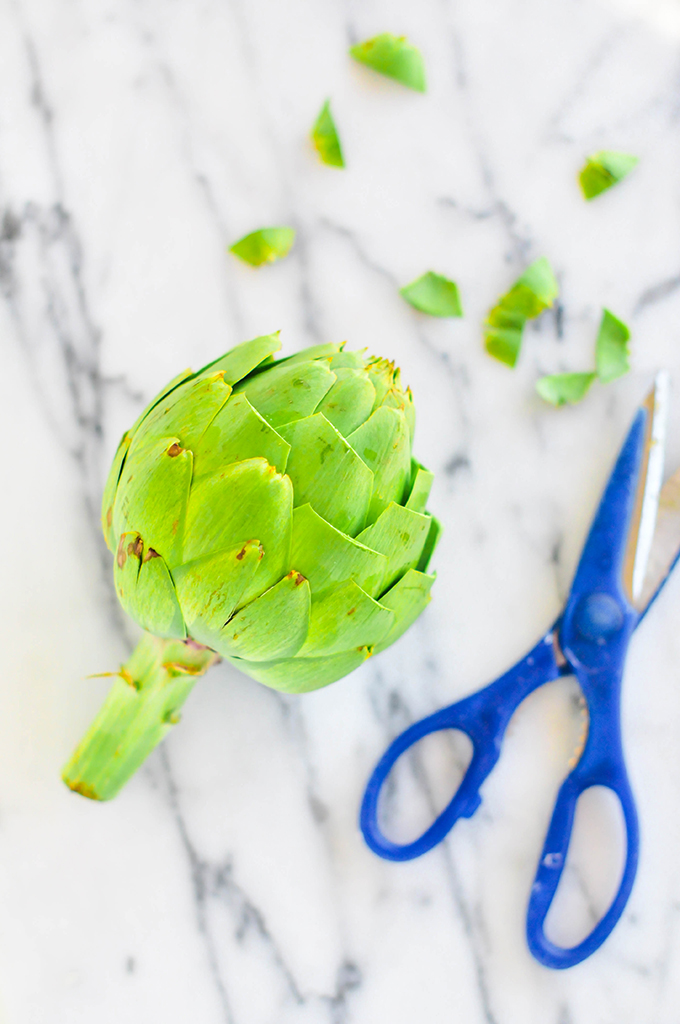 Grilled Artichokes with Lemon Garlic Butter
Ingredients
fresh artichokes
olive oil
kosher salt
montreal steak seasoning
black pepper
1/2 cup (1 stick) butter
1 lemon
1 tablespoon minced garlic
2-3 sprigs of fresh thyme (1/2 teaspoon dry!)
We start with a super green and vibrant artichoke! Using kitchen scissors, snip off the edge of each leaf to remove the thorns! (see photo above)
Next, steam the artichokes for 35-40 minutes. No more or they'll be too mushy to work with! The steaming takes the vibrant green color and moves it to a darker army green so you know it will be tasty. Army green is just classic sign of flavor, ya know? 😉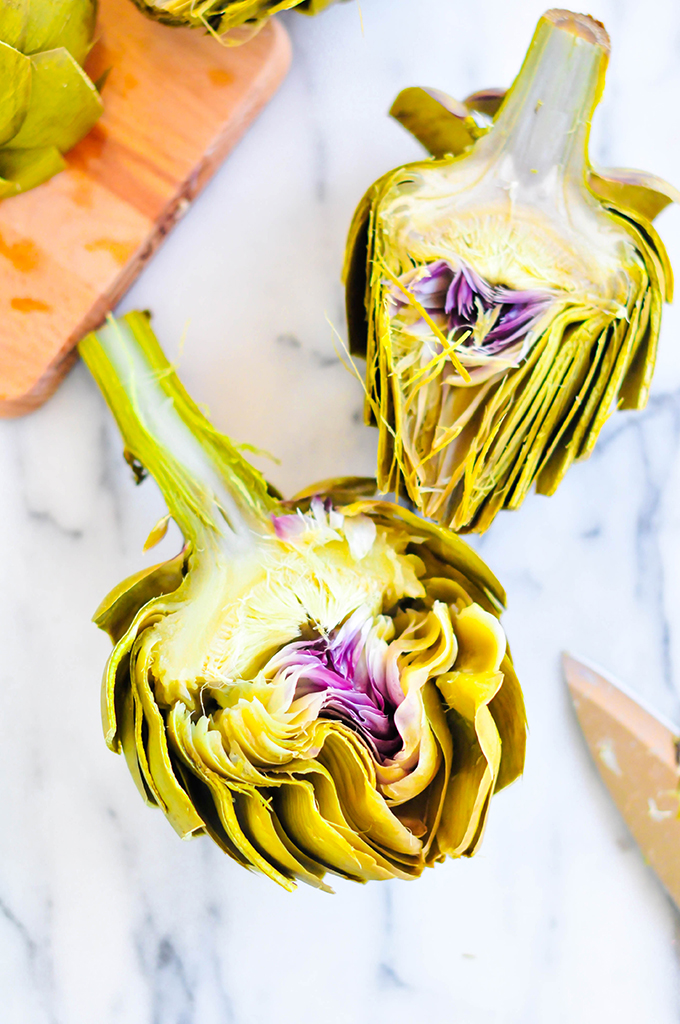 Gently slice each artichoke in half.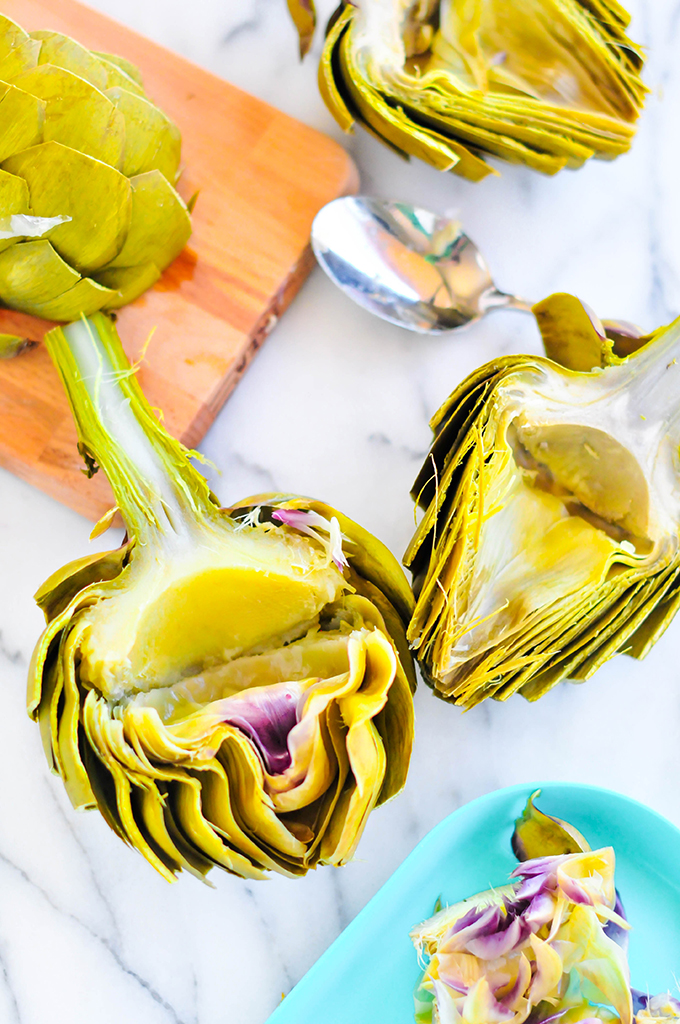 Use a spoon to remove the choke and fuzzy stuff (technical term, you guys).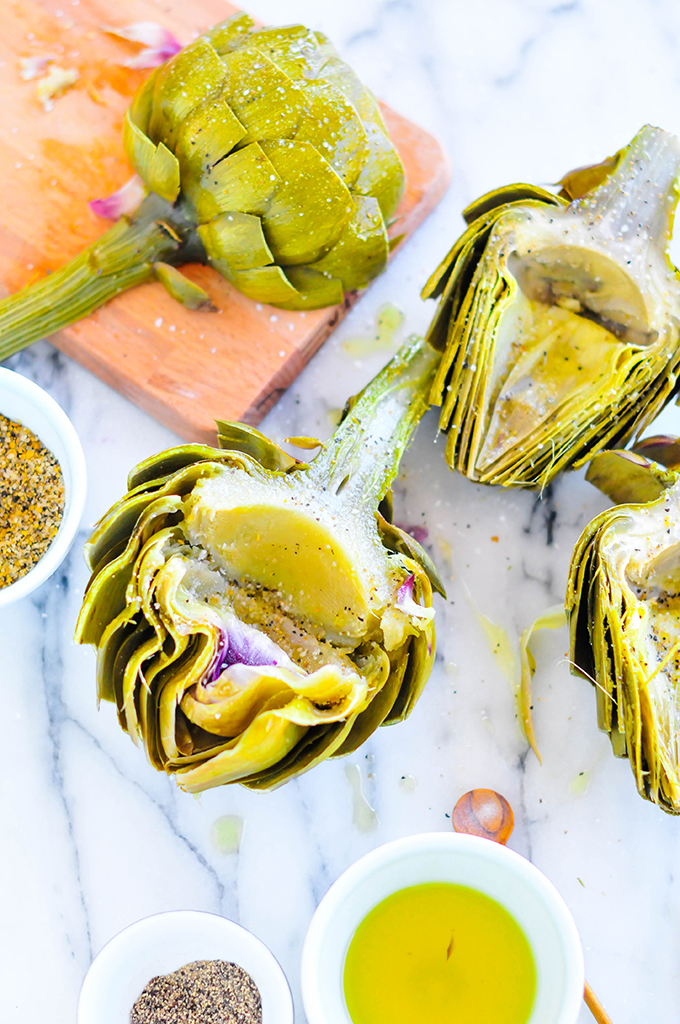 Brush both sides of the artichokes with olive oil and sprinkle with the salt, steak seasoning, and black pepper. I use a pinch of each! 
Warm up your grill on medium-high for a few minutes and then throw the 'chokes on the bar-bay! Grill each side for five minutes and then remove 'em!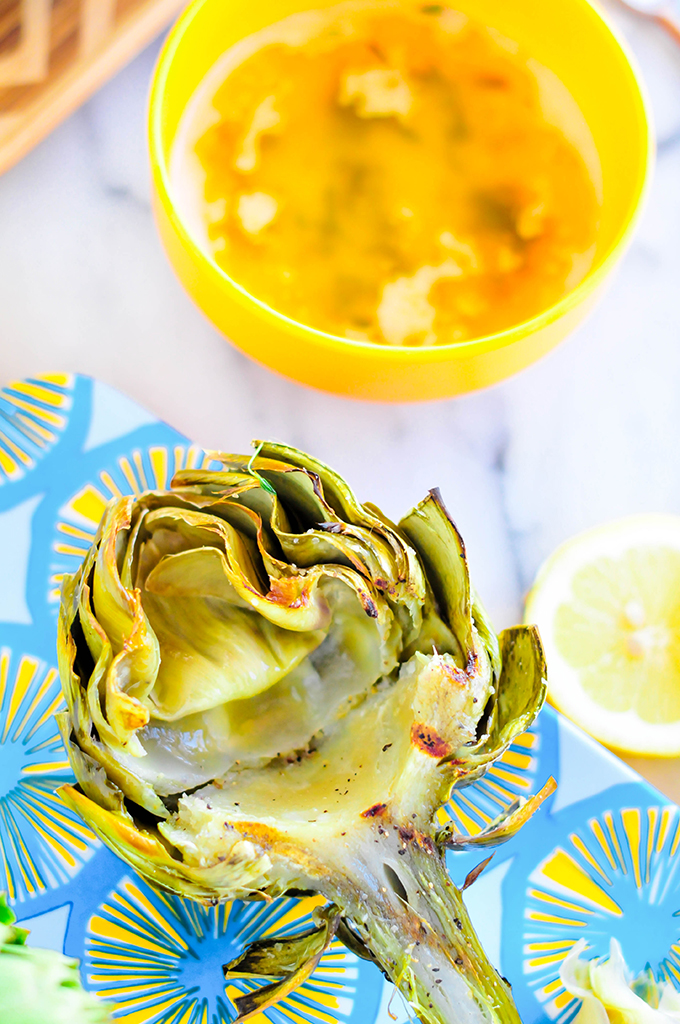 Oh my. Those seared lines. I'm salivating. While the artichokes are grilling, make the butter!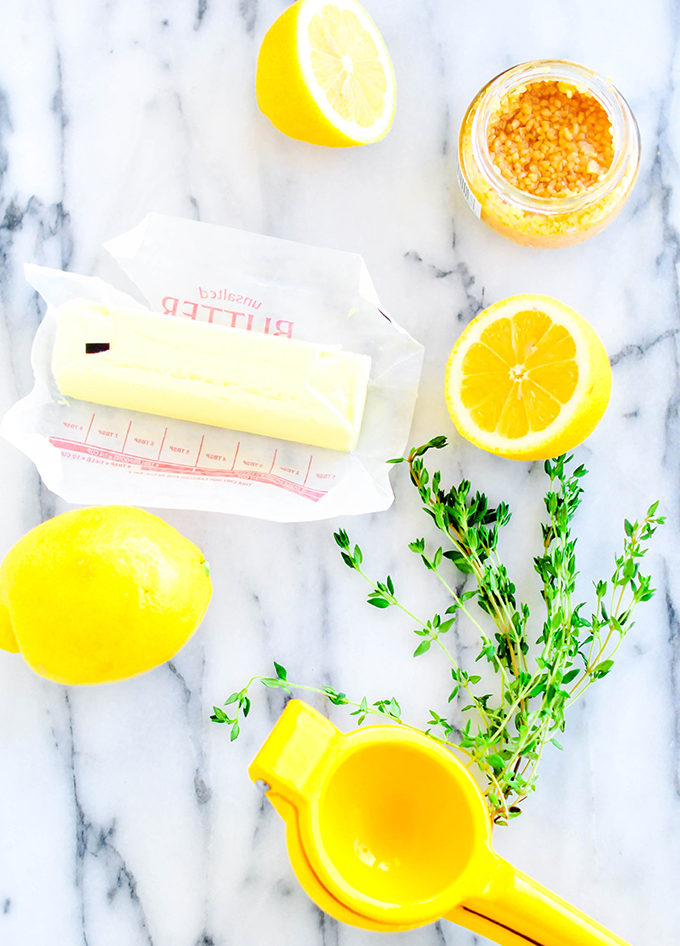 I know that I have proven myself a sweets lover, but there is something about garlic and butter just melting over the stove. It smells delicious. And I could just eat that. Or drink it. Whatever. Garlic butter fo' life.
To make the butter, melt the stick of butter in a small sauce pan over medium heat. Add in the garlic and sauté for one minute. Add the juice of one lemon and the leaves of thyme. Reduce the heat to low and let it all simmer for 1-2 minutes, stirring occasionally. Be careful not to burn the butter and garlic! Pour the butter into a bowl (trying out my new Marimekko for Target goods!) and serve with the freshly grilled artichokes!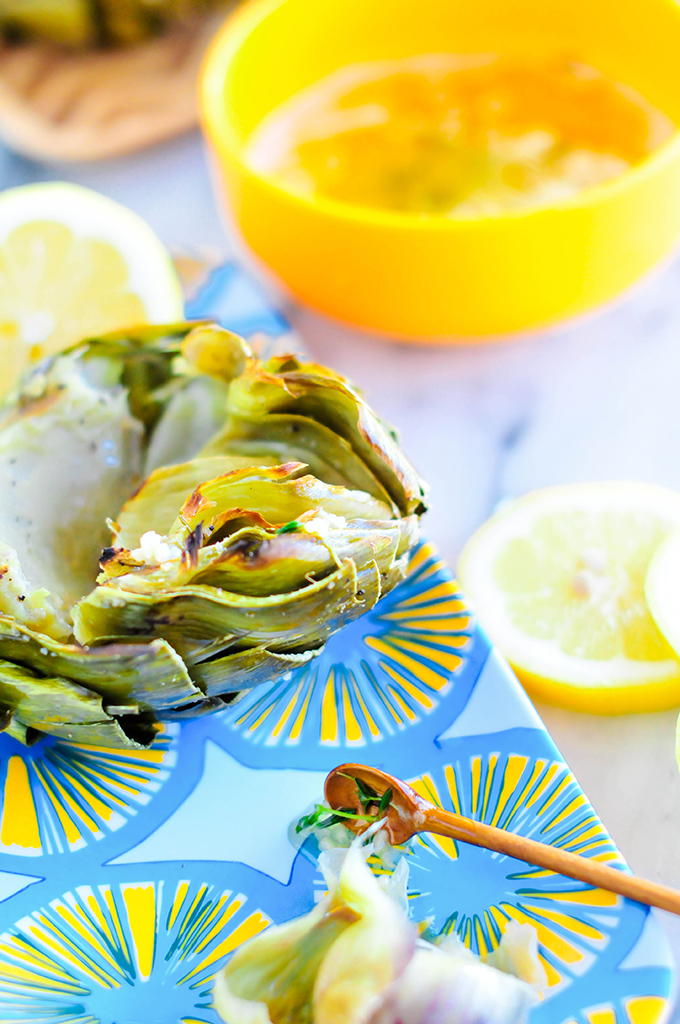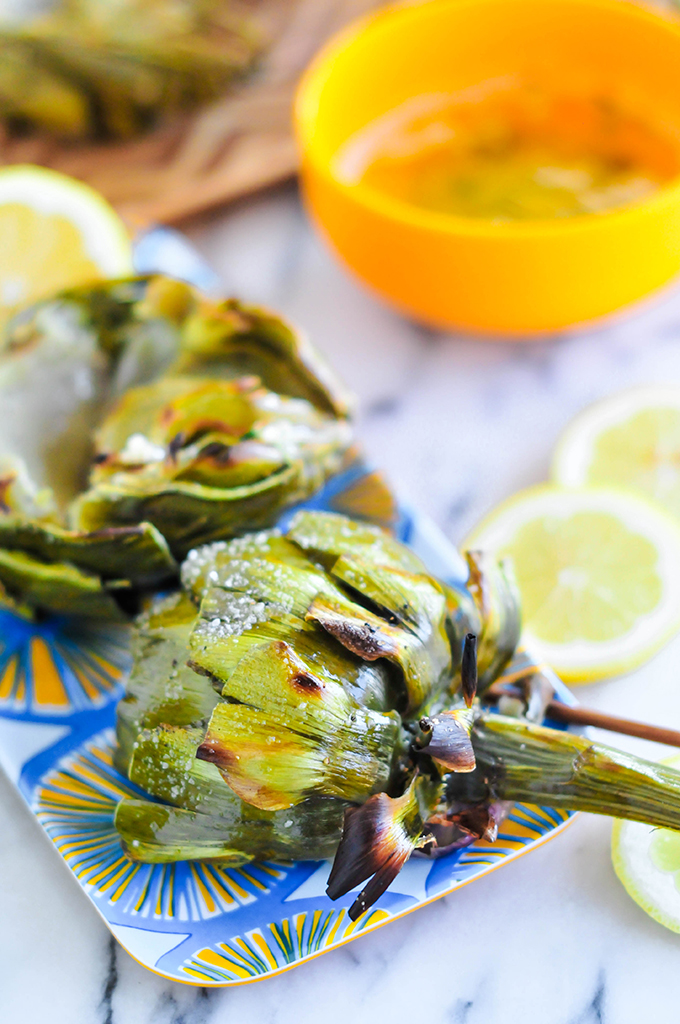 Just LOOK at that. See that salt? I could just lick it right off.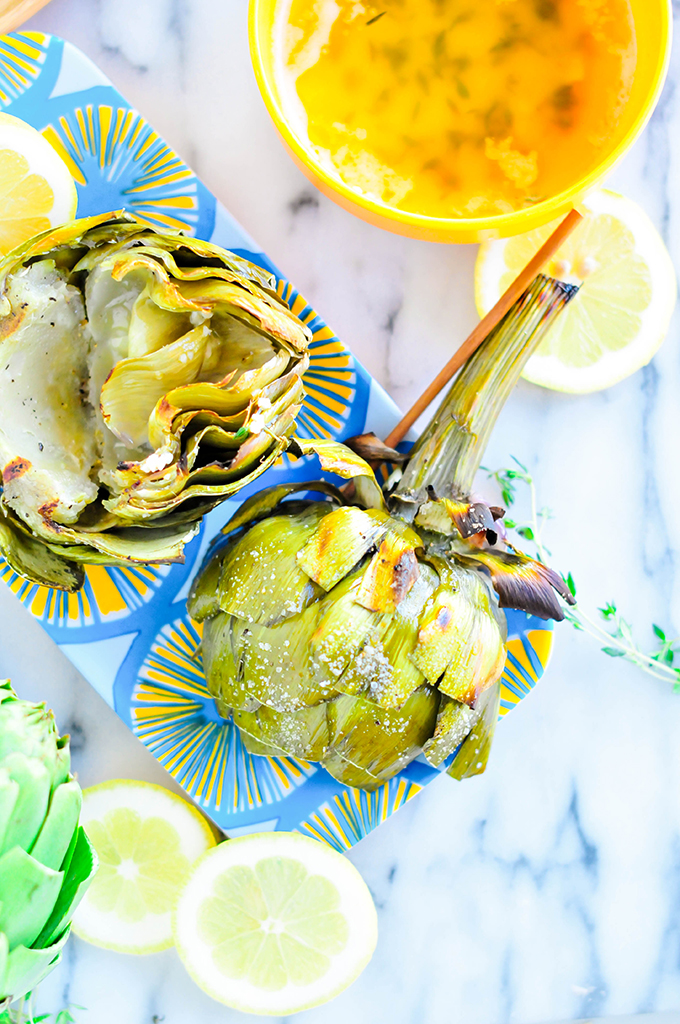 Now, you know how to eat these, right?! If not, it's totally cool. I have tons of friends that have never tried a 'choke and I've made it my mission to convert them. I start on the inside of each artichoke and work my way out. You eat the leaves, but not the ENTIRE piece.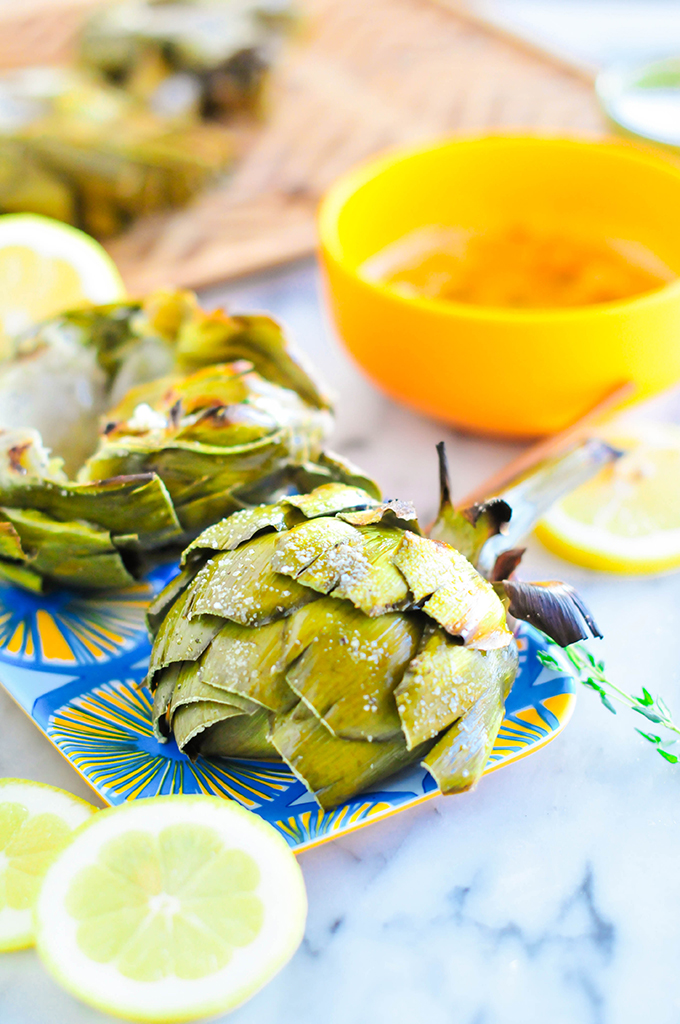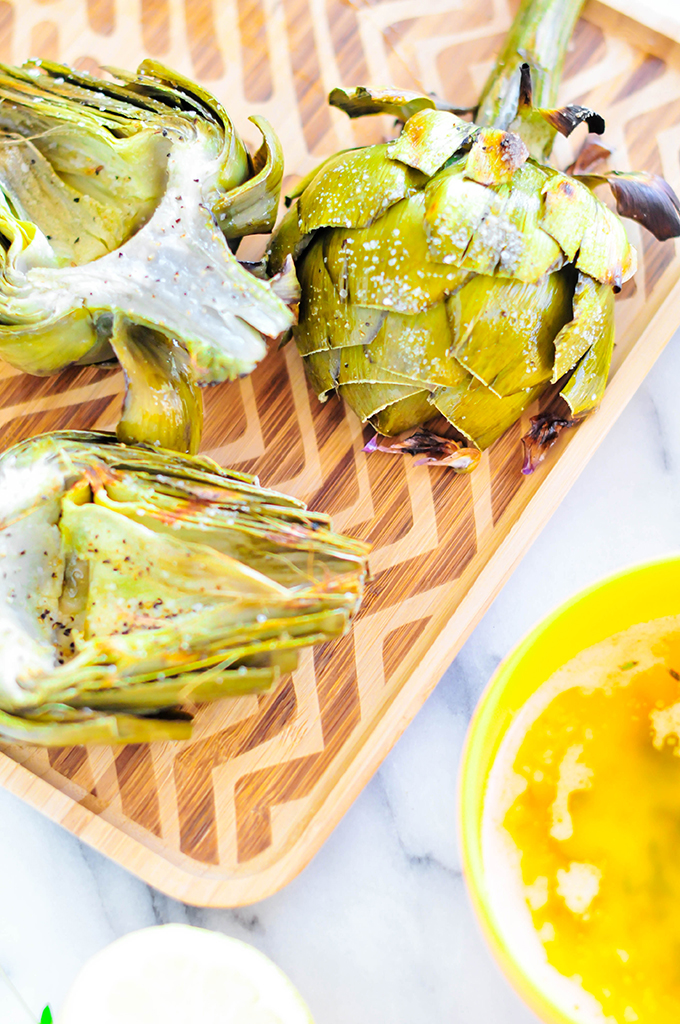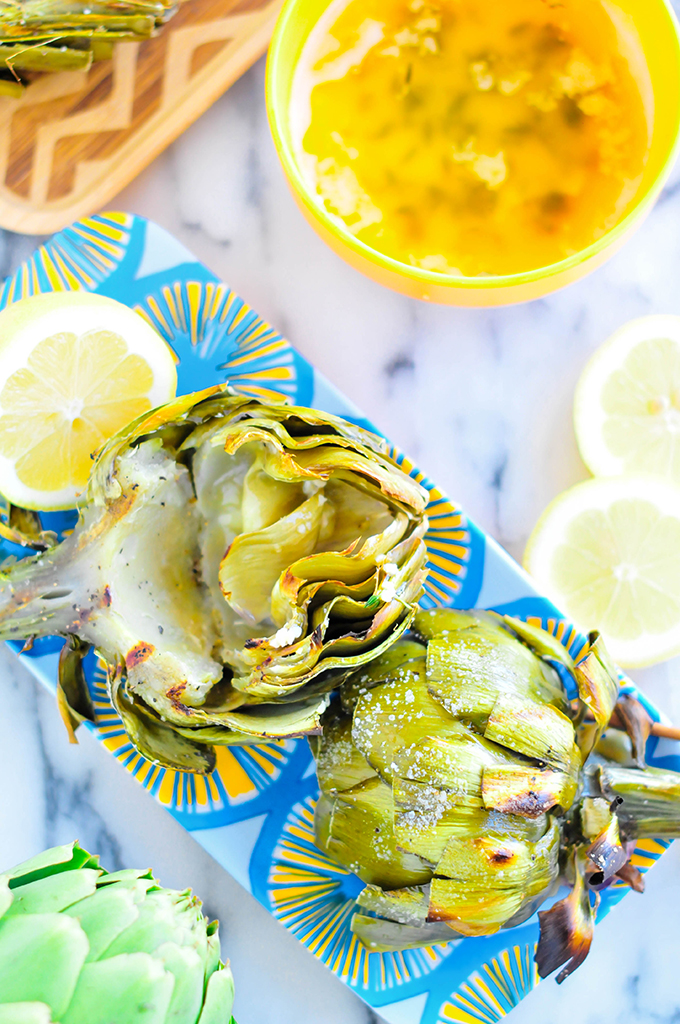 To do this, pull a leaf out from the center. Hold it where you trimmed the thorn away and dip the other end in the lemon garlic butter. Pull that end through your teeth to tear away the fatty-pulp-good-stuff (again with the technical terms). I'm a double-dipper so I go right back into the butter and make a second run-through. It's just so good. The charred-salty flavor is just so amazing when combined with the lemon garlic butter.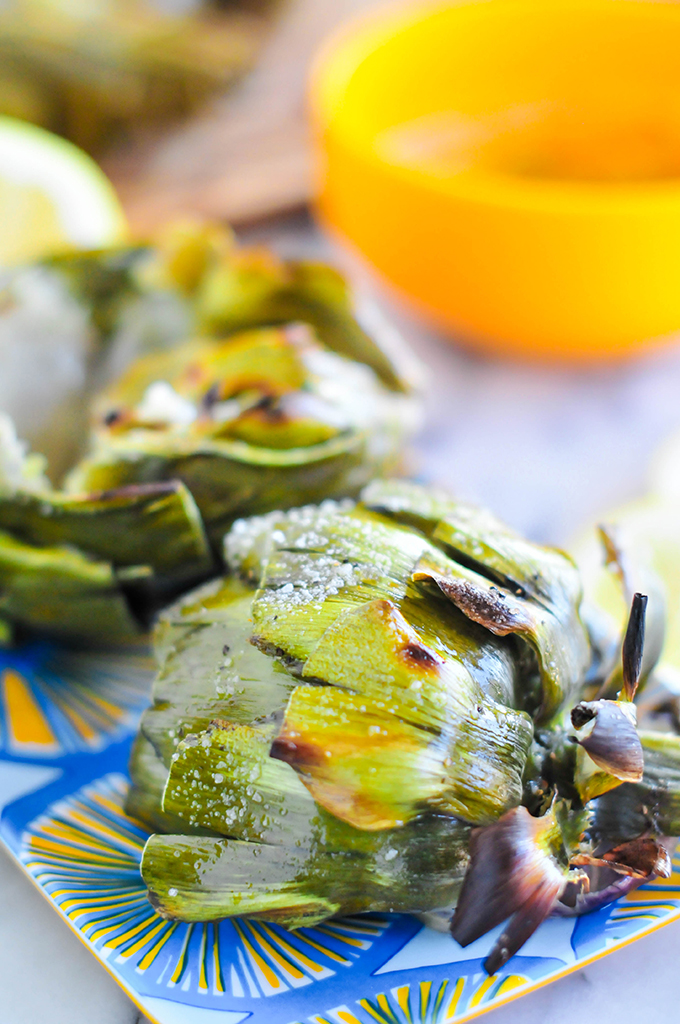 This is one of those dishes that makes a perfect appetizer when entertaining friends. And you'll definitely grow closer after eating these together because things can get a bit messy. Like, don't expect to look attractive when your fingers get covered in juicy and delicious butter. That's what friendship is, you guys. You're totally welcome for this.
Get yourselves to the grocery store and make these tonight. Don't wait. And if you're up for more recipes to make on the grill, try our grilled margherita pizza!
recipe, styling, and photography \\ Lexy Ward