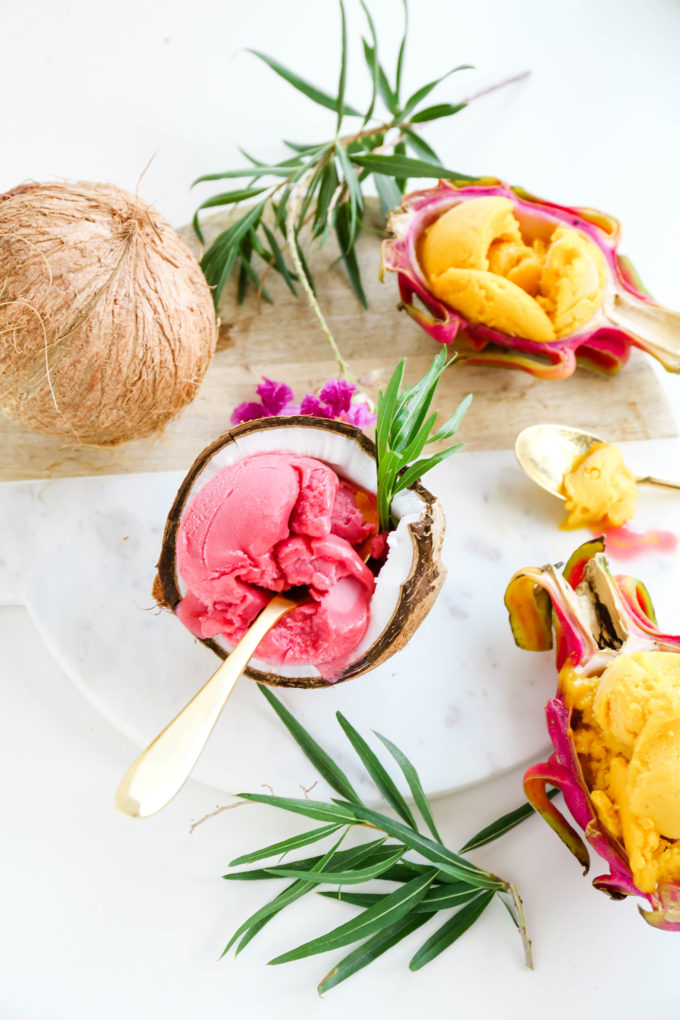 See, I told you my obsession with dragonfruit would continue. I mean. It's the most versatile fruit! Come on!!!! It's been all things frozen foods around here what with the temperature averaging between 110-120 degrees on the daily down here in the AZ. I thought I'd recreate the magic from these lemon bowls all those years ago and make some assorted fruit bowls that work wonderfully when filled sorbet, ice cream, cash, you know. The usual goods!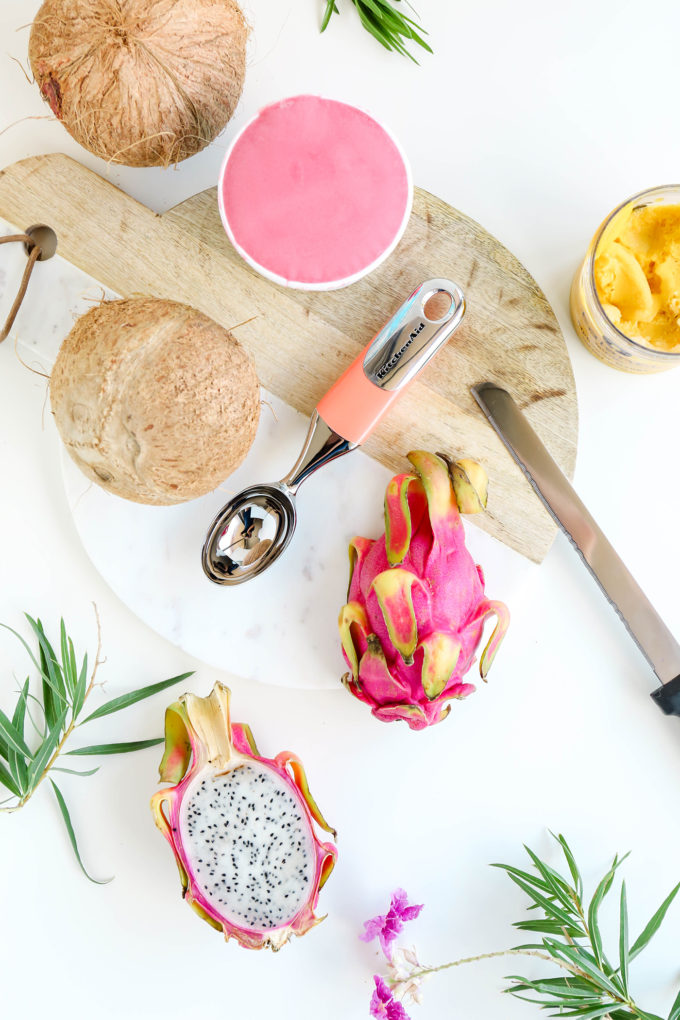 Make your own assorted fruit bowls
dragonfruit

coconuts
cutting board and knife
hammer or mallet
bowls
ice cream scoop
sorbet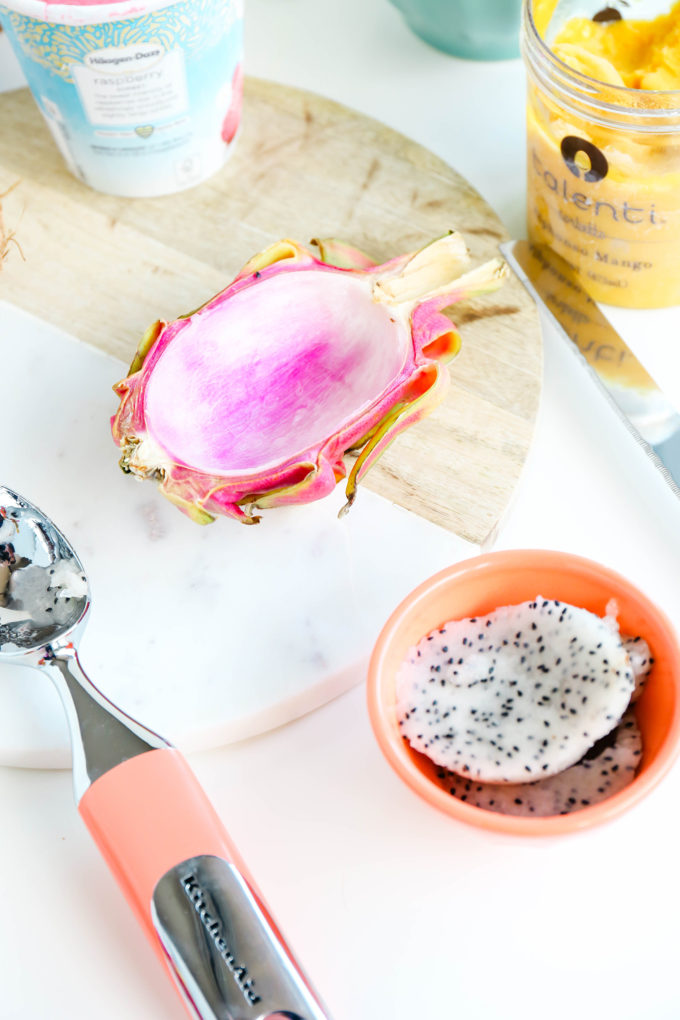 First, start with the dragonfruit! Use the knife to slice that sucker in half. Hollow out the halves using an ice cream scoop. Set aside the yummy fruit to make something delicious like this dragonfruit & coconut water smoothie OR these colorblocked popsicles!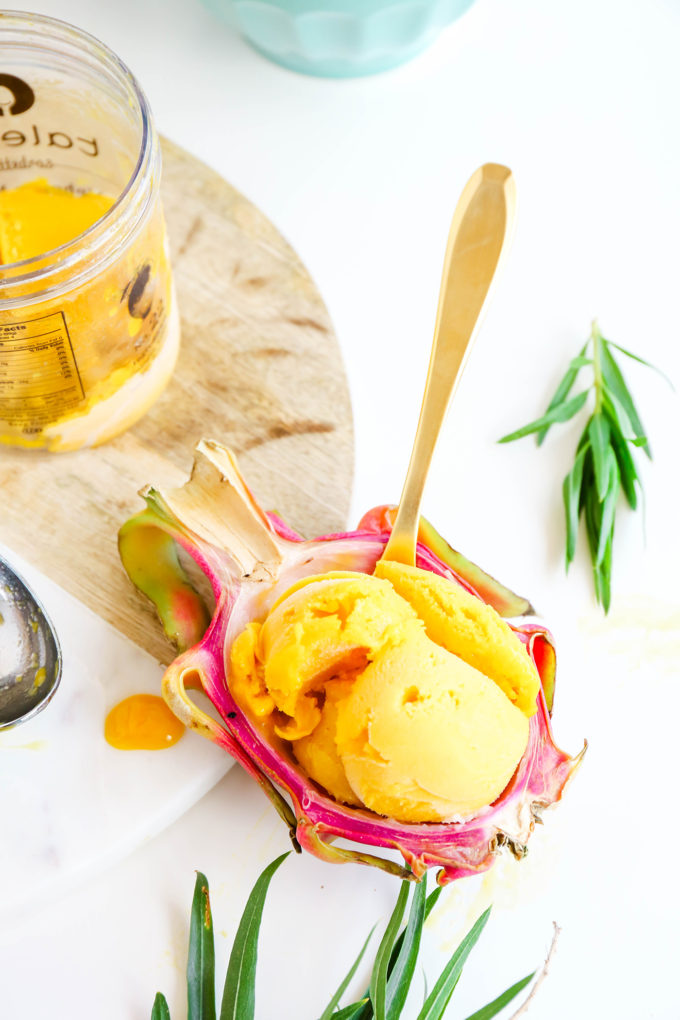 Fill each piece of dragonfruit with a little mango sorbet! You can devour these right away, or stick them into the freezer until you're ready to serve!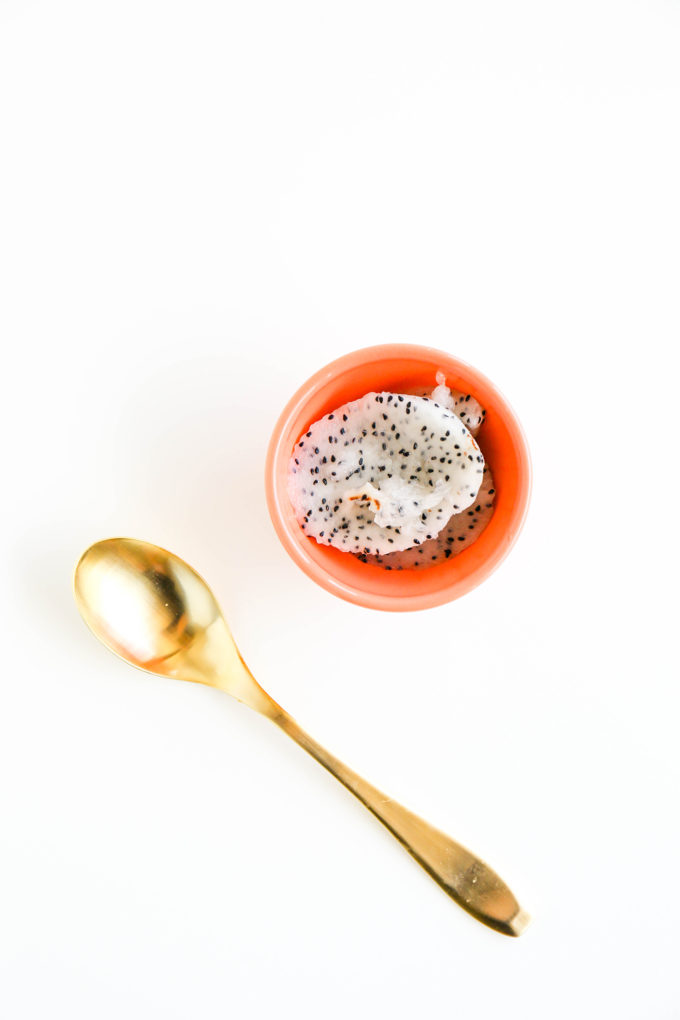 It's breakfast, no? And it is also THEE prettiest fruit. Gosh. Forget the pineapple…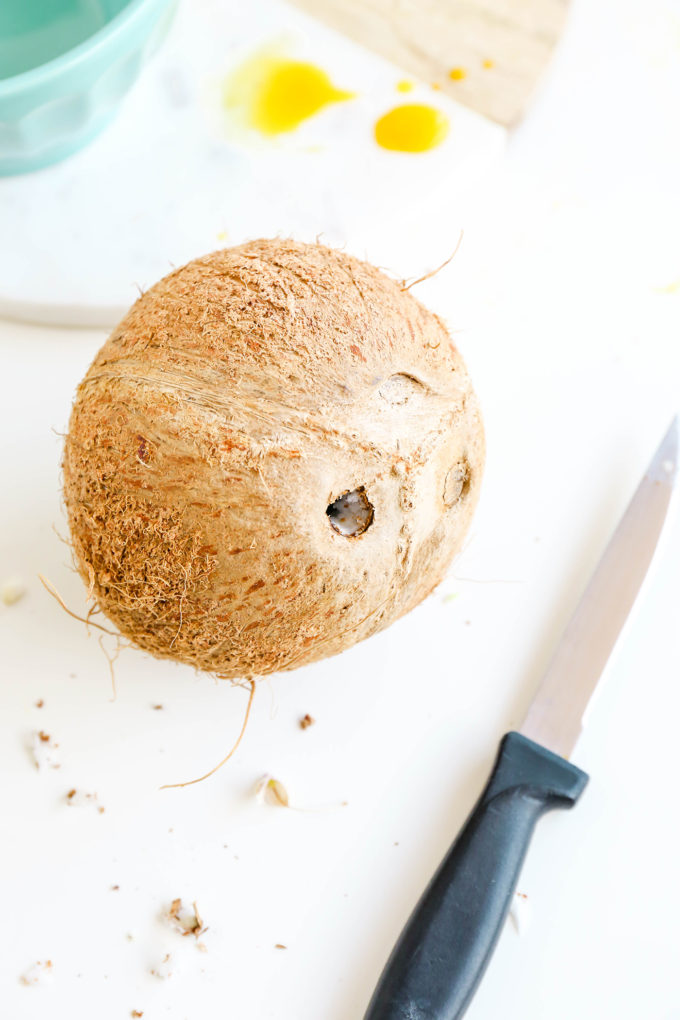 Halve the coconut
Using the knife, gently carve out one of the "eyes" on the coconut. It will carve out pretty easily so be careful!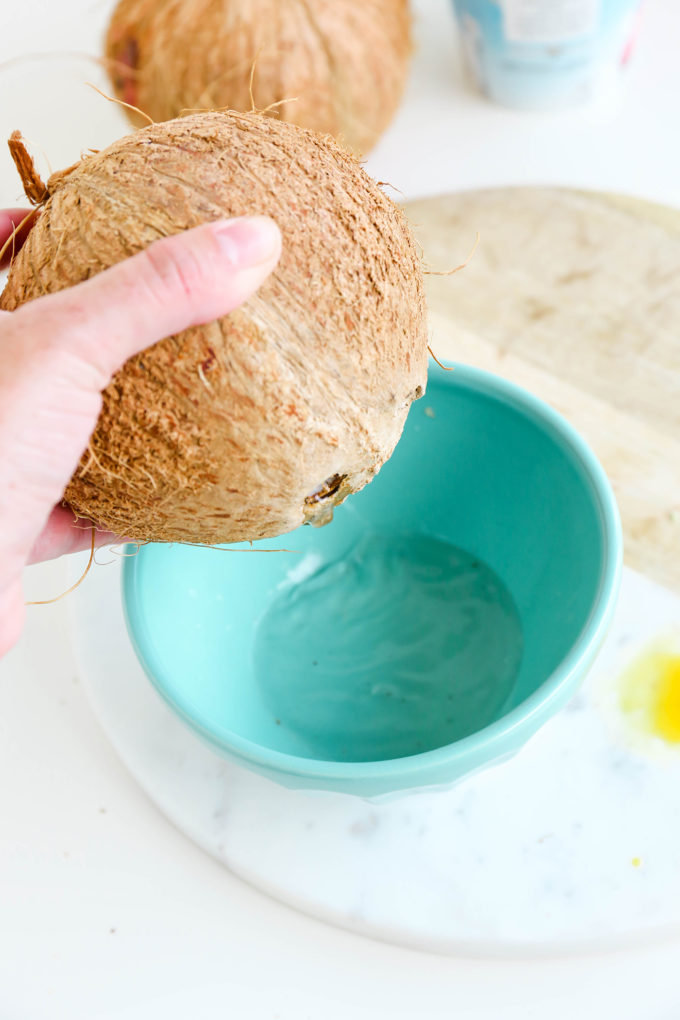 Drain the coconut water over a bowl so you can set it aside and use it later. Maybe make some lemonade! Or chill it and drink it as fresh as possible! Yum!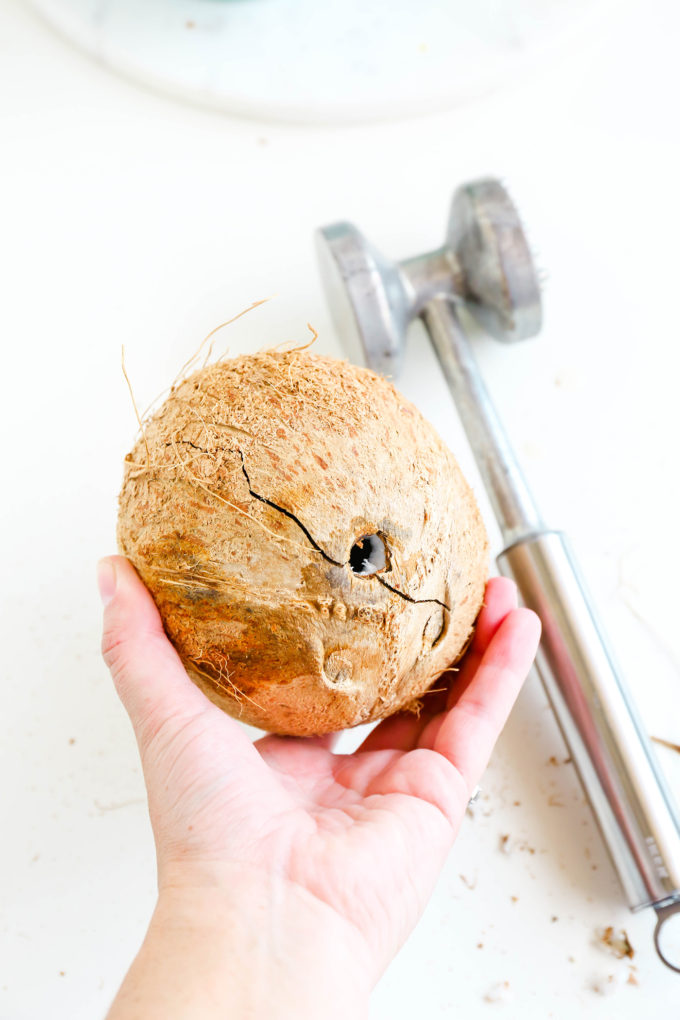 Once you've drained the coconut, hold it in the palm of your hand and use the hammer or mallet to crack it. Starting at one end, give it a good "whack" and work your way around the coconut in a straight line. You'll start to see a small "hairline" crack form for you to break the two halves apart.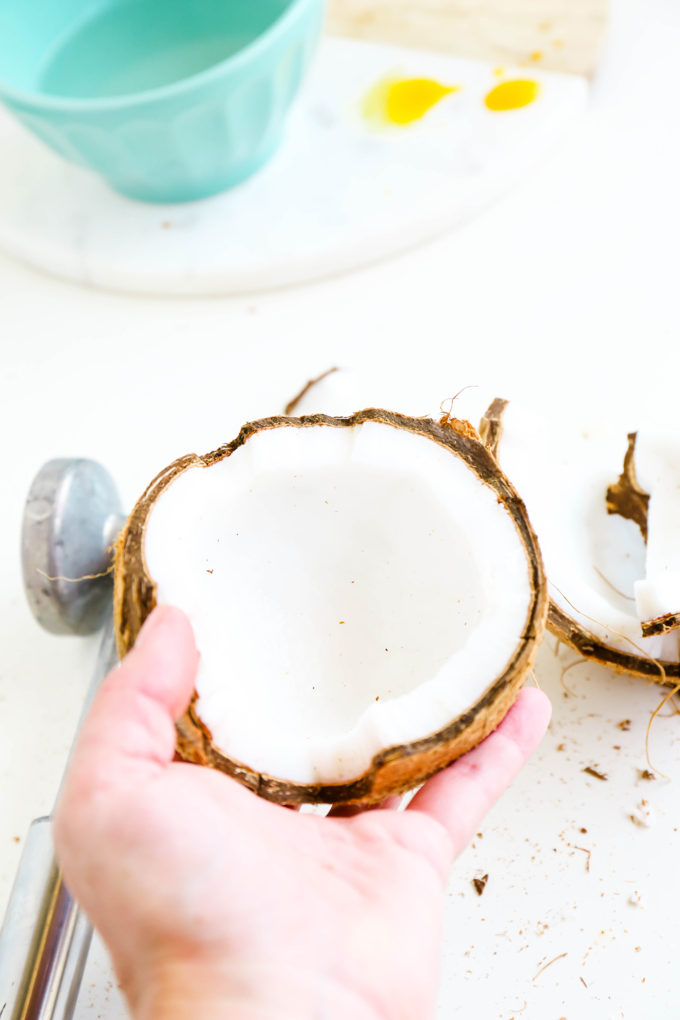 Now, this is the hard part. I was ready to eat the flesh, but thought I'd save it until it's been mixed with some fruity sorbet for the ultimate flavor combo!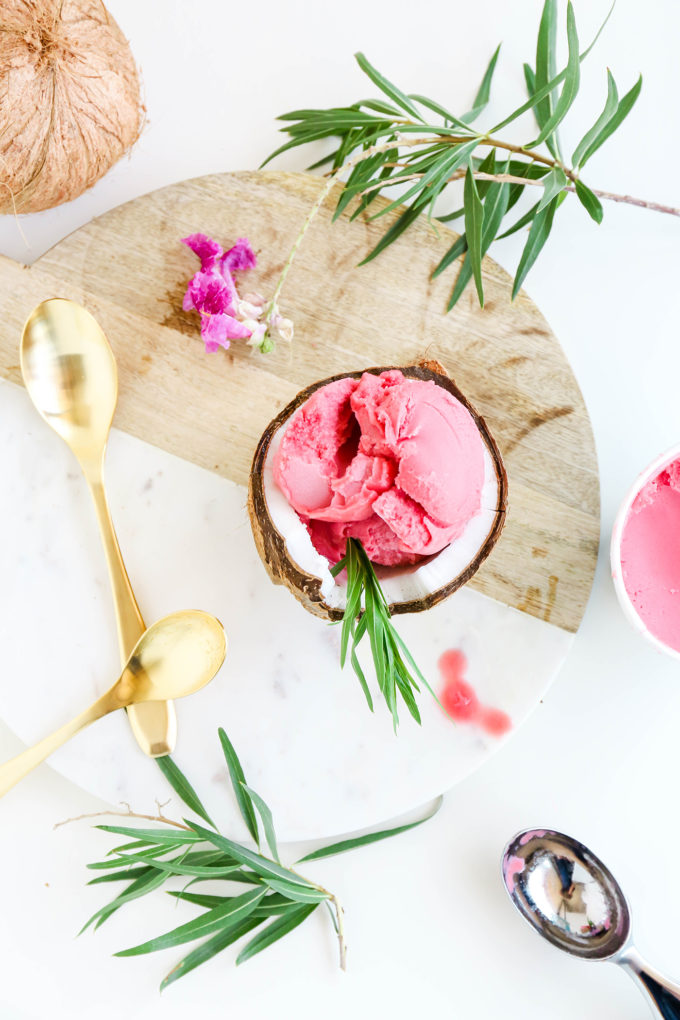 Scoop up some raspberry sorbet and serve in the coconut bowls! Add some greenery or edible flowers for a special tropical touch. Because you can. And you should.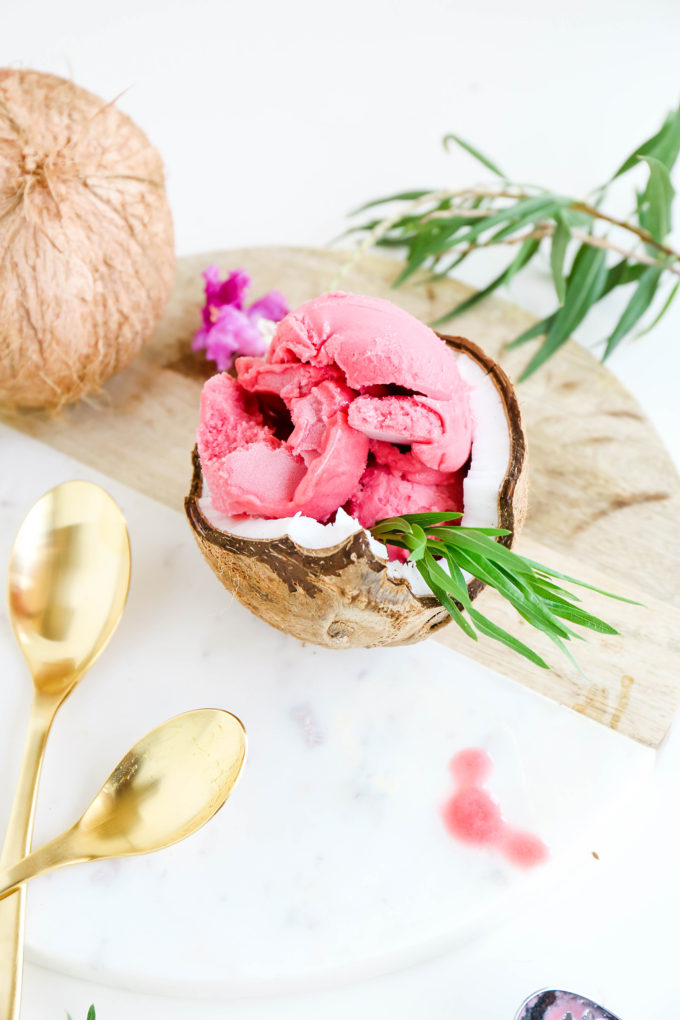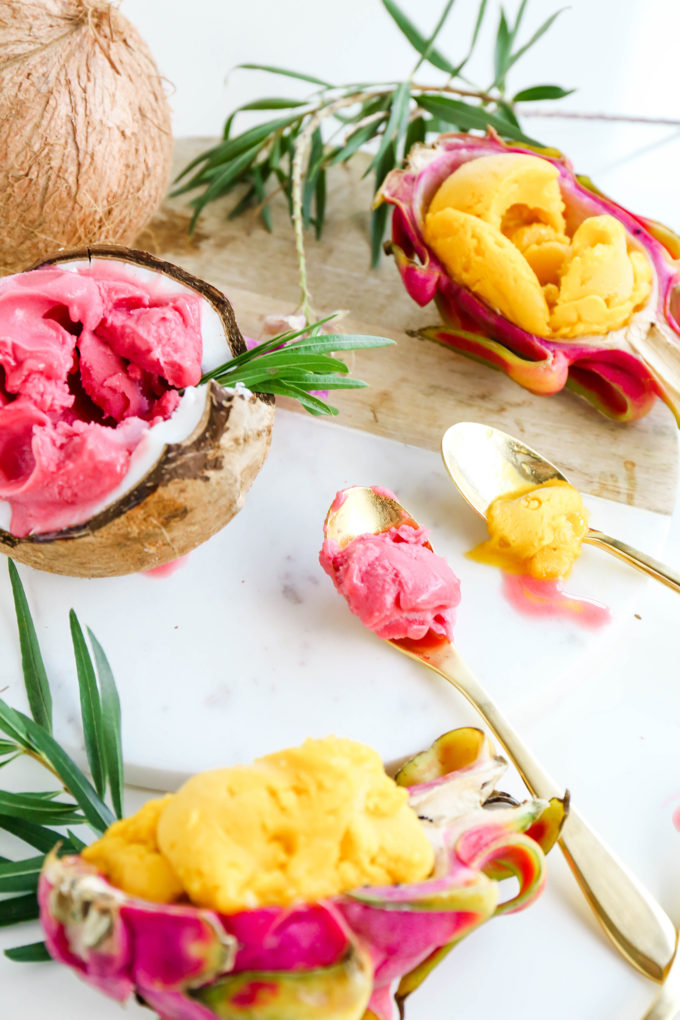 The colors here are so perfect for summer it really hurts. These are great for a relaxing afternoon by the pool!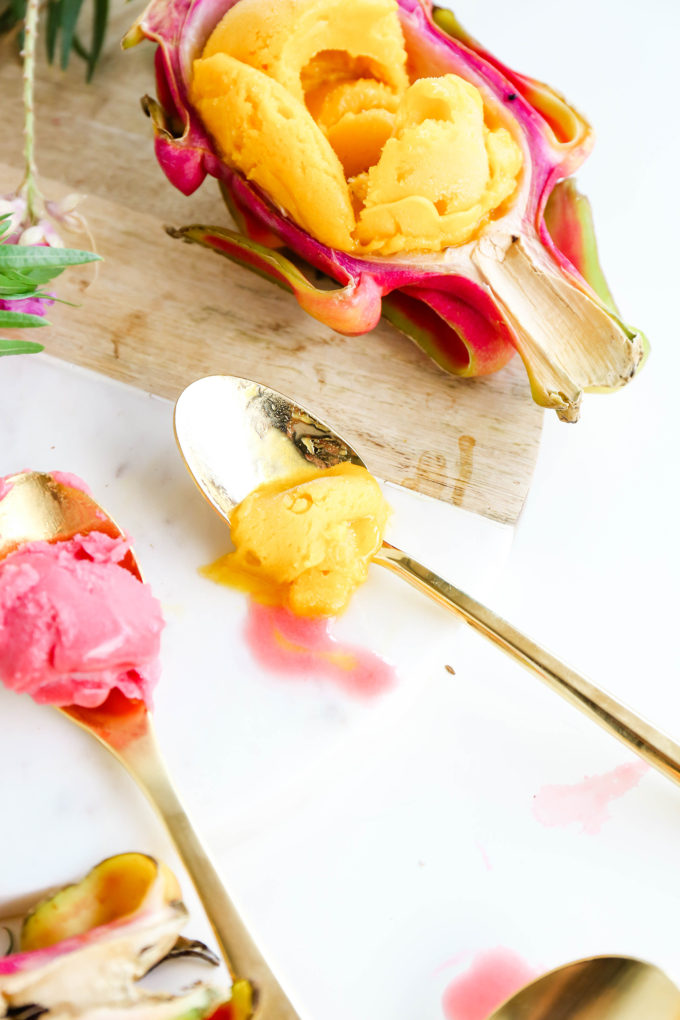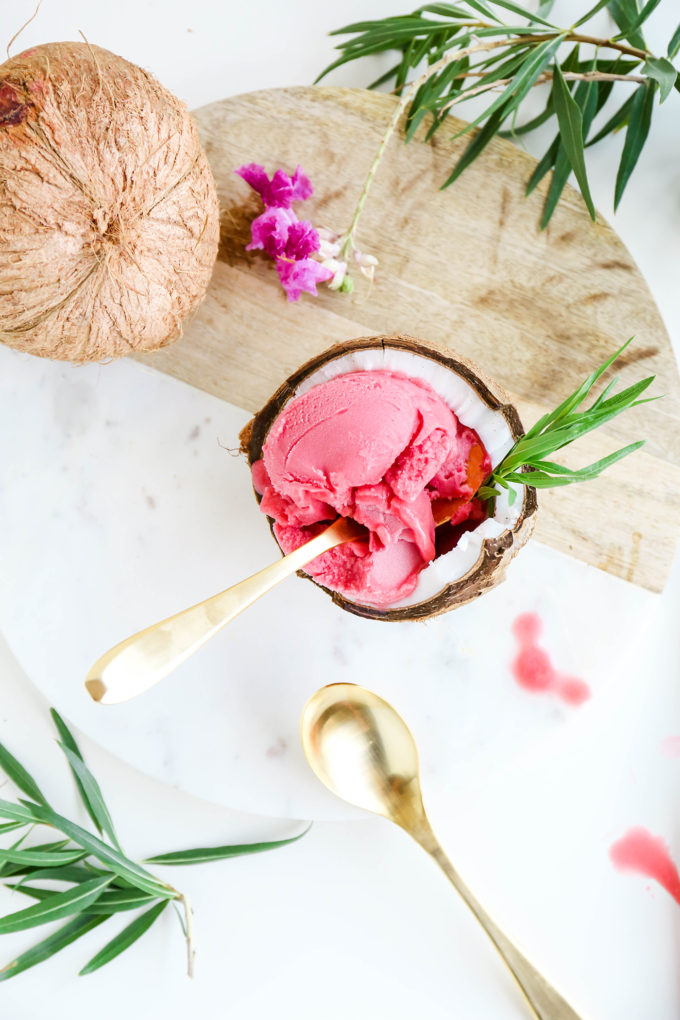 Both the coconut and the dragonfruit can be hollowed and refrigerated until you're ready to fill them with ice cream. You can also fill them with slices or chunks of assorted fruit if you're not into ice cream! And if you're not into ice cream, we should probably talk…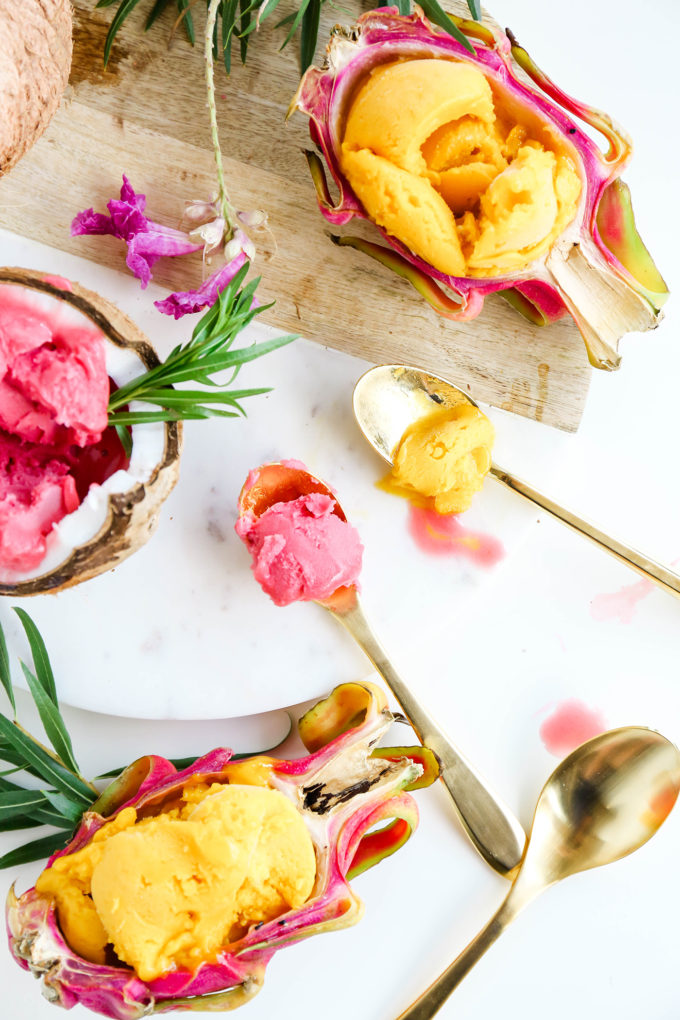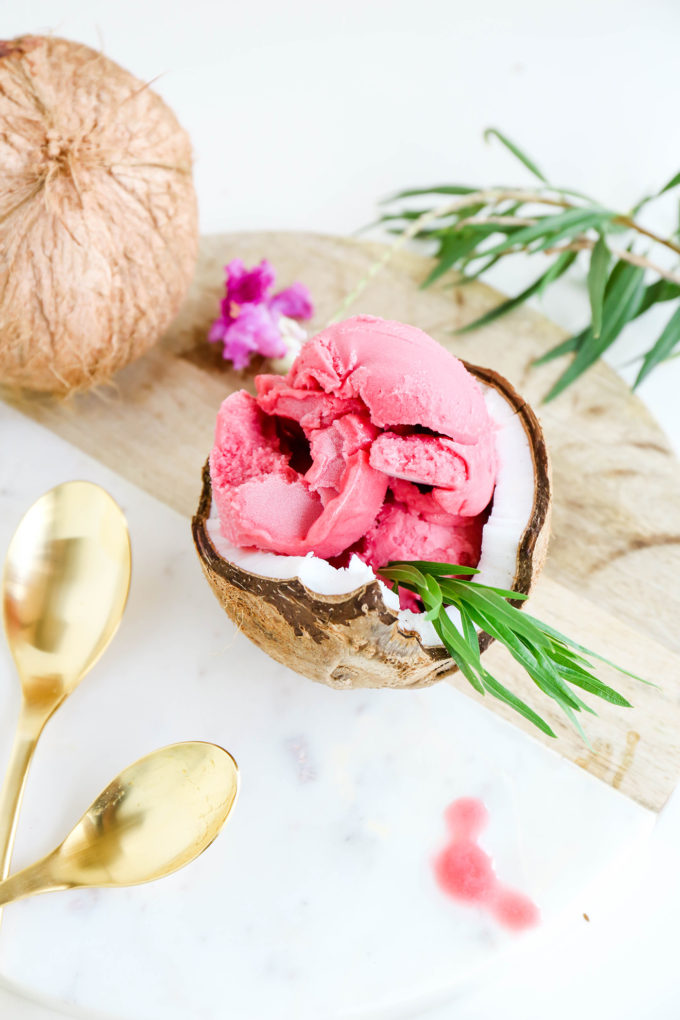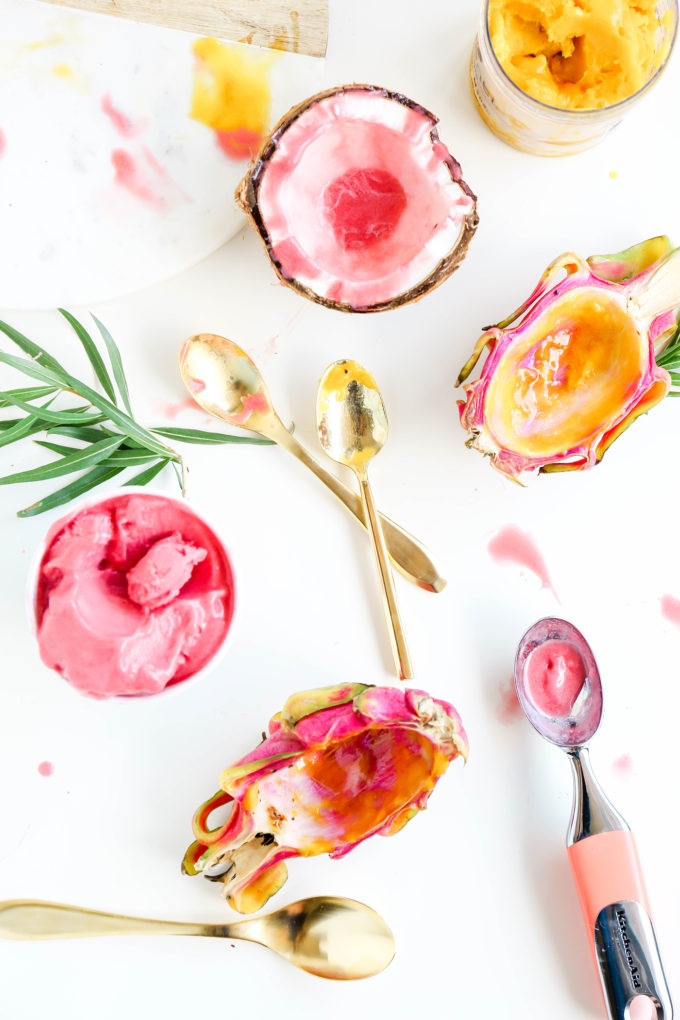 Forget the paper towels! I'll just go ahead and lick this mess right up. Summer sure is great, isn't it?
What other fruit can you hollow out for summery snacks?! Raspberry sorbet is our favorite addition!
styling & photography \\ Lexy Ward