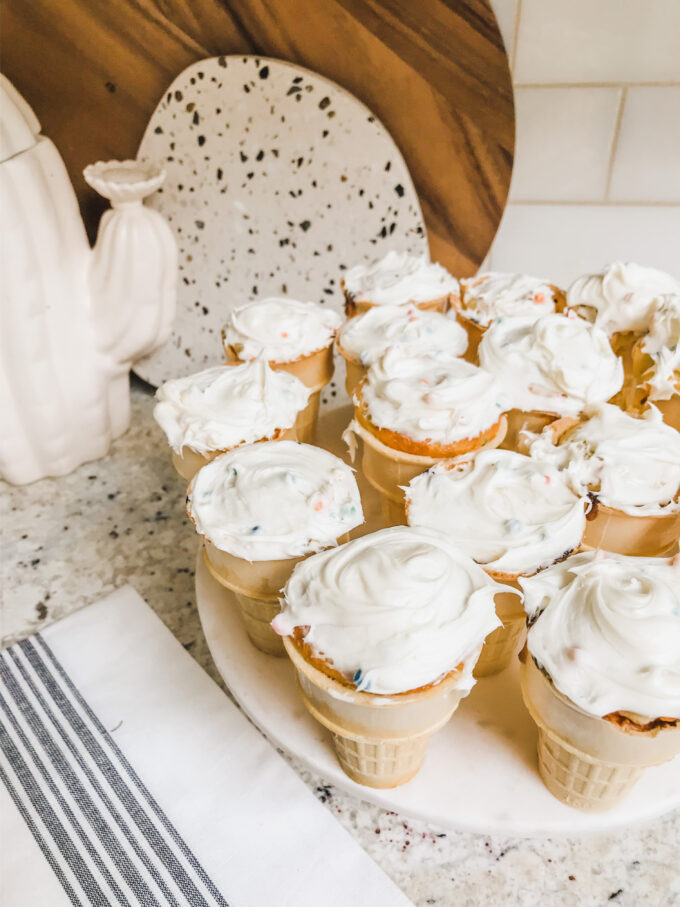 There are plenty of reasons to have kids. They're cute. They love you. And you can use them as an excuse when you really want to make your fave childhood snacks. "The kids wanted to make them!" I use that one a lot. My mom used to make these funfetti cupcake cones for my birthday parties way back in pre-school. And then it seemed that the magic of rainbow chip disappeared from my life for a little bit. Who else remembers the wonderful day when Betty Crocker re-released rainbow chip frosting back into the world??? That was the highlight of 2015.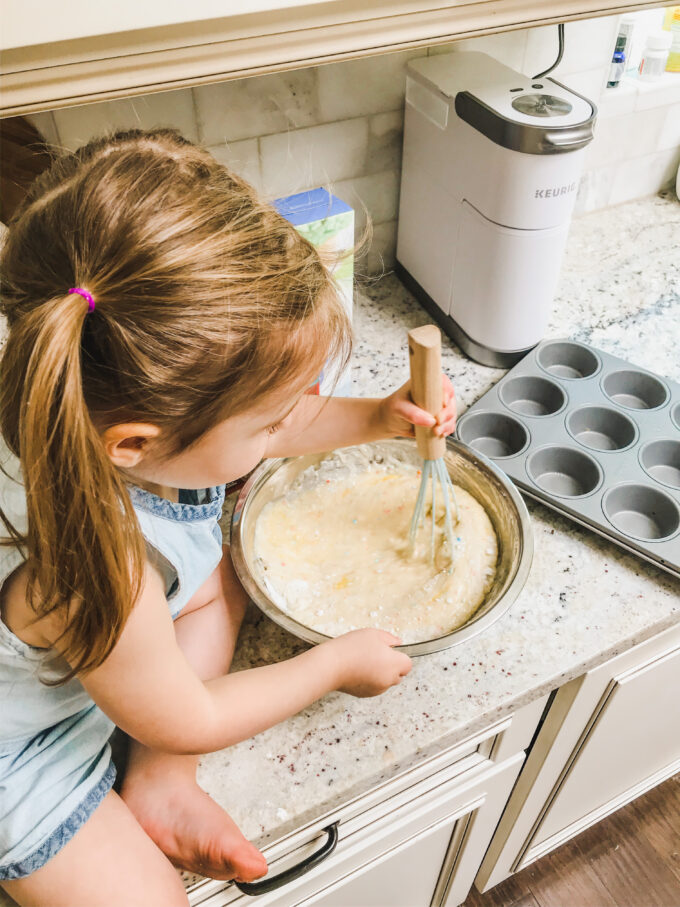 Now that I have my own kids, I'm doing my best to introduce them to the best parts of my childhood. Pop Tarts. Ding Dongs. Tang. All the stuff that has a super long shelf life and is perfect for a quarantine like the one we are in. This week, we decided to make Funfetti Cupcake Cones using Betty Crocker's Funfetti cake mix and Rainbow Chip frosting. Because why shouldn't we?!?
Funfetti Cupcake Cones
You'll need:
1 box Betty Crocker Funfetti cake mix
1 can Betty Crocker Rainbow Chip frosting
18 ice cream cones
You start by putting small ice cream cones in a greased cupcake tin.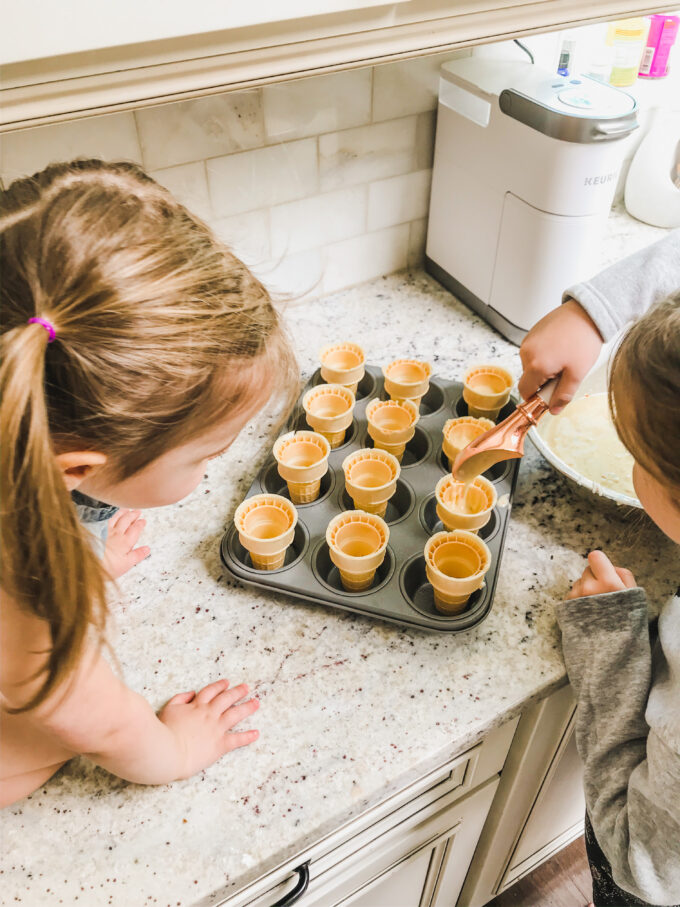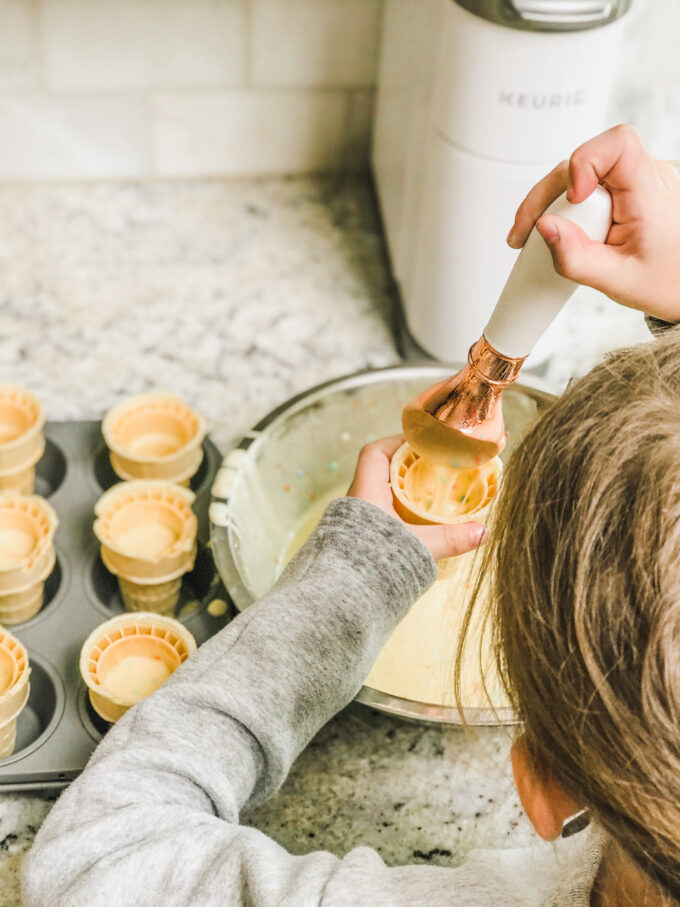 Then, you mix up the Funfetti cake batter. Follow the recipe according to the box mix that you use. You're more than welcome to make your own funfetti cake batter from scratch. Go you. I'm just rocking the box mix because that is the good stuff.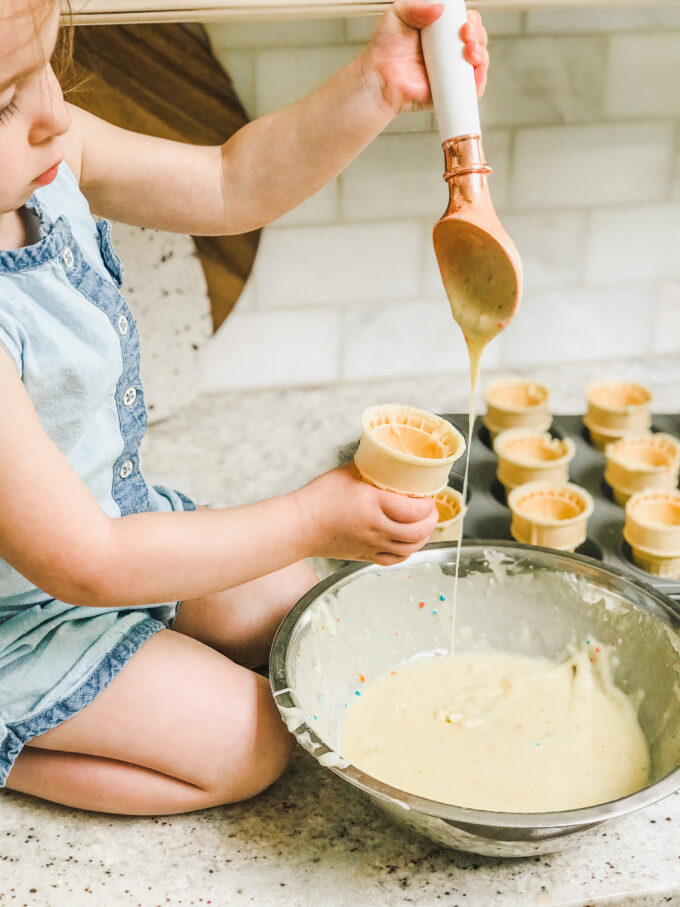 Pour some batter in each of the cones. A little more than 2/3 seems to be the sweet spot. Just below that inner rim of the cone. The cones below weren't filled enough. But they're kids, so I'll let it slide this once.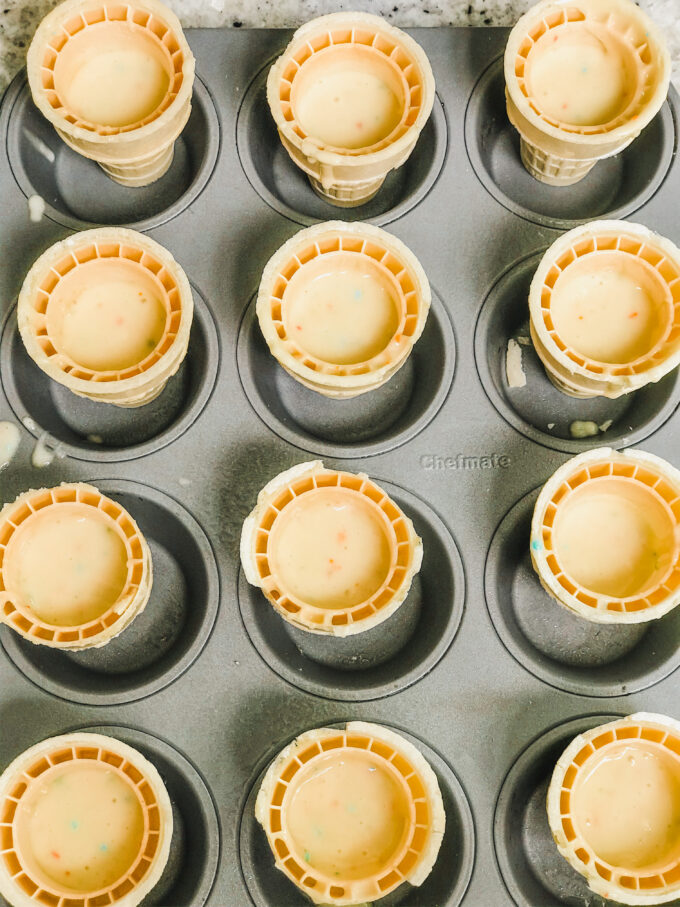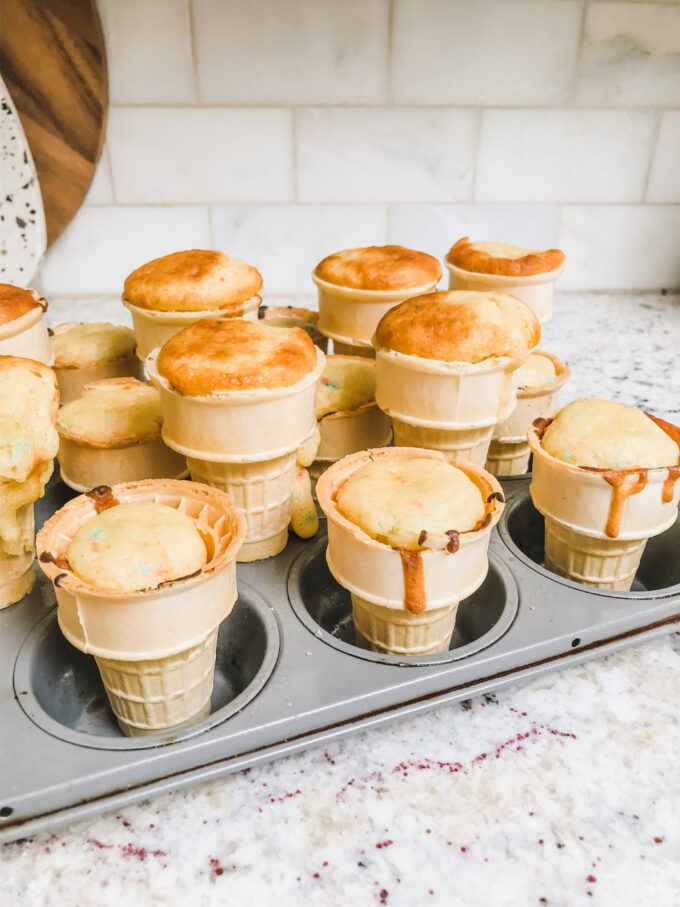 Bake the funfetti cupcake cones at 350 degrees Fahrenheit for about 14 minutes. Depending on your oven, they might need to go a little longer and that is fine. The batter will puff up and might spill over the edges. It's okay. Just eat it anyway.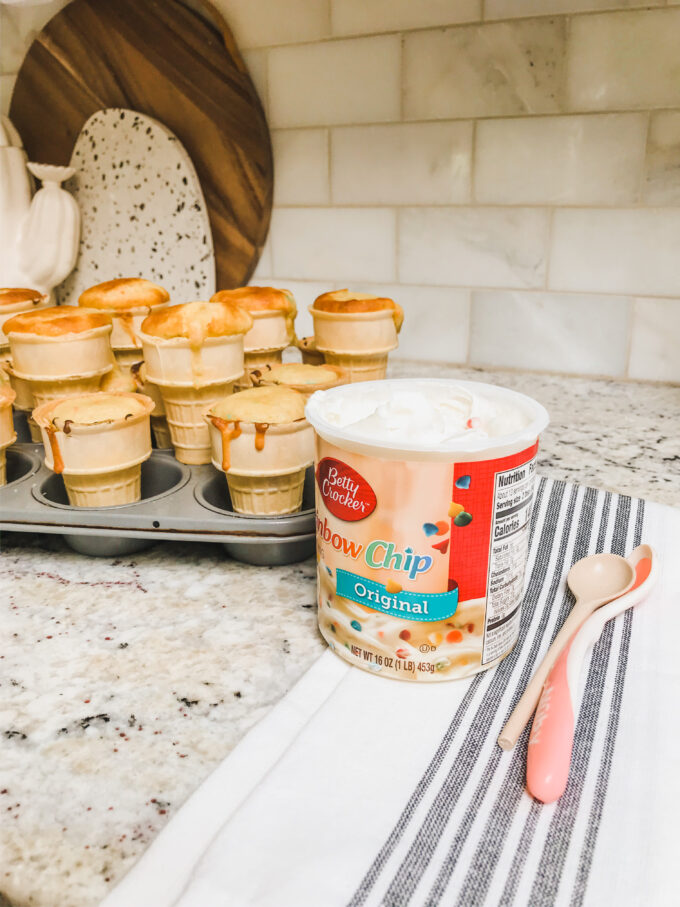 See that? We're really going for the homemade look here. Now grab the can of Rainbow Chip frosting. It's like holding a can of gold. I love just snacking on this stuff and finding things to dip in it. Current fave? Teddy Grahams. Or the Scooby Doo Cinnamon Grahams. Hi, I'm diabetic. (I can joke about that because I am, in fact, a Type 1 Diabetic.)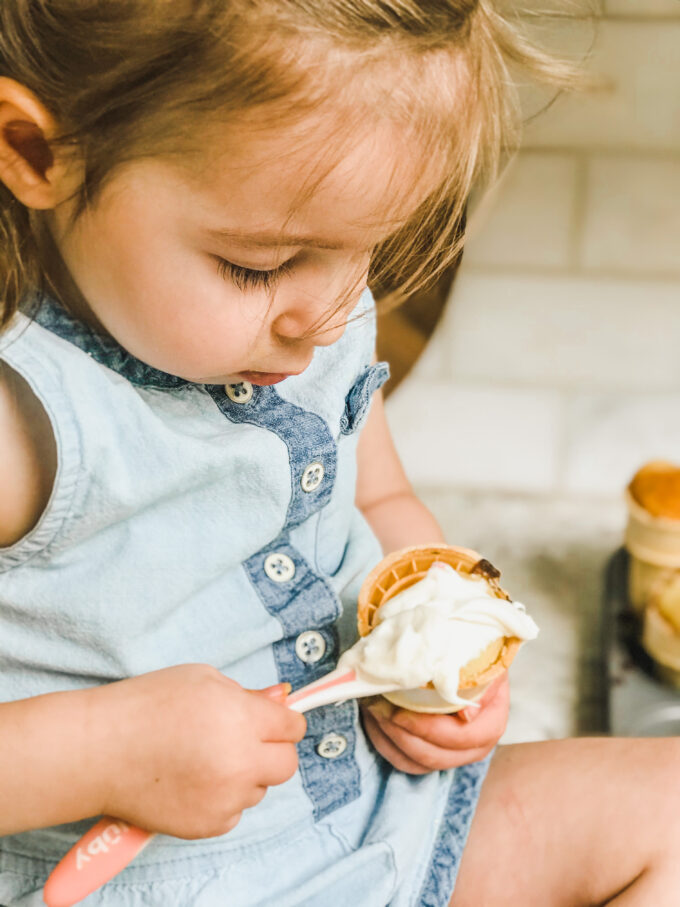 Now, fight the urge to be a control freak (like me)  and let the kids frost them. It'll all be okay.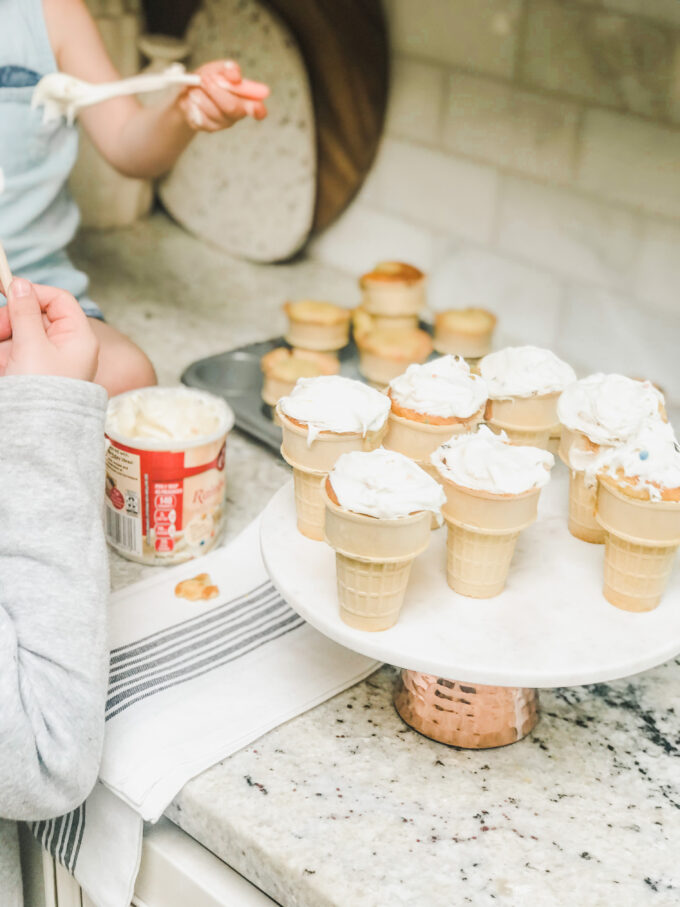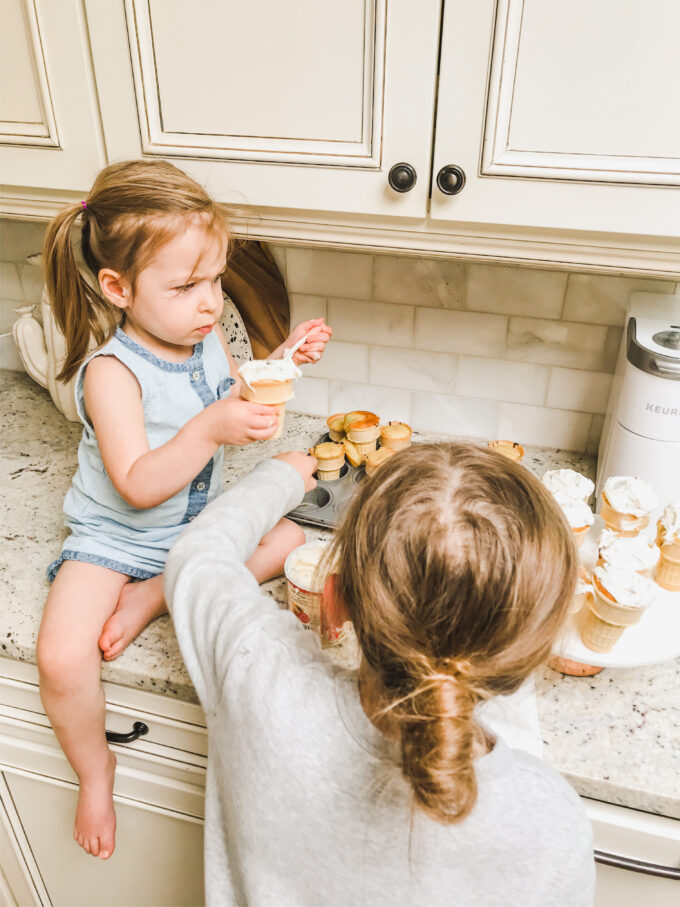 Marz gets really pissed if you try to tell her how to frost. She has her own technique when it comes to funfetti cupcake cones.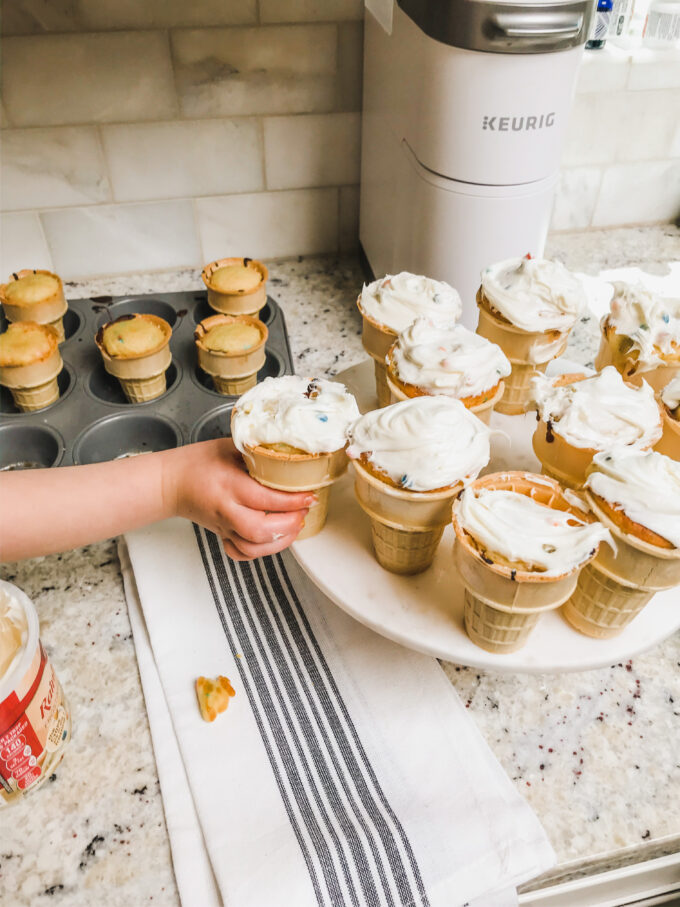 Place them on a cake stand for the ultimate achievement status.
And then quickly eat them all up when the kids aren't looking. Or when they've gone to bed. Personally, I enjoy these when they're a day old. The cone gets just a little soft and is so so yummy. But don't take my word for it. Go grab a box and bake these Funfetti Cupcake Cones. Seriously. If your mom/dad made these for you when you were a child, you can sweetly reminisce. And if they didn't, you call them up on the phone and find out what the heck happened.
Looking for more fun during the quarantine? Check out this post of 52 things to do while you're safe at home!