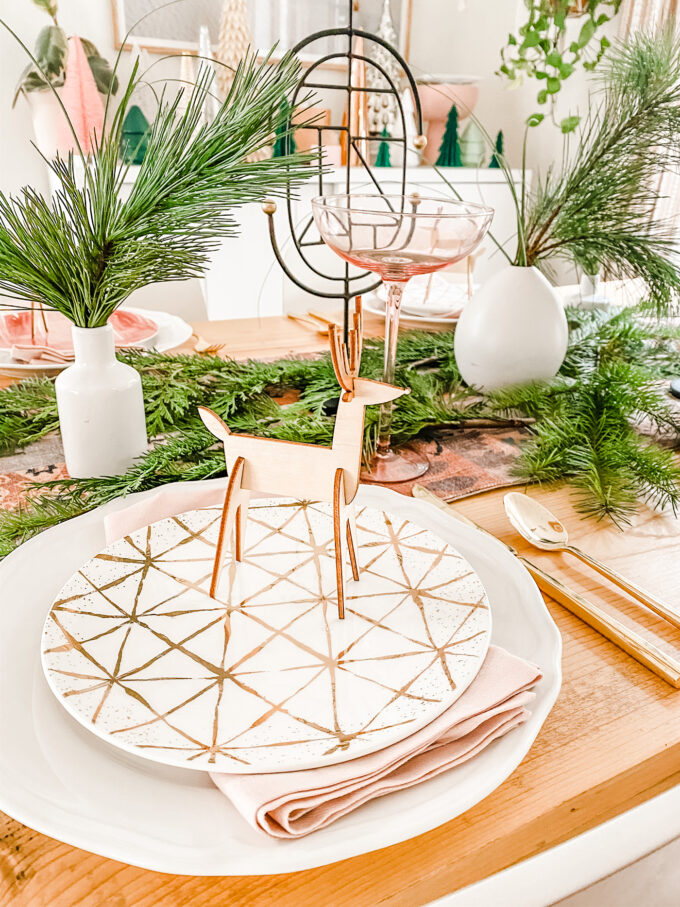 I have so many favorite things and during the holidays I get to be as extra as I want. It's totally allowed. Setting the table is at the top of my list of faves. In my little family of four, we go all out for Christmas Eve dinner. Every December 24th, I make prime rib, a crap-ton of rolls, cookies, fancy punch, and sweet potatoes, and break out the pretty dishes. Never mind the fact that my children are little, you're never too young to appreciate gold flatware. This modern woodland holiday tablescape was how I set the table last year and it was a hit! I wanted to share the details here in case you're looking for holiday tablescape inspo!
Additionally, I've partnered with a few blog besties again this year and the #ChristmasCookieSquad has rebranded to the #GoodCheerSquad. We could all use a little holiday pick-me-up and their posts are sure to help with that! Check out their links at the bottom of this post!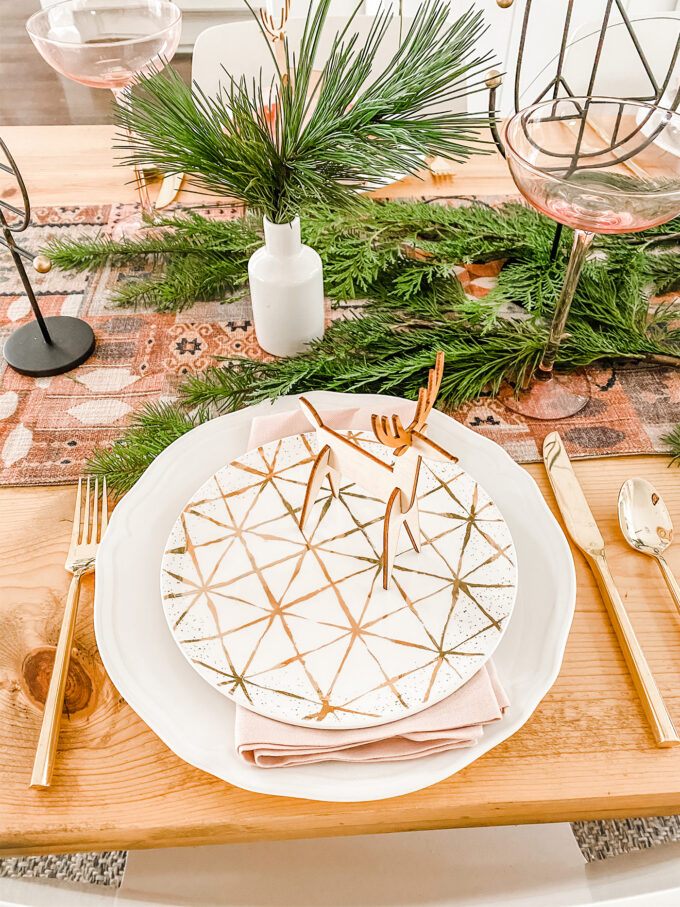 Tips For Creating This Modern Woodland Holiday Tablescape
When setting the table, I'm a firm believer in mixing and matching what you have. I snagged a set of these Oleanna Gold Dessert Plates a few years ago from Anthropologie and love to bring them out from time to time. They're sold out now (obvs), but here's a similar set of 4 on sale for $46! I was going for a sort of pink/gold/woodland theme and used these pink linens at each place setting. Layer everything atop a solid-colored plate (IKEA for the win!) and it'll just work.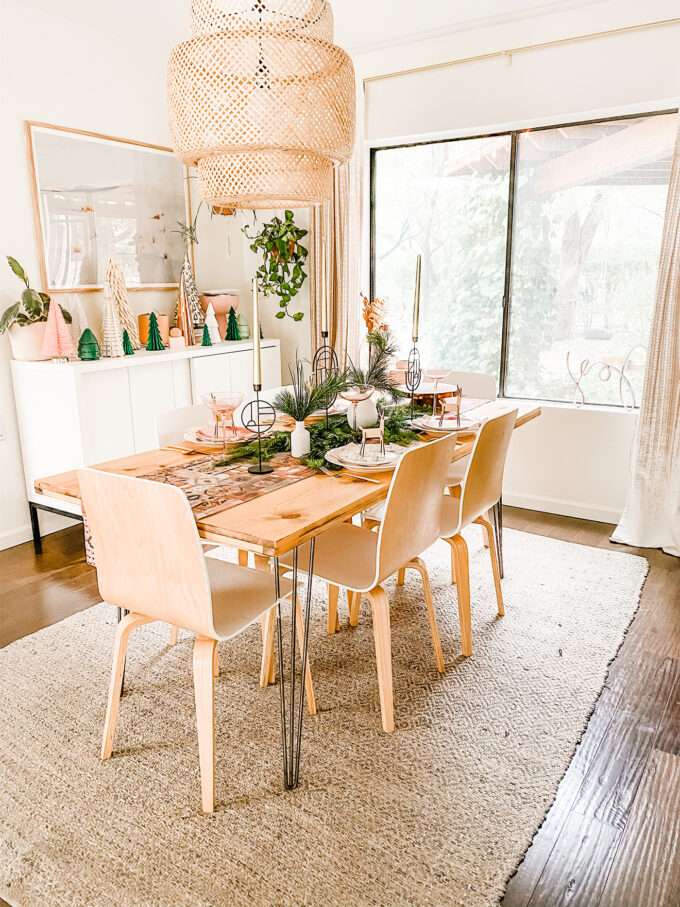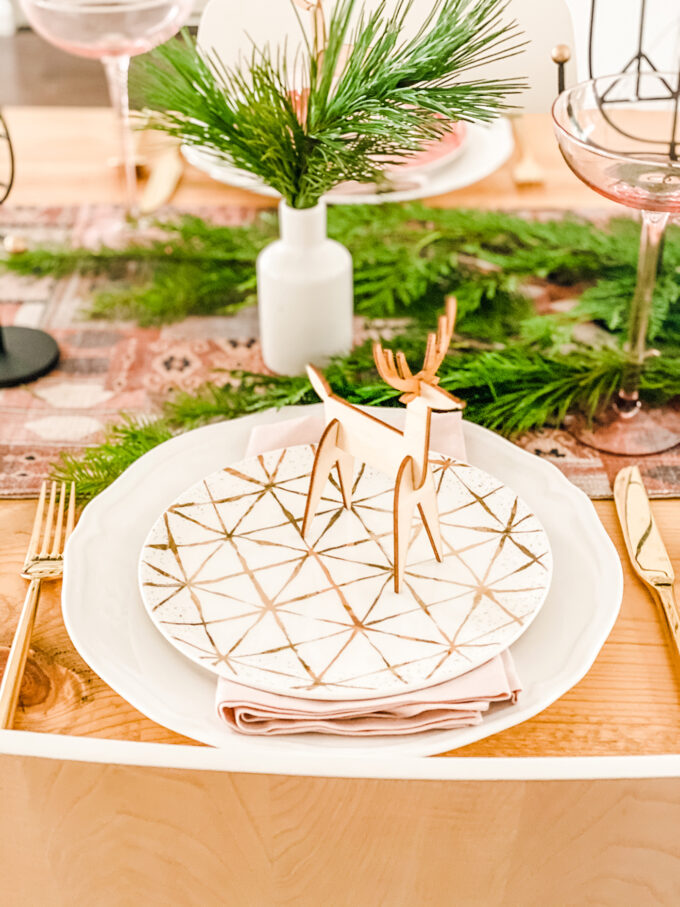 These wooden reindeer are actually part of a holiday place card set! We use them to add a little reindeer glam around the house during the holidays. They're rarely used as place cards, but they totally work for a December 24th din din. I picked them up at Marshalls several years ago (fave place to find holiday goods for less!), but these look like the exact set!
I let Vita spend the afternoon drawing out actual place cards for each member of our family and then we gently leaned them against each wooden reindeer. Art projects are our friends when you're busy cooking in the kitchen! It's also great for the kids to feel like they're in charge of something.



Forage Branches & Greens From Around Your Home
Our house is surrounded by a bunch of trees and quite a few are pine and our neighbors have some cedar. I think we might have the only pine trees in Tucson. It's a miracle. I just went out in the yard and snagged a bunch of clippings and foraged some branches. When you're setting the table for yourself, take a walk around your home or neighborhood and see what you can find. Even naked branches are beautiful when clustered together!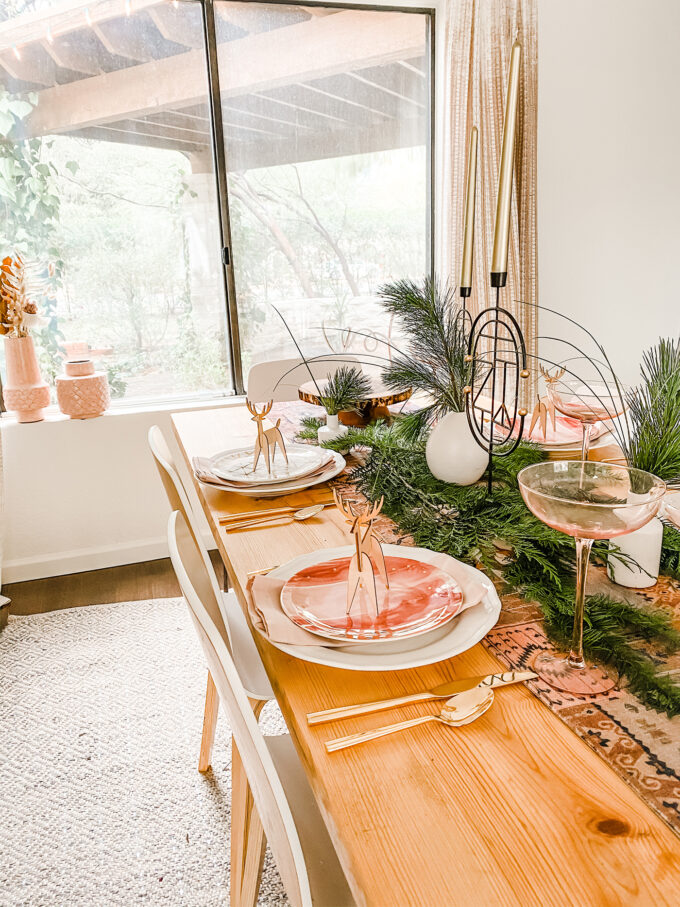 Place clippings on the table laying flat and at varying heights in small and large vases. Truly. Just add what you have. Don't stress about it being perfect.  I kept the gold touches throughout by adding these black and gold candle holders and some of my favorite gold flatware. It's not expensive so I don't worry about the kids using any of it, but it looks fancy!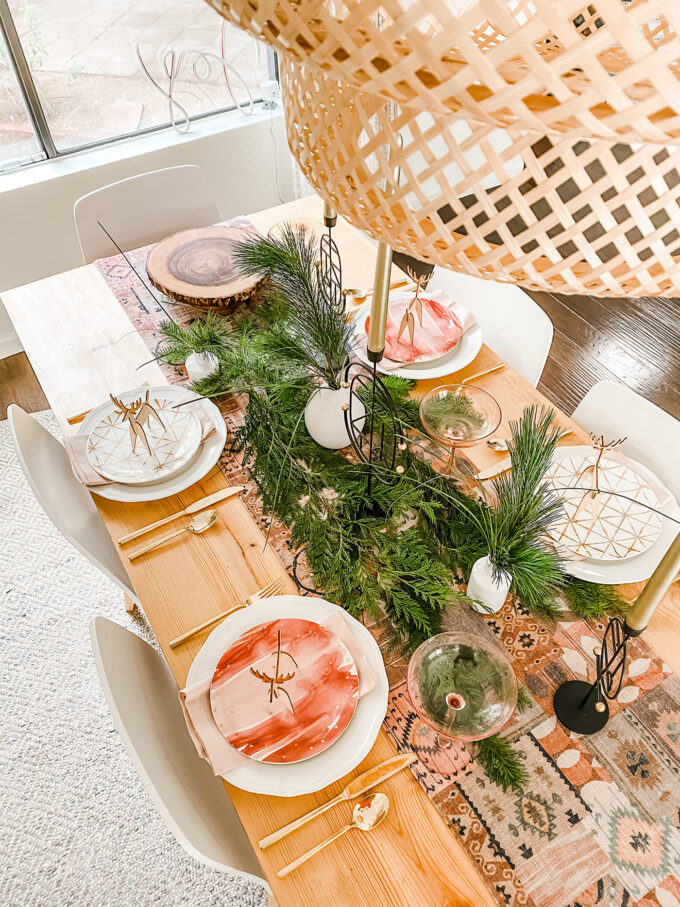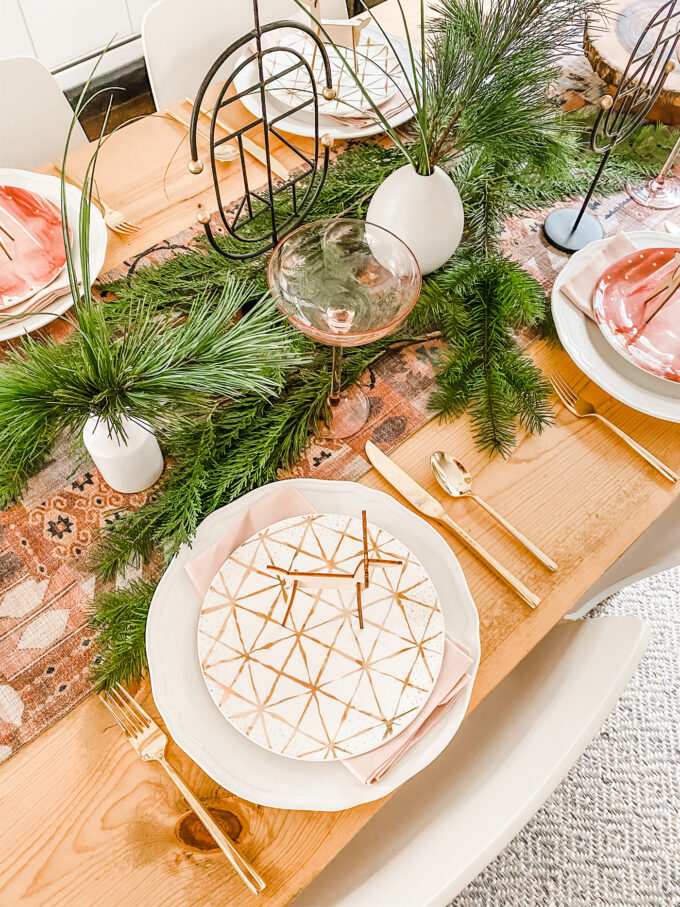 We even had a fancy cranberry mocktail with cranberry ice cubes. Vita felt like such an adult and it was funny to watch! Our pink coupes are no longer made, but there's a beautiful version with gold rims that's currently blowing my socks off.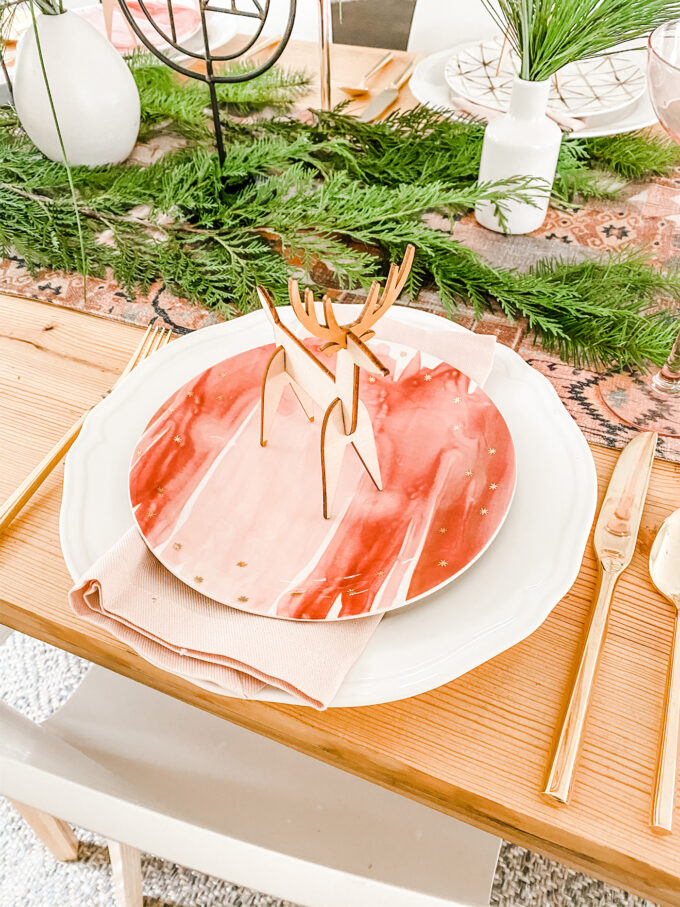 This year being WHAT IT IS, I'm planning to make an even bigger deal of our Christmas Eve dinner. I snagged some individual cheese boards made of Balsa. My kids are the fruit and cheese board snobs, so I thought it could be fun for each person to have their own mini charcuterie. Why are the Wards so over-the-top? Are we beyond help? I'm basically throwing caution to the wind and doing whatever I can to bring cheer into our home! Speaking of cheer, the Good Cheer Squad is back at it again and some of my best blog pals are doing what they can to spread a little cheer, too! Check out their posts below!

Good Cheer Squad 2020
Orange-Almond Mushroom Sugar Cookies by Inspired By Charm
Modern Woodland Holiday Tablescape by PROPER 
Santa's Snuggler Cocktail by Freutcake 
Christmas Cranberry Pomegranate Punch by Pizzazzerie