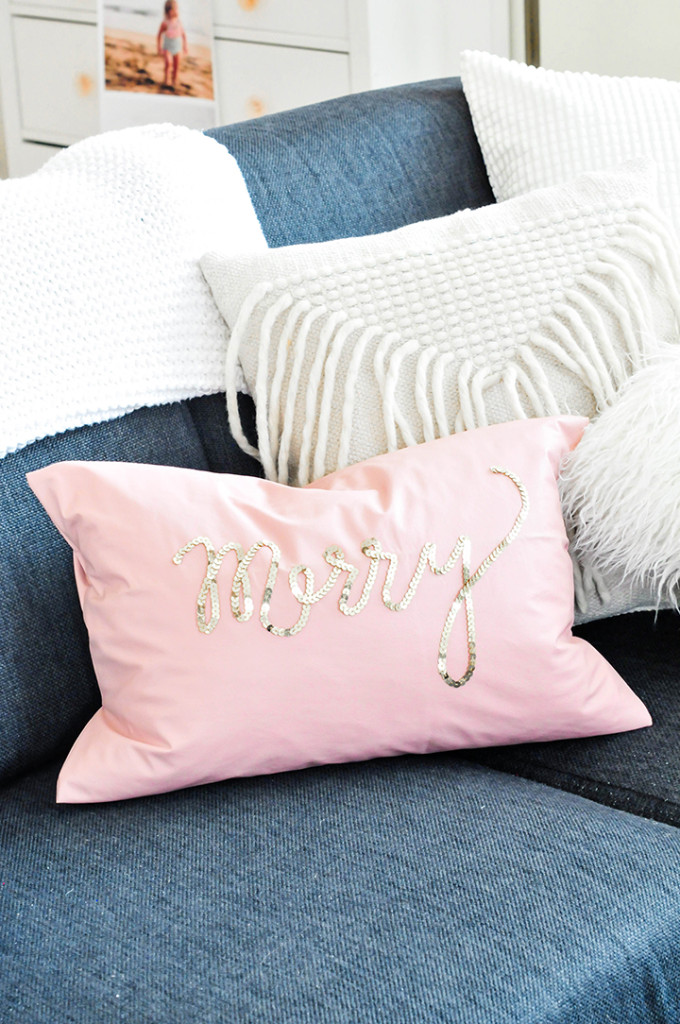 I'm on the sequin train. I'm particular about the glamour and glitz in my life, but the sequins can totally stay. And so can the tinsel. And the shiny brite tree ornaments. And maybe all the gilded polka dot gift wrap that currently adorns the presents under our tree. Maybe I'm not the particular about the glitz and glamour in my life? Regardless, I knew I didn't have enough throw pillows in our living room. I mean, I counted up before this project and there were only a dozen. That's just simply not enough! hashtag pillow addiction. To dress up our couch for this holiday season, we partnered with Elmer's to create a pair of DIY holiday sequin pillows that I think I'll be happy to pull out every holiday season until the world ends. That's normal, right? Read on to see how we did it!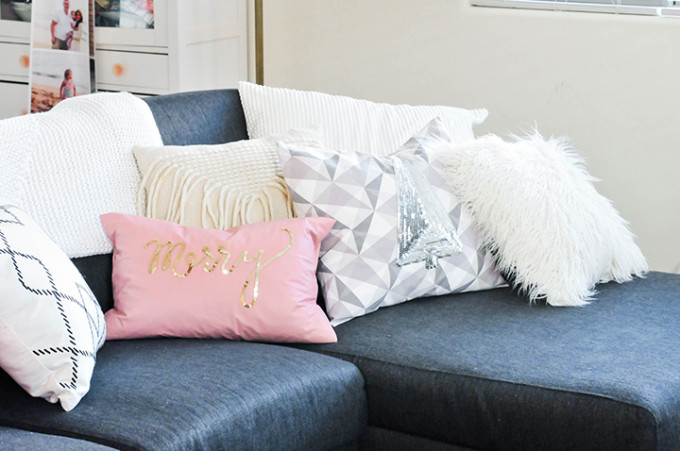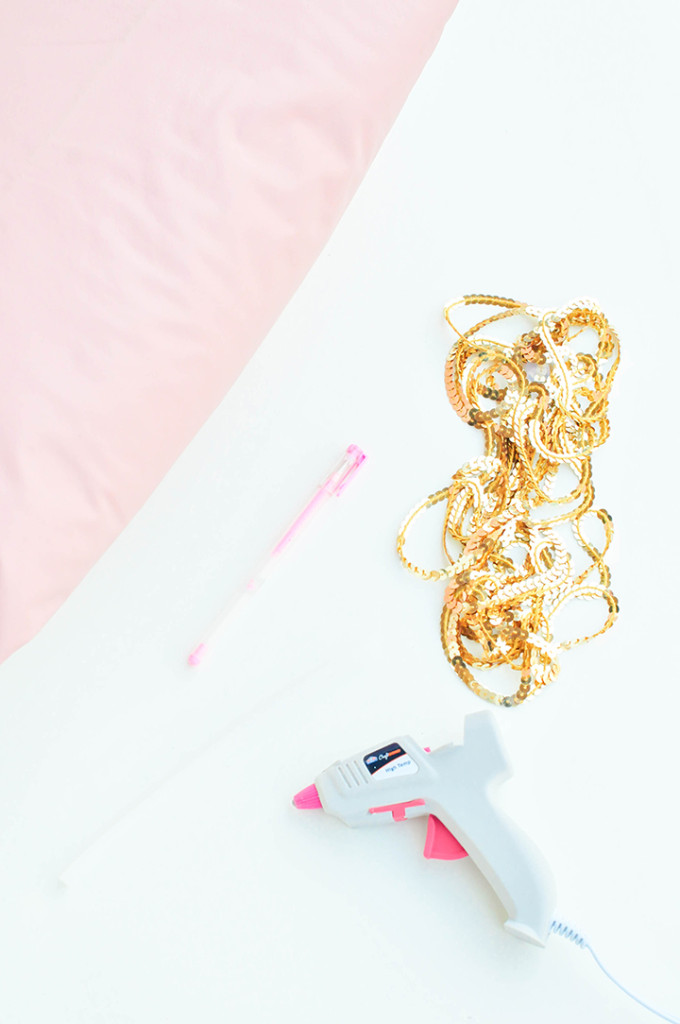 Make your own diy holiday sequin pillows
Materials needed:
throw pillow (we're using a pink faux leather and a beautiful Nate Berkus print!)
a gel pen for leather
a fabric pencil for cotton fabric
2 yards gold sequin for "Merry"
7 yards silver sequin for tree

1. Start by free-handing your phrase or word on the leather pillow. The gel pen is perfect for this as it can be wiped away with a wet paper towel, so there's room for mistakes! But don't freak out. You'll be great. I wrote out "merry" in cursive as it's easy to write, a loopy and pretty word, and it will only take one long strand of sequins as opposed to several short ones for separate words or phrases.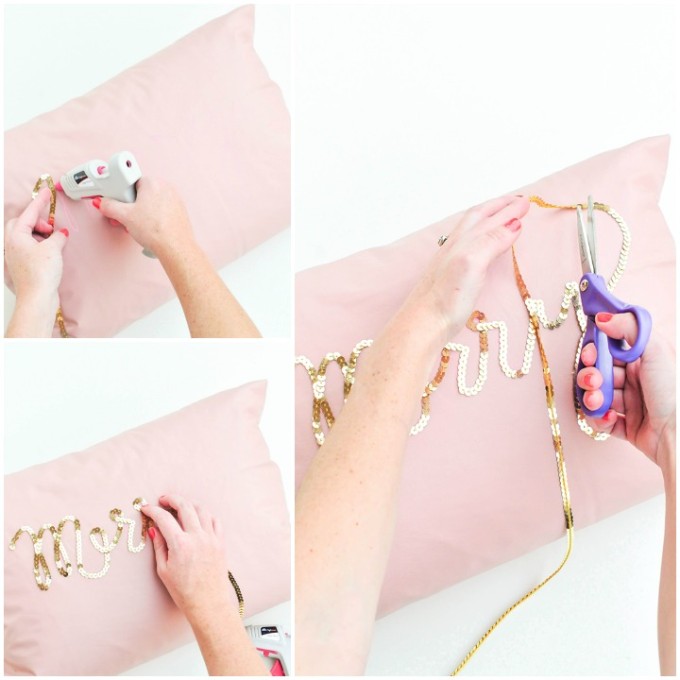 2. Starting at one end, trace over the word with your hot glue gun and quickly lay down the sequins while the glue is still hot. It sets in about 10 seconds, so you've got a little time to manipulate it just right.
3. Keep working your way down the word until you've reached the end of your word or phrase.
4. Once you reach the end, trim off the tail of sequins. Place a dollop of hot glue under the last sequin and press it onto the pillow.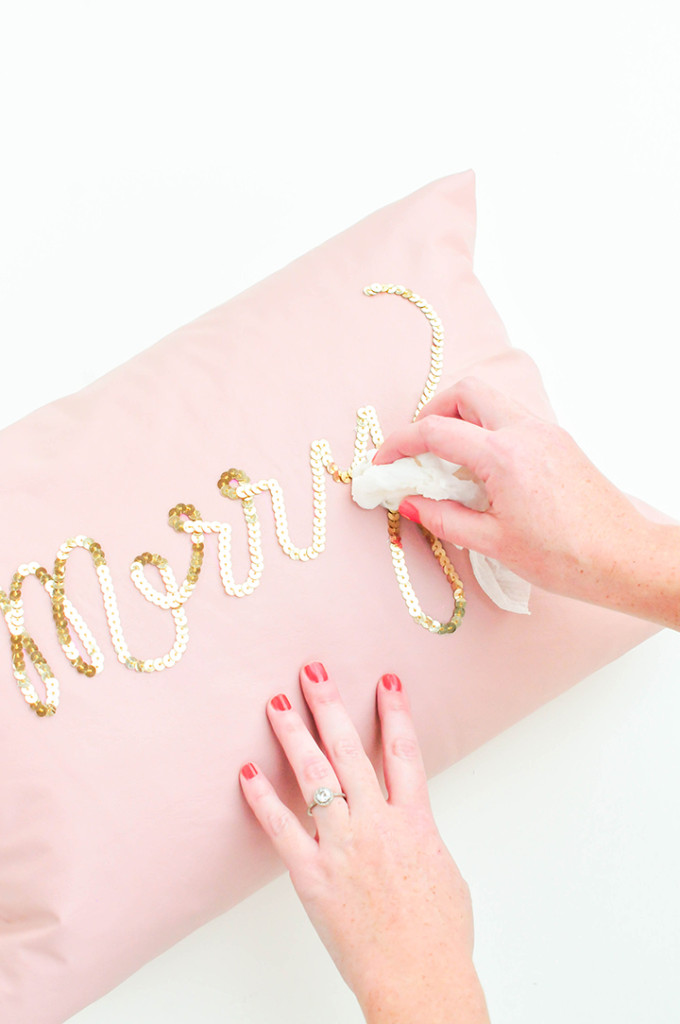 5. Go back over the word and blot it gently with a wet paper towel to wipe away the ink.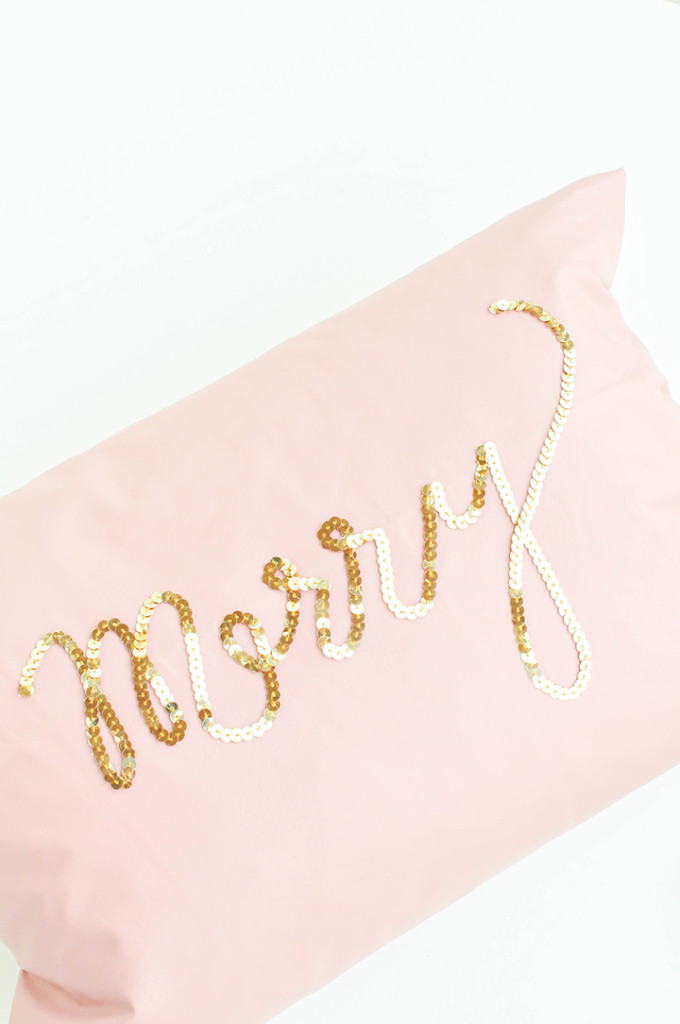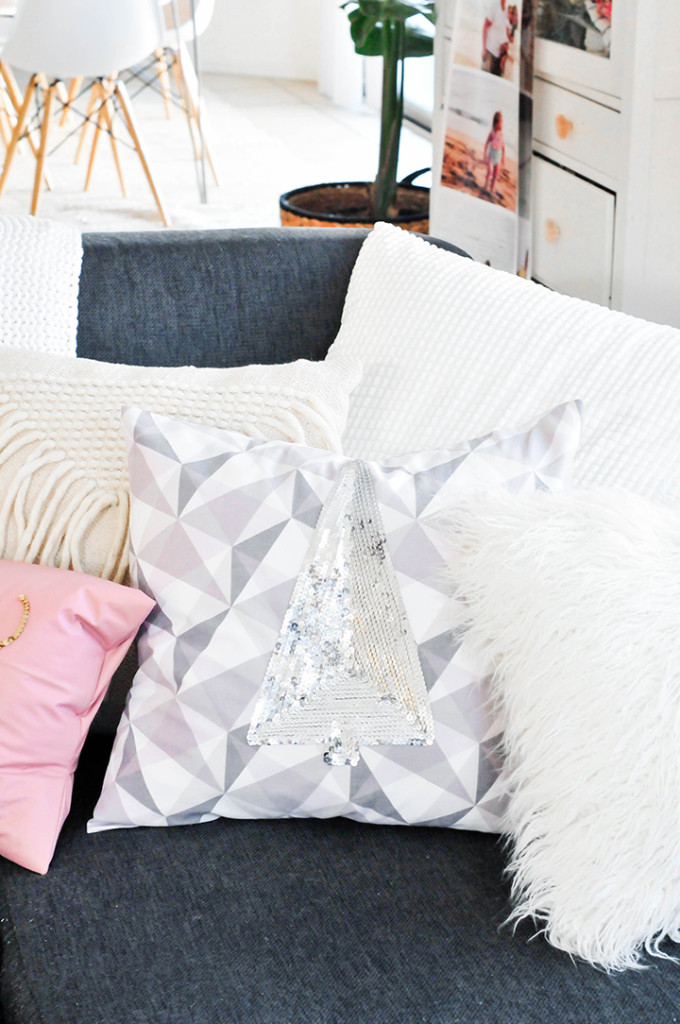 To make the tree sequin pillow, cut out a tree shape you like in a piece of cardstock and trace it onto the pillow with the fabric pencil. Starting on the outside, add the hot glue and sequins and keep wrapping and wrapping until you reach the center of the tree. Trim the tail of sequins, place a dollop of the hot glue in the center, and push the last sequin into the glue to seal it. This one requires a lot of sequins! A 20×20 pillow required about 7 (seven!) yards of sequins, but I love how it turned out! The silver looks great on some Nate Berkus Facette fabric that I scored at our local fabric store. Hooray for deals!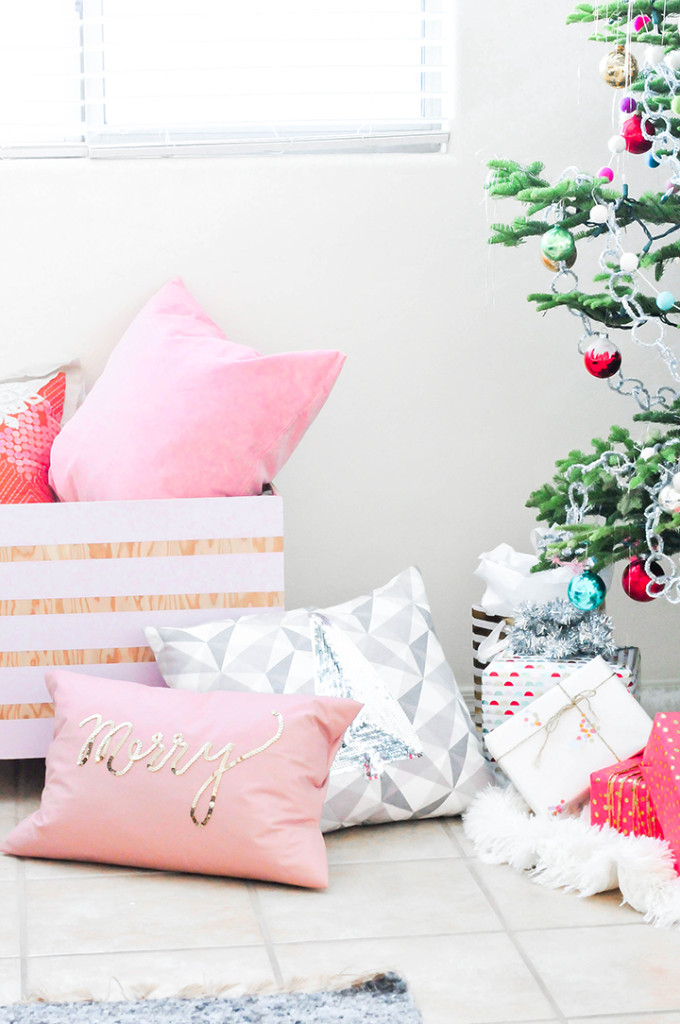 They look great on the floor, on the couch, on the bed, in the car, at the dinner table, anywhere! And they're just the right amount of cheer, don't ya think?
Check out some of our other holiday projects right here!
*This post is in partnership with Elmer's – a company that believes in bringing baller craft & school supplies to the masses. Follow them on Pinterest & Instagram for cool-cool & inspiring project ideas. And sign up for their Craft-It! Newsletter for more hot-glue tips, exclusive promotions, giveaways, and more! Thank you for supporting the brands that help PROPER keep creating! 
concept, styling, & photography \\ Lexy Ward