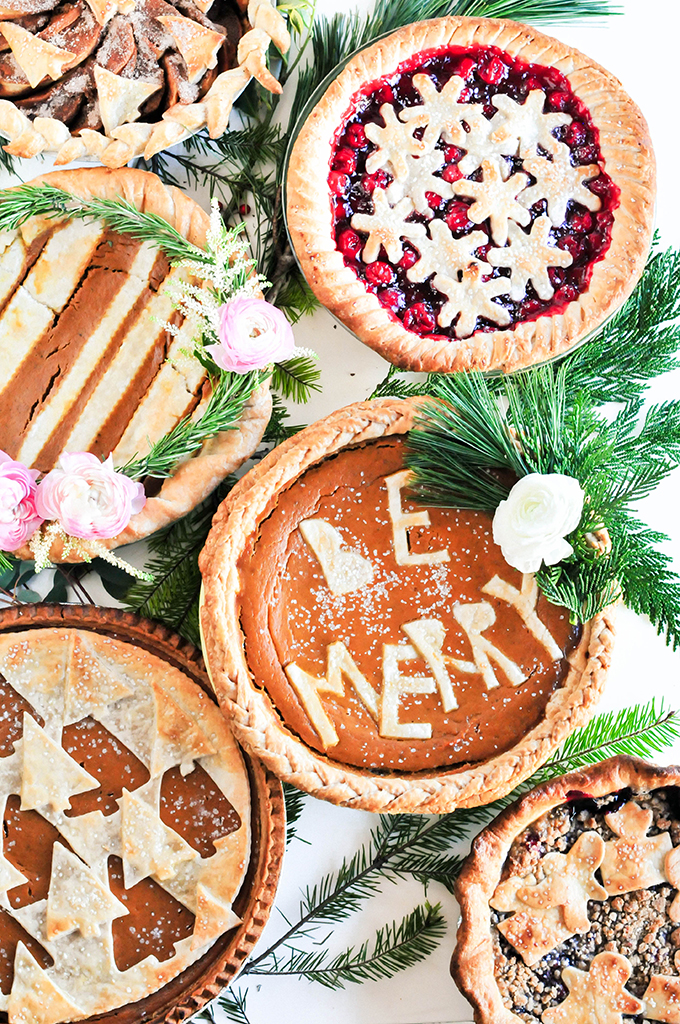 This post was originally posted in December, 2015. 
Okay, so we all know that pie is kind of my thing. Along with Diet Coke, of course, but I love a good pie. And a lot of the time, people leave the pies alone all year, and then whip out their pie skills for Thanksgiving. But I am here to tell you that PIES ARE NOT JUST FOR THANKSGIVING. In my family, we enjoy pie well into the new year. And these DIY holiday pie crust designs are the ultimate in holiday entertaining. After the greatest pie workshop ever, I wanted to come up with new and easy ways for you to decorate your pies. We've still got a whole two months of holiday celebration so let's talk about upping your pie game with a virtual pie workshop! We've also got several pie-themed giveaways happening throughout the week, so ready yourselves! We've partnered with Flower Muse for a big ol' giveaway today so you can do things right!  **This giveaway is closed.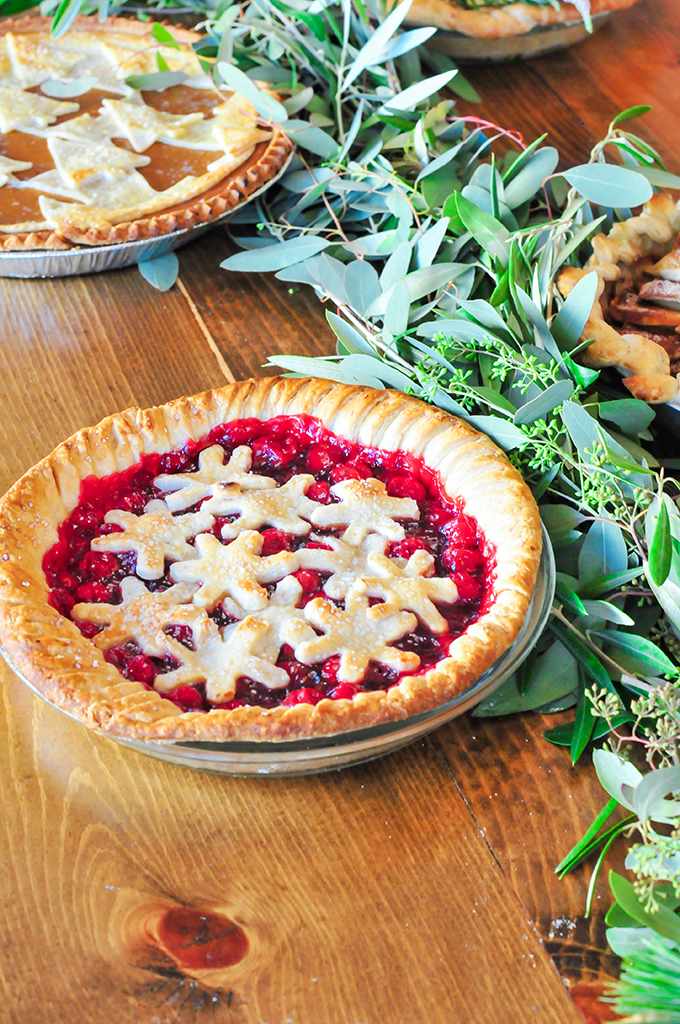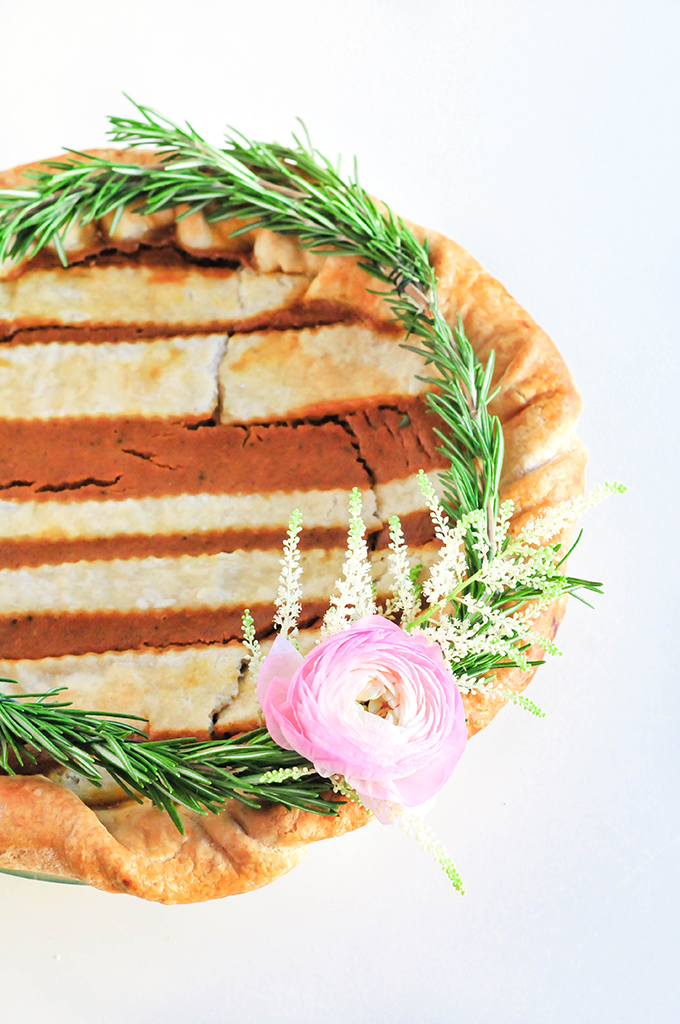 A different take on
our popular floral pie wreath
– this time, we kept things simple with a wreath made of rosemary and garnished with some pink ranunculus! To make the crust, use a pastry wheel to cut long strips of pie dough at different widths. Instead of weaving the crusts to form a lattice, simply place all of the strips on top of the pie filling and make sure they're all going the same direction!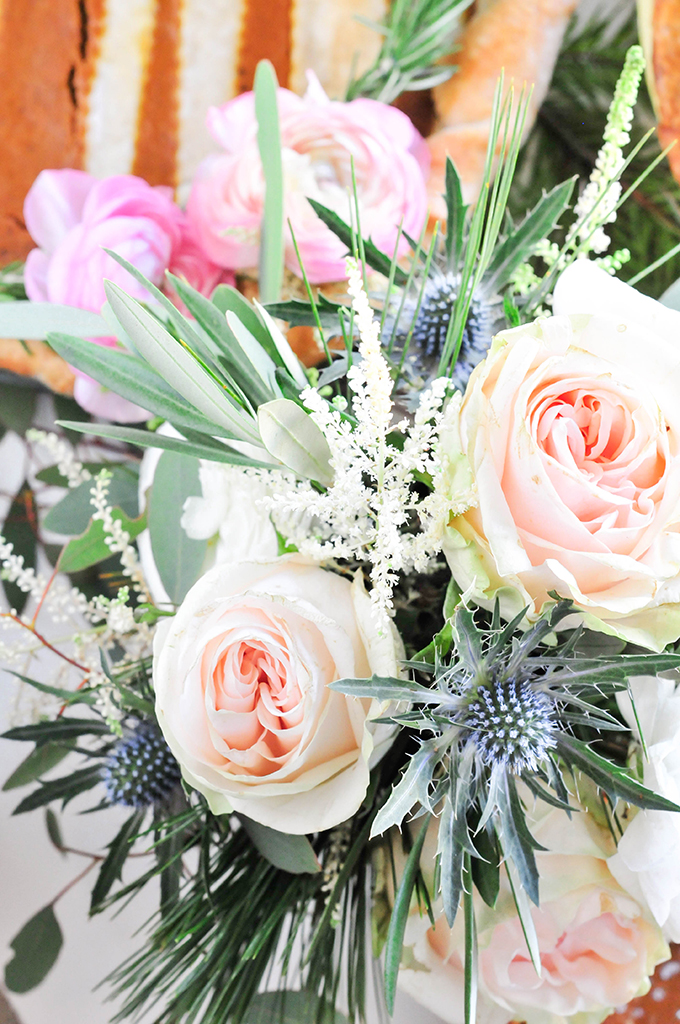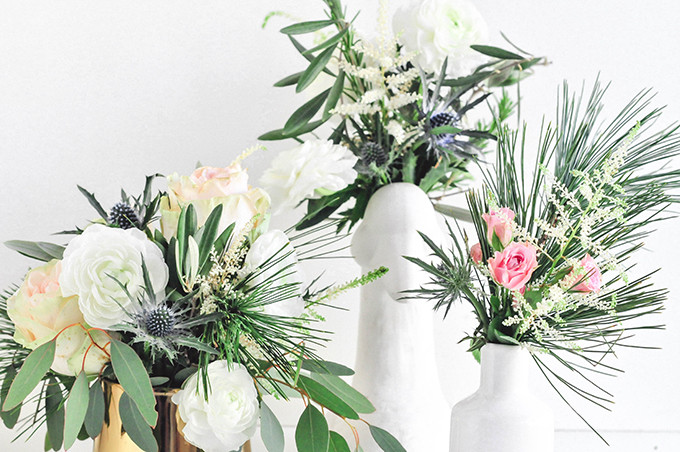 The assortment of pies were inspired by some holiday blooms from Flower Muse. To give them a holiday-ish feel, use a mostly green palette and throw in a few bits of color. The blue thistle adds great texture to an arrangement of greens including eucalyptus and pine.
A handful of pink spray roses to really mix things up. Because who said pink can't be a Christmas color?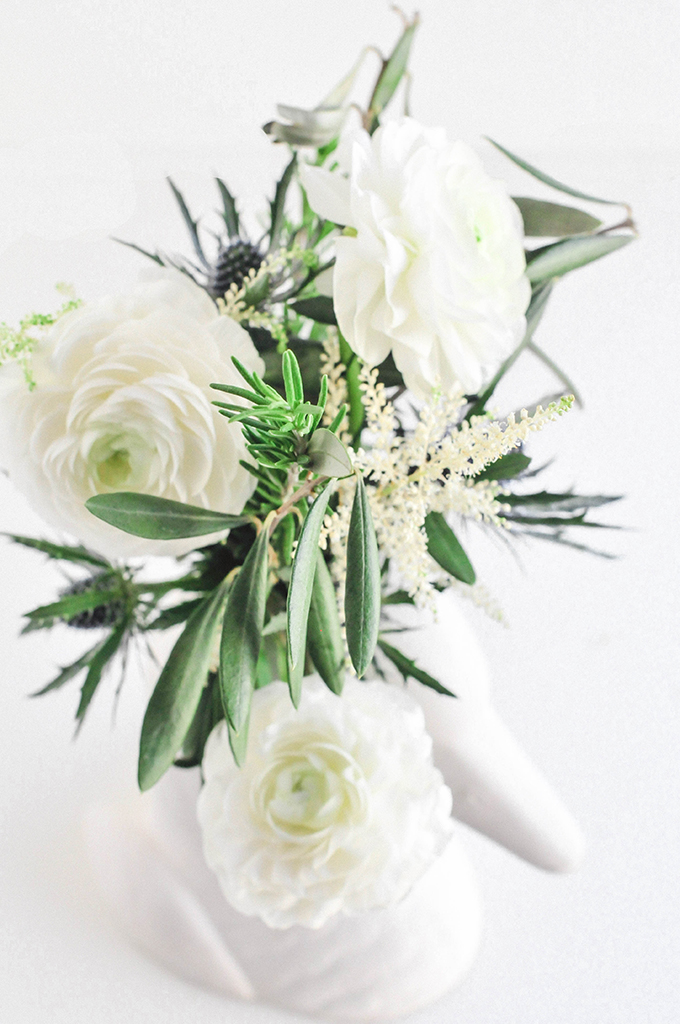 Ranunculus are always a good choice. And you can win a bunch of them to decorate your pies and use as you see fit! Be sure to enter the giveaway at the bottom of the post! **This giveaway is now closed.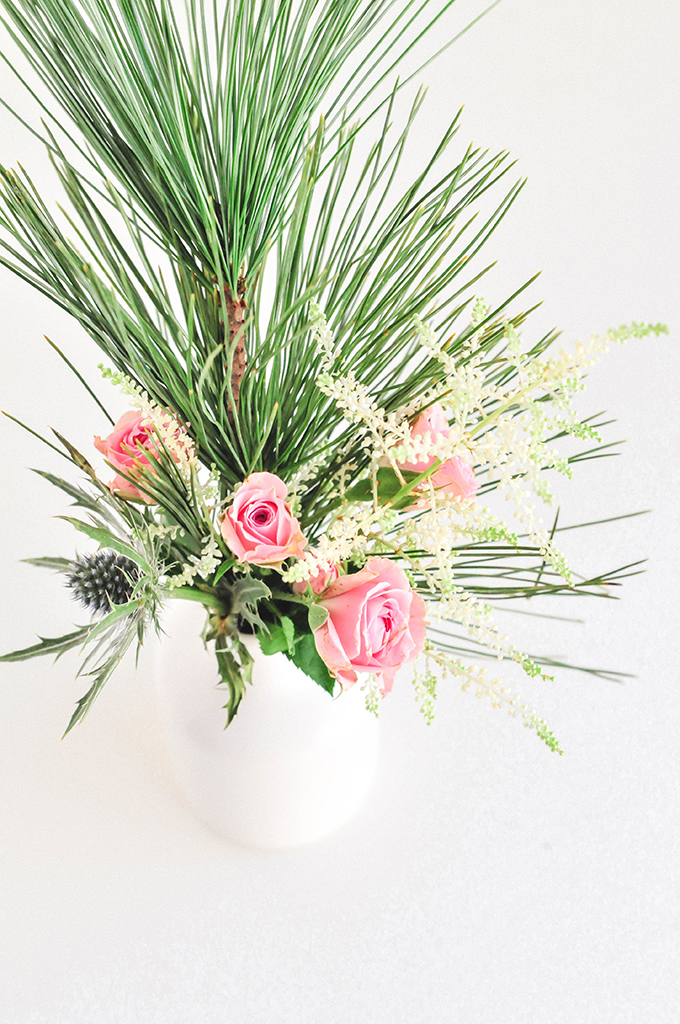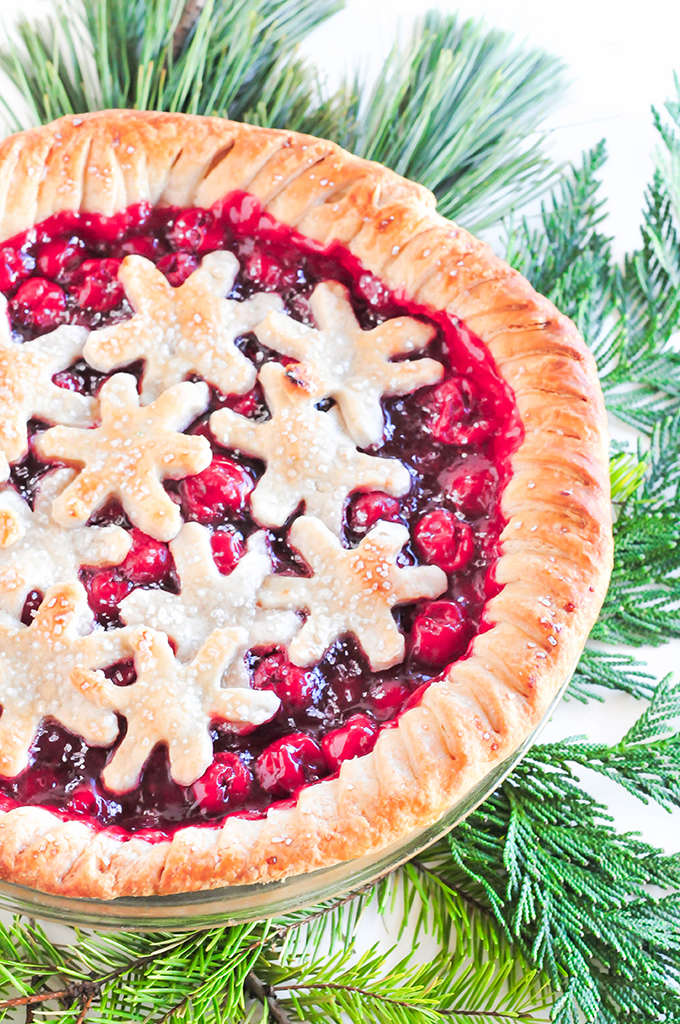 When people think of pie crust, they're either comfortable with it, or they take off running in the other direction. But it's so easy, people! And you can use any cookie cutter to create unique shapes to top all of your pies! I love a good cherry pie and this one has a layer of caramelized sugar just above the bottom crust. Before filling the pie, we sprinkled the crust with turbinado sugar and used a torch to slightly brown and burn it. So there's a little crunch when you bite into this guy!
To make the twisted holiday pie crust
After lining the pie tin with dough, trim your dough to hang one inch over the pie tin. Cut every half inch at a 45 degree angle TOWARDS the center of the pie. Once you've cut the entire crust, simply fold each skinny flap in towards the center. They'll naturally overlap. Brush the dough with egg wash and add your filling. Use a snowflake cookie cutter to cut out several snowflakes and layer them over the filling. Brush the shapes with egg wash and sprinkle with sanding sugar before baking!
To make this pointed edge holiday pie crust
Follow the steps above to make the twisted crust. Cut every half inch to inch at a 45 degree angle. Fold EVERY OTHER piece toward the center and then pinch the tips so they are at a point. Brush with egg wash. Add your pie filling of choice (apple pies for the win, y'all!) and then use a tree cookie cutter to top with holiday trees. Brush the trees with more egg wash and sprinkle with sanding sugar or a cinnamon sugar combo before baking!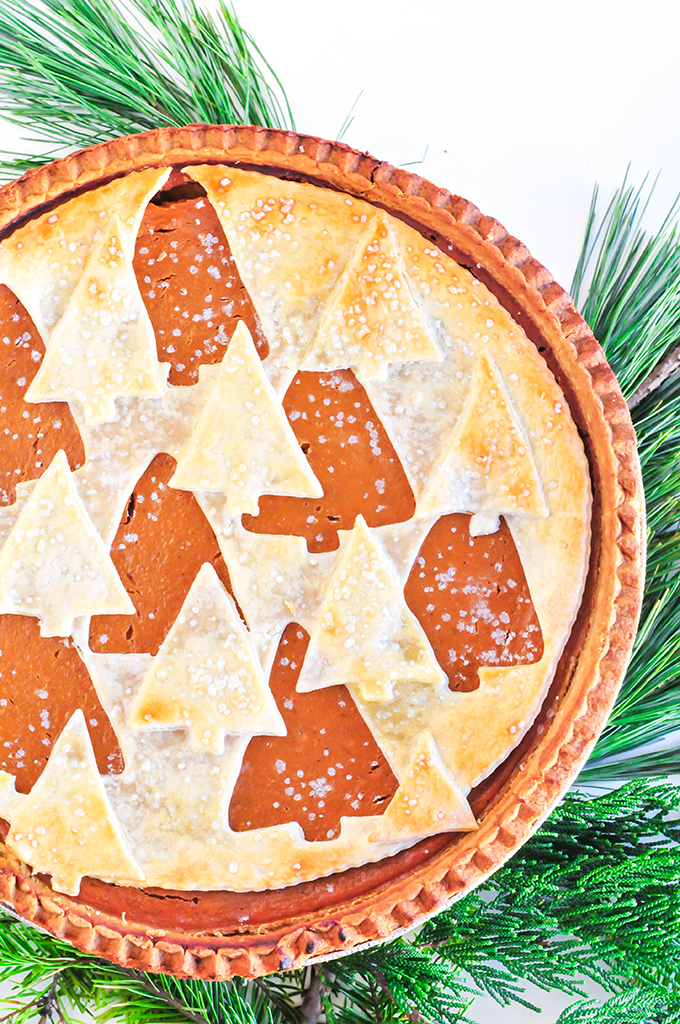 To make the cutout holiday pie crust
This is actually a large pumpkin pie from Costco! I rolled out my pie dough and cut a circle large enough to place on top of the pie. Using a tree-shaped cookie cutter, cut out several trees taking care to peel them away gently. Use a rolling pin to transfer the large circle to the top of the pie and then layer with the cutouts. Brush everything with egg wash and sprinkle with sugar. Bake for an additional 20 minutes or until the new crust is slightly golden.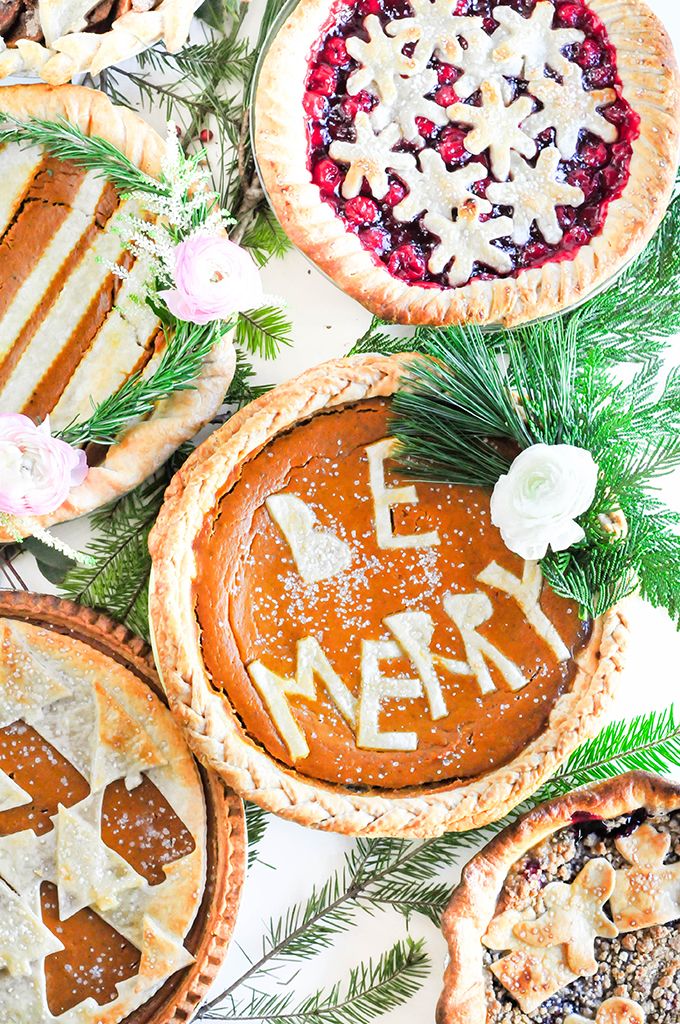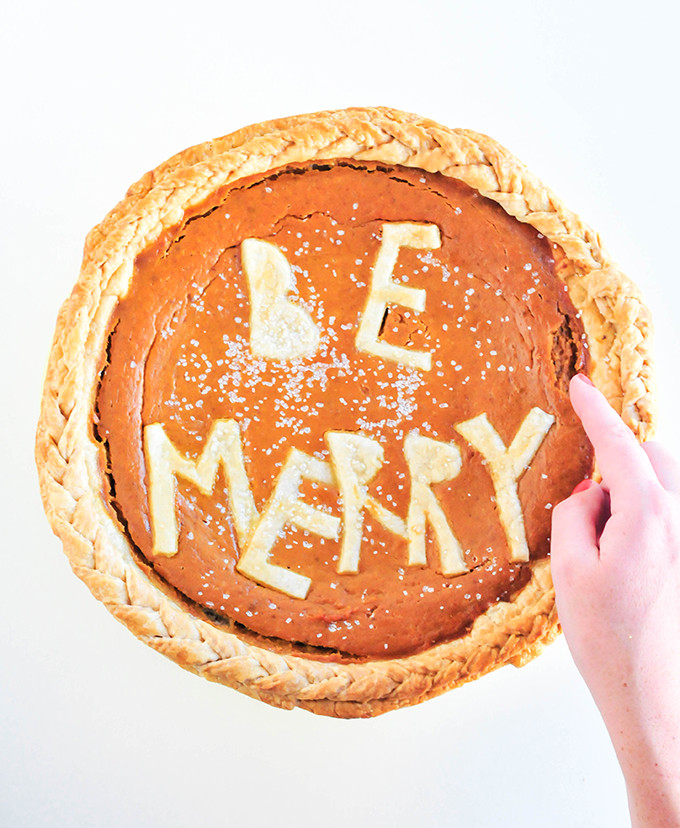 To make this BE MERRY holiday pie crust
After adding your pie filling to the crust, use the leftover pie dough to cut letters from. Use a sharp kitchen knife or x-acto knife to make precise cuts. Don't worry about perfection! These were just freehanded and we didn't cut out any holes in the letters and it really adds to the cuteness. The braided crust rim was added by combining three super long strips of pie dough and braiding them together. Brush your crust rim with egg wash and lay the braid on top. Brush everything with more egg wash to get that golden color we all love so much.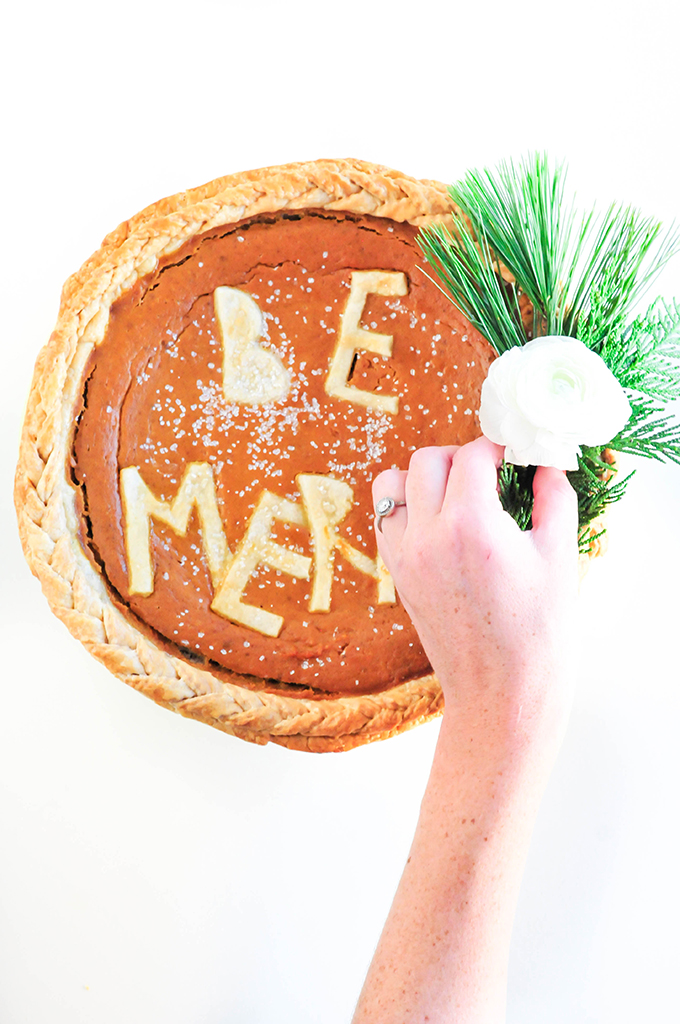 This guy is perfect for hiding pie blemishes! It's essentially a mini corsage made for pie. Snip a few branches of pine and cedar and twist them together with a little paddle wire. Cut a single bloom keeping the stem 1.5-2 inches long. Tie that to the pine and cedar with a little more paddle wire and you're done! Keep it in a bowl of water until you're ready to use it to cover up that smashed crust or just add a little more beauty to your already baller pie!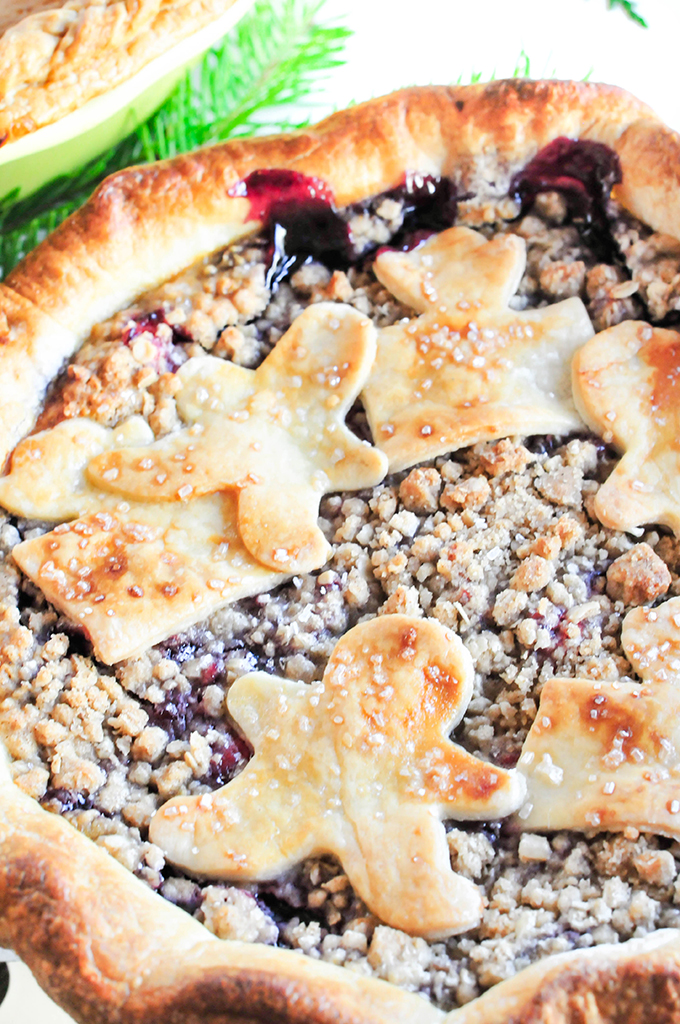 We added some gingerbread men and present pie shapes to the top of this blueberry crumble pie before baking! I love how this one turned out. It's sooo easy to decorate your pies. Just like making cookies!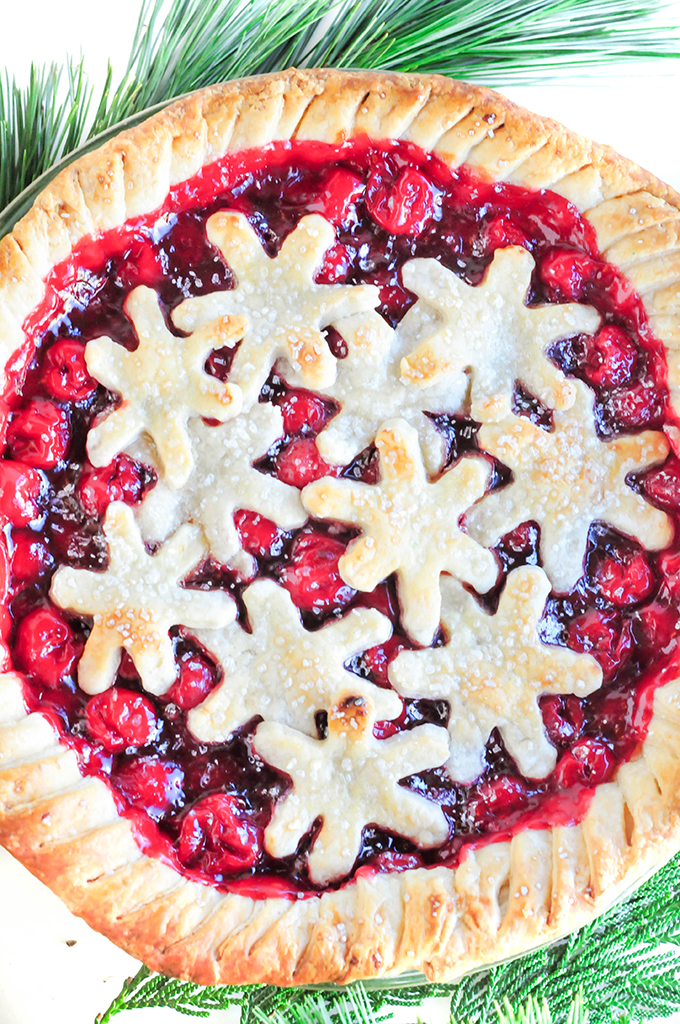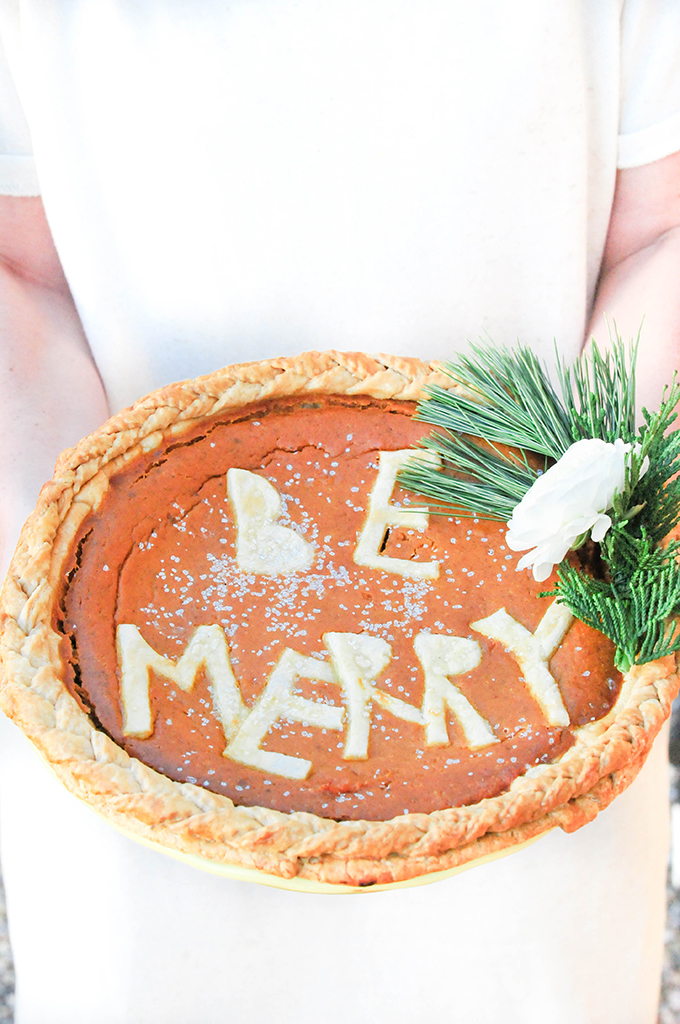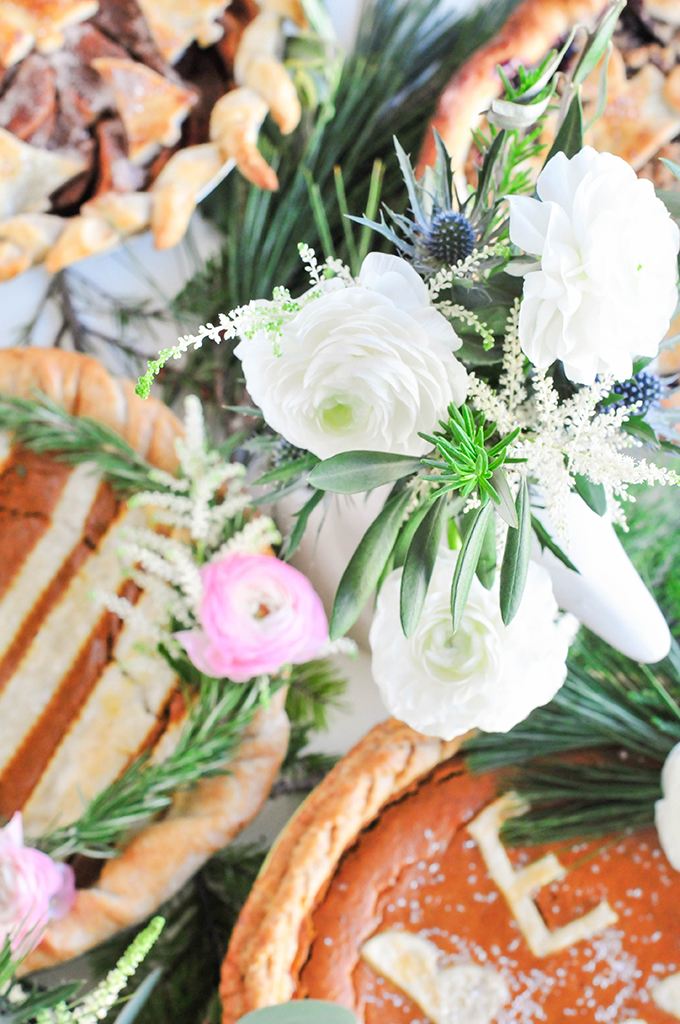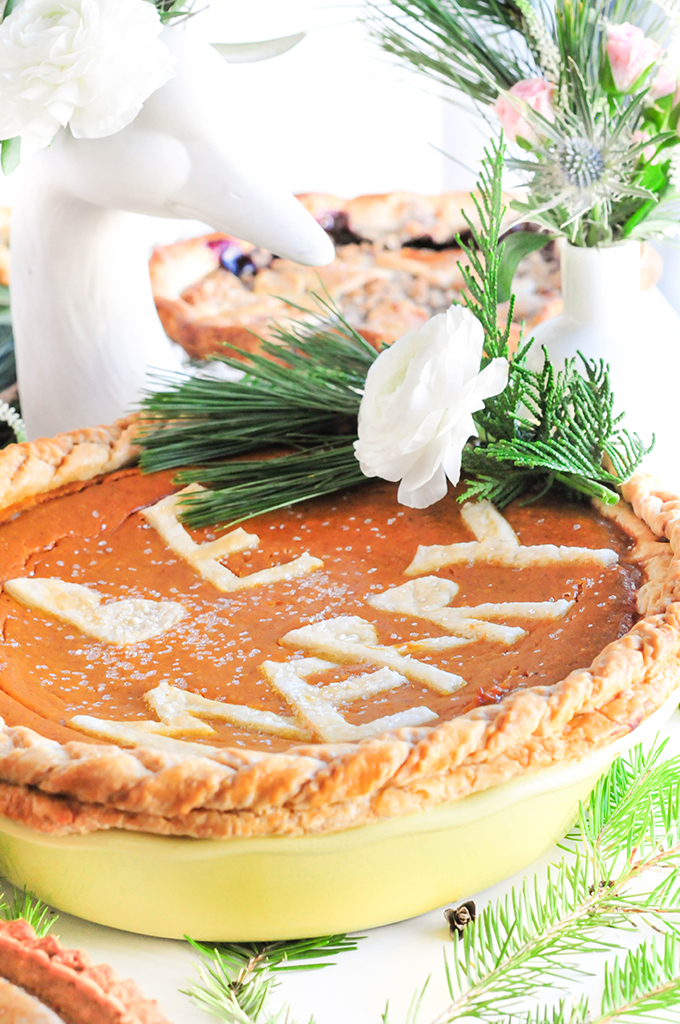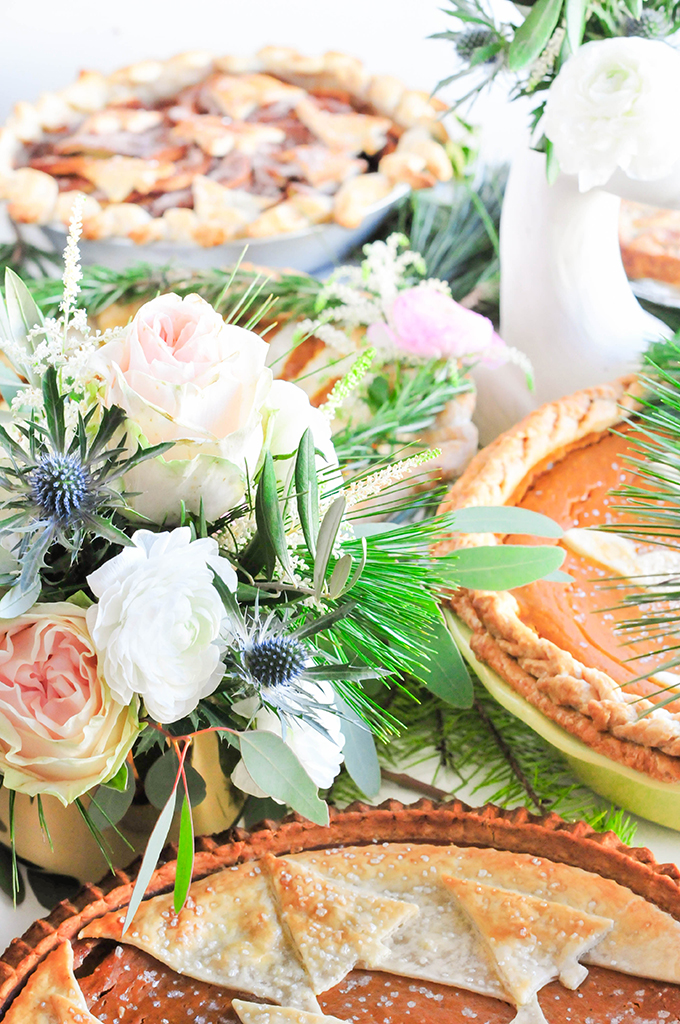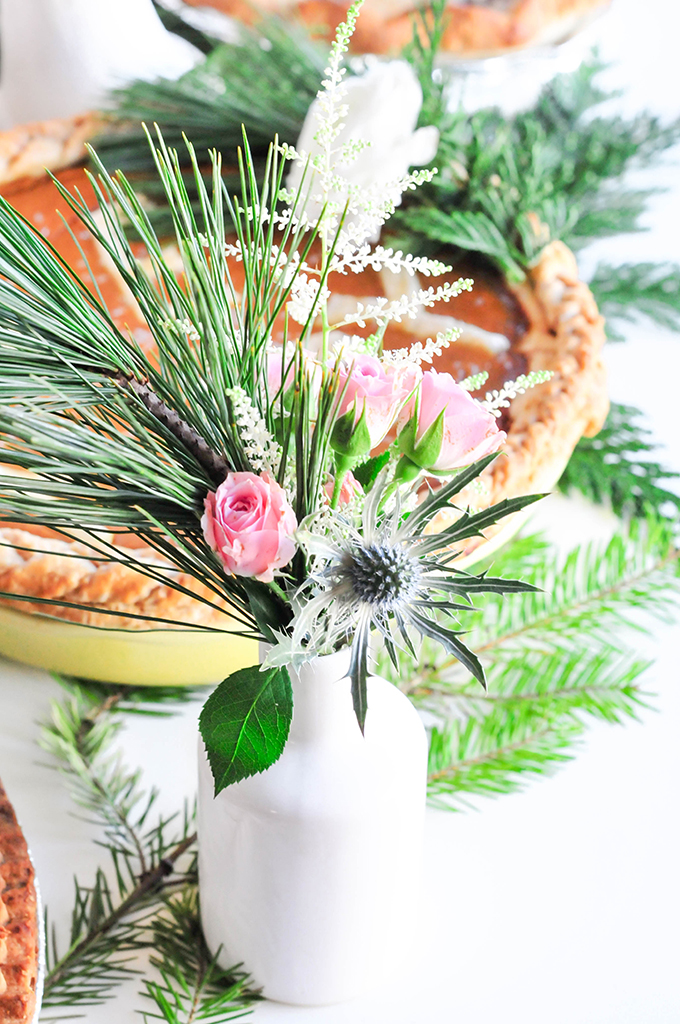 Are you seeing how much pie means to me? TO THE WORLD?!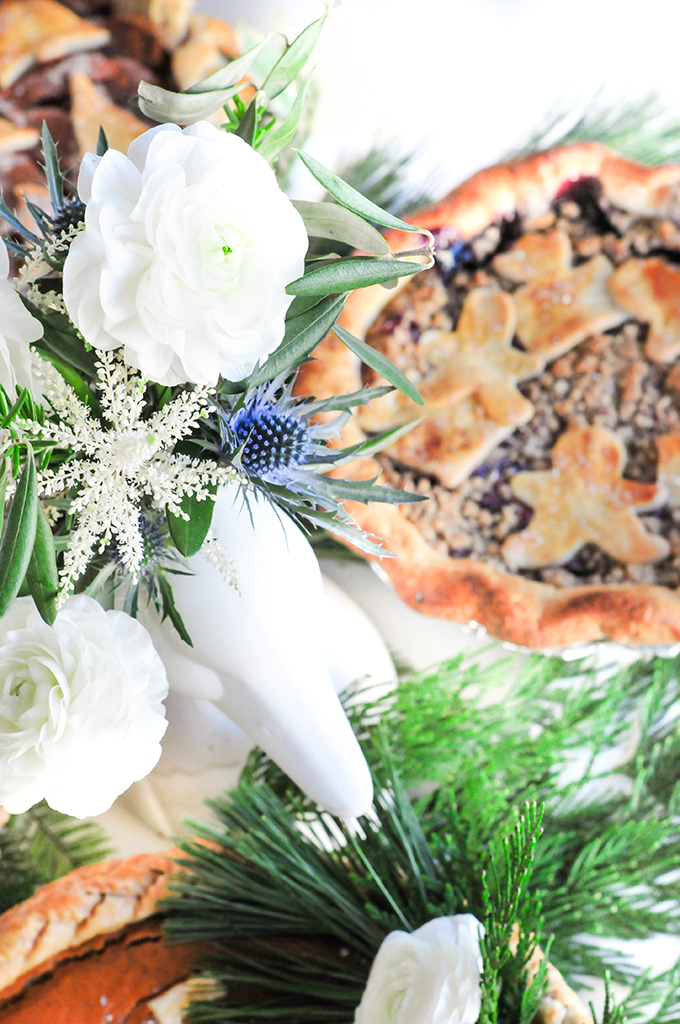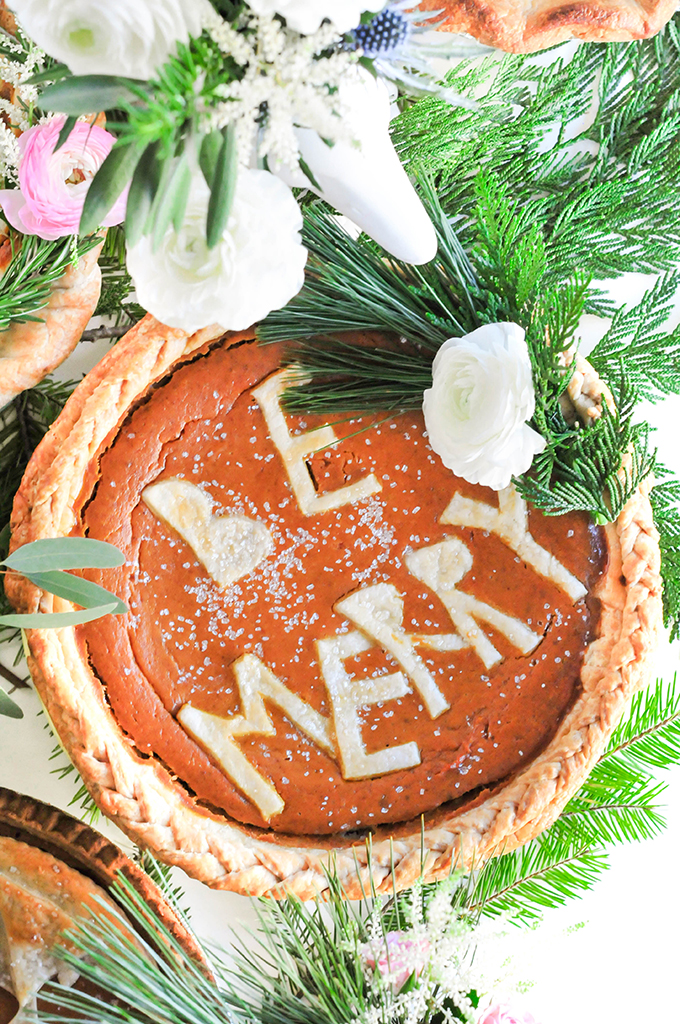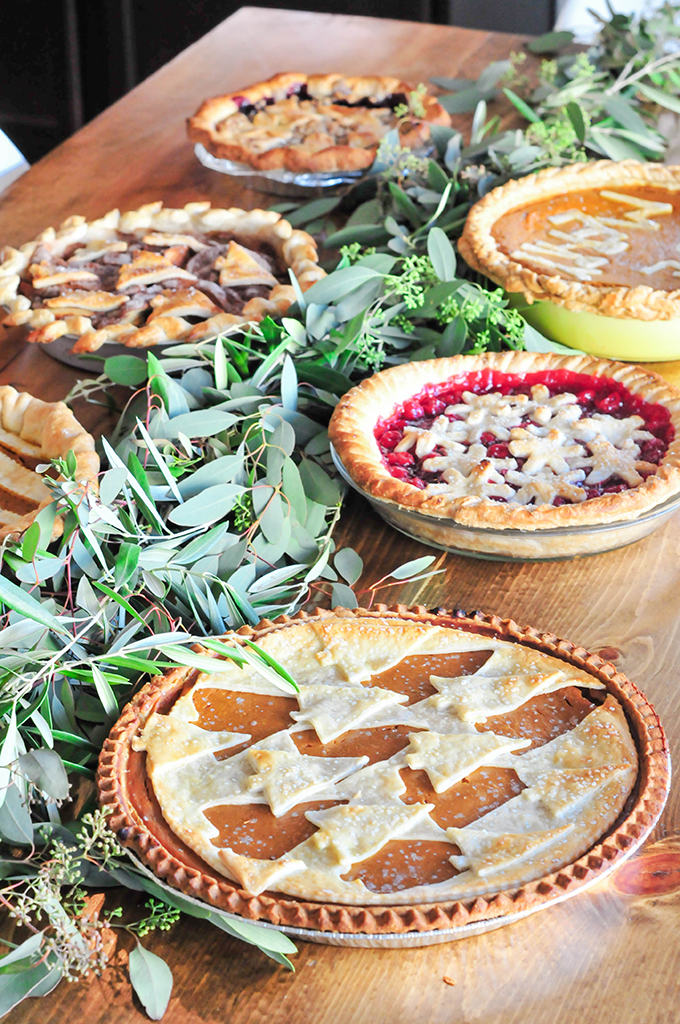 An assortment of pies lining a eucalyptus and olive decorated table? Ho Ho Ho, indeed.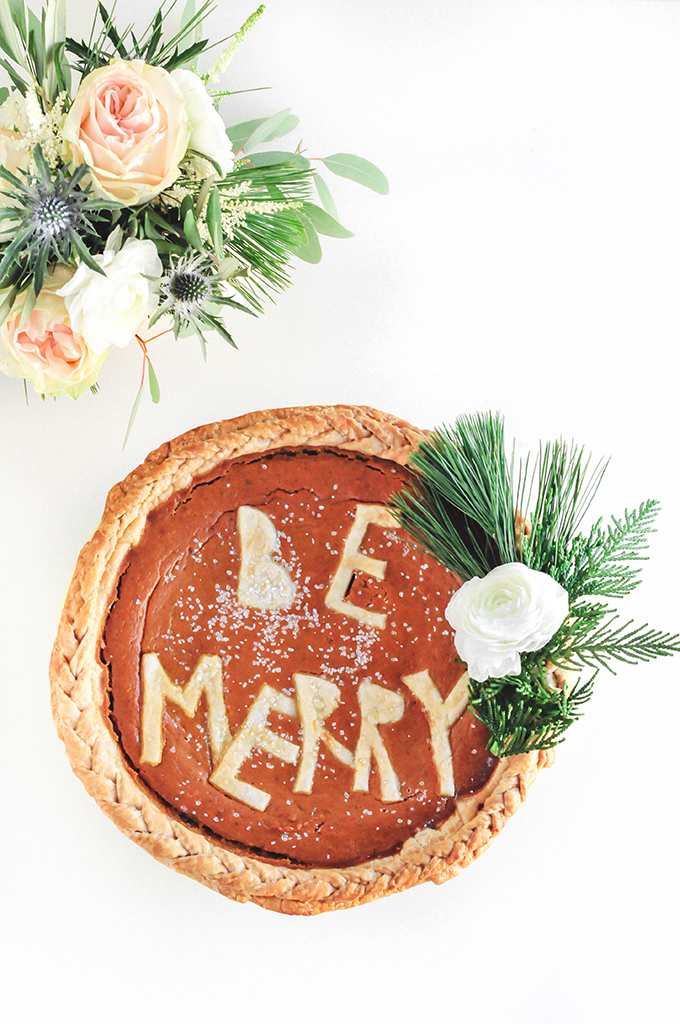 BE MERRY! This guy is my absolute favorite. If I could, I would pack him up and ship him off to you!
For more pie inspiration, check out this whimsical pie crust, or this fringe pie crust design that we love so much!
GIVEAWAY NOW CLOSED
Now, for even more goods! This week is essentially a virtual pie workshop with goodies being given away every day here and on Instagram and Facebook! So be sure to check in every day to see what's up for grabs! Today's giveaway will stop you dead in your tracks!
Flower Muse is giving away the Garden Roses & Ranunculus Gift Collection to one lucky reader! These pretty blooms are perfect to top your pies, make some arrangements, give to friends, and then some! We're not messing around. The winner gets to select all their desired colors and the flowers will be shipped fresh to your front door! Leave a comment on this post and then simply click the rafflecopter to officially enter (you get 5 entries just for commenting!) Giveaway ends Monday, December 14th at 12am! So hop to it! Only open to US residents (but I love everyone worldwide!). Good luck! 🙂
*This post is in partnership with Flower Muse, a company that believes in bringing beautiful and affordable flowers to the masses. Thank you for supporting the brands that help Proper keep creating!
concept, styling, & photography \\ Lexy Ward