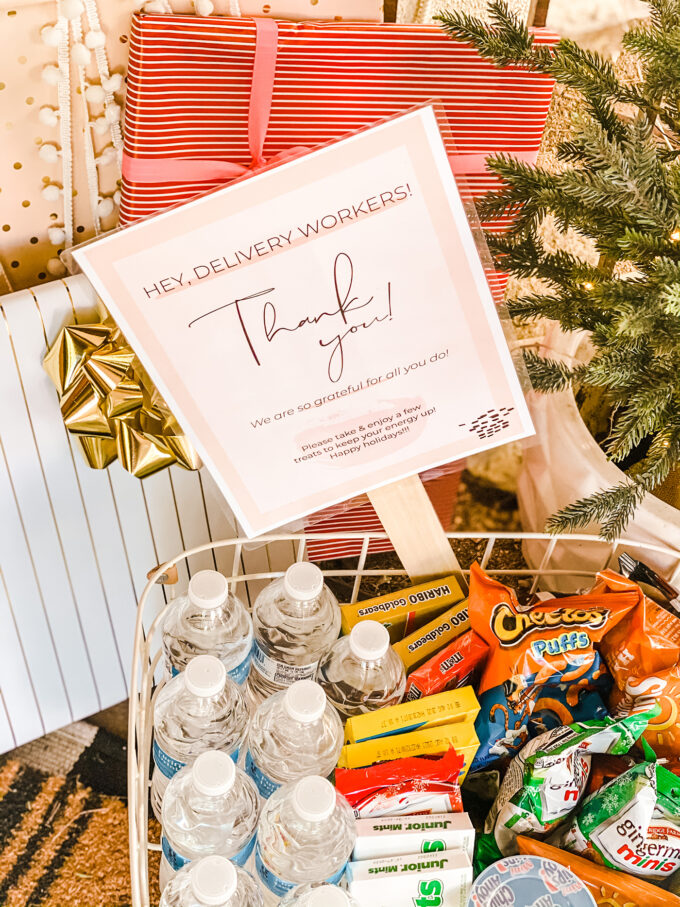 Every holiday season, I say I'm going to put out a big ol' basket of goodies for the delivery workers that come and go. There are A LOT of folks that deliver packages to our house for work and personal use, and we've grown pretty fond of the folks that help out all year. This year, more and more people are doing their holiday shopping from home (thanks, COVID) and those delivery workers are working quadruple-time. They've got extra helpers on their routes this time of year and work crazy long hours and drive all over. So the girls and I wanted to give them some treats to keep their energy up while they're out helping the world still function. I created this printable thank you sign for delivery workers and put it out by our driveway and front door. I'm sharing it today incase you want to print out your own to show those delivery workers some love! Snag the download below!
Simply fill up a basket (this beautiful basket is from Open Spaces and I LOVE IT) or bowl with snacks for the delivery workers and print out this sign and place next to the treats. I laminated our sign so we can use it next year as well. But if I'm being honest, I should probably just keep this up all year because they're coming to our door almost DAILY it seems!
If you're an employee working in the delivery service and you're reading this, please know how much we appreciate you! This year has been insanely different and hard and we could not function without you! Thank you so much for all of the work you do!
If you're looking for more holiday printables, try this printable gift wrap suite or this fun wallpaper download for your phone!