We've somehow made it to December. Never mind the fact that I am still mentally IN MARCH. But whatever. We're here! 2020 is coming to a close (praise) and these last few days are when I break out the advent and we count down to Christmas. I recently purchased this beautiful leather advent calendar after admiring it for years. I had plans to make my own, but surprisingly, I had some other things take over my schedule and I just didn't have the time. But this one does it better anyway. I always get asked what I put in our advent calendar so I thought I'd share it here! It's a simple mix of treats, miniature gifts, and activity prompts to keep us busy! Check it out below: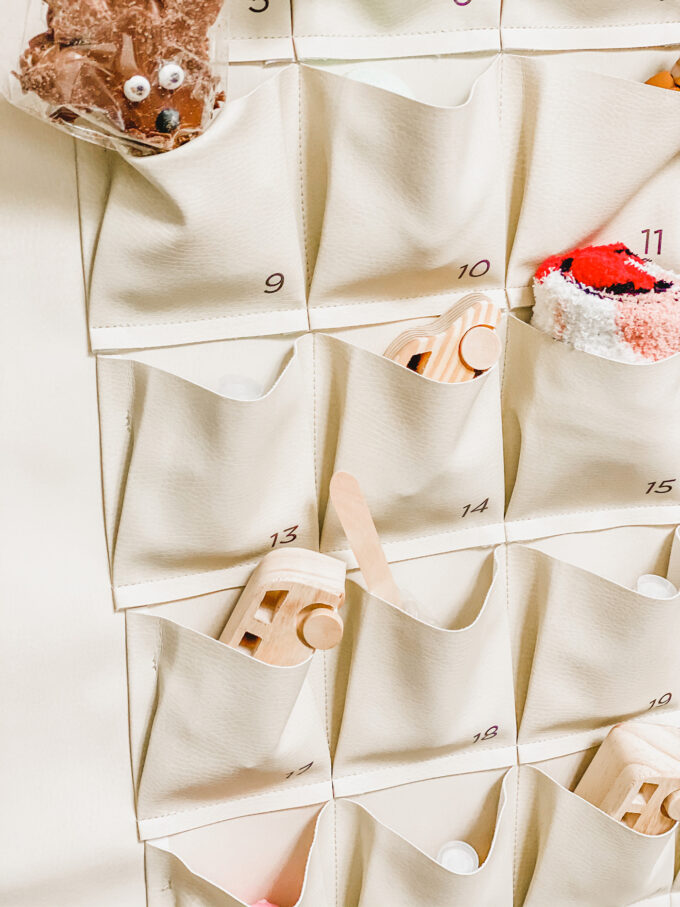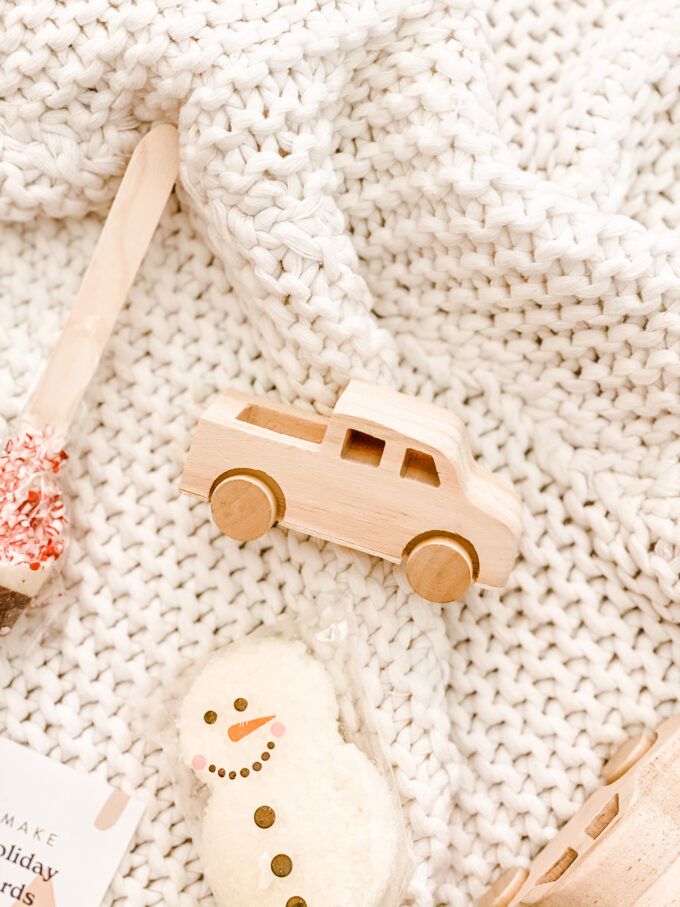 This advent calendar is from Gathre and is so well-made. I actually have a big slab of white leather from making leather bibs, and had planned to make my own less-neat version. But at the end of the day, it's sometimes easier to just buy it. I snagged the small version because it is quite large! But after filling each pocket, the large could have been great to make sure everything fits. But I just didn't have the space for it, so the small feels great to me! I feel like this will stay in our family forever and will be an item we cherish every holiday season. And then I'll pass it onto my kids as it is worn and ragged and it'll be just as special then!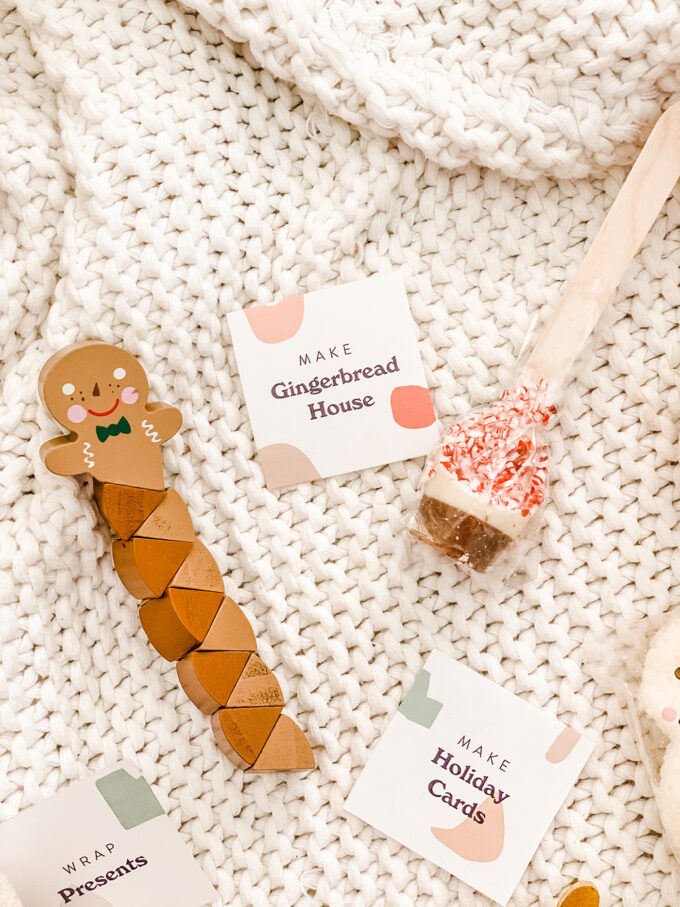 It wouldn't be an advent without the treats! I found a bunch of different holiday goodies at Target in The Wondershop. I added hot chocolate spoons, marshmallow stir sticks, a snowman marshmallow, and a few other sugary snacks for good measure.
I've actually got a little stash of mini gifts that I've collected over the years from the dollar store. Some from Dollar Tree. Some from Target. Some from Michaels & other craft stores. I found these cute mini wooden cars in the dollar section at Michaels as I was checking out and thought they were the perfect addition to our advent calendar. If you don't live close to Michaels, here is a similar set of cars! We might paint them. Might leave them unfinished. They're cute either way!
The gingerbread bendy toy was also a Michaels find! I'm trying to find a link to that but have had zero luck so far. I'll update this post if I find one!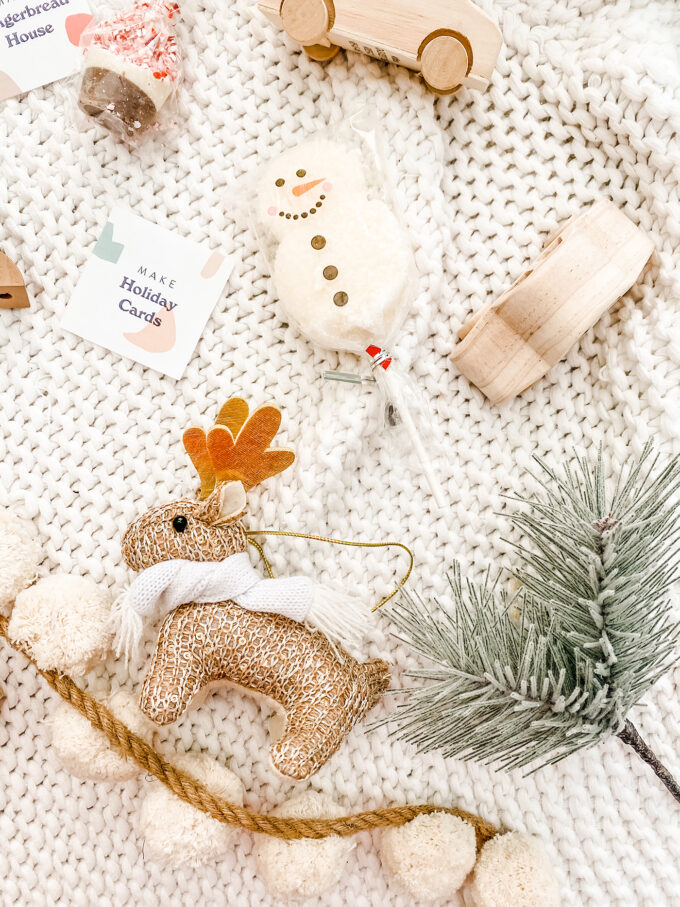 Aside from the treats, I also downloaded these printable advent prompts by my girl, Molly of Almost Makes Perfect. The design is right up my alley and I just love how simple & sweet they are. I stuck a few papers in the pockets and we'll be sure to do whatever they say on the day we are supposed to! Really looking forward to the citrus garland because that sounds so fun and my kitchen just NEEDS one.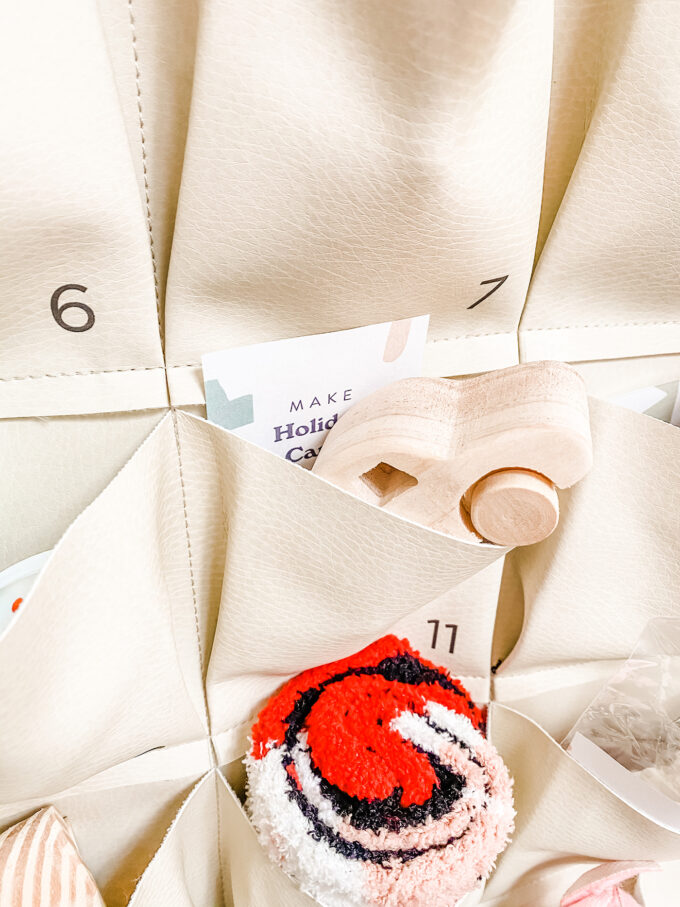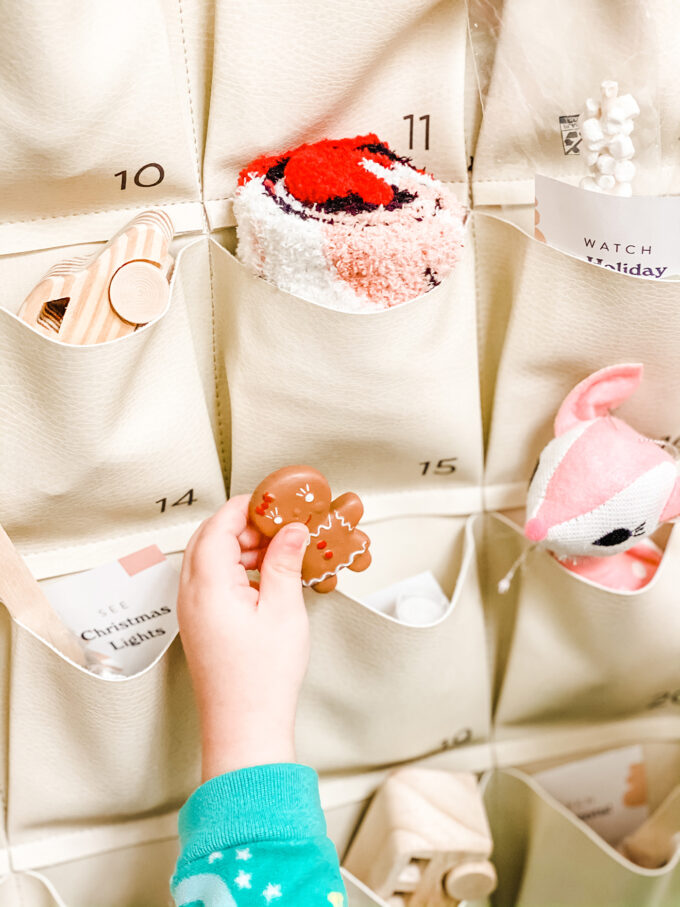 We've thrown in a few little extras like bath bombs and hand sanitizer. It would NOT be a 2020 advent without hand sanitizer. Sue me.
I added special ornaments for our tree and marshmallows-on-a-stick and a pair or two of some fuzzy socks.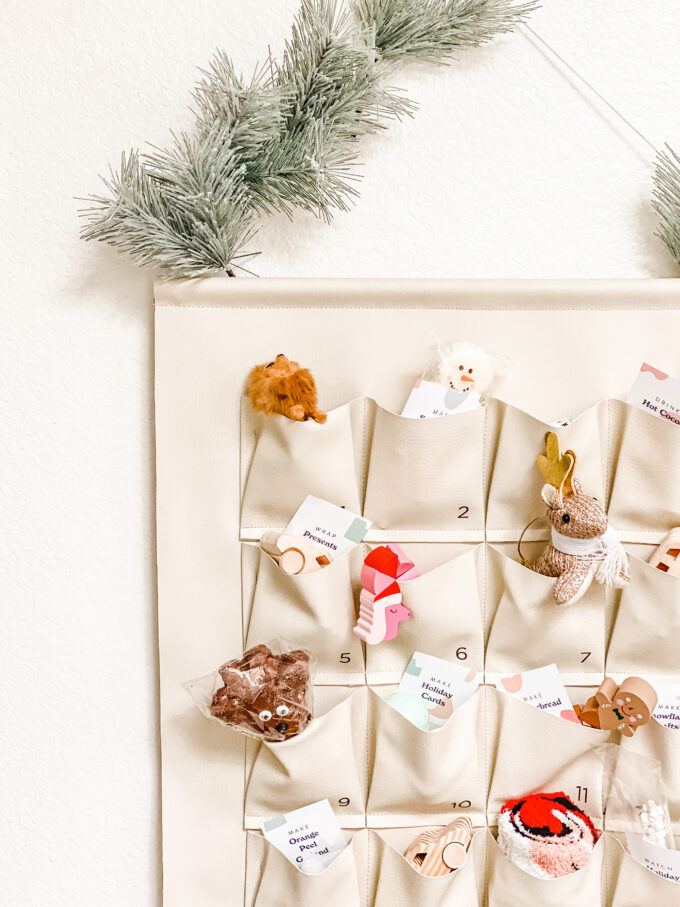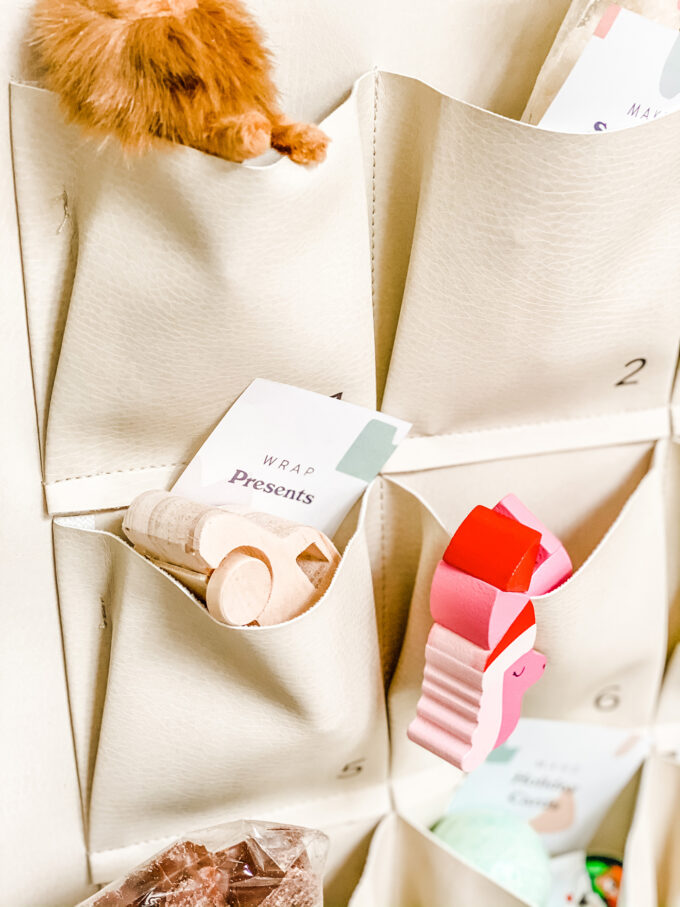 I'm pretty simple when it comes to what I put in our advent calendar. The girls are young and love ANYTHING. I could seriously put a couple of Tic Tacs in each pocket and they'd be over the moon. I know that some folks wrap the items they put in an advent calendar. I love that idea, but that just seemed like extra work and I am too lazy to do that right now.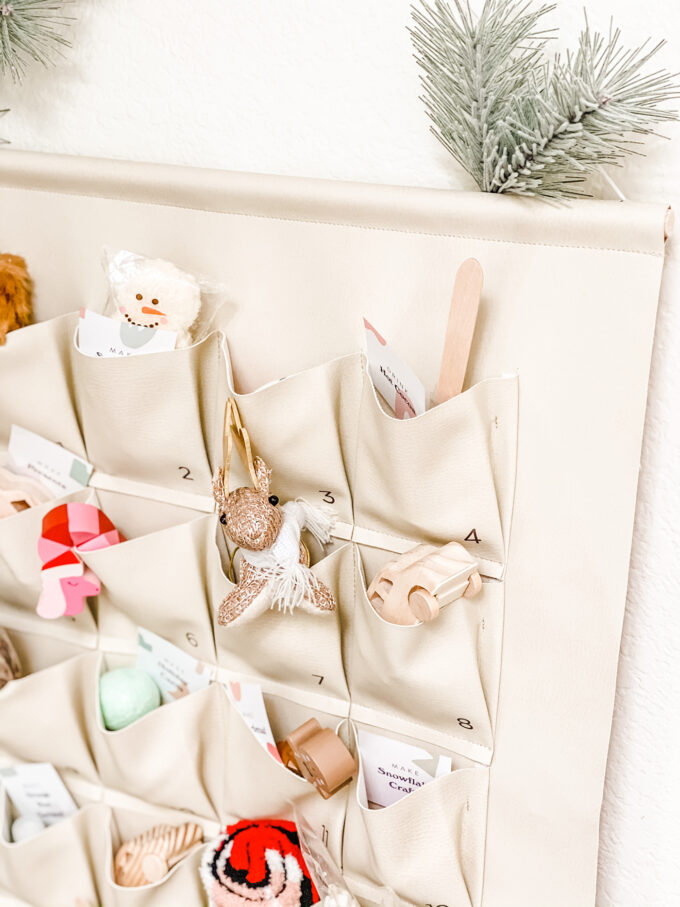 Do you do an advent calendar with your family? This is one of my favorite holiday traditions and I am PUMPED for December because we all freaking need this month more than ever. I've got a bunch of fun holiday crafts I'll be sharing over the next few weeks (I know. Hell must have froze over.) so keep checking back in for those! Happy December!