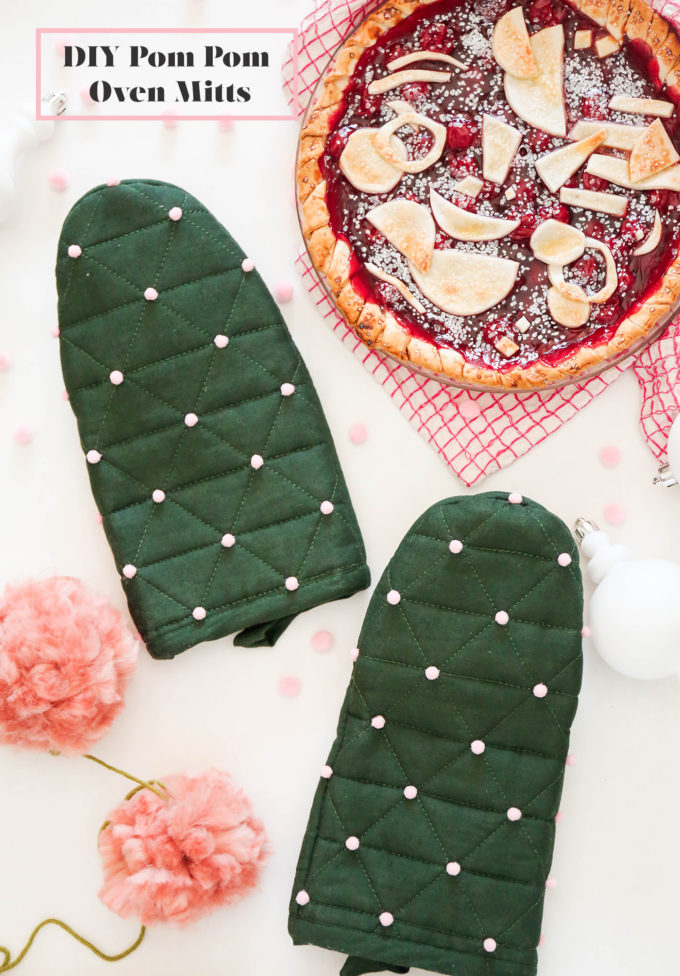 Since having children, my lofty goals have become more of the regular-but-impossibly-unattainable kind like Getting To Bed Early and Being Not The LAST Mom At Preschool Pickup. Those are some tough expectations I have set for myself. I've also had to really let go of my need to make every gift by hand. For me, it's just impossible to do that anymore. I have to be honest with myself so that everyone knows what is expected and what I can deliver. All this to say that I am still such a sucker for the thought behind handmade gifts. They're so unique and special, and few things bring me as much joy as watching someone I love enjoy something that I've put a little bit of myself into. (Does that sound conceded? Because it's totally supposed to. jkjkjk)
If you're looking for the perfect handmade gift, but unsure of what you can pull of by December 25th, look no further! These DIY pom pom oven mitts can be made in less than 30 minutes and the mitts can be purchased though Amazon with PRIME shipping! So there's definitely still time to pull off the cutest handmade gift this holiday season. I'd say that's a win for all of us. Read on to see how we whipped these out and to get the link to the mitts!
                                                      DIY Pom Pom Oven Mitts
You'll need: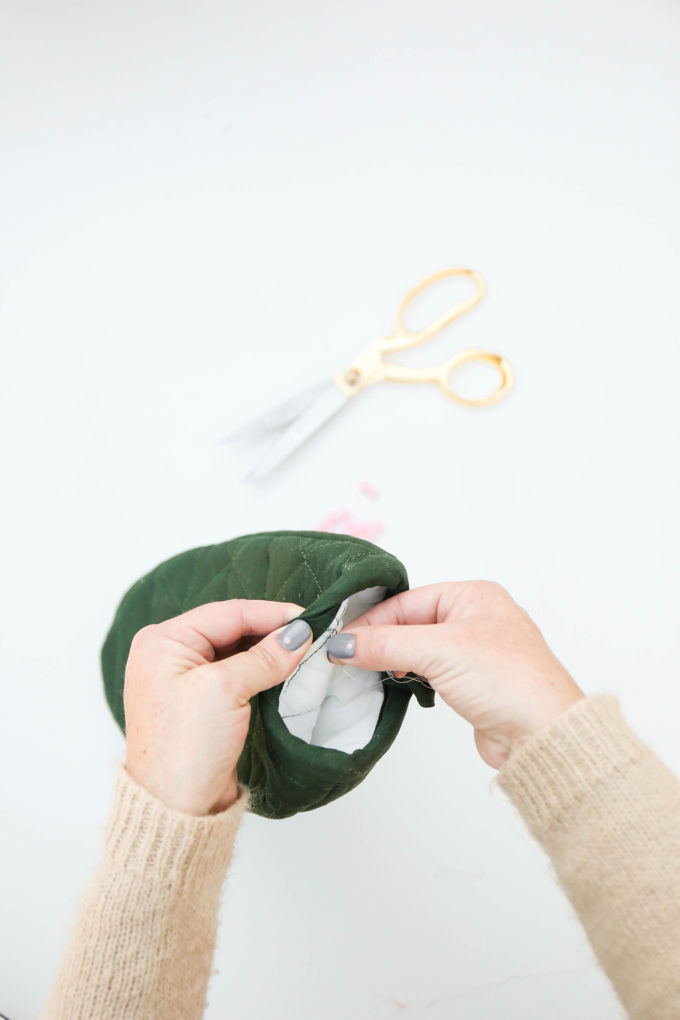 We're placing a pom pom on every tip of the triangle pattern on the outside of the mitt. Start by threading your needle with a long piece of thread and knotting the end. Open the mitt and thread the needle through the bottom being sure to come through a pointed triangle edge, and then pull through to the other side. Pick up a small piece of the fabric at a triangle edge and thread through to create a small and secure stitch.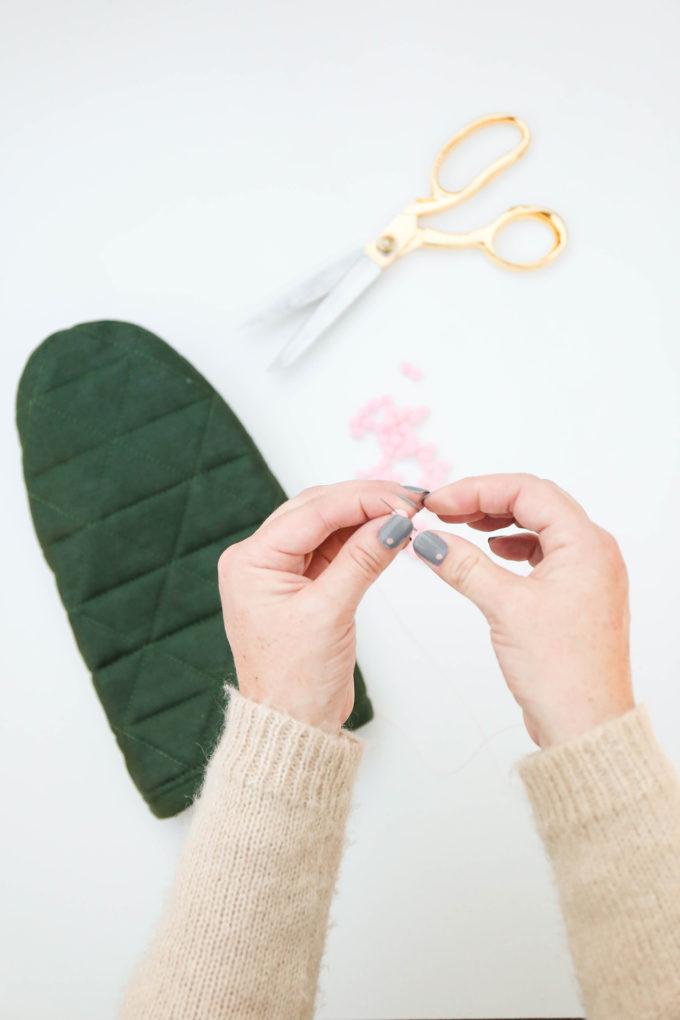 Thread one of the pom poms onto the string and slide it down so its touching the mitt. Pick up a little more mitt fabric just under the pom and thread through a few times creating a knot to secure the pom pom into place. Move onto the nearest triangle edge.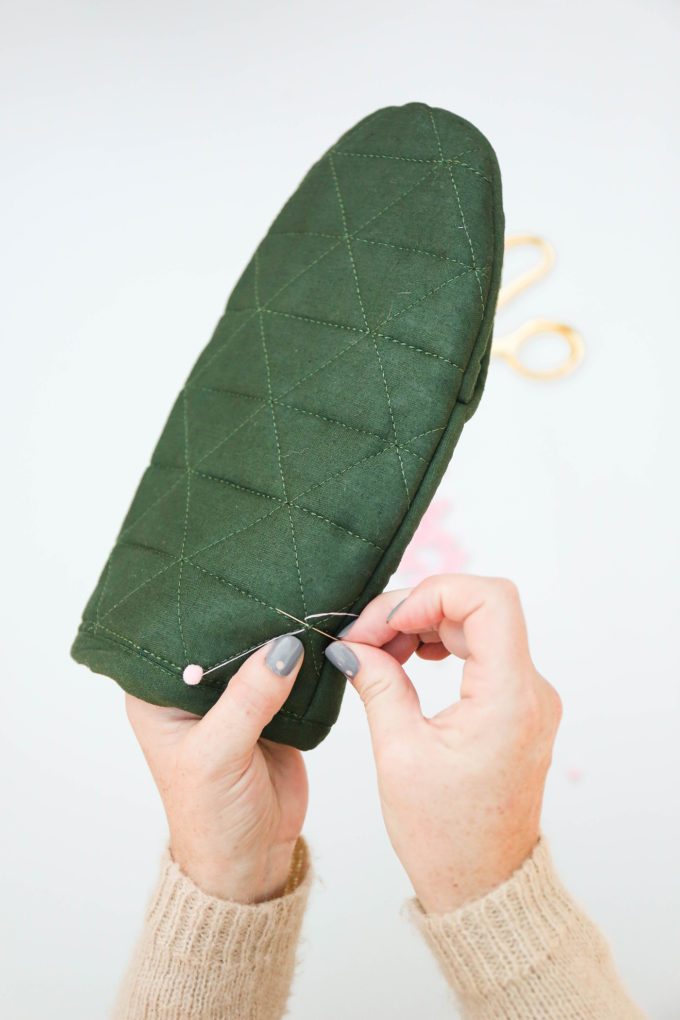 You'll repeat these steps of adding the poms poms to the triangle edges and tying small knots with your needle. There's no rhyme or reason to it, I just wrapped and threaded a few times around each pom to secure it into place.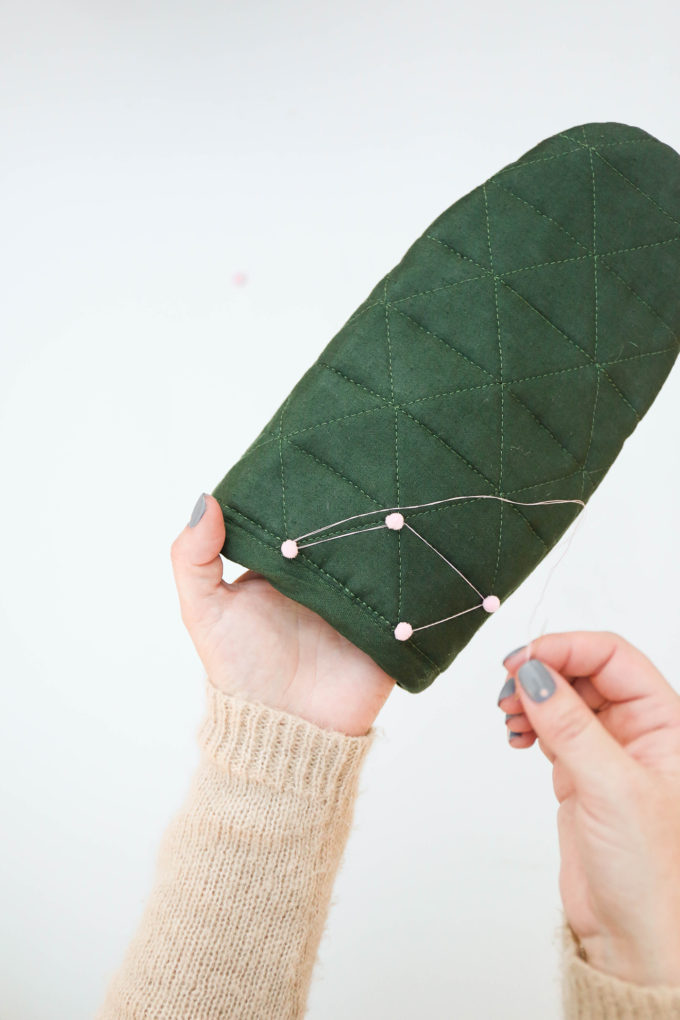 You can see here how I just kept moving onto each triangle edge. Don't worry about trimming the string. We'll do this at the end after all of the pom poms have been added or we run out of thread. If you happen to run out of thread, simply start a new one wherever you ended last, being sure to knot it to the fabric so everything stays put.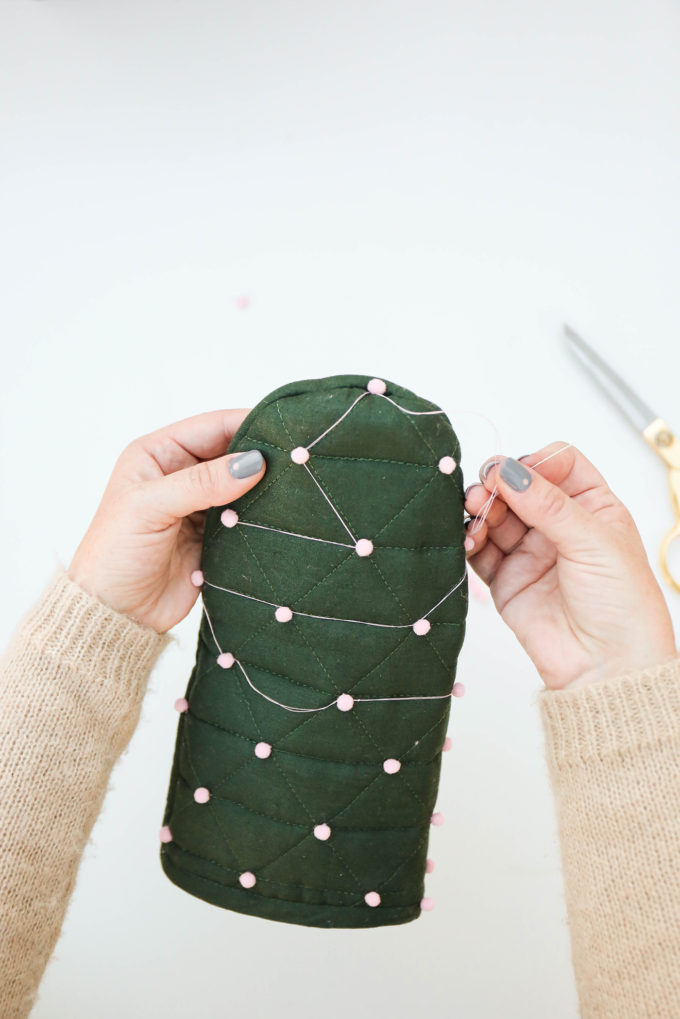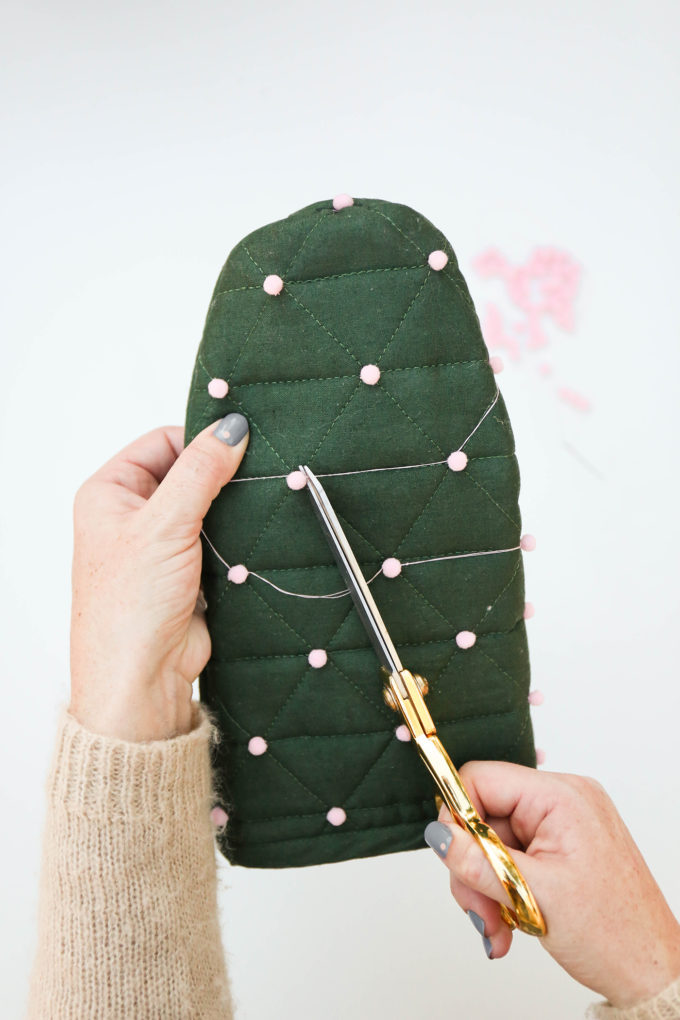 After you've added all the poms, take a pair of sharp scissors and trim the excess thread between each pom pom.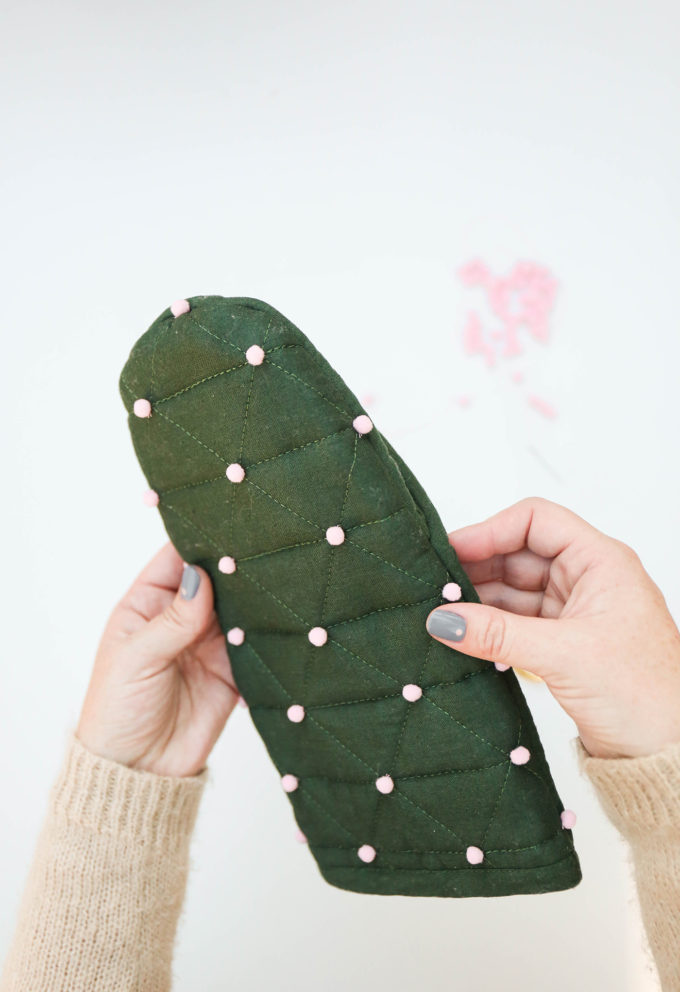 And that's it! You can basically make these while watching Friends reruns on Netflix! I support those kinds of crafts.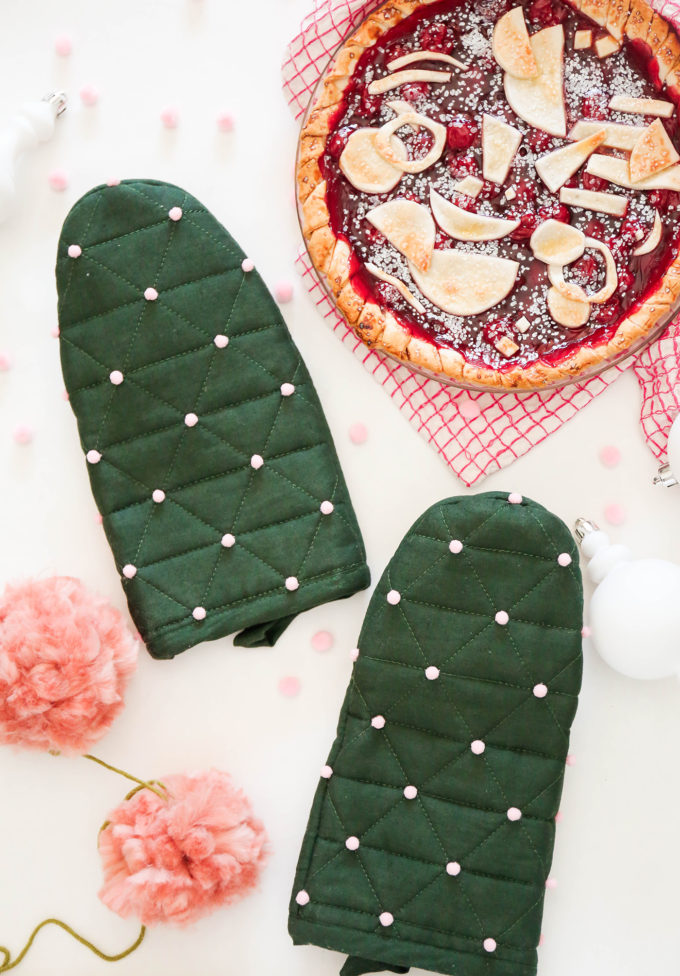 IKEA on Amazon?!
So these green oven mitts were an IKEA find from a trip to the store a while back. I saw them and immediately thought of updating them with some pink pom poms. If you don't have access to an IKEA near you, these mitts are also on Amazon with Prime shipping! Heck yeah! The combo of forest green and pale pink is a fave of mine, and I am debating on whether or not I should hoard these DIY pom pom oven mitts for myself or actually give them away as a gift for someone I love. I am so generous during the holidays.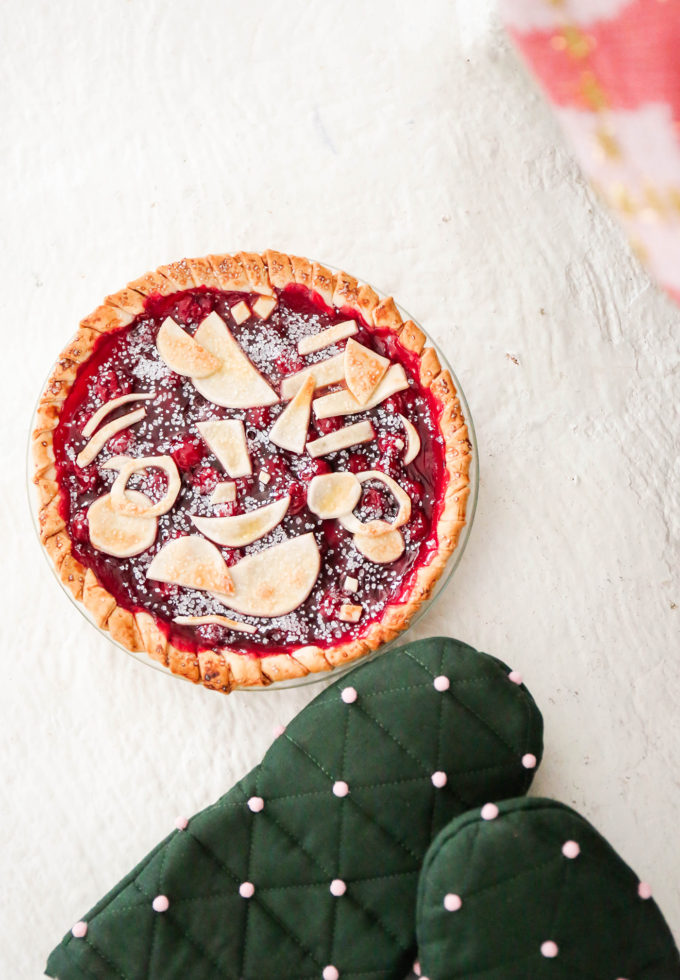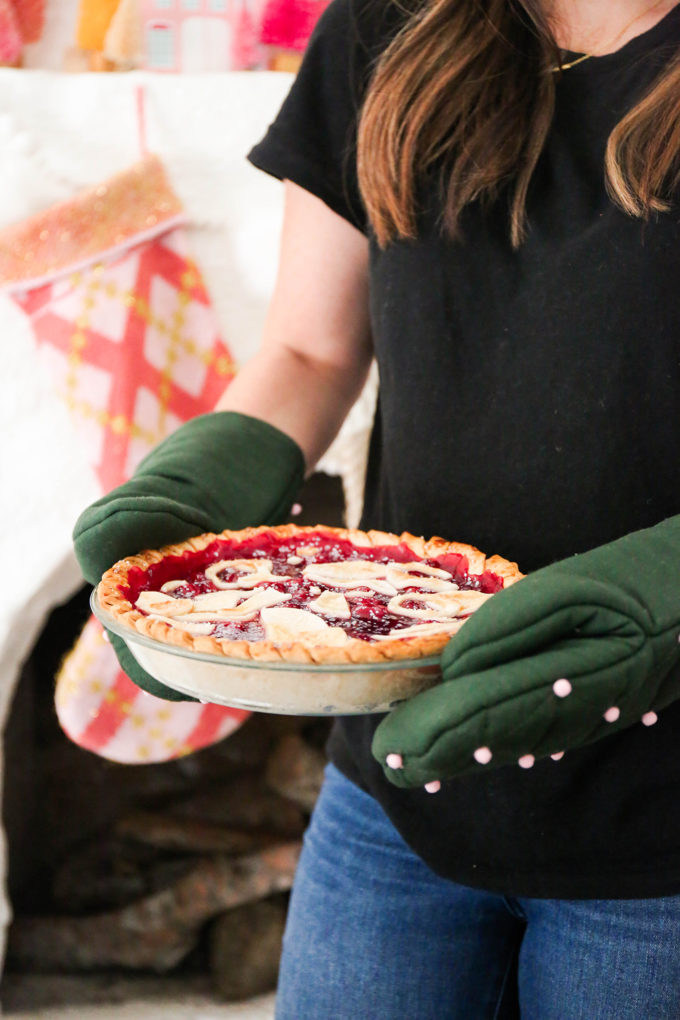 And here they are in action! Look at all that pom pom glam. In the time it took me to write up this post, I decided that I'm going to need to make a pair of these for myself. I have a bit of an obsession with oven mitts and these custom beauties need to be added to the collection. They're cute to boot and anyone can pull them off! Give it a go!
Searching for more gift inspiration? Check out a few of our fave gift wrap ideas including a cactus pom pom gift wrap! And this tissue fringe gift bag is a reader fave during the holidays! 
photography \\ PROPER