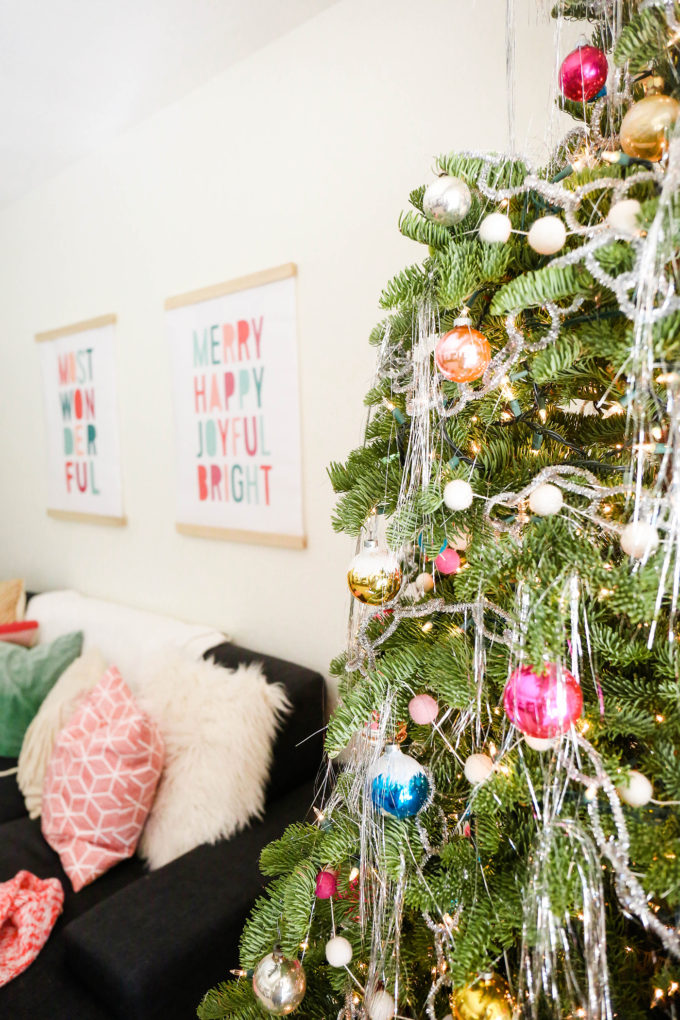 Holy bejeezus! I don't know why it took me so long to get this holiday home tour up on the site, but here we are! Do you know what is funny? I actually started decorating for Christmas back during the first week of November. I'm not even joking. I was all, "I'm-going-to-be-on-the-ball-and-get-this-home-decked-early!" and then we had last minute trips to see family. And tons of work. And traveling husbands. And before I knew it, it was the middle of December! Yeesh! I'd feel a little more comfortable if I could get about thirty more days out of the month (preferably before December 25th, but still!). I'm trying to remind myself that a late holiday home tour is better than NO holiday home tour! So here we go!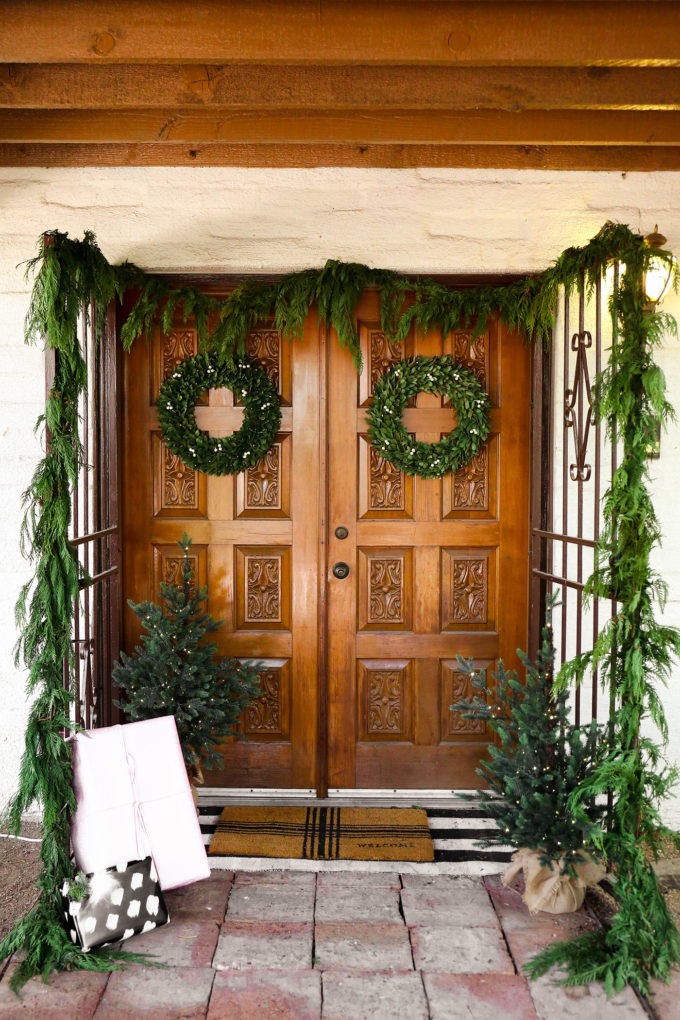 To say that I've been obsessed with cedar garland would be the understatement of the year. We picked some of this fresh cedar up at Costco over a month ago and it's still going strong! You can still pick some up if you're hoping to roll into the new year lookin' all green and glam. 25 ft for $18! I do not work for Costco, but I totally should because I have been settling this stuff all season. And I'm still figuring out the placement for these trees, and will hopefully have something to add a bit of height next year. There used to be a concrete bench at this entry, but the previous owners of our home took that with them when they moved. (sad face.) But I still love how everything is looking!
The Kitchen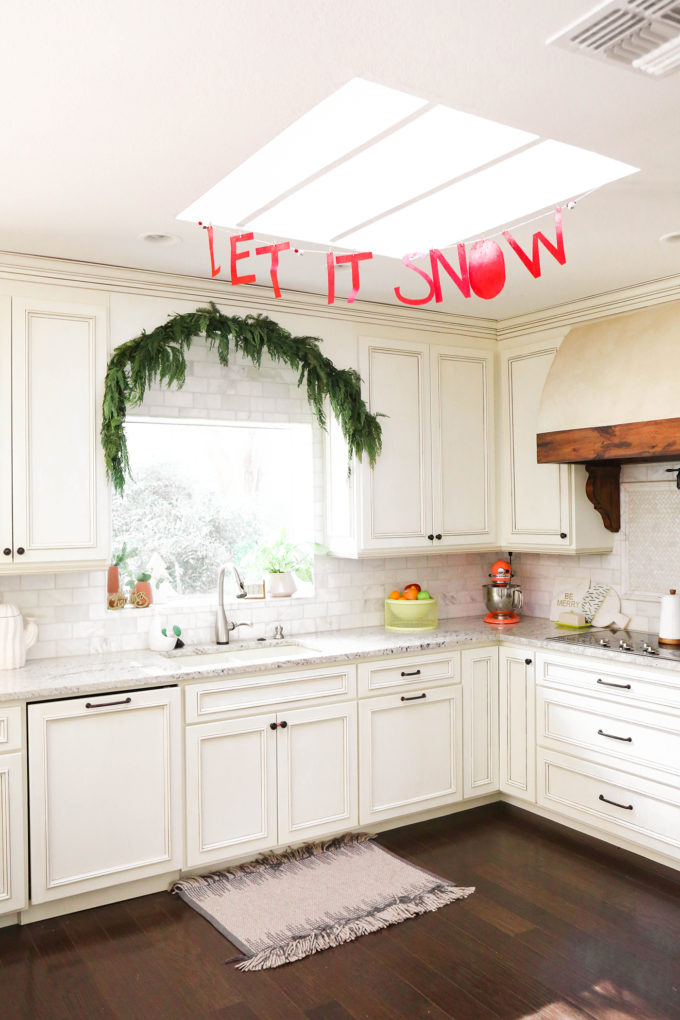 See. Garland in the kitchen. This was what I had left to work with and it barely fit above the sink so we kept it! The Let It Snow garland is actually a DIY project from WAY BACK WHEN! It's become a little bent over the years, but I feel like it's got character!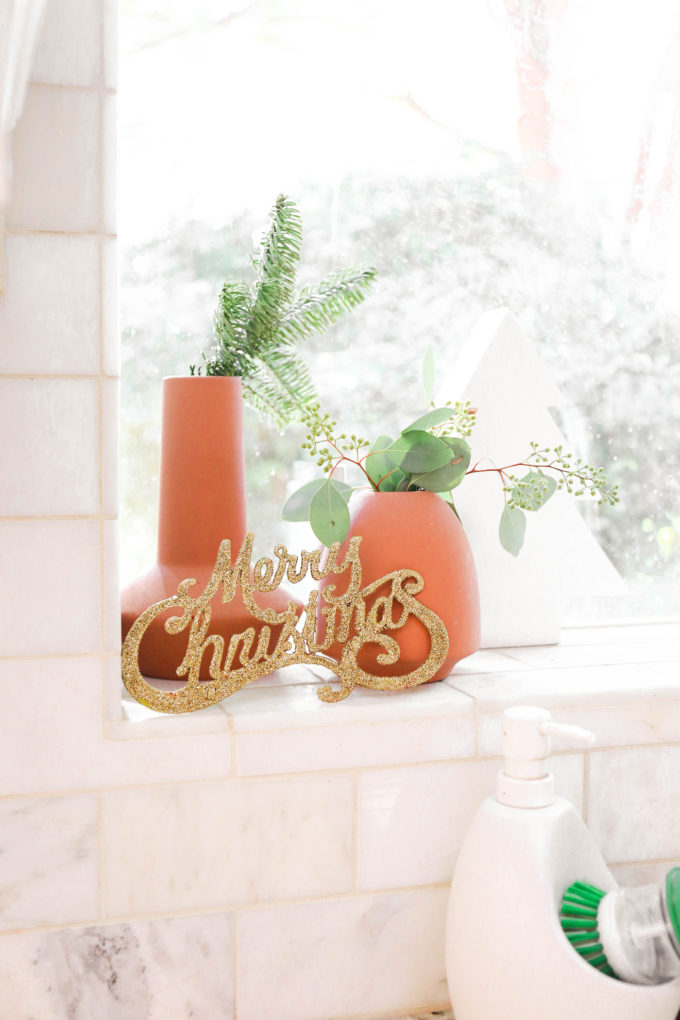 The Family Room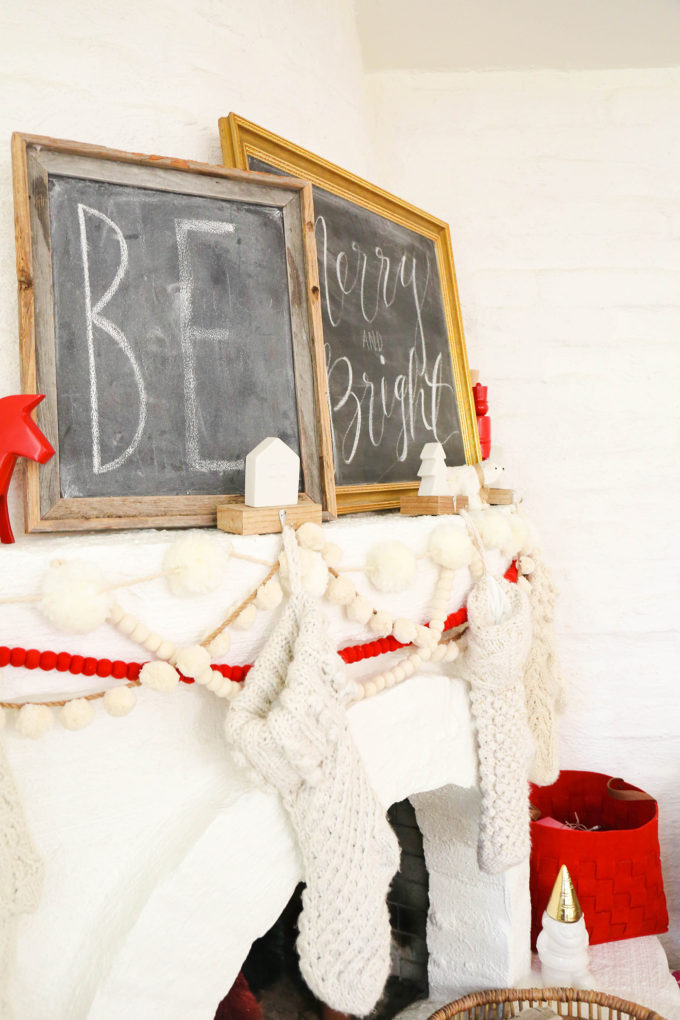 We have two living rooms. One is carpeted and is where we hang with the kids most of the time. We went with a woodsy/green/red/neutral kind of theme in this area and those chalkboards that I lettered 5 Christmases ago have finally come in handy! I'm going to go out on a limb here and confess that these boards have been hanging out up here since we moved in. And yes, they have constantly said "Be Merry and Bright". So I'm obviously on top of my game.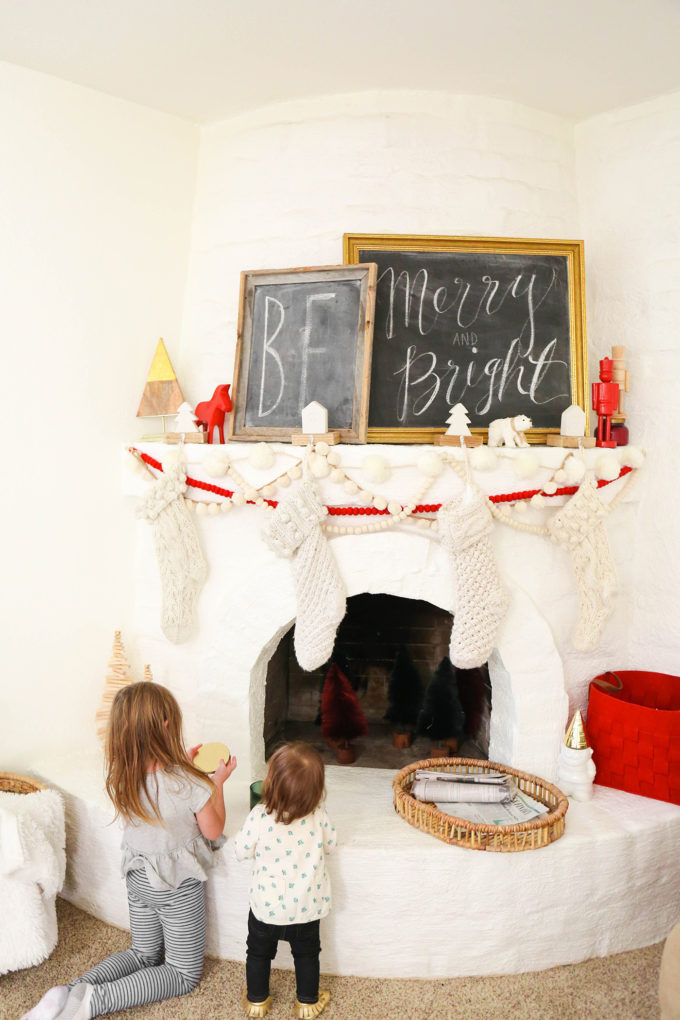 Look at those stinkers! They look a lil' disheveled.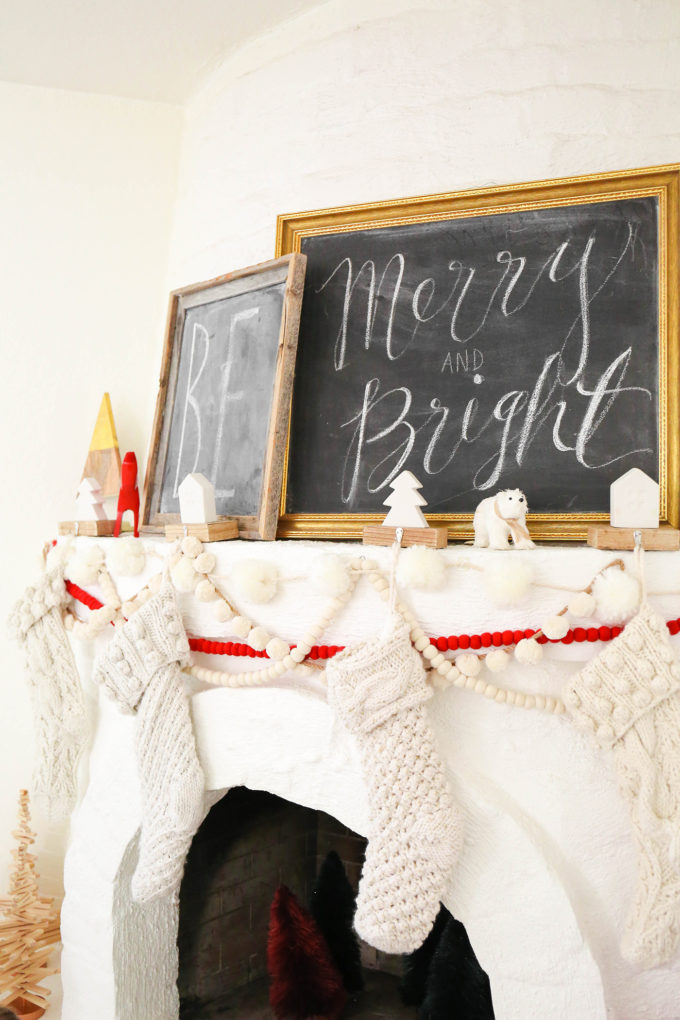 Just looking at these stockings while I type has reminded me that I am still in the process of figuring out what I am going to put in them on Christmas morning! Are you done with your shopping? Am I the worst? 

Here she is! We have had this white tree for about two years now. Last year, I bought a smorgasbord of glass ornaments to fill with paint, but then everything got crazy with Mara and her many surgeries, so that DIY plan took a back seat. I finally got around to filling them with my colors of choice and I really love how they turned out. I shared about them over on Instagram a few weeks ago and so many of you were interested in a tree shot, so here ya go! I honestly REALLY love this tree. I could marry it.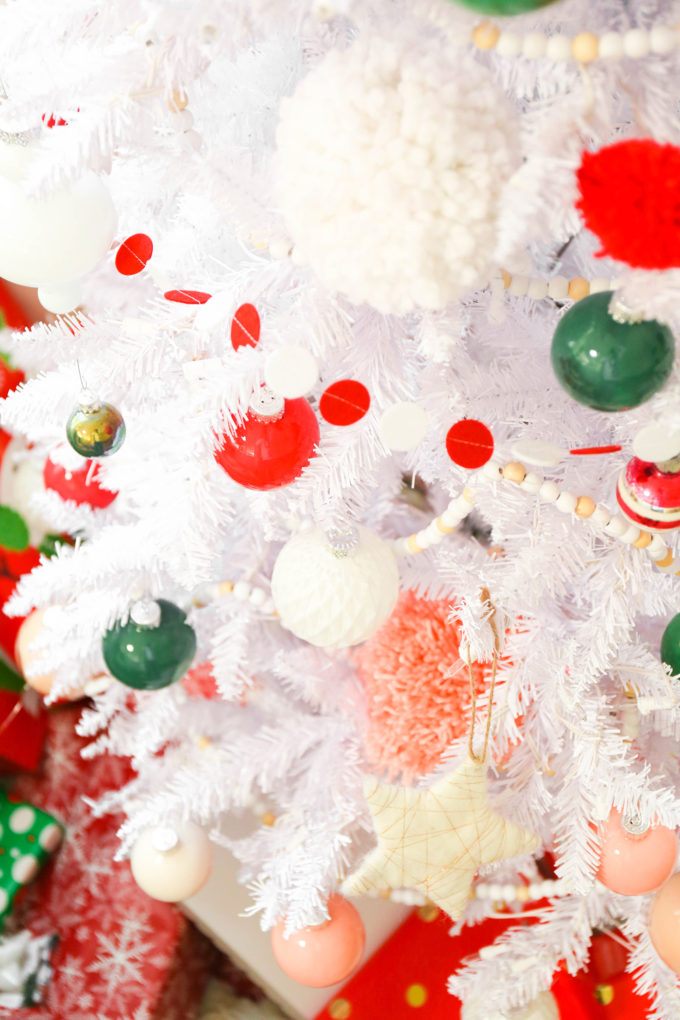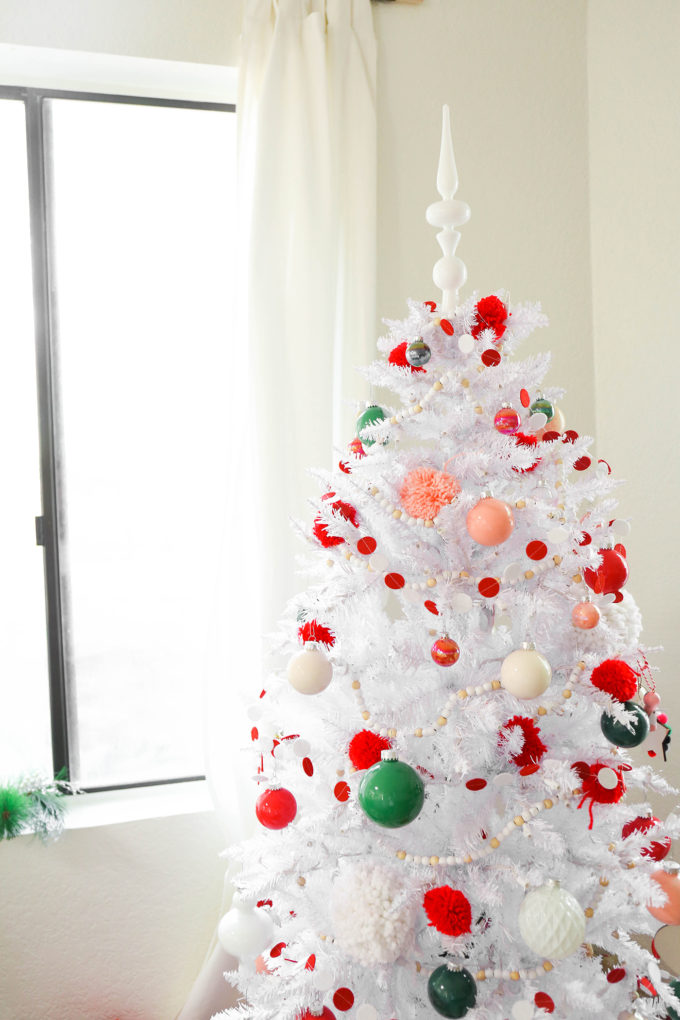 I also have been being super extra and going to town with my pom pom makers (big and small found here!). I started out making a garland of mini red pom poms and that was taking literally ALL THE YARN so we scrapped that idea and just decided to place assorted sizes and colors around the tree. I am honestly adjusting this setup daily as the girls keep coming around to the tree and picking at and pulling whatever they see fit.
It's. Great.
The Living Room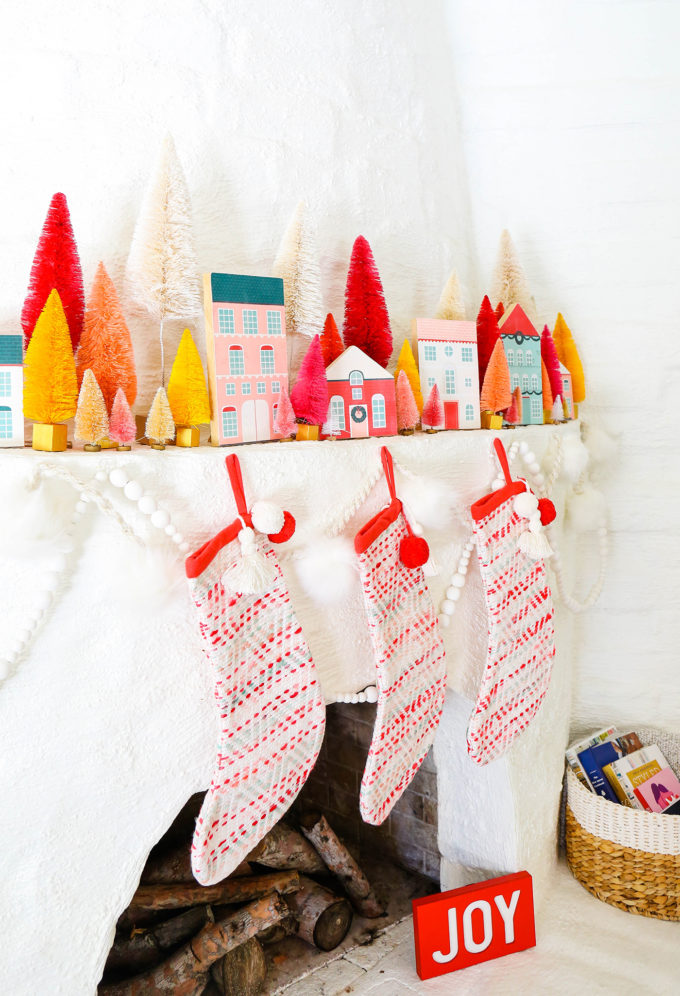 And then we head over into our other living room for a bit more color. I know, has there not been enough color?! These round mantels have been a bit tough for me to figure out how to style, but the holidays are always a little easier because of all the knick knacks that I have in my possession. #Hoarder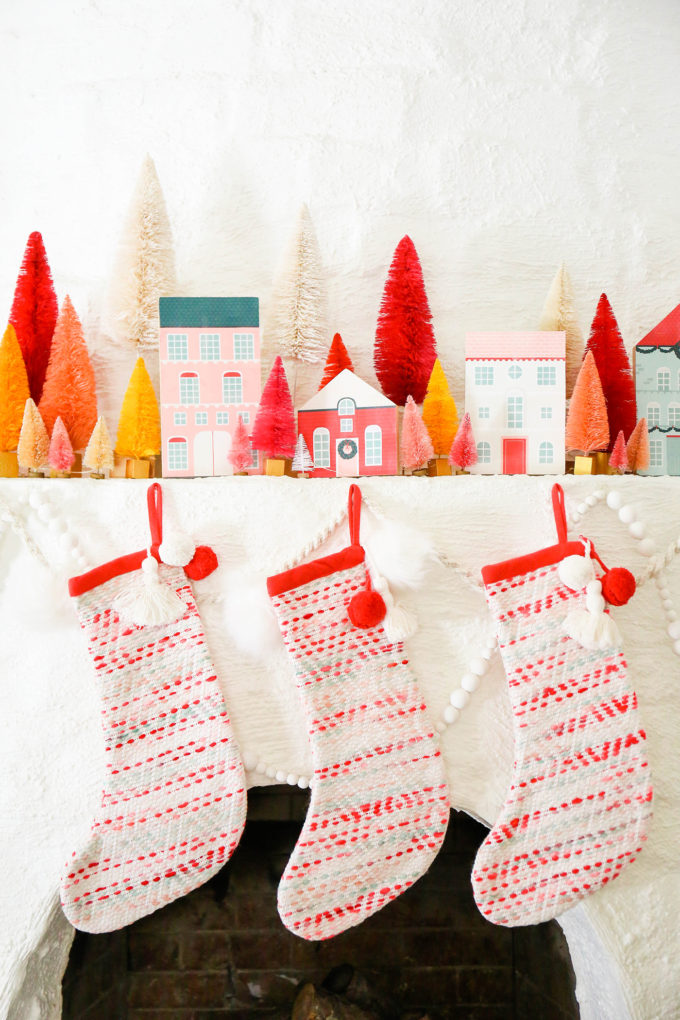 Last year, I printed out these village houses from Caravan Shoppe and attached them to some MDF. Our mantels are brick and a little bumpy as a result. So I put a small triangle of MDF on the back of each house to help stabilize it. Super easy! A few bottlebrush trees thrown in worked out so well. I may have spent a night taking pictures and rearranging things how I wanted. And then the next morning, I realized I didn't thread the extra set of fairy lights I was planning on adding. And I was like, "eff it."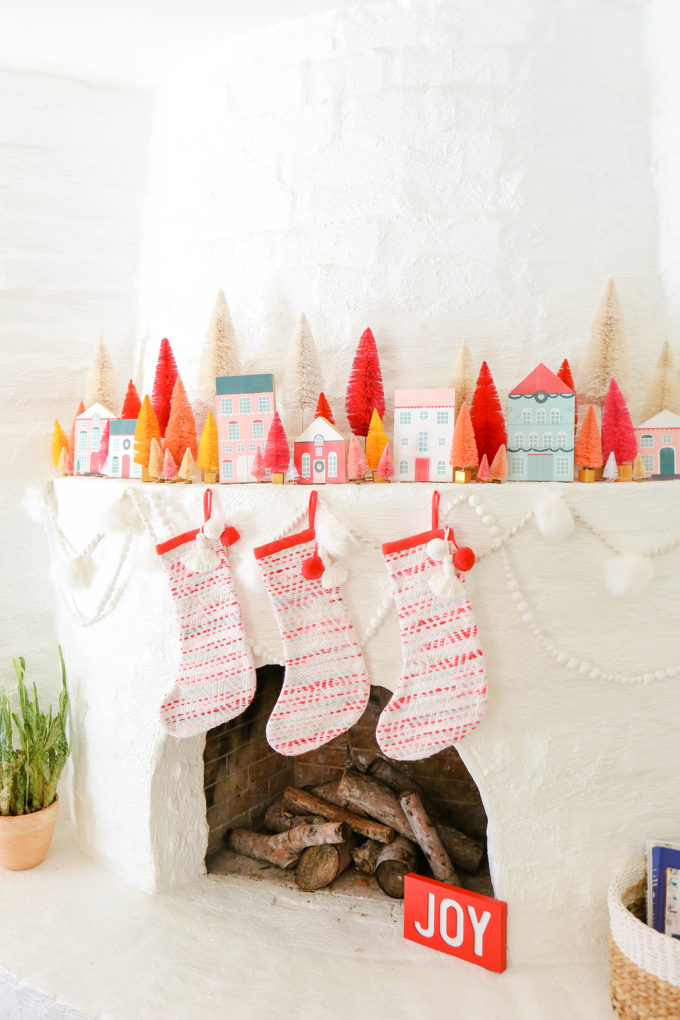 We keep some firewood in there for that annual fire we plan on sitting around. Just kidding. This is Arizona. We don't really need fires down here.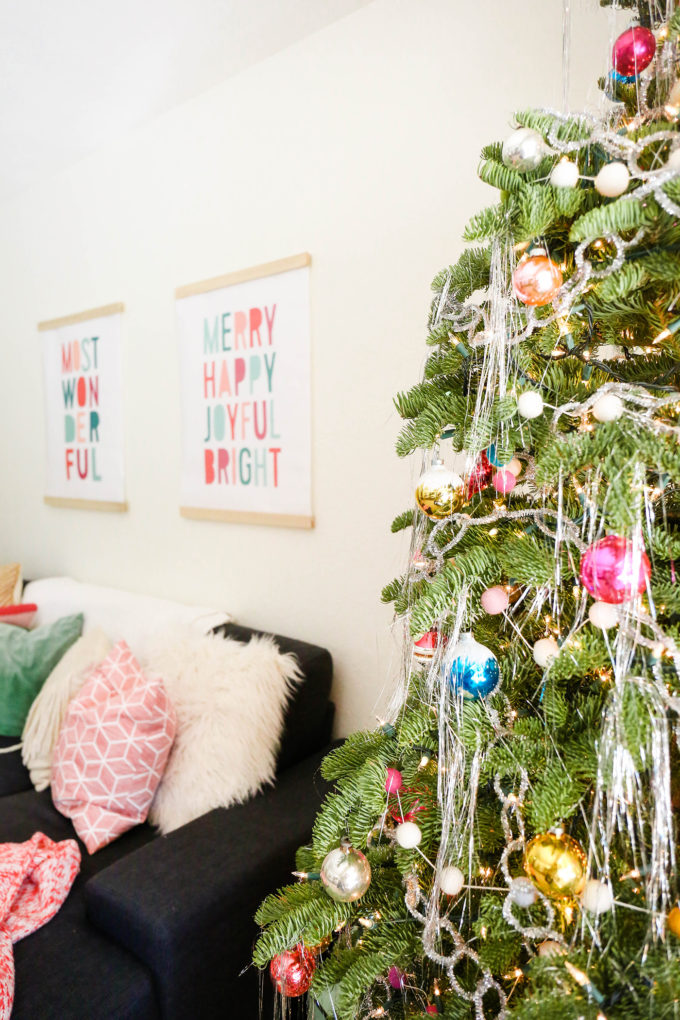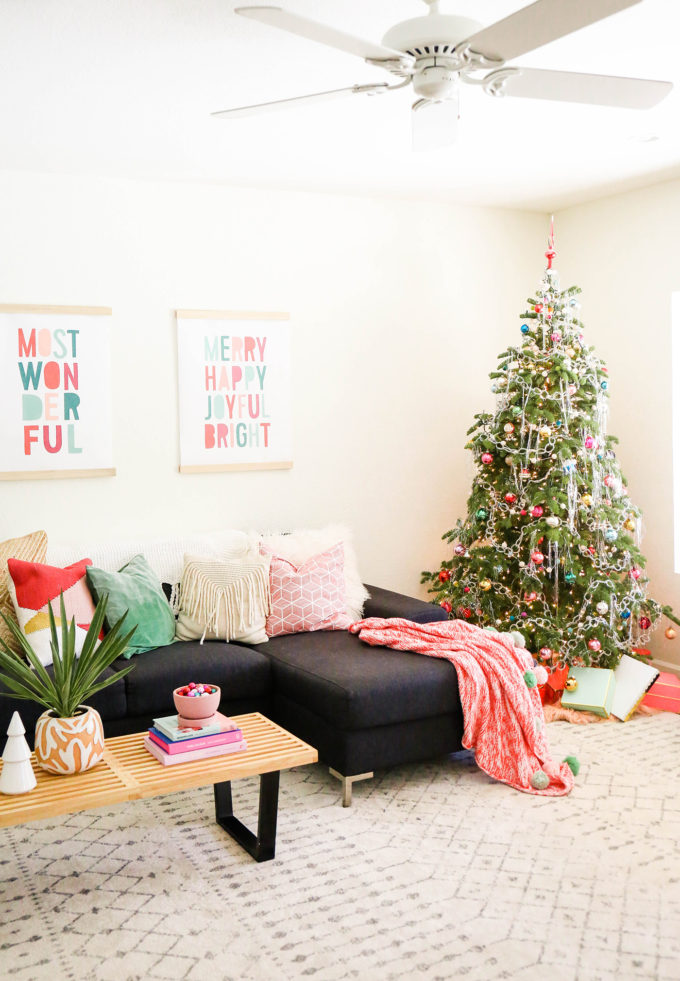 And then we stop at my magnum opus. Not really. Just my favorite tree. For the last decade plus, I've been collecting vintage Christmas ornaments and I can't wait to pull them out every year. This tree has kind of been a you-know-what this season as the lights went out! The entire bottom half! We like to buy one real fresh tree and this guy has put me through way too much since coming home with us. After posting on my stories all about how the tree was done, the bottom lights promptly went out. That meant that I had to remove the tinsel, then the ornaments, then the felt ball garland, then the silver pipe cleaner garland, and THEN the lights. Guys. Why do we do this to ourselves?!?!?!?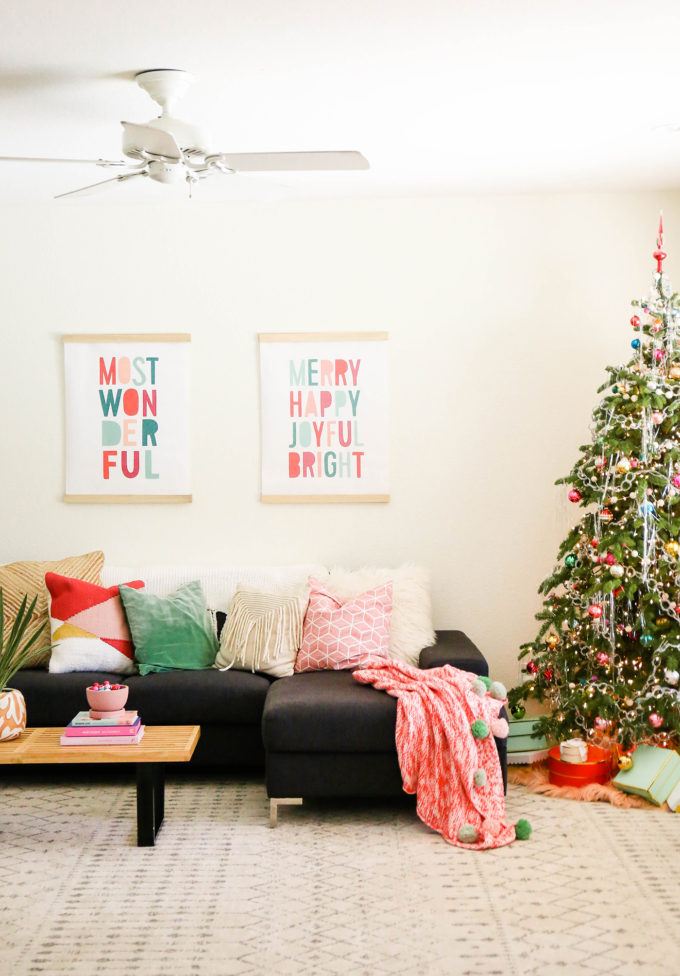 Oh, but wait. Then I look at pictures of the tree and lose all negativity. I'm a sucker. Those large prints are posters from Caravan Shoppe, too. They just deck all my halls during the holidays!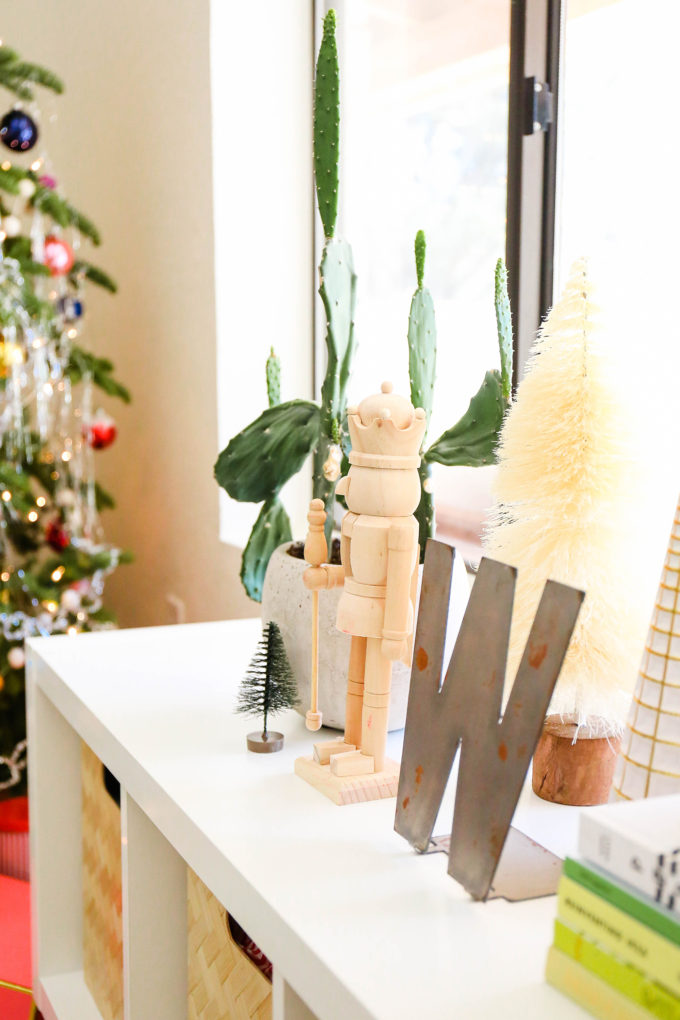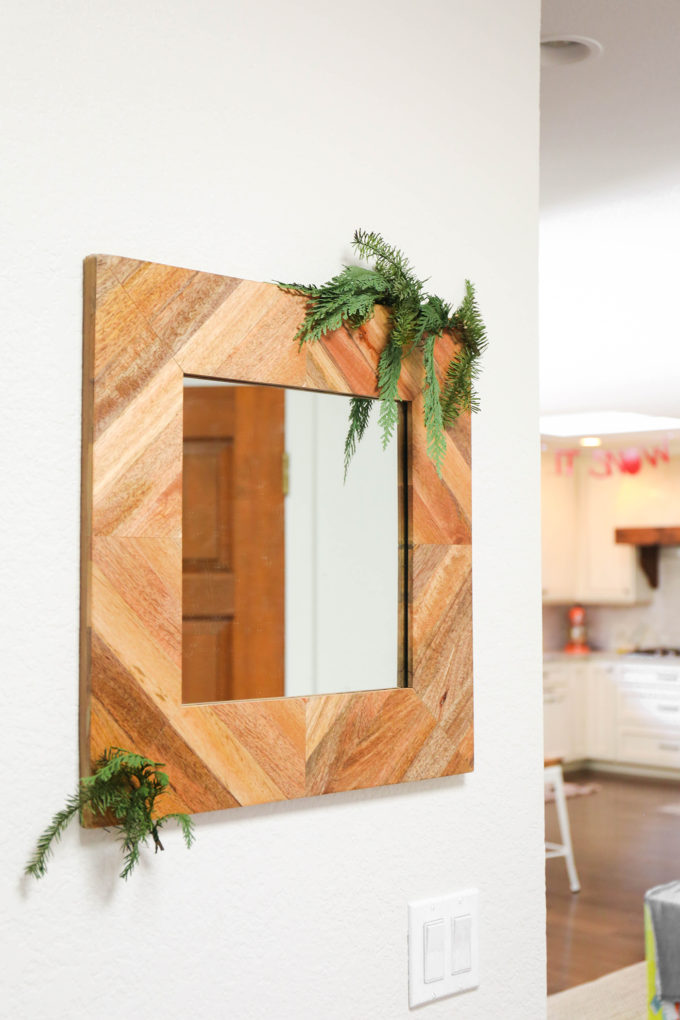 And then we come back here and put more garland on everything. I may need an intervention. Unless you need garland help, then you call me and we'll green up the place.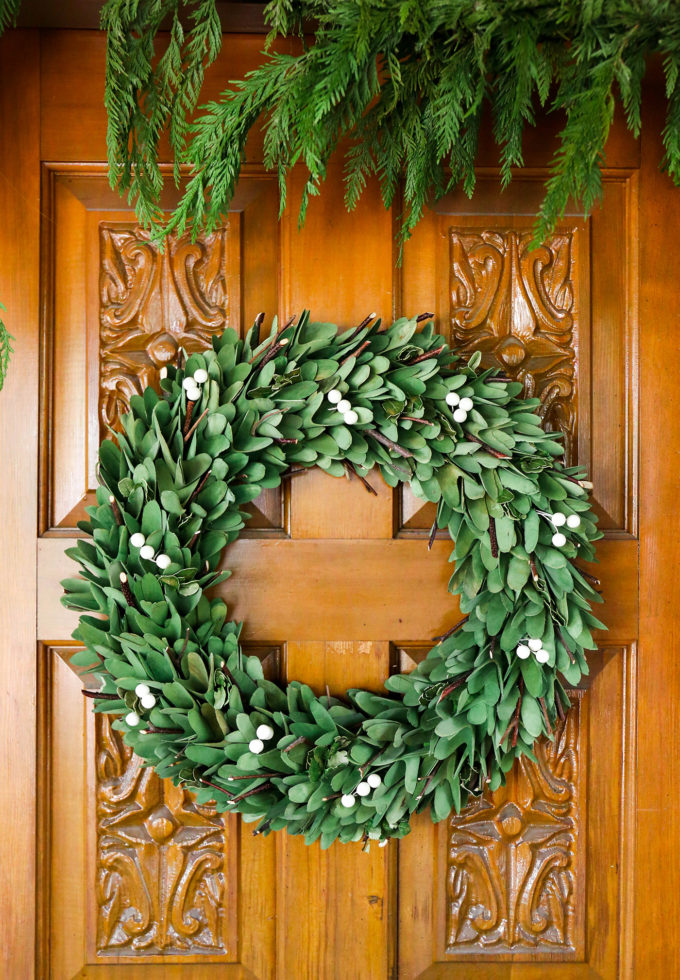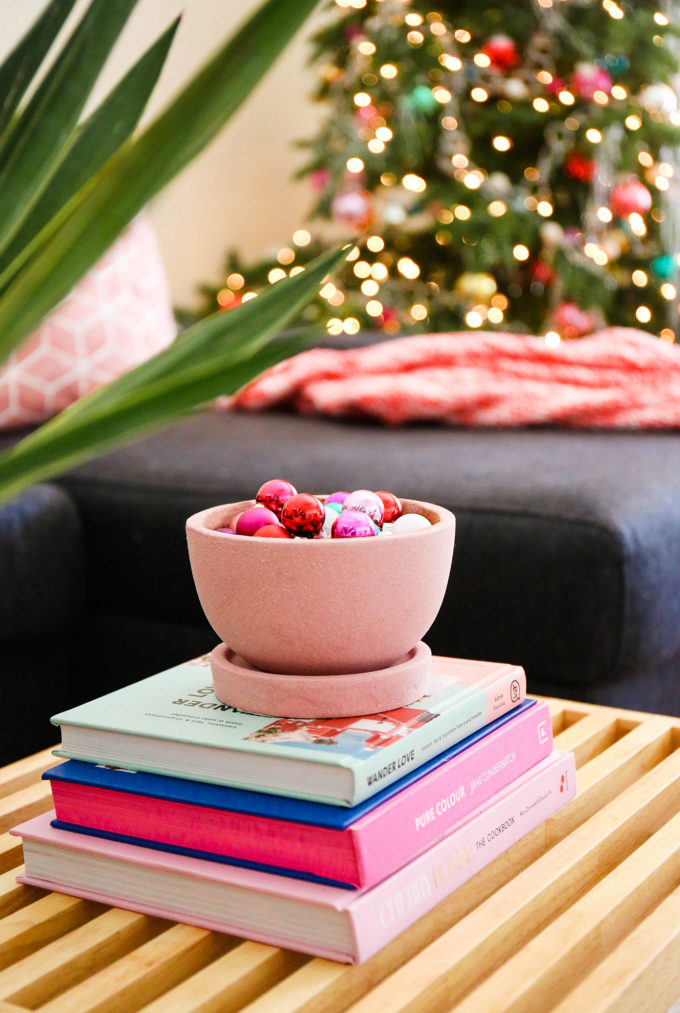 It's crazy, but there was so much more that didn't get done and I just had to really convince myself to just let it go. I have a hard time trying to fit in all my plans every December, but we are at the almost-end of the season, and I've just decided to be happy with what we've got and how things are. And I am. I always enjoy taking these pictures of our holiday home, so I can look back each year and see how things looked and remind myself what might need a change. We're always evolving, y'all.
Check out past holiday home tours right here – 2016, 2015!
photography \\ PROPER