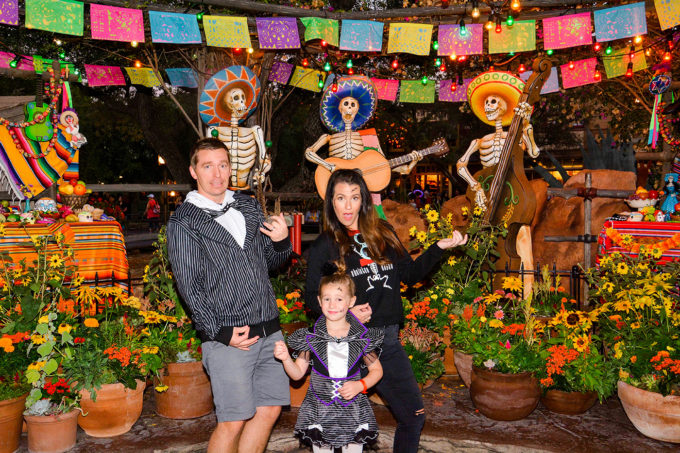 Alright. So it has taken me some serious time, but I'm finally sharing a little recap of our our family trip celebrating Halloween at Disneyland! I'll admit that writing this post was tough because every picture just made me want to get back in the car and drive to California. Wait. What am I saying??? WE WOULD FLY. Driving is not the way. Not with two kids. If you followed along on our stories, then you know that we actually got a flat tire while leaving the state. Never had a flat in my life, but sure! Why wouldn't we get one on our way to the best family vacation ever? That little detour tacked on about two extra hours as we needed a new tire, but all was well. (There was a Sonic Drive-In next door so mama got a Coke.)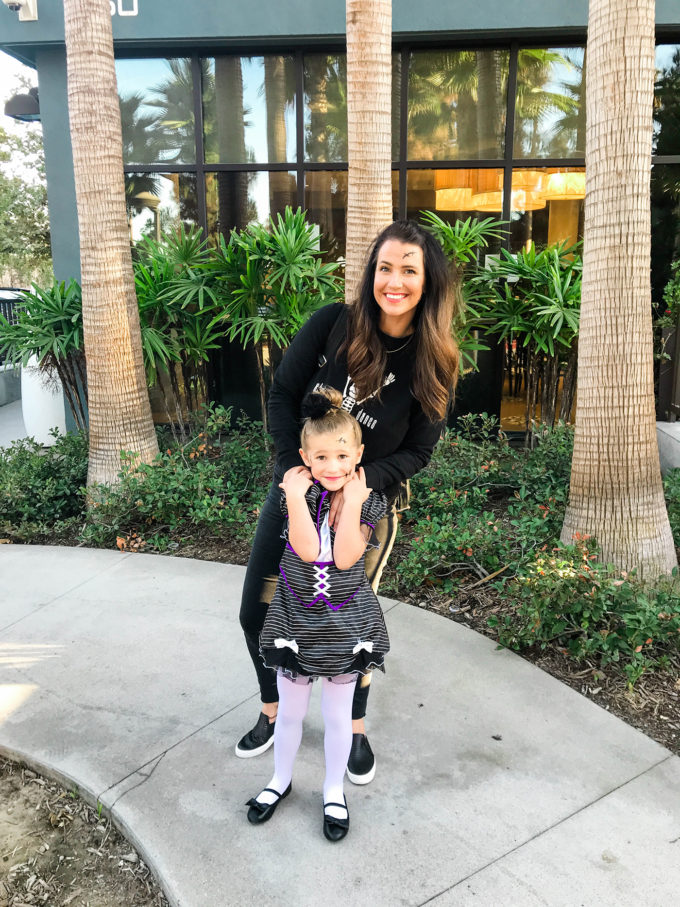 We couldn't get to California fast enough! We purchased tickets to Mickey's Not So Scary Halloween Party for the first night we were in town. We were traveling with my parents and siblings, so luckily, grandma and grandpa watched Mars while we took V on a little date! We look for any excuse to dress up, but because we were traveling, I couldn't go cuh-razy with our costumes. We had just wrapped up a Halloween shoot for Disney and had a few Nightmare Before Christmas-themed costumes and accessories lying around. So we packed those! I'm not embellishing when I tell you that V was the ultimate Jack Skellington cutie at the park. You put that costume on her and she was channeling Halloweentown. Once I drew on some stitches on her face (Mom! Give me stitches like you!), she was golden. I'll be reposting some of her funniest vids from that night over on my IG stories so keep an eye out if you missed the first go-round of those!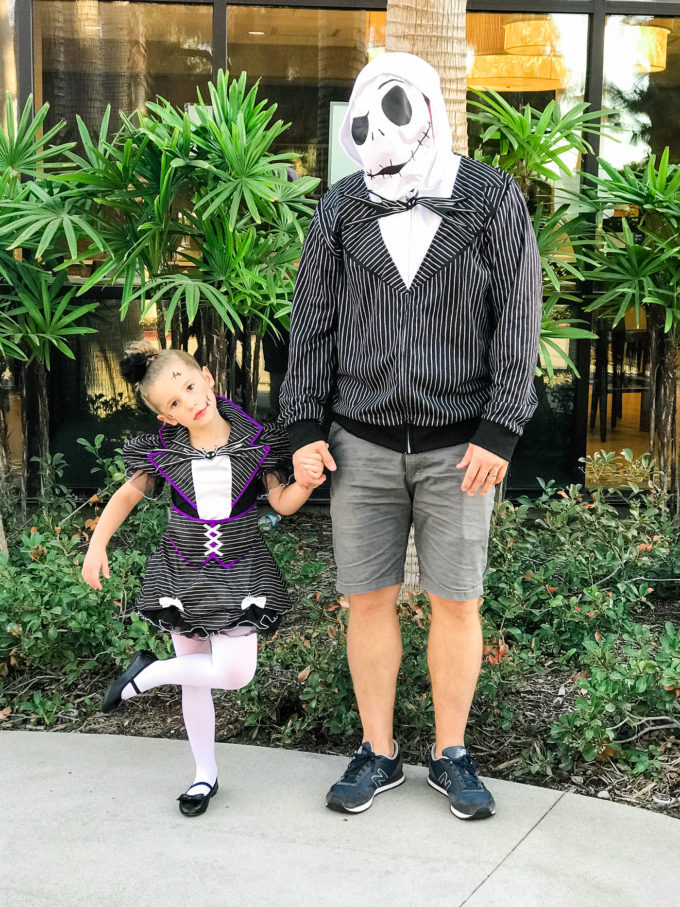 I just said, "be a doll." And this is her response. I love that kid.
Because I know you'll ask. Because it's totally awesome. Here's the link to V's Jack Skellington costume. She was SO cute. And it's such a unique look. Folks literally kept stopping us to ask about it. And you KNOW she happily obliged.
We received all sorts of requests regarding the things we had and wore that week, so I tried my best to put them all here in this post! My sweatshirt is no longer available as it was bought last year from ASOS, but here's a similar Witchin' version! If you think the sweatshirt is too hot, here's a tee with a ghost to be as chill as you like! And if you're looking for a low-key Jack Skellington option for the men in your life, Logan's Jack Skellington Hoodie (the mask is removable!).
I'm wishing I had these ghosty flats to complete the ensemble! We were the chillest of the chill that night when it came to our get-up.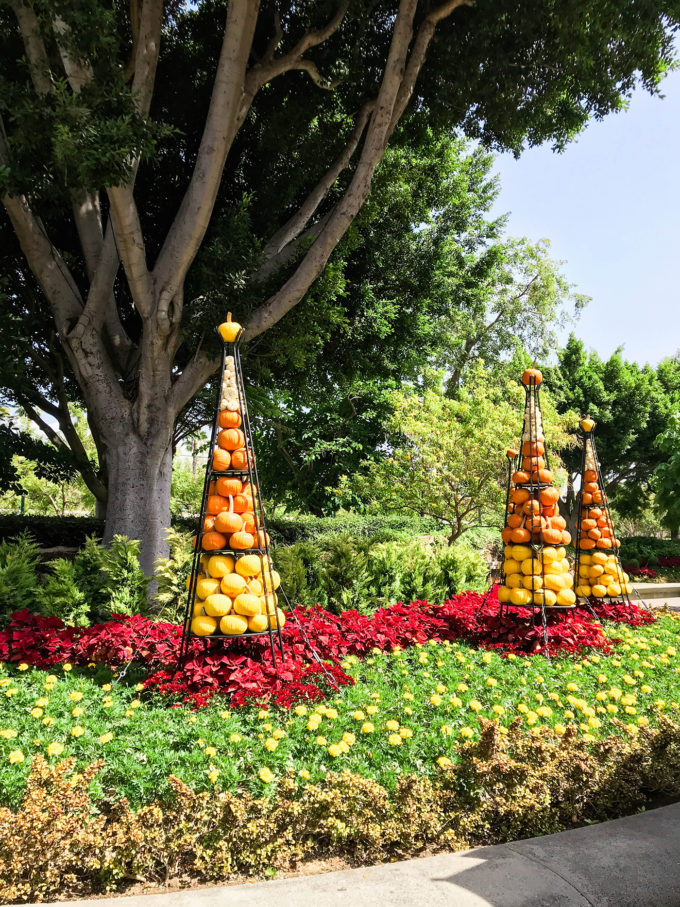 I've only been to Halloween at Disneyland one other time in my life. It's seriously so magical. I love fall. I miss fall. Living in Arizona, you kind of give up the seasons so this was such a treat to be in a land that was embracing Autumn at 300%.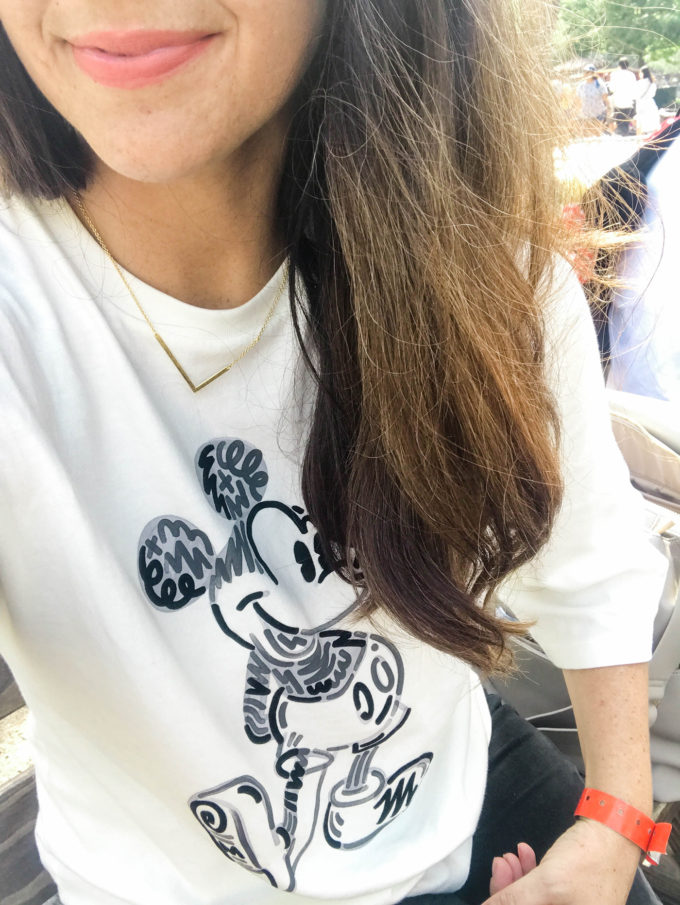 I was one of those moms that had to wear Disney as much as my kids. This Kids Love + Mickey Mouse white tee was one I could have worn all day every day. It's the wide sleeves. They just do something to a person that makes you feel so fancy even if you're wearing a cartoon mouse on the front of your shirt. I also happened to rock this pink Women Sounds of Disney Tee
the other days at the park. Moms need Mickey too, ya know???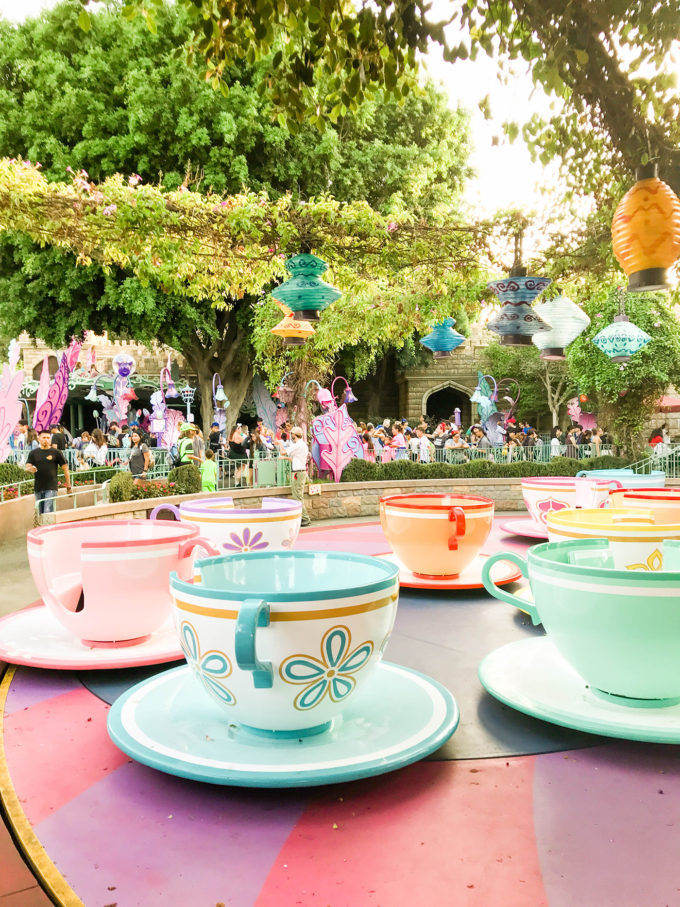 If you ask V what her fave ride was, she'll say either Indiana Jones (which I'm certain was her actual fave) or the teacups. I've never been one for spinning drinking vessels, but I will admit that they're super cute.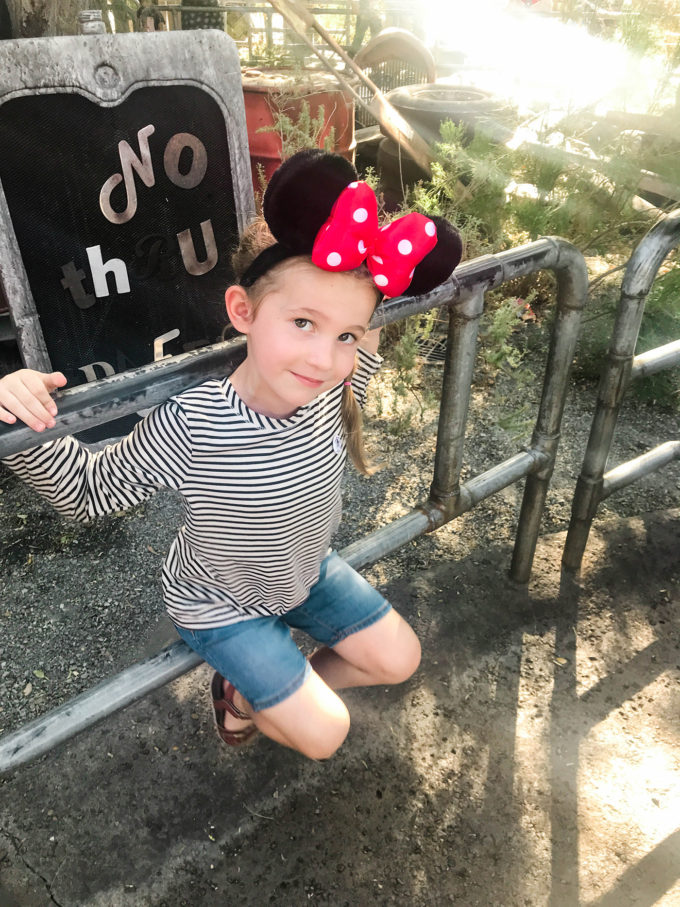 Her very first pair of ears. And she wears them like a champion. Seriously. How does anyone at Disneyland accomplish anything when cute kids are running around?!?!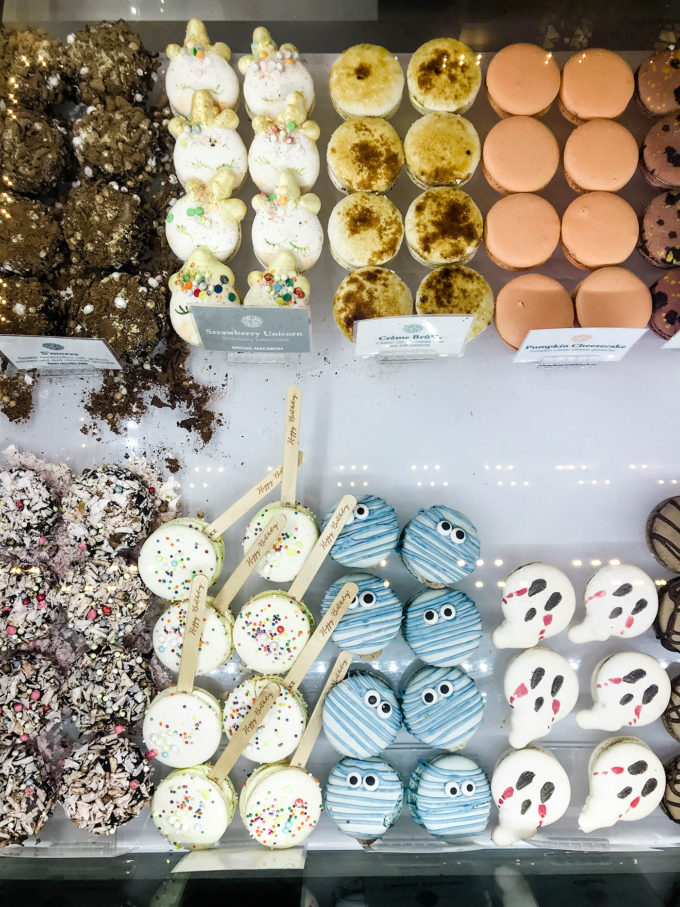 Logan went for the rides. I went for the food. This macaron cart in Downtown Disney may have just been my fave snack stop. She also had mini cakes in acrylic boxes and I was this close to buying them all. I'm thinking we may need to Halloween-ify our most recent macaron recipe, yes?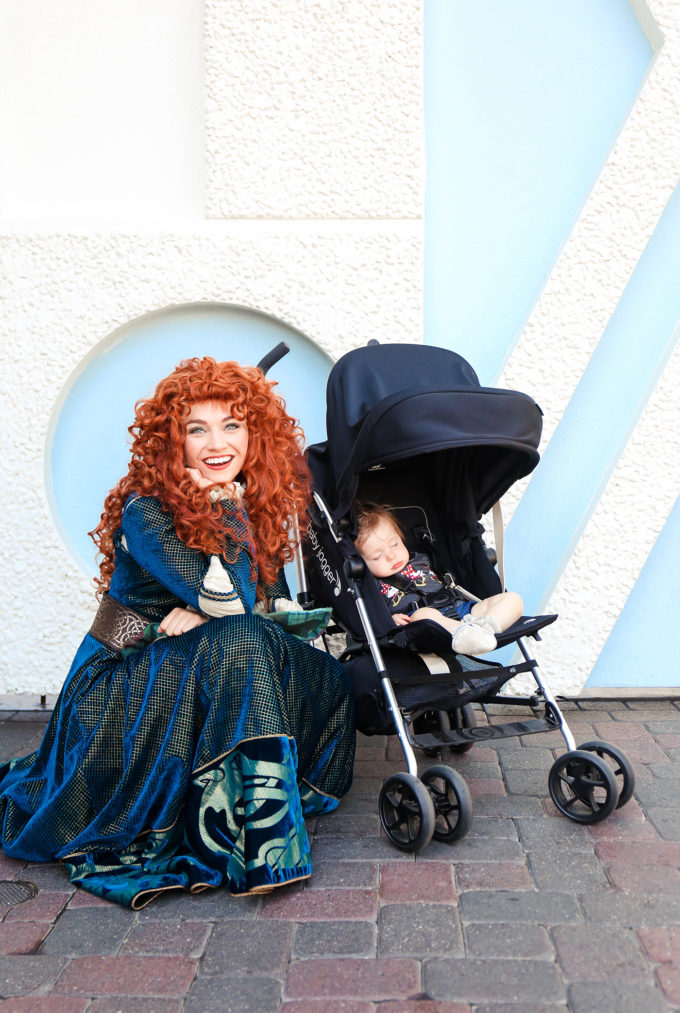 While Mars was sleeping…
I'm also a little dead at the amount of red in Mara's hair here. Is it just me? Is it just Merida?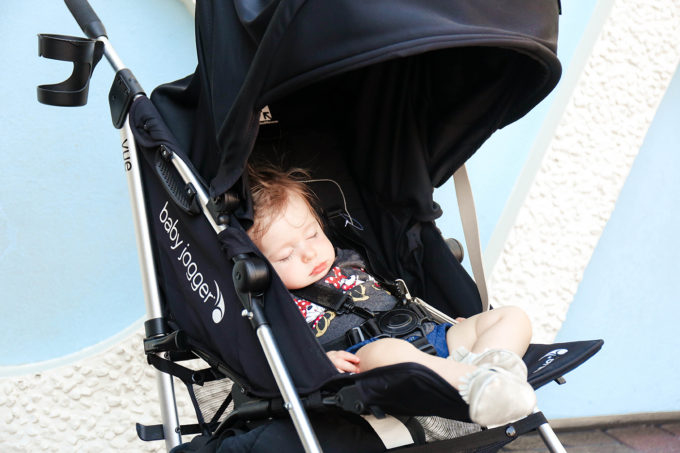 And if you're wanting a mini Minnie Mouse shirt for your girls, Mara's is found here! (other sizes available)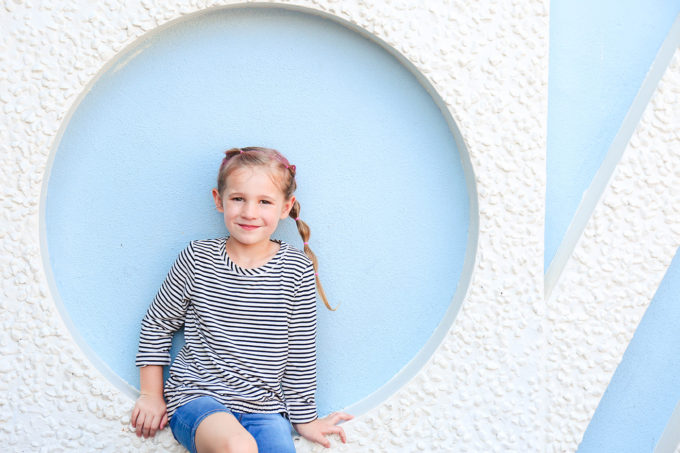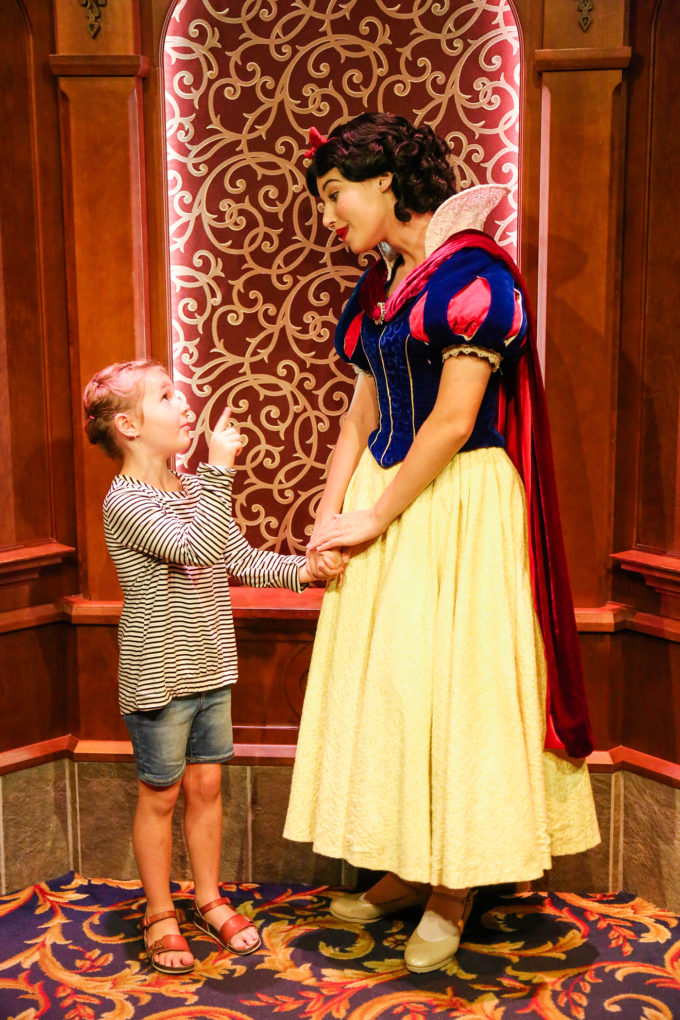 This is just a 1% glimpse of Vita's princess-meeting experience.
Snow White: "What has been your favorite part of Disneyland so far?"
Vita: "Meeting you."
That's right. Suck up to her. You do you.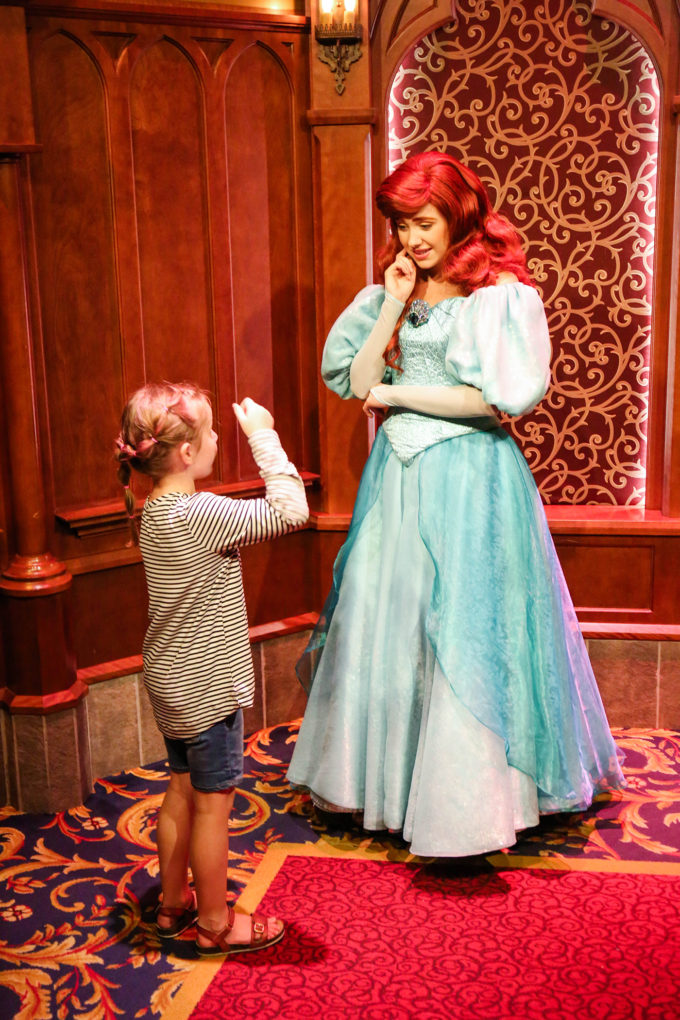 Ariel: "My, your hair is very beautiful today! Did you brush it with a dingelhopper this morning?"
Vita: "Well, in the regular lands, we use hairbrushes with parts with handles that we use to brush our hair with."
Ariel: "I think Prince Eric uses one of those! He uses his dingelhopper to eat food."
Vita: "But, Ariel, in regular lands, people don't call them dingelhoppers. They are actually called forks."
Bless my daughter's heart.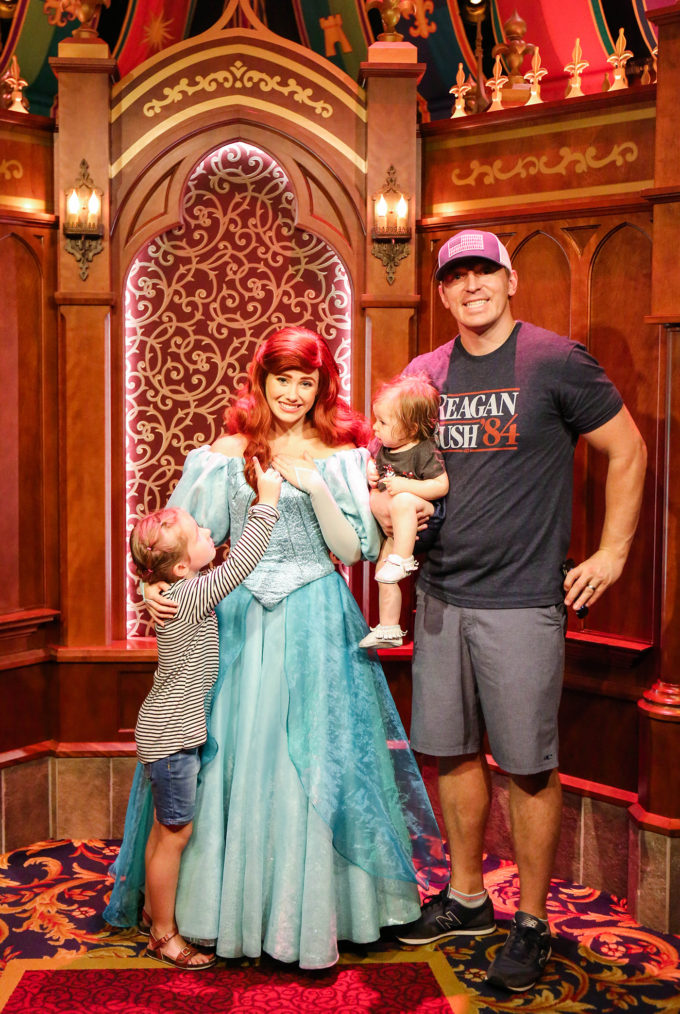 And try not to look so jazzed about meeting Ariel, Logan.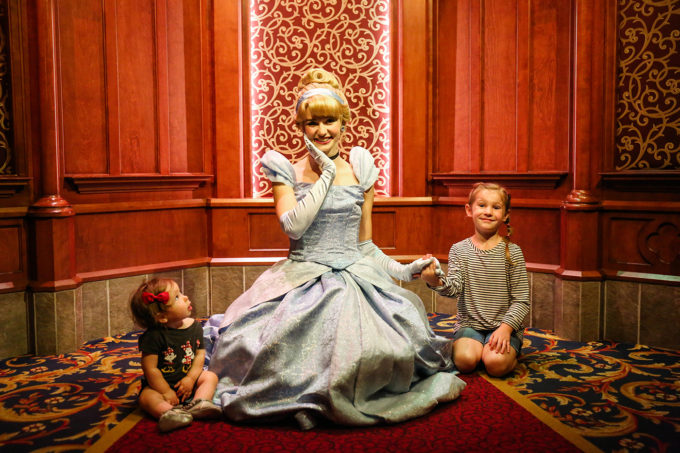 Aside from sticking Mara on the floor where she can crawl around and put things in her mouth, this picture has my heart.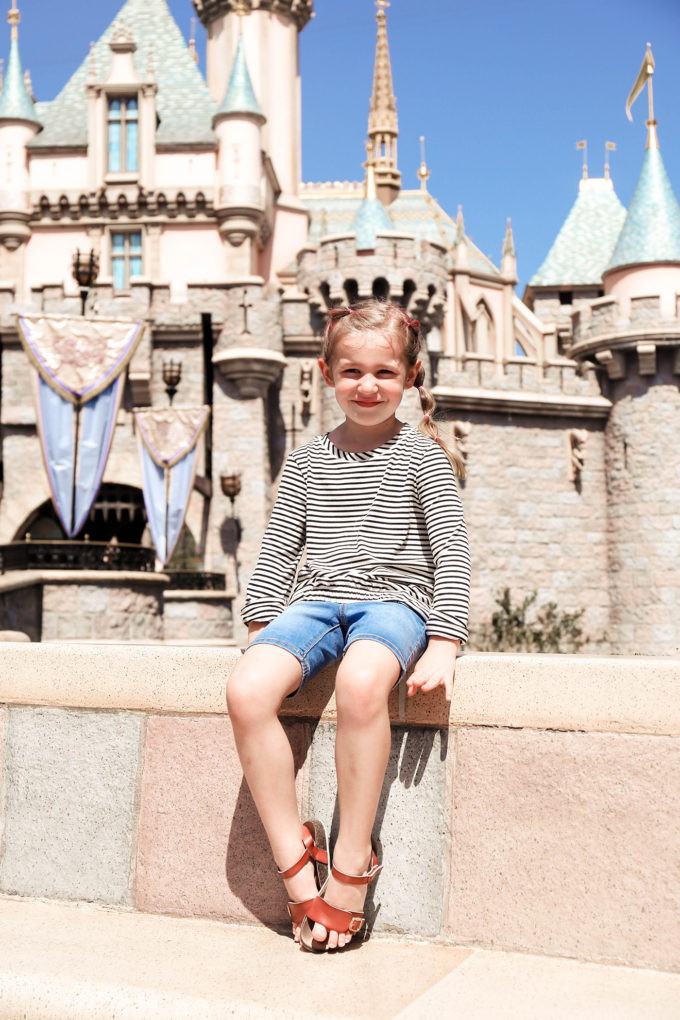 This girl. She's the greatest and the hardest at times. This last year with the arrival of Mara wasn't easy on her. She's been cared for by friends, family, neighbors, and teachers. It takes a village. And although the addition of a baby sister wasn't a normal one like it is for most families, she made the transition marvelously. There were times that I felt I couldn't go on. I felt I was letting her down. And believe me, there were times that I'm sure she felt that too. But she exercised sooooo much understanding and maturity. She blows me away. We wanted to do something special to make it up to her, and I feel like this trip was just the ticket. If I had the financial means, we'd be at Disneyland every day.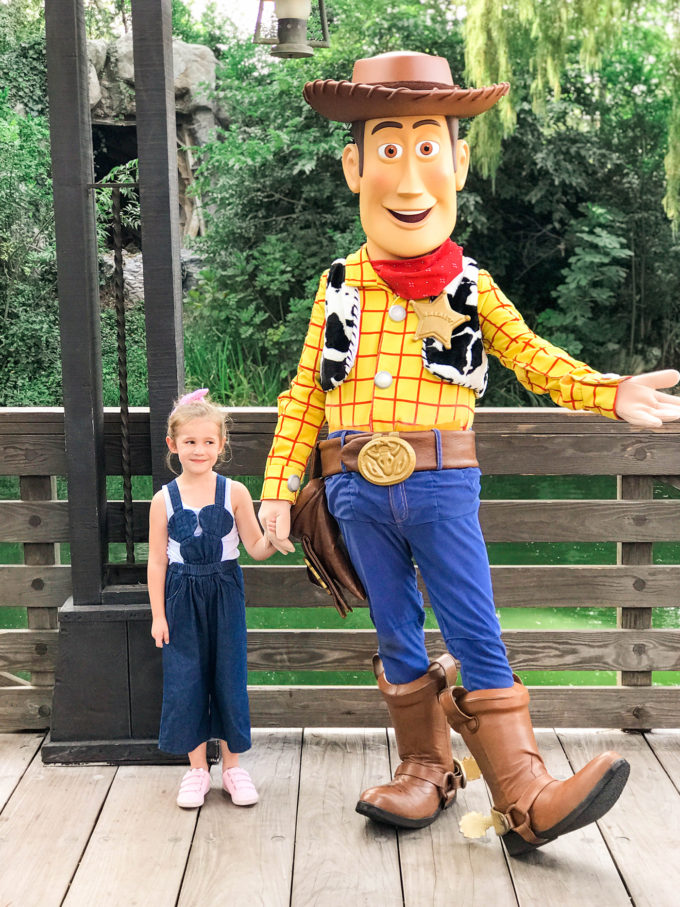 Woody! He heard all about the Toy Story party we had at our house a few months ago "for Mom's work"!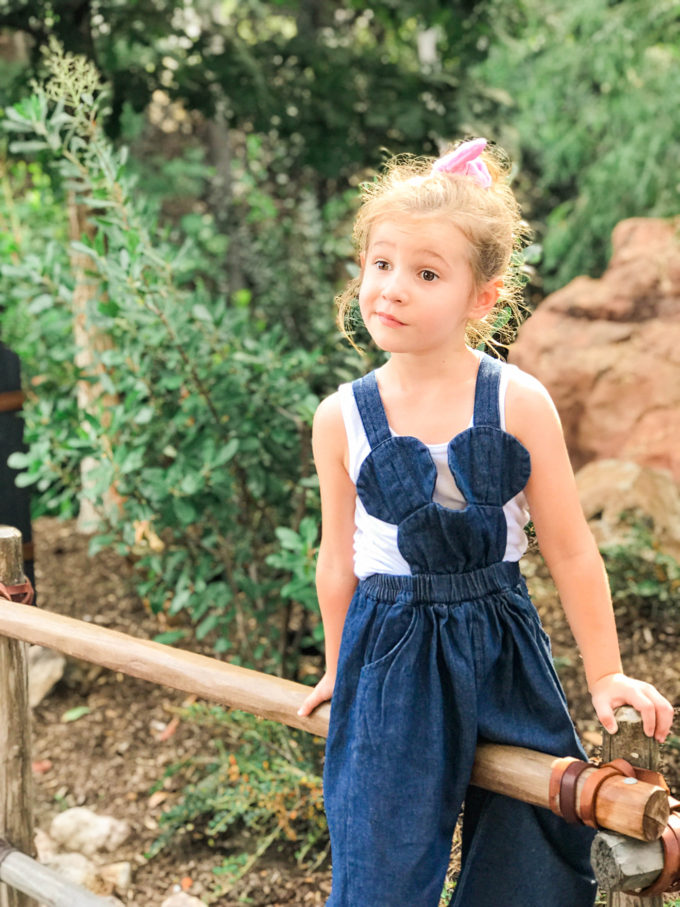 The overalls.
They were the hit of the trip. Honestly. If she could have worn them to the park every day, she would have. They're such a fantastic quality and I may be wishing there was an adult chambray version. Huge props to my friend Bri for clueing me in on these bad boys. We received about a bajillion requests about the overalls and here they are in all their glory. I kind of want to frame them when she outgrows them. Which is basically tomorrow because she's a weed…
If you're in the market for some pink hightops, (hers vintage H&M – similar found here!)…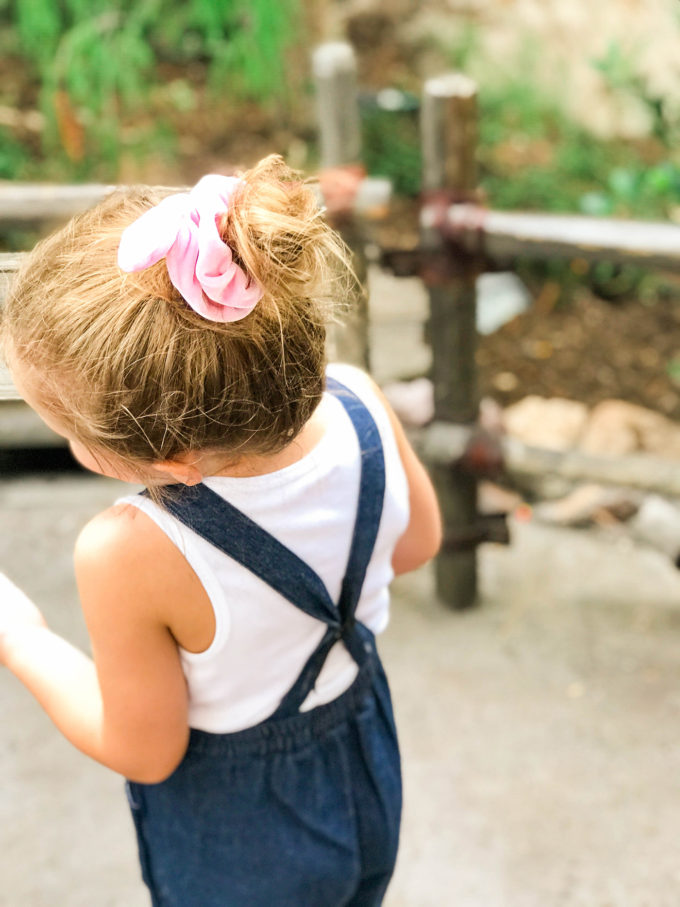 Now let's talk about something serious. Every parent I spoke to before the trip said I needed to be prepared. I needed to pack snacks. Extra clothes. Water bottles. Hand sanitizer. Wipes. Diapers. Snacks. More snacks. And more things. There was a lot that needed to be brought into the park to not only accommodate Mara, but my other two children as well (Lookin' at you, Vita and Logan). I had searched the internet high and low for something that would work and came upon the beauty created by the kind folks at Mina Baie.
Behold:  The Mina Baie Kinney Backpack.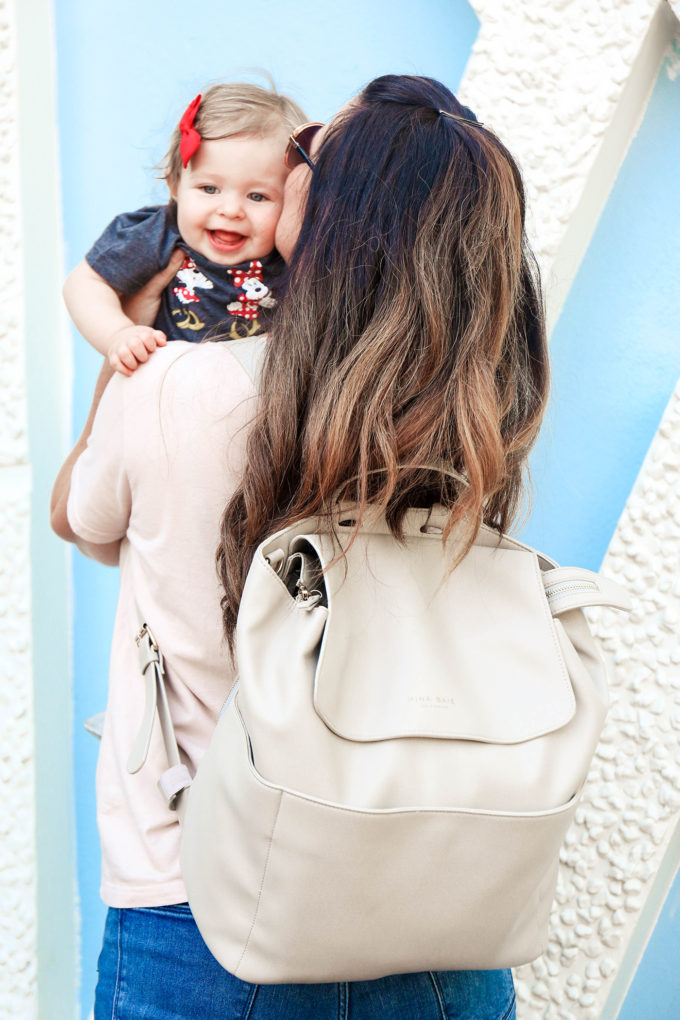 You wouldn't believe the amount of stuff that I'm carrying in that backpack. Let's not forget that I am a diabetic and needed my own supply of snacks, insulin, and blood glucose testing supplies. Everything fit. In that backpack. And it was all so organized. The bag-checker-guys at the front (technical title, I know this.) commented multiple times on the size of my bag and the organization found inside. I beamed with pride.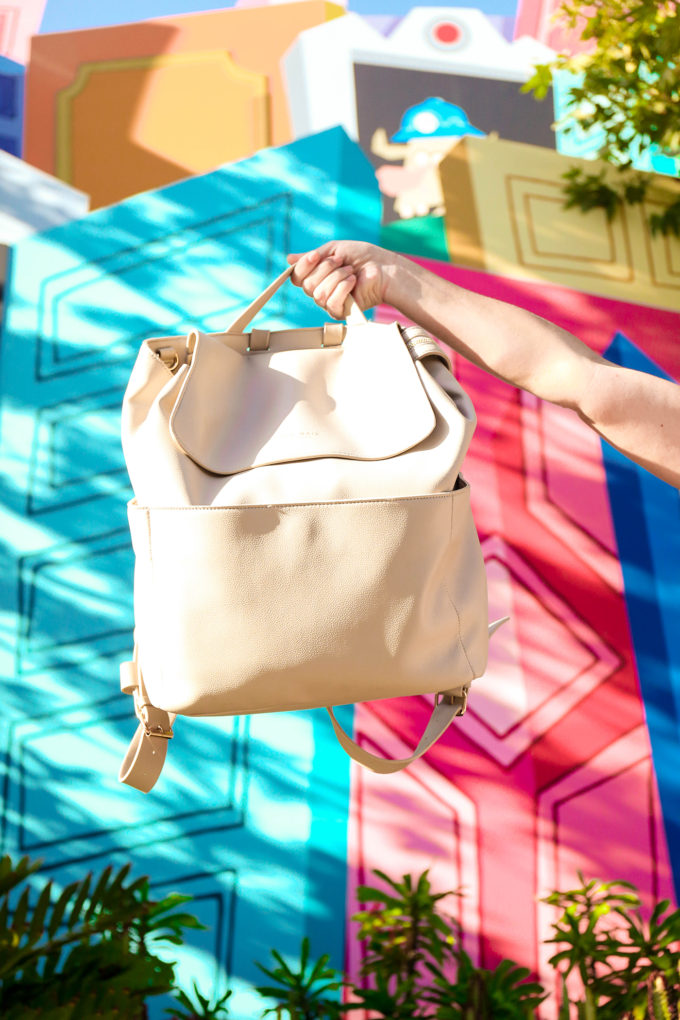 A full frontal shot so you can see it in all its glory. Pockets inside. Pockets out. Gold hardware. Back straps. Grommets on the bottom to lift it just enough off the ground. And vegan leather to wipe down at the end of each day. I'm still rocking it to this day and have no plans to retire it anytime soon. I'm not earning any kind of commission for saying this, but I just want y'all to know that THIS IS THE BAG. If you carry a lot of stuff, and don't want to look like you're carrying a lot of stuff, and you want to do it effortlessly and stylishly, here ya go.
End PSA. ?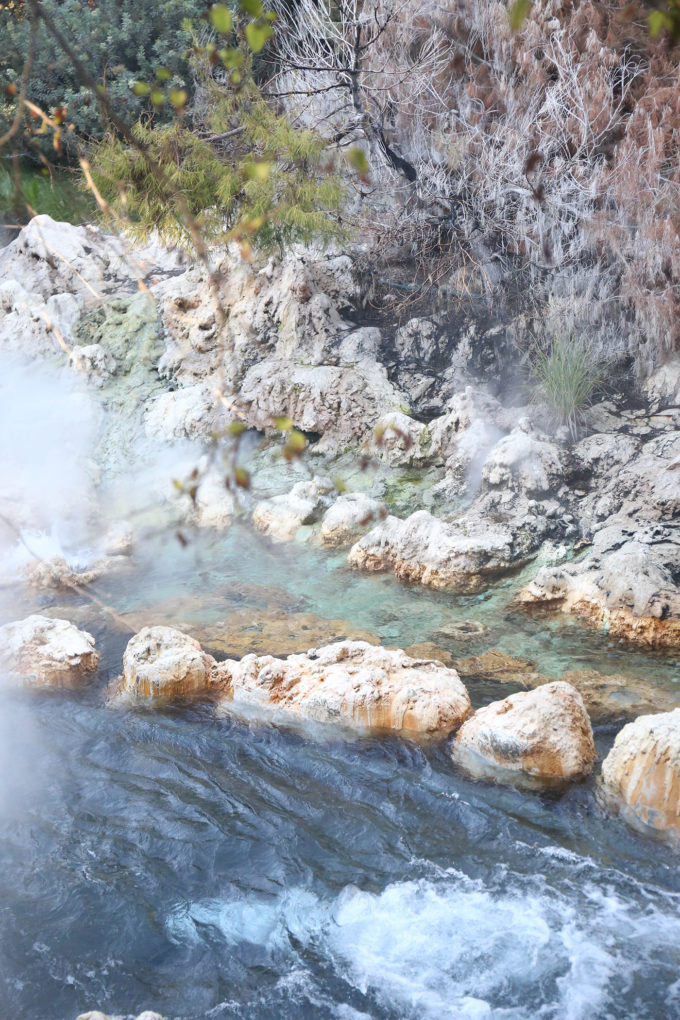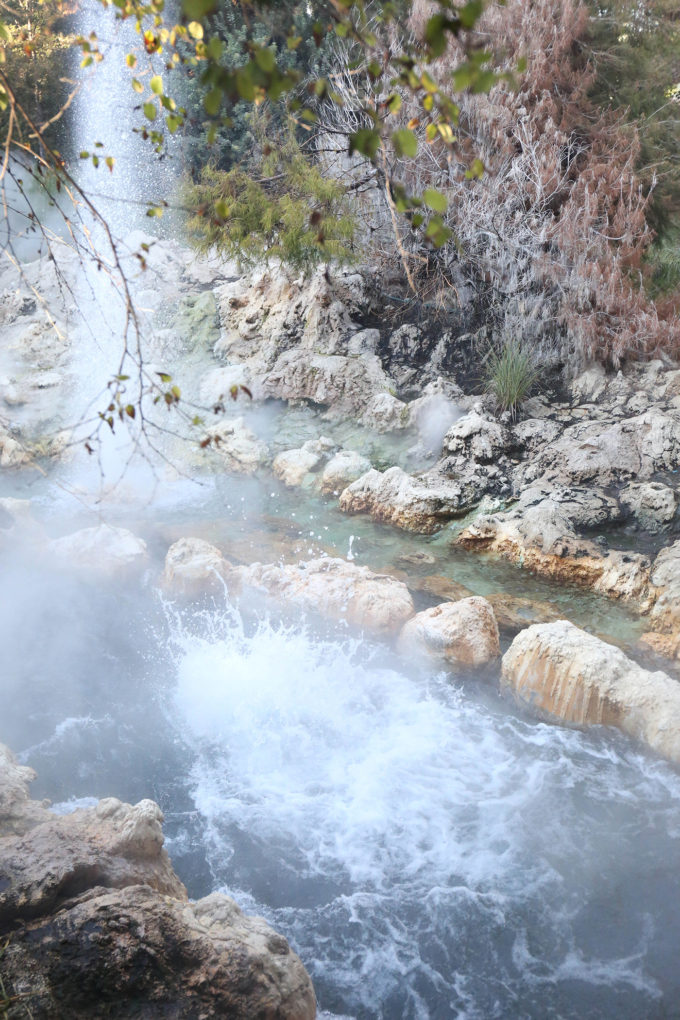 At the end of the last day, our final ride with V was Grizzly River Rapids. And you better believe she entertained everyone in our little boats. She rode it twice. Once with me. Once with Logan. Thanks for working out a parent fast pass system, Disneyland. You saved our butts.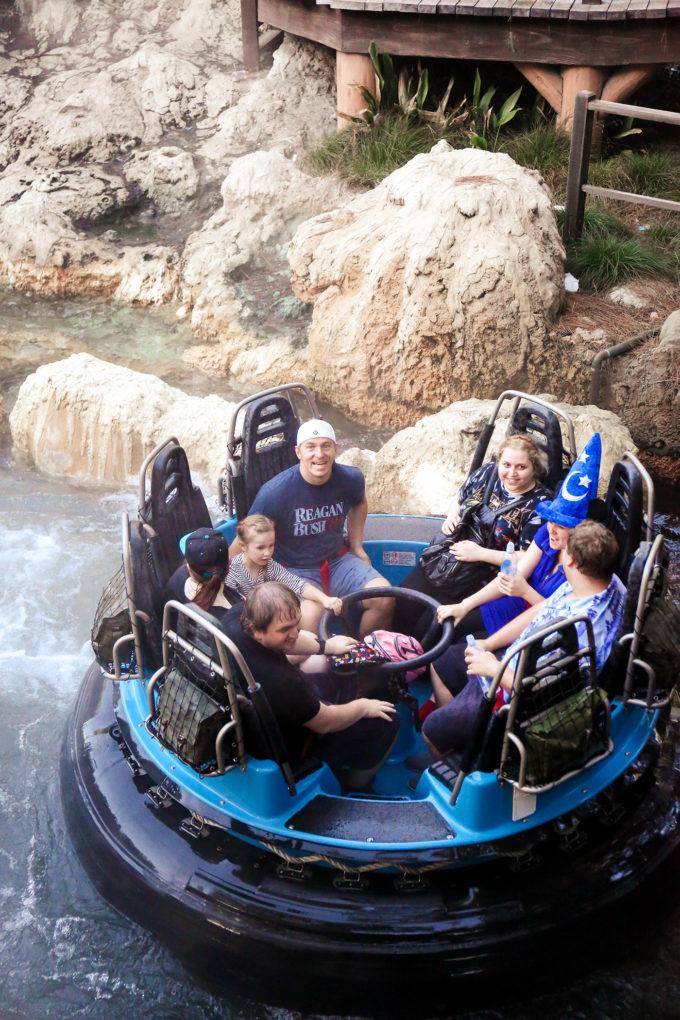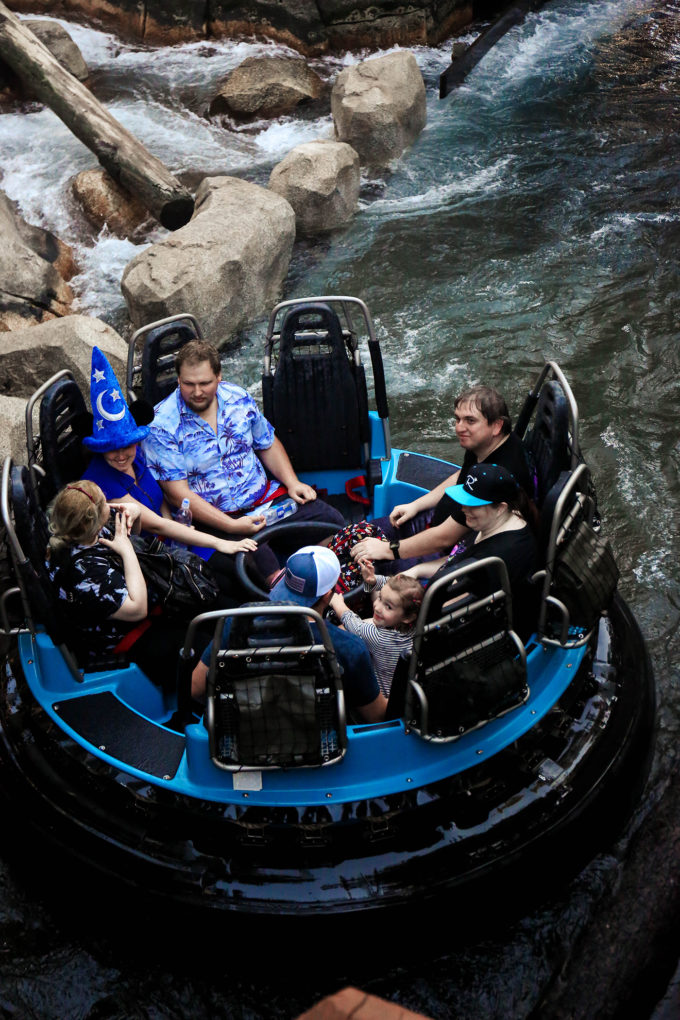 I spy a smile!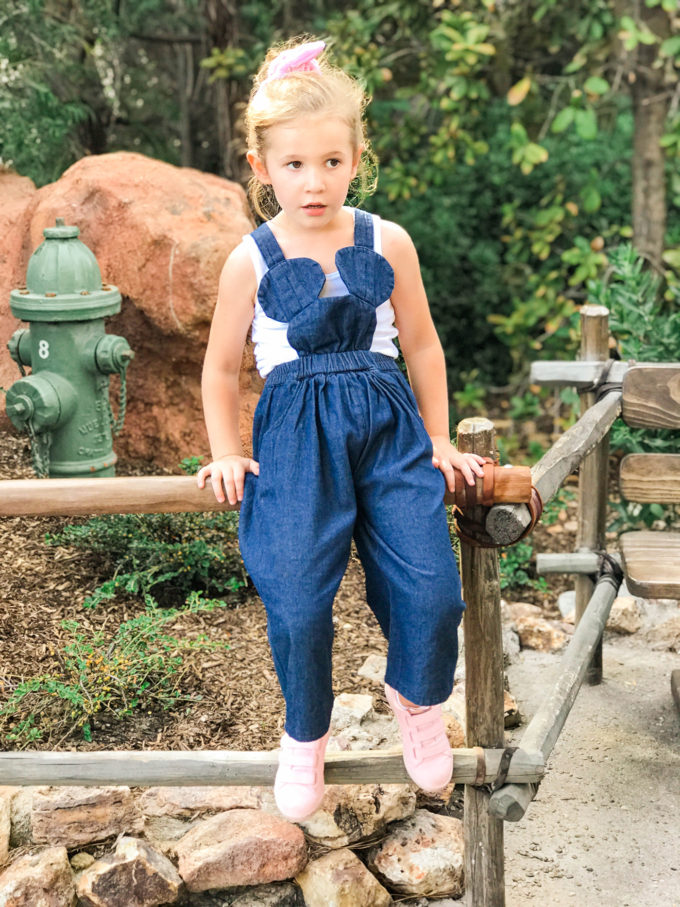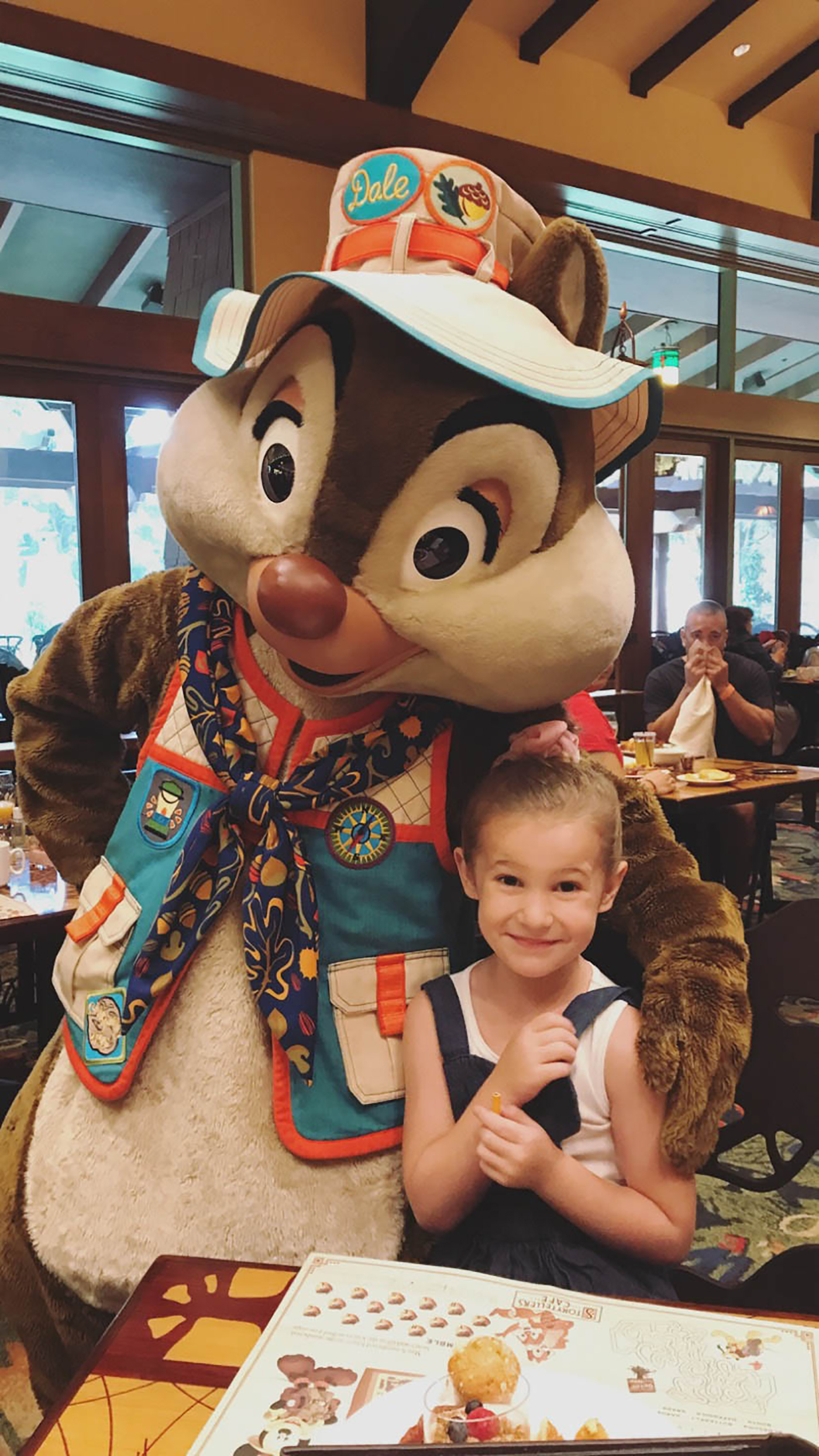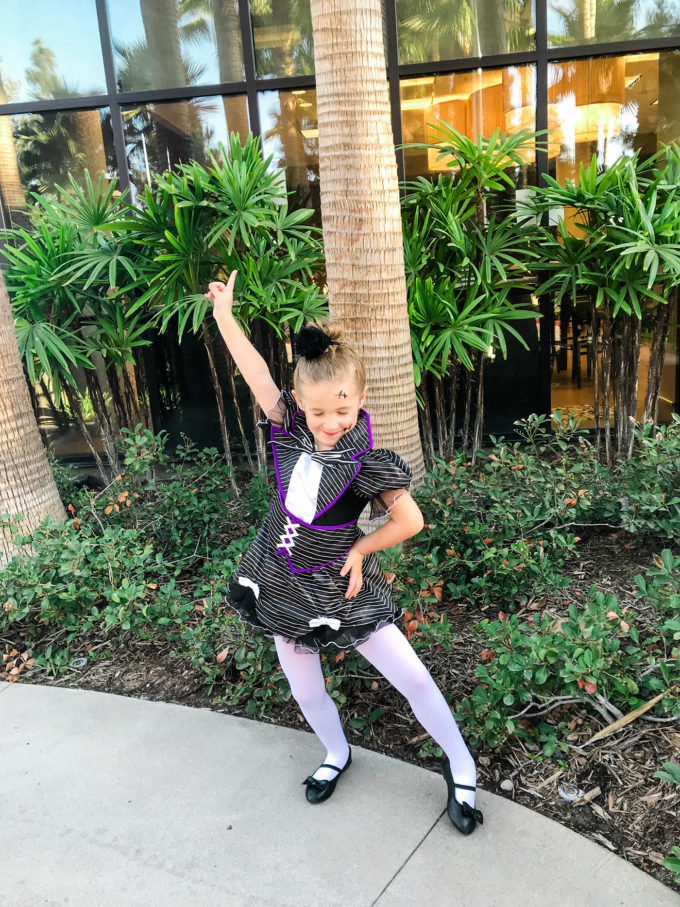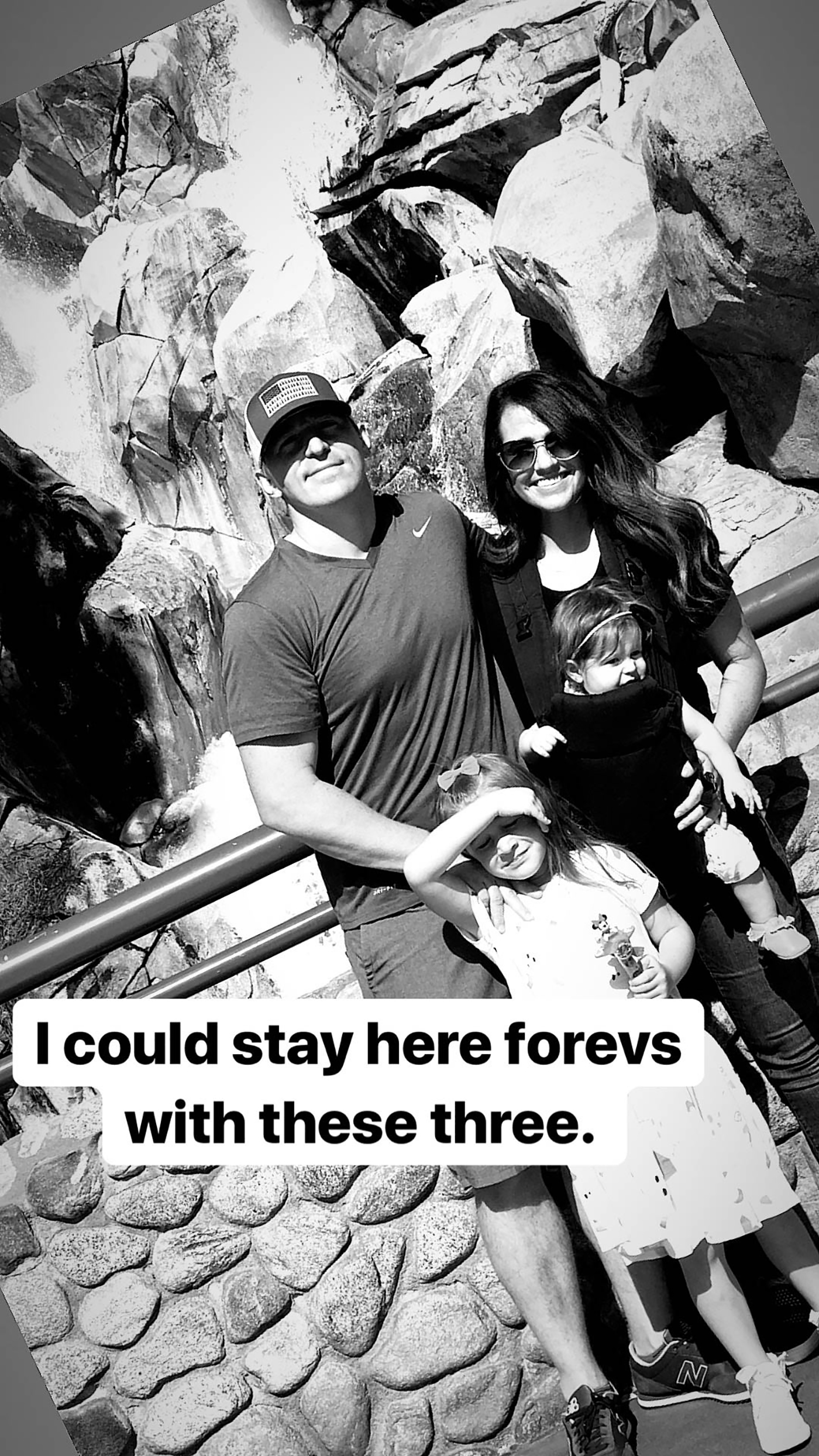 There's obviously so much more that happened in that week. And we shared above and beyond in IG stories. It's kind of an epidemic when we travel. We did the Halloween party. The character breakfast. The princess encounter. We tried to pack in as much as possible in three short days. And I'd do it all over again. We're already working out a plan to go back next October. I'll be waiting with baited breath for Mickey's Halloween party tickets to go on sale. That was the ultimate. If you're considering it, and are on the fence, get off the fence and freaking do it. You won't regret it.
What are some of your favorite must-haves-must-sees-must-dos when visiting Disney? I'd love to hear your tips and tricks for visiting the parks! 
photography \\ All photos by Lexy Ward