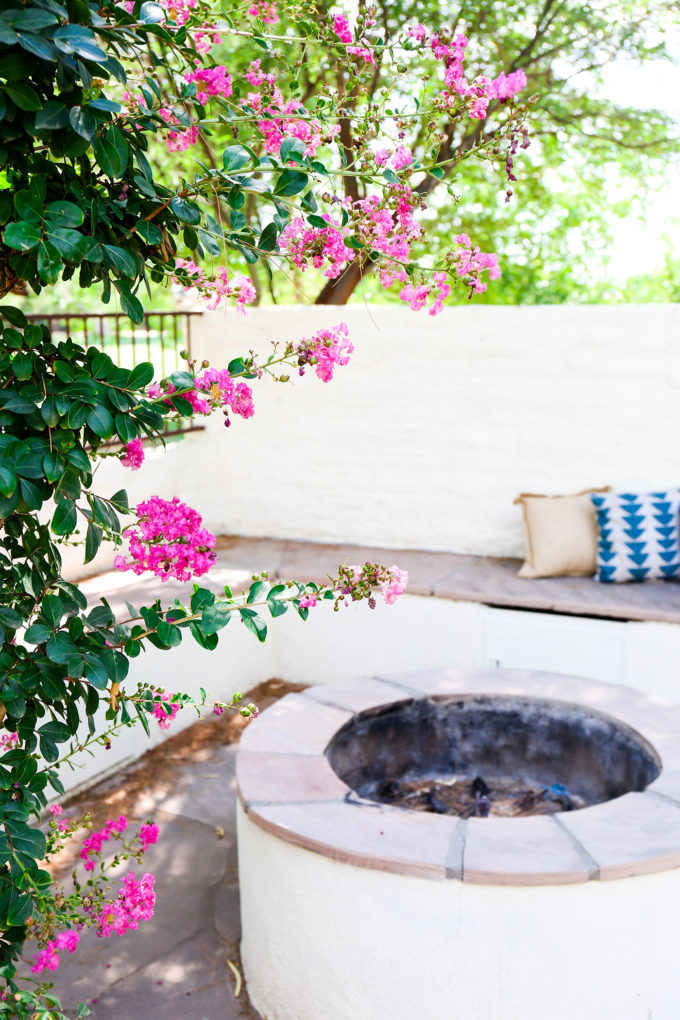 Holy smokes! Talk about an extended unintended blog vacation! Guys, so much has happened in these last few weeks that we've been hush-hush about, but NO LONGER! We've got lots of posts and stories coming your way today, tomorrow, over the weekend and next! Starting with the news that we bought a house! I can't even tell you how good those words feel to type out. We've rented our entire married lives (9 years) and while, before, that was always the better fit for our ever-changing situation, we always knew we were missing out on something special.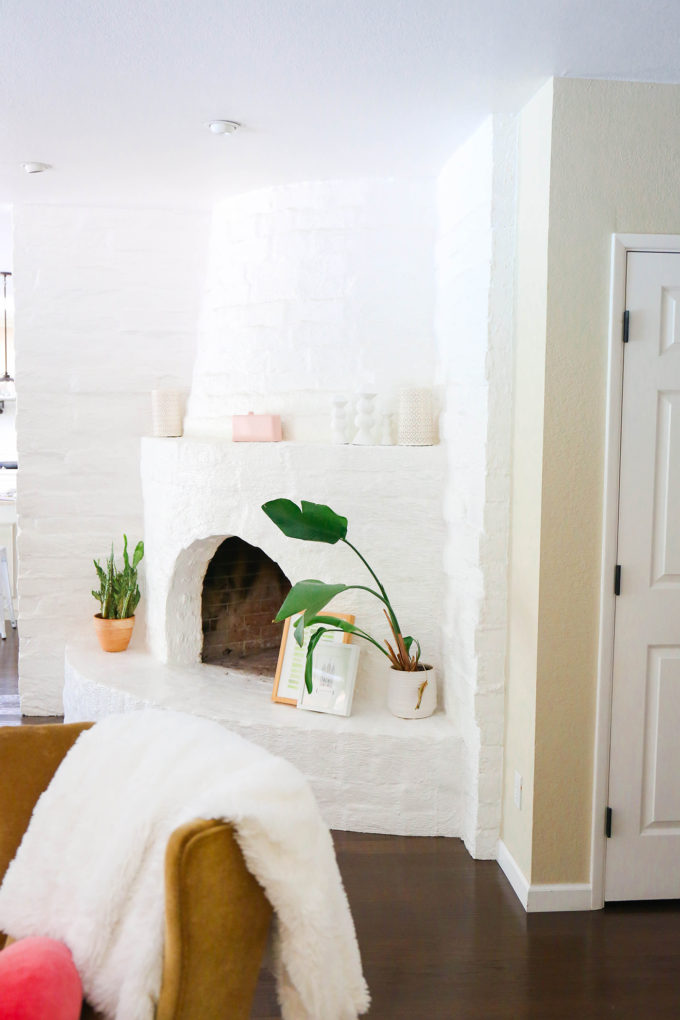 After relocating from Denver to Tucson 2.5 years ago, we realized that the potential to own a home was a much more affordable reality than we originally thought. We've been a bit obsessed with a certain neighborhood ever since we came here and felt like we knew a lot of the neighbors because we frequently drove by gawking and drooling over their homes. I know. We're total stalkers. Anywho, a few months ago, we happened upon a few homes in the neighborhood that were for sale and two happened to catch our eye so we just said, "hey, let's be crazy and just schedule a showing." It really happened like that.
The first home we saw was gorgeous. Amazing backyard, it even had a home security camera kit wireless! Amazing front yard. Beautiful exterior and some updates inside the home that I knew I would want to do to our forever home eventually. We totally fell in love with it, but we felt the price was a little too high for us, and we decided to make an offer on the other home. The second home was more affordable, didn't have as much of the updates we wanted, but we knew that we could arrange for that all to happen over time. It felt abitlike settling, but we were still very happy with our decision.
Fast forward 24 hours after submitting our offer, the owner of the first home called and said he would love to work something out with us. He really wanted a young family to move in and utilize the beautiful property he had created for his children. And here we are about to grow our family! But we had already submitted an offer on the second home! **How DO all you homeowners deal with the stresses of home-purchasing?! My heart was not made for this!We wanted to submit an offer on the first, but felt that we needed to see what happened with the home we had originally submitted an offer for. As luck would have it, the homeowners decided not to sell their home and instead decided to renovate it to their liking. Something finally worked out our way!
We quickly submitted an offer on the first home (you still with me on which is which?) and it was accepted, we went through all the hoops of inspections, and insurances, and all that extra paperwork that takes years off your life. We officially moved in one month ago and feel like we're finally ready to spill the beans!Finding a removal company was incredibly hard though, there are so many that you could pick from such as one like Shiply, but finding the right one that works for you is the thing that makes it difficult. Be prepared, as moving is not an easy thing and there may be some tears and tantrums but I promise you that it is worth it. We're now dreading the day that we potentially decide to sell our beautiful home, mainly due to the stress it will give me! If we do sell this house I'm going to make sure that the process is not as long and drawn out as it is buying. A friend of mine recommended going to an independent home buyers such as We Buy Houses, as apparently selling is a much smoother affair that way!
Unfortunately, on the day that we had scheduled to go and shoot photos of a clean and empty new house, the previous owners were still loading up the last of their stuff. So we didn't get to take those beautiful nice photos you see. HOWEVER. I pulled a few from the listing to show you sneak peeks (you can totally tell they're quality shots in that collage. haha!) and then managed to snap a few myself.
What we love most about this house is the amazing property it rests on. Being from Idaho and Utah, Logan and I grew up in homes surrounded by mature trees and grass, and our new home feels natural and familiar to us because of all of the vegetation that surrounds it. We don't feel like we are living in the desert when we step outside. The trees are actually lined with burma bridges, zip lines, and an assortment of swings for our kids to play on. Can you see why we fell in love with it?!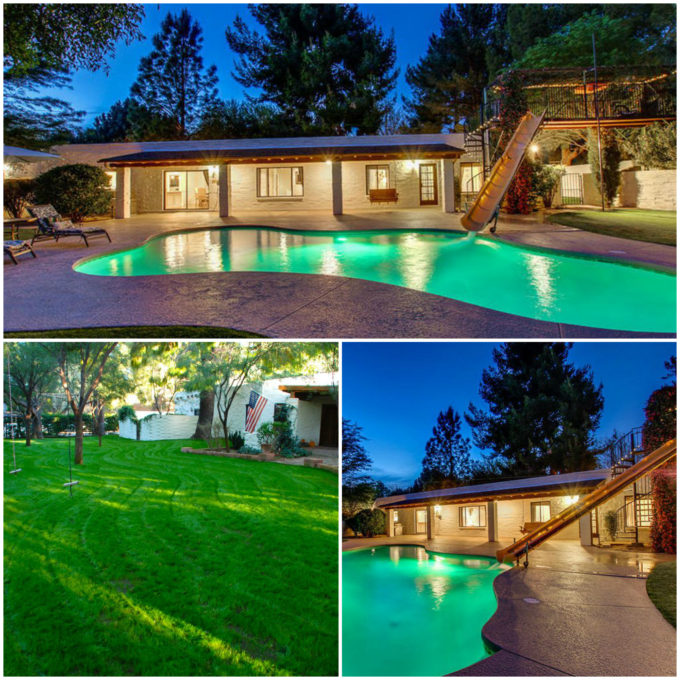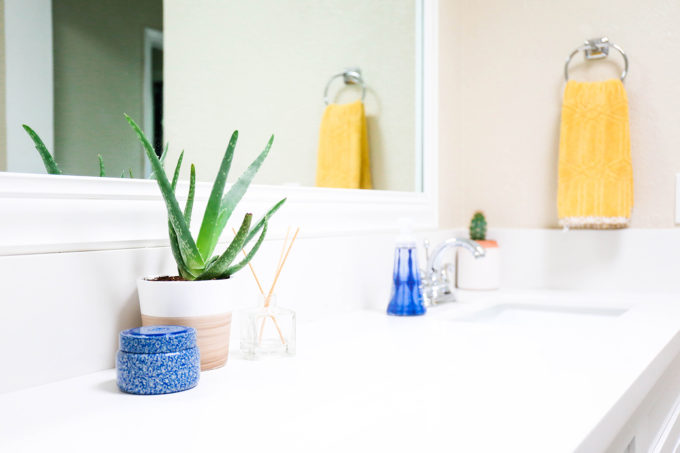 We have lots of updates planned for the space, and we'll be sharing it all with you every step of the way! The first thing we decided to tackle was the guest bath and you'll be seeing how that all went down tomorrow. So come back, ya hear?!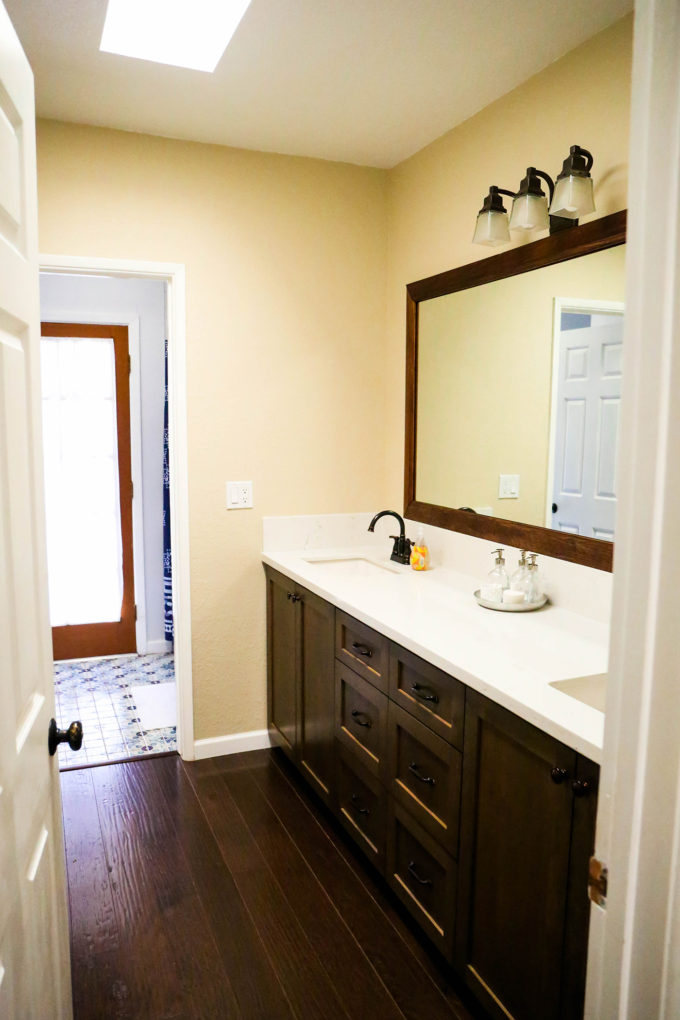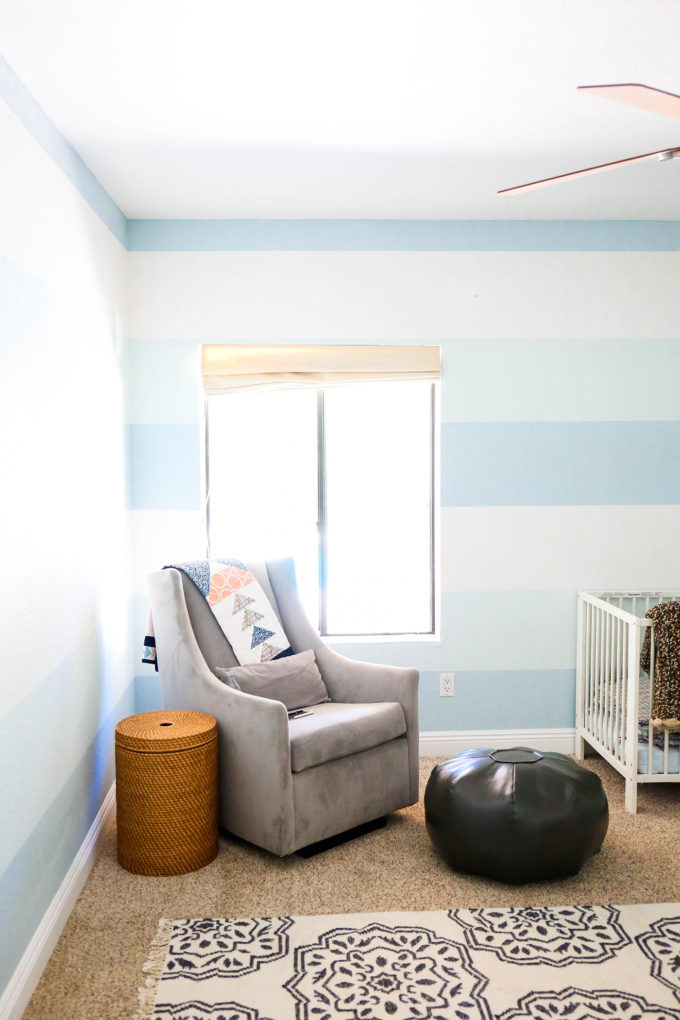 We're currently down to the wire working on baby #2's bedroom, and I'll be needing your input on so much of that as well! You can see pics of its current look above and below. Blue stripes for boys, y'all! We'll be spending the weekend painting and organizing and I'll be sure to share snaps of those projects on my Instagram stories! (@theproperblog)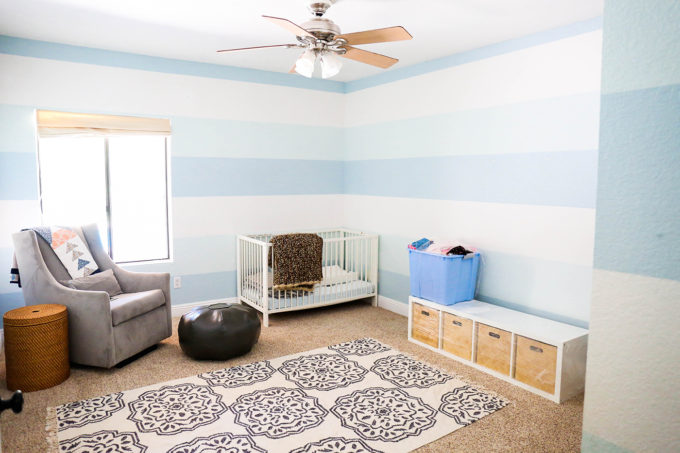 We're so thrilled to finally be living in our own place and to know that every bit of work we put into it will be to better our family's lives. See some pics of the interior/exterior below! I'm not sharing the entire house yet because there needs to be a little mystery, but it will all happen very soon!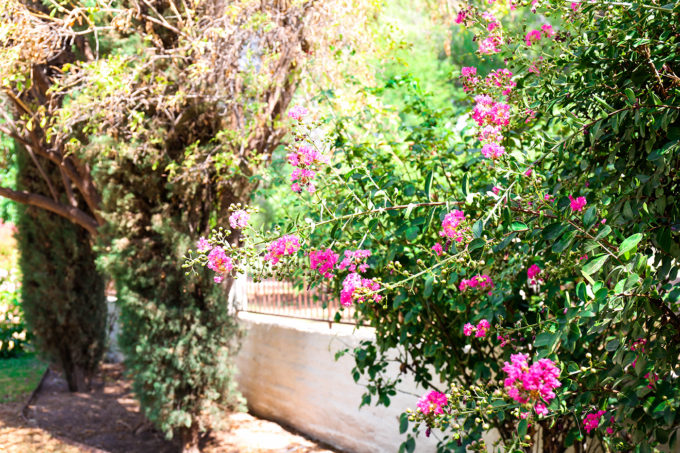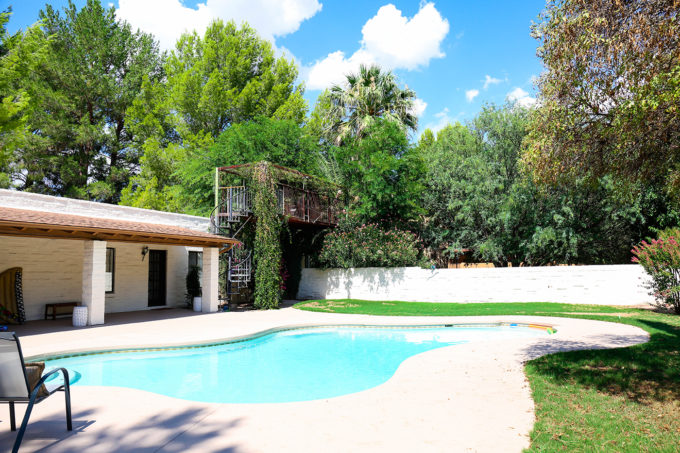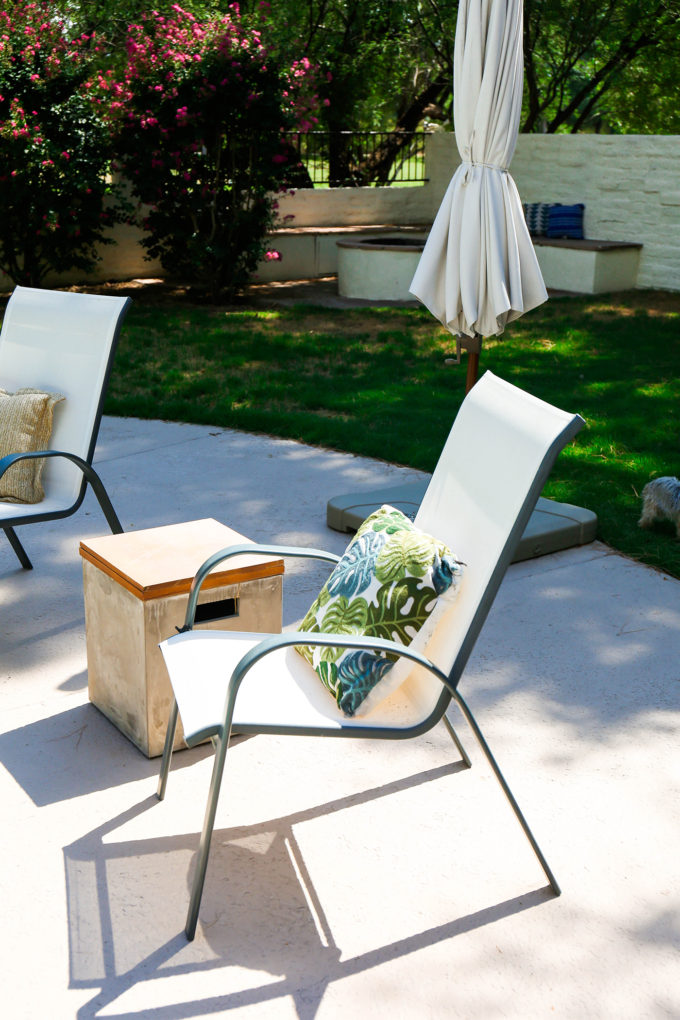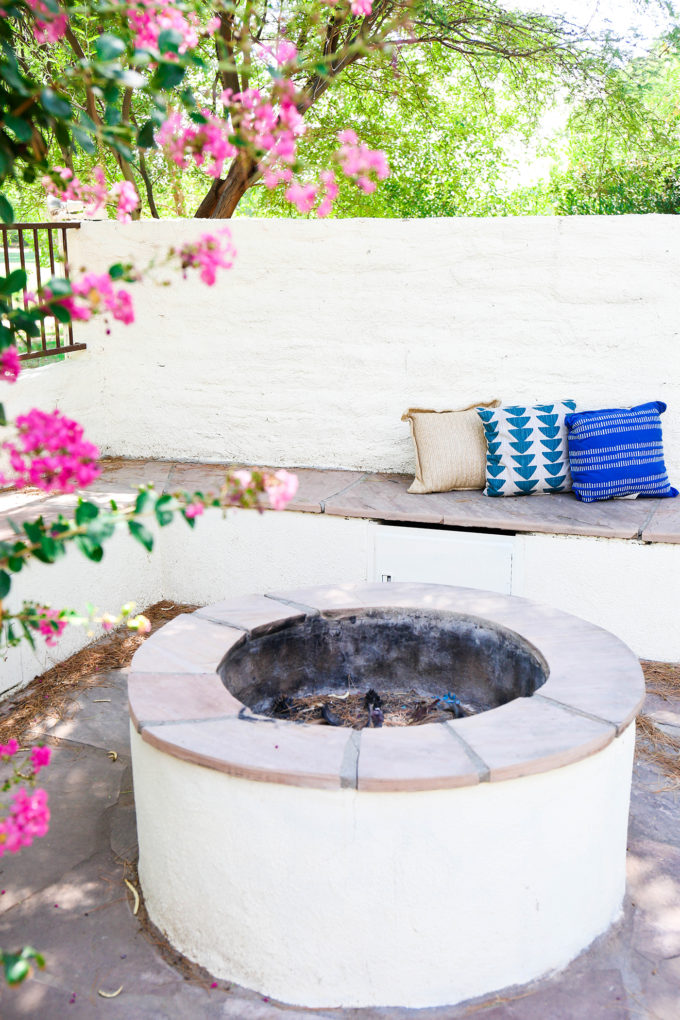 Who's ready to come over for a s'mores night?!
The previous homeowner built an amazing clubhouse for his kids to play in and he was so insistent that a new family move in and take over the memory-making. So glad it will be us! I envision lots of fun hideaway dates with my daughters.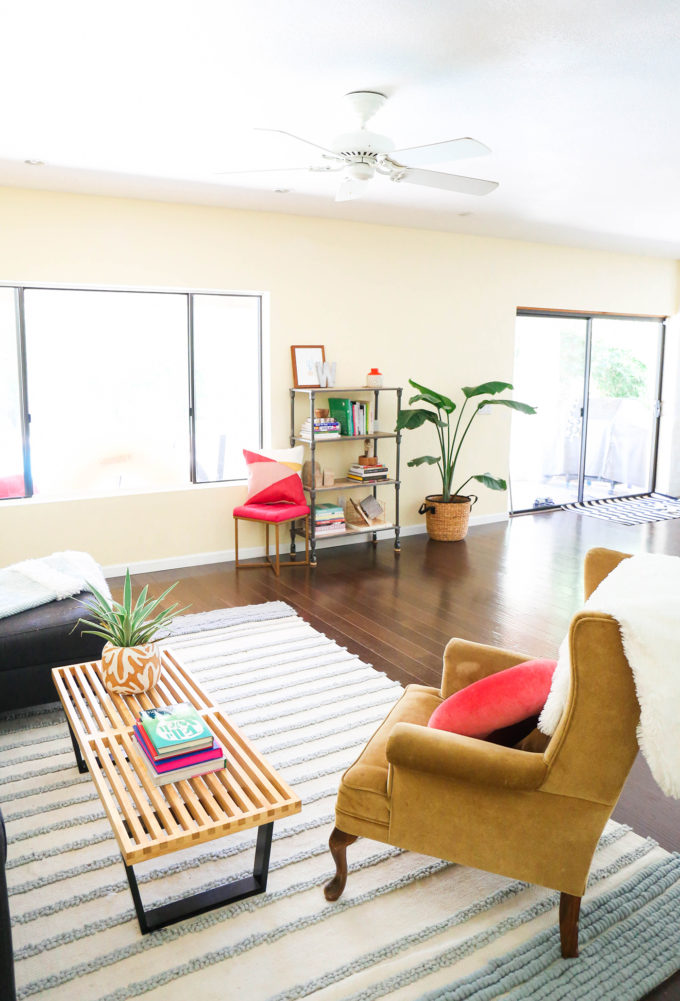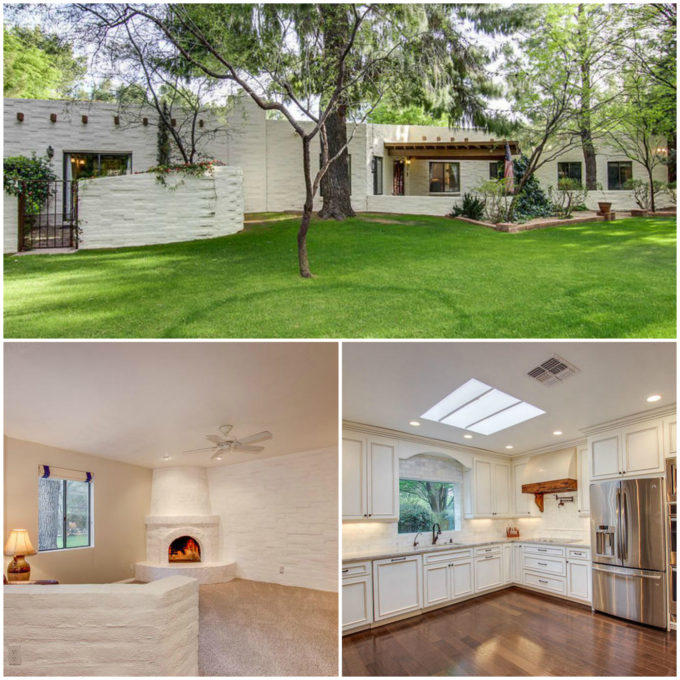 Have I got plans for that kitchen! We love the wood and marble backsplash, but the traditional cabinet style with bronze finishes isn't really us. Ya feel me?
The house currently sports two of these gorgeous white brick fireplaces. Living in Arizona, we may use them twice a year, but I can't wait for all the holiday shoots that will happen in this space!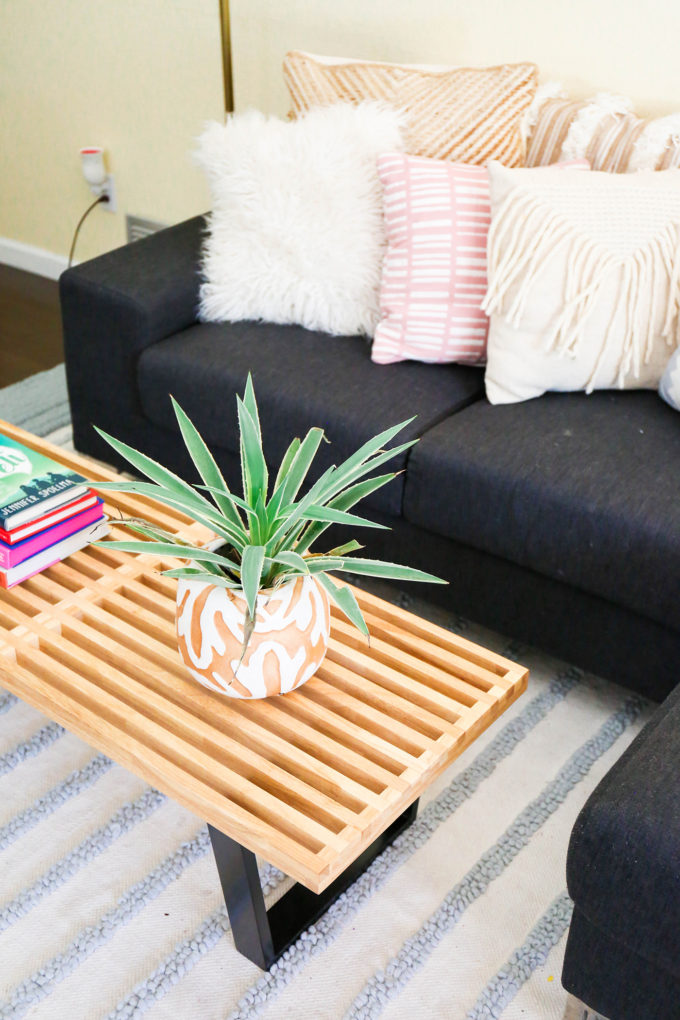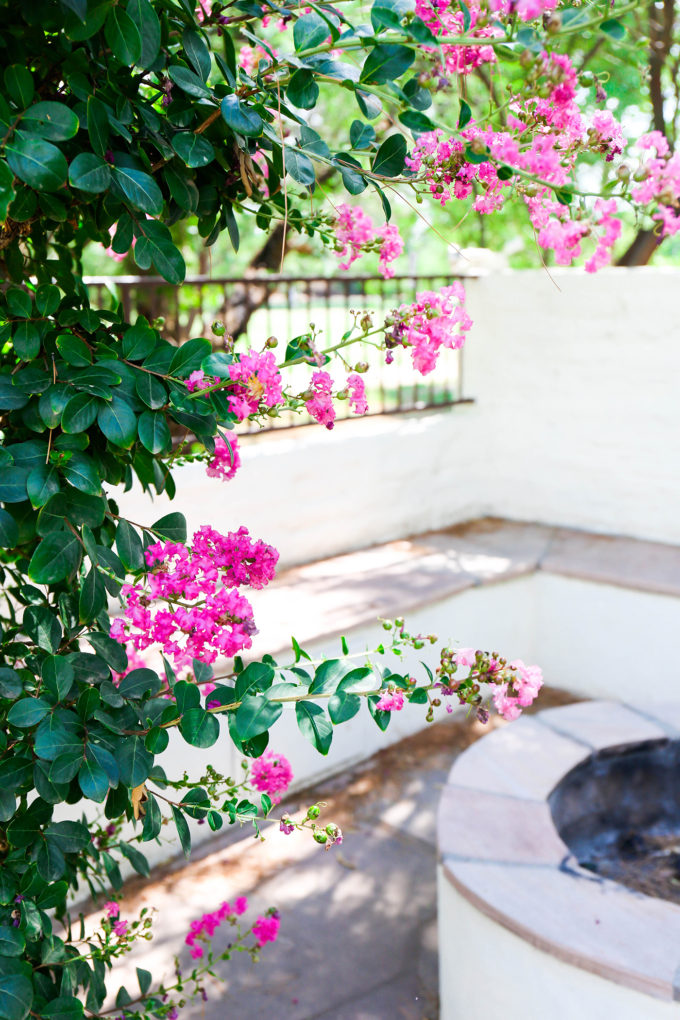 So what do you think?! Were we crazy? Crazy in love?! I would love to hear about your first home purchase! And please! Any tips you have for us are more than welcome!
Keep up with all our home updates here on the blog and over on social media by following the hashtag #ProperAtHome! And don't forget to check back tomorrow to see what we decided to do with that guest bathroom!
Photography \\ Lexy Ward