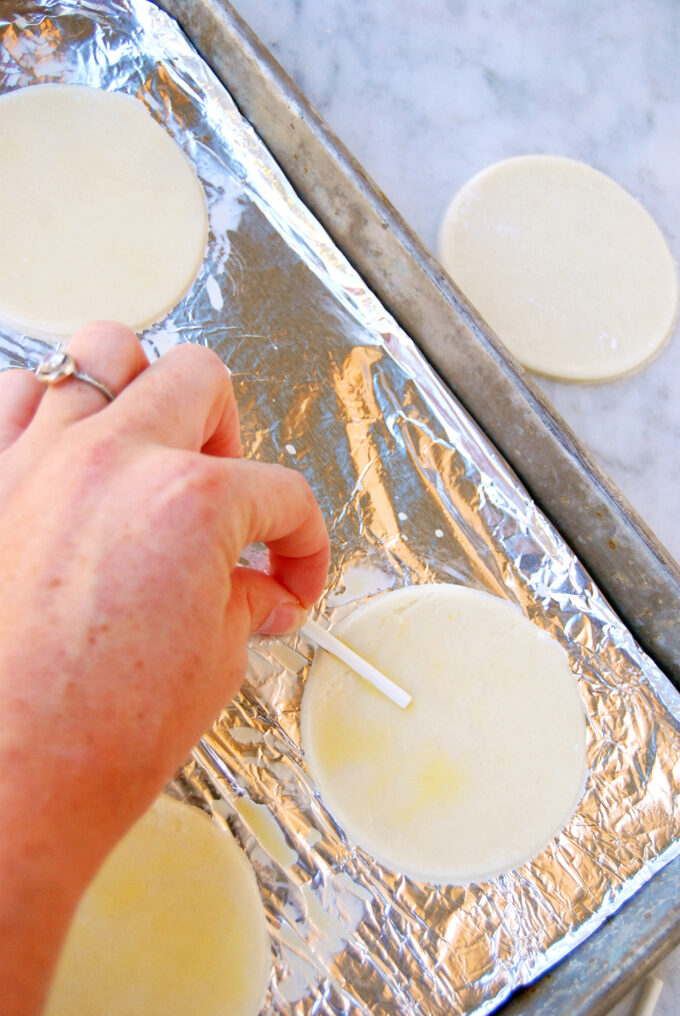 PIE! It's abundant during the fall. And it's abundant in my home. We love to serve it up on a regular basis and I LOVE to share new and tasty ways to indulge. This is evidenced by the pie workshop I taught a few weeks ago. (sharing all the details for that very soon!) Sometimes one doesn't have the time to sit and eat an entire pie, so you gotta shrink it down. And that's where these spooky pie pops come in. They're handheld and tiny so that makes them the perfect snack. And it's not inappropriate to eat 4 or 5 in one sitting. Really. It happens all the time.
Keep reading to get the recipe! 
You're going to need a simple recipe for a tasty pie crust. The one below is ridiculously easy and doesn't require any chilling. So you can have pie in a flash!
Ingredients:
2 1/2 cups flour
1 Tablespoon sugar
1/2 teaspoon salt
16 tablespoons chilled butter (cut into cubes)
3-6 tablespoons ice cold water
Mix the dry ingredients together in a large bowl. Work the butter into the dough with your fingers, a food processor, or a pastry blender. Mix until butter is no smaller than the size of a pea. Add the water one tablespoon at a time until the mixture starts to resemble a dough. You don't want it to be too sticky, but just blended enough that it can keep its shape when you mold it into a ball.
Split the dough into two equal parts. Turn one out onto a floured surface and roll into a 12 inch round. Using a the edge of a drinking glass or a 3-inch circle cookie cutter, cut rounds out until you've used up all the dough. Place 1/2 of the rounds on a greased cookie sheet.
Time to assemble!
Brush each round with egg wash and place a lollipop stick in the bottom. Fill with any type of pie filling you wish. Nutella and apple ftw! Obviously, not together. Maybe together? That could be tasty. Place about 1.5 inch rounds of filling on each pie bottom. Place another round on top of each and press the edges together to seal tightly for baking.
Once your pie tops have been placed and pressed, Brush each with egg wash and bake at 425 degrees F for 12-14 minutes. Check them at 10 minutes to make sure the crusts don't burn!

Have fun with the top round and cut out designs using an X-acto knife! I cut several jack-o-lantern faces, lattice designs, and even some letters out. Now, listen. This takes about .05 seconds more work. Really. So don't feel like you can't do it. Because if I can? You absolutely can.

To cut the lattice, simply carve little diamonds out with your x-acto knife.
To cut the jack-o-lanterns, carve the eyes and mouth out keeping note of where to cut to leave the teeth!
Cut letters. Cut designs. Just don't cut yourself.
Once they've baked and cooled, wrap these up in some cellophane or package in a cute box and give to your friends. Or give to yourself before sitting down to watch an episode of Late Night with Jimmy Fallon. Somebody's gotta eat these guys!
This project is part of The Proper Pinwheel's Halloween series, MISSION:SCARY. To see more Halloween projects, click here!
To see more recipes, click here!
photography: all photos by Lexy Ward