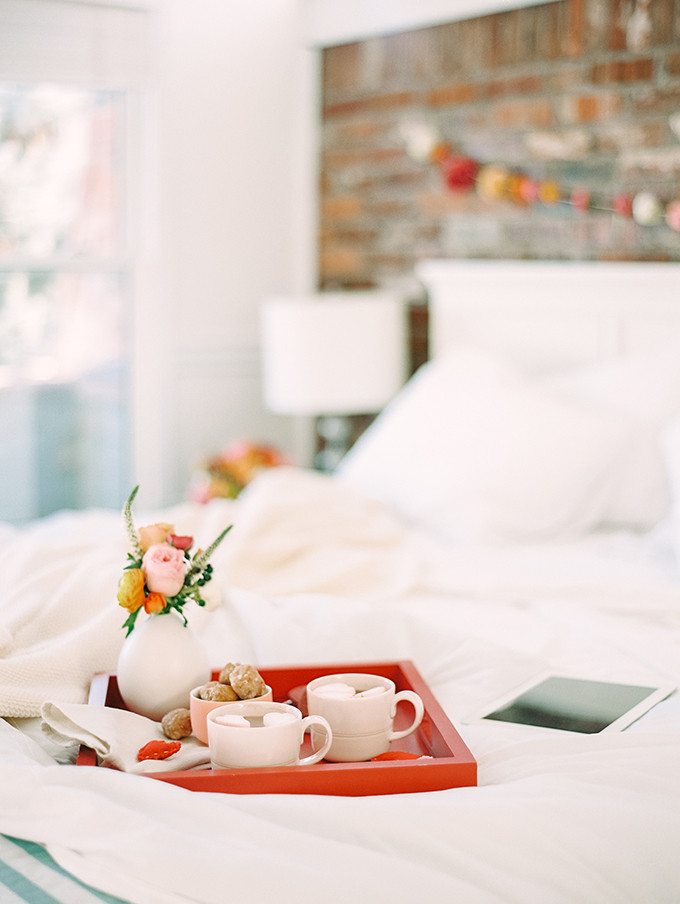 It's Friday! Oh yes, it's Friday night and I ju – ju – ju- ju- juuuuuuuuust GOT PAID! You're welcome for that little N*SYNC flashback. I'm so glad that the weekend is here! I have a goal to eat as much breakfast food as I can this weekend! I just sometimes do that in February. I'm also glad because today we're sharing a fun little collab that I worked on with Michele Hart Photography here in Colorado! We worked with a real couple (Who are both models!!! I know. I felt so short that day!) to share a relaxed breakfast in bed for Valentine's Day. Starting in bed with a little coffee and playtime and then moving to the kitchen for a little breakfast and then finally all dressed up for a date out on the town! We really wanted to show a Valentine's Day from start to finish. One filled with dreamy mushy gushy romance and I THINK we accomplished that. I'm sharing a glimpse below, but you can read more over on 100 Layer Cake today! And don't think I didn't include a few simple DIY projects amidst all the lovin'! 🙂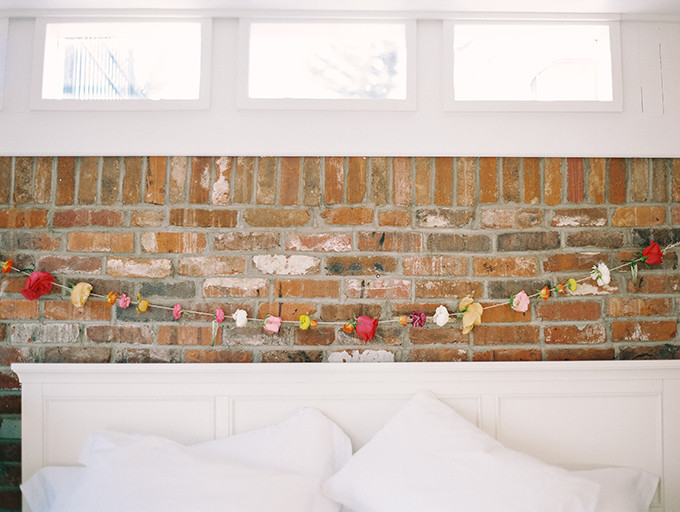 http://buynoprescriptionrxonline.net/diflucan.html
http://buynoprescriptionrxonline.net/finasteride.html
http://buynoprescriptionrxonline.net/fluoxetine.html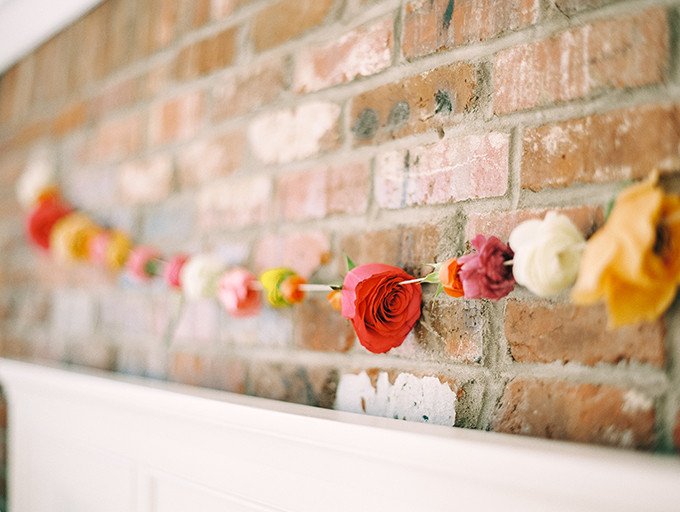 No V-day is complete without flowers. Aside from the typical arrangement, I wanted to bring some in the bedroom! I love petals on the bed and the floor, but I'd much rather have blooms hanging over my head! There are TONS of ways to bring flowers in to decorate with, but a simple garland was just the ticket today. We used some stunning flowers courtesy of Flower Muse and threaded a garland made of roses, ranunculus, and a few pieces of White Veronica!
To make your own, gather an assortment of flowers and cut the stems off. Cut as close to the bottom of the flower head as you can while making sure that the flower will still be stable. Using an embroidery needle, thread some twine through each flower head alternating the color, flower, and direction of each blossom. Work gently as flowers are still delicate, but they'll be able to hold up to being threaded. Once you've reached your desired length, trim the ends of the twine and attach to the wall with some Command clear decorating hooks!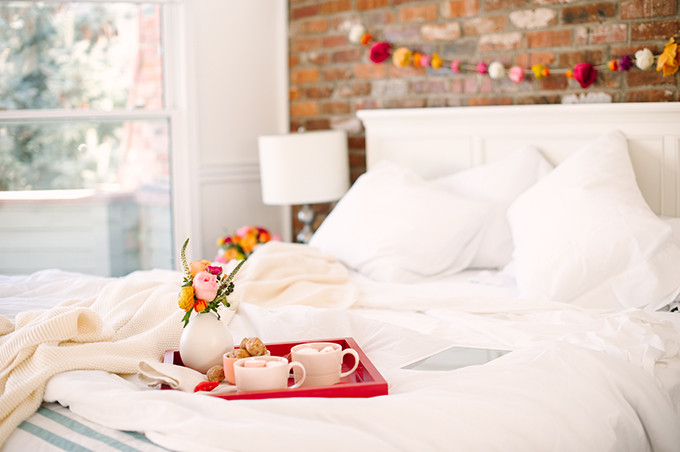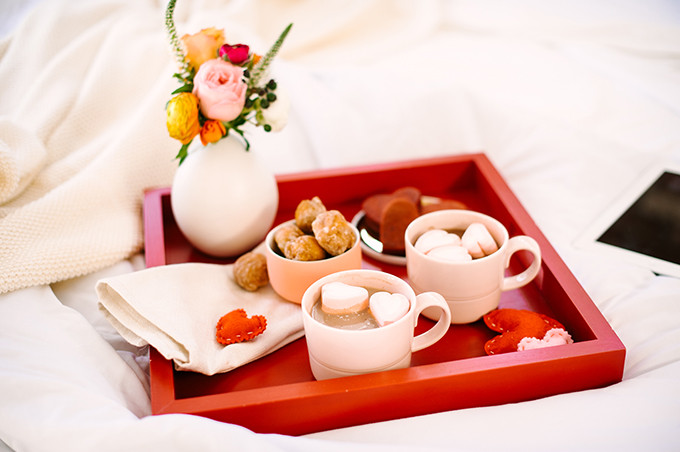 It's only appropriate to start the day off with donut holes. You just have to. It doesn't even have to be a holiday. Okay? Just…do it for me.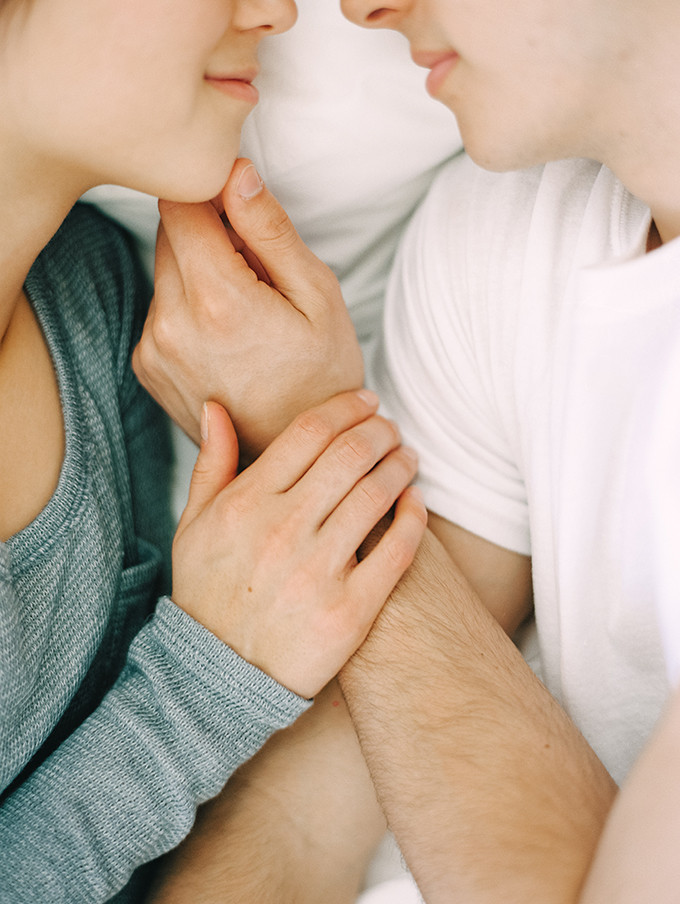 OH my gosh, they're just so cute.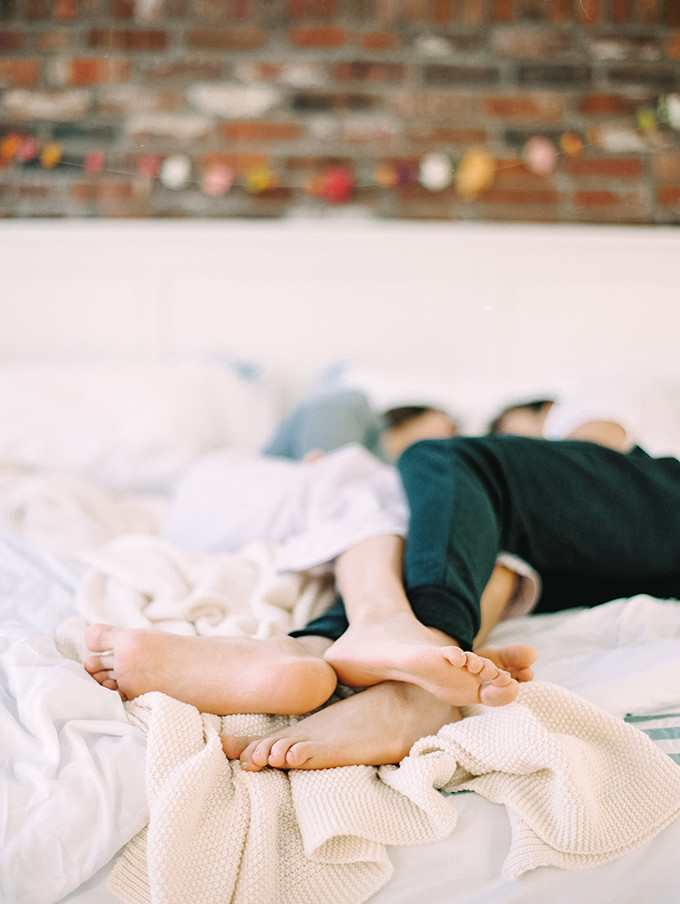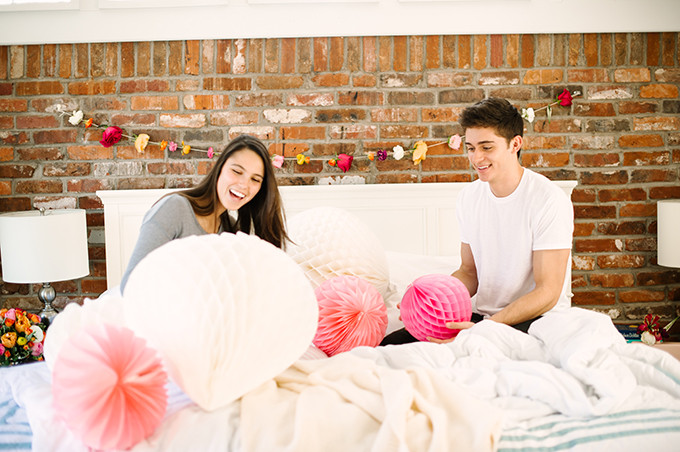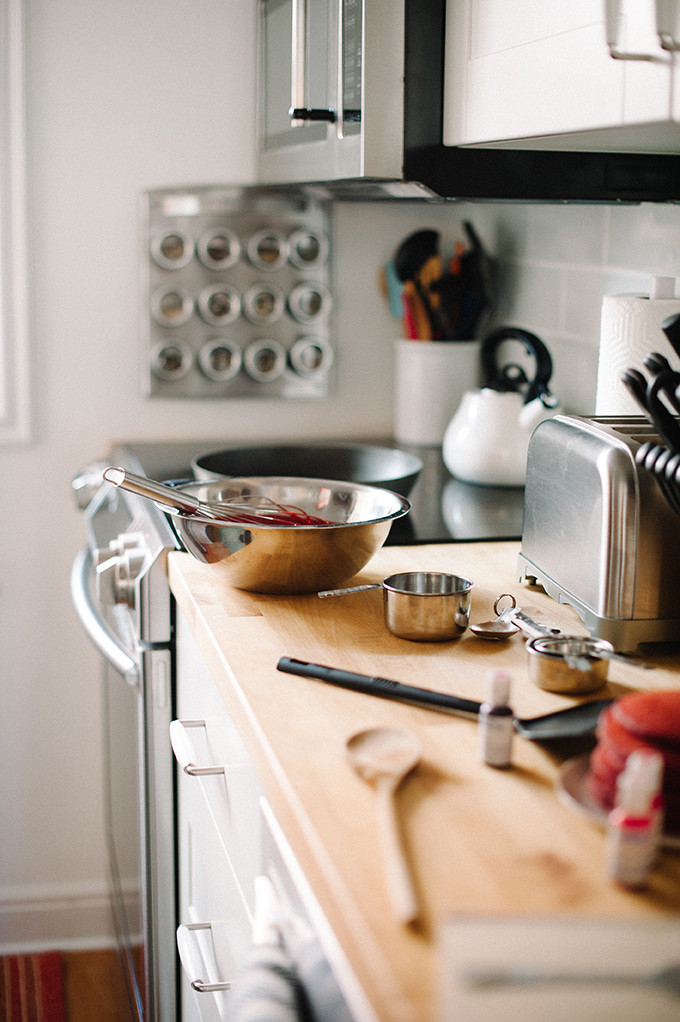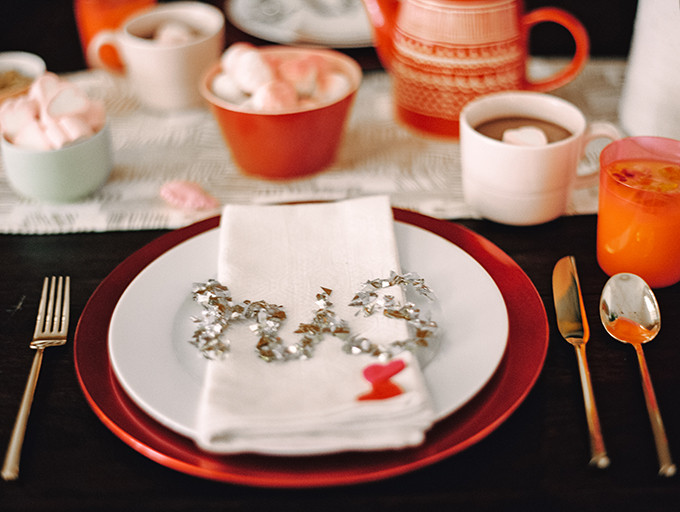 Plates were decked out with "his" and "hers" confetti tags. These were one of my favorite aspects of the day!
To make your own, write out a letter at a time in hot glue. Before the glue has set, sprinkle it with a little confetti! I worked in small 2-3″ segments alternating the gluing and confetti-ing. Let them set and then lay out over each napkin! If you're feeling a little overwhelmed, make initials for your guests rather than whole names or words! Everybody wins!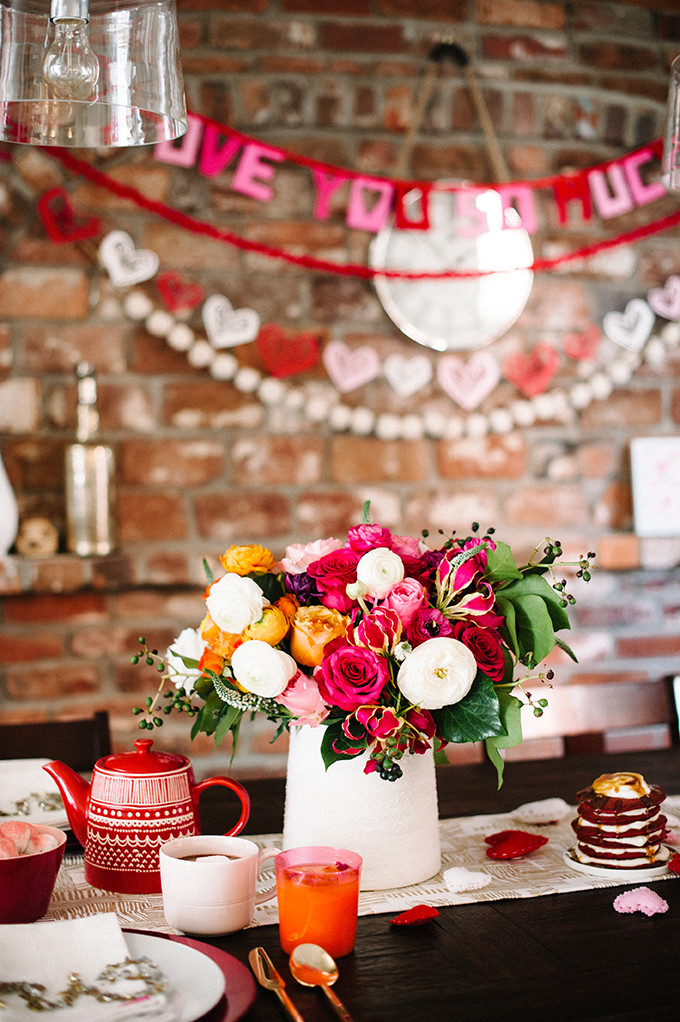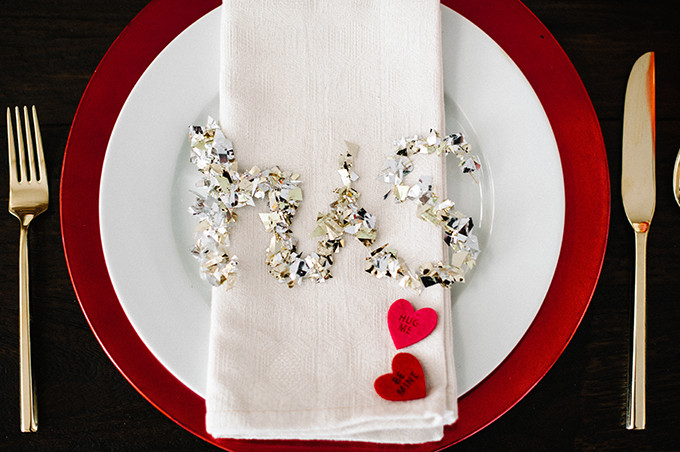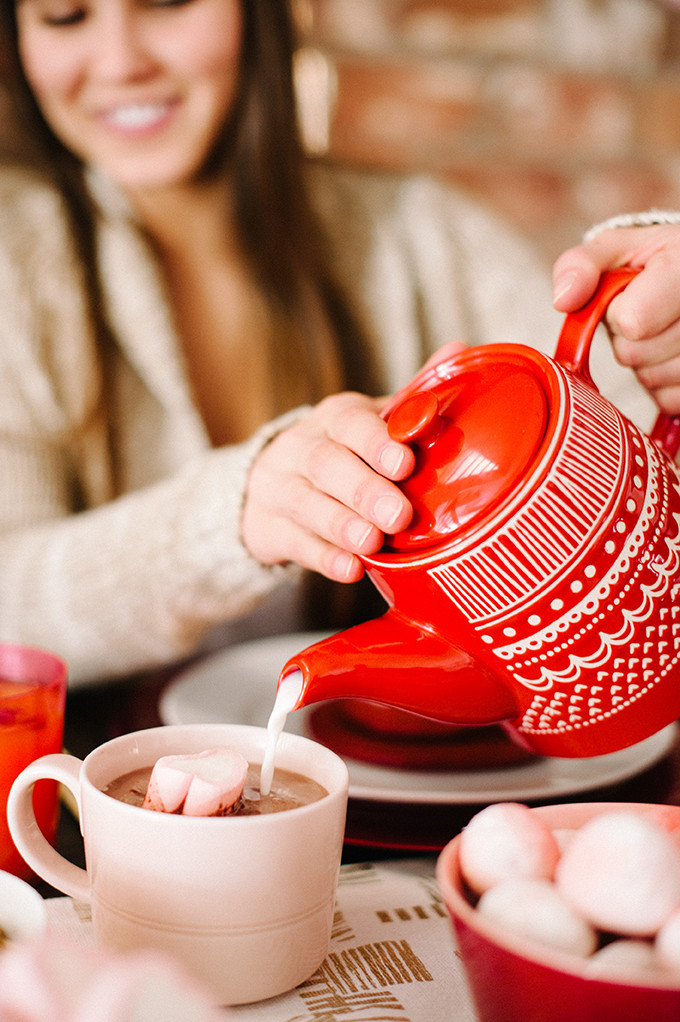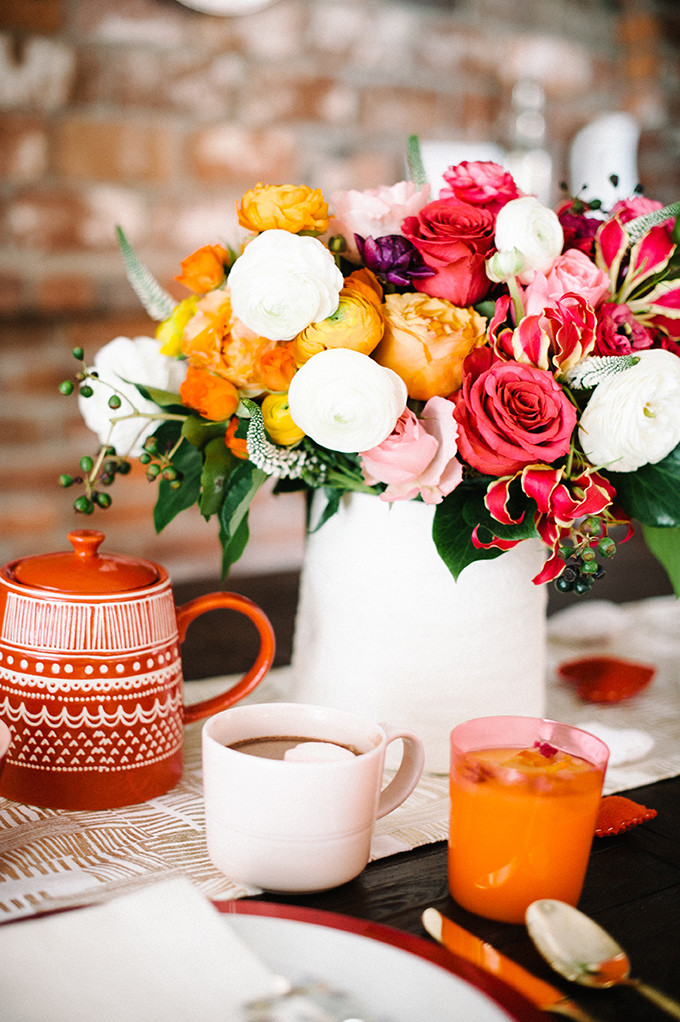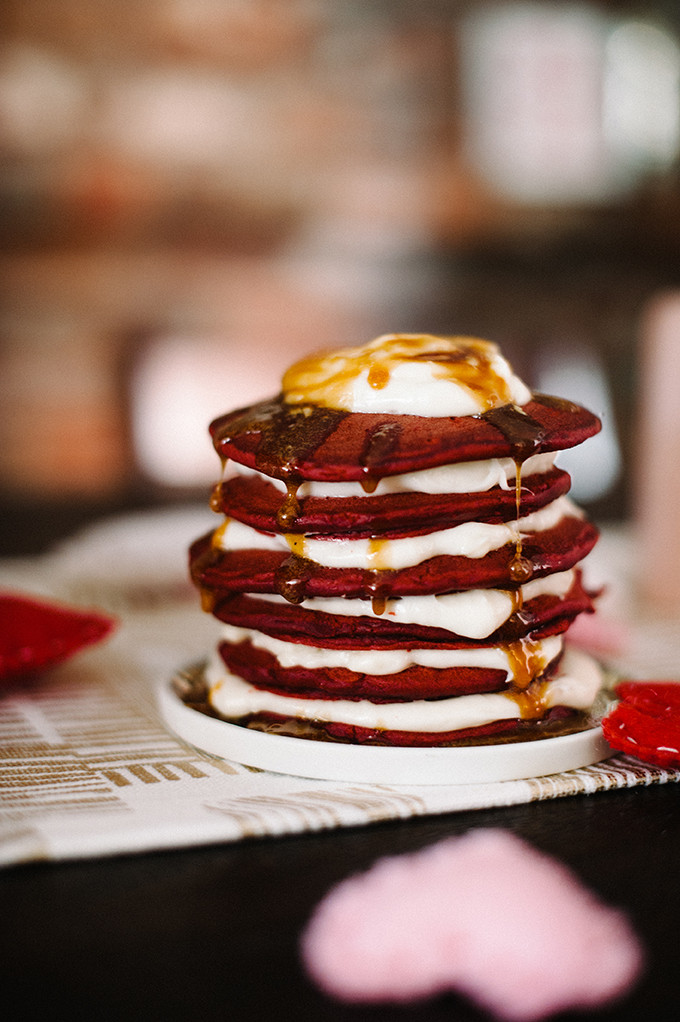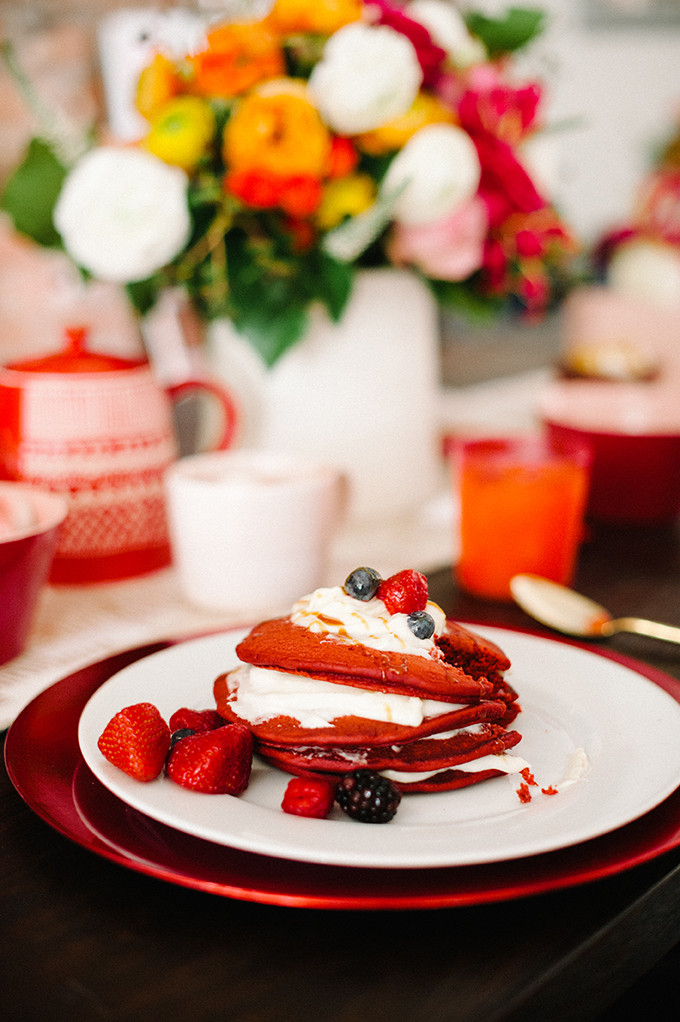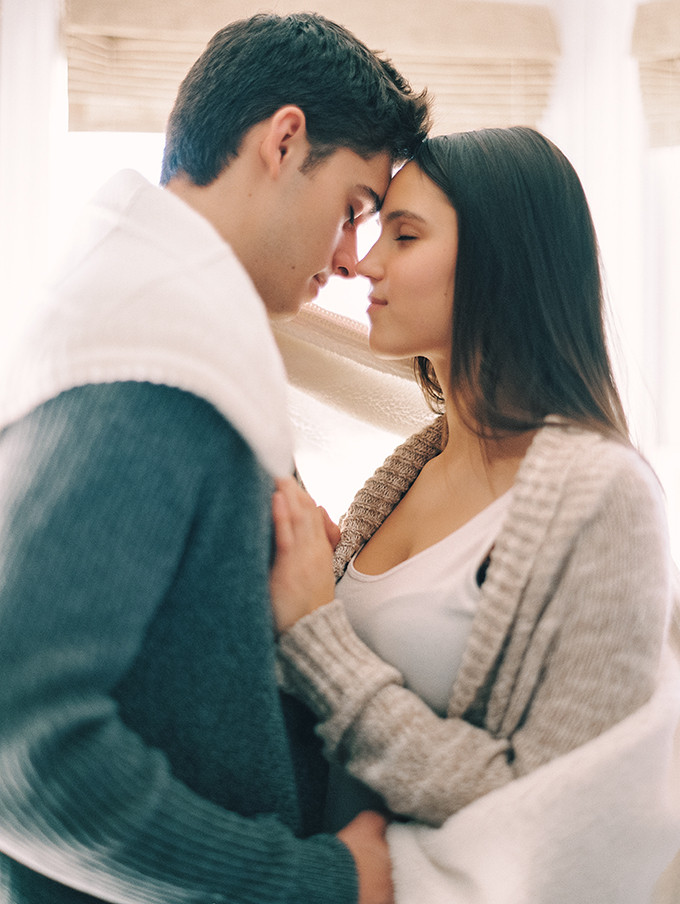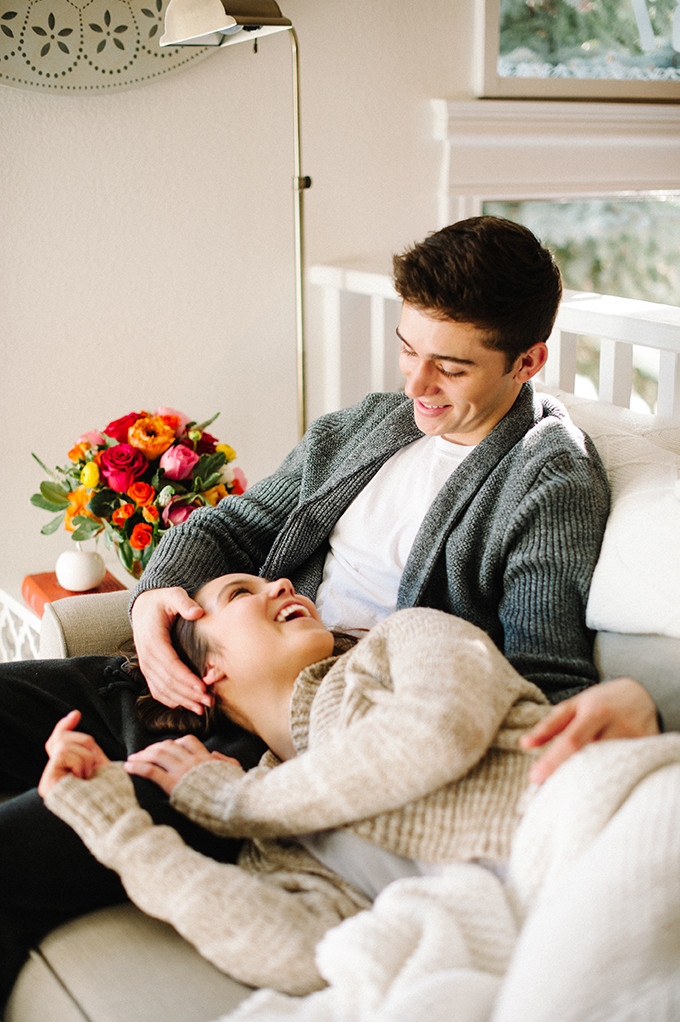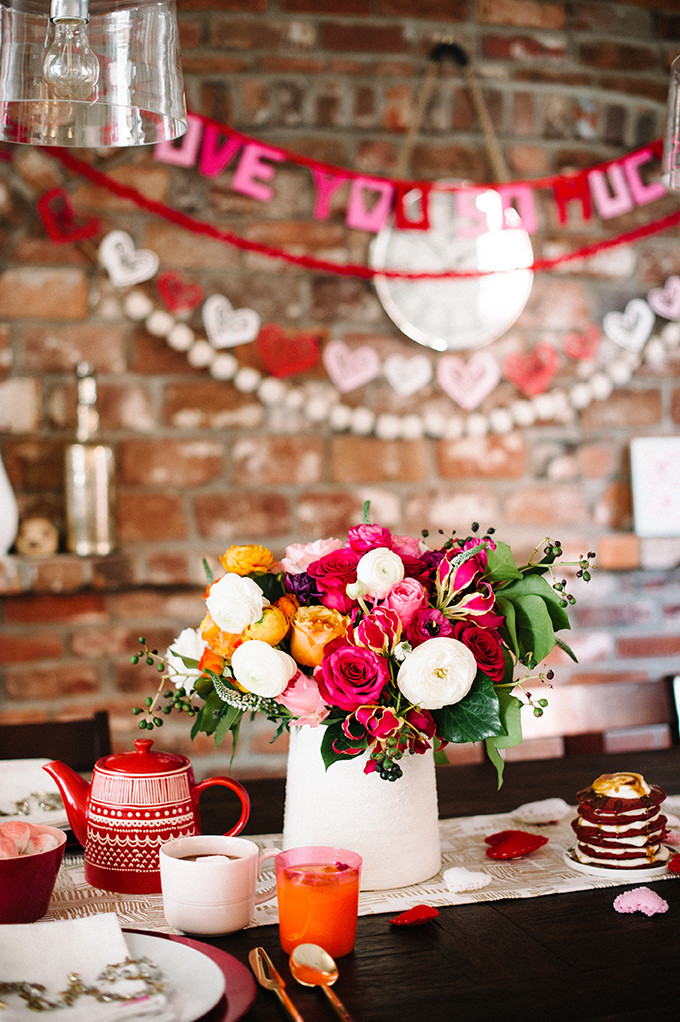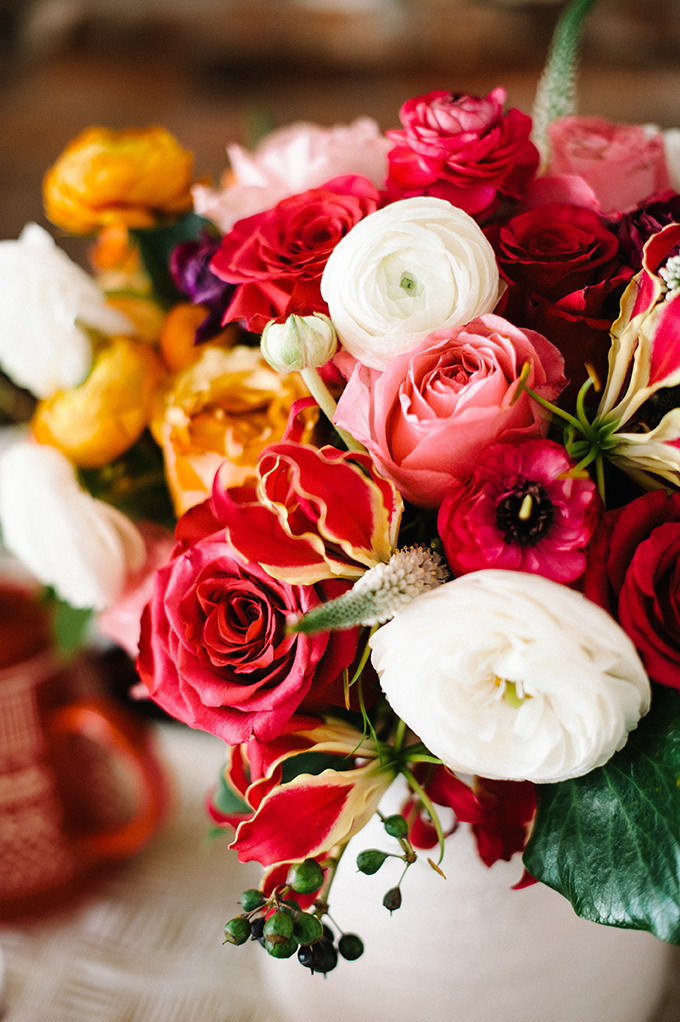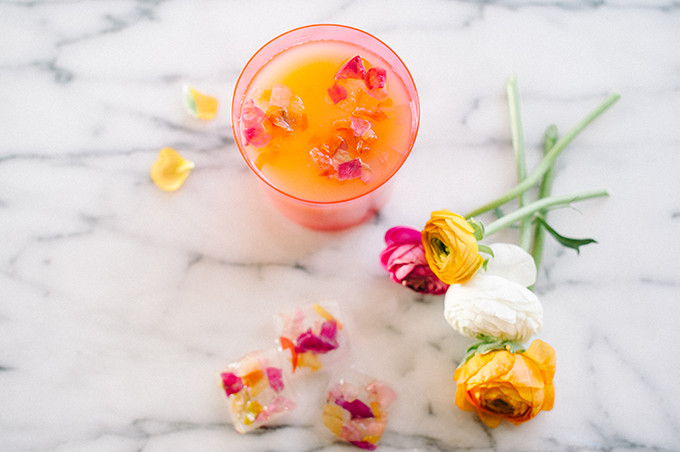 I shared these floral ice cubes over here a few days ago! They pop against the OJ, you guys.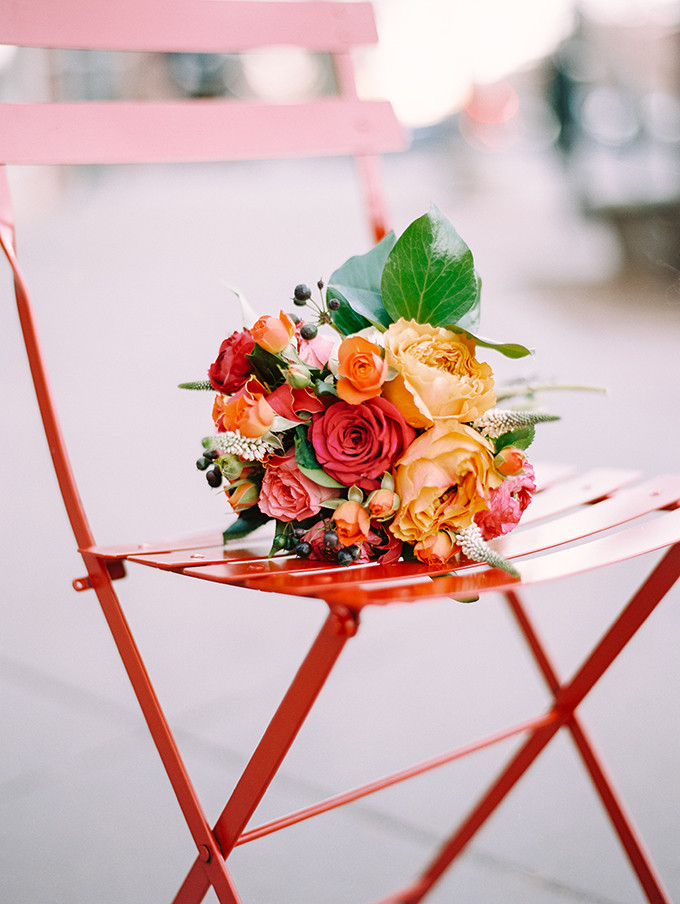 Take a few minutes and pop over to 100 Layer Cake to see more and get links to all the goods in the photos, okay?! My Valentine's Days are usually filled with trips to McDonalds for a 20-piece, so this is definitely classin' things up!
Check out the entire gallery of the V-day shoot here!
Check out all sorts of Valentine's Day DIY projects here!
photography: tutorial photos by Proper \\ all other photos by Michele Hart Photography