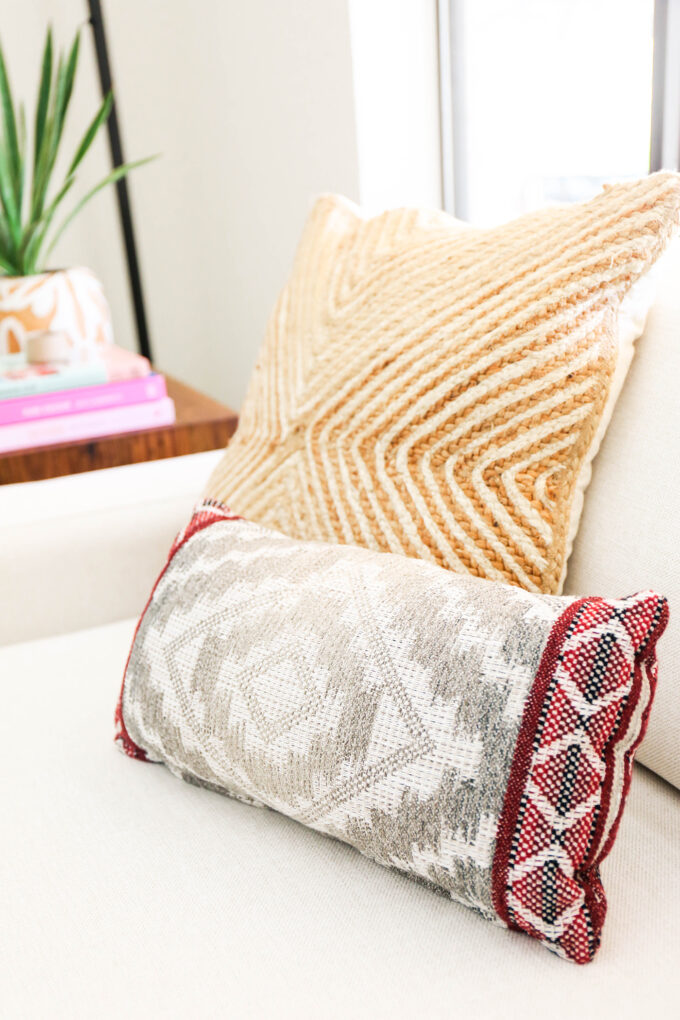 Alright, alright, alright! I'm super excited to finally share with you the current state of our living room! It's basically been Living Room Week over here. When we last left off, we had just painted the walls and everything was looking nice and bright. I was loving how the room was starting to feel, but knew that the furniture we had in the space just didn't quite fit. It was small. It wasn't really cohesive in any sense. It just felt a little jumbled. Well, back in December, we started working with our friends at Bassett Furniture to design some custom furniture for this room and it was all delivered and I've got the breakdown for ya today! With TONS of pictures, so I hope you're ready for that! 🙂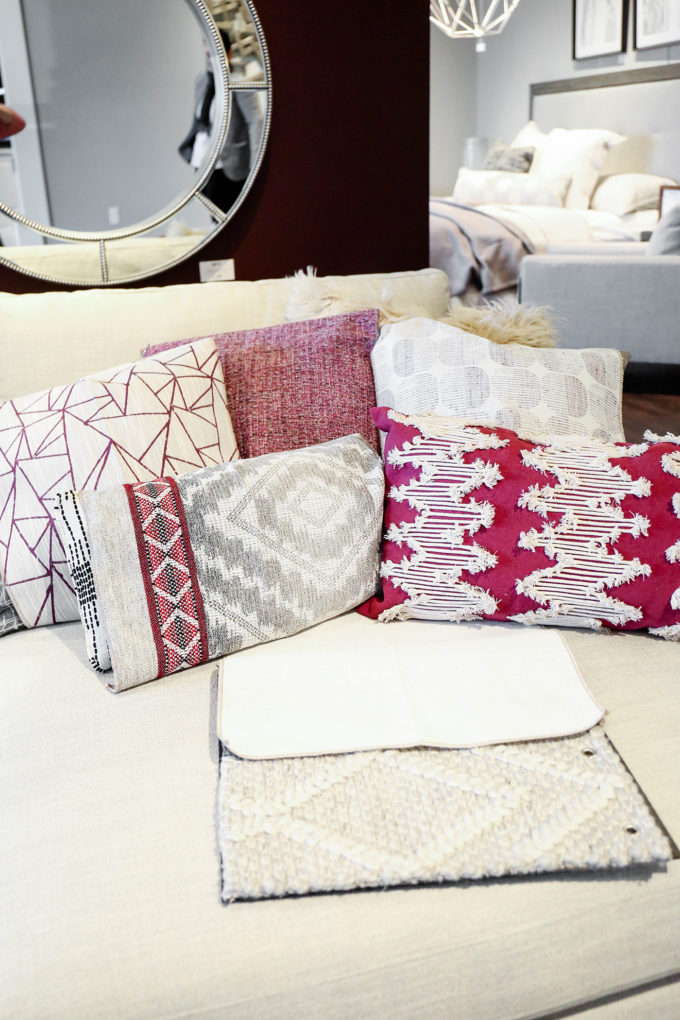 The shot above is from my store visit in December. We were deciding on sofa options, fabric swatches, rug choices, and these were samples of everything we had decided to put together. I don't typically choose bold colors when it comes to furniture (I like things neutral so they're easy to style for a variety of aesthetics), but went a little crazy when it came to my pillow fabric choices. Some pinks, purples, and a bit of red were thrown in. And because they're just pillows, I knew I could change them out as my heart desired. Okay! So this is what we went with, and after all of the many, MANY choices were made, it was just a waiting game while everything was being built. Ahhhhhhh.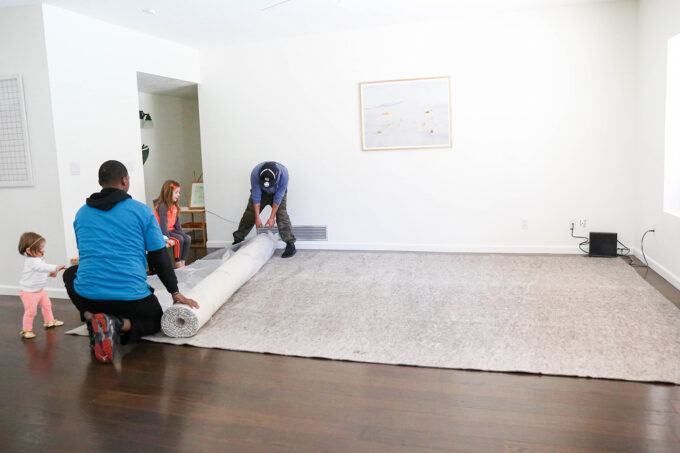 It was a long wait, but was totally worth it. Each piece is built from scratch and is truly customizable, so we knew there would be some time to exercise our patience while waiting for Santa Bassett Furniture to drop off some goods. When the delivery team finally called to schedule a day to bring everything over, we were so so excited. You can tell that the girls were VERY stoked to assist. All you have to do is make eye contact with Vita-girl for her to latch on. And she ended up helping these guys move everything in. ?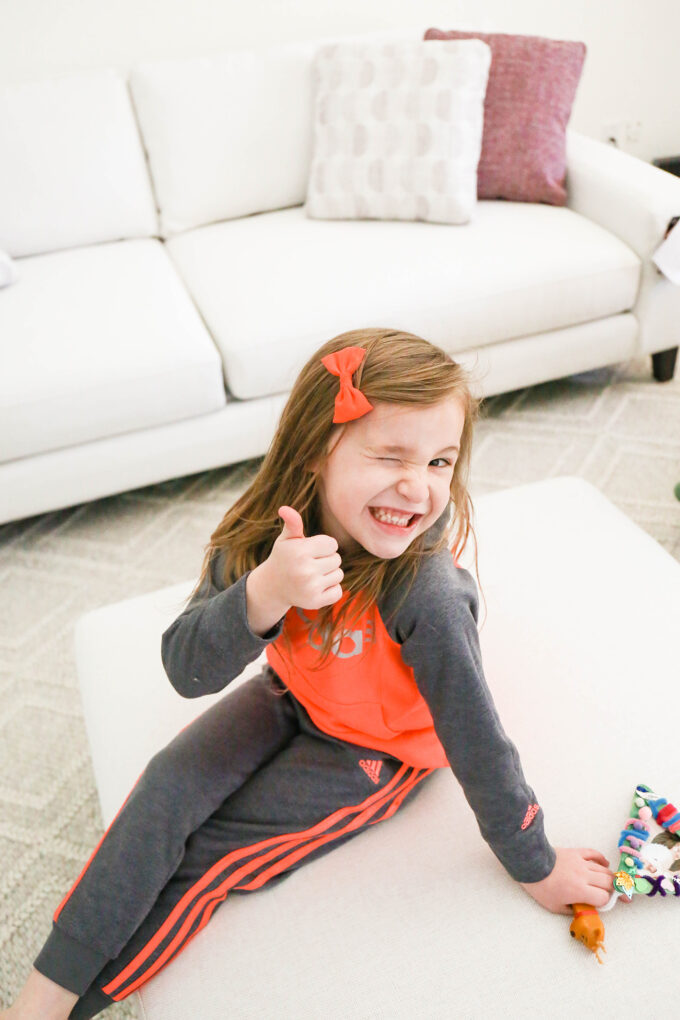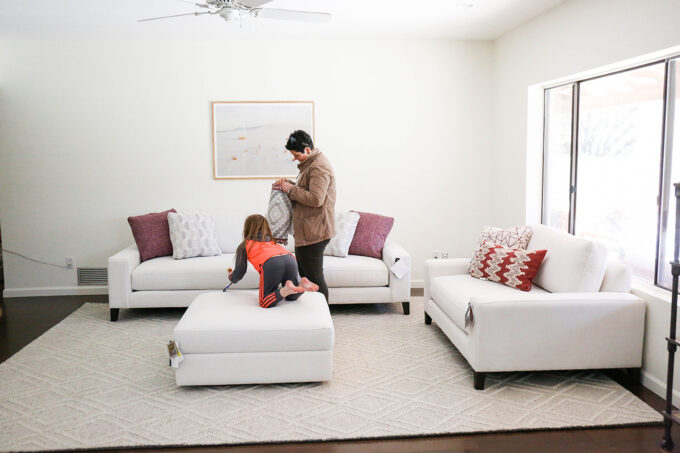 Our designer, my new BFF Burcu, even came by on delivery day to help me move things around and talk through the design for this room now that we actually had the furniture in hand. This is also the moment where I give her a shoutout for her own patience. I'm not sharing them in this post, but I took about a dozen photos of her and Vita playing together. She was so sweet to play with my children and give them the attention that they obviously don't get from their mother. Burcu even took pictures of some art that Vita had drawn (Vita told her to, but still!!!). I'm just blown away by how sweet everyone was during this whole process. It felt so much more personal!
Alright, so after we got all of the furniture in, we were left with the above. You can see that we were removing some of the old stuff, and mixing it with the new custom furniture. The lamp shade was delivered a few days later and this is how the room was looking: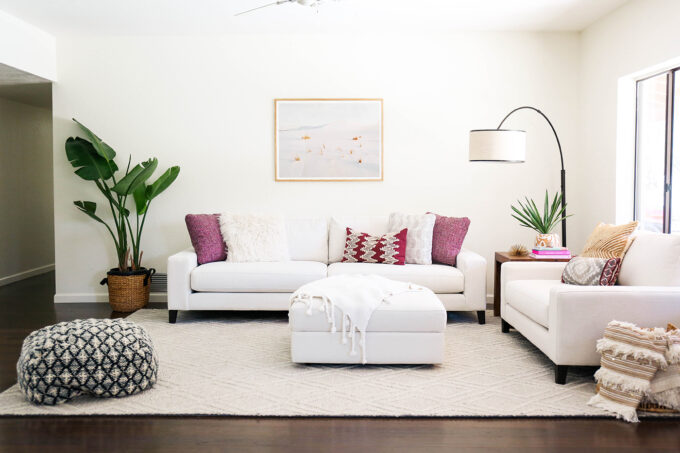 The sofa and chair are nice and deep. Logan is a big guy so we knew we'd want a couch we could really sink into. Disappear into. Never get out of. And that's exactly what we went with. We chose the Terafino line for our pieces, but sadly, they're no longer being made. However, Bassett's Modern Collection has a similar vibe. I would recommend checking out either the Serafina line (it's got clean lines just like ours and is actually the sofa we used in store as a reference) or the Ariana sofa which has similar cushions to ours. Both are extremely comfortable!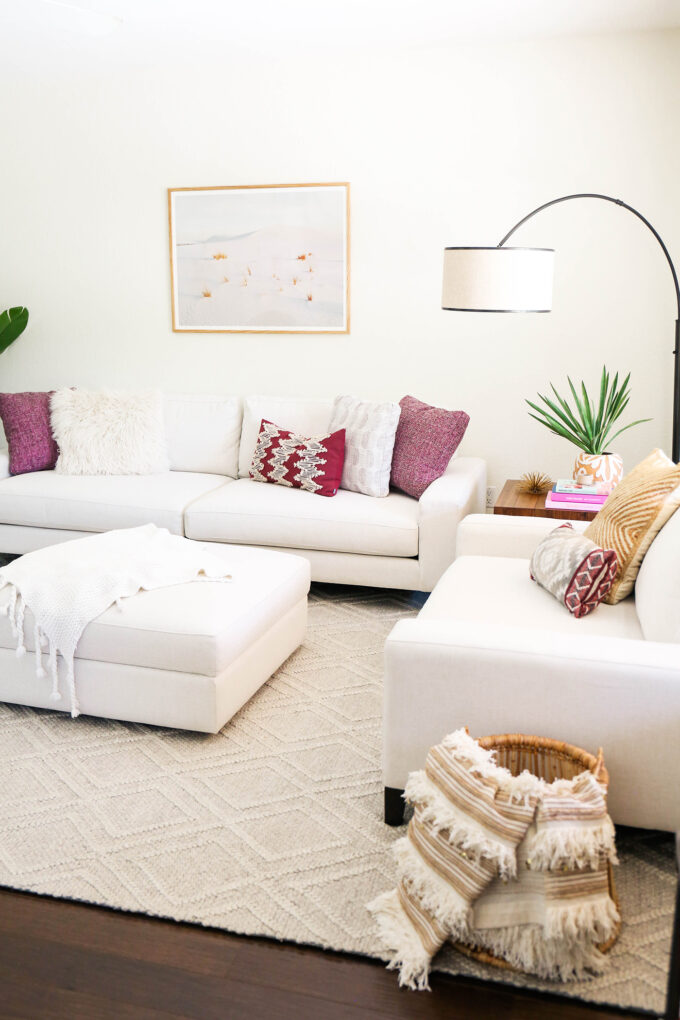 Not bad, right? I was so in love with how things were going at this point. The Florentine rug was above and beyond what I had imagined. It's super thick and cozy on our feet. And has already been the backdrop for many-a-photo-shoot of the girls and our dog, Tagg.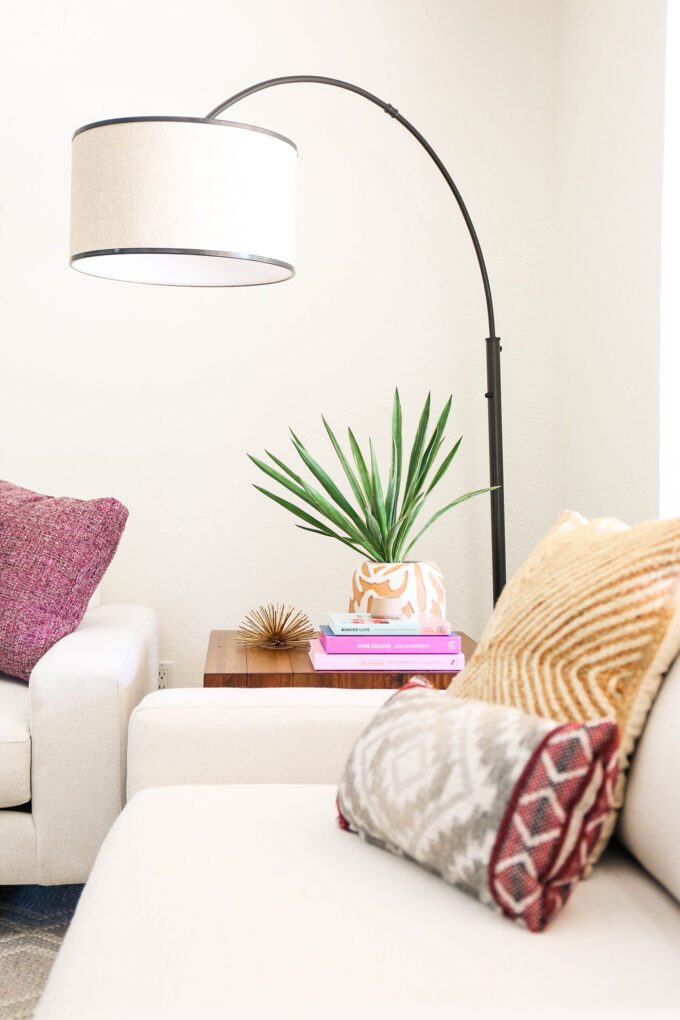 The arc floor lamp was a last minute decision on design day. I wanted a lamp that could hold its own next to the large sofa and chair and this was a great option. The shade is a nice linen that compliments the fabric we chose for everything and it's just so big and beautiful!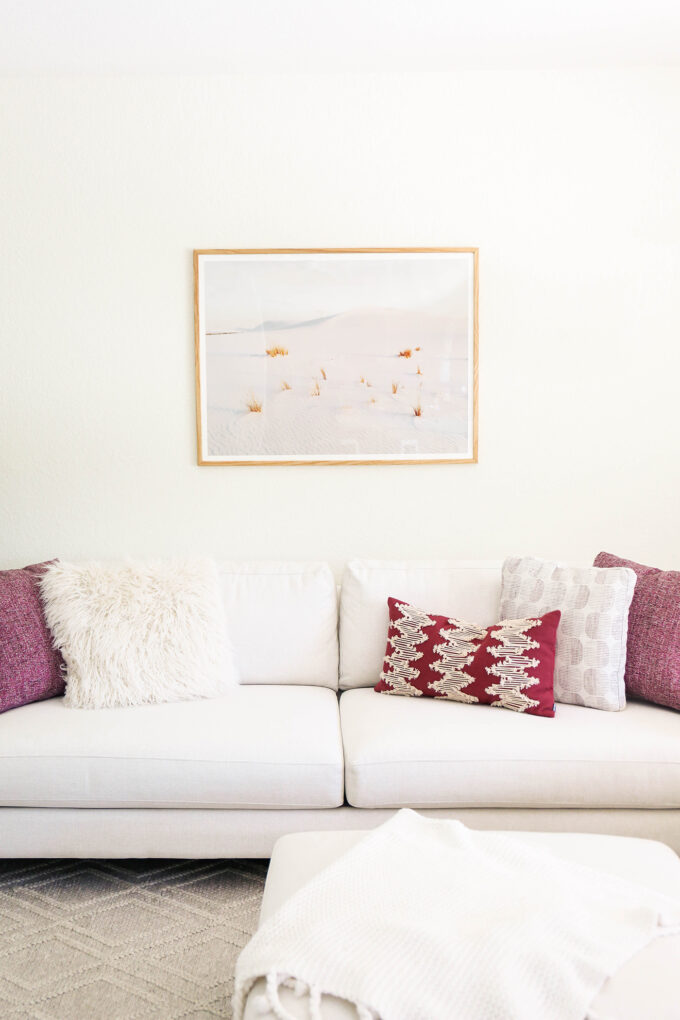 After we got everything settled, we knew that the current artwork hanging on the wall was just too small for the space. I had plans long ago to DIY an art ledge of some sort, but time got away from me so we just stuck this big guy up there when we moved into the house. It's been good to us, but didn't really work here anymore. (Don't worry! We didn't get rid of him! Keep scrolling to see his new home!)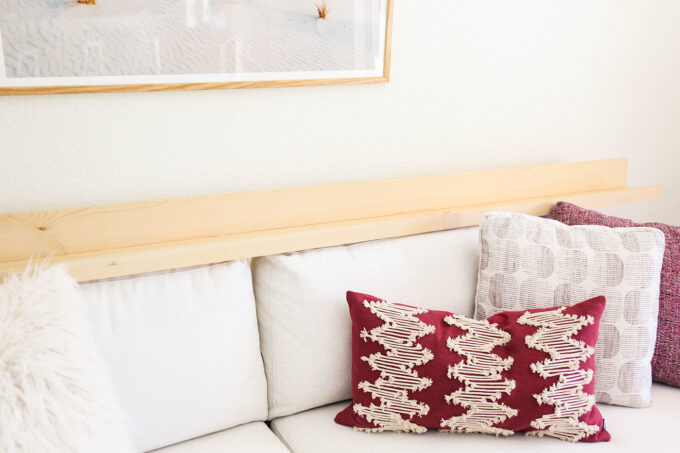 I'm sure you've seen about a million art and picture ledges from around the web. I've loved the impact something like this makes in a space, and felt it was the perfect way to display some of my favorite pieces in a casual way.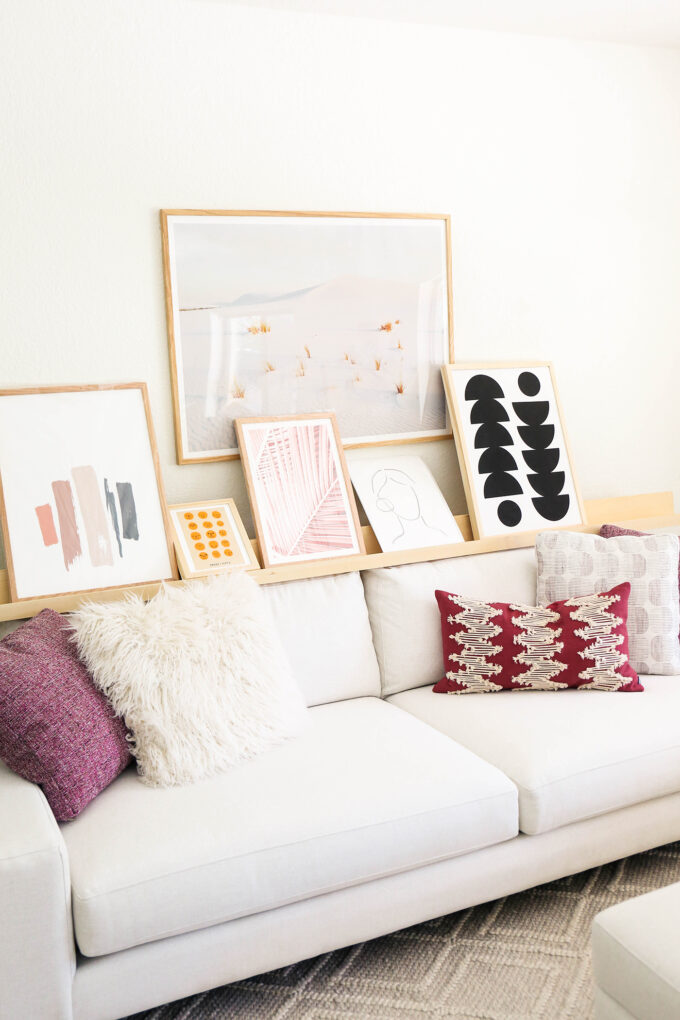 We went with a 9-foot ledge so it would hang just a few inches outside each edge of the large sofa. After comparing about twenty different tutorials online, we were most inspired by the steps used by Ana White, Kismet House, and Chris Loves Julia. It's a super easy project that yields BIG results. I'm so happy with how it turned out. I only used a very light stain as I'm still deciding on how dark or light I want the ledge to be, but you know me! I gotta live with it for a while before I commit!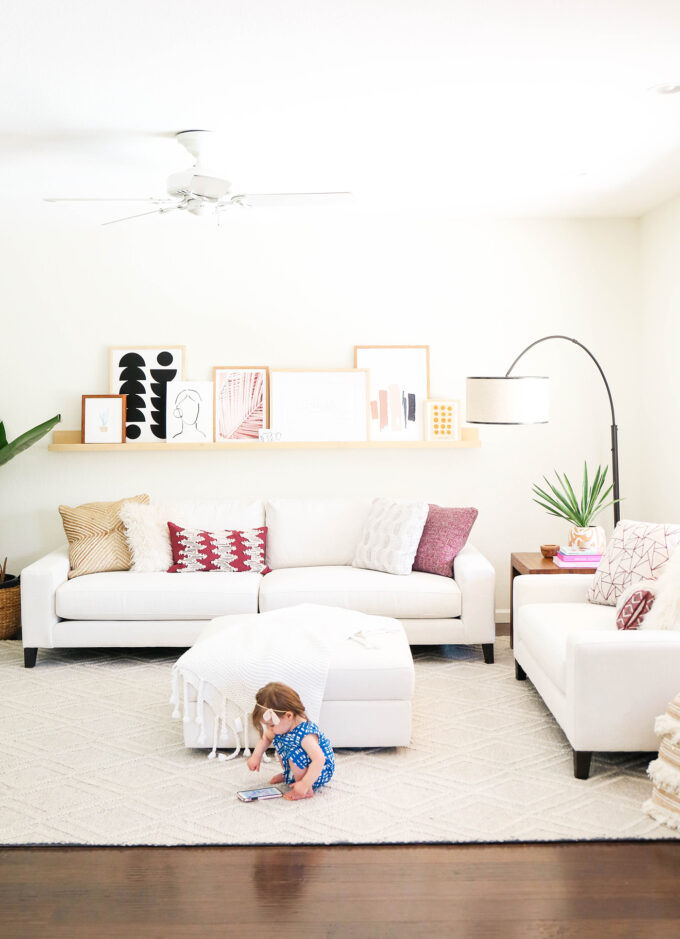 But it looks great! The custom furniture looks great. The room looks great. The baby looks great. (On my phone. #parentingwin)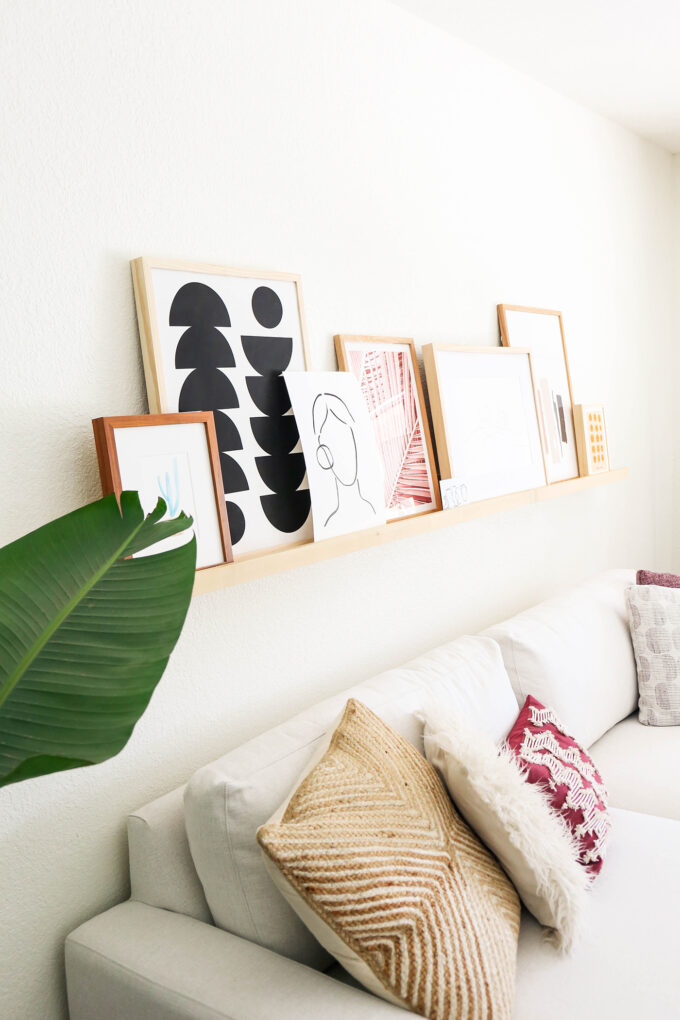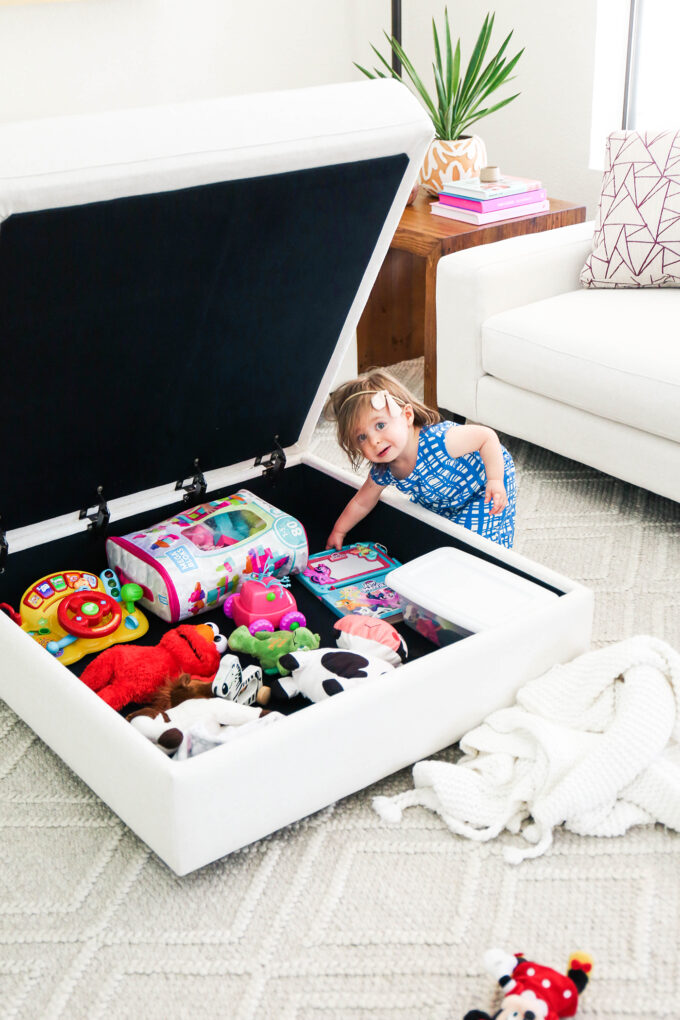 Another custom furniture selling point for me was the fact that the rolling ottoman came with hidden storage. We have all sorts of random toys for the girls, but I only allow a few things outside of their bedrooms. I crack up every time I look at Mara's expression when we open the ottoman. It's like she forgets that her toys are there every time.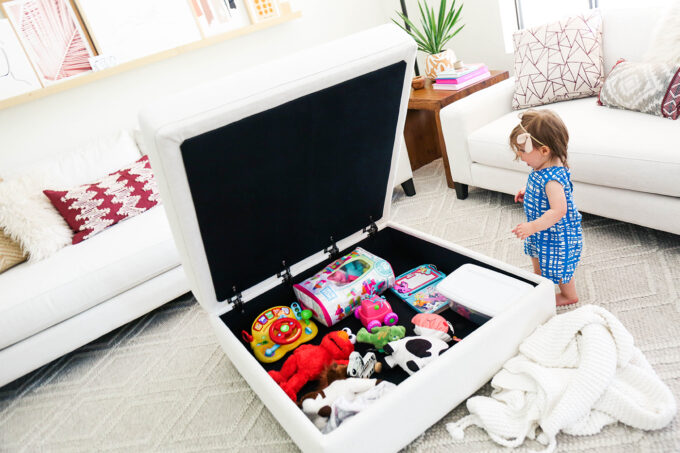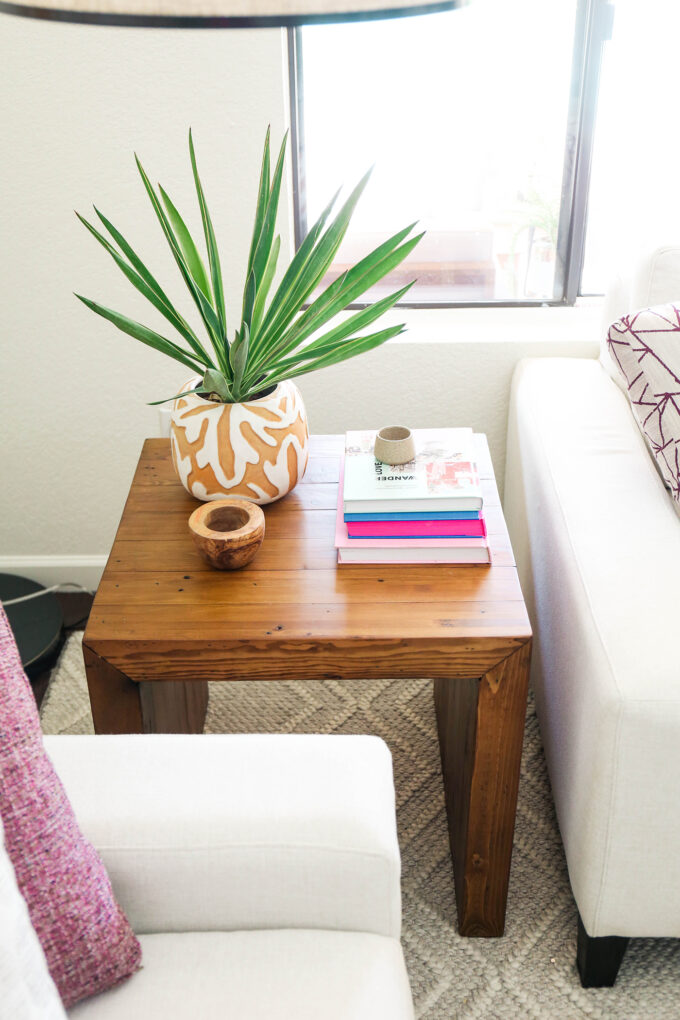 We've got our nice and sturdy Salvaged Timber Square End Table here in the corner to tie everything together. It's heavy and feels like it's going to last a few centuries. I'm not even joking. Not even Vita could destroy something this strong. It's made from reclaimed pine and is simple and lovely. And the stain shows a little bit of a light and dark so I feel like it's forgiving when it comes to pairing with other wood finishes that might not match exactly.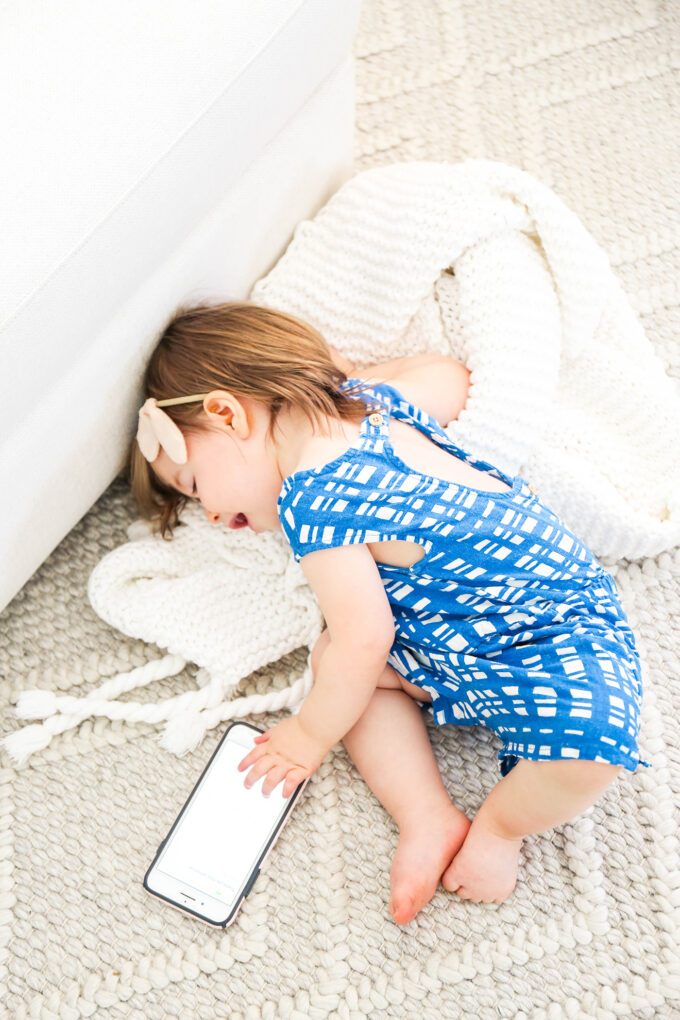 See? What did I tell you about this Florentine rug and it's magical backdrop properties? She just lays here and plays. So do I. I was a bit nervous about having another wool rug in the house because I remember an old rug we had that used to shed like nothing I'd ever seen. But so far, we haven't had any problems. I don't even vacuum daily, and haven't seen so much as a hair out of place on our hard wood floor. So there's that!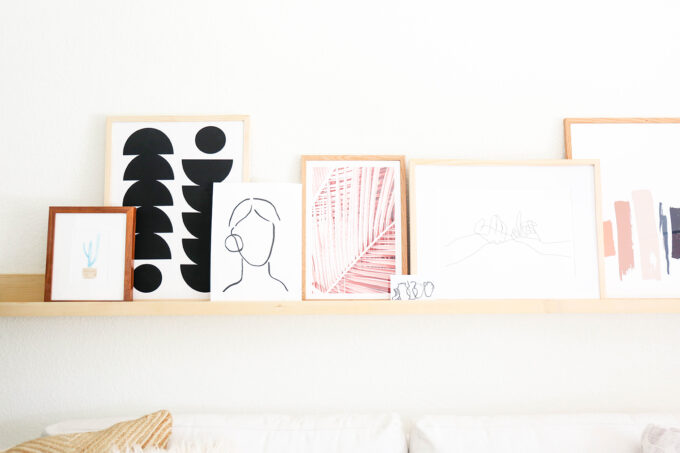 I've been collecting fave prints over the years and recently purchased a few more. I'm thinking I might share a breakdown of what we have here (if you're interested?), but I'm still waiting on a few things to be framed, so I'll wait. This isn't the exact lineup of pieces I planned for this room, but they're definitely hanging out there in the meantime. And if you're familiar with that pinky swear line print, it's upside down and I'm aware. We actually put it like that because that is the exact way Vita and I do pinky swears. So when we were putting it up, she corrected me and asked me to flip it upside down. And I'm too sentimental to move it now! Bless that kid.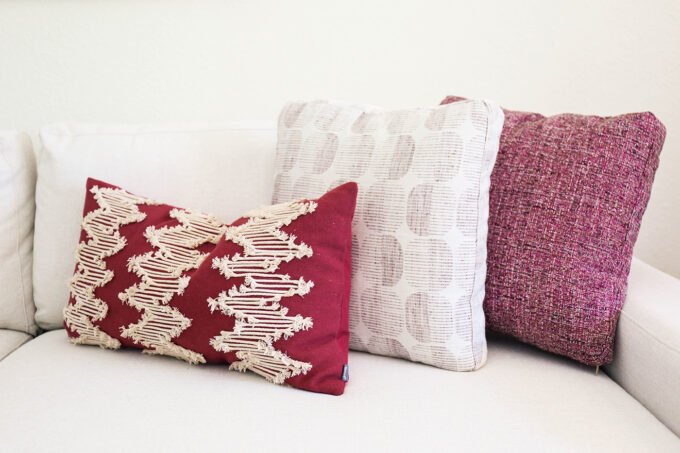 The pillows in all their glory!!!! This might have been the most difficult part of the custom furniture design experience. I had such a hard time choosing fabrics. The sofa came with four, and the chair came with one. And then I added in a few extra like the Annette pillow and a custom kidney pillow because I'm obsessed with pillows. The first step is admitting you have a problem, right?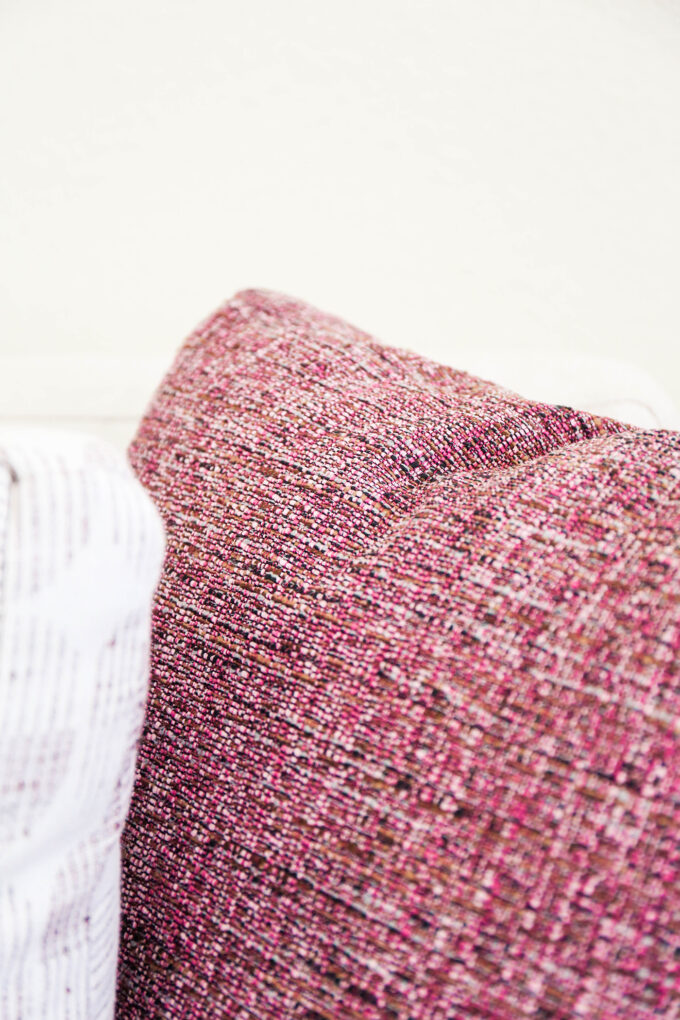 I actually wanted to share a closeup of this one as the pink tweed is kind of my favorite thing ever. And those little specks of blue?? Oh my heart.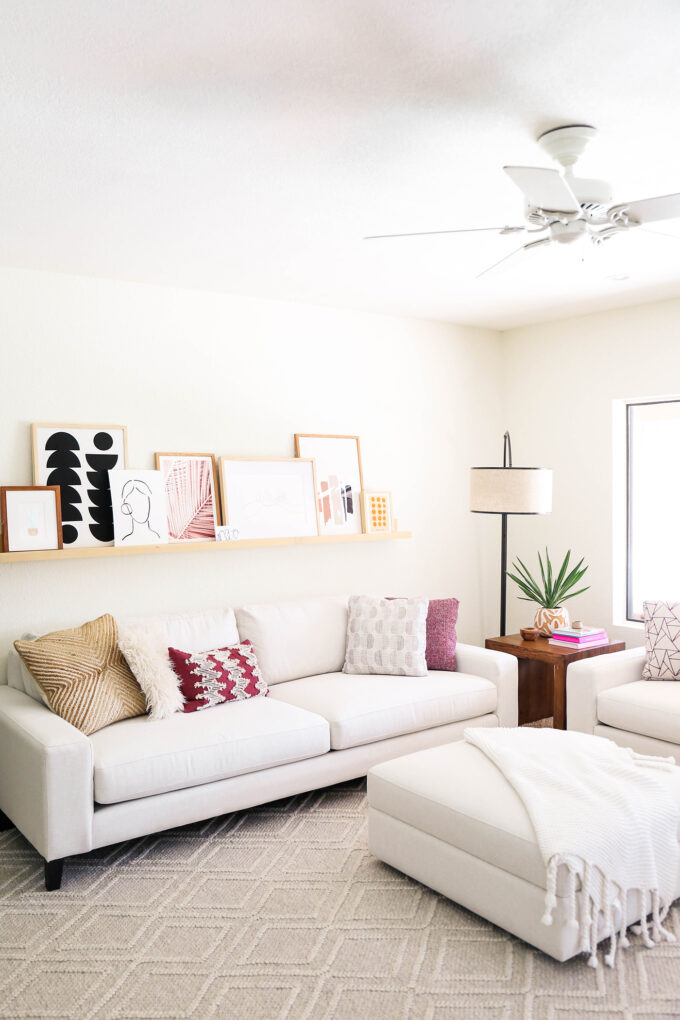 I mixed the pillows with a few that I already had and I feel like this room is my new favorite in the house. Because the couch is so light and neutral, I can really change the vibe with different textiles throughout the seasons. I'm particularly stoked for the holidays. Also, I'm sitting in the chair as I type and I have no intention of moving for the rest of the day.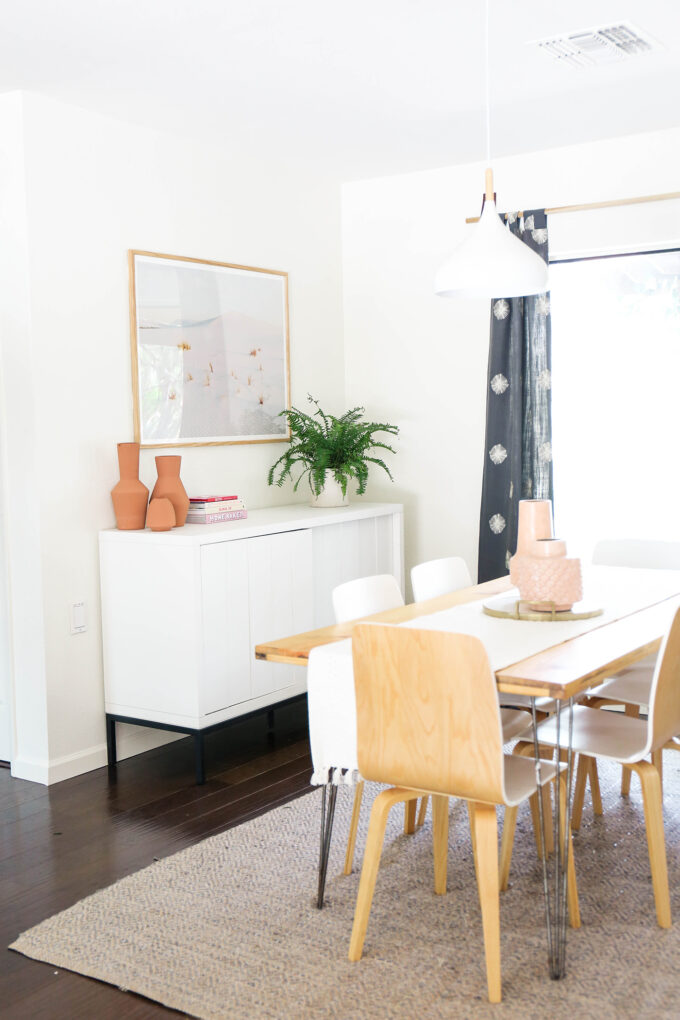 I had also mentioned how when we were designing some custom furniture for the house, we chose this Custom Dining Sideboard finished in white enamel. And it's kind of the best thing that ever happened to our dining room. This isn't even actually a separate dining room as it is just off the kitchen, but we're doing our best to help the two feel apart. The sideboard matches our pendant light (can you believe what this room used to look like?) and the whole space just feels a lot less cluttered. Before, we had a giant armoire here filled to the brim with styling supplies. Now, they're tucked away inside the sideboard along with other entertaining necessities.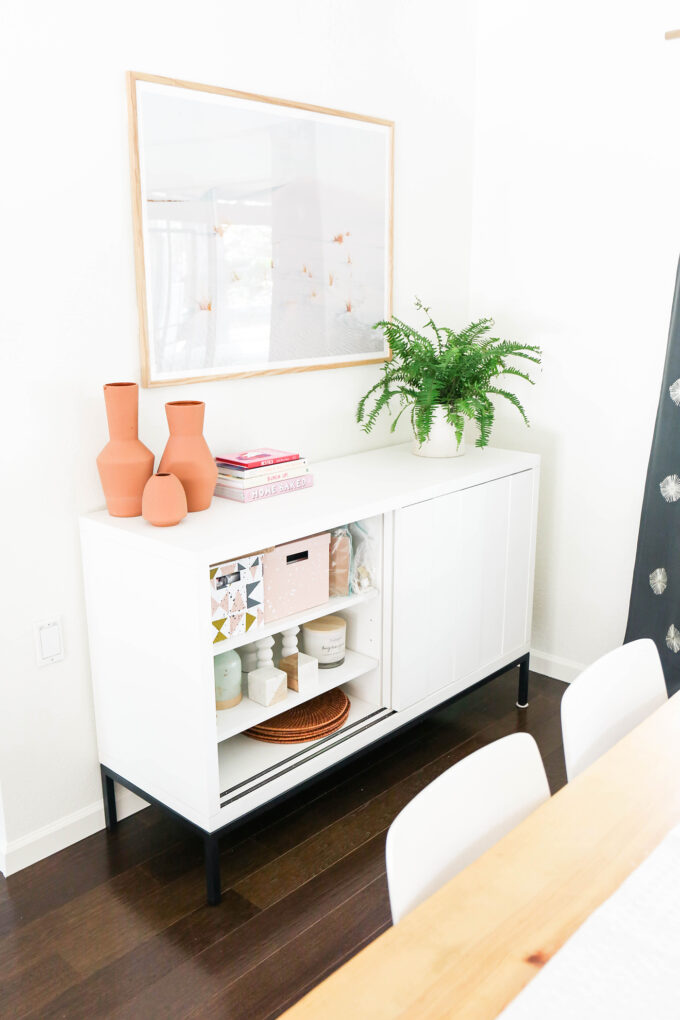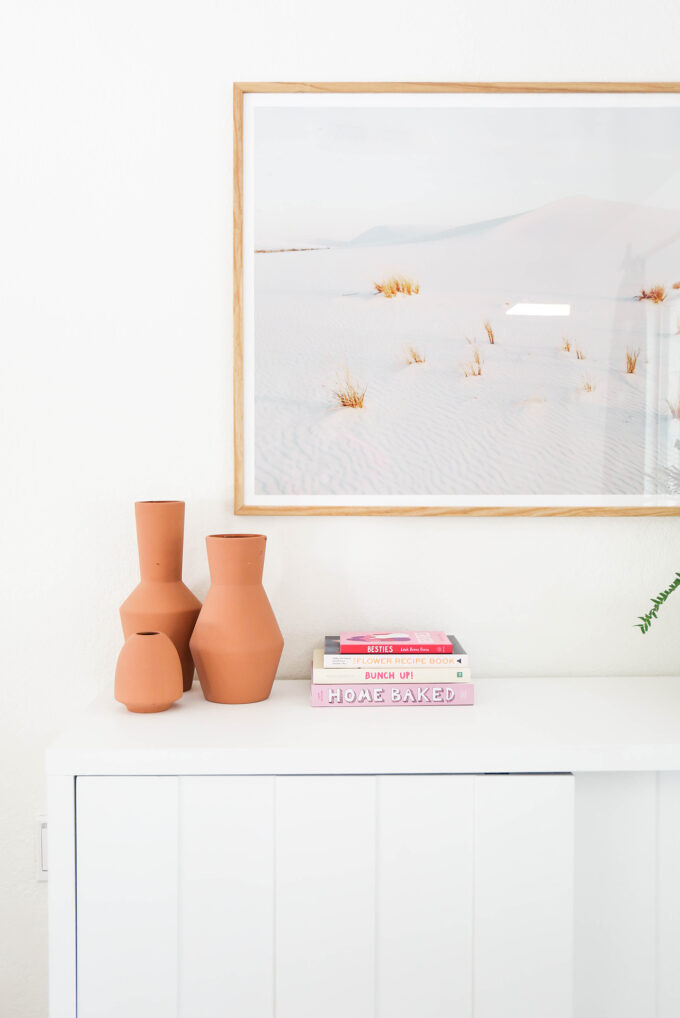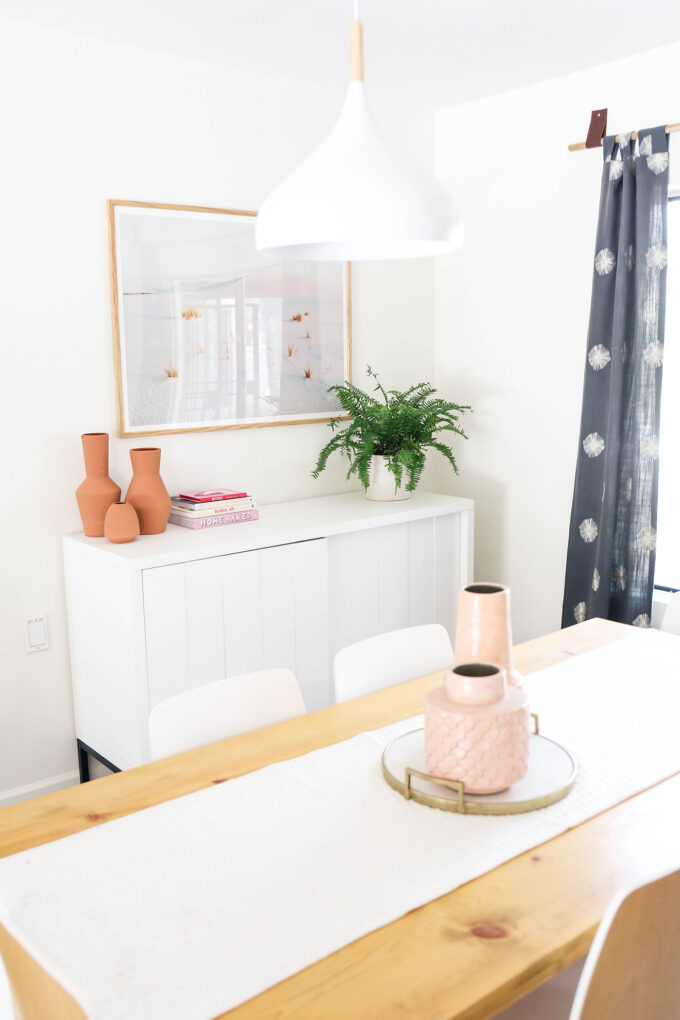 We moved the art! It's now calling this little spot home and I think it will stay. I'm in the process of sewing some new curtains for the space. They're actually just the opposite of what is hanging currently – an ivory fabric with grey embroidery. I would have loved to have them completed before we shot this area, but whaddayado? Those children that live here are taking up all of my day. But I still really enjoy how much cleaner the dining area feels. It honestly feels almost too clean. Like, where my clutter at?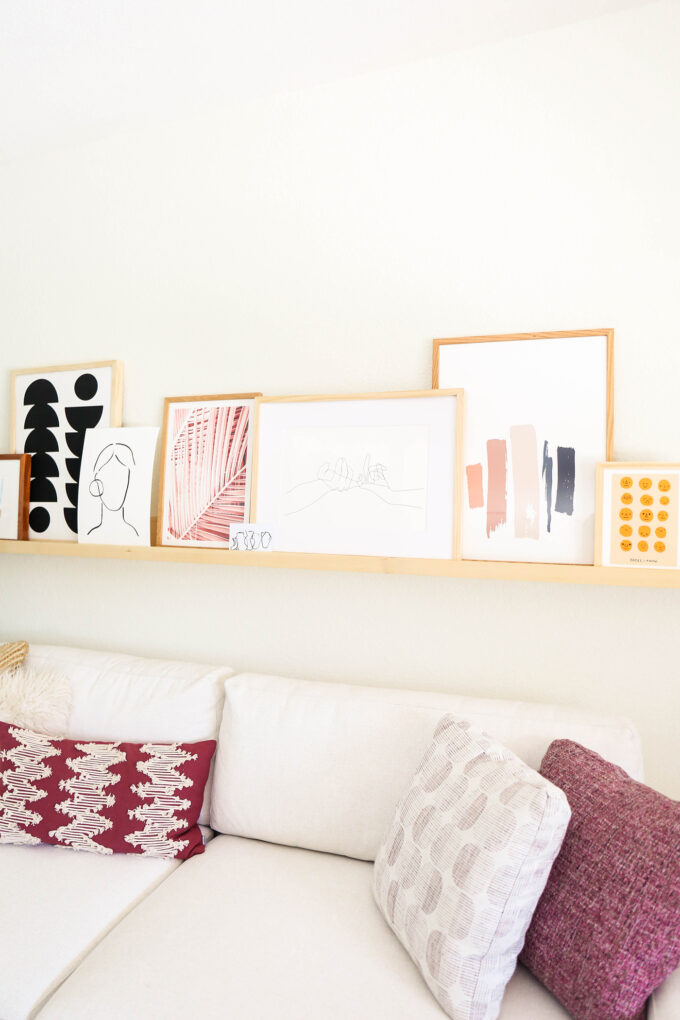 So obviously, this isn't a true before and after because I feel like I'm sharing how this space is evolving. It's fun to talk it out and share my thought process about how things look and how I'm planning to update as we live here.
And how it is currently after the addition of custom furniture: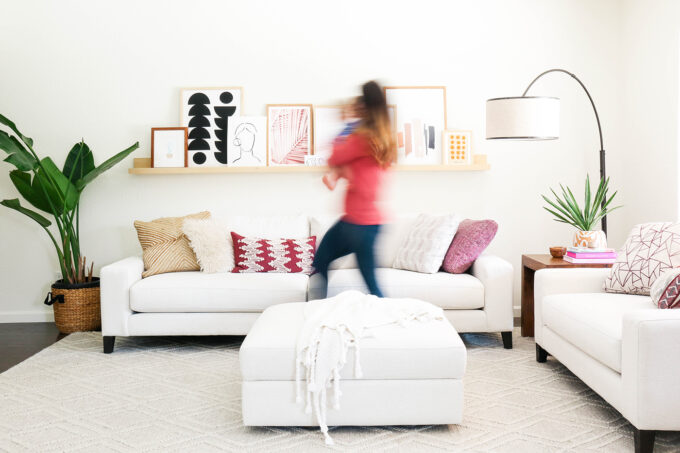 I'm honestly just so extremely happy with how this looks and how our furniture turned out! A huge HUGE thank you to the folks at Bassett for being so wonderful. None of this could have happened without them, and I'm a convert for life! Check out this post to read all about my store visit and how we started the entire custom furniture process! I know that these furniture pieces will last with us for years and I'm excited for the memories and moments that will be shared in this living room. I'm also excited to continue to share updates to this space as they come! Keep up with our renovations and fixes by following the hashtag #ProperAtHome!
photography \\ PROPER
**This post is in partnership with Bassett Furniture, a company that believes in bringing beautiful and quality custom furniture to the homes of many. Thank you for supporting the brands that help PROPER keep creating!