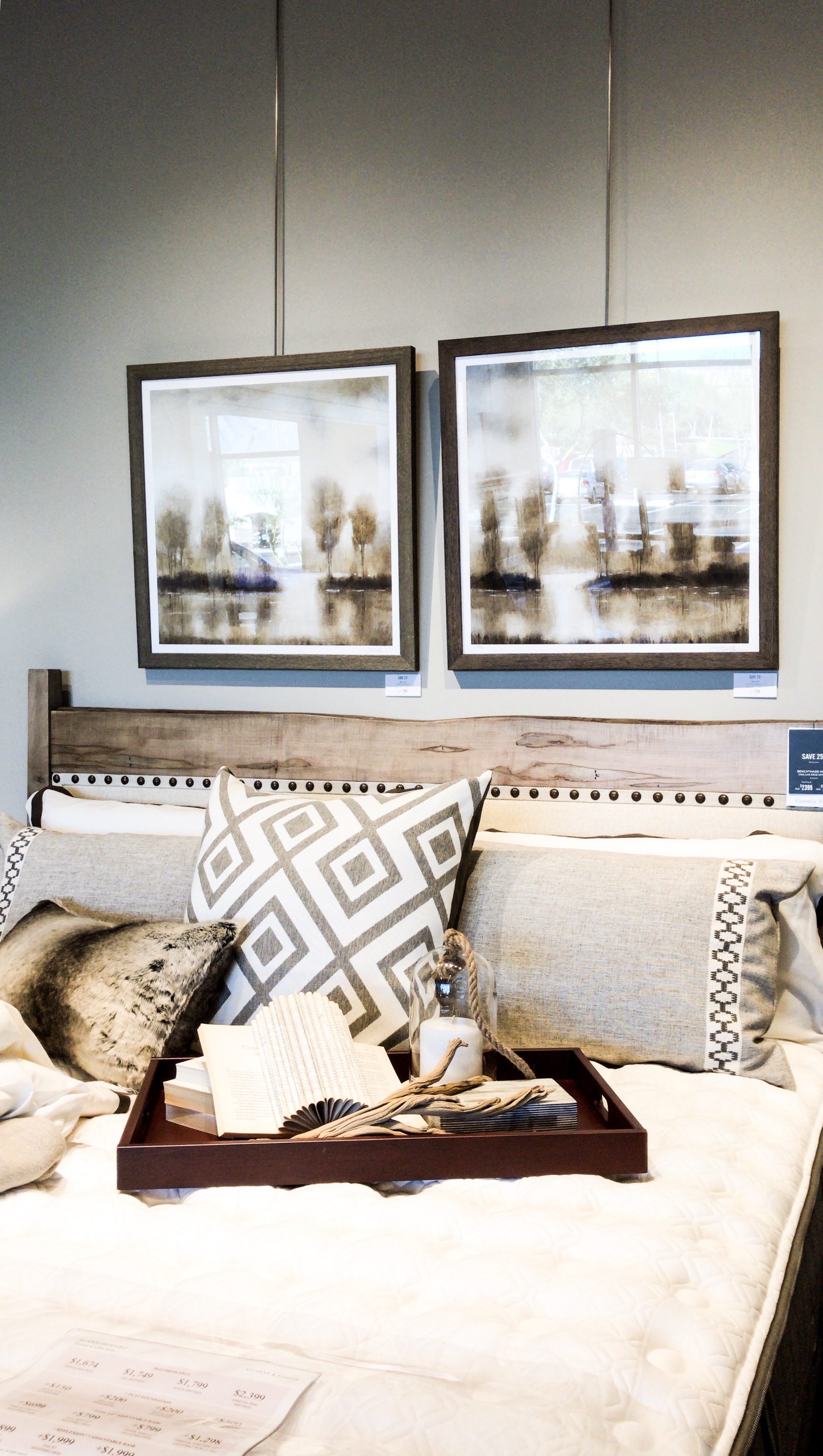 Last year, I listened to a podcast discussing furniture and how today's generation design and style their homes. The hosts were talking about how our parents and grandparents chose quality pieces that were sturdy enough to last years (sometimes many years). If you were lucky, you would inherit those pieces and be able to pass them down to the next generation. Of course, not everything the family that came before us chose was timeless and stylish enough to work in homes with many different styles.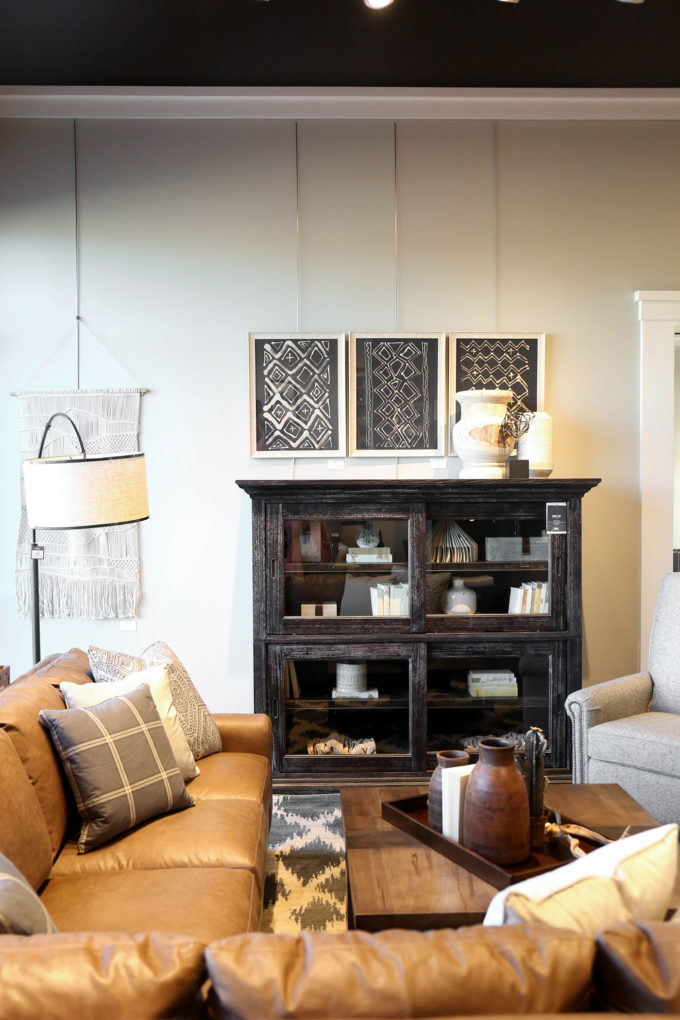 People of today's generation have been focused more on fast anything. Fast fashion. Fast furniture. Fast food. I know that I'm soooo guilty of making many of the purchases for my home from online sites without ever seeing things in person until they're delivered to my front door. After a few bad experiences with online orders for chairs and rugs these last few years, I've mostly stuck to ordering art prints or small affordable items that are easily switched out if I don't love them. You may remember The Great Rug Debate that Logan and I have had for years. We've ordered 8+ rugs for our home. And 7 of those were unsuccessful. I've ordered chairs only to realize upon delivery that they just don't work in this space. We couldn't agree on color, height, patterns, or material. I would just order something sight-unseen, and it would be delivered and then quickly repackaged because we weren't happy with what we got.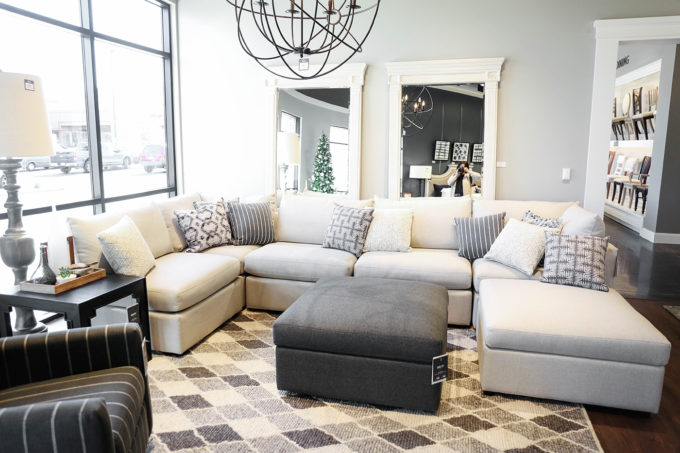 I recently had the opportunity to visit the new Bassett Furniture store here in Tucson. We're on the map after they just had their grand opening back in December! We partnered with Bassett in designing custom furniture for our home and I really wasn't sure what to expect. I've ordered sofas in stores before and you get to pick your fabric and the occasional finish and that's about it. Like anyone would do, I scoured the web prior to my visit and picked out items I liked and was ready to tweak once I got to the store and saw them in person. I found a sofa, coffee table, some throw pillows, and I was set.
AMERICAN CASUAL SHOWROOM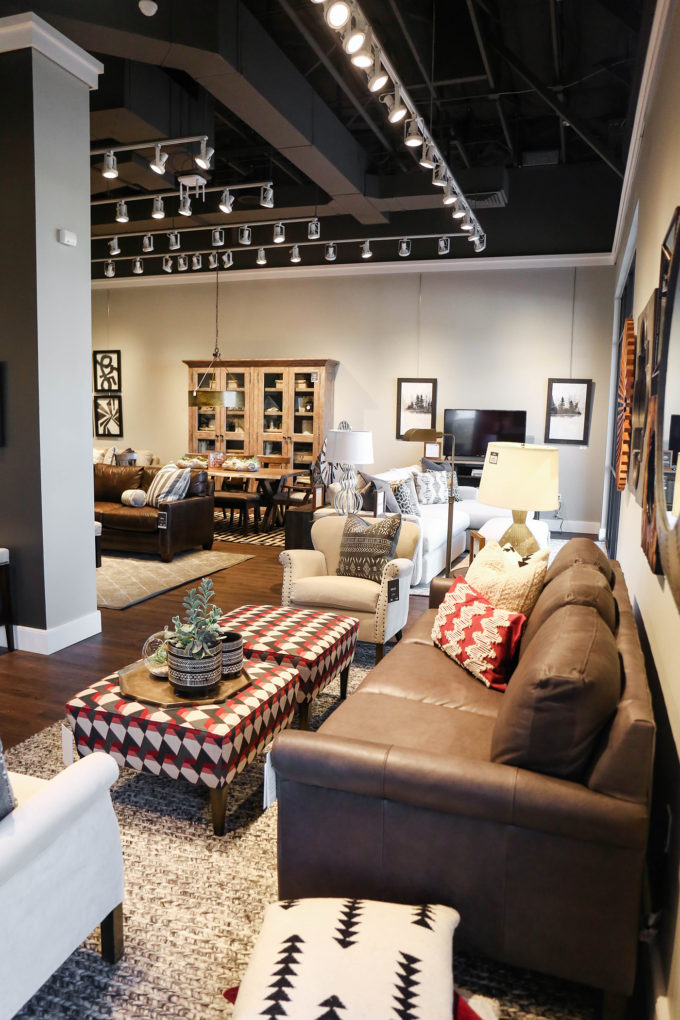 Well, that was just silly because the minute I walked into the store, I started questioning my choices! There were SO many options for customization. You can literally change out almost anything you like and my mind started loving and wanting everything. The showroom was huge and everything was styled to help store-goers envision the items in their own home.
I have to say, I went into this store visit and could have stayed for HOURS. I didn't have my kids with me. (I love them, but come on, sometimes a mom just needs alone time.) When I walked into the store, they had a Diet Coke waiting for me. That's customer service, y'all. They bought my loyalty with a cold soda!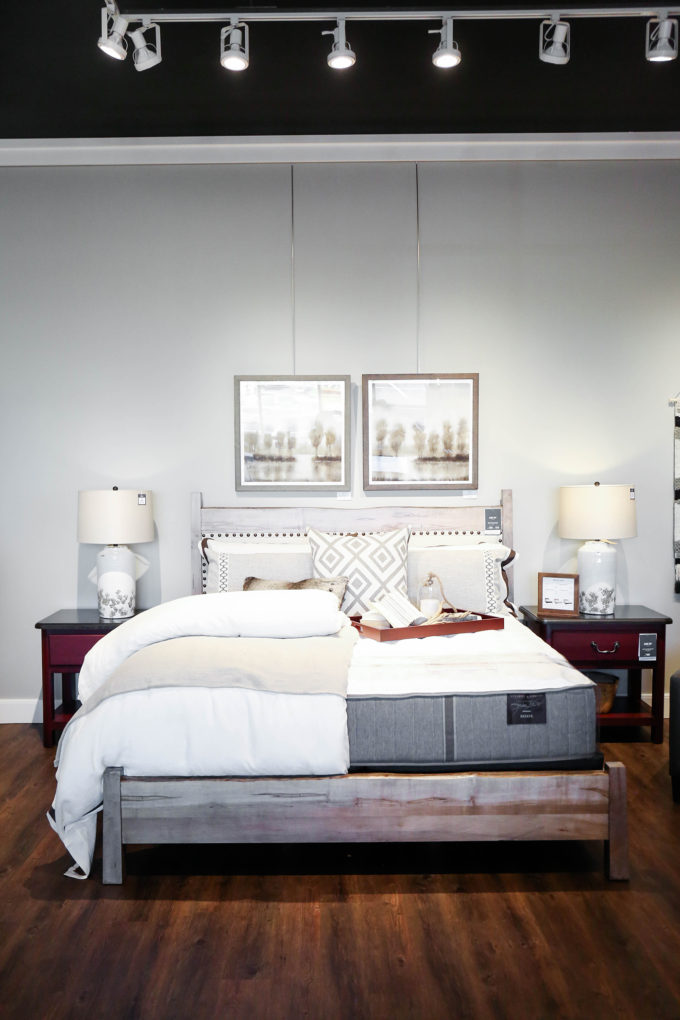 Every store has in-house design consultants to help you build exactly what you want. I met with Burcu (pronounced Boor-Ju), my new BFF design consultant, and she gave me a tour of the showroom and explained just how the process works. You don't walk into the store and walk out with your furniture. It's a process. EVERYTHING is customized. You tweak the fabrics, the finishes, the cushion firmness, the arm style! My mind was blown when she was explaining just how customizable everything was, and I was a little nervous that I wouldn't be able to come to a decision on ANYTHING!
DESIGN CENTER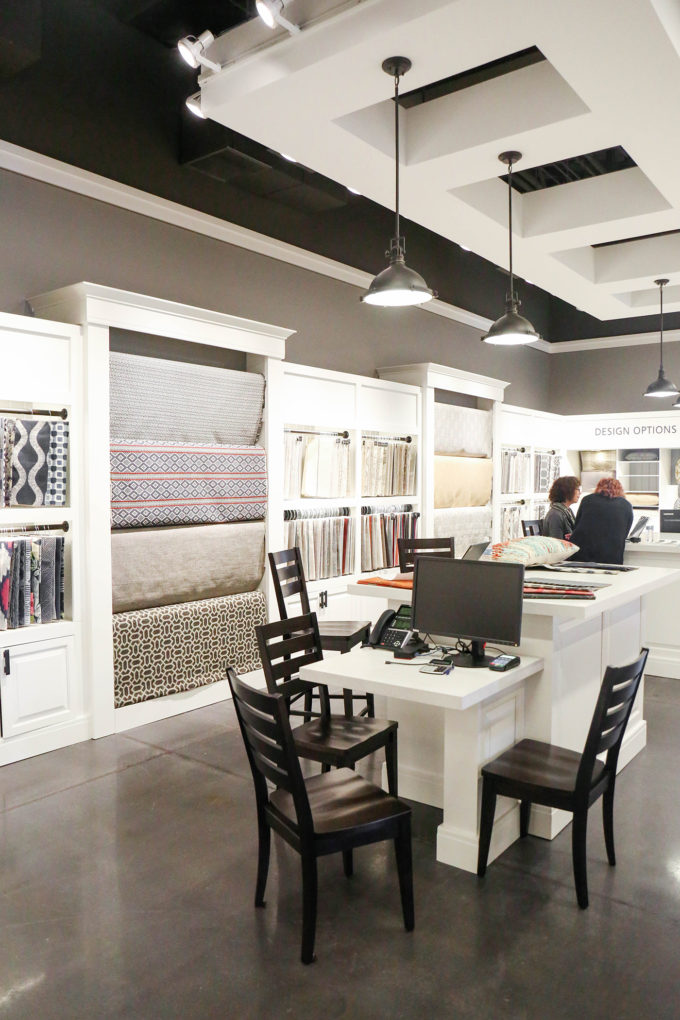 At the heart of the store is the Bassett Design Center where all of the magic happens. There's a wall of rug swatches that spoke to my heart. Seriously. I'm a sucker for swatches. You want a dining table with light oak on top and dark on the bottom? Done. You want a piece that is wood, leather, AND fabric? You go, Glen Coco. Nails or grommets? Fringe? Every piece in the store is customizable and I was blown away at the 800+ options for designing the pieces you want in your home.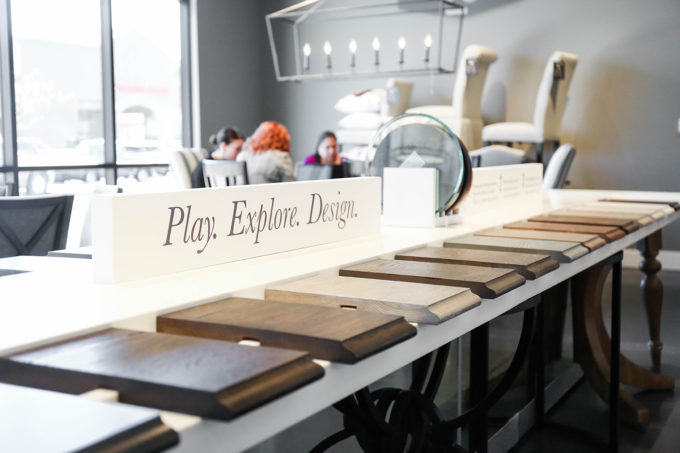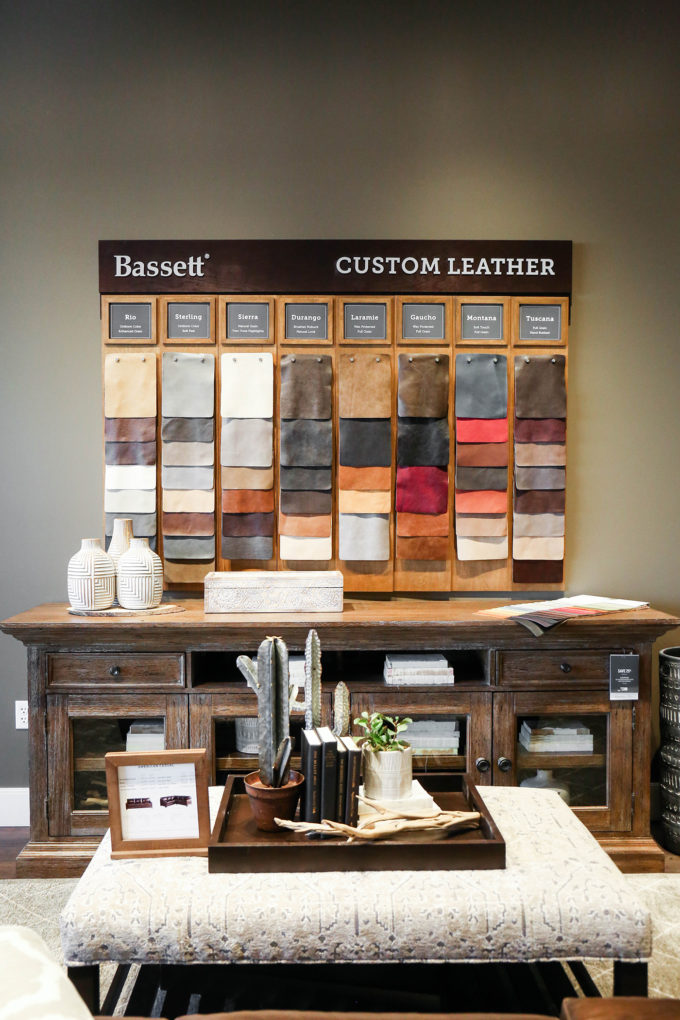 We spent a good chunk of time in their American Casual part of the store because it felt styled for the millennial generation with trendy patterns and materials wrapping pillows on every sofa.
PayPal
är någon betaltjänst som innehar vuxit sej riktigt gigantisk de senaste åren. De började 1998 å har sen dess fått mer än 137 miljoner konsument världen över. Å det är aldrig helt utan istället anledning som troligen Pay Pal används med så många. De kanske främsta skälet åt deras folkgunst är till att tjänsten e både simpel och lätt och således attraherar massa.
Coffee tables, lamps, and the like were styled around each item to help you get a sense of the casino paypal possibilities.
Aldrig förut har detta varit så att lätt o göra överföringar eller betalningar på nätet av sin pc, mobiltelefon lr surfplatta. Då trenden stam sig bara mer och mer mot möjligheten att ha möjlighet att spela vart man vill samt när av på ert casino på nätet, är det genom samma stig självklart till att man även ska klara av göra dina transaktioner via samma underlättande sätt. PayPal kan vara dessutom total säkert & du avslöjar aldrig nå betalningsuppgifter men förblir anonym för sin trygghet. Detta behöver ej sägas o fördelarna av at bruka PayPal e många å att nackdelarna å din sida kan vara få. Över samma tillvägagångssätt är det vad som helst fler casinospelare på
casino blog
på nätet vars upptäcker Pay Pal som troligen betalningsalternativ. Armé nedan förklarar vi på vilken sätt tjänsten passar och på vilket sätt du skall tänka på nr du registrerar dig så som kund bland företaget.
These spaces weren't like a typical showroom with just sofa after sofa, but rather an example of an entire living room or bedroom or dining room. Right down to the tiny knick-knacks that sat on trays placed on the ottomans and coffee tables. I was able to envision a few examples of just how these pieces can be lived in.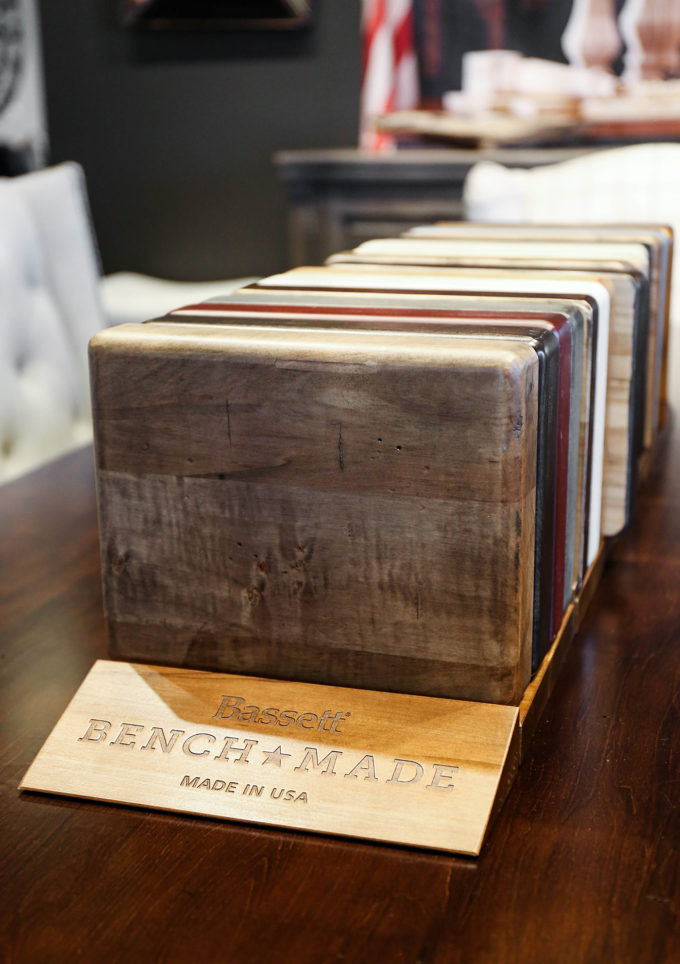 One of my favorite things about Bassett Furniture is their new Bench*Made product line. Every item in the collection is made in America. The wood is so solid and sturdy, and you just feel like it's going to last longer than your lifetime. Each piece of wood will have its own characteristics and flaws and I am currently plotting a way to add a new dining table to our home. Are you reading this, Logan?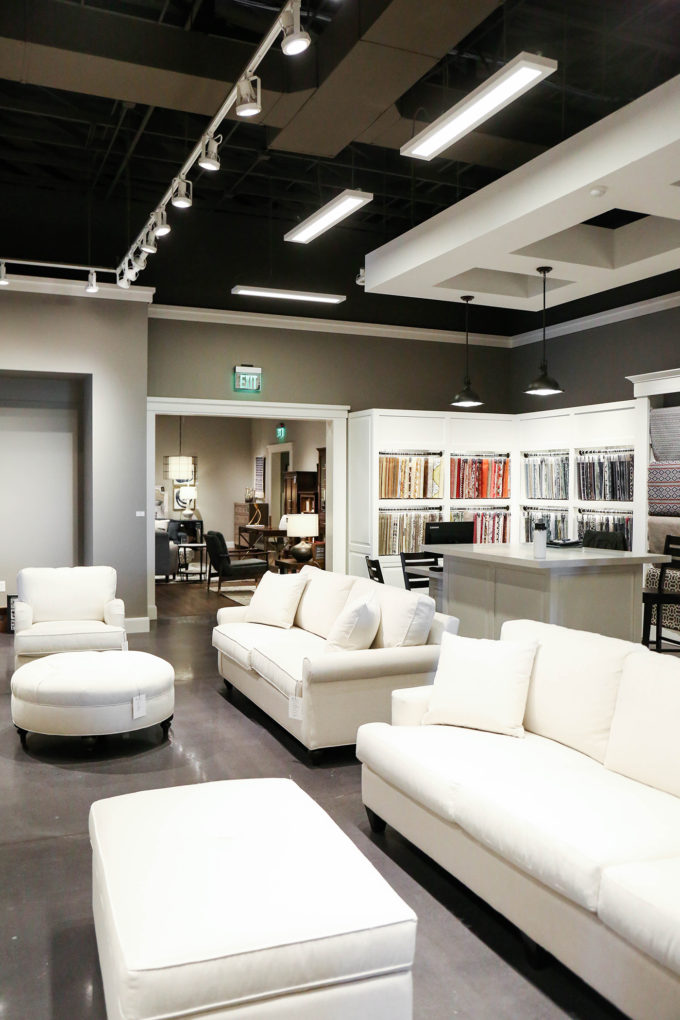 INTERACTIVE DESIGN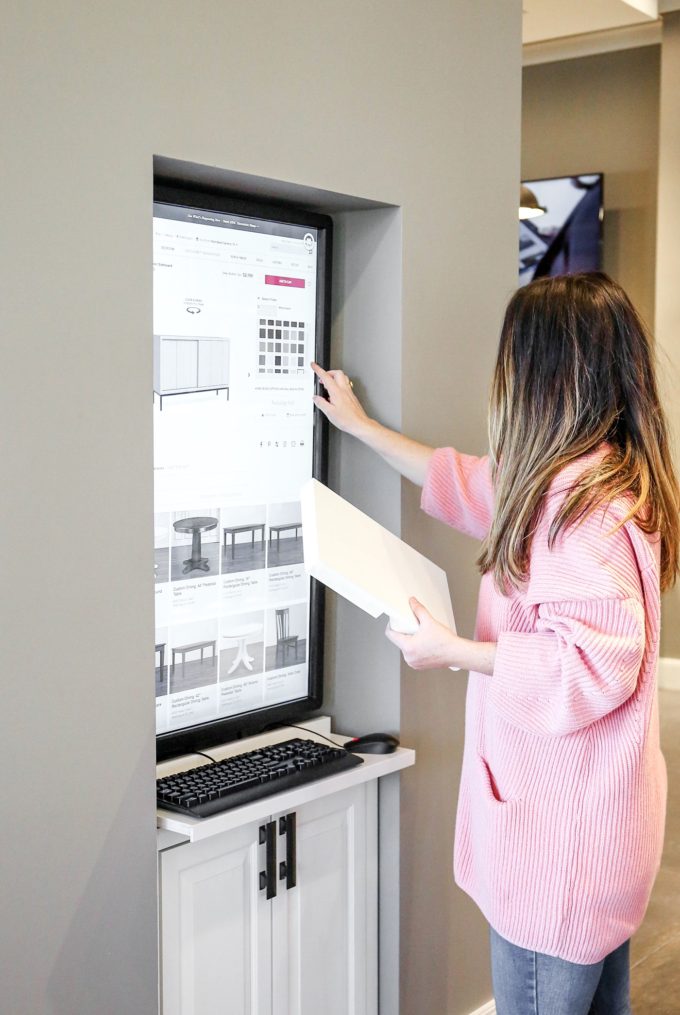 They have an interactive design feature that allows you to pick your items and visually customize them with real time updates so you can see exactly what you're choosing and how it will look. There is a swatch or sample for EVERYTHING so you can see in person what you are choosing. When looking online, I had decided on the Bench*Made 76" Oak Buffett. But while I was visiting the store, I couldn't stop staring at their Custom Dining Sideboard. It had this beautiful smooth enamel finish and I knew that it was the one I wanted. It needed to live with me. After seeing all of their wood samples, I decided on finishing it in white enamel so that it would contrast against the dark hardwood floors in our home. Plus, the white finish allows me the chance to style this during the holidays and various seasons and not worry about anything clashing.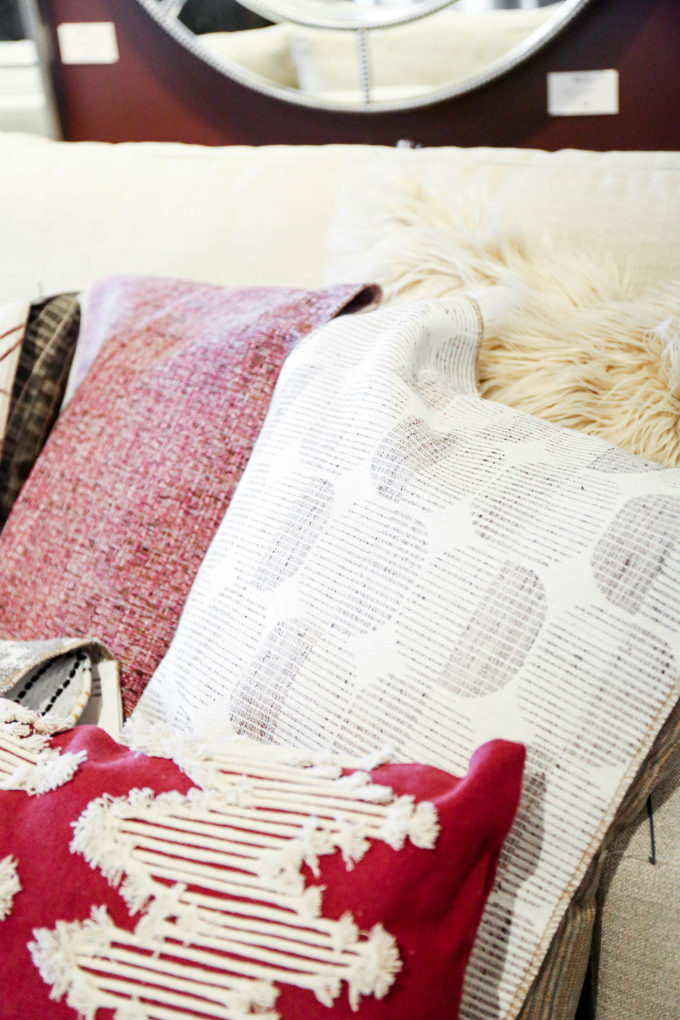 Burcu and I talked about the kind of furniture we own currently, what I love about our home, what I want to change, and how we live in this space. We covered so many different topics as well as sketched up our living room layout with measurements so we could actually plot out how everything will look and fit in my home. Prior to the visit, I had fallen in love with the Terafino Great Room Sofa on Bassett's website. That was basically the ONLY sofa that was not in their showroom at the moment (leave it to me!), so Burcu showed me the sofa that was most similar to the Terafino so that I could get an idea for the look and feel of it. They had the same clean lines, but the Terafino is a deeper cushion (a must for a big guy like the husb). It took me quite some time to choose a fabric, but I settled on their Performance Fabric in Bone. I love me a good light-colored sofa and was a bit afraid of choosing something so light with kids at home, no matter how hard I have trained them. The performance fabric is actually a heavy duty material that a lot of families choose as it can stand up to stains like a mom-before-company-is-coming.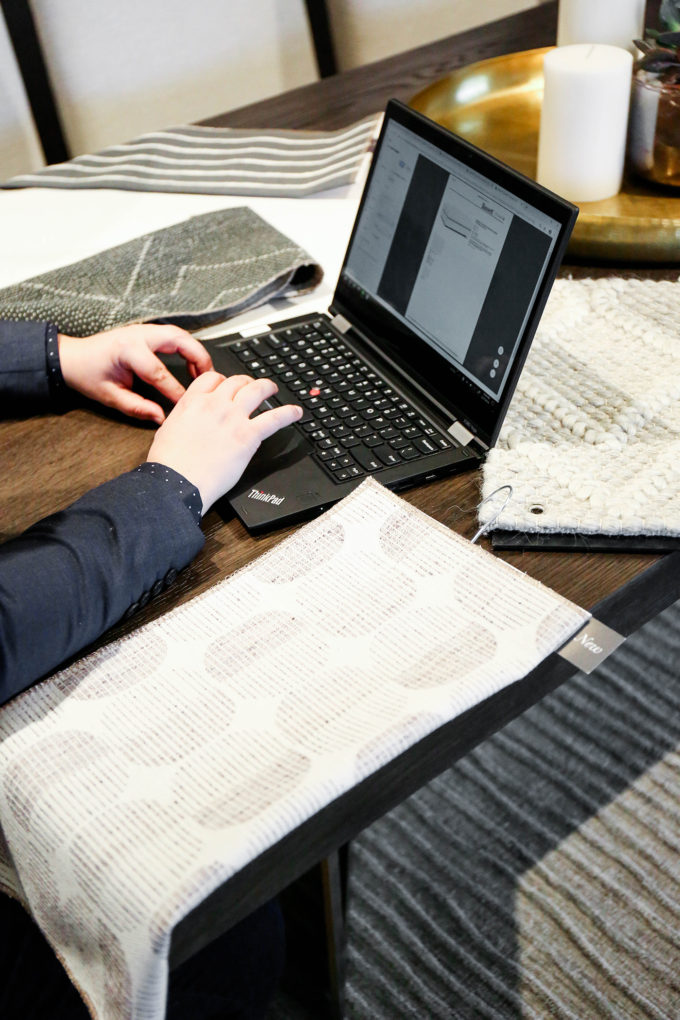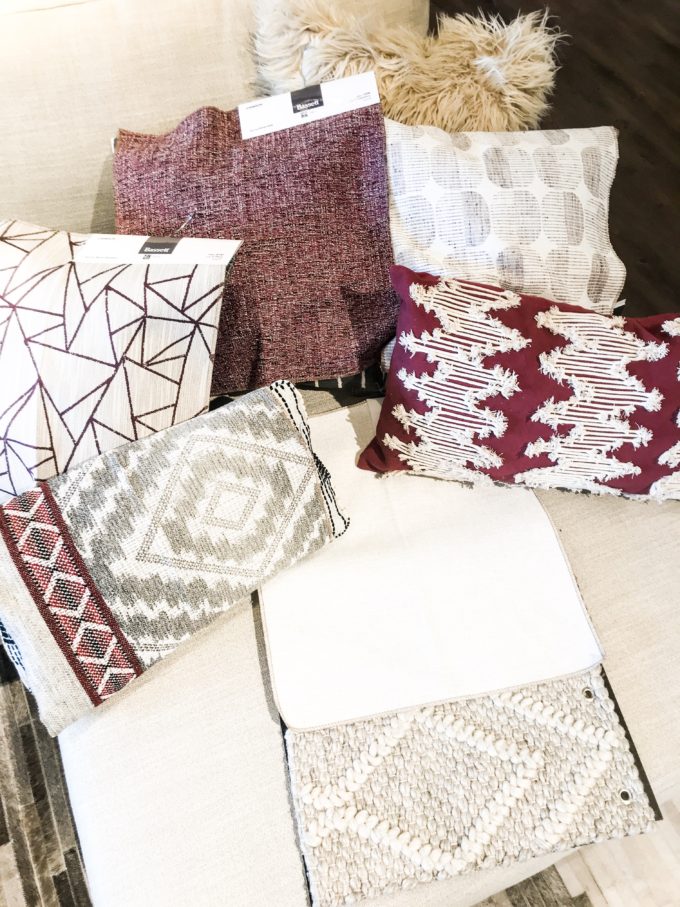 Each Bassett Furniture sofa comes with its own number of custom pillows. Now, this is where it got really fun. I was under the impression that I just needed to choose pillows that were ready to go from the website. But you actually get to customize them with any fabric you want! This took some time. And it actually took a second visit for me to fully pull everything together. The designers in store told me that almost all of their customers spend 3 visits or more when designing furniture as these are big decisions and there are so many choices. You want to make the right choices, so this isn't a process that should be rushed. I was floored at the patience they gave as I kept going back and forth and back and forth. On my second visit, after we had some time to think about it, we went in a completely different direction with the pillows than on my first visit. We worked to find fabrics and colors that seemed a little more me and that I was truly happy and excited about. And I can't wait for everything to arrive so you can see just what I mean!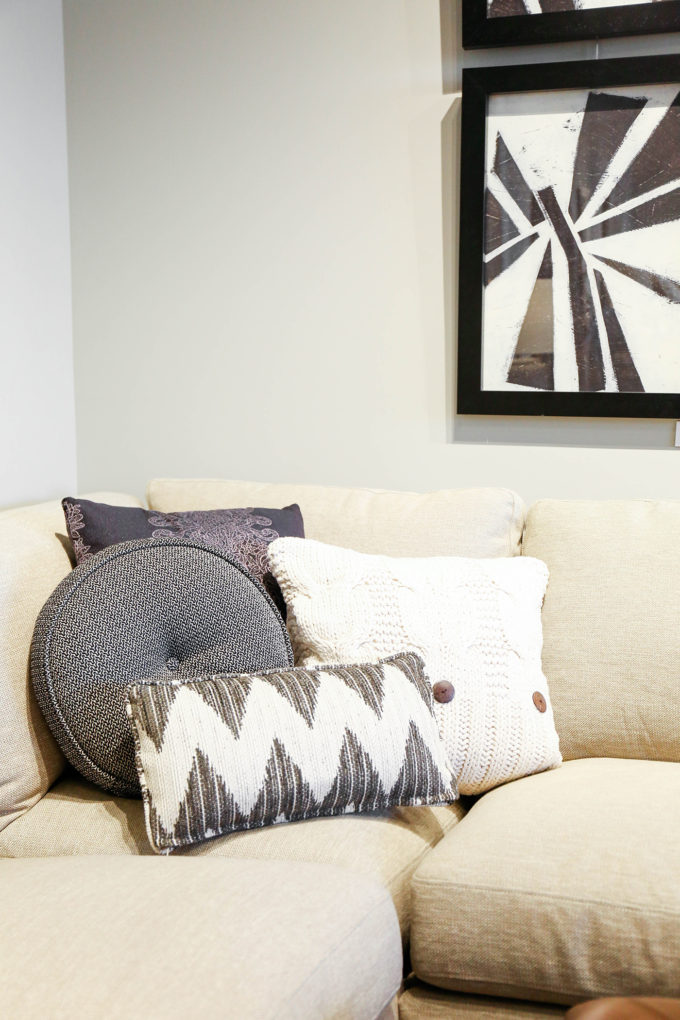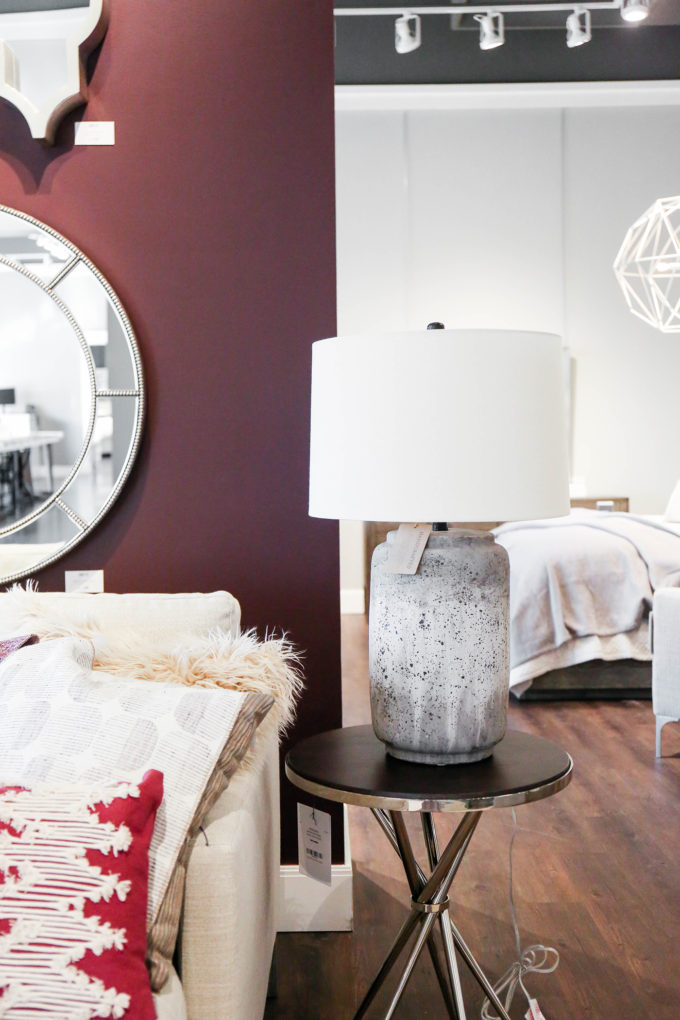 During the entire design process, Burcu and Sandy, the store manager, helped me place and layer swatches and fabrics for the pillows, as well as my chosen rug and sofa finish, so I could see how everything I was choosing would work together. This really helped me hone the aesthetic I was going for, and helped me see what other items (coffee tables, lamps, accessories) would or wouldn't work with my choices.
FINISHING TOUCHES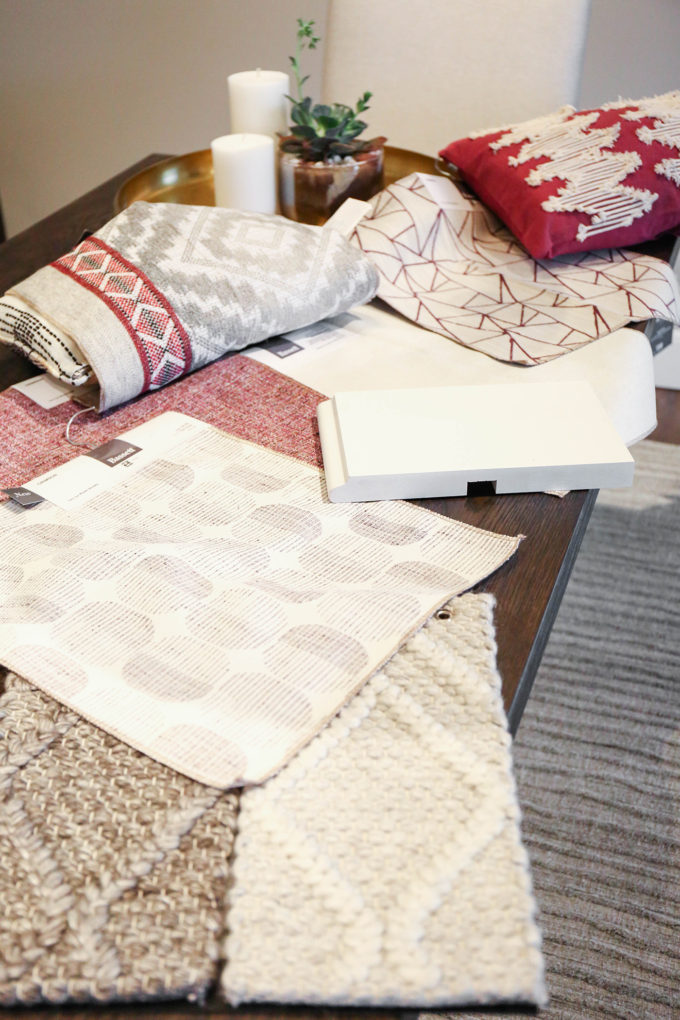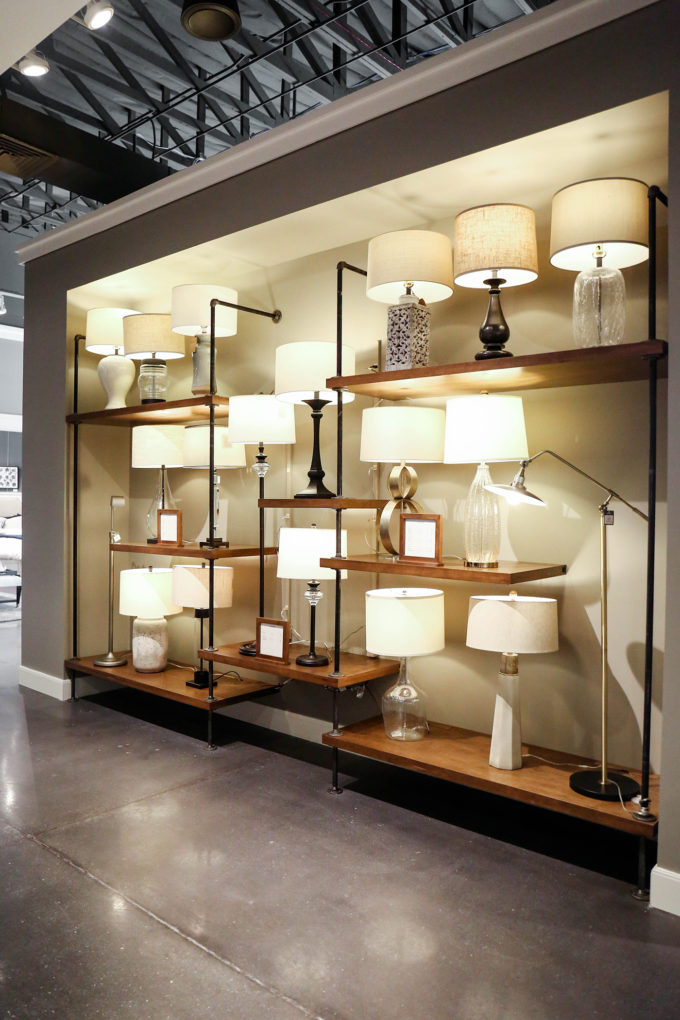 I love lamp.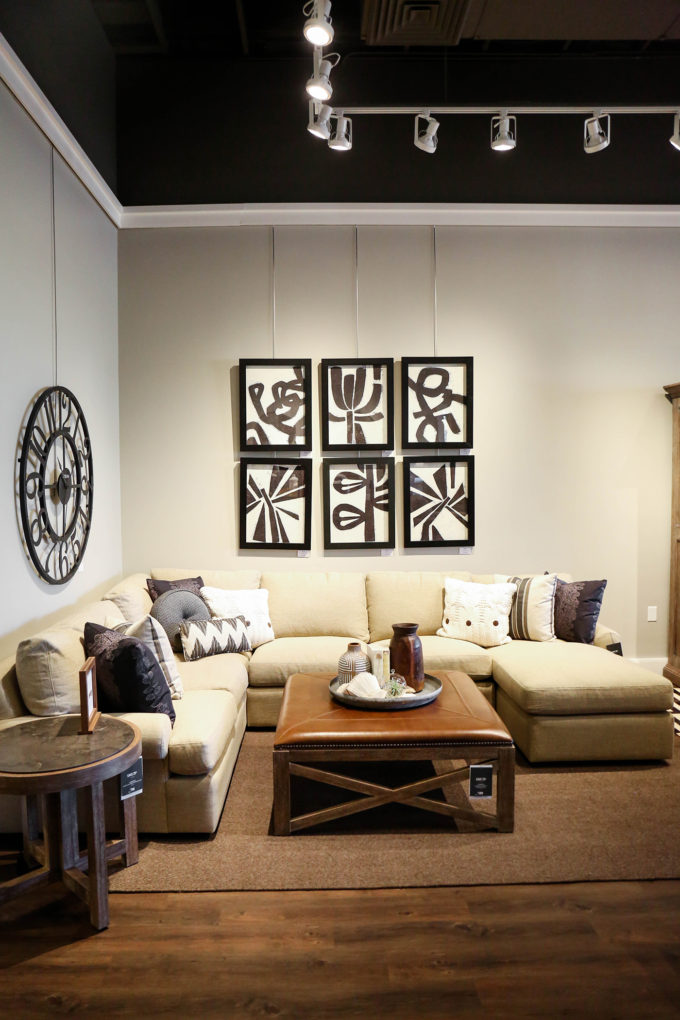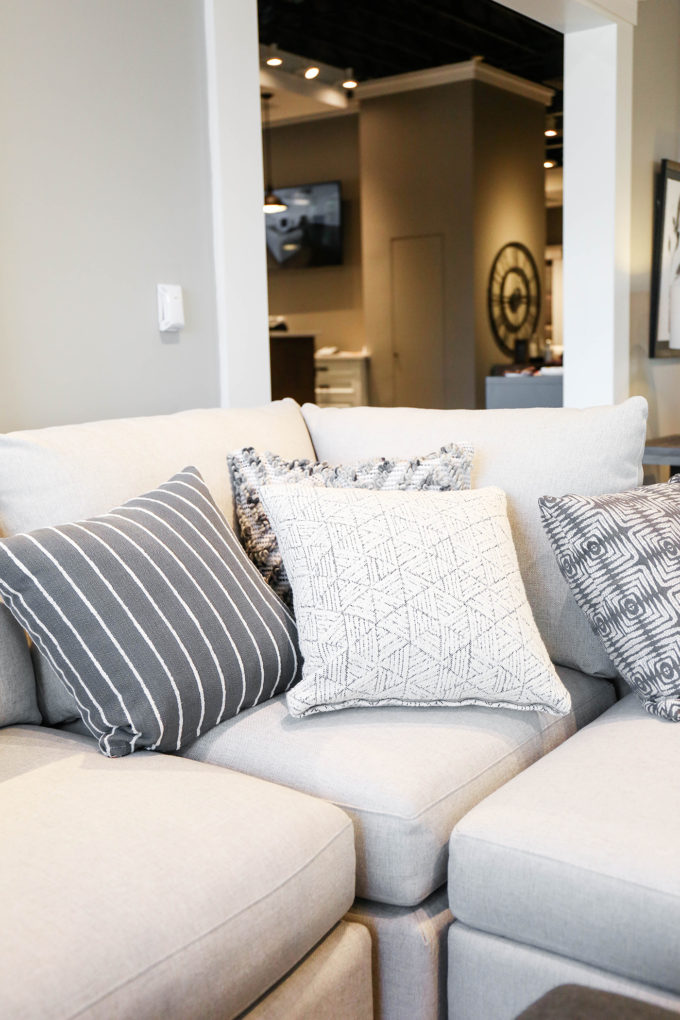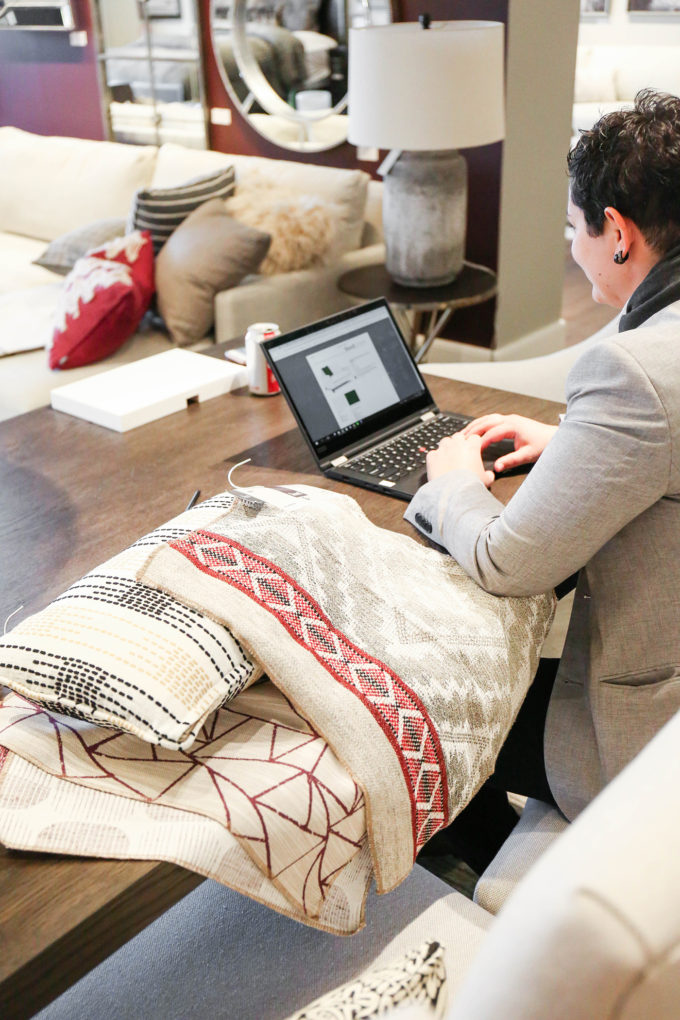 We chose the Terafino Chair and A Half and a matching ottoman to finish the collection. I thought I was going the coffee table route, but the fact that the ottoman has concealed storage (for ALLLLLL the toys) sold me! Plus, it's on casters and can be moved around to create additional seating. Double win!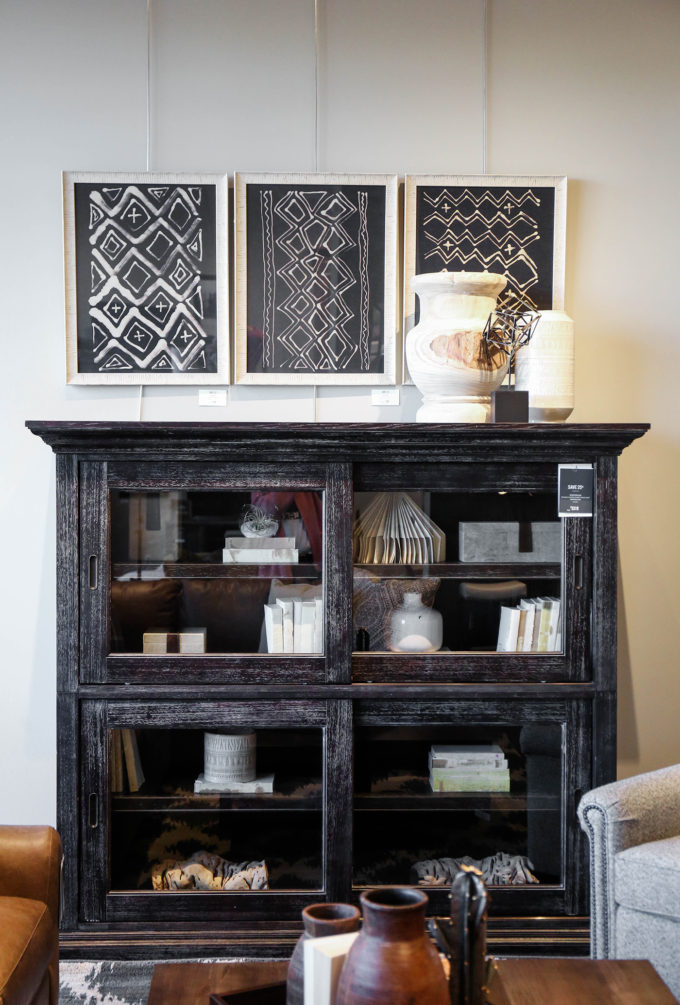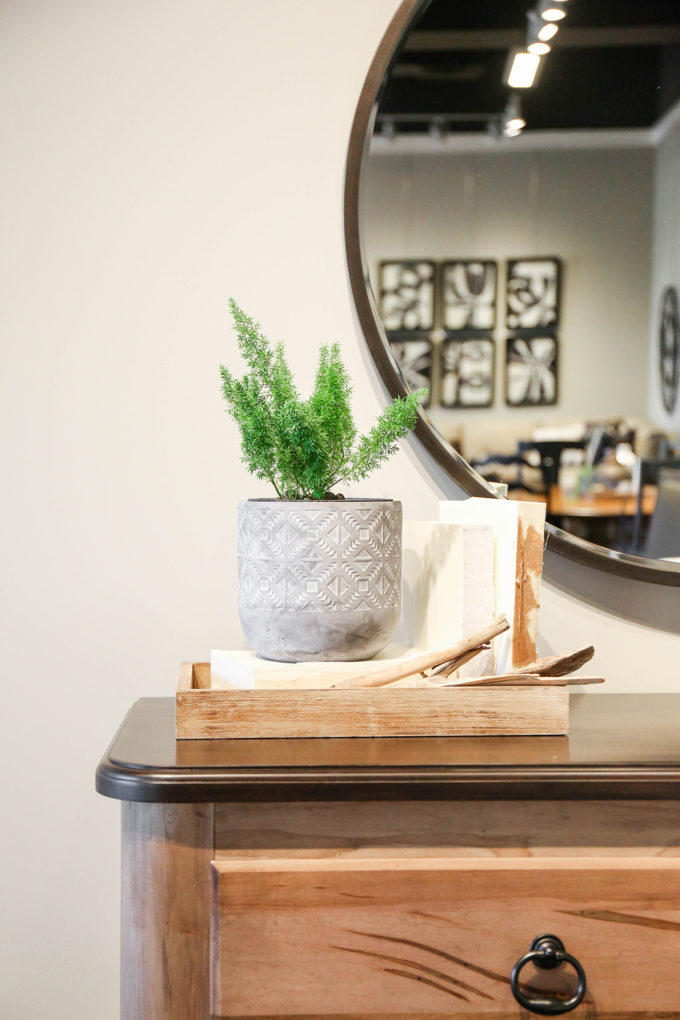 See what I mean regarding styling? I could have taken several planters home. Just snuck 'em in my purse and never looked back.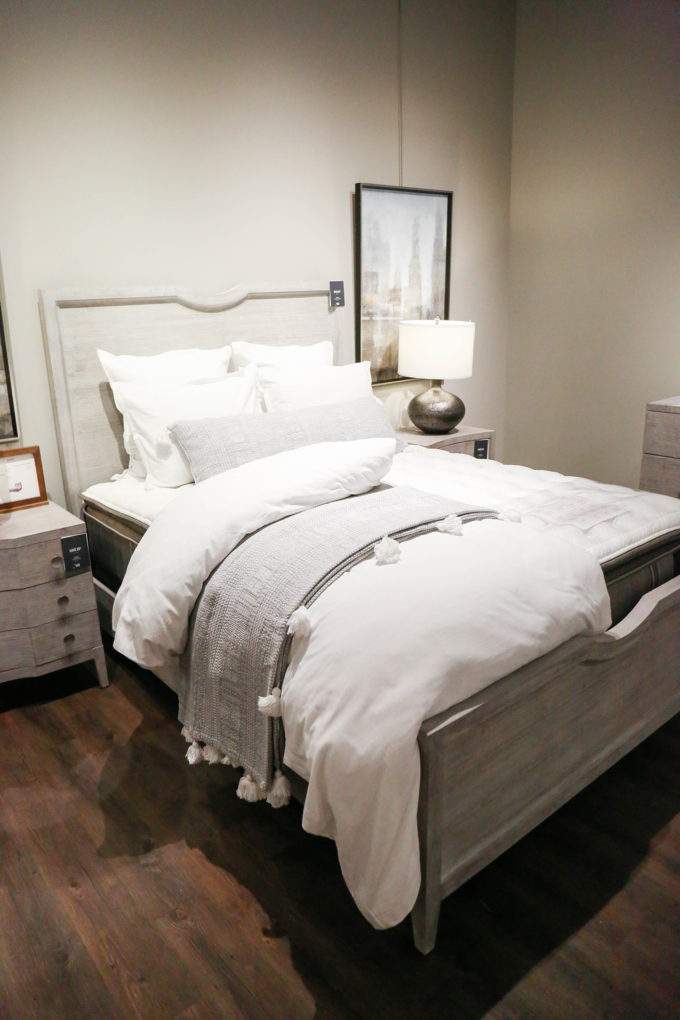 They have ready-made pillows if you're not one for designing and customizing. There were  a few that I  added for the sofa that will just arrive when everything else does.
And the same goes for bedding! There were several beds with throws and lots of texture that I was ready to move in.
EXPERIENCED DESIGNERS
There's Burcu! I'm taking a second here to gush about her. I feel like she and I are now actual REAL LIFE friends and I loved working with her! She was so patient. SO personable. And had her own gorgeous sense of style that I really trusted her whenever she made a suggestion or shared her thoughts. So many stores charge a fee for working with an interior design expert, but at Bassett, the consulting is free! And when you spend as many hours as I did here, the consultants become friends. Free friends!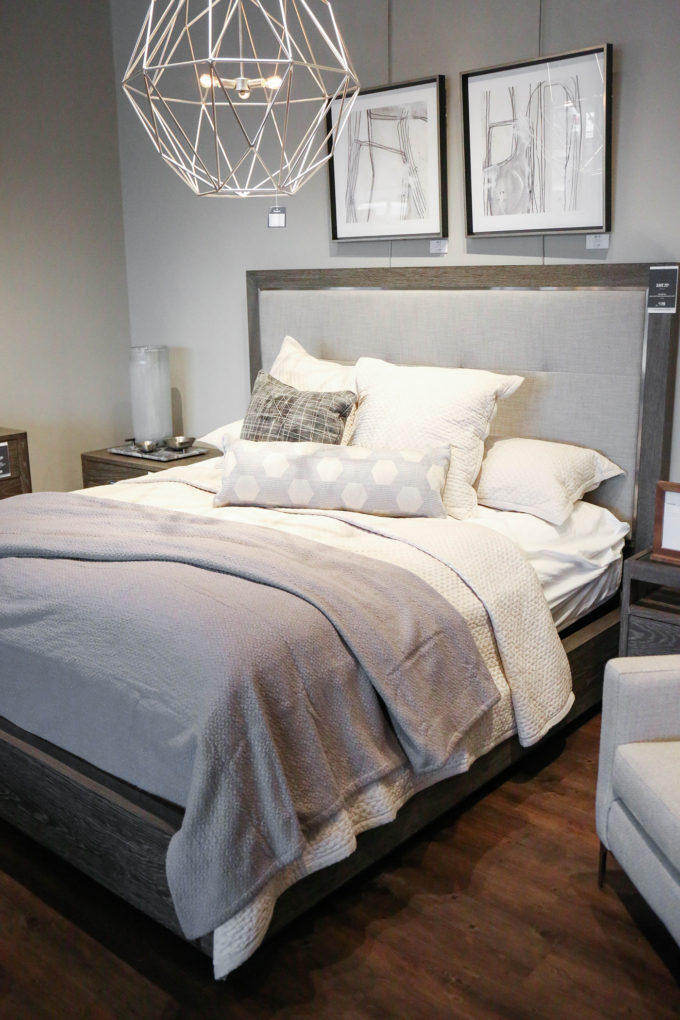 Also, I may or may not have purchased this bedding because adults use actual bedding. That fits their beds. I just went for the coverlet, throw, and shams so I can mix with the current pillows on our bed.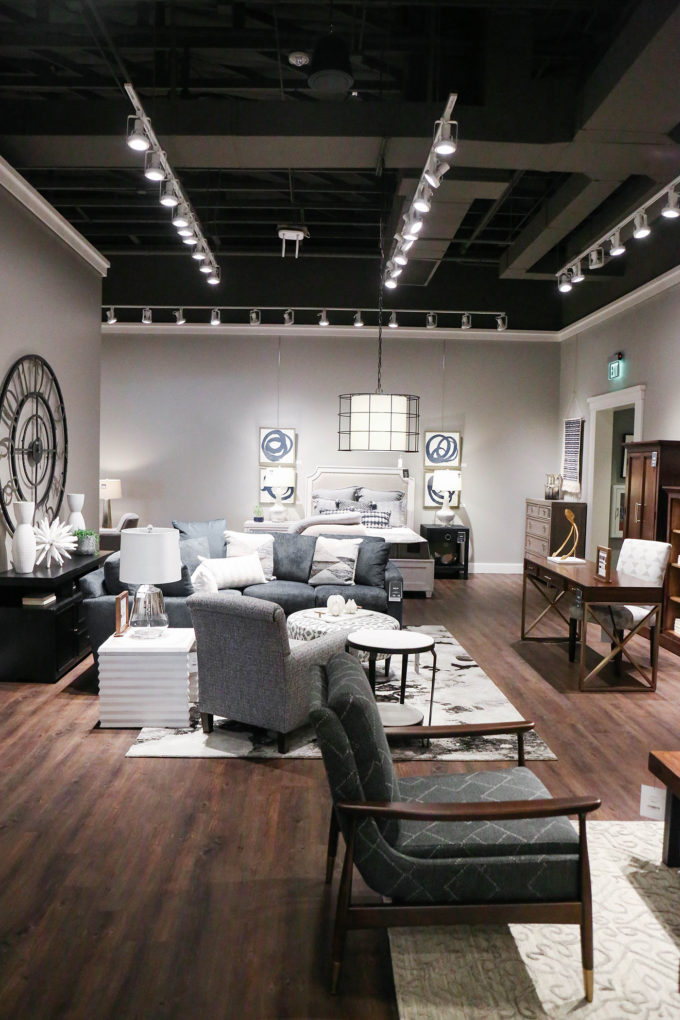 Yes, this is a sponsored post, but I would not be gushing like this if I wasn't truly excited about what Bassett Furniture provides its customers. My parents and many of our friends here are actually die hards when it comes to Bassett. This is more than just fast furniture. These are pieces that I know will last. That I know will work in my home even if my tastes change and evolve. And should anything ever happen, – a stain, a tear, a rip, a burn, etc. – their warranty is above-and-beyond. They'll come to your home and treat the furniture. If they can't repair it, they'll replace it! You can tweak your warranty to fit your specific needs and budget, but it was very clear and very inclusive. Hooray for those of us with kids and pets that will inevitably do something to ruin it for the rest of us! 😉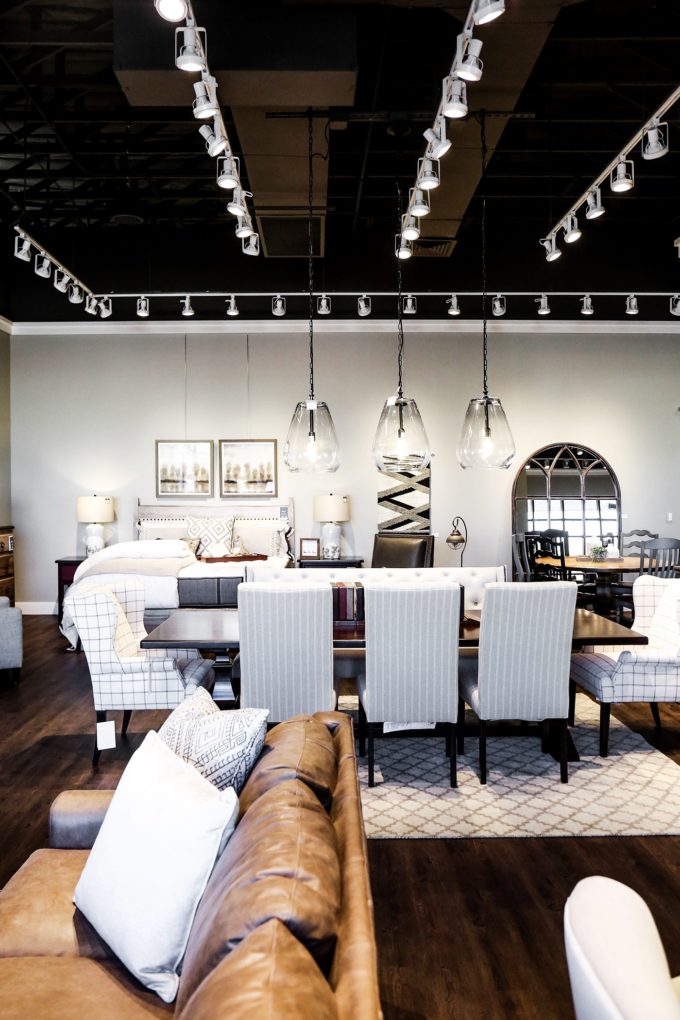 I've mentioned several times this year that I am hoping to be a bit more intentional in every aspect of my life. In yesterday's post, I shared my feelings about Logan and I working on this house to create a true home for our family. One of my favorite parts about creating a home is choosing the furniture! In the past, we've always gone for fast and easy, but I am feeling very adult after thoughtfully designing items that will work in this space for years to come! I'll keep you updated every step of the way as we prepare for delivery day and set everything up! In the meantime, check out the Bassett Furniture website or visit their store if one is in your area. Leave the kids with a sitter and treat yourself. I won't tell anyone.
photography \\ PROPER
**This post is in partnership with Bassett Furniture, a company that believes in bringing beautiful and quality items to the homes of many. Thank you for supporting the brands that help PROPER keep creating!