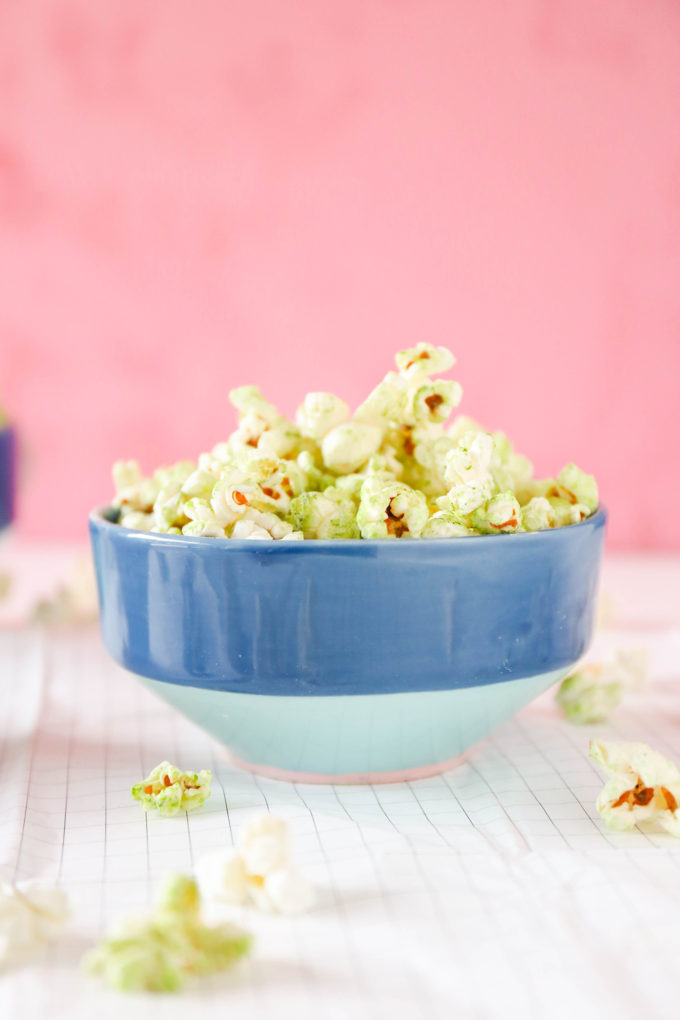 I've been so excited to share this recipe for coconut matcha popcorn because it's SO easy! In honor of National Popcorn Day coming up on Saturday, January 19th, I'm sharing this super simple and flavor-packed snack! We haven't had a microwave for almost 7 months and we've learned to live off the land. I kid. We still don't have a microwave, but we enjoy popped popcorn straight from the stove. And always have. I don't know if you're intimidated by the idea of popping corn on the stovetop, but it's ridiculously easy. And if you're intimidated by the matcha itself, you're not alone. I never thought I was fancy enough for this stuff, but it turns out, I am. And so is Vita as she was eating this stuff by the handful!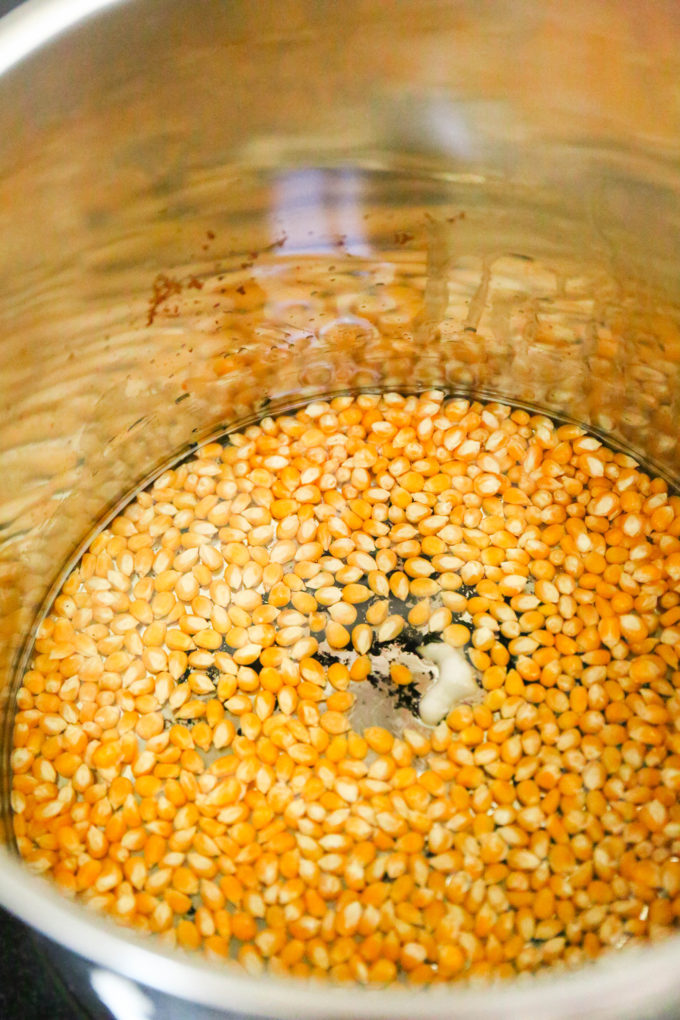 The keys to successfully popping corn on the stove are 1) having a tall stockpot and 2) not leaving the kitchen until it's done. Simply use your favorite coconut oil (I'm partial to this Viva Naturals version!) and put about 1/3 cup in the bottom of a tall stockpot. Pour enough kernels in the pot to cover the bottom with 1 layer. This was about 1/2 cup for me.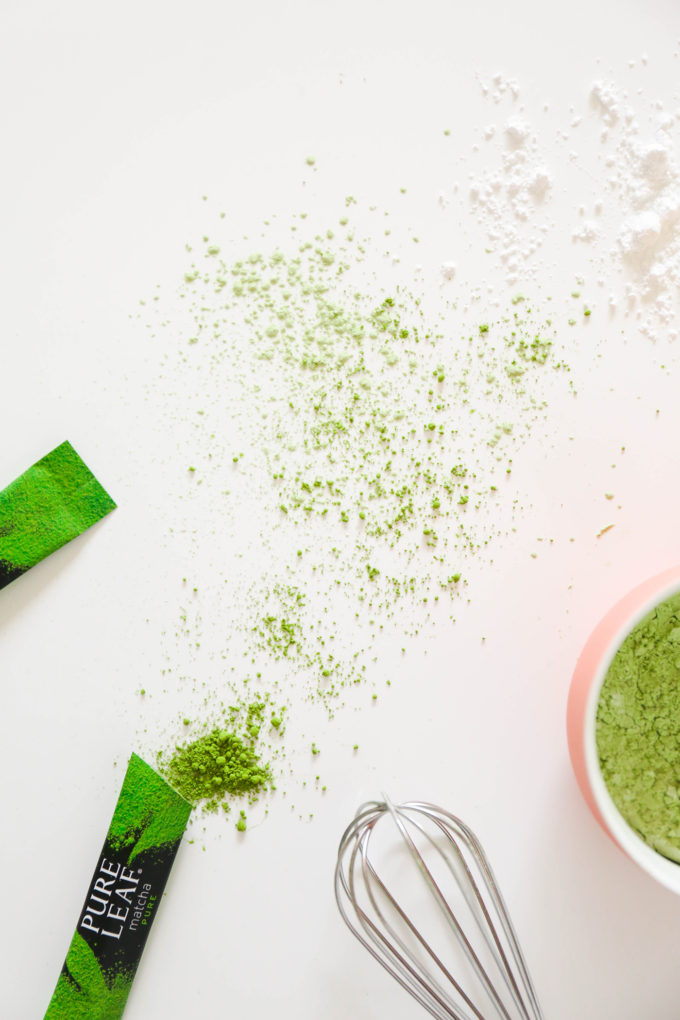 I had these small sachets of matcha powder in our pantry and they were perfect for this recipe. But if you're a matcha-lover, you can snag some here! You don't need a ton of matcha, just about 2 teaspoons.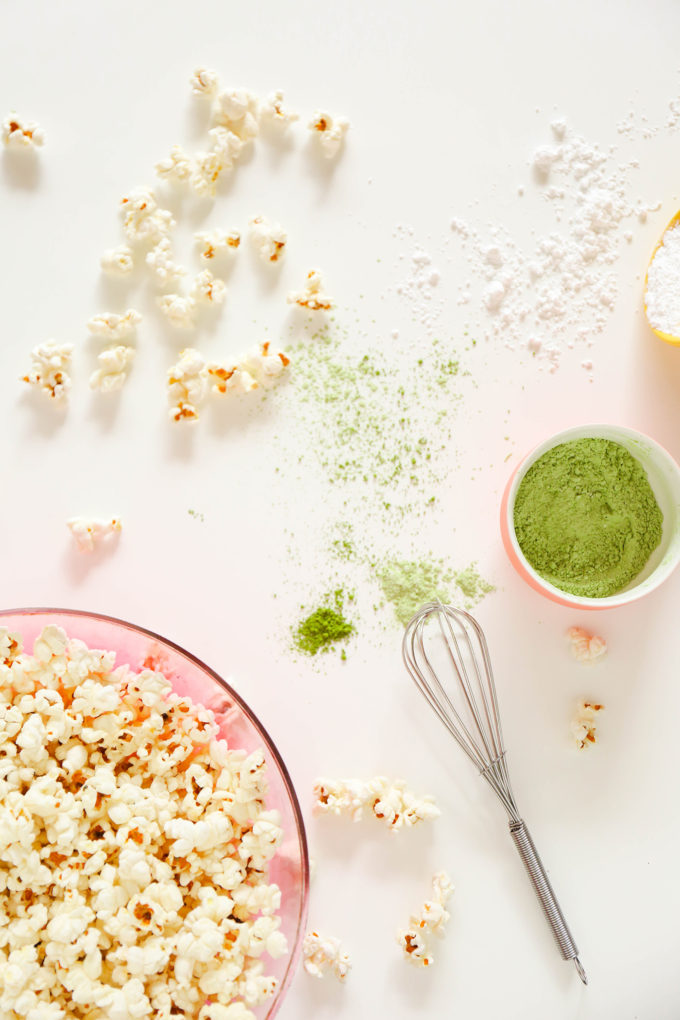 And if you're like me, you gotta sweeten that UP. I have only really liked matcha in sweet recipes. Matcha cookies. Matcha cupcakes with matcha buttercream. I need sugar. So to sweeten things up a bit, I mixed the matcha powder with powdered sugar at a ratio of 1:1.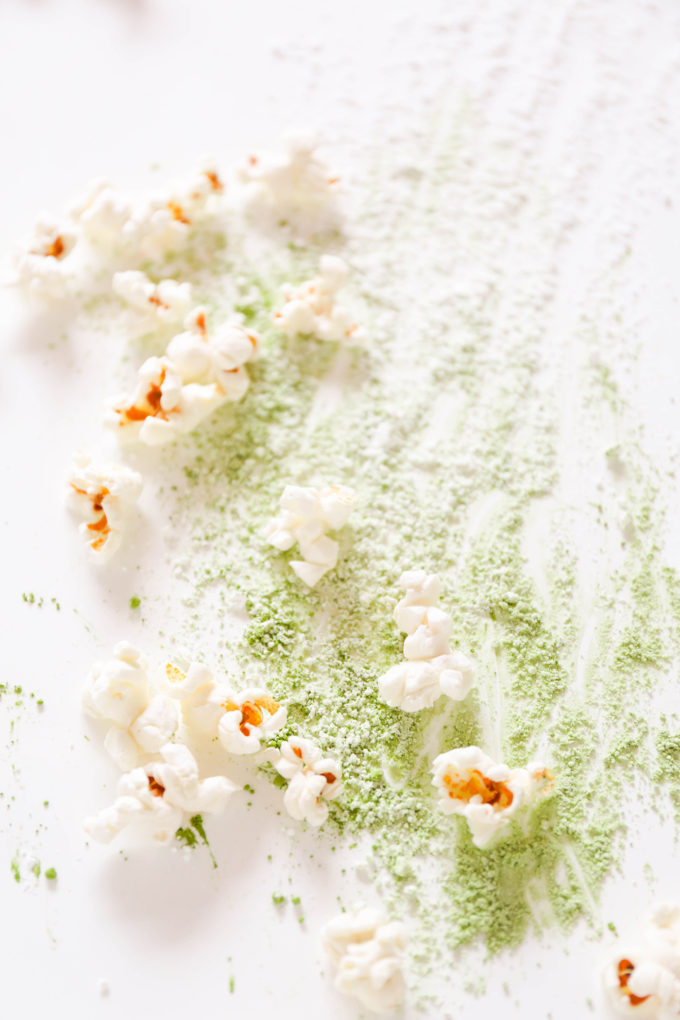 And I don't regret it.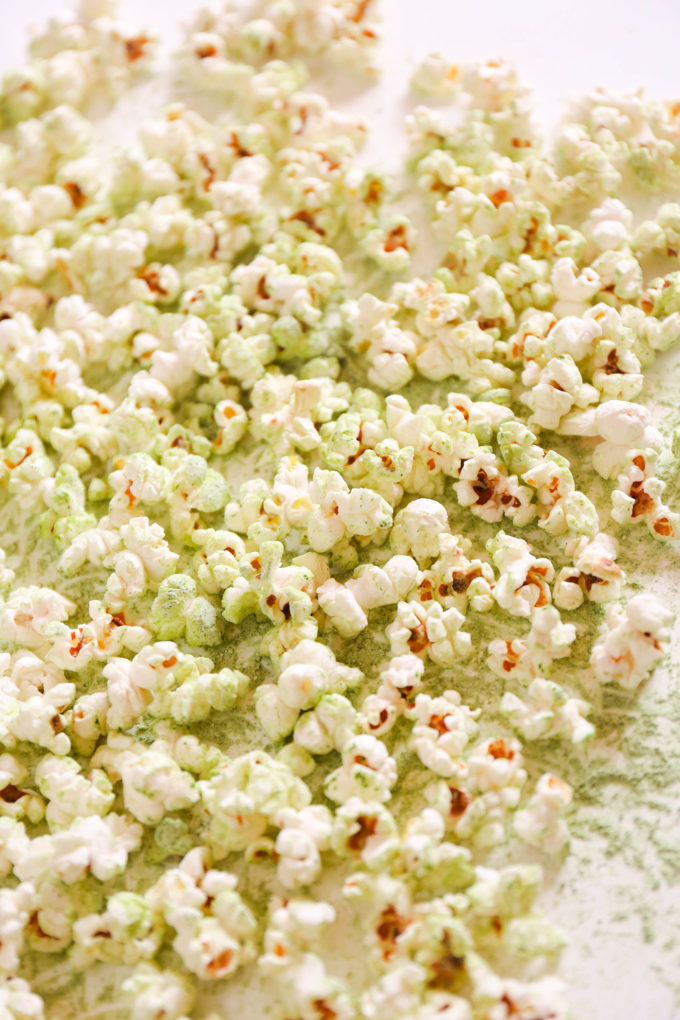 Mix the powders together while your popcorn is popping so it's ready to sprinkle once the popcorn is done. The minute the popping of your kernels slows down, remove from the stove and pour the popcorn into a large bowl and sprinkle the matcha mixture and stir.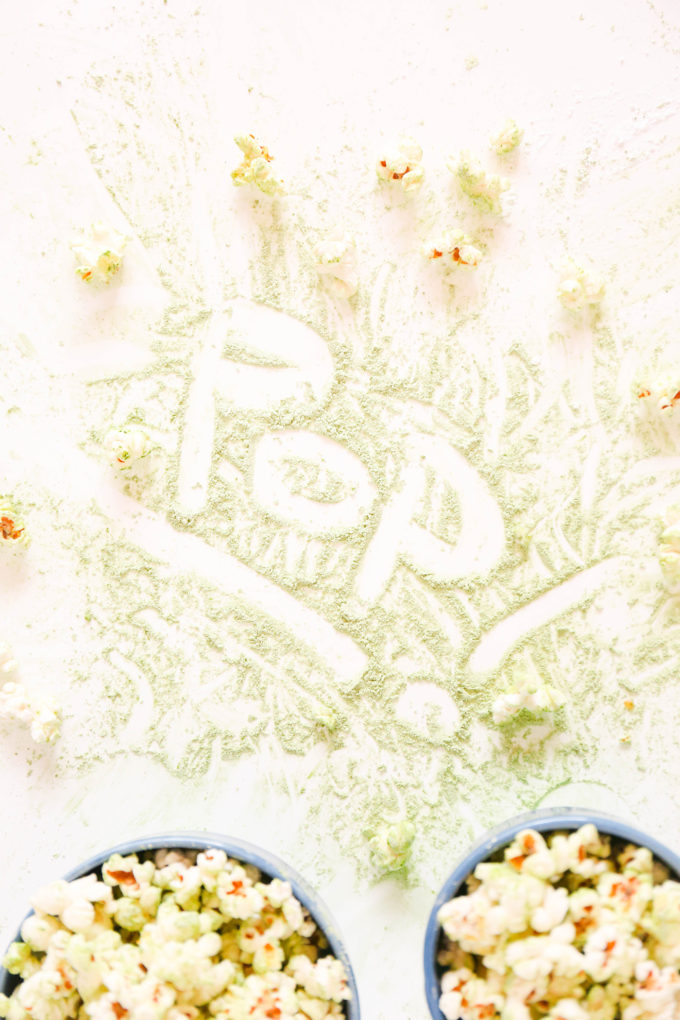 You can also make a large mess and write words in said mess. Like so.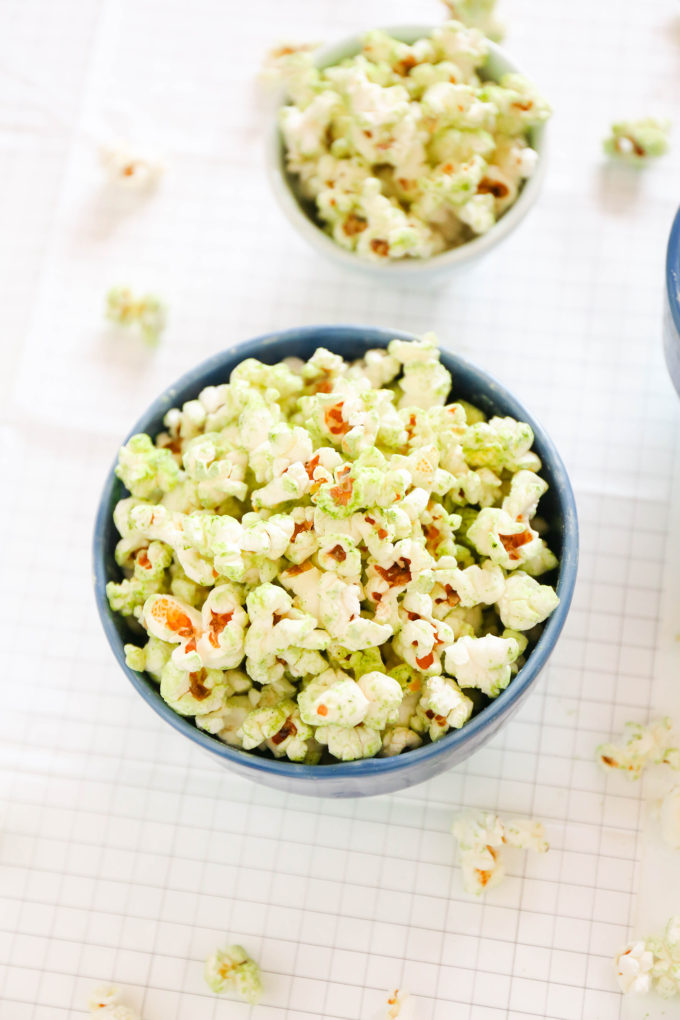 Guys. This coconut matcha popcorn has basically given me life. Also, it's hulk appropriate. So if you have littles that are obsessed with Marvel, now you know.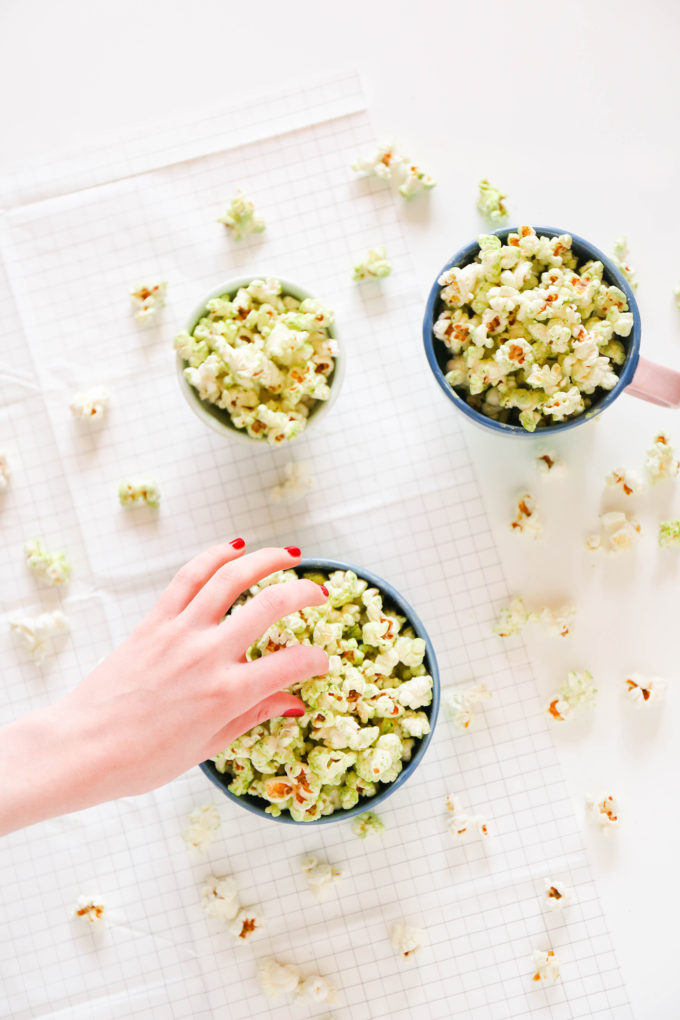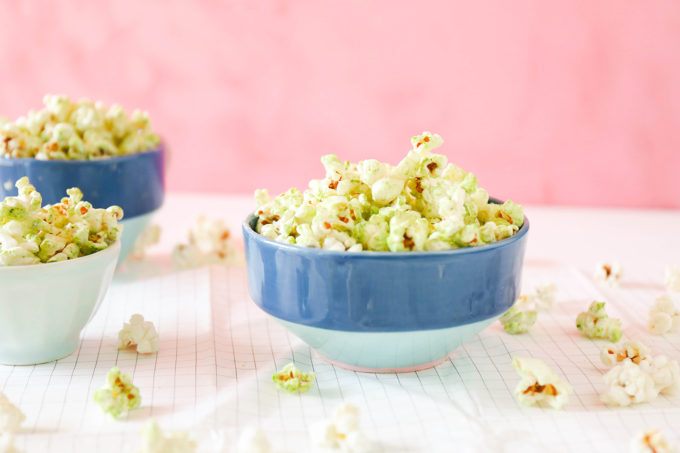 Divvy it up into small bowls if you're a germaphobe, or just make it a free-for-all in a giant bowl. I'm the former, so small bowls it is!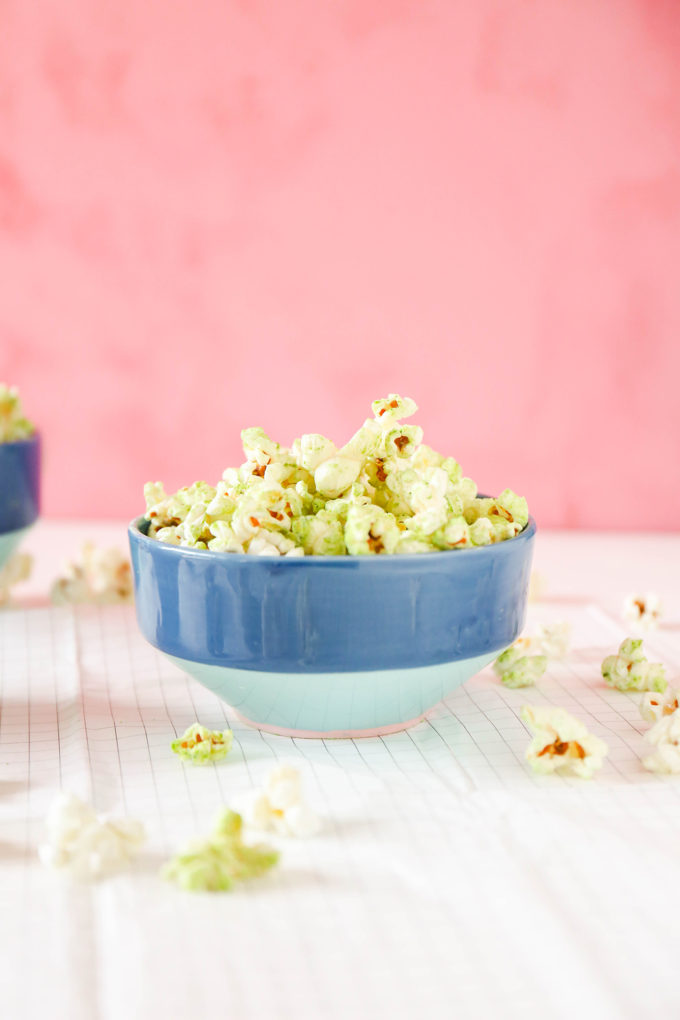 This was really so yummy to munch on. And I don't feel bad about it because of the antioxidants that matcha carries. It's also got a bit of a calming effect, even though it has caffeine. But I drink like 20 Diet Cokes a day so I feel I've built an immunity to caffeine. (lol)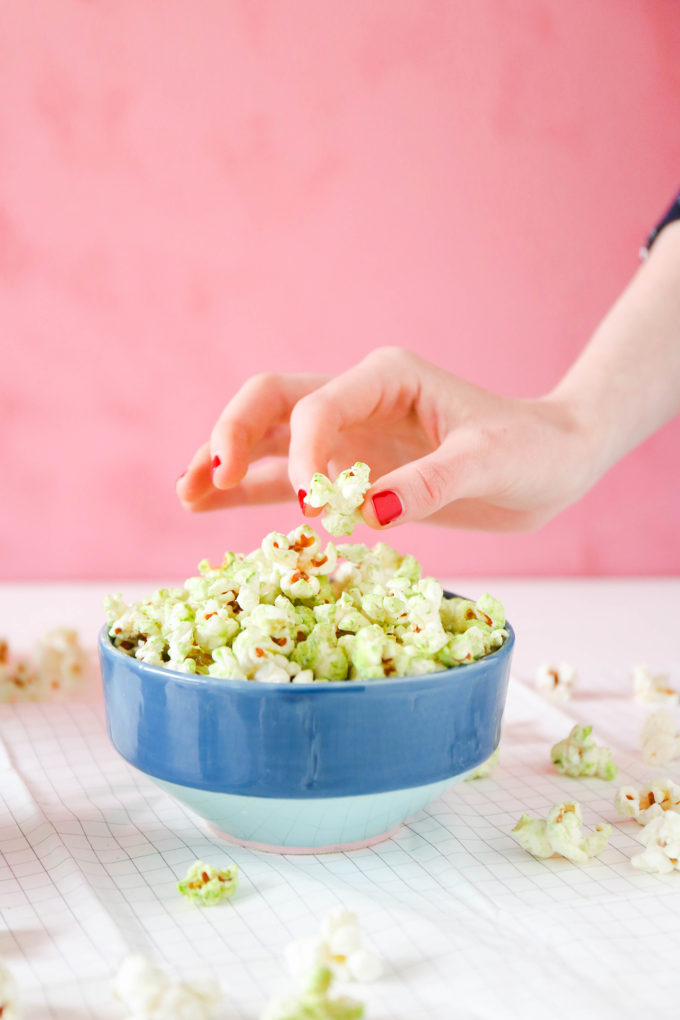 If matcha is your bread and butter, give this coconut matcha popcorn a go! We've made three batches since the weekend and I don't see that rate slowing down anytime soon! I feel a prepared for this weekend and National Popcorn Day! That's an important one in my household. And if you're obsessed with popcorn like we are, check out our recipes from past Popcorn Weeks here:
Dusted Chocolate Popcorn (Skinny Pop Hack) \\ Coconut Cinnamon Popcorn \\ Ombre Popcorn \\ S'more Popcorn \\ Pop Rocks Popcorn
photography \\ PROPER
Print
#TasteIt \\ Coconut Matcha Popcorn Recipe
A delicious and health(ier) popcorn snack for the whole family!
Prep Time:

3 minutes

Cook Time:

7 minutes

Total Time:

10 minutes
1/3 cup

coconut oil

1/2 cup

unpopped popcorn kernels

2 teaspoons

matcha powder

2 teaspoons

powdered sugar or vanilla protein powder
Instructions
In a large stockpot melt the coconut oil over medium heat and pour the kernels in making sure they cover the bottom of the pot with one layer.
Cover the pot with a lid and increase heat to medium-high. Set a timer for 7 minutes and stay close listening for the kernels to start popping. Once they do, occasionally pick up the pot and give it a quick shake to help keep everything coated in oil. Once the popping slows down, immediately remove the pot from heat and pour the popcorn into a large bowl.
In a small bowl, whisk together the match and powdered sugar. Sprinkle the matcha mixture over the popcorn and toss.
Devour.
Notes
You can substitute vanilla protein powder for the powdered sugar for a slightly healthier option!
Keywords: matcha coconut popcorn