This is a sponsored conversation written by me on behalf of Cricut. The opinions and text are all mine. Thanks for supporting the brands that help PROPER keep creating!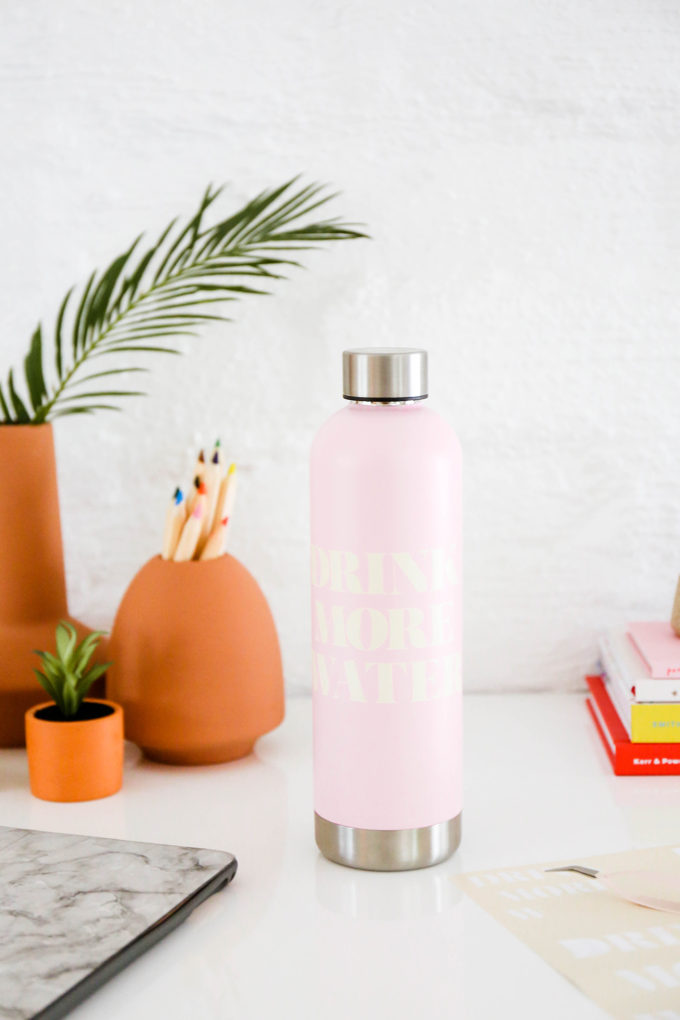 Back in December at the Holiday Hubbub, we raffled off a brand new Cricut Maker machine to one lucky attendee. Guys, I have to say that I was a little jealous. I actually wanted to win it for myself after learning all that it can do. I am no stranger to the Cricut family as I've had my own Cricut Explore from a partnership way back when. That machine has been good to me over the years, but I haven't needed to use it that often. After the launch of the Cricut Maker and seeing promos, and then after seeing the excitement of all of the Hubbub attendees, I knew I needed to snag one for myself. So I've partnered with the folks at Cricut and will be learning just what this machine can do. I'm sharing a brief little overview of the machine and 7 Cricut Maker projects you can make right now!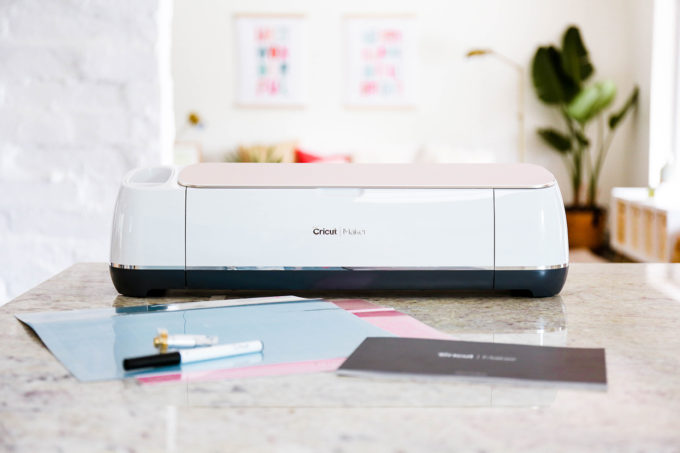 I have to give the folks at Cricut major props as this machine is definitely beautiful. I'm sad to no longer have a separate office in the house where I can store everything as the Maker is something that is sleek enough to stay out around the clock. And that beautiful champagne finish on top?!? Are ya kidding me? It's the prettiest. When you open the box, you'll find the machine along with several supplies like a marker, blade, and two different mats (a light grip and a fabric grip).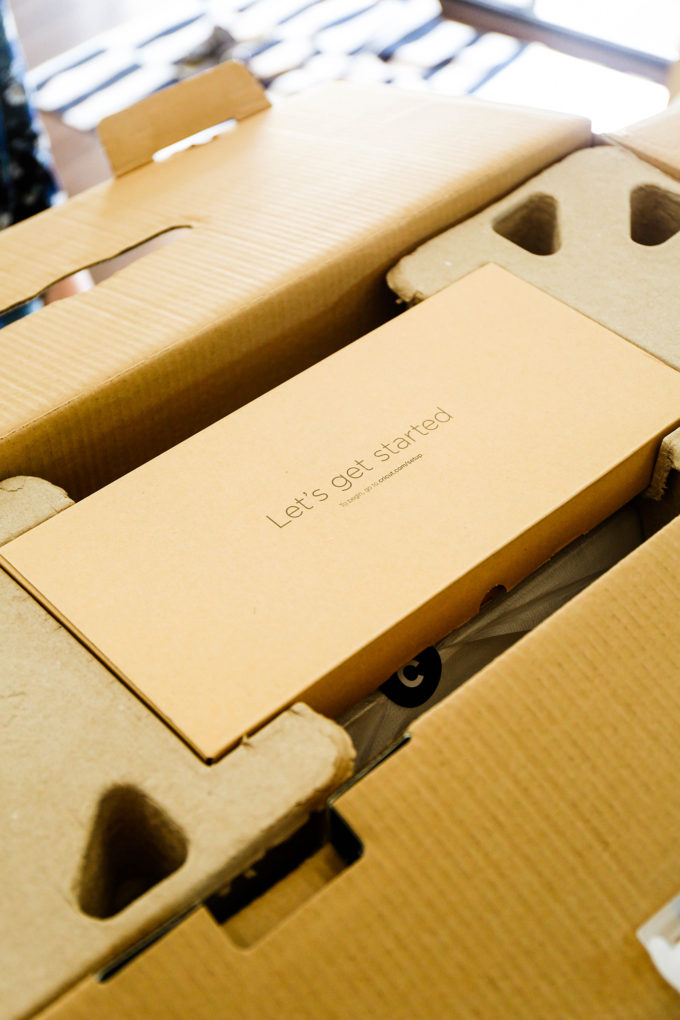 There are also a few small supplies to help you make a small quick card project to familiarize yourself with the Maker and all of its components.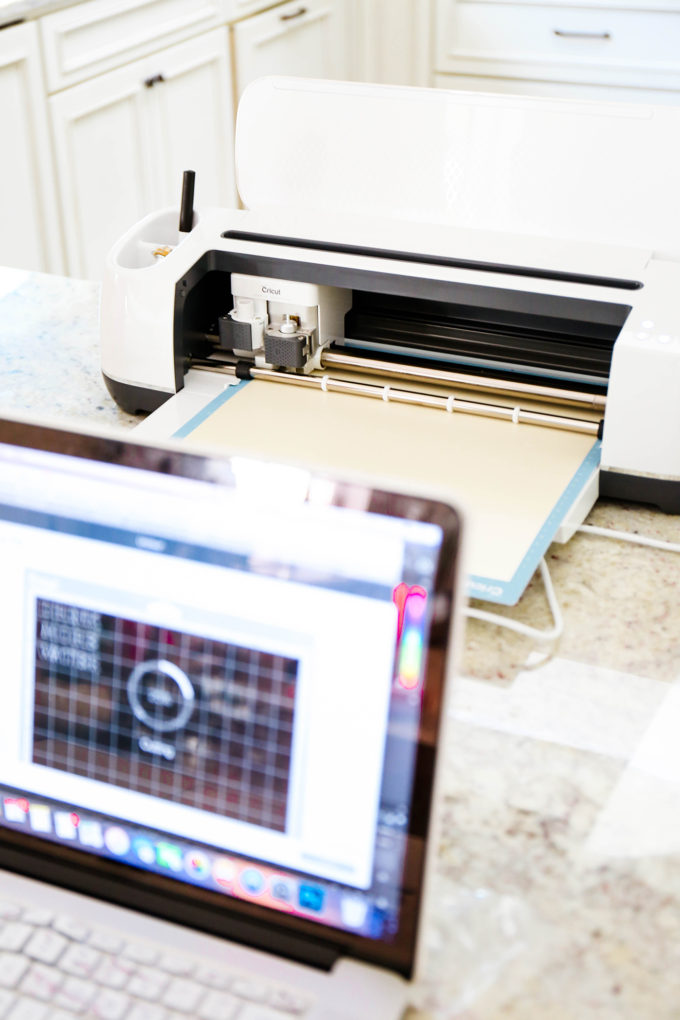 After unboxing everything, it was as simple as plugging the machine into my computer and hitting the power button. You'll be prompted to create an account with Cricut Design Space. I already had an account, but it's been a while since I've visited the platform. Cricut has done a complete overhaul of the space and it is even more user-friendly than it was years ago!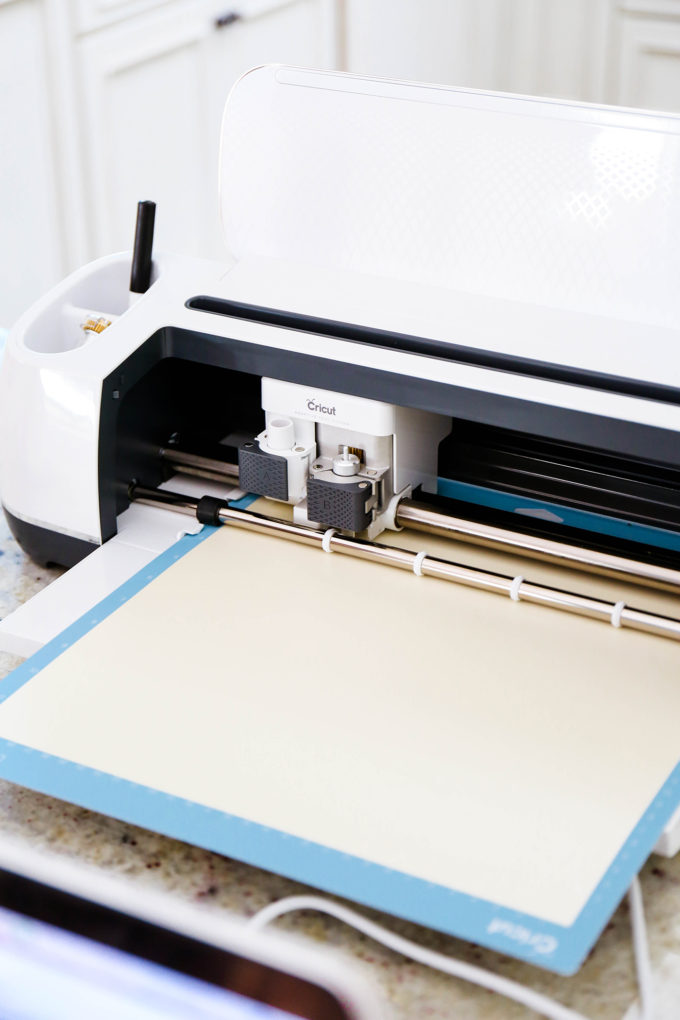 I decided to make a quick little cut-out of some vinyl letters in my new favorite font to attach to a water bottle. I know that the Maker has endless possibilities when it comes to scheming up projects, but I wanted to get reacquainted with the system so thought it best to do something I was comfortable with right out of the gate.
This thing cuts like butter! It was so quiet. So smooth. And so fast! I barely had time to gather my other supplies before it was already done cutting out my phrase!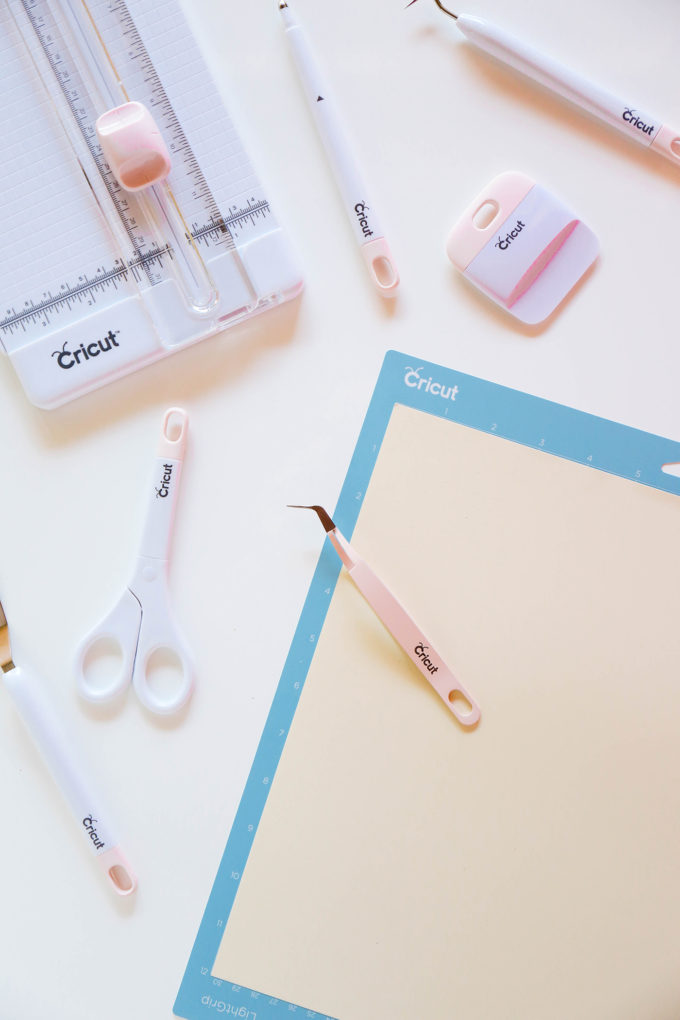 In addition to the tools that come ready with the Maker, it definitely makes your life easier to have the Cricut Essential Tools kit! These are things you'll want when working with smaller and more delicate cuts. It comes with tweezers, a weeder for removing the negative parts of a project, a spatula to lift from the mat, a scraper to clean the mat, scissors, a scoring stylus, and a trimmer! For this project, I was actually working with one of my favorite fonts, Salome Deco, that has some extremely fine lines. The tweezers were the perfect tool to help lift my letters from the mat without damaging or breaking them.
Disclaimer – I originally made smaller letters in the same font and wasn't careful when removing them and they got mangled so fast! So if you're struggling like I was, make your letters a bit bigger to create less room for error!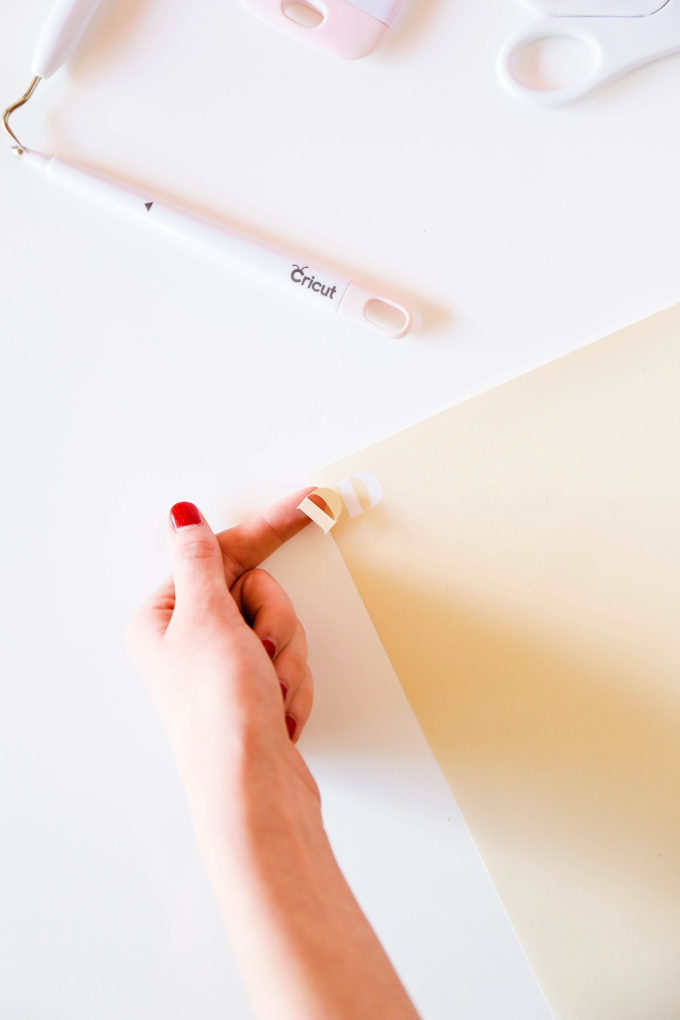 You can't really see the cut lines, but it's all there! This was so smooth and fine that I wanted to keep sending things through the machine to cut all afternoon!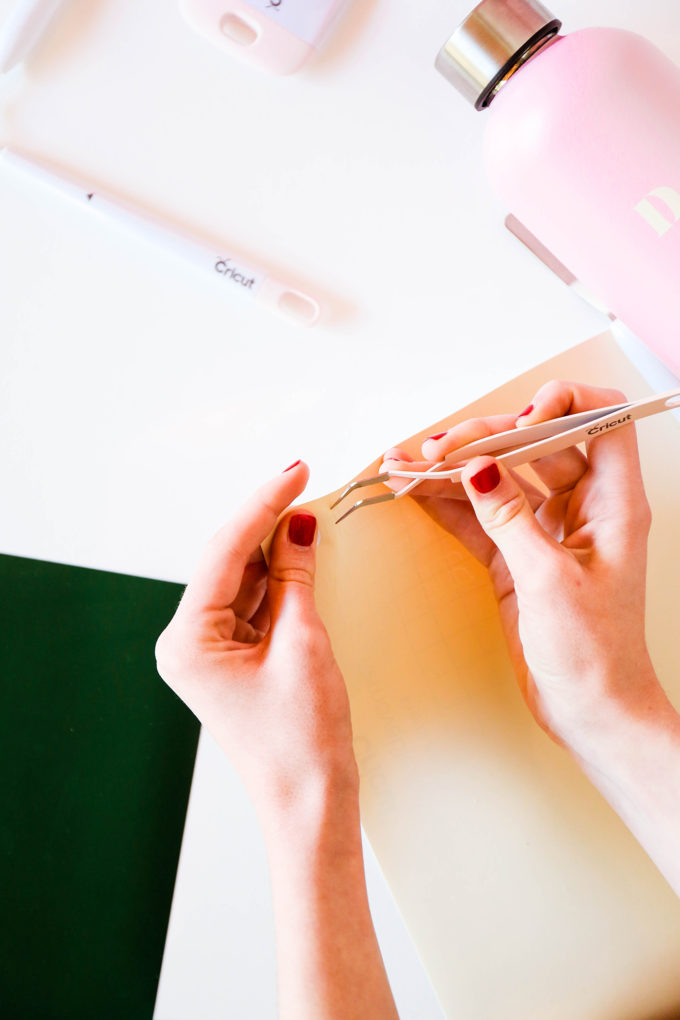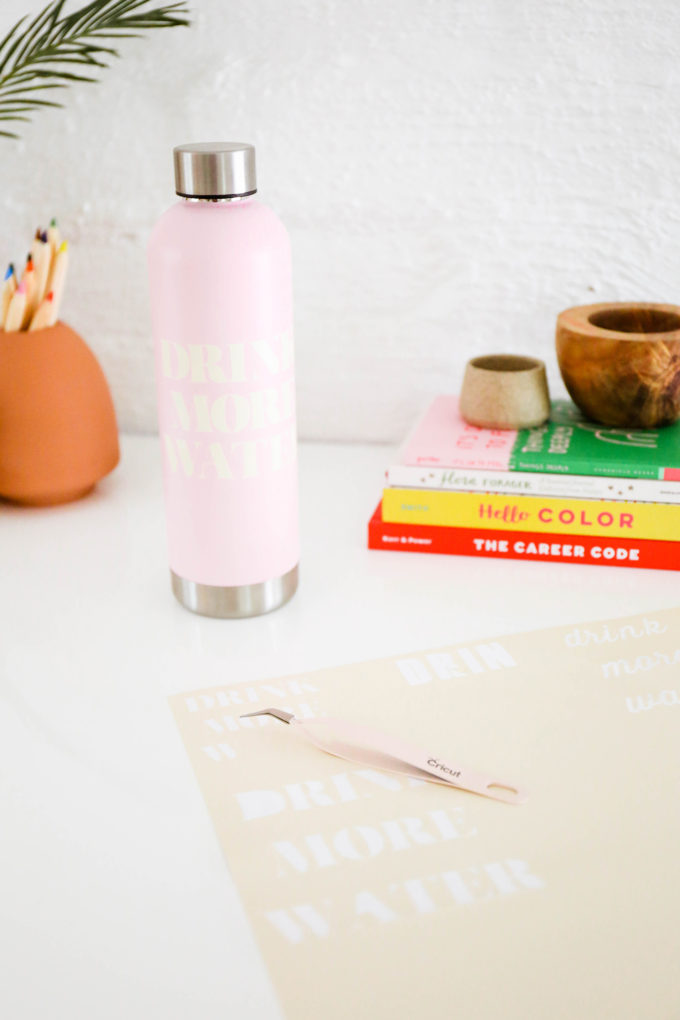 I had a pink stainless steel water bottle that I just added the vinyl letters to. To help center everything, I placed the middle word first and then worked my way out from there. My bottle says "Drink More Water", but you could just stop at the "Drink More" and make it an adult water bottle for all the things.  ?
This is definitely one of the easiest Cricut Maker projects out there.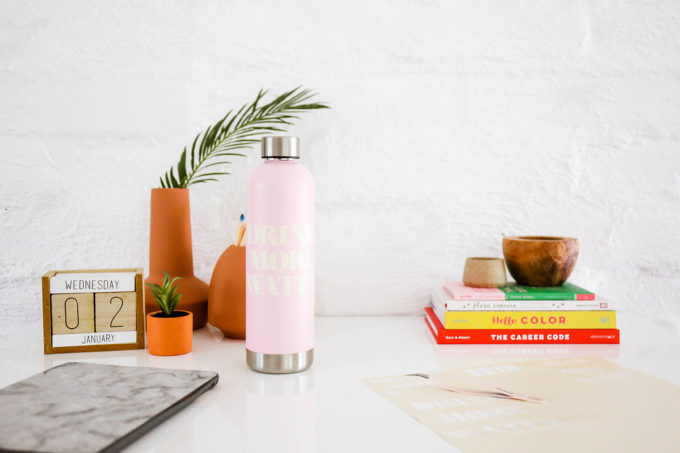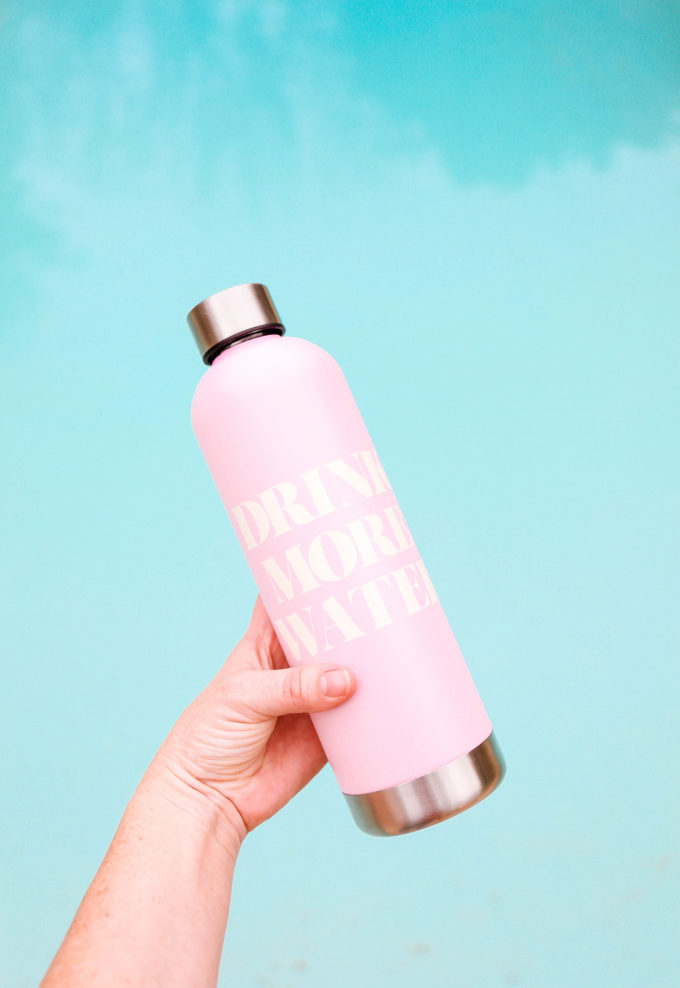 The letters are super sturdy now and I love how they look on this guy. It's cute enough to give as a gift. And you know who would like this as a gift?
Me.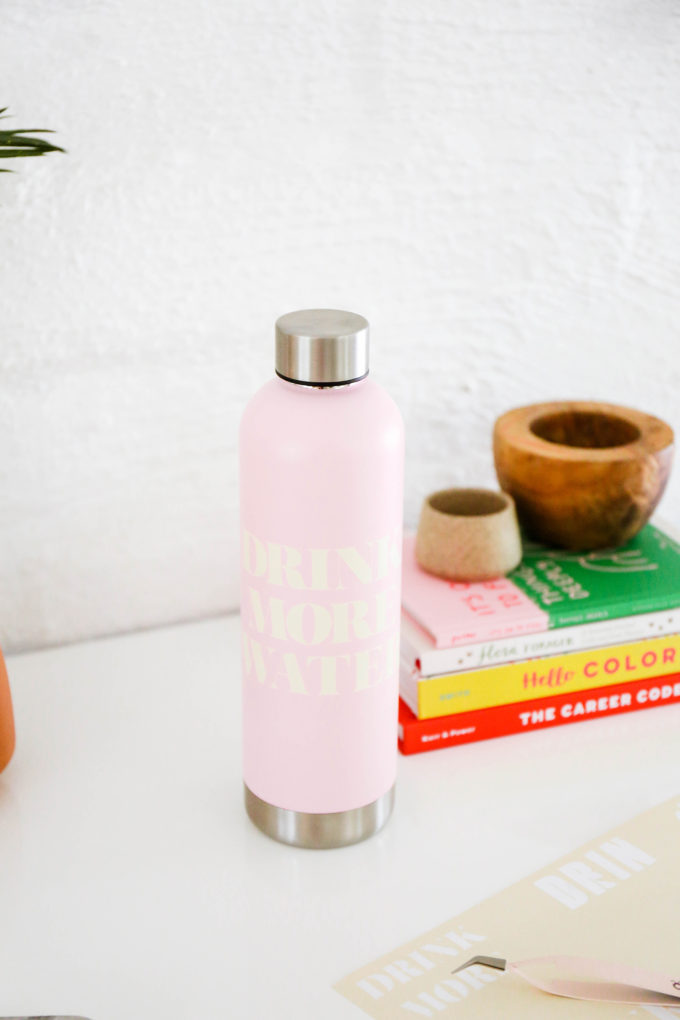 A few years ago, I tried to get my Cricut Explore to cut some metal sheets for a projects. Unfortunately, it was unable to do so as it wasn't equipped with the right amount of force when cutting, or the right tools for slicing something so thick and sturdy. But the Maker can! It can cut leather. It can cut wood and chipboard and fabric! It's strong enough to cut thick and coarse materials AND delicate enough to cut fine crepe paper, tissue paper, and satin! There's a whole list of new things the Maker can cut and I'm looking forward to diving in deeper as I work with my new Cricut Maker for all the things!
I decided to scour the web for a few pretty Cricut Maker projects to share some inspiration of just what this machine can do! And I'm so excited to spend more time learning the machine now! Check these projects out below!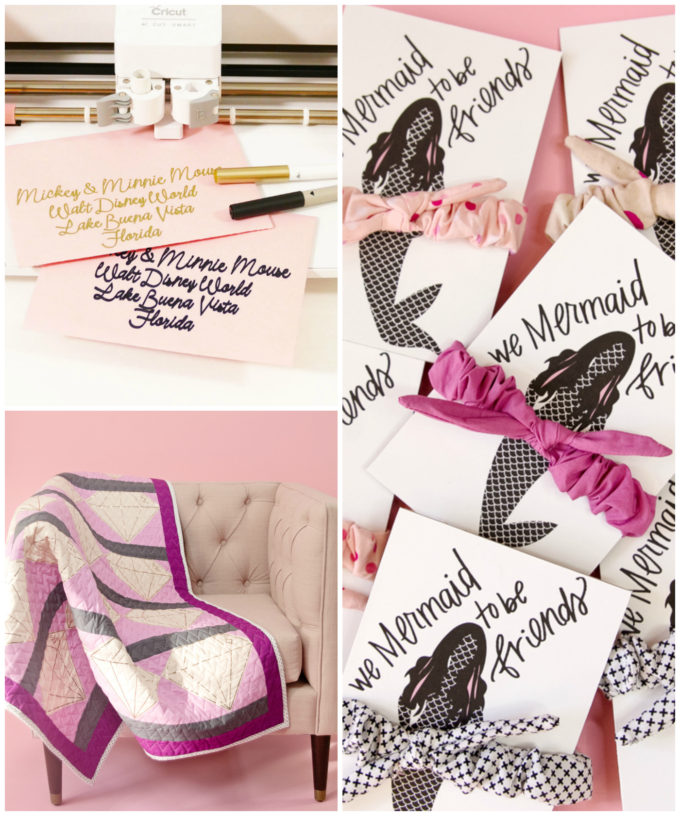 Letter Envelopes with Cricut Writing via Jennifer Maker  – Did you know that you can have it write? If you're not big into lettering, or just don't love your penmanship, have the Cricut Maker letter your envelopes for you! A total game-changer when the holidays roll around!
Mermaid Scrunchie Valentines via See Kate Sew –  One of the first words that came to mind when I was unboxing this machine was "scrunchie". I knew it could cut fabric and seeing these sweet scrunchie valentines has got my wheels spinning! I think all of Vita's friends need scrunchies immediately.
You're A Gem Quilt Pattern with Rose Gold Foil via See Kate Sew – Because this machine can cut fabric, it's basically heaven sent for sewers and quilters and all those that work with that medium. This gem quilt was cut with the maker and Kate even used some rose gold foil to add a little sum-sum to it after the fact! I think I may have to break out my old quilting skills!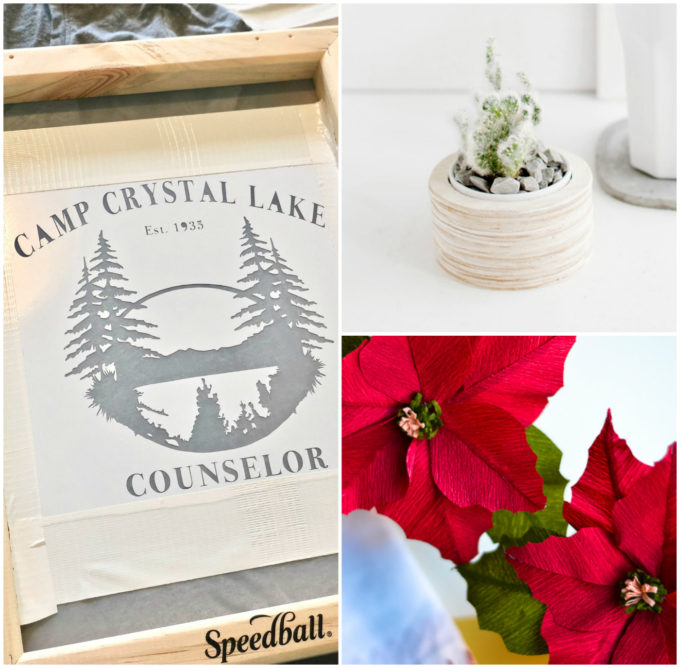 Screenprinted Tees via Frugal Florida Mom  – You can also use the Maker to cut your own stencils for screen printing tees! Because the machine can cut such small details, the design possibilities here are almost unlimited.
Balsa Wood Planter via Fall For DIY – This project was actually cut by hand, not the Maker. Can you imagine the time and patience?!? Because the Maker cuts wood, it's as easy as sticking the balsa to the mat and clicking "Go!" I may need to make a large vase like this one!
Crepe Paper Poinsettias via See Lindsay – It can cut materials as delicate as Crepe Paper! We've all worked with that stuff, right? And it can stress me out to no end! This really opens the doors for party decor, and even making small crepe paper flowers!
I kid you not, when we were hooking up the machine, I said, "I wish we could just connect this guy via Bluetooth". And then I actually picked up the handbook and found out that you could. Sometimes, the cords just get in the way, and the fact that you can just connect over bluetooth makes me feel like I'll be more inclined to quickly crank out projects in the future!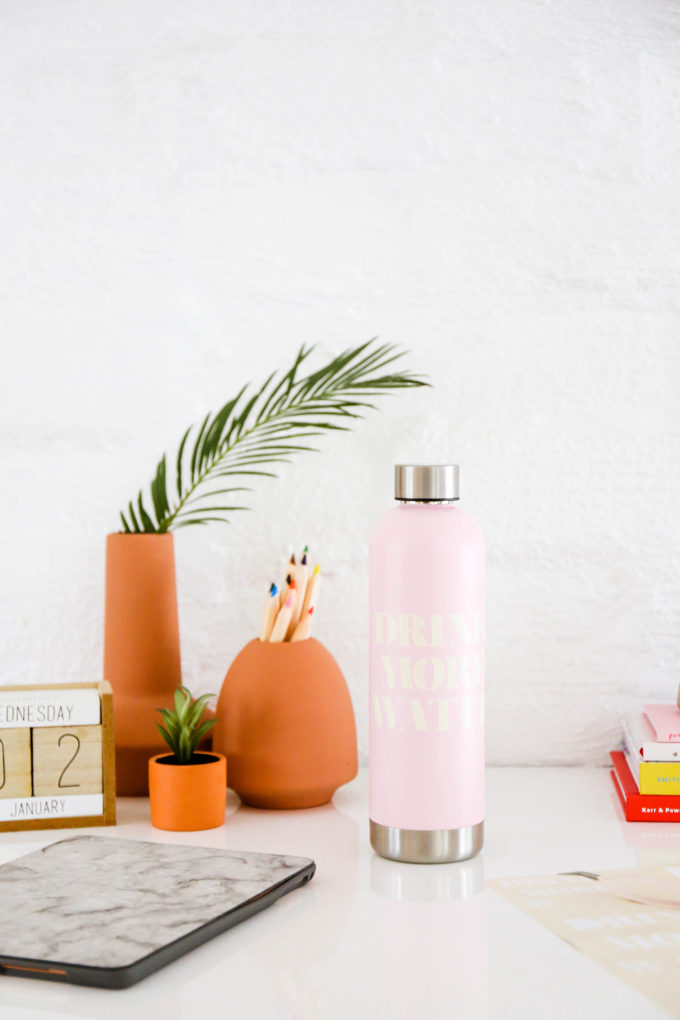 When adding up the time spent, this water bottle project came together in about thirty minutes! I've totally got time for that. I just ignored my kids. 😉 In all seriousness though, I'm really excited to start scheming up some projects for myself. The fact that this cuts fabric and wood is SUCH a game changer, and I'm sure you'll be seeing a few Cricut Maker projects with this machine here in the future!
Are you one of the lucky ones who was ahead of the game last year and have a Cricut Maker already? What sort of projects do you make with it?
photography \\ project photos by PROPER
**This is a sponsored conversation written by me on behalf of Cricut. The opinions and text are all mine. Thank you for supporting the brands that help Proper keep creating!