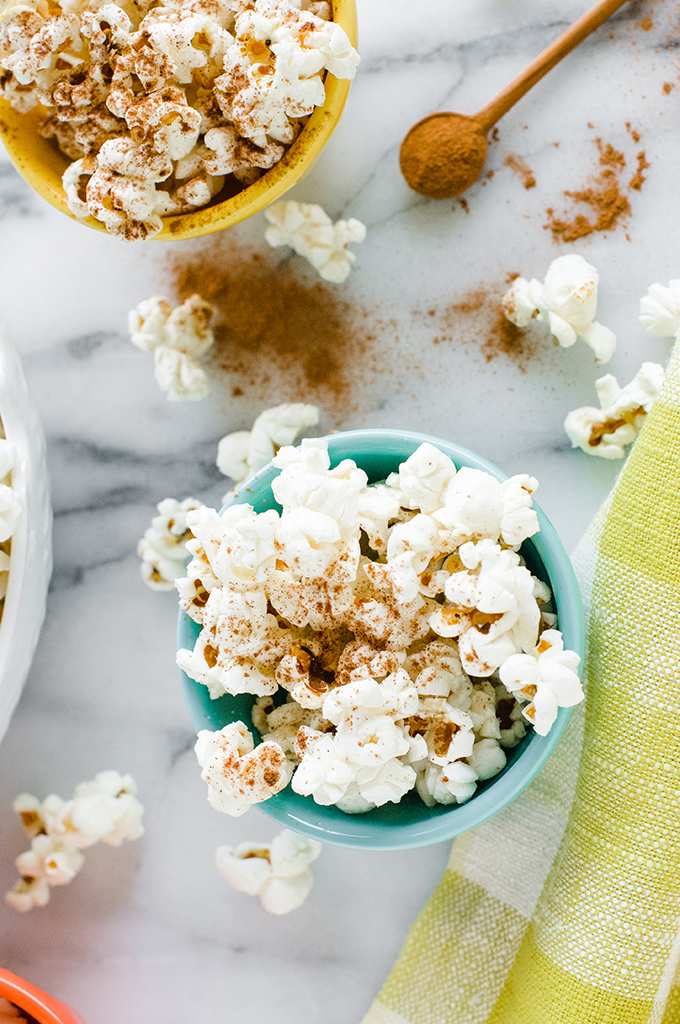 I hate to say it, and maybe if I don't, it won't be true. But Summer is coming to an end. Where did it go? Did you enjoy it? I'm still trying to hold on to every last bit of the season that I can. When I think about it, I realize that I live in Arizona now where it's hot around the clock and still quite summer-like, but the calendar tells me otherwise! I love a good popcorn snack. I mean, we dedicated a whole week to the stuff last year! This coconut cinnamon popcorn can be added right up there with some of the other popcorn heroes! It's good, people. It's good people?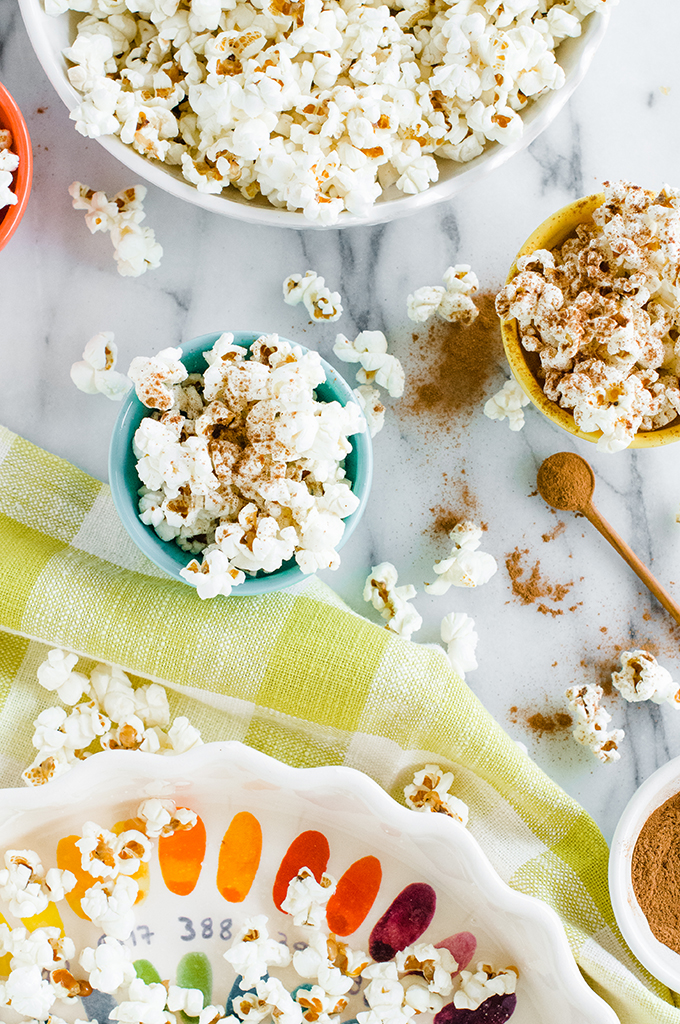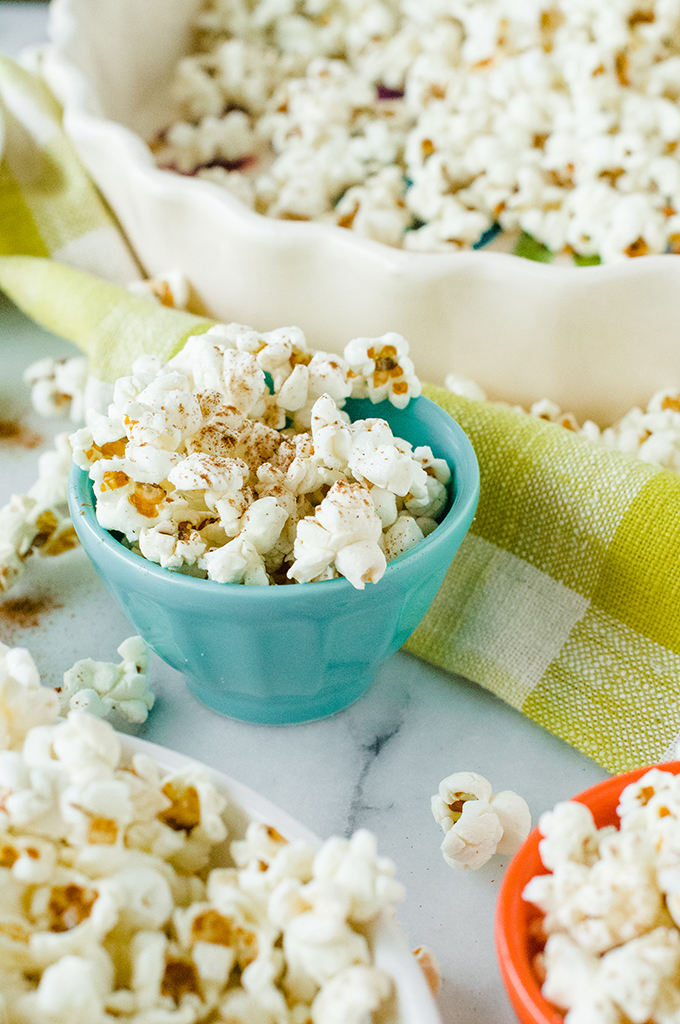 Make your own coconut cinnamon popcorn
kernels
coconut oil
salt
sugar
cinnamon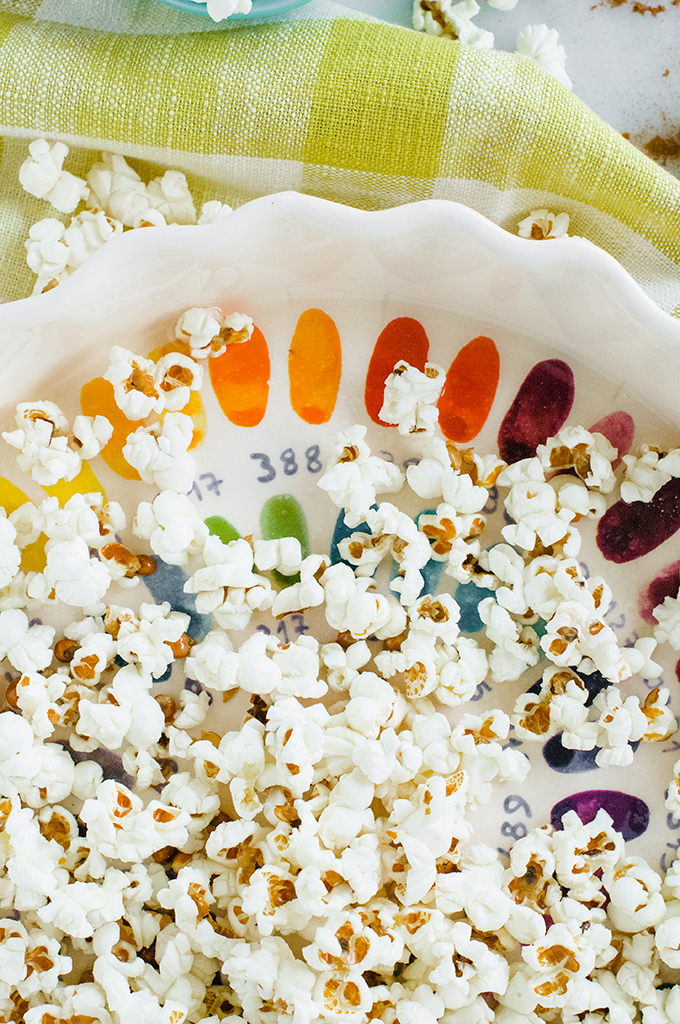 Start by melting about 3/4 cup of coconut oil over medium/high heat in the bottom of a large stockpot. You may need more or less depending on the size of the pot, but a good rule of thumb is to have enough oil at the bottom to cover a single layer of popcorn kernels.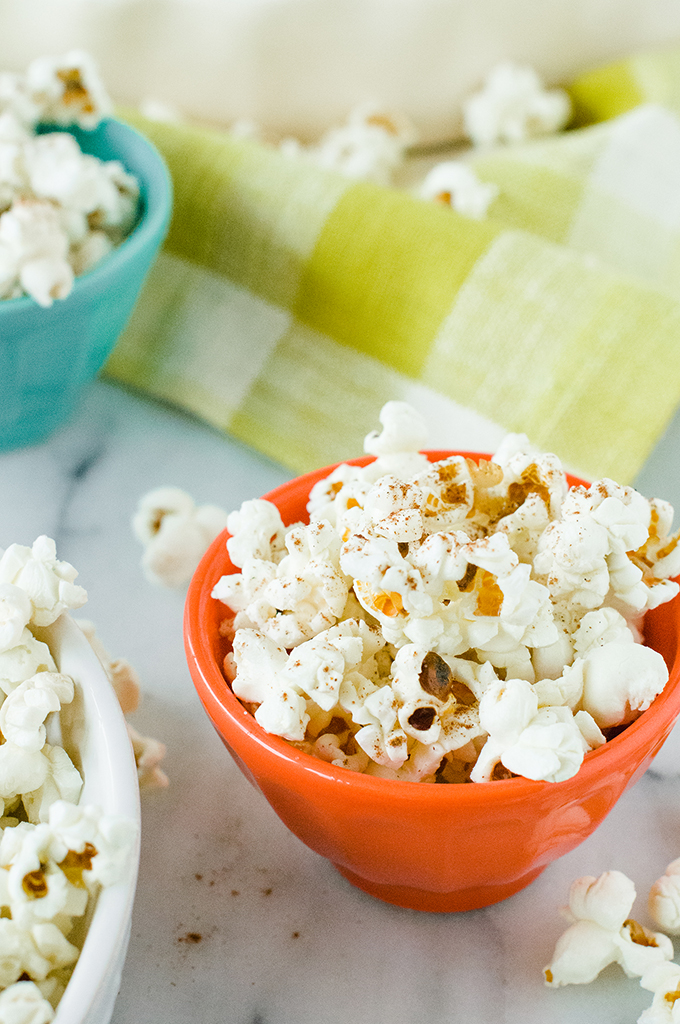 Once your oil is melted, pour in the kernels. Spread them into a single layer and make sure they are just barely covered with the oil. If not, add a little more oil. It will melt instantly once it feels the heat!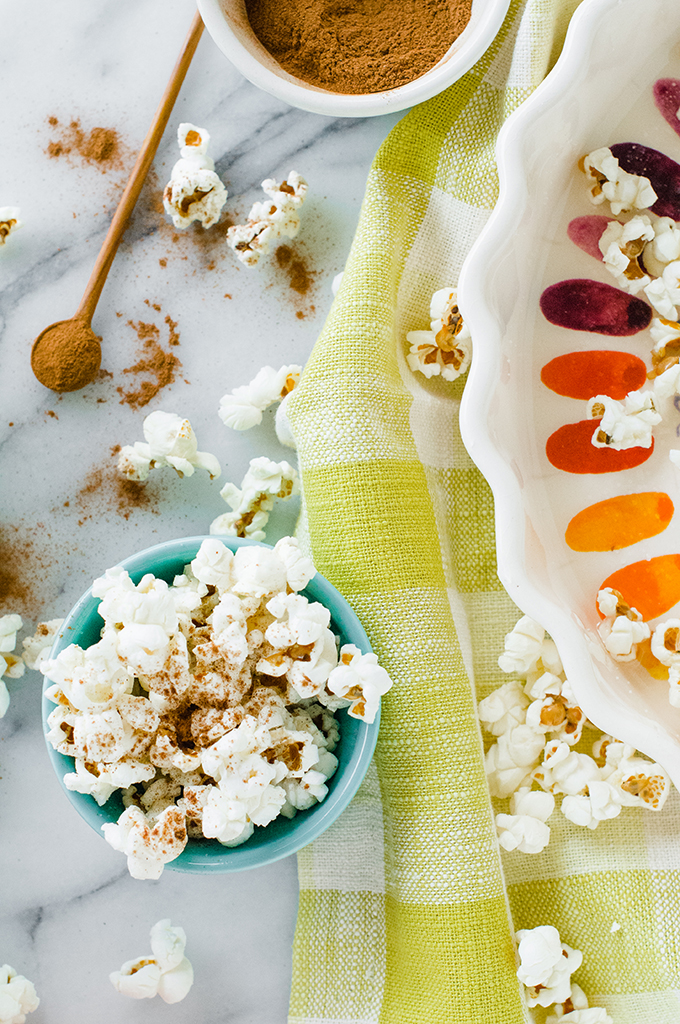 Cover the pot with a lid and wait a few minutes. After about three minutes, the kernels should be popping something fierce. When this happens, shake the pot really quickly to loosen any kernels that might be sticking to the bottom and to also make sure every kernel is covered in coconut oil.
Once the kernels have slowed down to a few seconds between pops, remove the pot from the heat and wait one minute before pouring out into a bowl. Be careful! These suckers are hottie hot.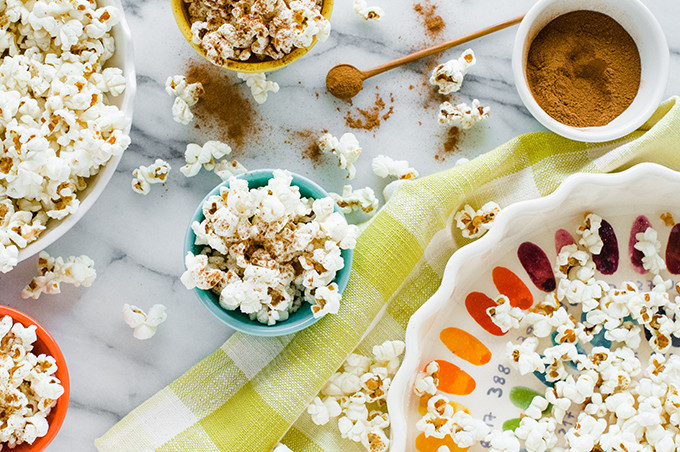 Gently sprinkle the freshly-popped popcorn with a little salt and shake the bowl or stir with a spoon. In a small bowl, mix 1/4 cup sugar with a teaspoon of cinnamon and sprinkle over the popcorn. If you don't want to mix, simply sprinkle the popcorn with salt, then sugar, then a few dashes of cinnamon.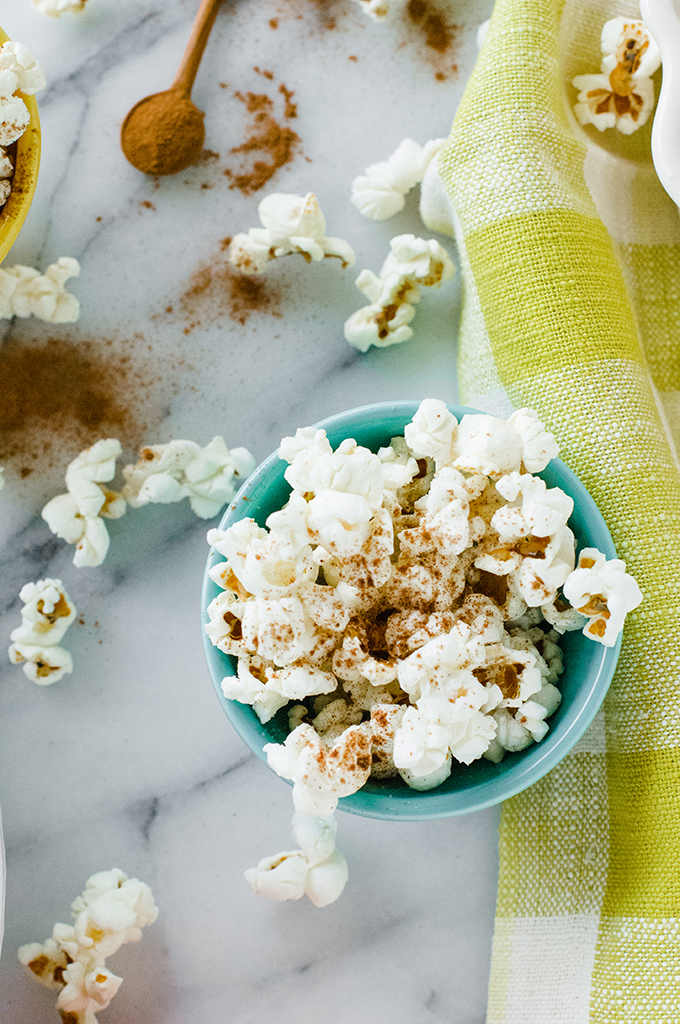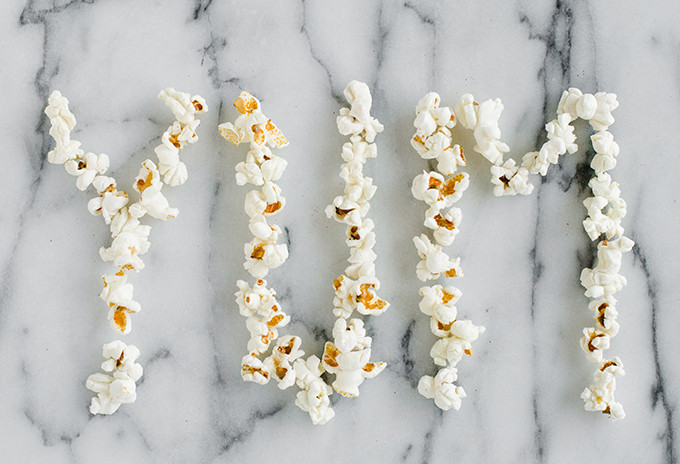 It's like a welcome to Fall and farewell to Summer. Autumn's version of kettle corn, if you will! Now, curl up with a bowl of the good stuff and binge watch Scandal on Netflix. Or Parks & Rec? I just started watching The Unbreakable Kimmie Schmidt. Have you seen it? I'd love to hear what you think! I look at her and I just think, "Dunder Mifflin, this is Erin."
Check out some of last year's popcorn recipes from Popcorn week like this Pop Rocks Popcorn or this Ombre Popcorn!
styling & photography \\ Lexy Ward