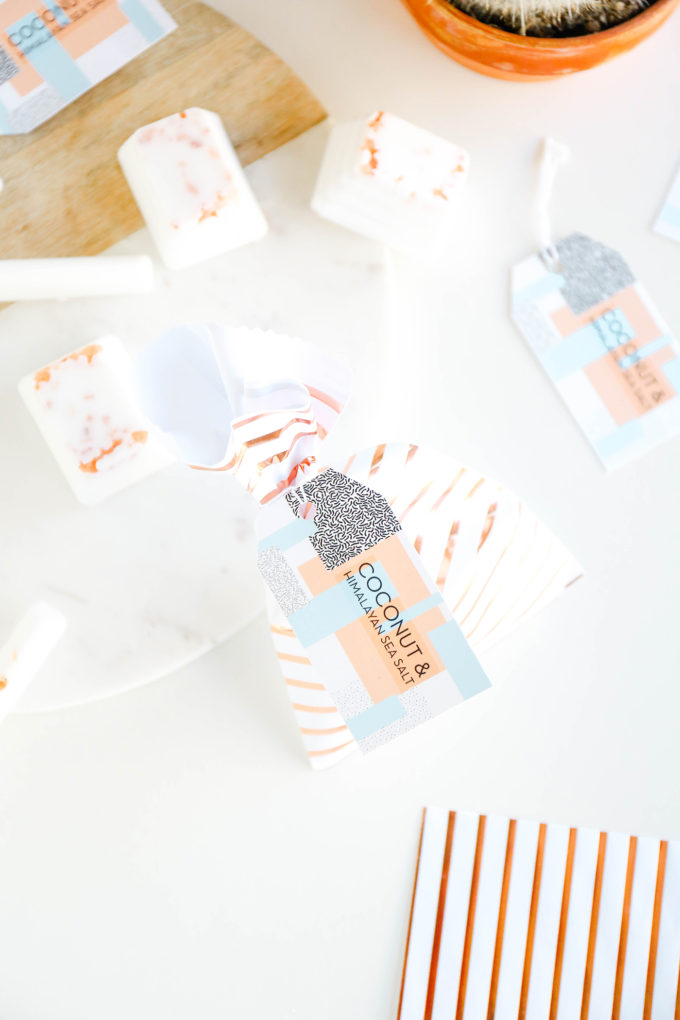 I believe in winning friends with gifts. I just can't help myself, but if I can "buy you", IMMA TRY. And lately, I've been on a bit of a handmade soaps & lotions kick. I recently made a cocoa butter body butter and I love it. It melts like butter. (pun intended.) I decided to try my hand at a few other kinds of skincare and this DIY soap recipe is my current fave what with its coconut scent and its sweet pink Himalayan salt. It's just the classiest of soaps. And it looks even classier when packaged up with one of these printable geometric soap labels! So many goods to win us so many friends!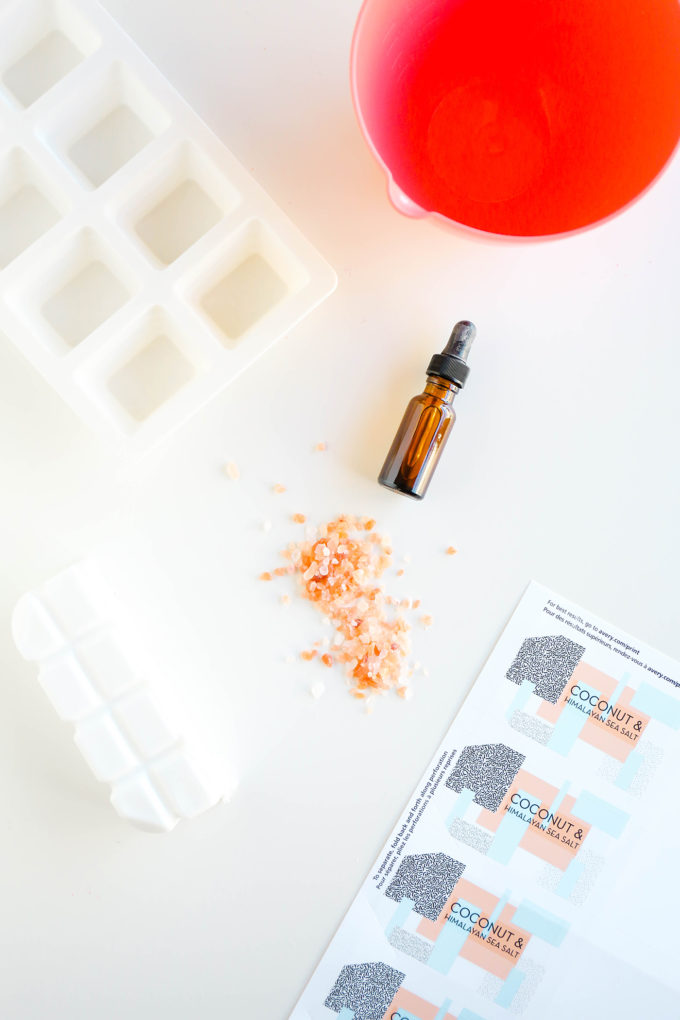 To make your Coconut & Himalayan Sea Salt Soap:
Pink himalayan salt
silicone ice molds
microwaveable bowl & spatula
Start by sprinkling the pink salt in the bottoms of each ice mold. Be as liberal as conservative as you like here. It's salt!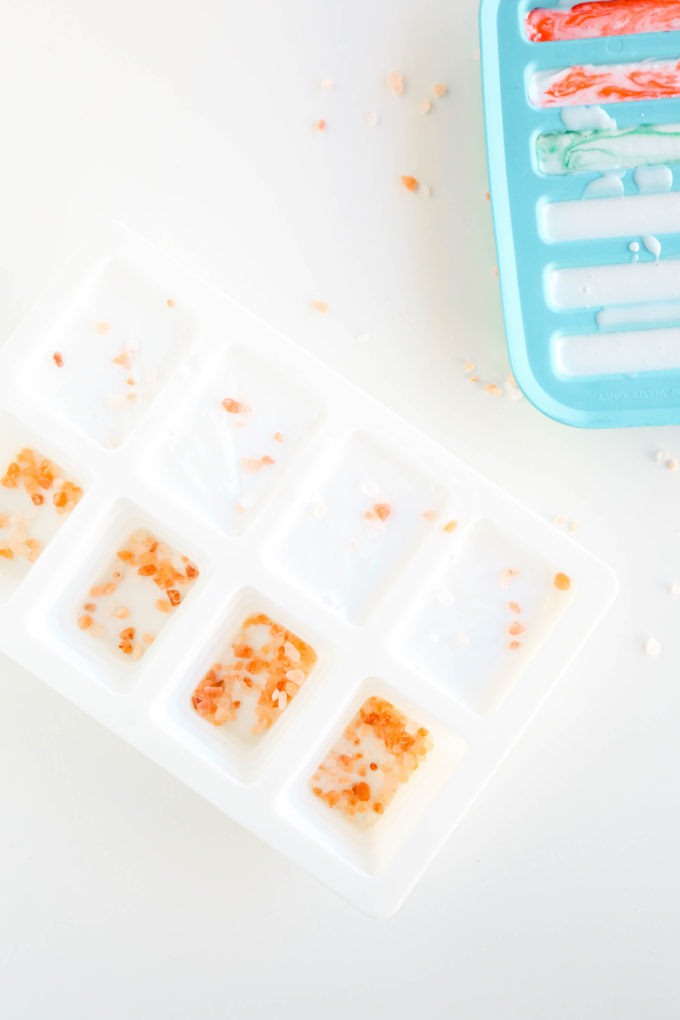 Break off several large chunks of the soap base and heat in the microwave in for forty seconds. Stir it up, and then continue heating for 10-15 seconds and stirring until everything is melted. Add a few drops of your fragrance of choice (coconut for the win!) and stir to combine. Slowly pour the soap into the ice molds.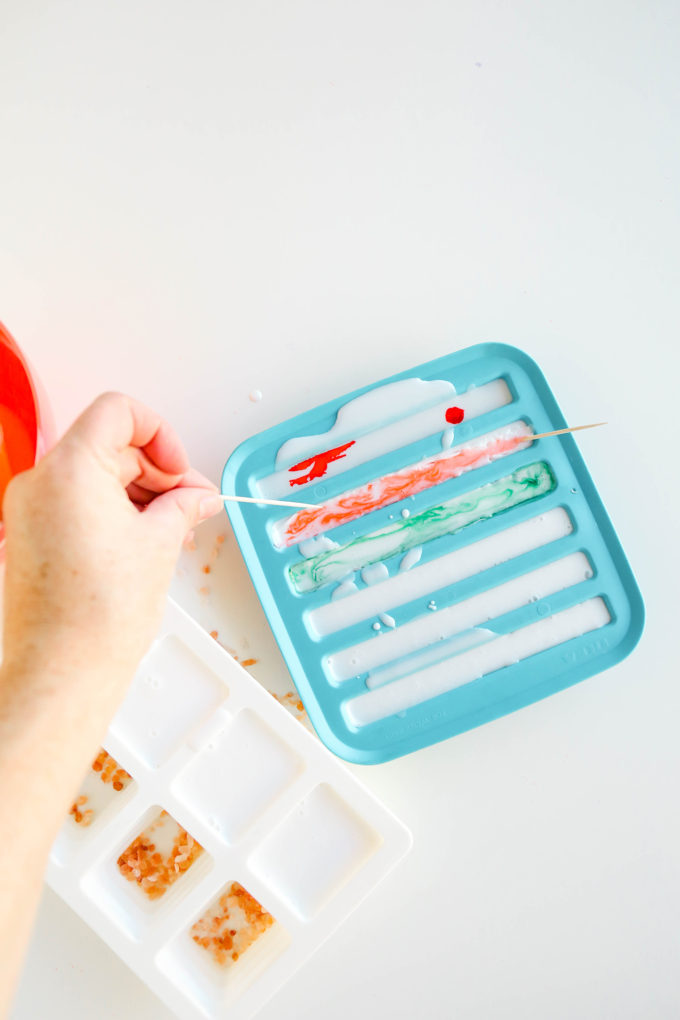 I thought I'd play around with some color, but these didn't really give me the nice pastel shade I was going for. They were a little more saturated, but still fun! Add a few drops of color and use a toothpick to marble the color in the soap.
Place the molds in a cool place and allow to set for 24 hours. And while the soap is setting… Print these labels!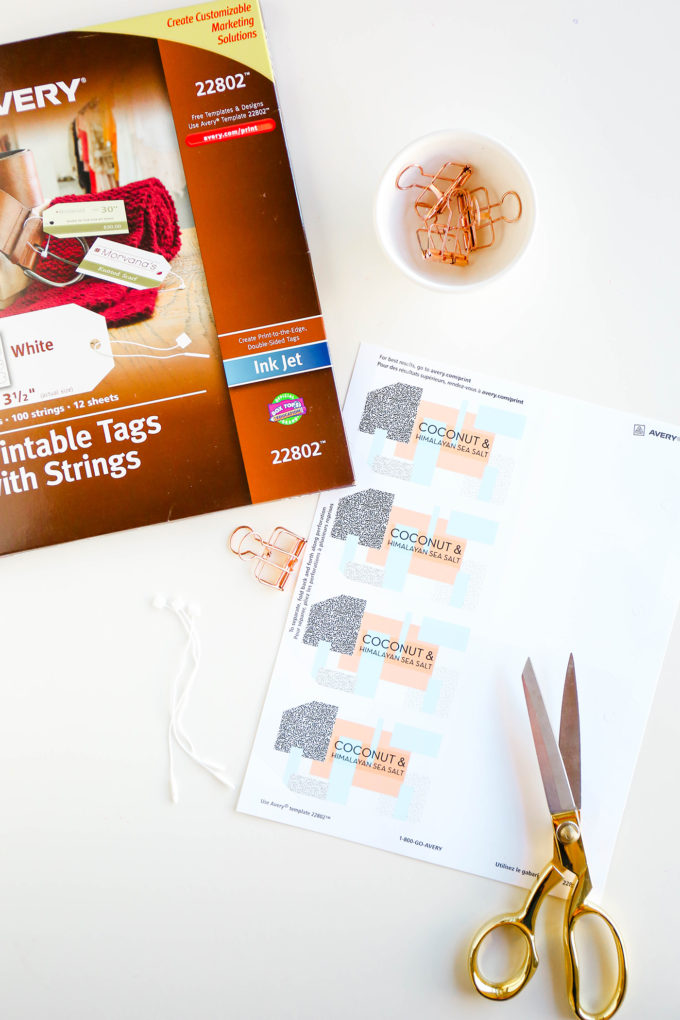 DIY Soap Recipe & Geometric Labels
Inkjet Printer
Scissors
download (available at the bottom of this post!)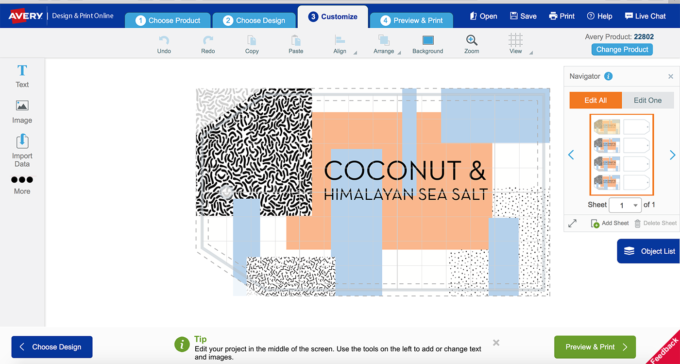 These labels line up exactly with the perforated lines so they'll pop right out ready to go after printing. This design is easy to manipulate so you can use this text, or delete the text and add your own! Use this design for lots of stuff!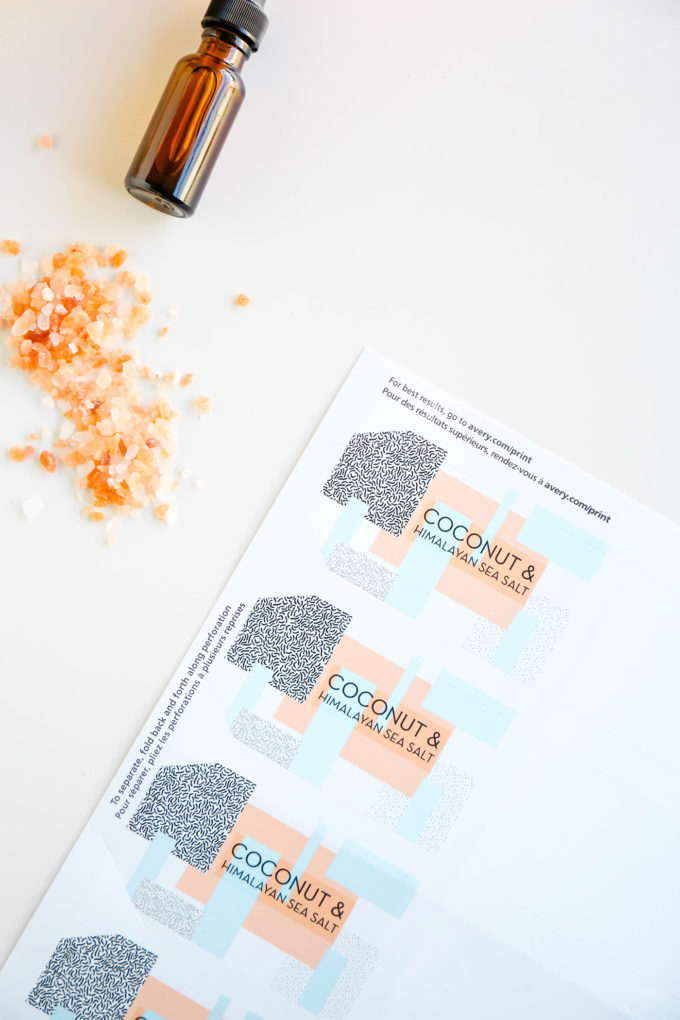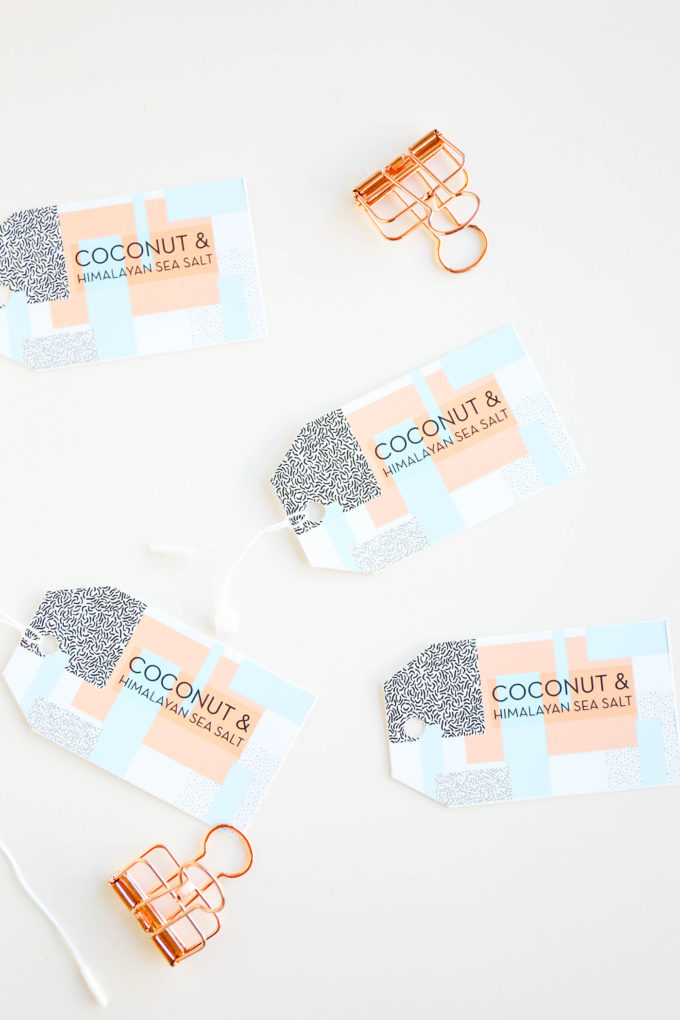 The tags come packaged with strings and are easy to thread.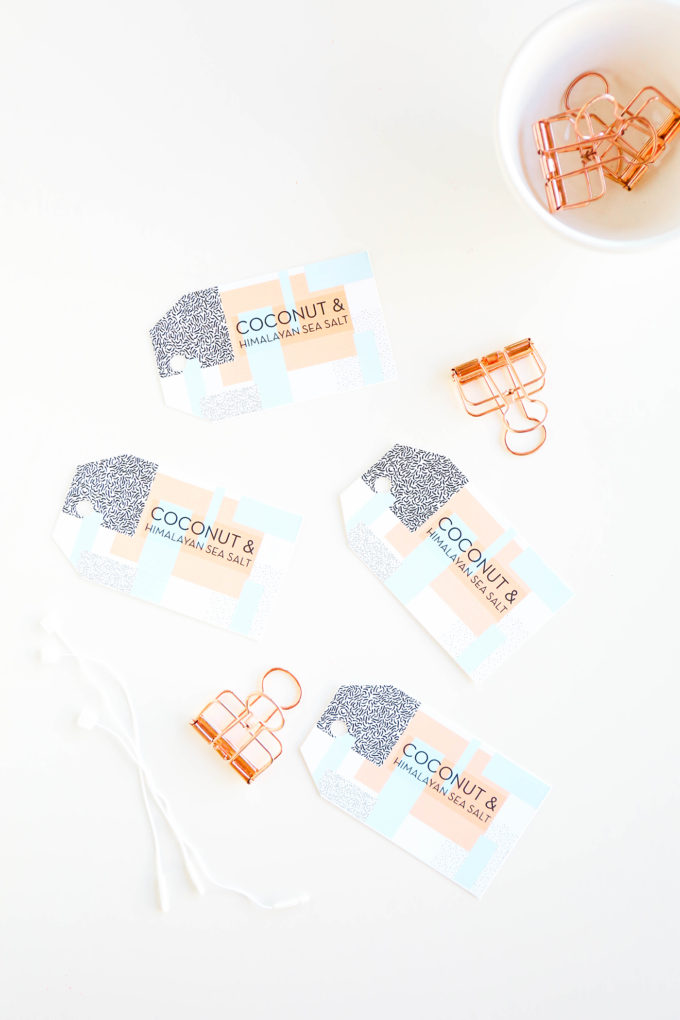 The tags are printable on both sides so if you wanted to copy and paste the design to the backside and print both sides, that's totally doable!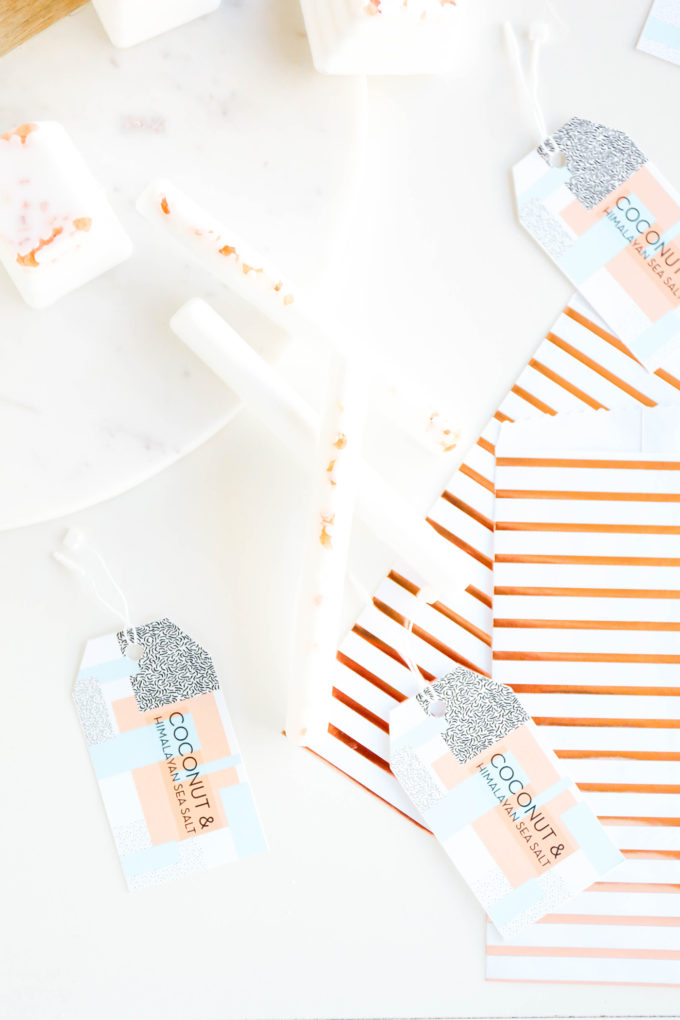 We found some matching paper bags lined with copper and they're the perfect little bag to stuff to the brim with soap. Tie the label around the top and get ready to buy all the friends you can handle! Everyone wants some salty soap!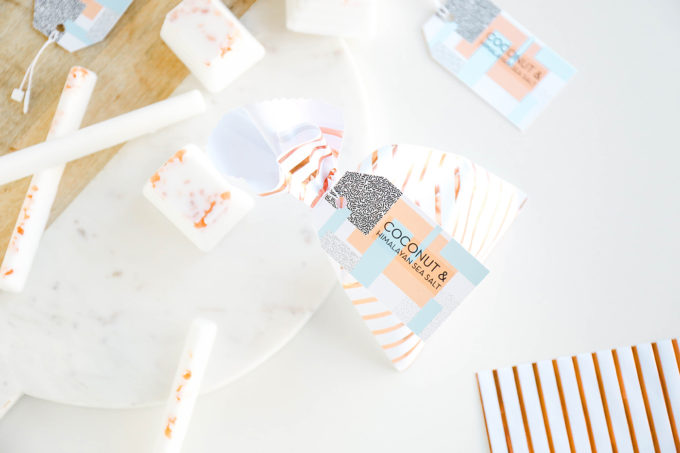 To print out the labels, simply click the link below. The design can be enlarged or shrunk to fit your needs. The label design is a downloadable .Avery file. Download it, and then go to www.avery.com/open to open the file using Avery Design & Print Online. **Because it is an .Avery file, it may seem like it is broken or didn't work, but the design will open up if you go to www.avery.com/open to open the file using Avery Design & Print Online. Open everything up (it's all sized and ready for ya!), keep the text or delete it and add your own, and then save and print on Avery Printable Tags with Strings (#22802)!
Check out some of our past printable collaborations with Avery right here! **Please remember that this download was designed for non-commercial use and may not be redistributed or sold in any way. So happy if you share it, but please link to the original post. Thanks mucho!**
**This post is in partnership with Avery, a company that believes in bringing beautiful labels to the masses. Thank you for supporting the brands that help Proper create fun and inspiring content!
concept, design, & photography \\ Lexy Ward