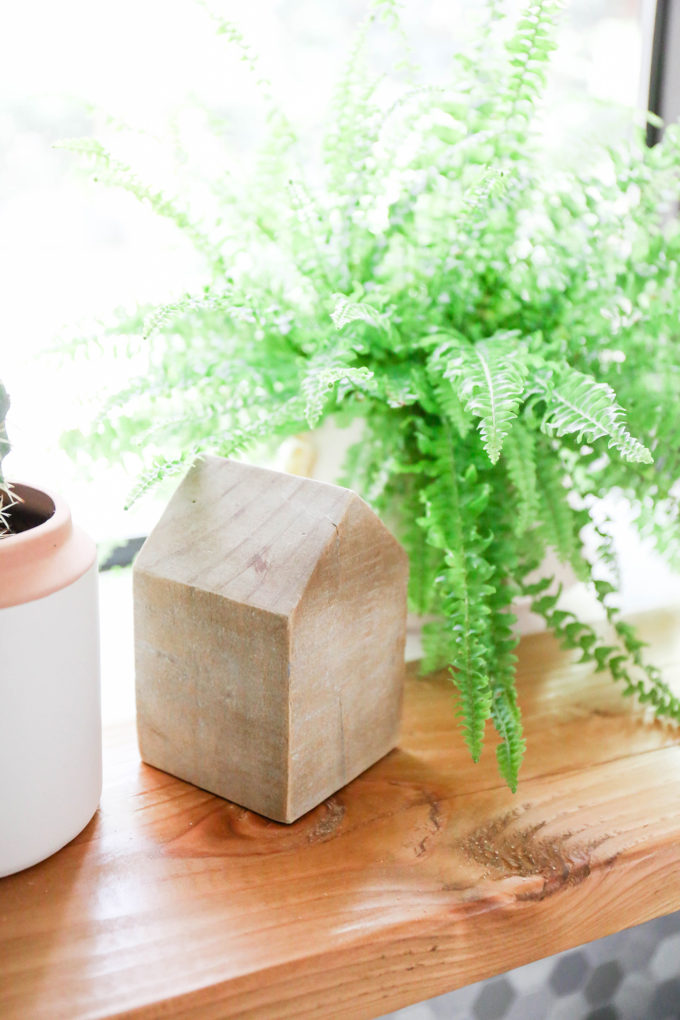 We moved into our new home mid-2017 and had Mara shortly after. The last 15 months were spent taking care of her and getting back into a routine (is that even a thing when kids are involved?!). There were so many things I wanted to tackle in this house before baby girl arrived, but was unable to do so. We've basically just been living in the space and finding out what we love and what we want to change. After spending many months doing so, I feel like we have a bit of clarity and direction regarding what we want (and might actually be able to achieve!) to work on this year, and what we want to work towards in the coming years. Here are a few home improvement projects you might see this year:
Living Room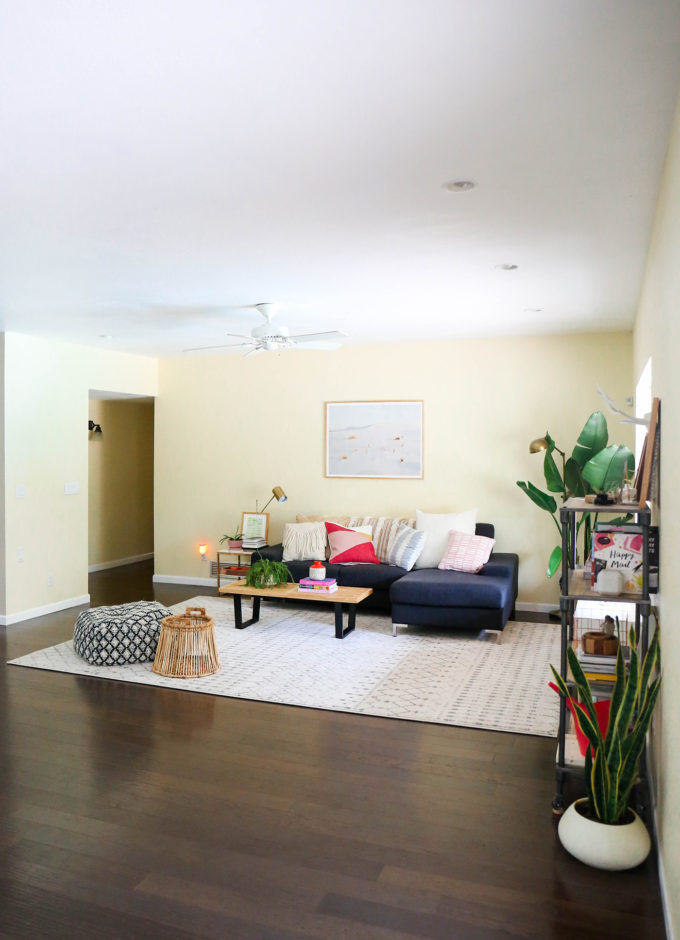 When we moved in, the walls of all of the living areas were yellow and/or beige. Now, don't get me wrong. I love me a colorful wall. But some of the areas of this house don't get great light and I want to brighten the space as much as we can. I feel like my emotional happiness is dependent on the amount of light that enters my home. I know that a lot of design experts are saying that "white is out", but I enjoy a fresh palette that will allow me to customize with each season and as our aesthetic evolves. The plan was to paint everything over and actually get some adult furniture and finishes that will help us feel like a few aspects of our life are put together. (In reality, we're just a hot mess!) A few months ago, we were able to paint this room and a few others in preparation for a shoot for Disney, and you got a sneak peek of the room during our holiday home tour (hey! those walls are white!):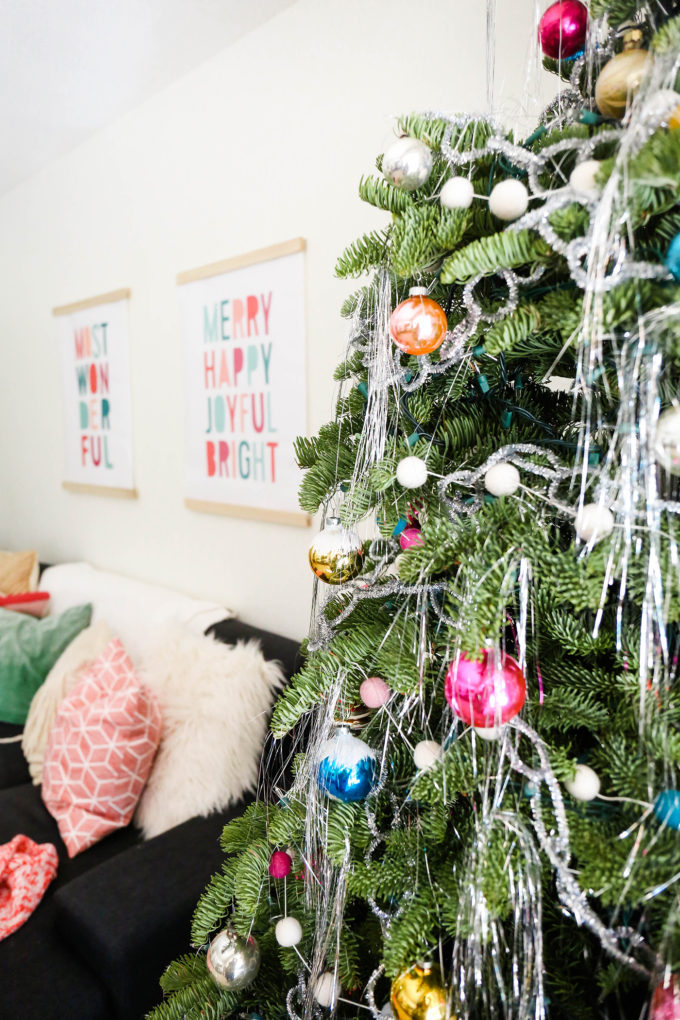 Our lighting fixtures and ceiling fans also need to go. I feel like that will be a simple and easy update, but we will wait to see the direction that our living areas go in before switching those out. It's amazing what you start to recognize as you live in a space and notice all the little things that need a change!
The sofa that currently sits in this space is one that we have had for almost 7 years now. It's been good to us, and I've loved the style and shape, but it's never been that comfortable. It's so firm and hasn't really softened up over the years. That's a testament to the manufacturer as the cushions have held up surprisingly well after adding two kids into the mix. While I'm glad that the couch has held up, I'm a little sad as it's just never been cozy enough that we want to sit on it for hours on end. You know how it's nice to sit on a couch for hours on end? No? Just me? Well, that's what I want. Good furniture that can stand the test of time, but that I can still melt into the moment I sit down. We've actually been spending some time working with our friends at Bassett Furniture to design some pieces that I know we will love and can't wait to share more about that process. Stay tuned!
As you can see in the images above, we currently have super dark floors. They're made of engineered hardwood and have held up pretty well since we brought in our crew. I'm not that crazy about how dark they are (make it light!), but that's not something I'm gung-ho about changing at the moment because of our budget. We have a small nest egg for house projects and a part of me has a hard time spending money to redo the floors when their original cost was factored into the price of our home at the time of purchase. Yes, they will be updated eventually, but I think it might be best to spend our money and time changing other things that matter more to us at the moment. They're still pretty! They are still moppable! (Is that a word?) Of course, this can change down the road as we move along with other home projects, or if we win the lottery. Lookin' at you, Arizona Powerball.
Outdoor Clubhouse

The current view up top:
Just outside our house above Vita's bedroom is a clubhouse that I would have killed for when I was a kid. It has a winding staircase that leads up to a super cool play area with a wooden floor that needs some love in a bad way. It was painted over and the paint has peeled up and totally scratches your feet when you walk on it. Our plan is to either give the floor a good refinishing, or simply tile over with some deck tiles. Obviously, the latter is the easier project of the two, but I don't want to make more work for ourselves in the long run. During the summer months, the clubhouse is almost covered in trumpet vines that grow over the ceiling, walls, and down the staircase. It's the perfect hideaway and I'm finally going to make it a hangout cool enough for Vita and her neighborhood pals. Also, there used to be a pool slide coming down from the clubhouse, but it was removed before we bought the house as it broke. Here's a previous shot from the listing of what that looked like: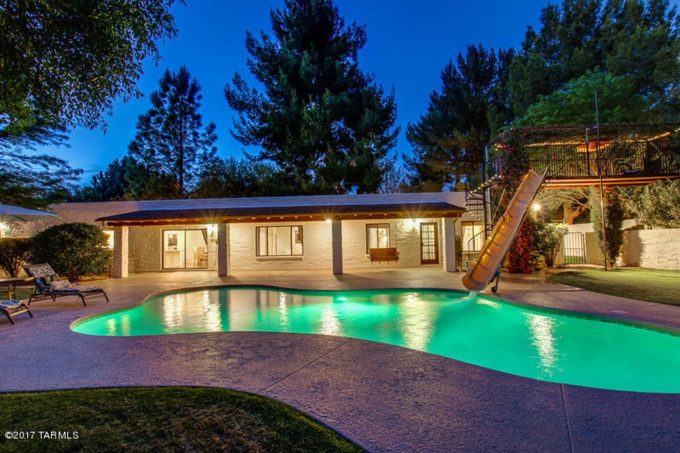 Should we get a new slide? I'm so in love with the fun that could happen here! I'm super excited about this project because all of my kid dreams will be coming true. And V will think I'm the coolest mom, right? RIGHT?
Master Suite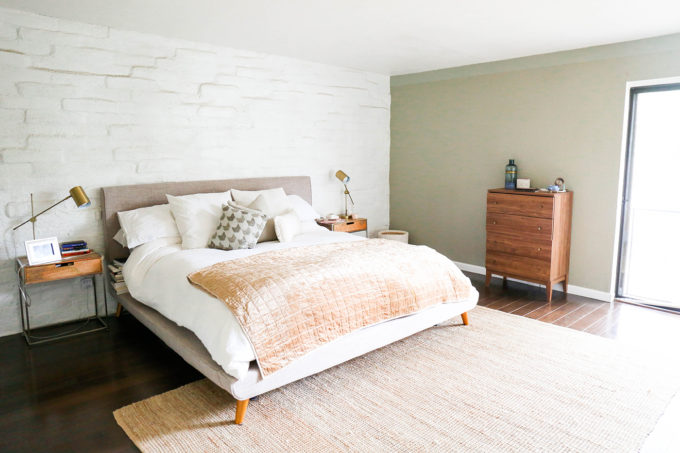 I feel like our bedroom may be the last thing tackled as it's just Logan and I who spend time in there, and we'd rather work on other things right now. At the same time, we spend time in there! I want it to be a space that I can be calmed by. Currently, it's a bit of a catch-all for everything, but I can't wait to give this space a little love. Behind our bed is a massive white brick wall to match other brick surfaces throughout our house. I love it, and don't really want to mess with it right now, but the olive green walls will need a fresh coat of something that isn't olive green. We've toyed around with wallpapering one of the walls to bring a new pattern, but feel like that might be a little much considering there is already the brick wall. This room is so dark because there are only two sconces to give light. The ceiling is wired for a lighting fixture, but the previous homeowners took theirs when they left and patched and painted over the ceiling. So, we'll add some new lighting fixtures to the list for 2019 as well! And probably some curtains because, well, privacy.
Outside of the master, is a small courtyard with a brick wall surrounding. You can walk through a gate to the front yard. We have a wall of shrubs lining the yard along the north edge so you can't really see our home from the street. This is the excuse I have told myself whenever I have the conversation about  window coverings. But it's time. I told you – we're going to be adults about this and that means drapes, curtains, shades, or blinds. We'll do this right!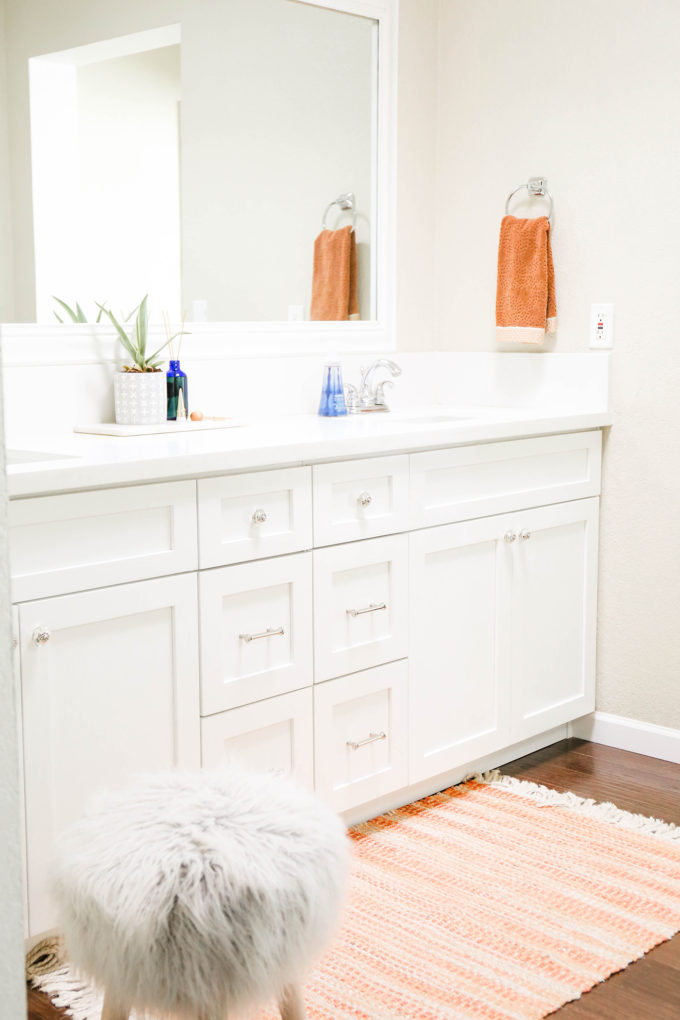 The master bath is one that's definitely on my to-do list. I'm aching to switch out the mirror and perhaps do a floating vanity and some new fixtures. We have a tub/shower combo surrounded by tan tiles and it's lovely. It's just not for me. I love a good bath, but I also love a good shower and so we're currently in the midst of scheming up just how we can get the most out of this space.
KITCHEN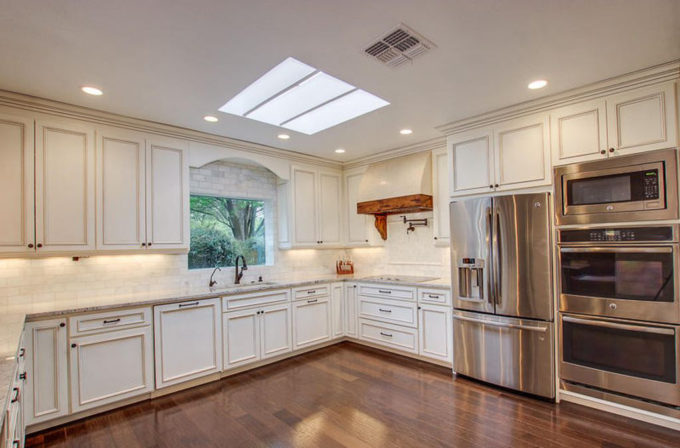 Finally, the kitchen. And another photo from the listing. Because it's a nice wide-angle and CLEAN. I love this space. This is where our family spends the most time. We cook and eat here. We do homework here. We chat with family and friends here. It's my favorite. It's currently quite traditional and I just know that it's not what I envisioned my kitchen in my home to look like. We love the tile surround, but not the grout color. I'm not crazy about the cabinets and would love to open things up a bit more. That being said, I'd have to REALLY declutter what is behind those cabinet doors!  Wish me luck with that! There's a huge skylight that sits in the center of the space and brings in so much light. We'll definitely keep that there. No changes for him!
A few smaller changes you might see that I'll talk about in a separate post:
laundry room updates
bedroom updates for the girls
back patio organization
Phew! You still with me?! That was a lot! Logan and I have a running list of renovation wants/needs, but after putting these down here and sharing it, I feel like we've got our hands full for the year! I mentioned earlier, but I'll mention it again; The previous homeowners made some updates to the home that brought the value up a bit. And so we paid for that when we bought our house. We did so knowing that we will eventually make all of the changes we want, but it's a bit of a balancing act regarding time and budget. I absolutely love the bones of our home and the plot of land that it sits on, and feel like we can work with so much of what we have. And we'll continue to feel out the space and find just how best our family can live our best life here.
What do you think? Are we totally crazy? Are we stretching ourselves too thin? I don't know how you homeowners do it! The list is never-ending! What are some of the things you think we could and should tackle? I'd love to hear your thoughts and advice. Wish us luck with this to-do list of home improvement projects. I'm feeling a little overwhelmed and a lot excited!
You can read all about when we purchased this home right here. And check out temporary updates we completed like this guest bath makeover and laundry room makeover! Both were updates made in a weekend and I am currently wishing all updates were weekend updates.
Photography \\ PROPER