This post is sponsored by The Home Depot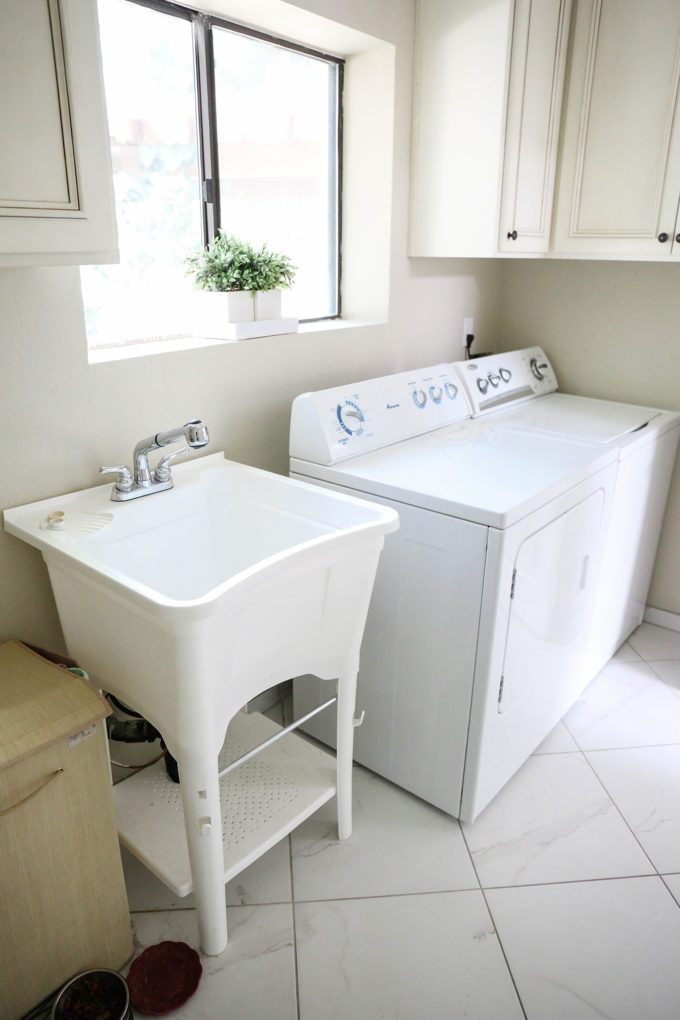 Alright! We've been tackling one room at a time in our new house (read all about our new digs right here!) and I can honestly say that it's been a labor of love! From working in the house to landscaping the yard, we definitely feel like we've been fully immersed in homeownership and the pride that comes as a result. Logan works in the yard almost every night and I can tell that he couldn't be more proud of our currently super green lawn. Green grass! In the desert! Before baby Mara arrived, we were hustling to complete any small projects we could. That included the guest bathroom and Mara's room (reveal shared soon!). The laundry room was on my list of makeover projects but I knew that I didn't want to spend an arm and a leg or several weeks of my time getting it to look a little more "me" and a little less "beige". So! We partnered with The Home Depot again and I am so excited to share this simple marble makeover in our laundry room with y'all today. AND! I'm sharing this crazy hack for a marble backsplash that you'll definitely want to take note of. Check it out!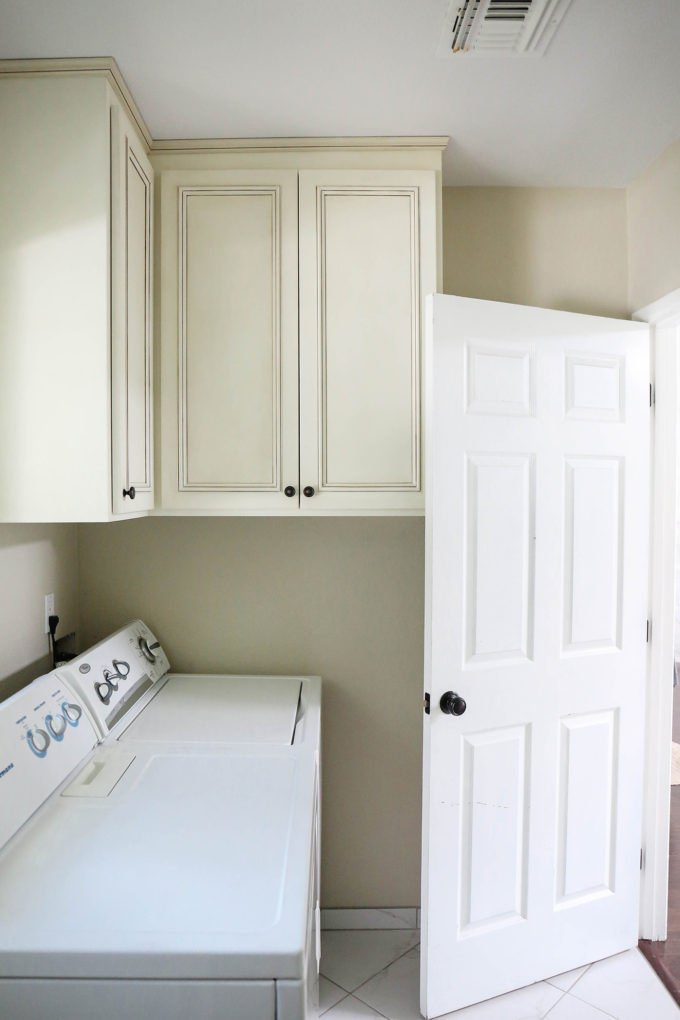 So this was what we started with. It's not horrible. It's just a lot of beige (the same look in our guest bath) and antiqued cabinets. Those finishes are fine, but not really my style. So they had to go!
I love the look of a tile backsplash, but didn't really want to get my hands dirty with grout, backer board, or a wet saw. When The Home Depot reached out about working together using their new Smart Tiles, I kind of felt like my tile prayers had been answered. They're simple sheets made following a bunch of tile designs that have an adhesive backing so you can really just peel & stick. I know! I was a little skeptical at first wondering how they would hold up, but that adhesive is strong, baby.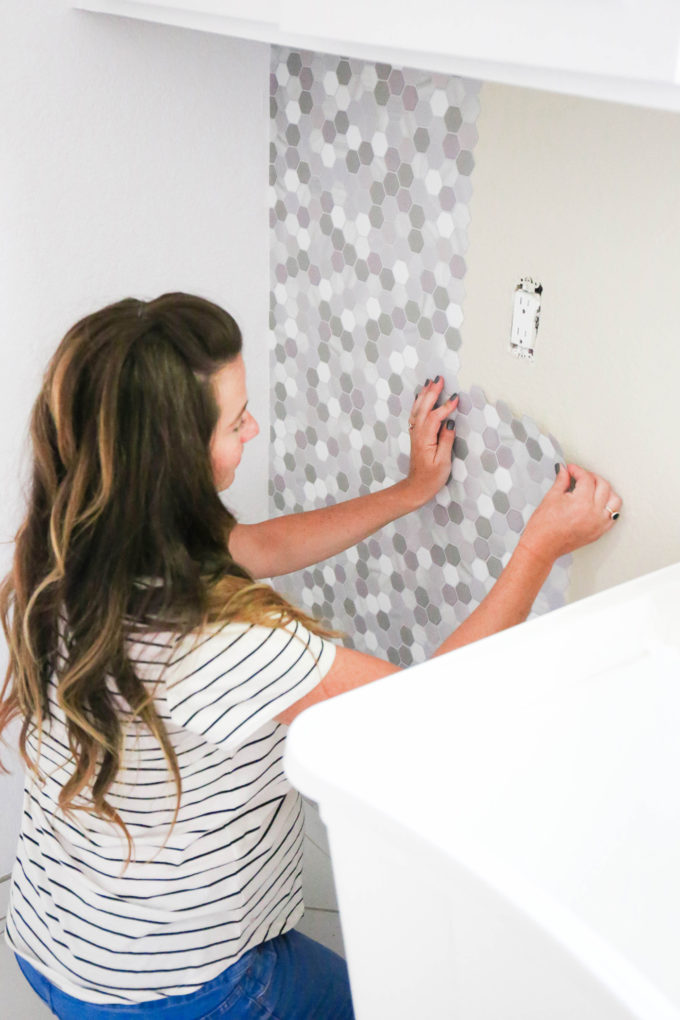 There I am! Hard at work and 100 weeks pregnant. We went with the Hexagon Travertino tiles. I love the look of penny tiles and wanted a little color (read: grey) to break up the all white plans I had for the laundry room. The tiles are designed for environments like bathrooms, kitchens, and laundry rooms. They're resistant to the humidity and guaranteed to stick! So no extra glue. No big grout mess. 
Because the sheets of tiles are so thin, they're easily cut with an x-acto blade or scissors. They come spaced with edges to match up so that you get a look of "even grout". We decided to tile an entire wall from the floor to the ceiling. It was way easier to accomplish than it would have been using real tiles! Really. Like adding a bunch of stickers to our wall with a fantastic end result!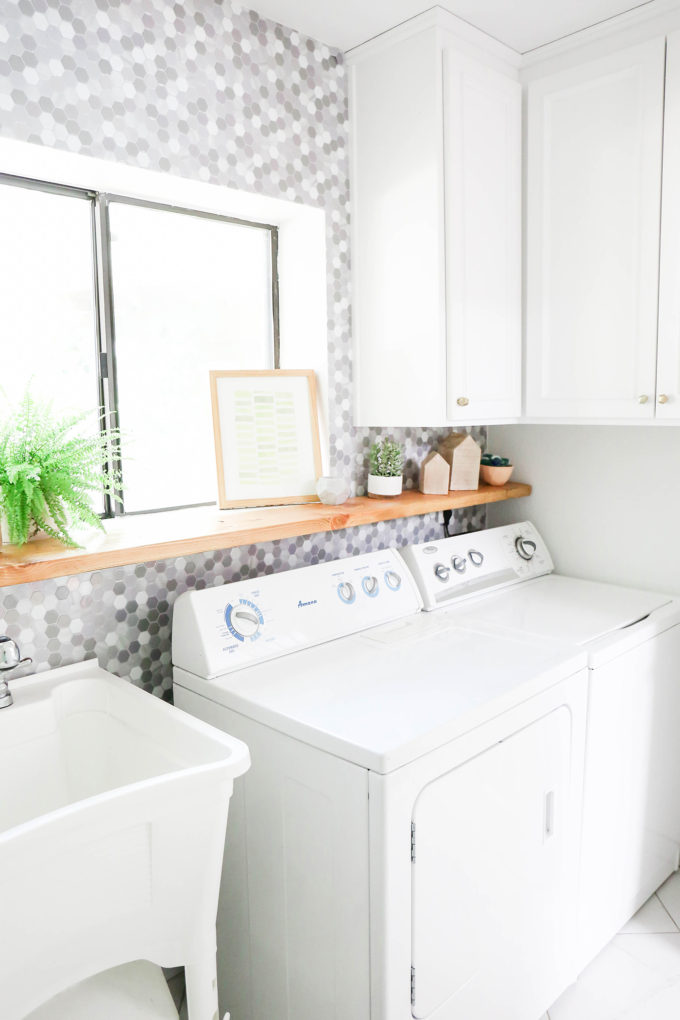 After getting the tiles all laid and straight, we added a plank of pine to not only break things up, but to disguise the space between the appliances and the wall (thanks a lot, dryer vent). It also holds baskets for items found in pockets, and a bowl of detergent pods so I have those at the ready!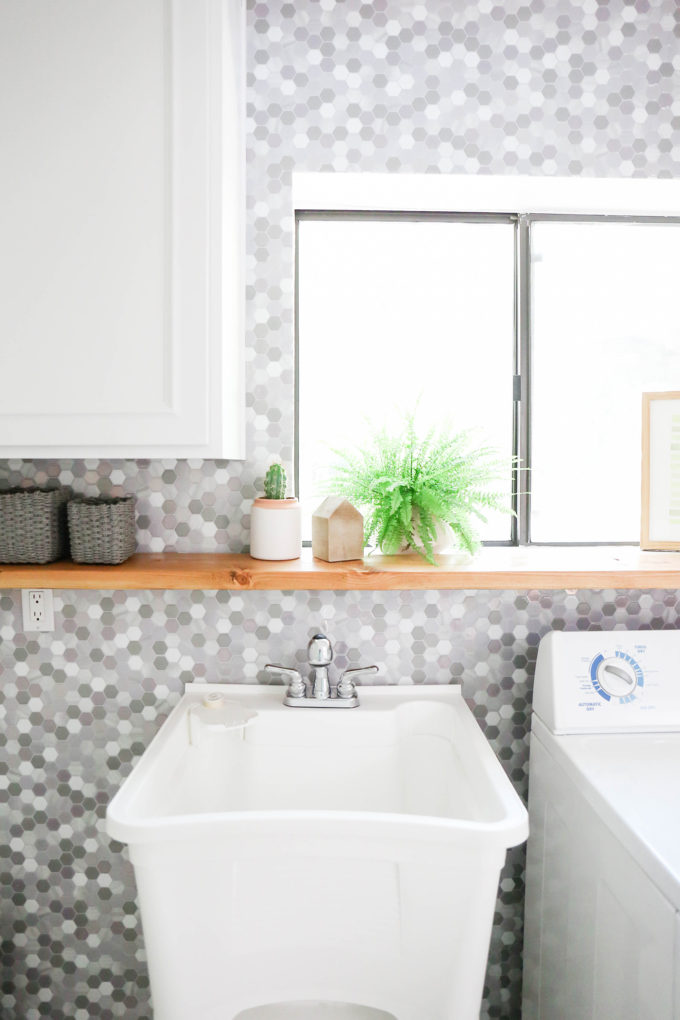 We have this big ol' sink that I have grown so attached to. I never thought you needed a large sink in the laundry room, but it has proven useful for pet baths, soaking stained laundry, and cleaning off paint brushes! Everyone needs a big ol' sink in their laundry room.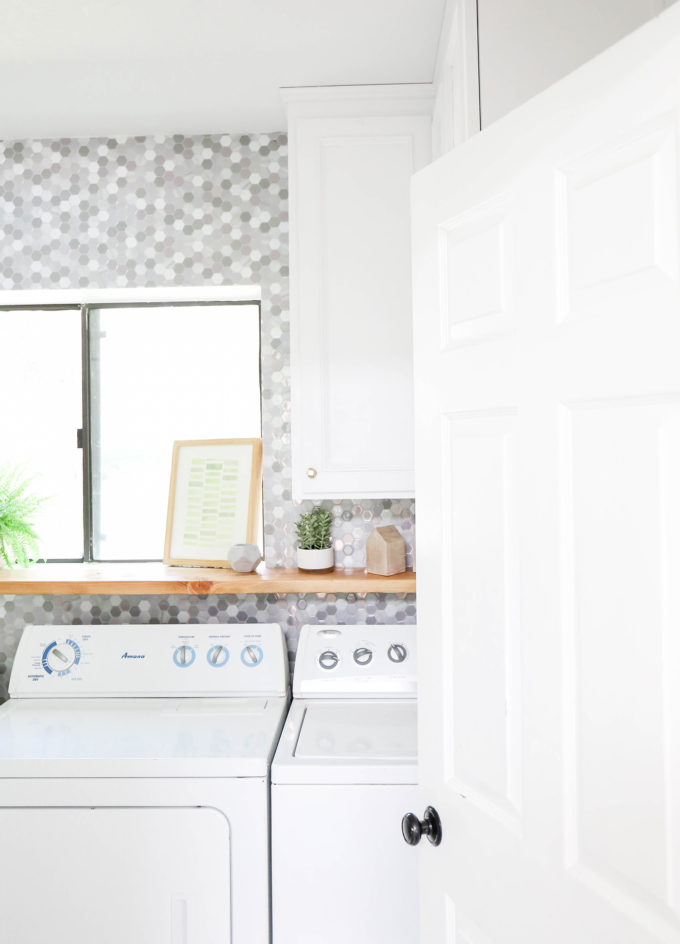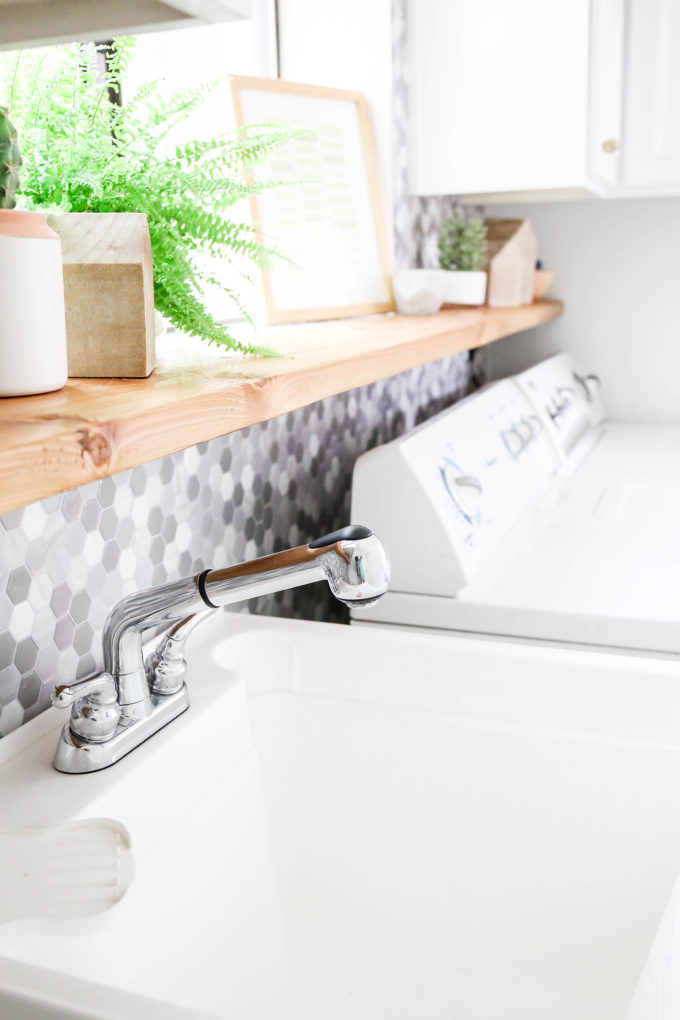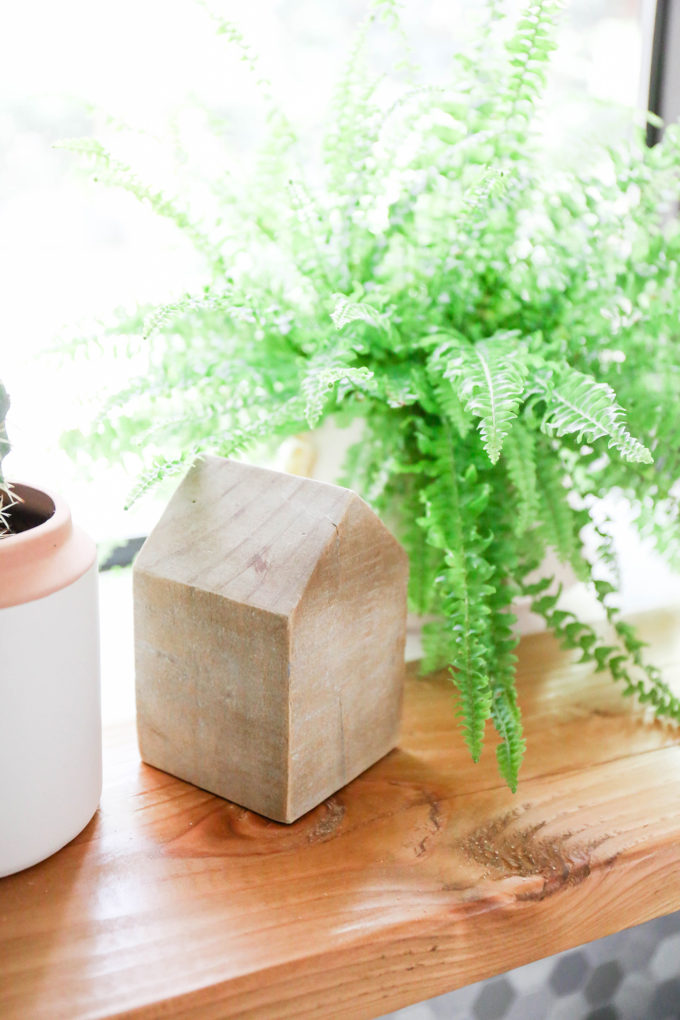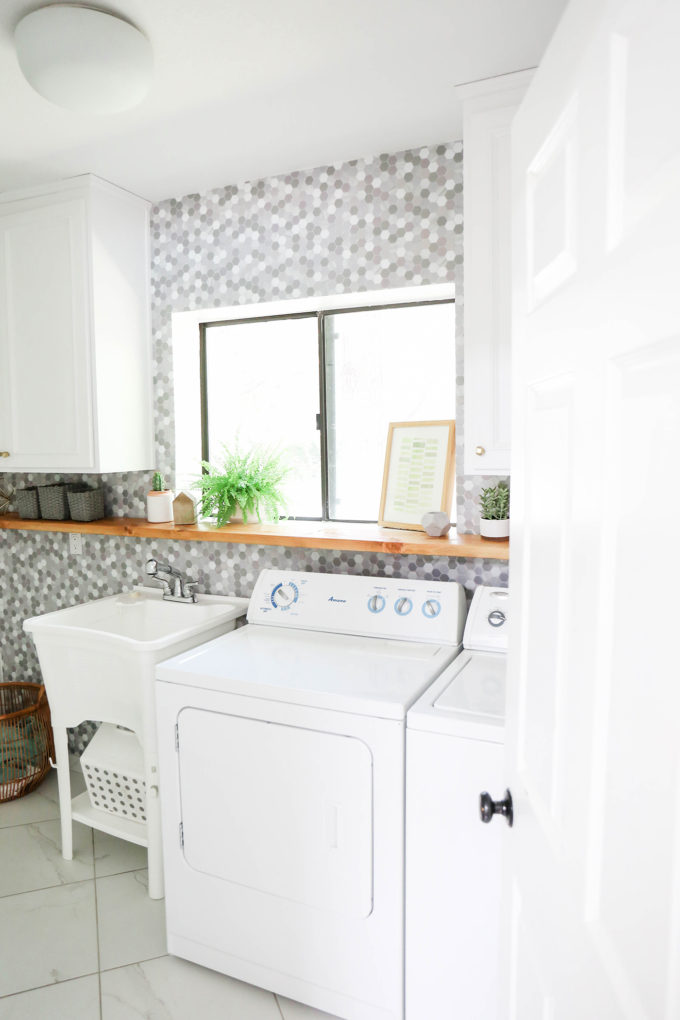 You can check out the entire makeover right here on The Home Depot blog! We've shared a step-by-step and a list of the tools we used to get it done. (Including paint!) I love the idea of using Smart Tiles all over our home and now have my eye on the master bath! I'm thinking subway tile???
Check out our other home projects like our guest bath makeover right here!
photography \\ Lexy Ward