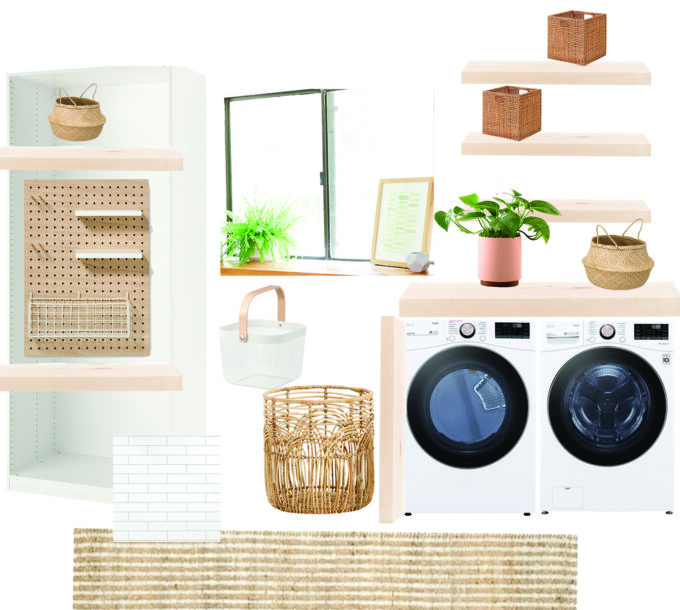 So back in May, our dryer finally gave out in our laundry room. Both of our appliances had been plugging along and were actually over 20 years old SO IT WAS TIME, but still! Paying for new laundry appliances wasn't really on my list of to-do projects this year, but I had been wanting to tackle a laundry room makeover eventually. If you go back to this quick weekend update post from way back when we first bought the house, you'll notice I had done a simple update with some paint and stick on tile. It wasn't perfect, but it was a little better than what we had when we moved in. Because we were getting new appliances, I knew that this would be the time to just tackle the makeover and finally get the room looking like I wanted it to and to match the aesthetic of the rest of our house. So here we go! Read on to see what we were starting with and my plans for the final look!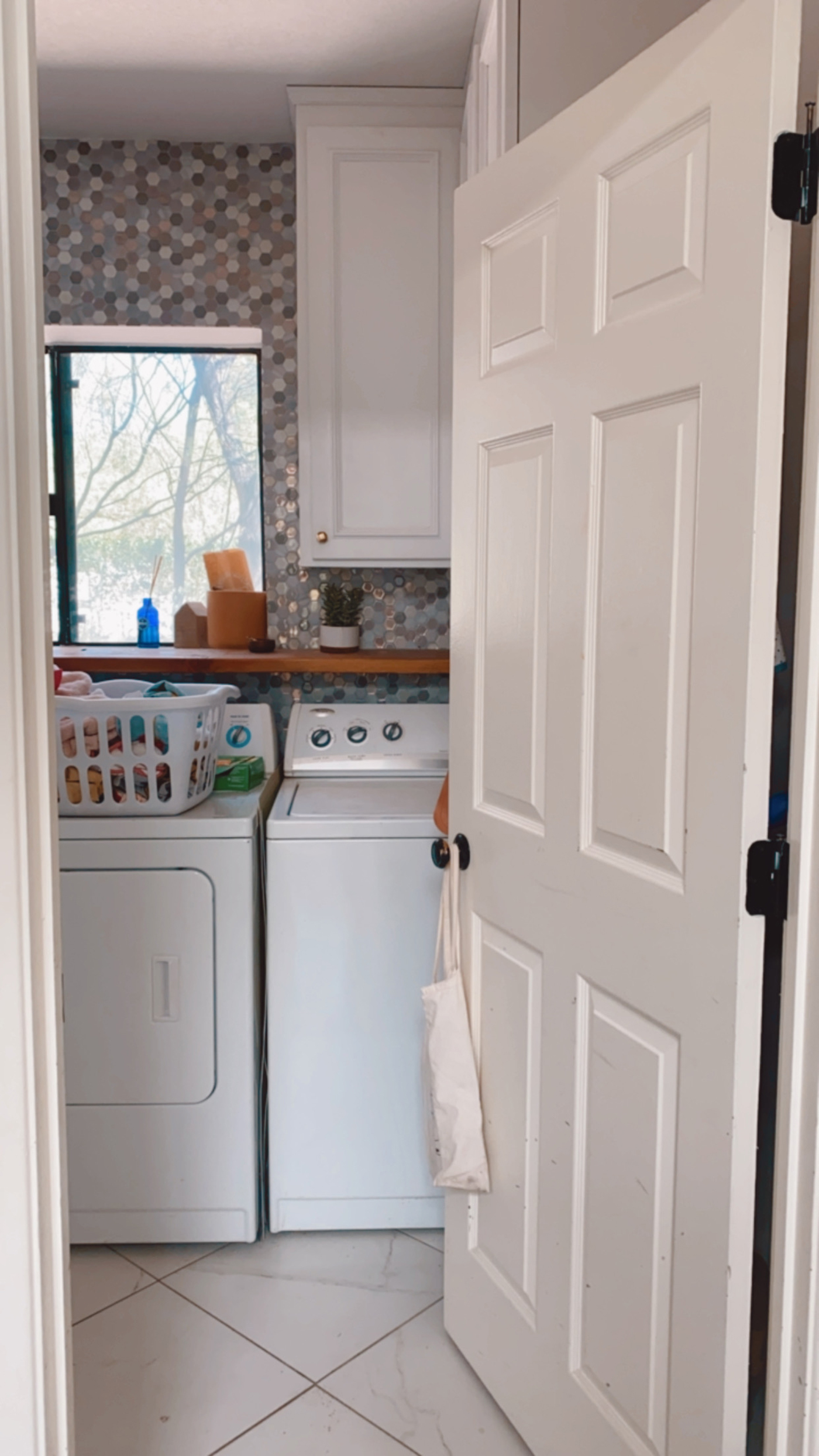 I'm going to apologize for the phone photography now.  When we were in the thick of the machine breakdown, I quickly snapped some photos to share what the room looked like and talked about my plans for it here in my IG stories laundry highlight. Keep checking in over there for updates in real time!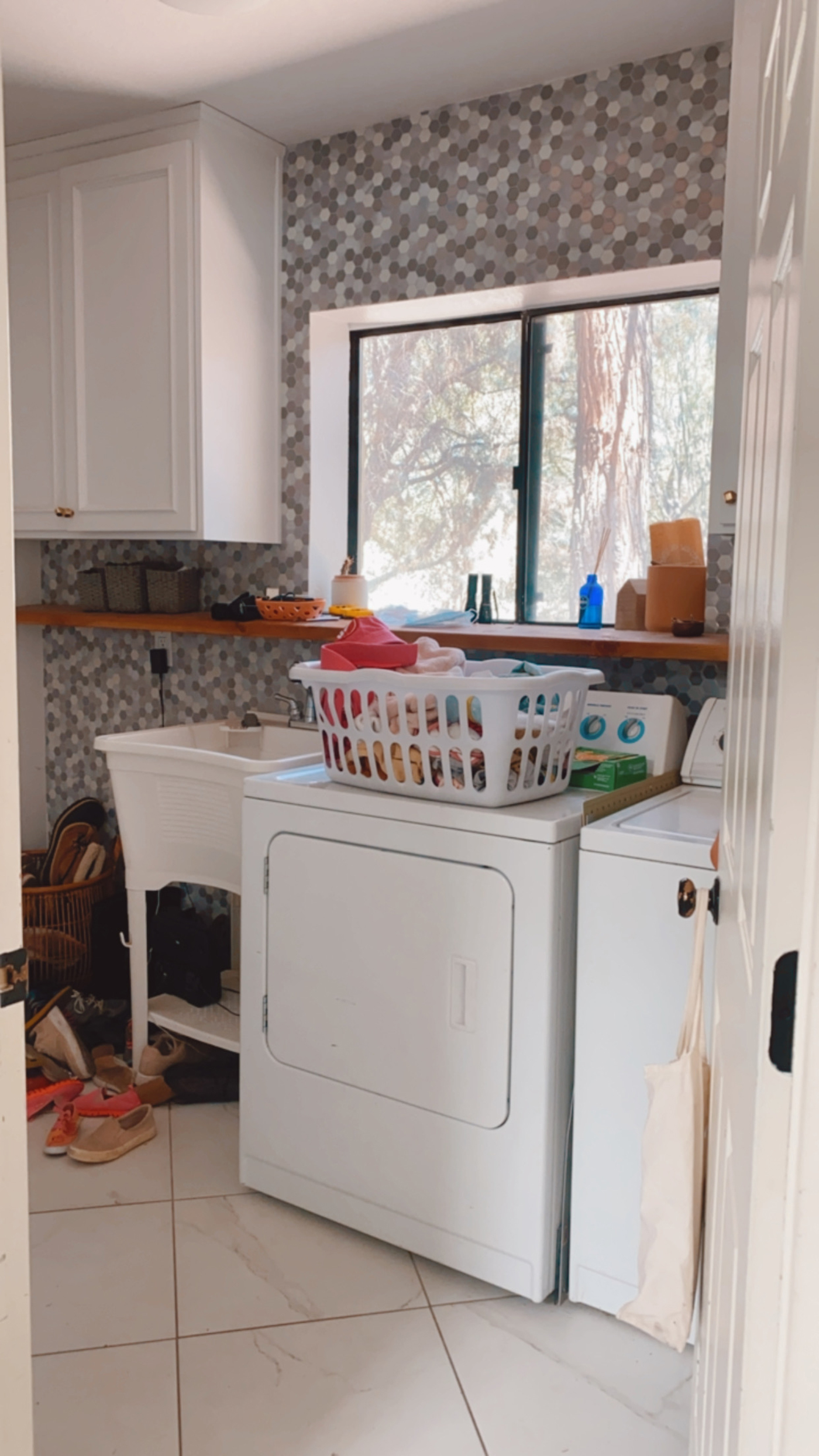 It's a very small room. About 10'x6′. Our ceilings aren't high either and the ginormous upper cabinets really made this room feel cramped. The most frustrating thing happened to be that the corner cabinets that were actually hung over the machines were so large that they blocked the door partly and prevented it from opening all the way. When you're walking through this small of a space, you need every door to open completely!!!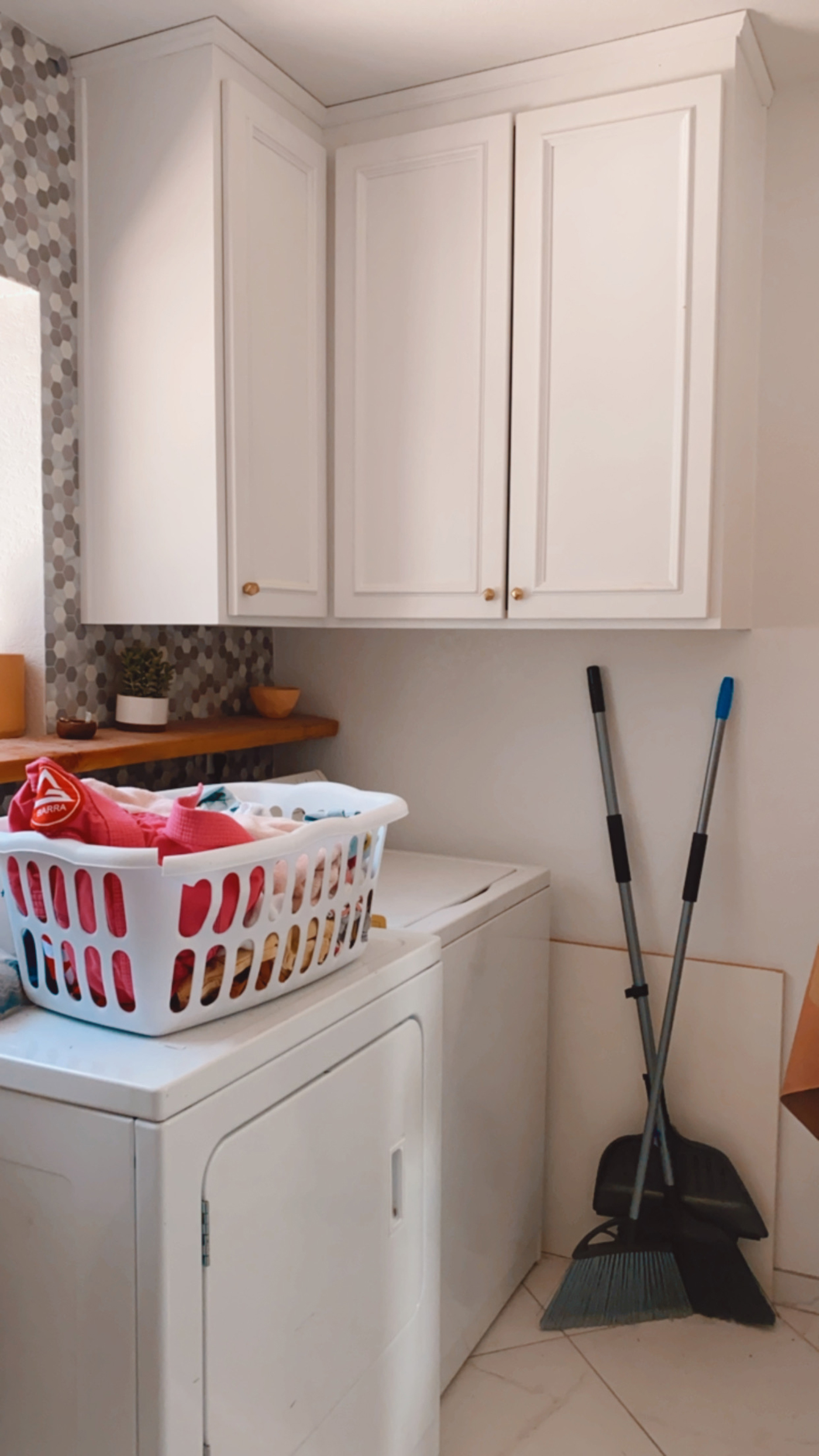 Woof. This room had seen better days. Lots of clutter. We didn't have a closet for brooms. Our shoes would sometimes just get thrown in a basket (and miss!) in the corner. This was basically the place where things went to die. Occasionally, things would get washed. I posted pics of the appliances on FB marketplace and listed  them for free (along the issues with them), and someone came and grabbed them and took them off our hands. It was time get started!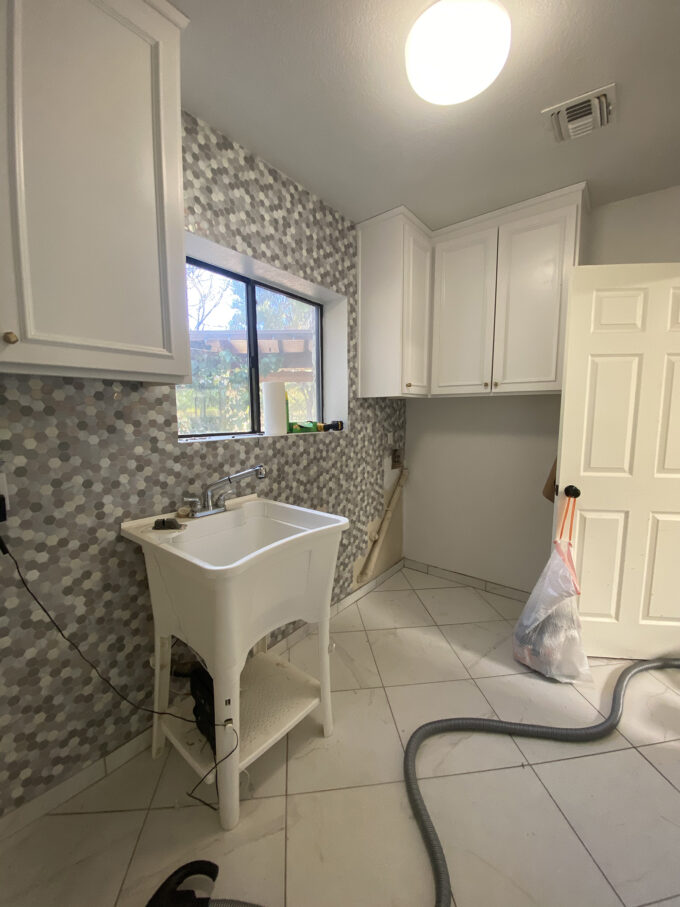 I know that people always say they love having a sink in the laundry room. I was really excited about having one when we first moved in, but after living in this house for 4 years, I was totally ready to part with it. It was rarely used and was just taking up valuable space in our tiny room. So we decided to pull it out and cap off the pipes in the wall and then patch over it. And I'm really happy with how much floor space was open to use after that decision!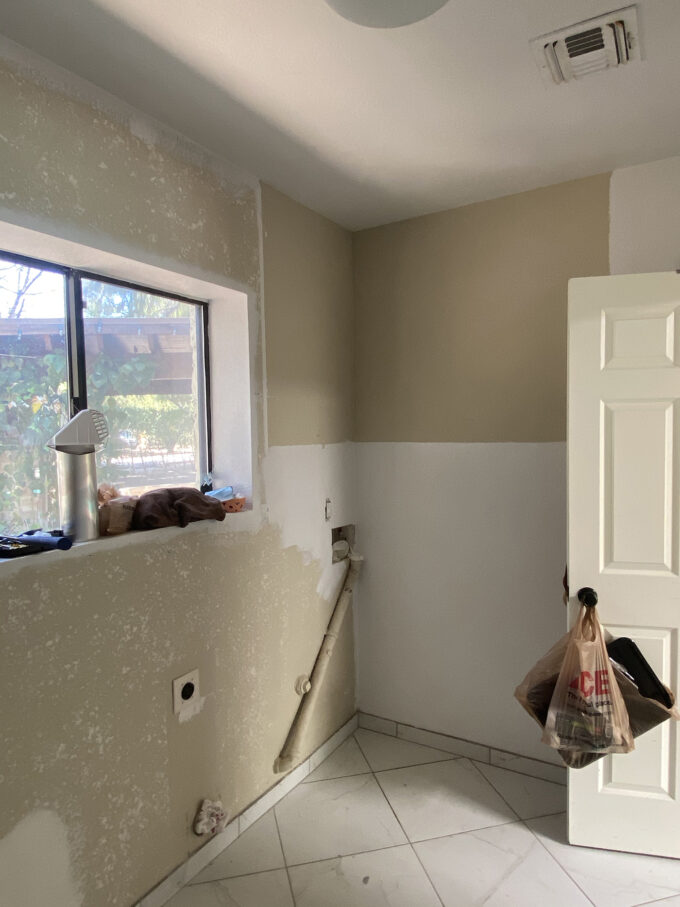 In the above photo, you can see the progress after removing the sink, cabinets, and peeling away the tile. I sanded all of the rough spots and gave everything a fresh coat of Benjamin Moore Simply White (what the rest of our place is painted in). The long diagonal pipe that is behind the appliances is for greywater. There's a traditional drain included in the hookup box, but we can also put the washer drain down this pipe and funnel out the wastewater to use to water our property.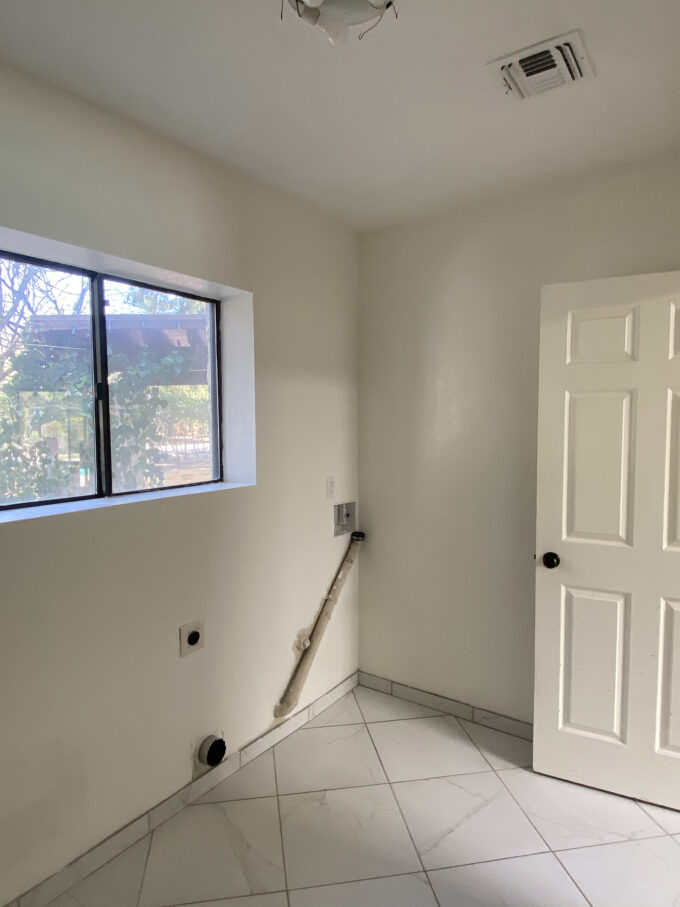 I created a little mood board to help me visualize how I wanted the space to look. Take a peek below: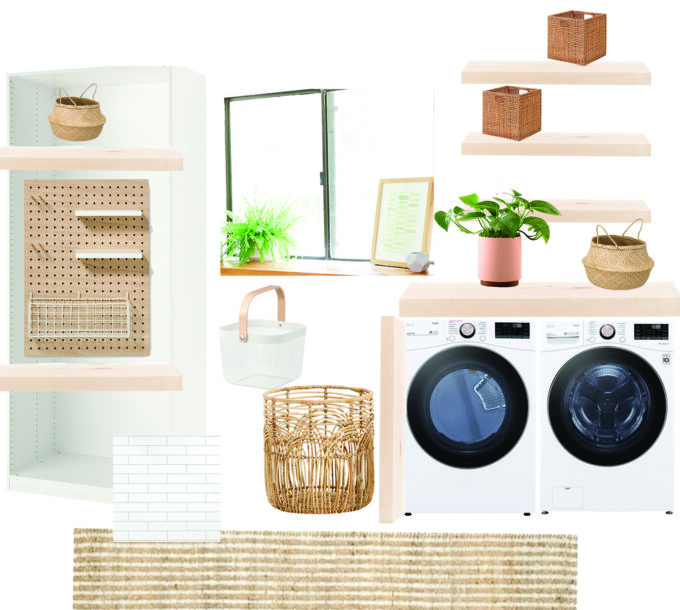 We have to maximize every square inch of this space, but also make it something that I enjoy looking at. Going for some built-ins on the one side with some lockers/shelves/hooks for bags and backpacks. There will be some cubbies for shoes, and a bench to sit on. I love me a good waterfall counter and felt like keeping everything in a natural wood tone would match the rest of our house. I love open shelving, but need some nice baskets/bins to organize all of the supplies and products that live here in this room. And then I'll sprinkle in some nice ceramics for plants and ma' greens.
This is the other side of the room. This room triples as our laundry room, mudroom, and pantry. The bi-fold doors also bothered me because they stuck out in front of our garage door and just weren't my fave. So I ripped those out and sold them on FB marketplace. One man's bi-fold doors is another man's treasure. It worked out! I planned to create a modern barn door to slide right over this entrance. It wouldn't block the walking path in the room and would just look a million times better.
Here's a little sneak peek of my doors!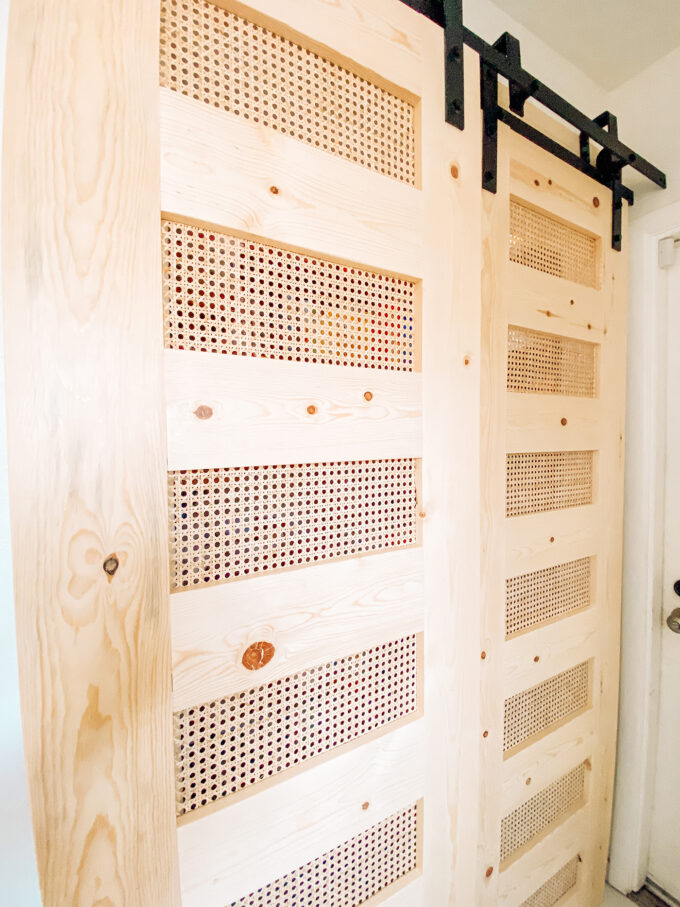 The above photo has been one of my favorite inspo photos for small laundry rooms since 2016. Vintage Revivals always melts me with her simple DIYs and I knew that a waterfall counter was going to be my top-choice for our small lil' room. I had to tweak some things differently from her method, but I'm supes pleased with my current counter: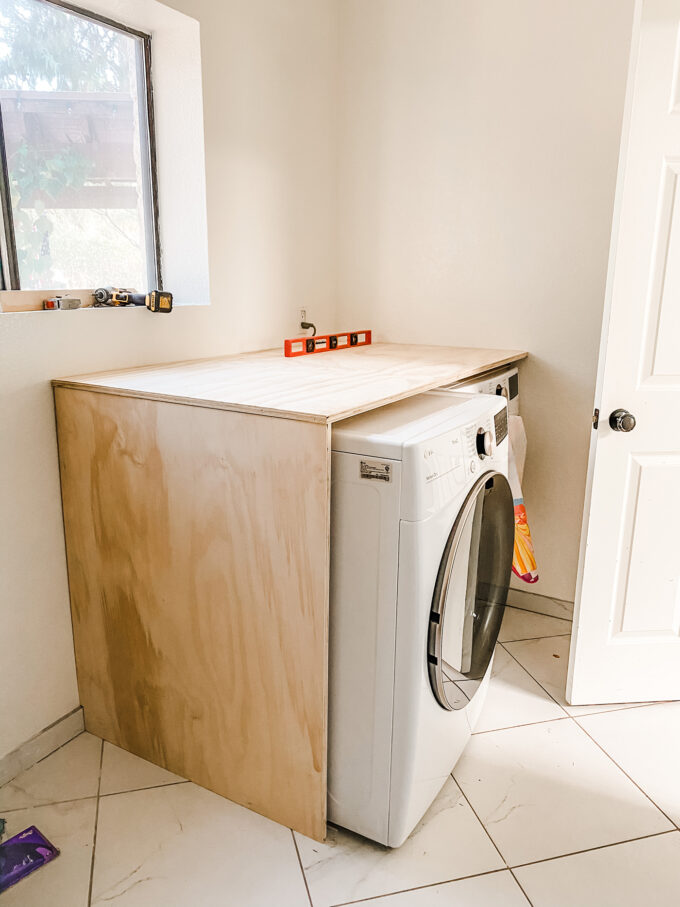 Took me a bit to figure out how to work around our utility box for the water hookups. I had originally planned to just lower the box, but our pipes actually come down from the ceiling instead of up from the ground. So I cut a small pocket in the back corner where the cords can come up through if necessary. The counter is mounted to brackets in studs on the sides of and behind the washer and dryer. It can be removed easily if we need to get behind the machines. That was our only option because this space is so small, but it works. I'll be sharing a post about how exactly we did ours like this soon. Stay tuned! (Story of my life. wink wink.)
I found a local carpenter to help build the built-ins and he was great. I am a super control-freak and had pics and plans and knew what I wanted and he totally brought my vision to life. I was so stressed about getting this space done on a tight timeline before family came to visit and I knew that Logan didn't have the time to build this either. He suggested I take something off my plate and hire out what I can. He's so wise. 😉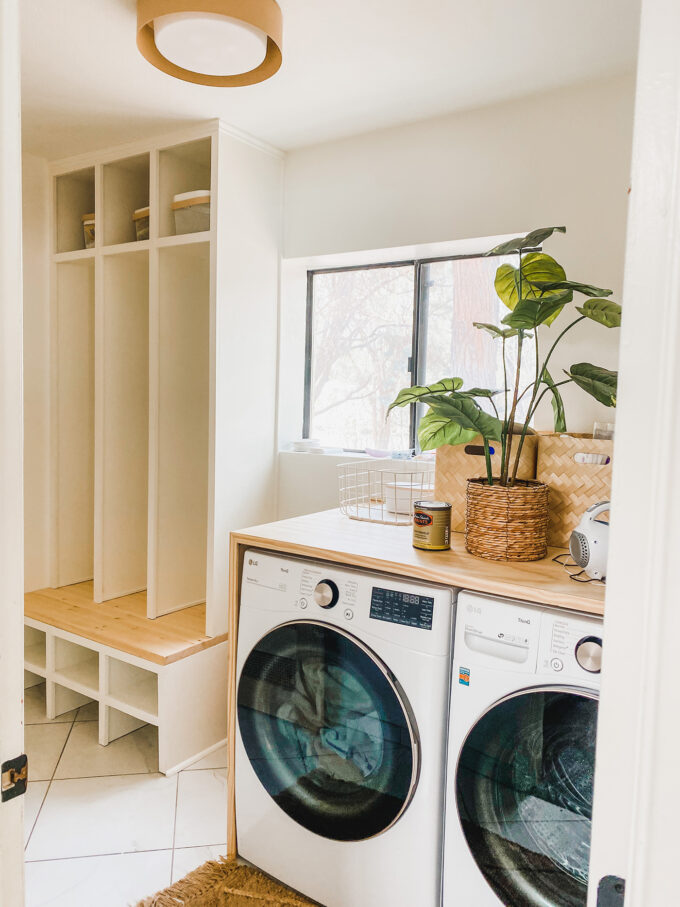 The room isn't finished, but here's how things are currently looking. I'm going to be building the floating shelves this week and then will pull in some pretty wall art or maybe a nice mirror and a nice long rug for the space (loving this one and this one from AllModern!), and of course, lots of plants! I need that green, y'all.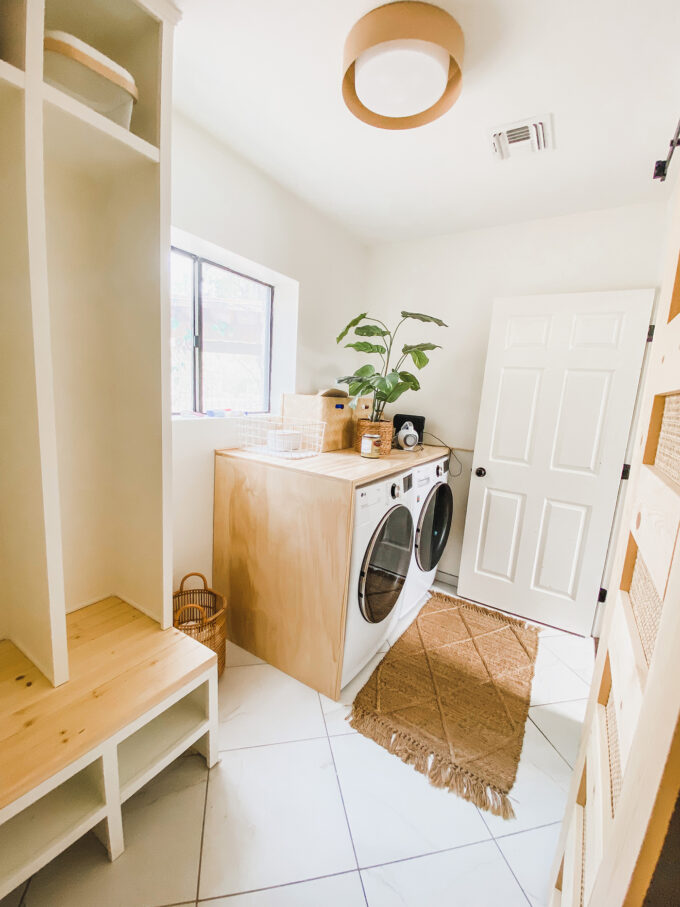 Can you even believe how different this space looks?!?!? I can't wait to finish it, style it up, and take some pics to share of our new soon-to-be grand entrance! For now, you can watch the entire saga until now in my Laundry highlight on stories! Hooray for making our spaces our own, right???
* I am partnering with AllModern to help furnish the finished laundry room! Explore AllModern's latest arrivals in modern lighting, sputnik chandeliers, modern wall art sets, mid-century benches, geometric bookcases and wallpaper, and modern rugs to spur more fresh ideas!