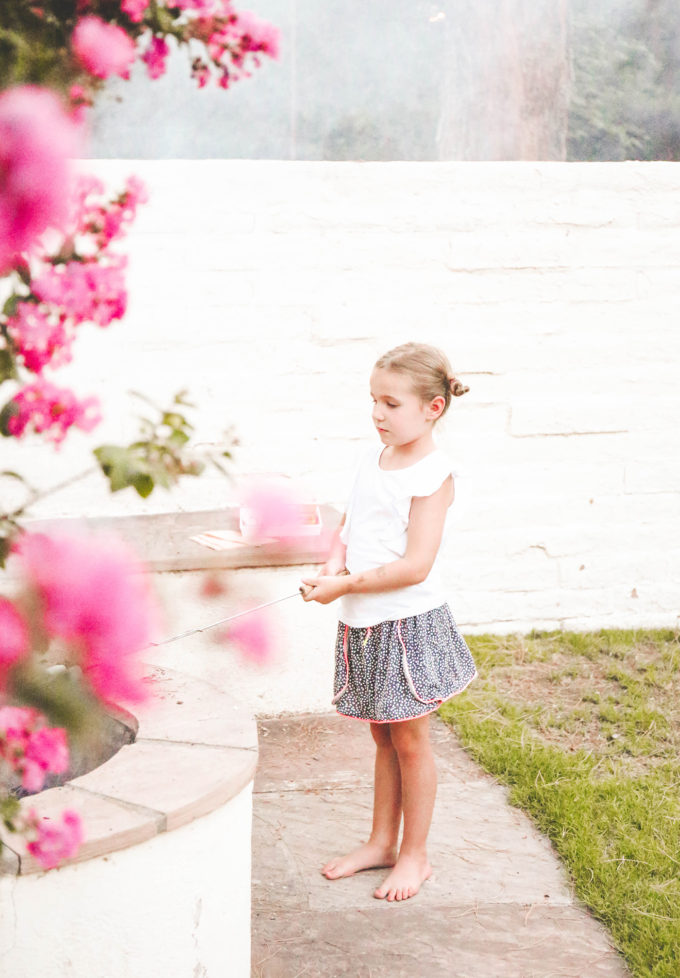 I don't believe it. And somehow I missed celebrating it. But we've lived in our home for a whole year already! The last year was definitely a crazy one, so I won't try to guilt myself into missing that milestone too much, but still! A whole year! Where did the time go?! One of the things that made me so excited about our new house (and still does!) is the fire pit in the backyard. Our entire home is this white painted brick and a matching fence lines the entire backyard. And there is this big space complete with a stone fire pit that I absolutely love. And we have made sure to get our money's worth since moving in by roasting s'mores on an almost weekly basis. The weather in AZ permits us that one leisure and I'll take it! I wanted to share snippets of that little tradition with you here and talk about some traditions  you might share with your family as well as share some plans we might have for the space.
I grew up with three siblings and parents that made sure we were doing something active on the weekends. We'd travel. We'd camp. We'd fish. We'd simply play outside. So many of my childhood memories involve spending time with together as a family and it's really important that I set that standard for my own children.
I'm lucky that Logan grew up in the same kind of environment because family time is just as important to him! When we were searching for a home in Tucson, we wanted a place that felt like we home to us. We wanted grass. I have nothing against the abundance of cactus that grow here, but when you've pulled out a zillion needles from your daughter's feet, you learn a thing or two. I wanted mature trees. So much of what has been developed here is new. The landscaping is young. The vegetation is different. We were so happy when we found this house because it was kind of like its own private oasis surrounded by all these giant trees and REAL GRASS! The icing on the cake was, of course, the pool. I don't want to come across as some kind of pool snob, because you can definitely get by without one. It's hot here. HOT. HERE. And to be able to enjoy the summer from the pool while our girls splash and giggle has just been the best thing for us. We joke that our quality of life improved immensely when we moved here. We rented a home for 2+ years without any of these bells and whistles I mentioned above. And it was fine. We were fine. But I felt like we weren't making any kind of memories or spending a lot of time outdoors because we live on the sun. So you can understand why I love the pool. And the grass. And the trees. And the fire pit.
(Dang. Is this turning into a brag-about-our-home post?! I don't mean for it to, but I'm just so very happy with my family here.)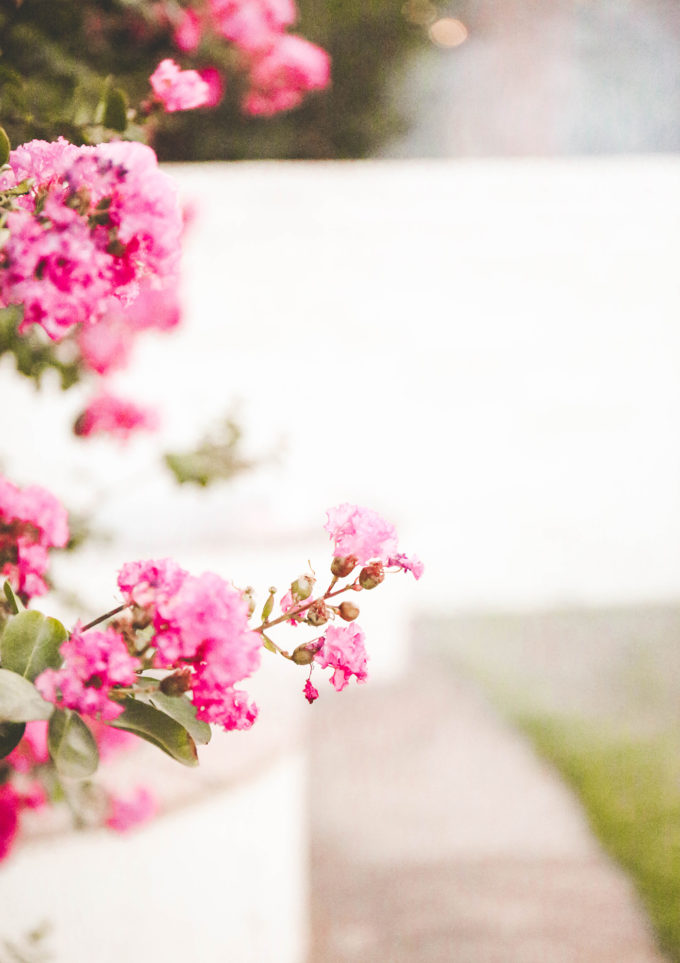 We've always really enjoyed roasting and eating s'mores, but before, we could only do it if we were camping or at a friend's house if they were having a bonfire. (Which is so fun, too!) Now, we head out in the backyard on Sunday night's for our little Sunday Night S'mores tradition and it's my favorite part of the weekend. Sometimes Mara is with us (while I'm masking her from the smoke because Hi. She's fragile.) And sometimes we put her to bed and spend a little one-on-one time with V and that girl craves that special time with us. I'm happy to oblige! We've kind of perfected our palettes when it comes to the s'more. And let me show you how it goes: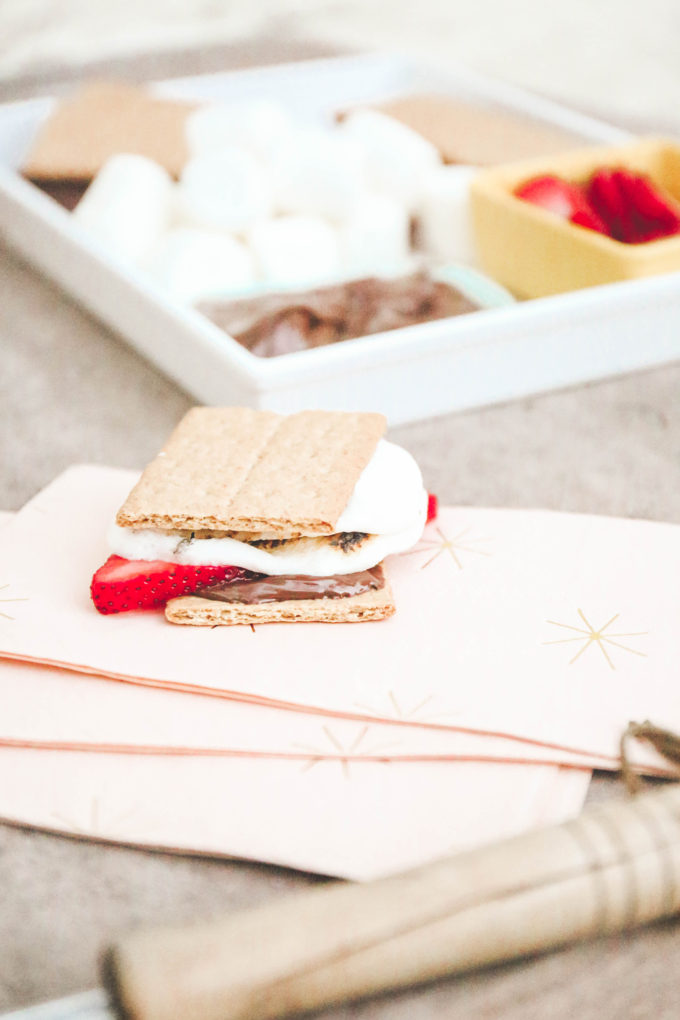 Instead of the chocolate bar, we spread on Nutella. Sometimes in ADDITION to the chocolate bar. We slice up some fresh strawberries and layer those on there. Then we roast the mallow. When the mallow's flamin'…
Logan likes them with strawberries and Nutella. It's like the French Crepe of s'mores, guys. I'm partial to mine with a Reese's Peanut Butter Cup thrown in. With all the other fixin's. Try it with a few scoop of ice cream like we did here. You'll die and go to heaven. Your brain will explode.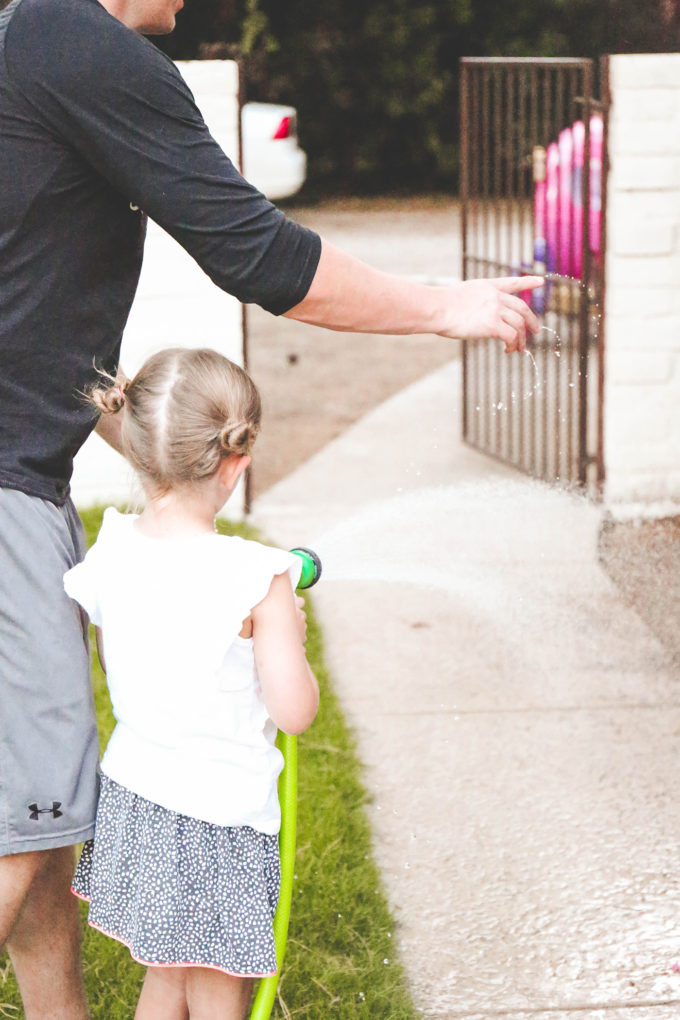 I should mention that I married the World's Second Biggest Worrier. His father is the first. Whenever we are roasting marshies and making s'mores we always have a hose with running water next to us and ready to put out any fires should things get a little crazy. But V usually waters the plants instead.??‍♀️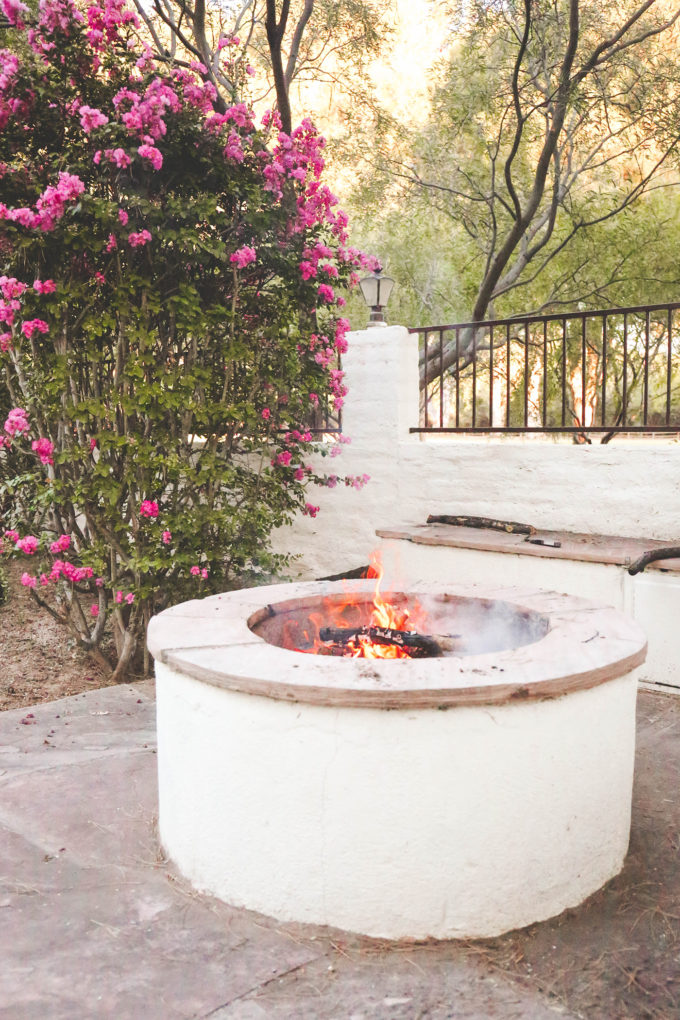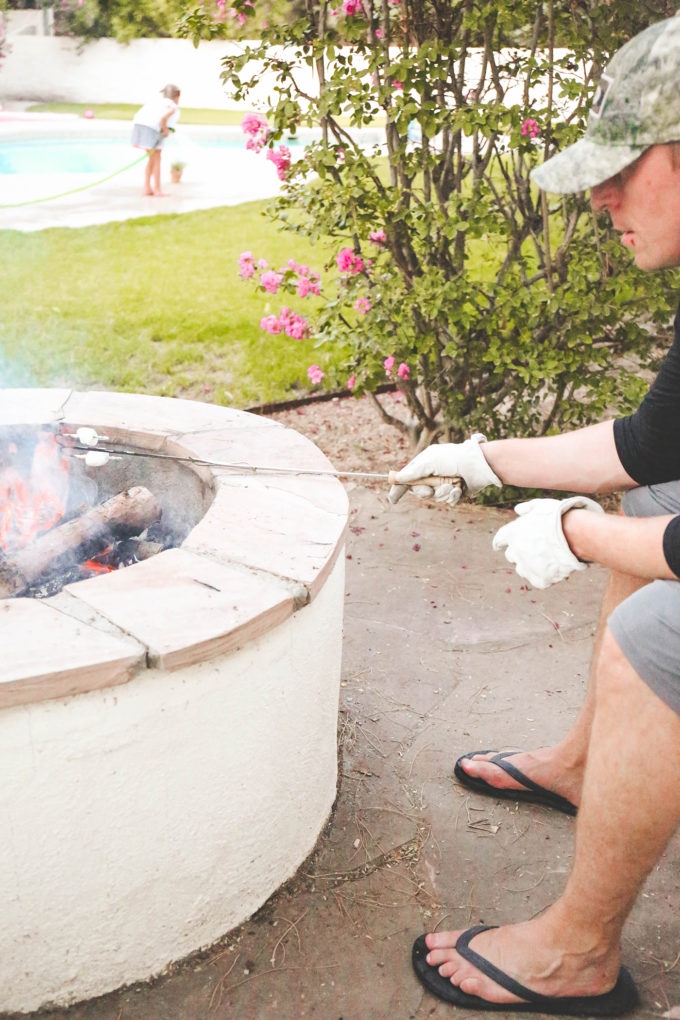 You'll note her in the background giving her mini rose plant a bath. That girl is so fun!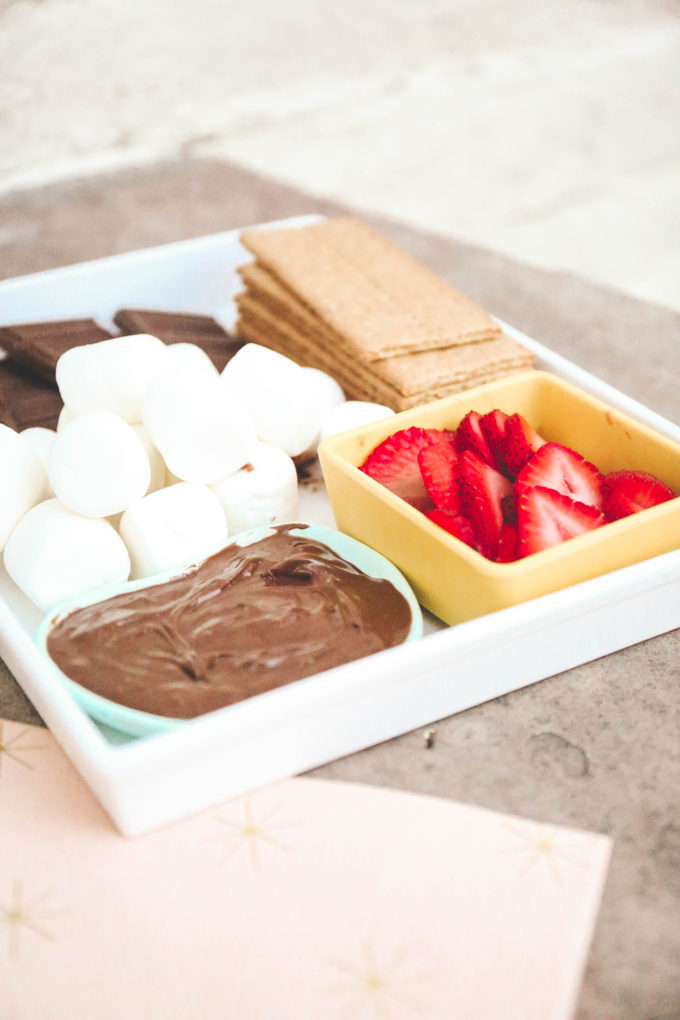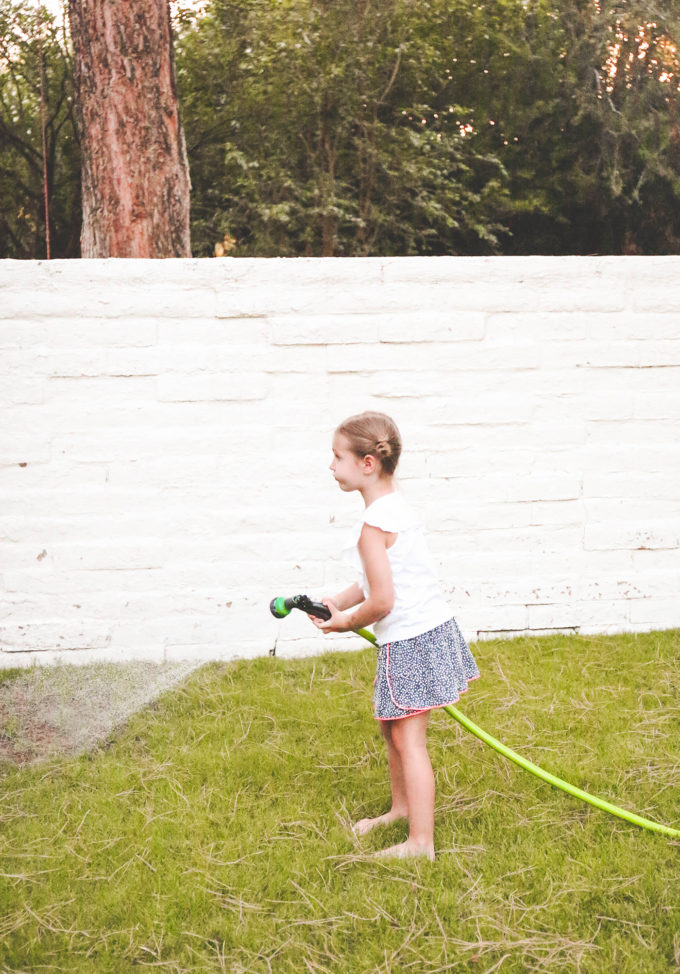 The face of determination, folks.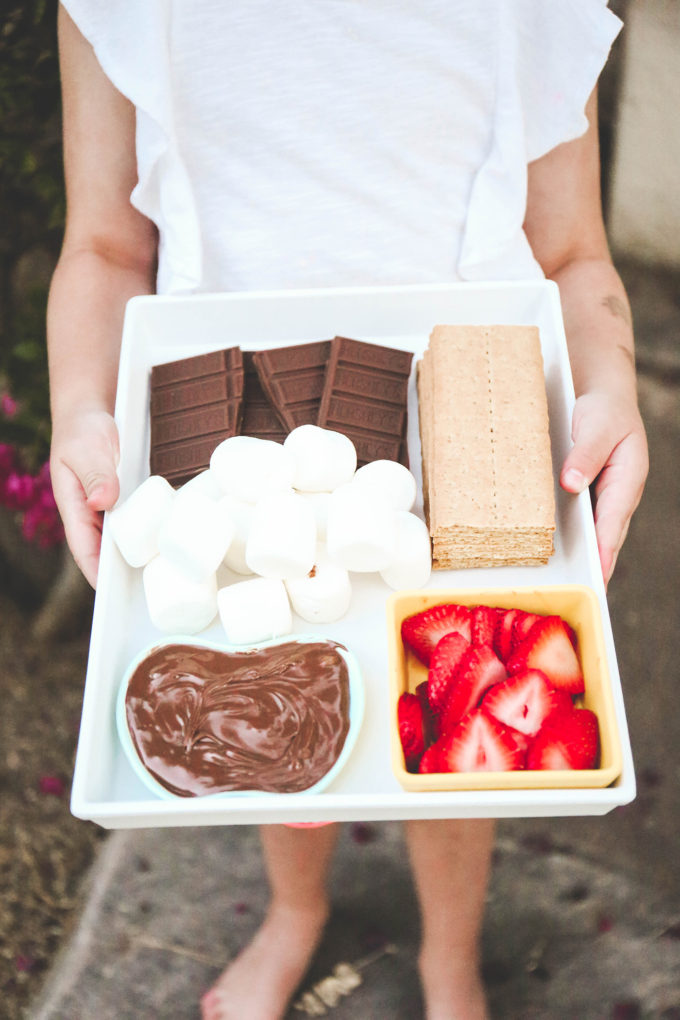 I'm also happy to mention the fact that V is just like her mama and likes to make each occasion as extra as possible. So when we make s'mores, we put everything in these adorable individual trays from my girl, Ashley of Sugar & Cloth's line of products at Amazon!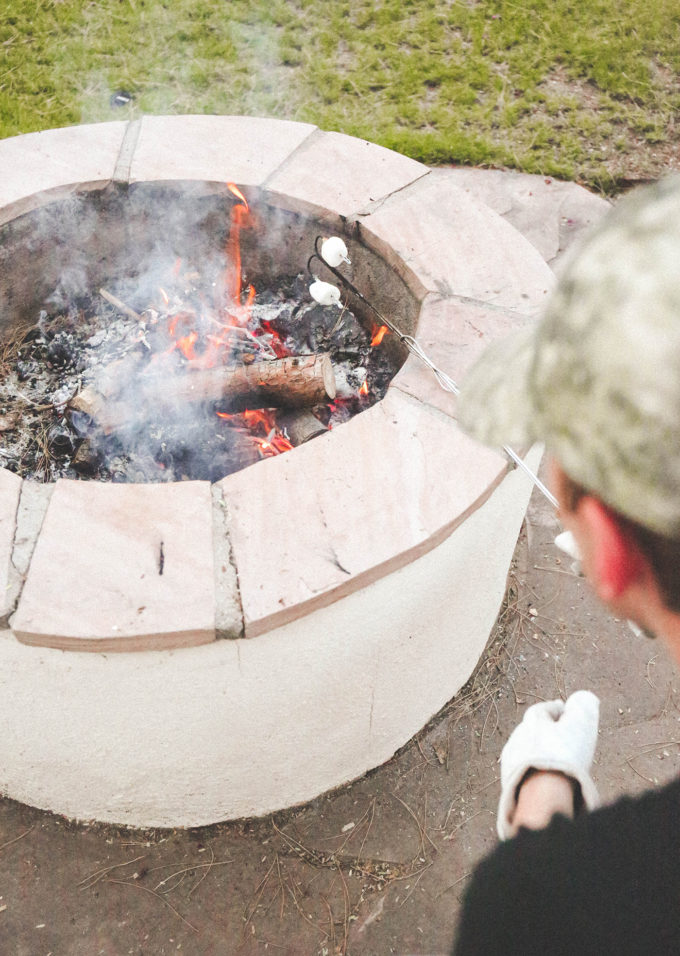 Eventually, I'm planning to bring in some cushions (these Fresco bench cushions might just do the trick when a bunch cover the seats), some pillows like this Canady Lumbar Pillow, and LOTS of texture to this space. The stone is pretty as it is, but I just can't leave well enough alone. So I'll be on the hunt for some outdoor throws!
We've also got QUITE the mosquito problem in early summer that some torches like these Orsos ones might look great around the yard.  There's a lot we want to bring in, but I'm not in any hurry to do it.  We'll just take it slow and see what works best in the space for our fam.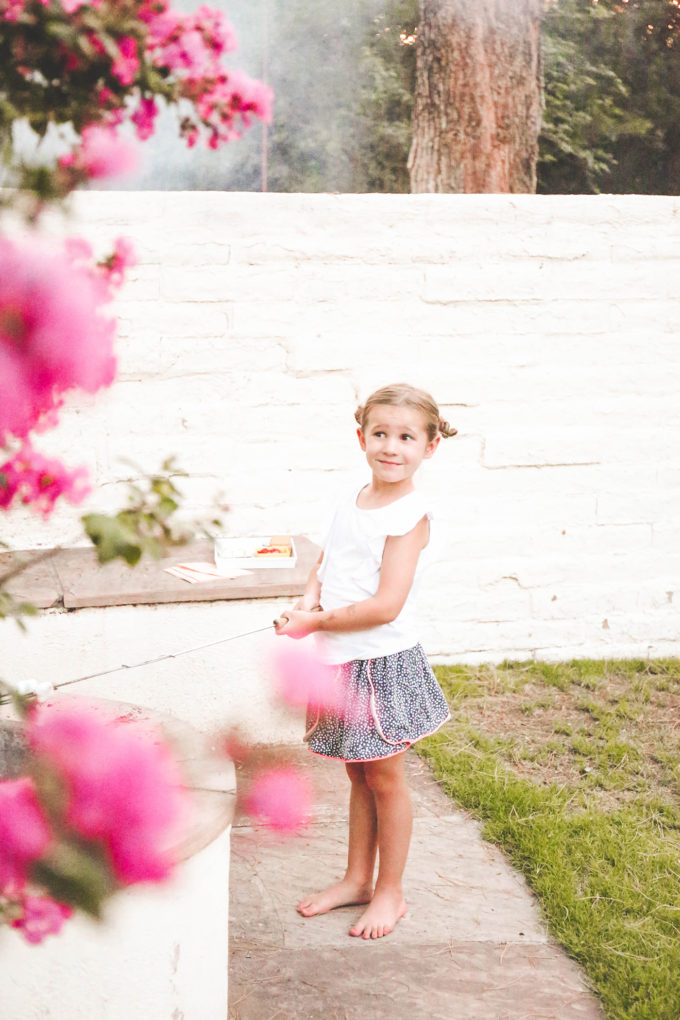 Can we talk about how cute this little roaster is? I could just eat her! Let's try to avoid the fact that SHE IS GOING TO BE FIVE IN OCTOBER AND I WILL SURELY DIE WHEN THAT DAY COMES. Parents, how do you deal?! I can't do it.
Is there anything you do that is special to you and yours? I'd love to hear some of the traditions you do in your home!
photography \\ Lexy Ward