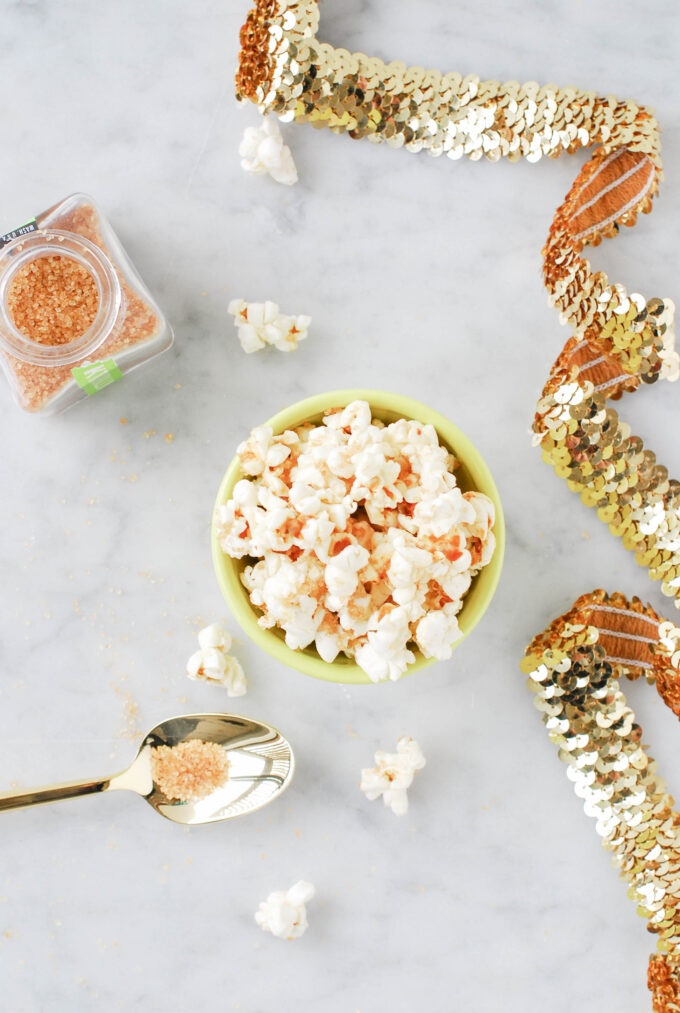 I love when the holidays roll around because it's the perfect excuse to have sweets in the house all the time. I think I usually have a pot of toffee brewing on the stove. Get it? A pot of TOFFEE???? I'm here all night. Aside from the toffee, I'm usually popping some popcorn. We've addressed my popcorn addiction here during popcorn week. I love finding different seasonings to change up the flavor. And I've found the perfect sugar to sweeten your holiday treats!  
Ever heard of cool shop named Uncommon Goods? Their cyber store is filled to the brim with unique gifts for everyone on your list. Click here to see a few of their Christmas gifts. That felt holly wreath? Need it. But back to the point about the treats! Treats are the quickest way to a normal person's heart. And I'm all about making people be my friend, so treats for everyone! Here's a quick and tasty way to kick your regular popcorn treats up a notch.
Ingredients:
popcorn kernels
coconut oil
In a large pot over high heat, melt 3-4 tablespoons of the coconut oil. Stir in 1/2 cup of unpopped popcorn kernels. Stir constantly allowing the kernels to pop as they get hotter. As you stir them in the coconut oil, sprinkle with some sugar! I used the Lime Slice because lime & coconut popcorn is too amazing not to have after dinner every night. EVERY NIGHT I TELL YOU!
Once all the kernels have popped, pour them into a large bowl and sprinkle with a little more sugar. A little more (a cup full?) sugar never gave anybody diabetes.
Wait… 😉
If popcorn isn't really your thing, simply add these sugars to some chocolate! These winter chocolates were made using some silicone molds found in the dollar spot at Target. (Can I get an "amen" for that place?!). Before pouring the melted chocolate in the mold, sprinkle each mold with a little coconut breeze or jamaican ginger sugar. Pour the chocolate in shortly after and allow the chocolate to set. Placing the mold in the fridge or freezer will speed it up so you don't starve while waiting and accidentally eat your fingers!

zovirax 800mg
To get a few more gift ideas for your pals, click here to view gifts Uncommon Goods under $50! On a budget? Click here to view gifts under $25! And Uncommon Goods is all about giving back. For every purchase made, they donate $1 to a charity of your choice. They also have a slew of design challenges for all you artsy folks. Visit their blog to see a few of the fun Instagram challenges they do regularly!
We've had these sugars for a while now and they go with everything! We've even sugared our meat for dinner. That's totally normal right? My favorite part might possibly be the packaging. I'm a sucker for a good label. premarin 0.625mg
photography: The Proper Pinwheel strattera 60mg