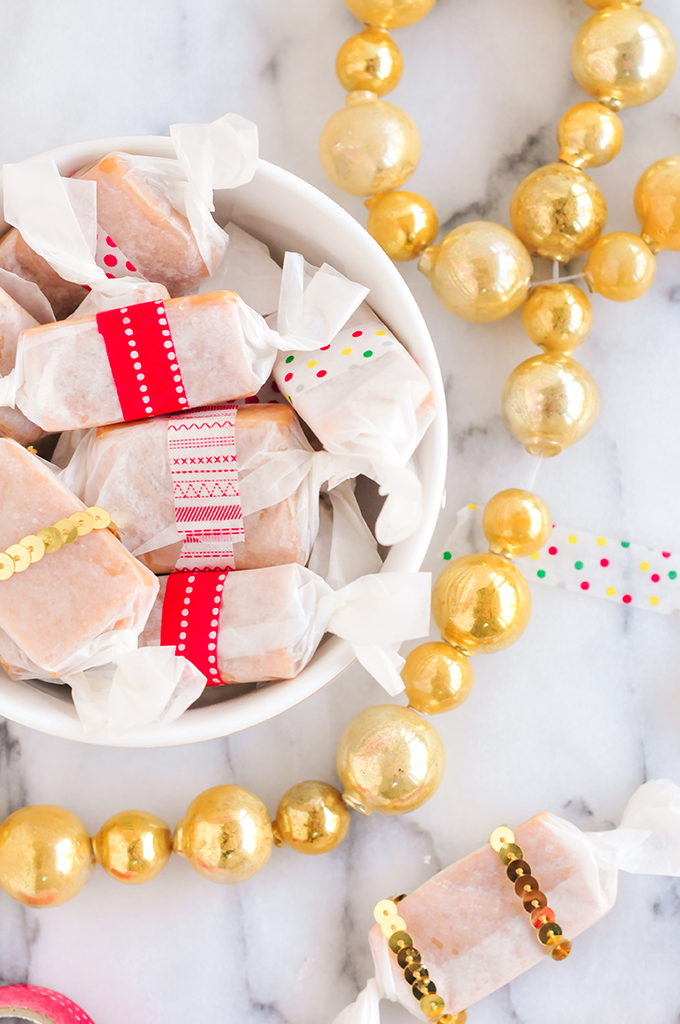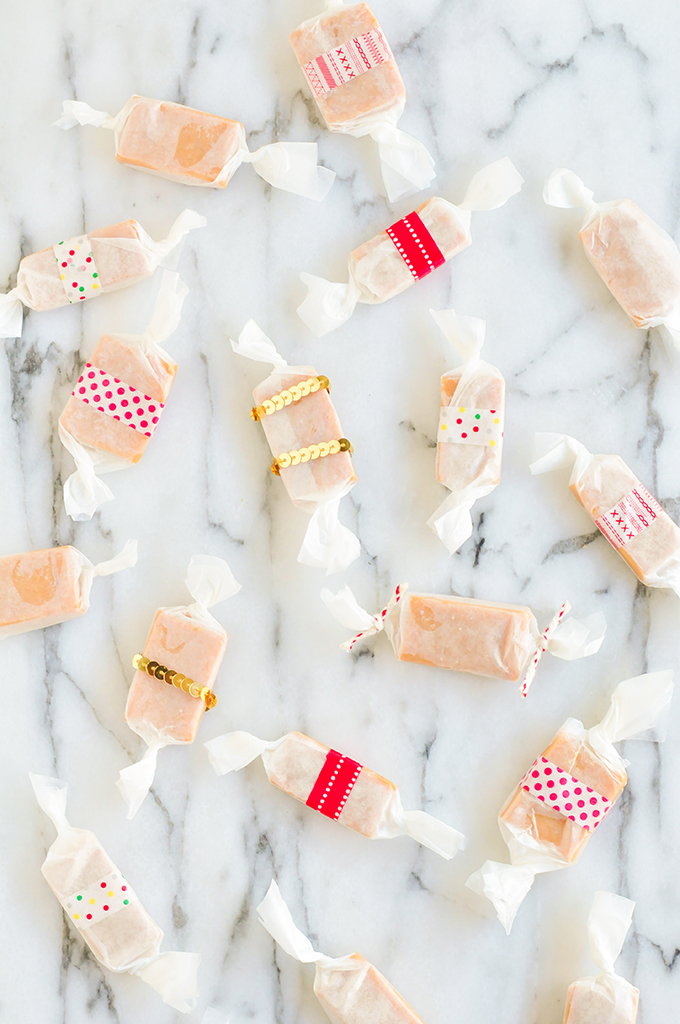 I may have diabetes, but that doesn't stop me from making all the sweets. ESPECIALLY during the holiday season. I get more joy out of giving treats to the masses, as corny as that sounds, it's the truth. I love to make treats for friends and family! And the holidays are the perfect excuse to dress those treats up a bit. I have a few different caramel recipes, one takes quite a bit of time and constant stirring over the stove, because you know, candy making can be a real b!@$#. Am I right? The second recipe, the one I'm sharing today, is almost fool-proof and doesn't need to be made on the stove! These quick homemade caramels can be whipped up right in the microwave, so there's really  no excuse to NOT make them, you hear? So let's.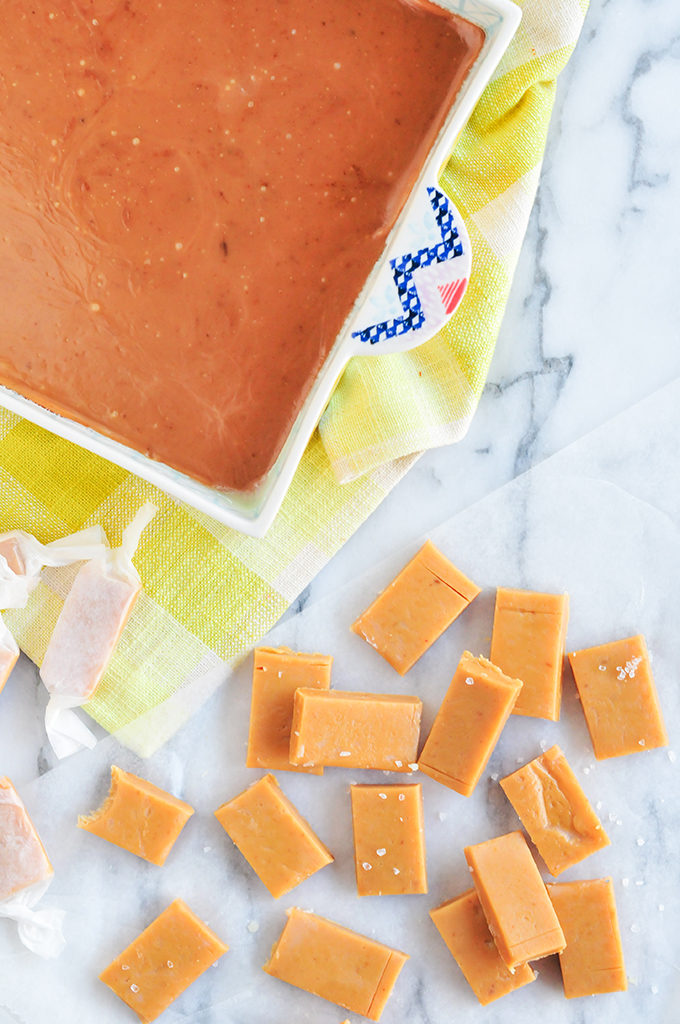 Ingredients:
½ c butter
1 c granulated sugar
1 c brown sugar
1 c light corn syrup
1 c sweetened condensed milk
¼ tsp vanilla
1 c ice cold water
Add all ingredients except vanilla and ice water in a large microwaveable bowl and stir. Microwave on high for 10 minutes stirring every 2 minutes. Near the end, the mixture should be bubbling. Using a spoon, drop a little piece of the caramel mixture into the ice water. Reach in and grab the piece of caramel. If you can roll it into a ball and it keeps its form, the mixture is done cooking. Stir in the vanilla!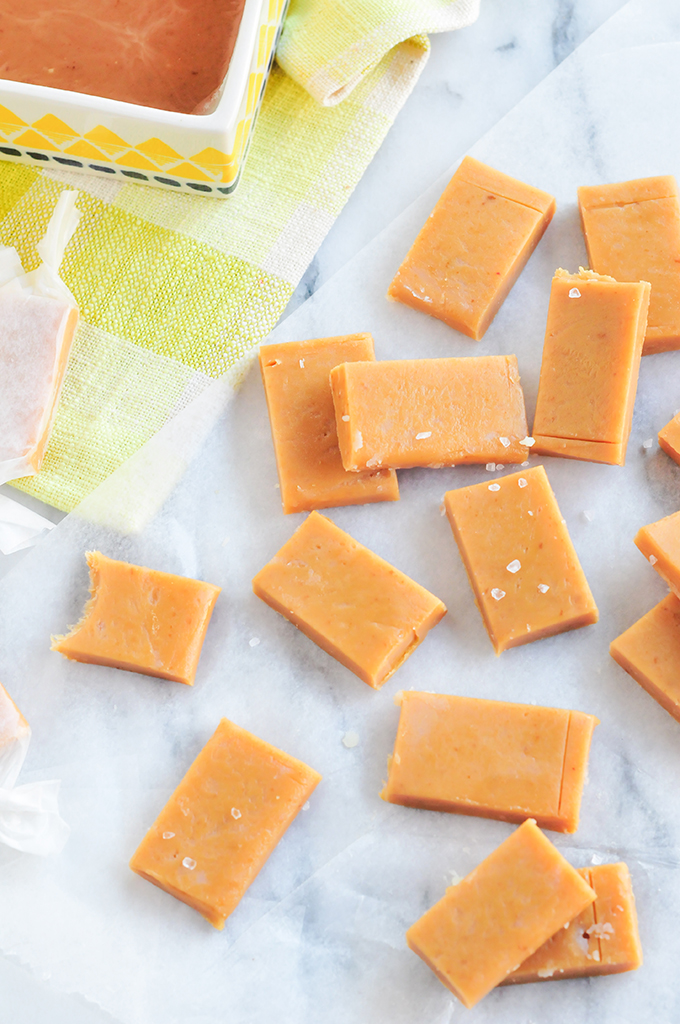 Pour into a buttered dish (9×13 or 8×8 for thicker caramels!) and let cool for 15 minutes. Put dish in refrigerator and let set. It's best to leave it overnight, but it can be removed in 3-4 hours. Cut out cute little squares and wrap in wax paper. Give to friends and become everybody's favorite person. In that order.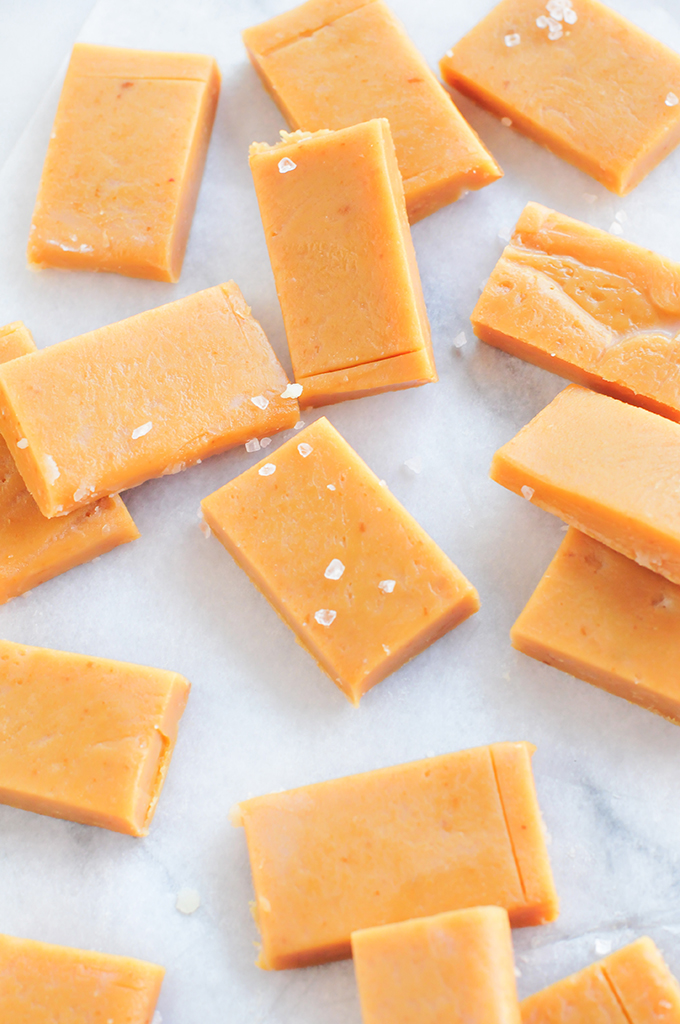 Now, some people like their caramels with sprinkled with a little bit of sea salt. I'm not one of those people. I love a good combo of sweet and savory, but in the case of caramels, I prefer simply sweet. But these aren't for me! They're for you. And  you. And you. So if you like yours with a side of salt, sprinkle a bit on just after pouring the caramel into the buttered dish.
You can wrap the caramels in small bits of wax paper and call it a day. Simple is great. But when have I never been a bit over the top? Trim those caramels like you trim the tree! I added a little bit of washi tape, some twine, and some sequins for a bit of flare.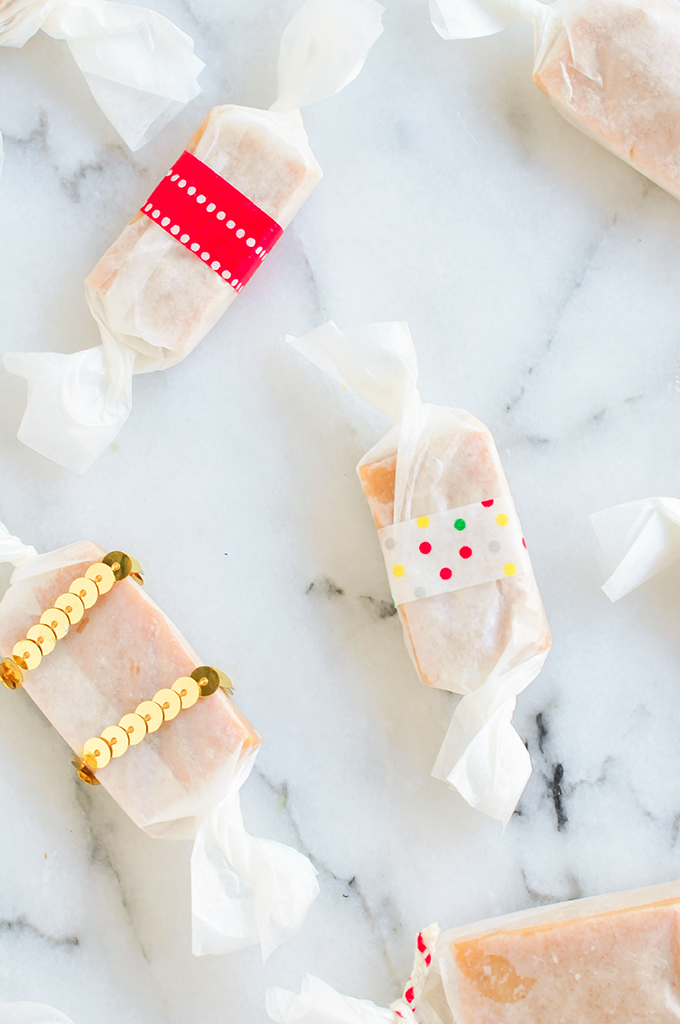 Because…flair.

These caramels will keep for a few days if you want to box them up and ship them to someone that might be states away. They'll love opening that box and seeing these babies!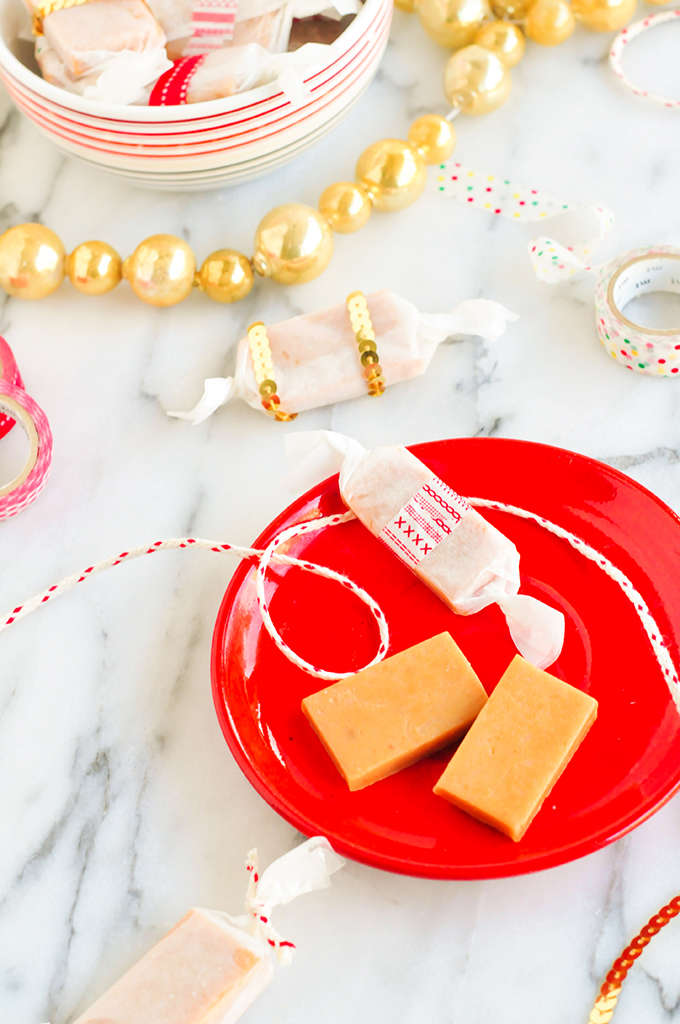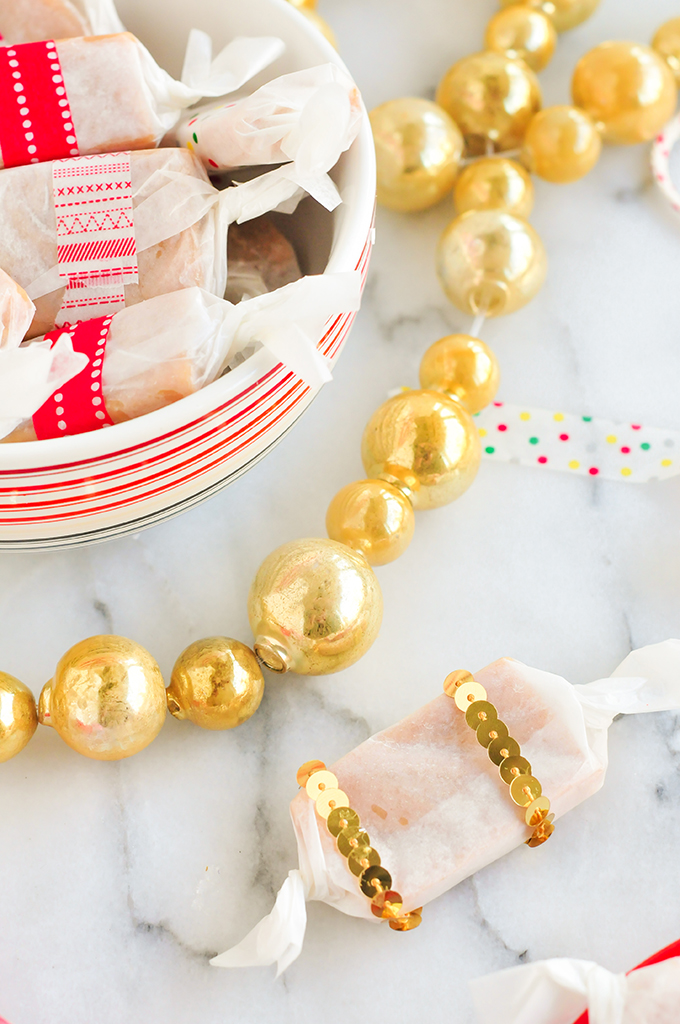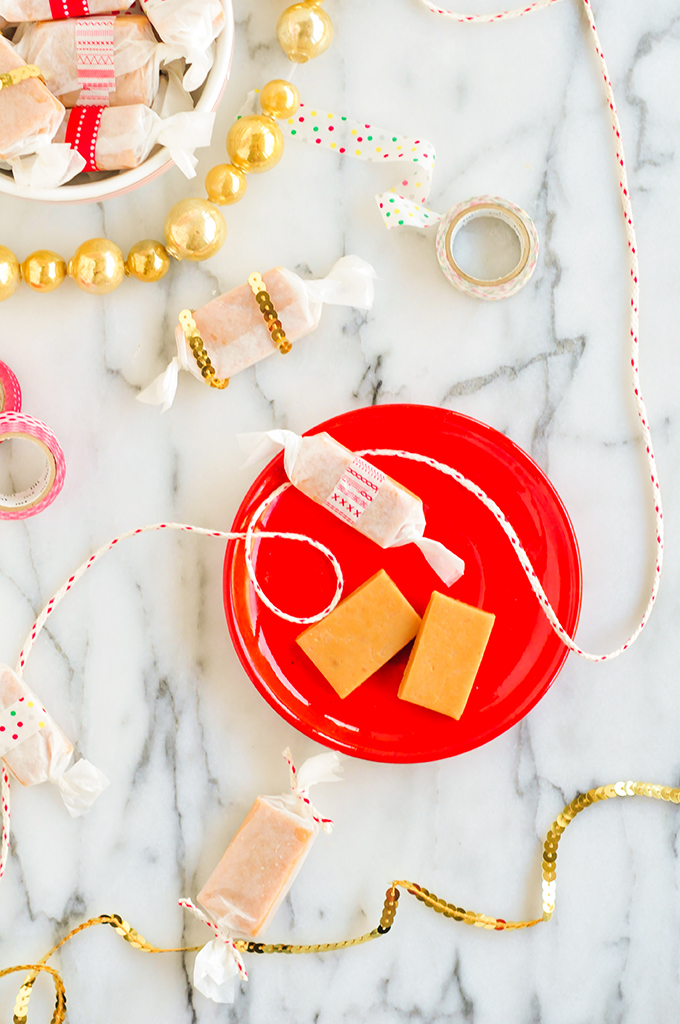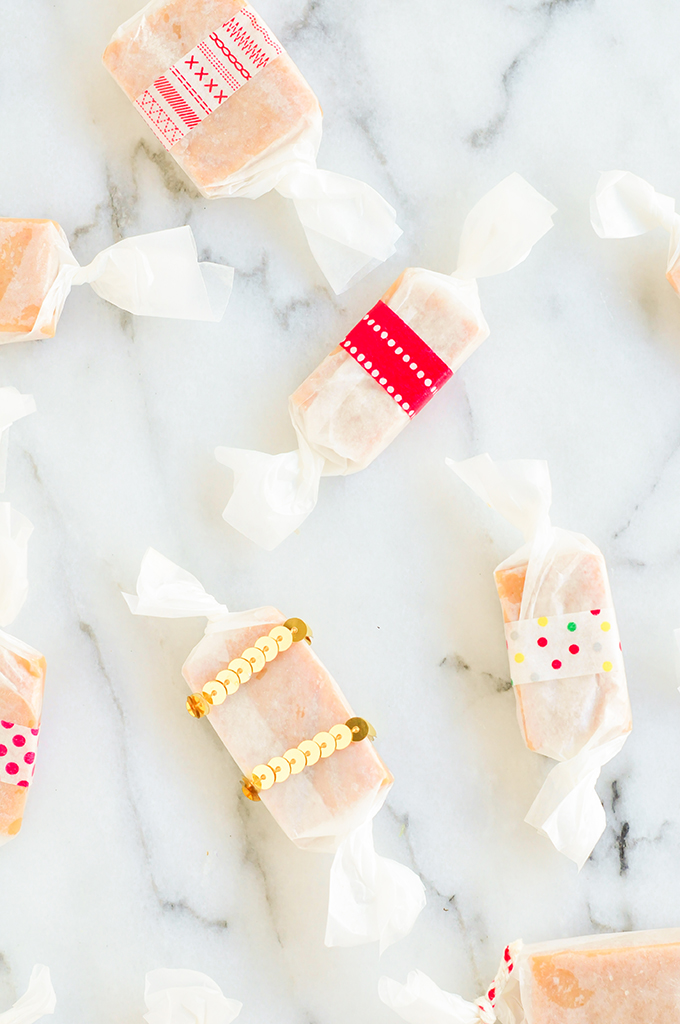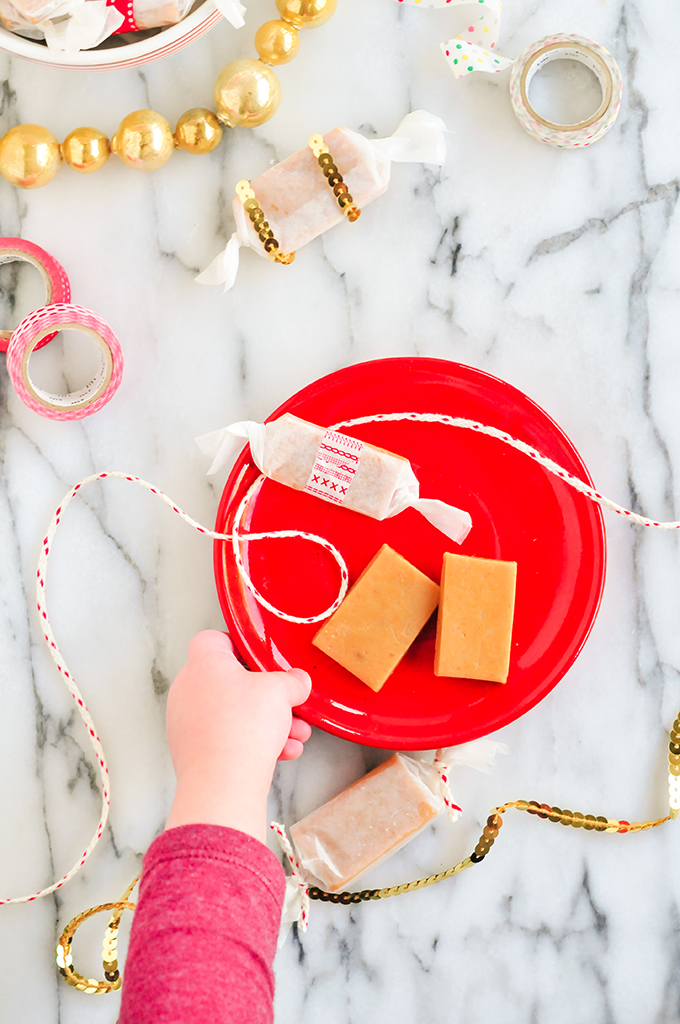 Someone's toddler kept trying to sneak in and steal all the caramels. As we were shooting these, she kept saying "caramels for me, please? Please caramel?" So how do you say "no" to that? Take a plate, honey.
recipe, styling, & photography \\ Lexy Ward