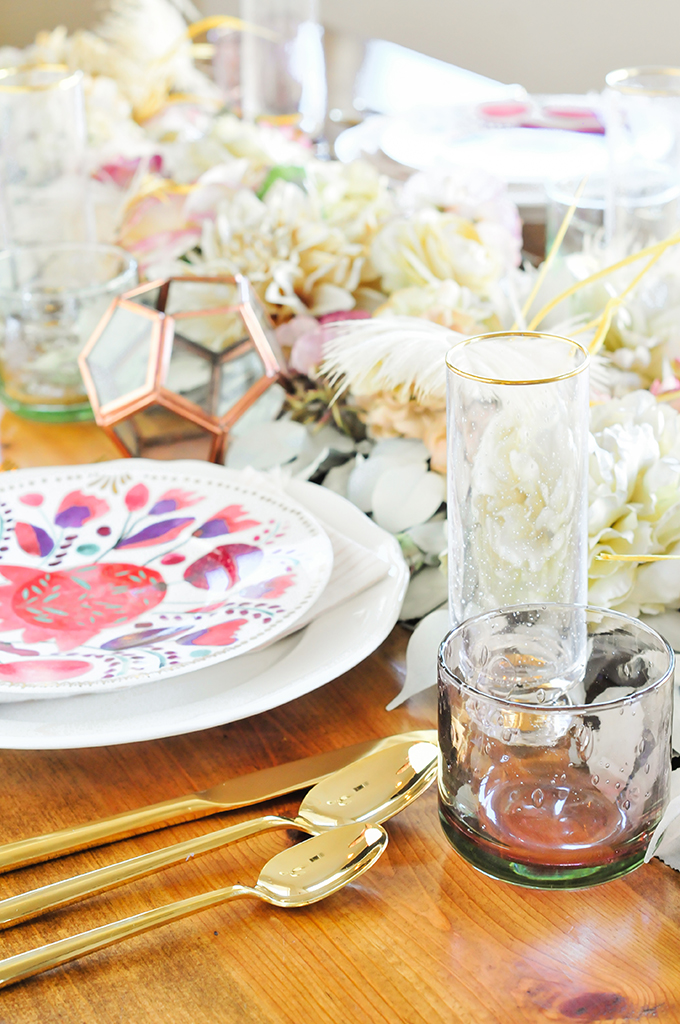 Thanksgiving is totally up there with my bank of fave holidays. I love to entertain. I love to cook food. I love to feed people. And I LOVE to set the table. Really. It's the highlight of my meal-planning when choosing what plates and other tabletop items to decorate each place setting with. I've had this idea in the back of my mind for months to turn a bunch of silk flowers into something magnificent and non-silk-flower-looking. I just hate how fake fake flowers look at times. I know. They're not real. What am I expecting? But stay with me on this! I spent about two hours start-to-finish using paint and hot glue to create this gorge faux floral table runner that's perfect for Thanksgiving. Let's talk about this, shall we?
Materials needed:
an assortment of silk flowers (a mix of large, medium, and small blooms, and greenery)
wire cutters
fabric cut to size of tablerunner (mine is 4′ x 8″)
spray paint (3 colors or more, matte finish)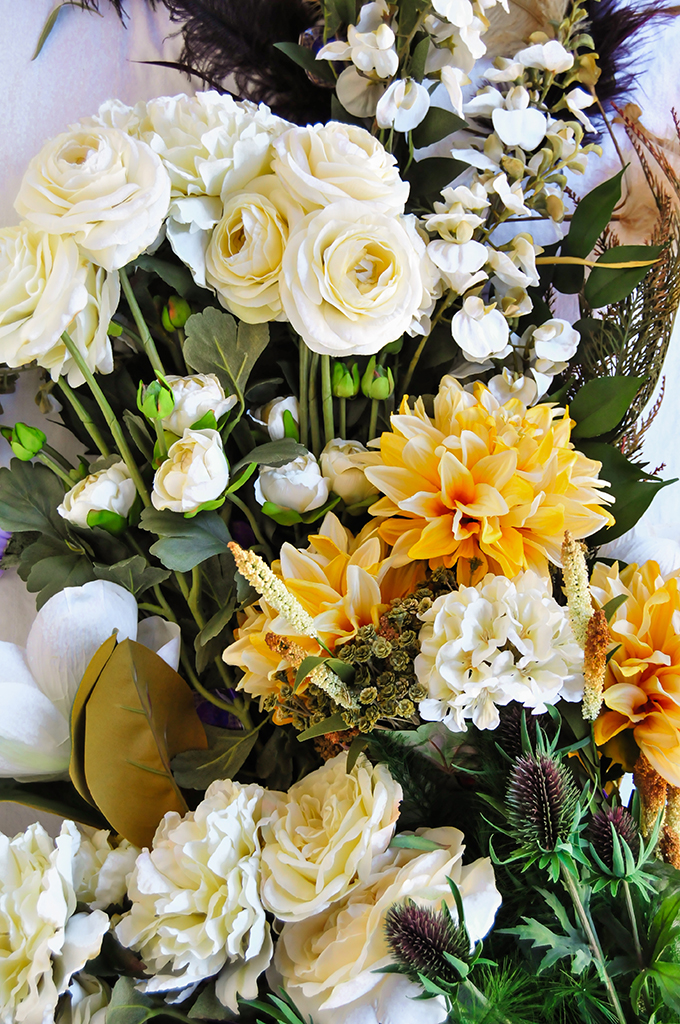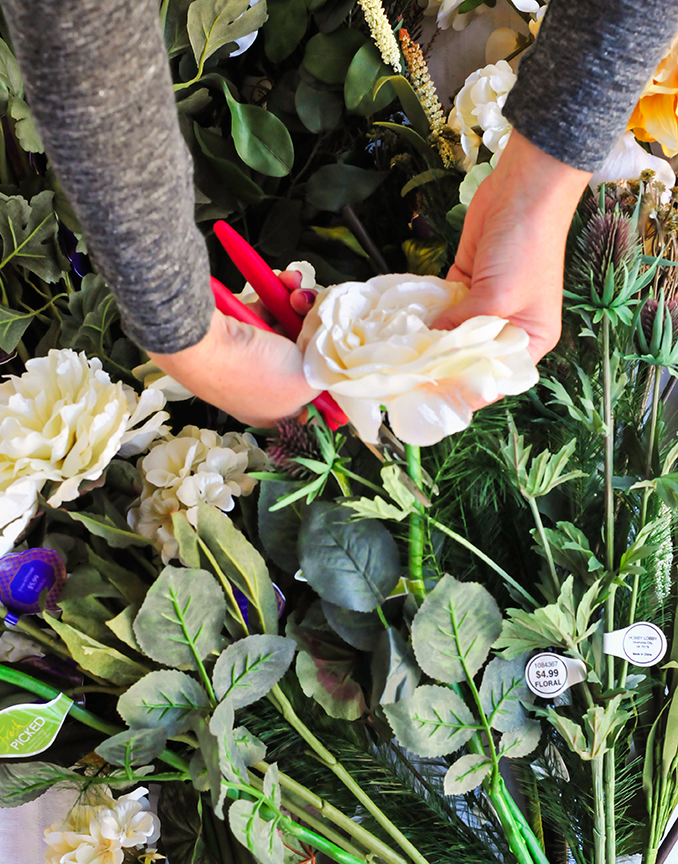 Step 1. Start by cutting the stems off of the blooms you intend to glue to your runner.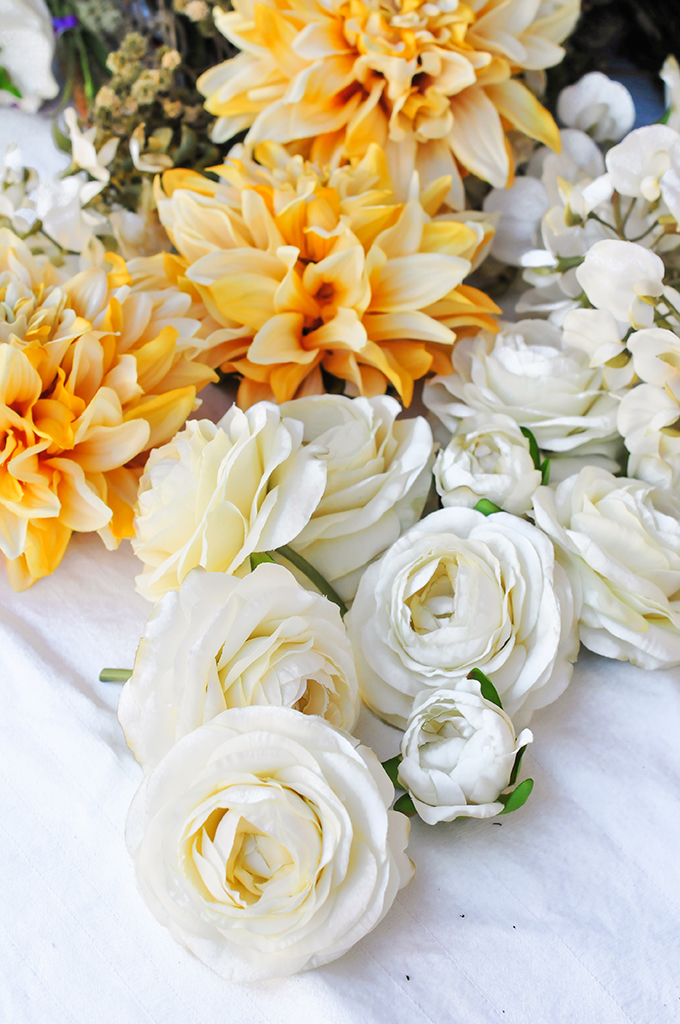 I honestly couldn't believe how realistic the ranunculus were!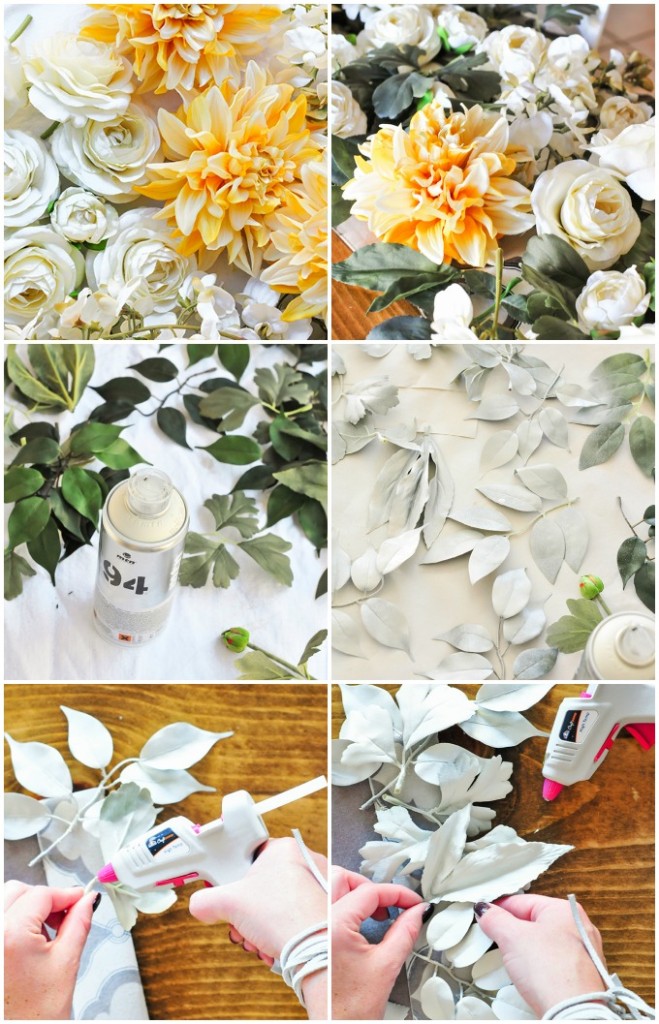 Step 2: Collect all of your blooms and play around with them on your runner arranging how you see fit. Don't glue anything; this is a practice round to get an idea of how many flowers and how much greenery you'll need to cover your runner. I wanted to cover every square inch of my runner, so I used alot.
Step 3: Strip the stems of all the leaves and spray paint those an off-white color. Don't worry about completely coating them with paint. A little green shining through gives the leaves a cool, minty look.
Step 4: Heat up your glue gun and attach the leaves to the runner. Place a little glue on each leaf's stem and press it firmly into the runner. You'll need a handful of glue sticks for this project. I was rationing like it was my job, but near the end, became pretty liberal with my glue duties. Layer the leaves a bit as you glue them to give the runner some depth. Work around the edges of the runner until they're covered and place extra leaves in the middle.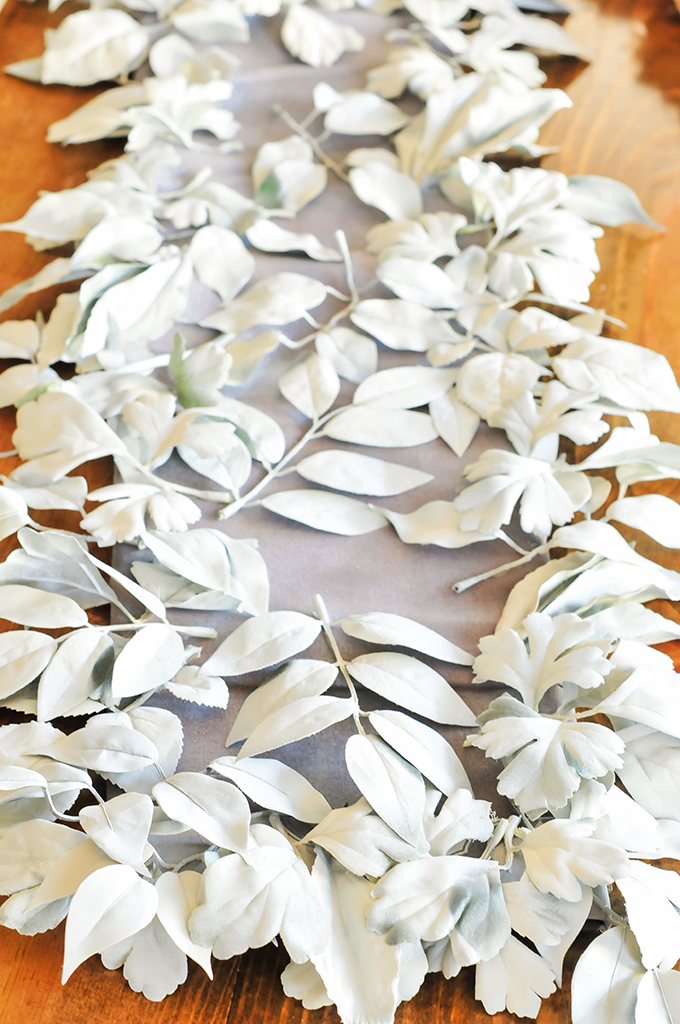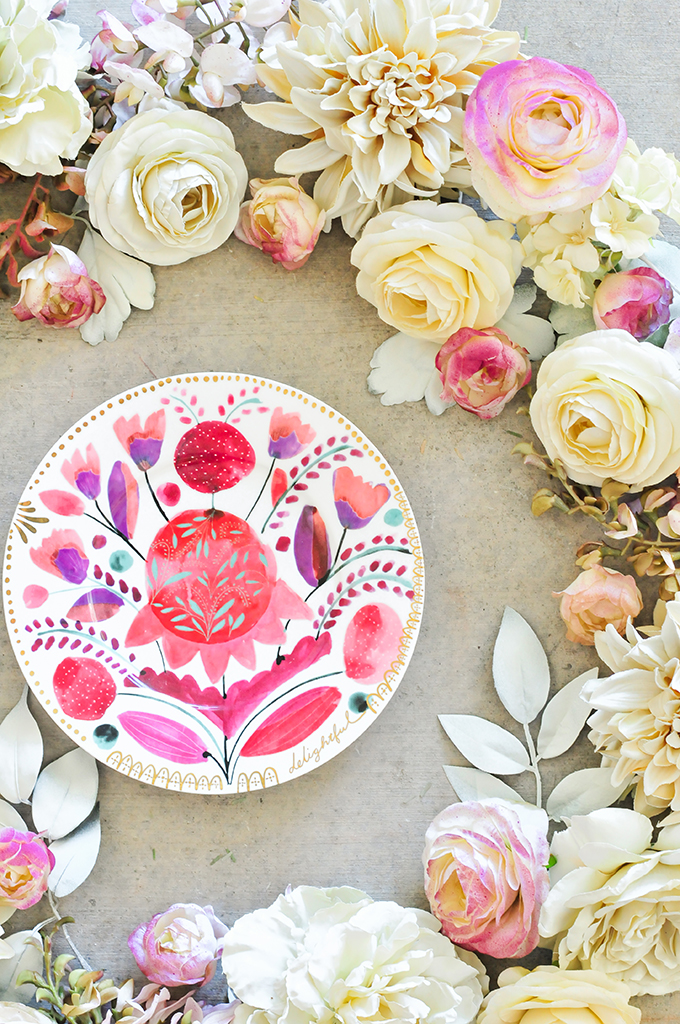 Step 5: Add some color to your flowers! I sprayed the majority of the blooms an off-white bone color and then lightly misted them with a maroon and a peachy brown. The color story for the runner was inspired by this lovely Harvest Foliage Side Plate from Anthropologie! So the entire table took on that scheme.
Step 6: Time to add the blooms to your runner! Place a large dollop of hot glue on the bottom of each flower and press it firmly into the runner. Don't be conservative here, you want this guy to stick!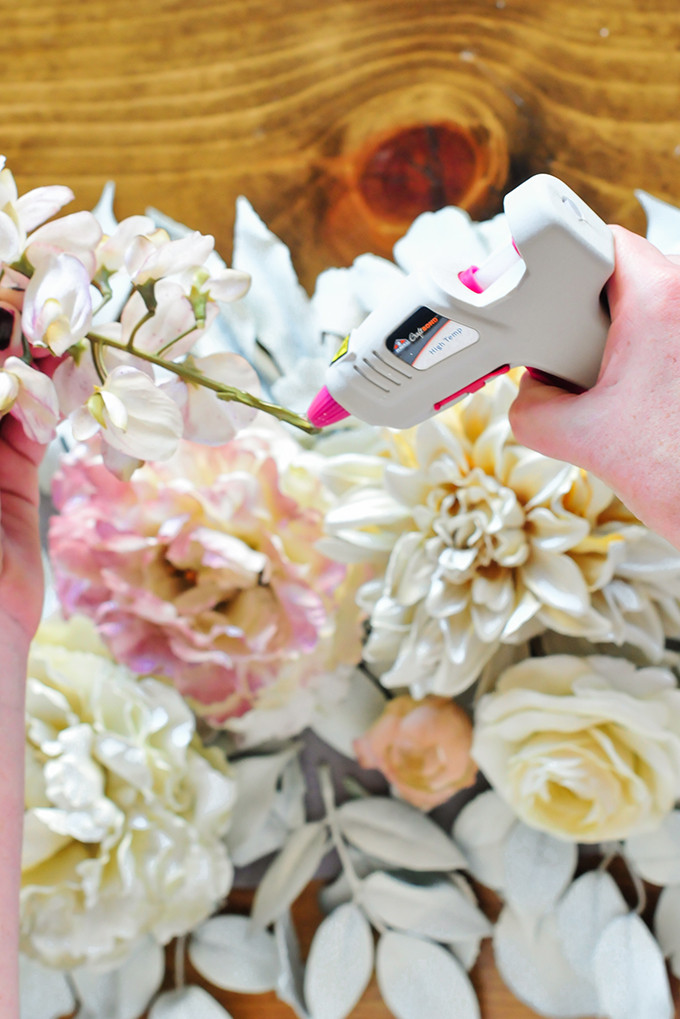 Step 7: Continue adding flowers working your way down the runner with the big blooms. Fill in the gaps with the medium and small flowers until you've got as much coverage as you like!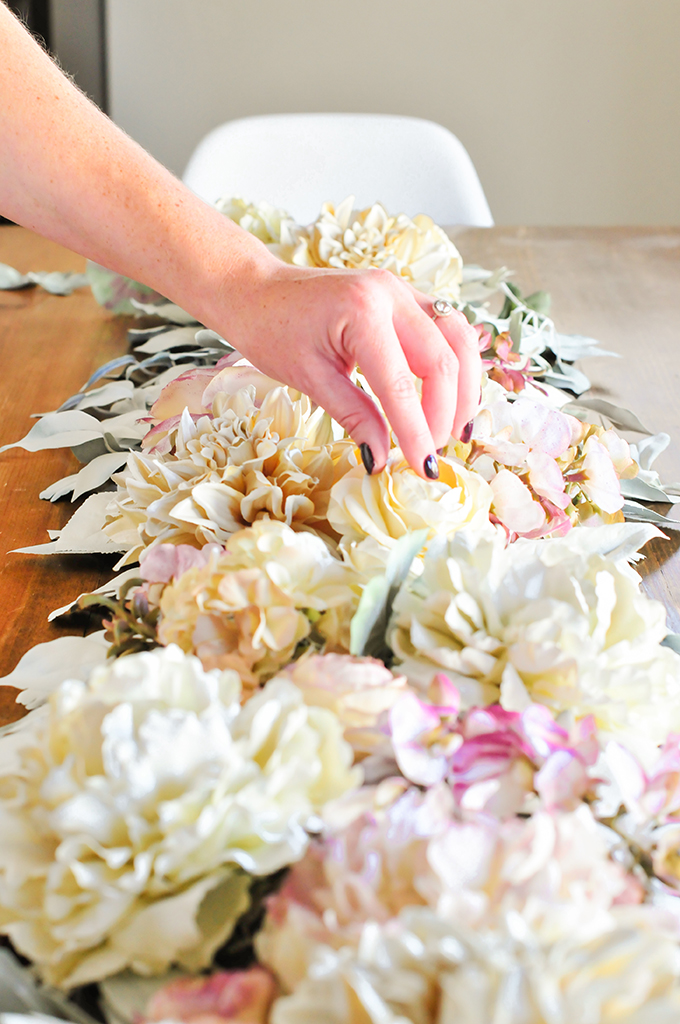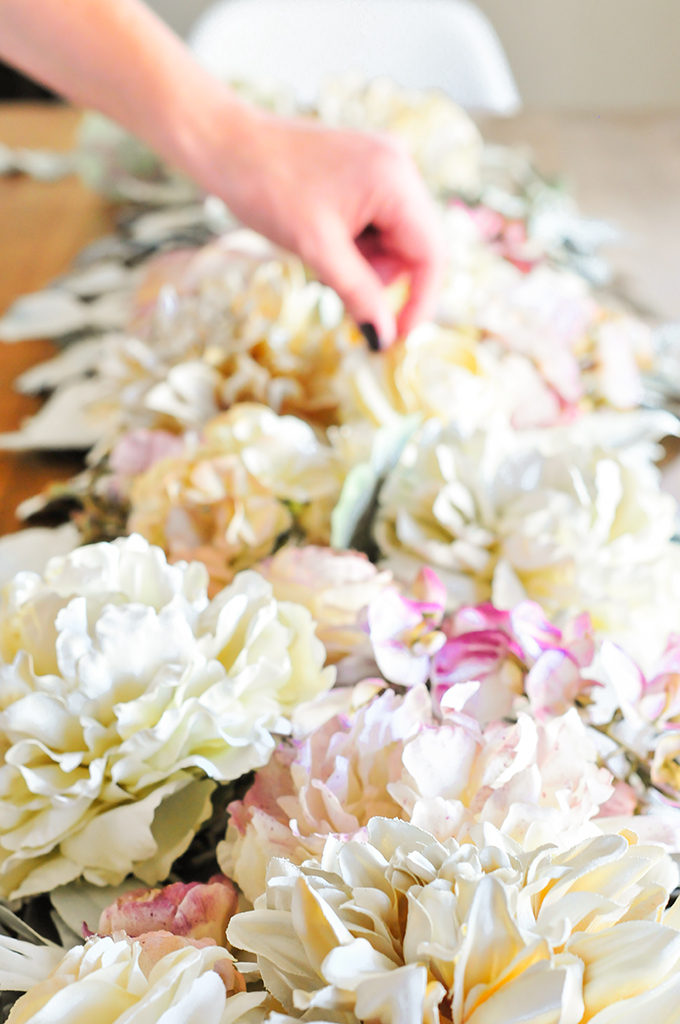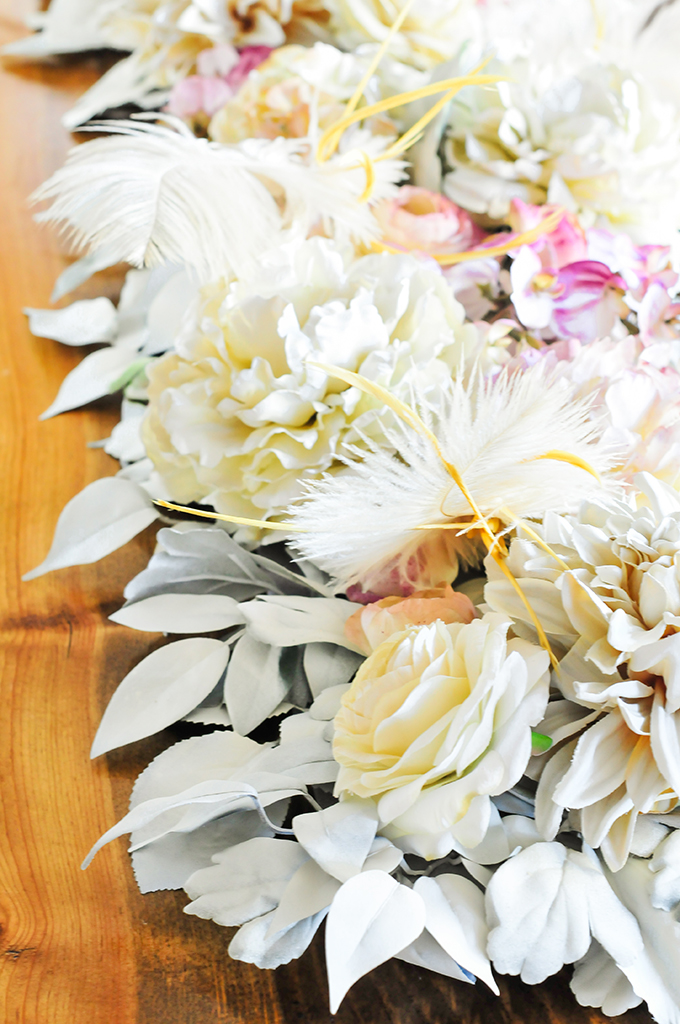 Add in some feathers. It's not Thanksgiving without the feathers. Get it?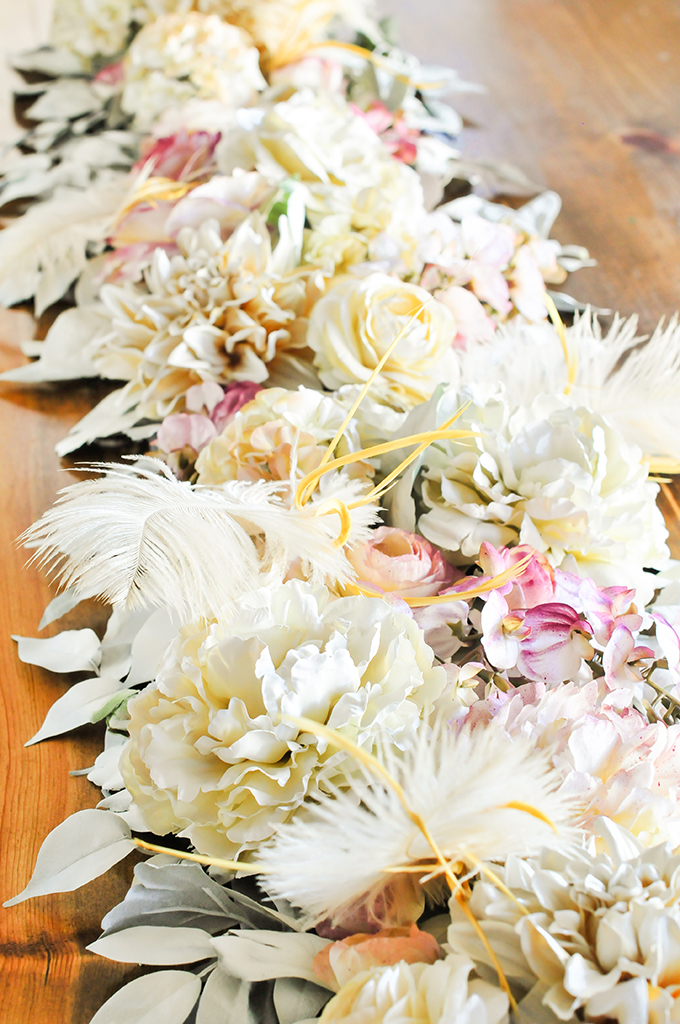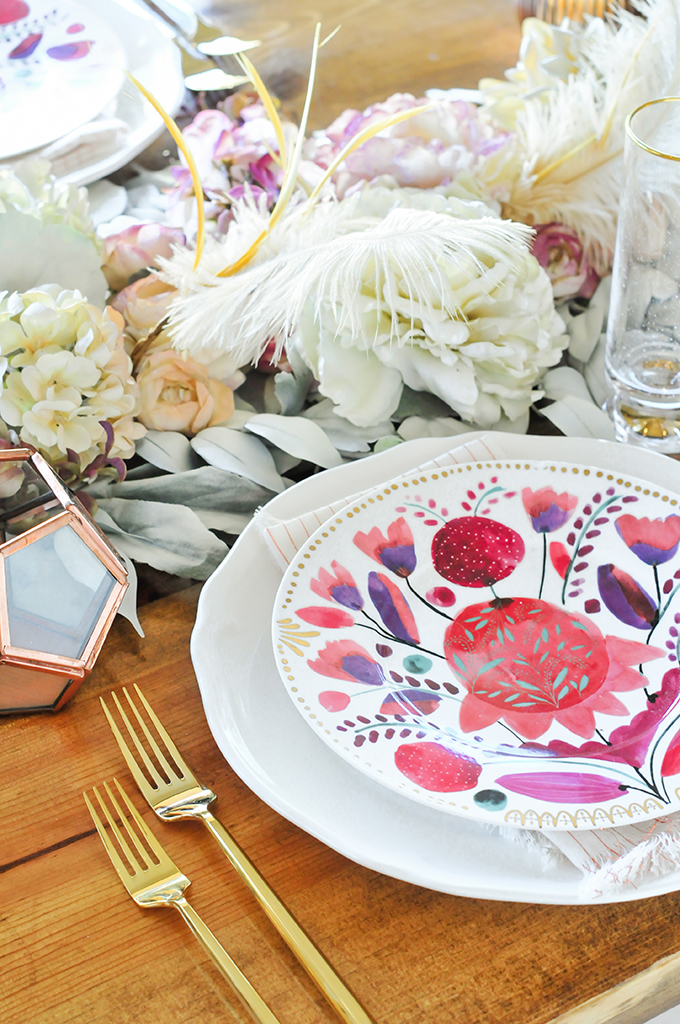 And you're done! Now it's time to set the table. My favorite part!!!!!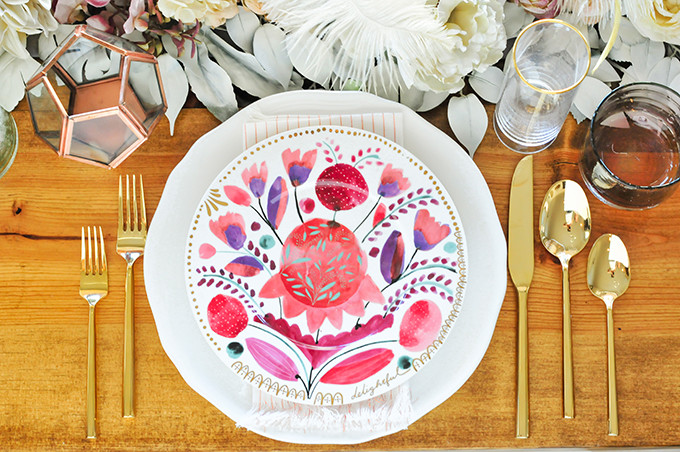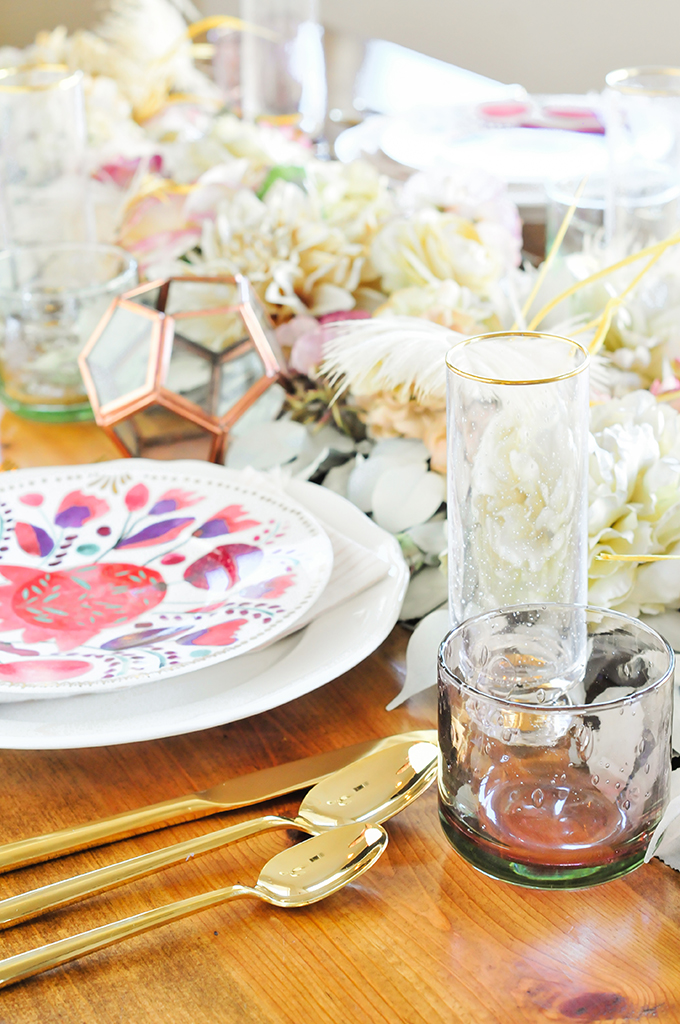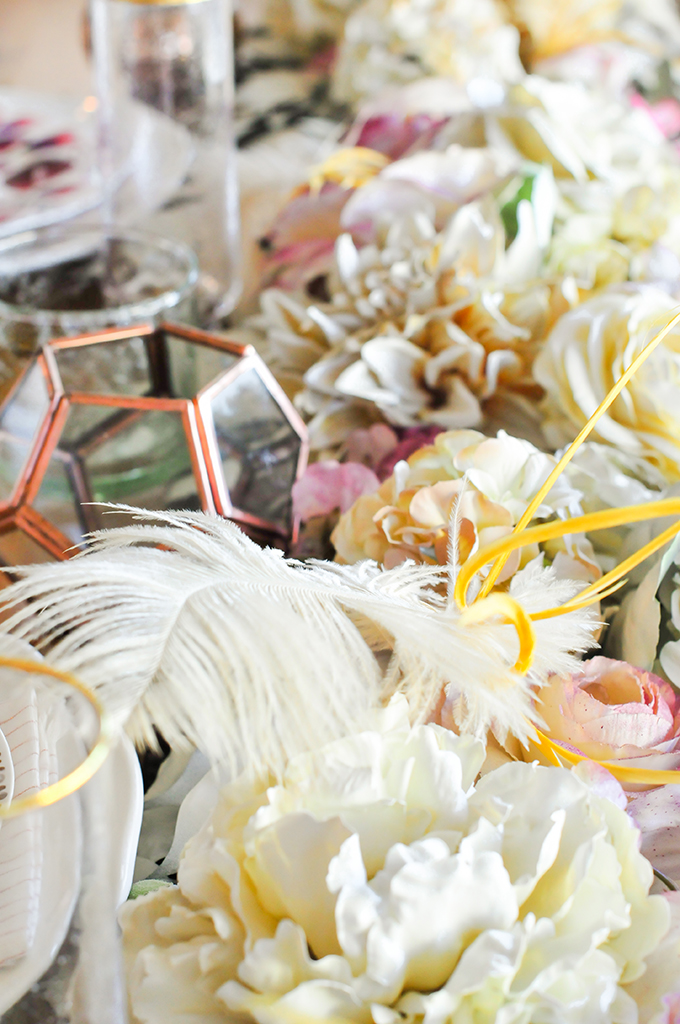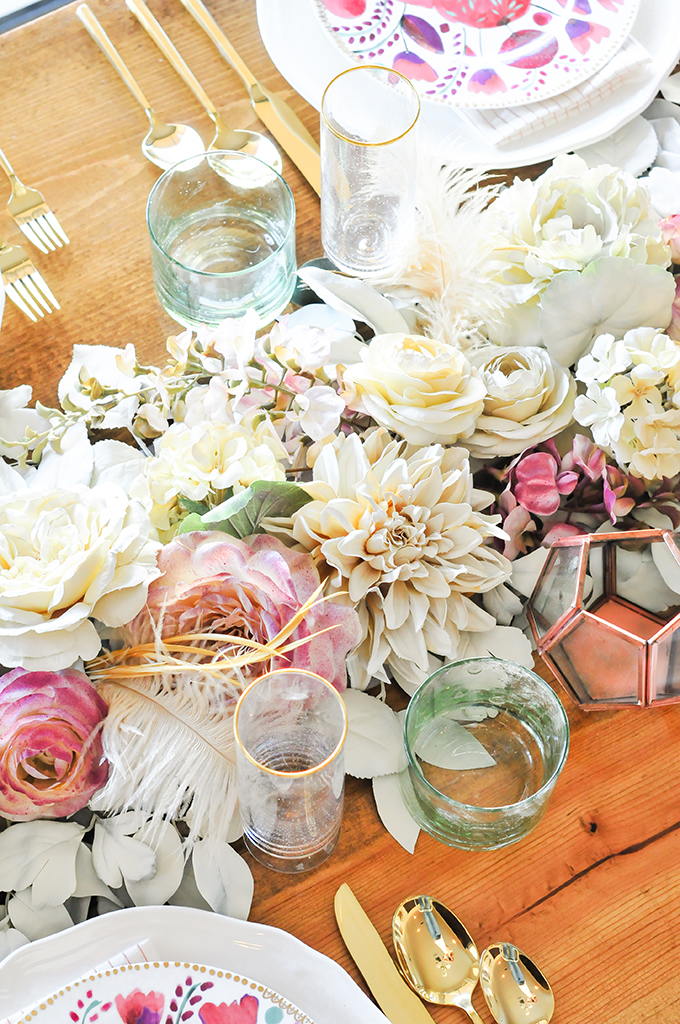 #spoonselfie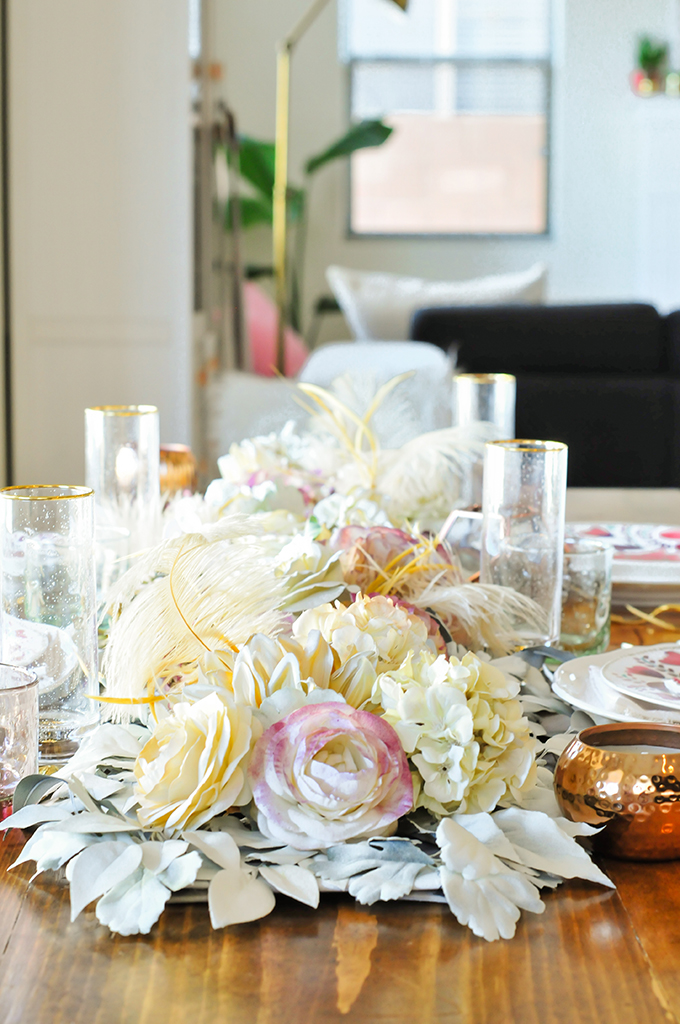 I'm sure I've mentioned this here before, but I come from a big Italian family and every meal is a big one. Thanksgiving is a big production and, growing up, I remember my entire extended family gathering together each year. And I most just remember how loud and fun it always was! My grandmother would always pull out her fine china, she'd make special ice cubes for the kids, and make a special candy turkey for every place setting at the table! This was usually 25+ so she worked her buns off! And I think that tradition just sort of stuck with me because I love to set the table. In a big way. I like to keep entertaining as simple as possible, but I don't like to skimp on the details!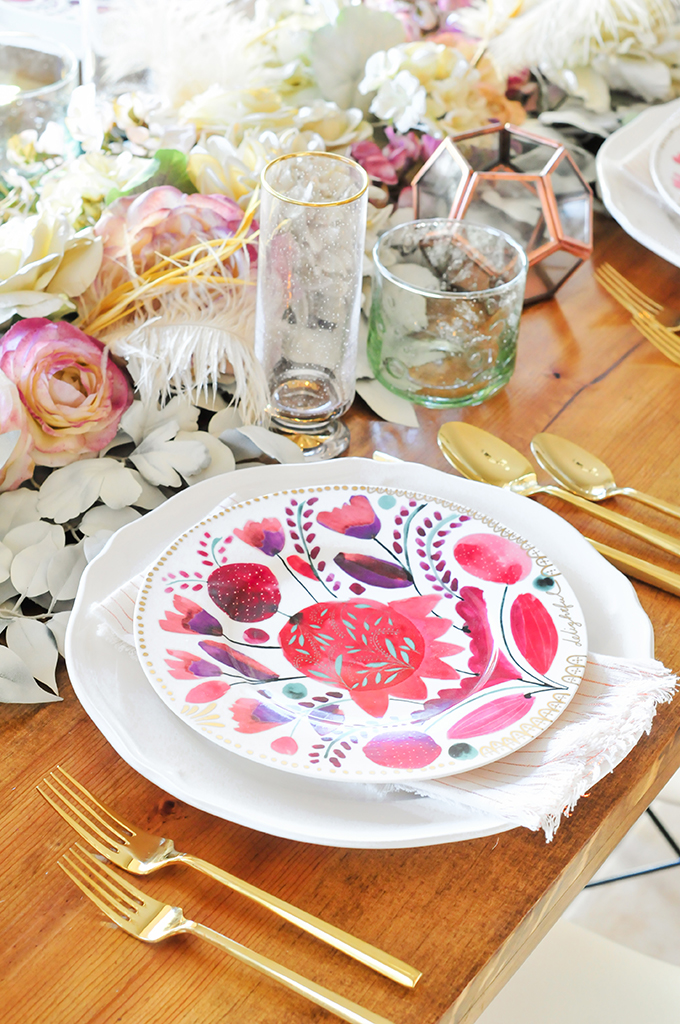 You can really change the look of silk flowers by playing around with them! It helps to choose the best blooms you can. Large. Thick petals. And add some color with a little spray paint!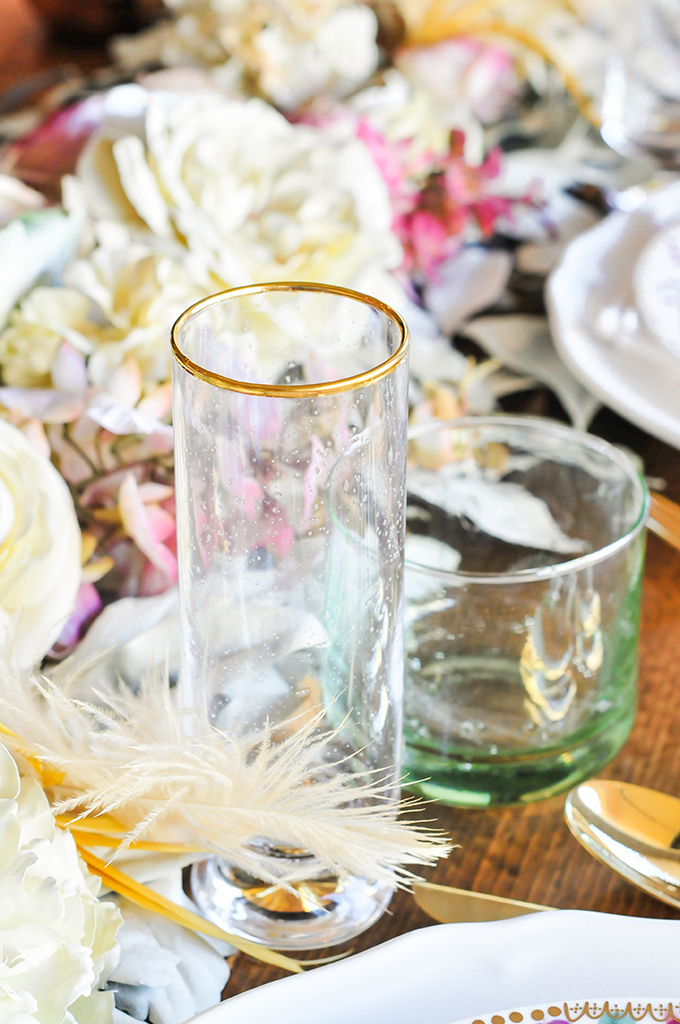 We kept things classy by adding some gold, rose gold, and copper touches. Because you know I love my metallics!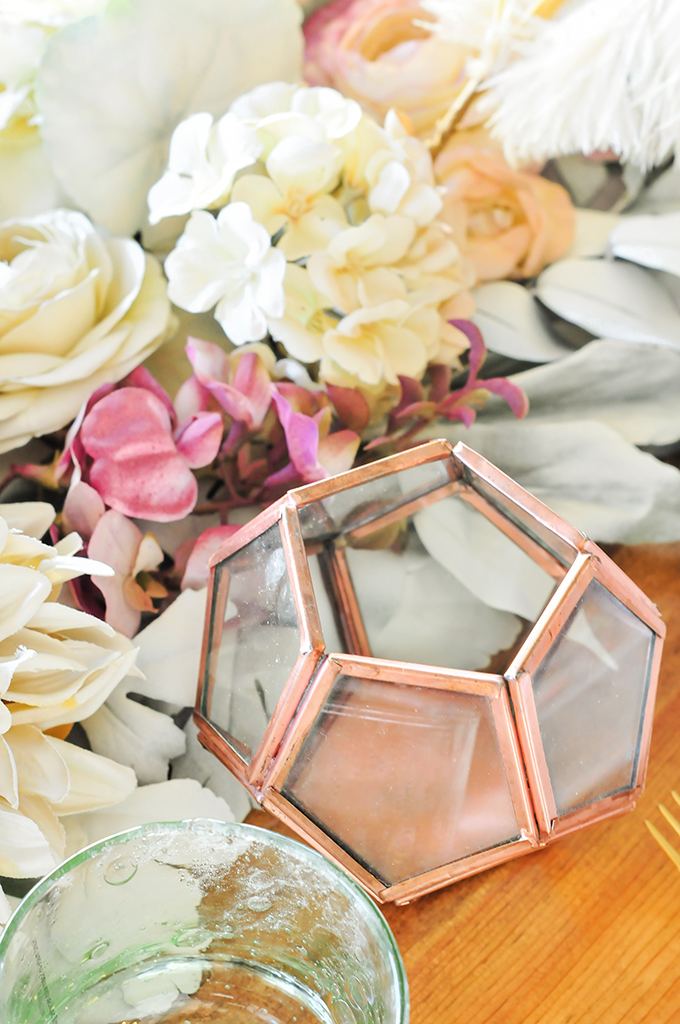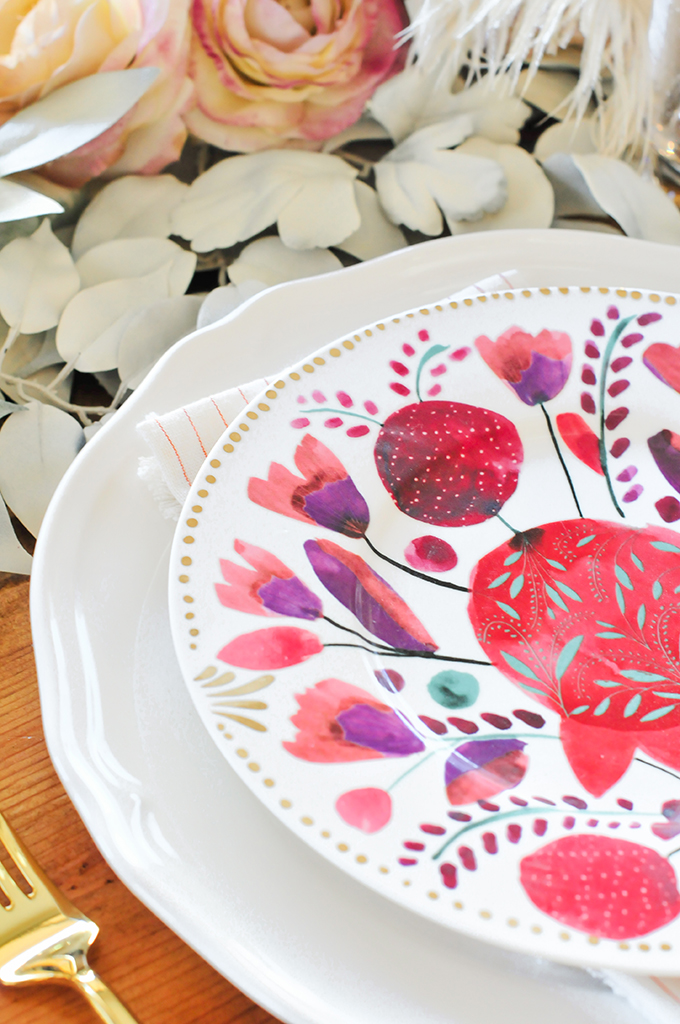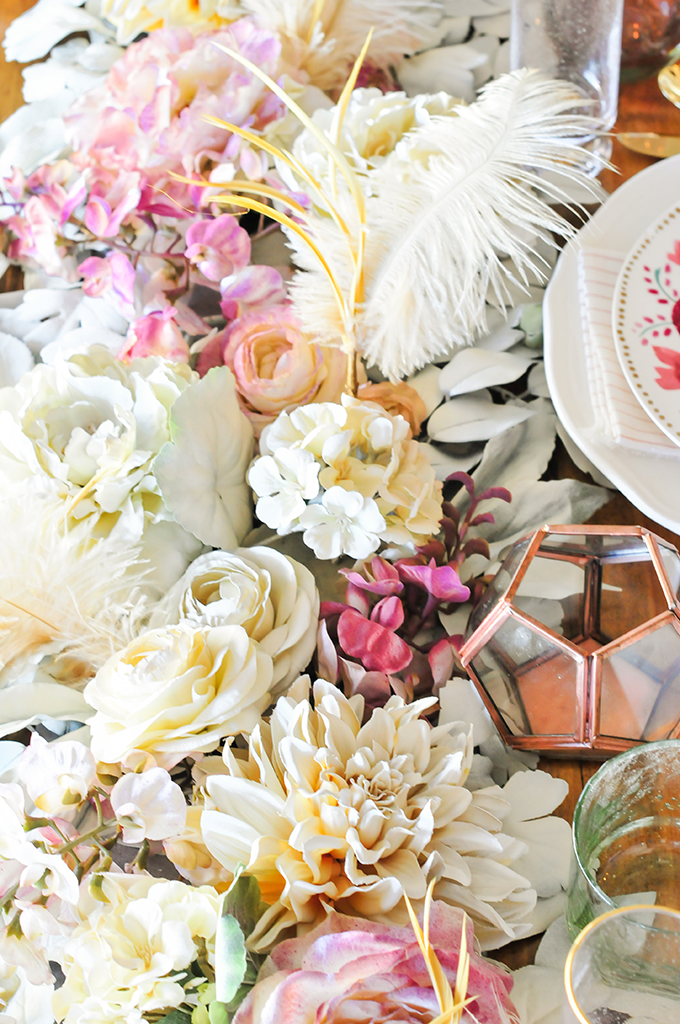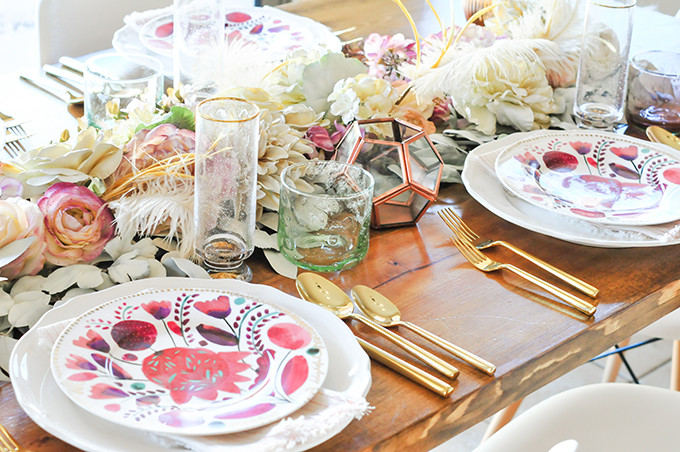 Maybe my favorite table setting we've styled thus far. And I may just keep this runner out all season long! I'm a little sad to say that we won't be with family this year. Moving to Tucson basically moved us to the bottom of the US and so we're saving our $$$ to travel for Christmas and New Year's! How do you do Thanksgiving? Big or small? Family or friends? Or both?!
**This post is in partnership with Elmer's – a company that believes in bringing baller craft & school supplies to the masses. Follow them on Pinterest & Instagram for cool-cool & inspiring project ideas. And sign up for their Craft-It! Newsletter for more hot-glue tips, exclusive promotions, giveaways, and more! Thank you for supporting the brands that help PROPER keep creating! 
concept, styling, & photography \\ Lexy Ward
sources: table – DIY | chairs – wayfair | white dinner plates – IKEA | floral sideplates – Anthropologie | gold flatware – Target | napkins, highball glass, copper hexagon hurricane – Anthropologie |