Guys. We are still in the thick of summer where I'm livin' (hello, Arizona sun) and I'm doing all I can to crank out the summer sweets for my family. One of the treats we love more than an appropriate amount happens to be this easy strawberry shortcake. Seriously. We can have cakes in about thirty minutes and I'm so happy every time that oven timer goes off. There are ton of different ways to make shortcake (I grew up with a bisquick version! Hollaaaaa!) and any way you do it, it'll be great. But this is how we do it in my house and I can tell you that they never last long here. And maybe sometimes I just eat them plain because they're so sweet and delish on their own! PLUS – let's talk about those browned butter peaches, mmmkay? I don't want to throw around facts, but I'm pretty sure this is how the Gods eat it.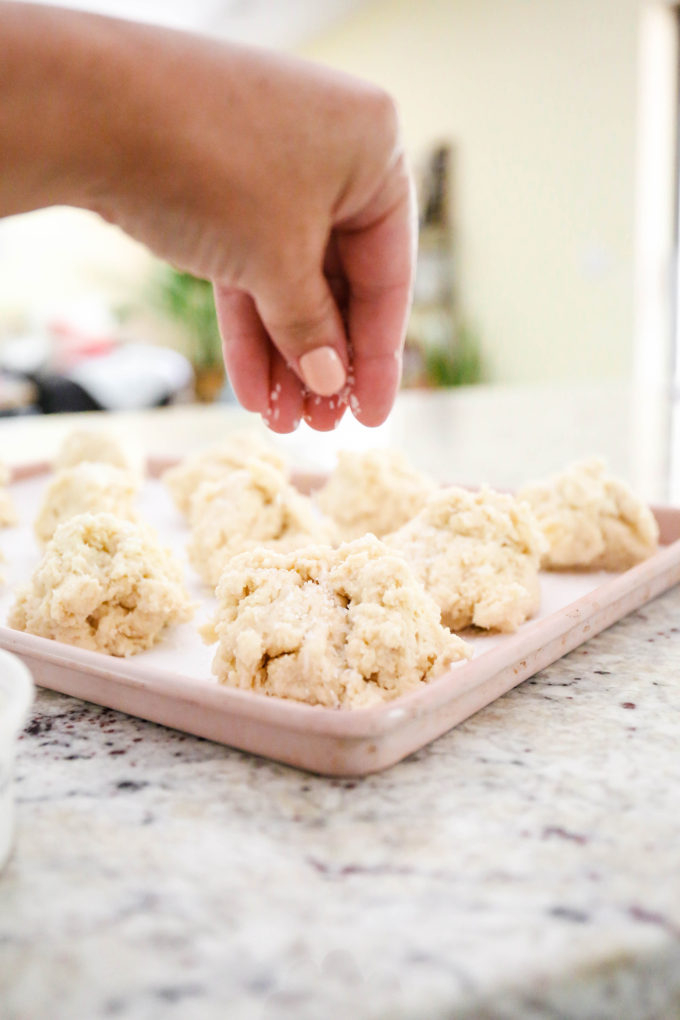 Gotta get that sanding sugar, y'all! It pays off when you take a crunchy bite!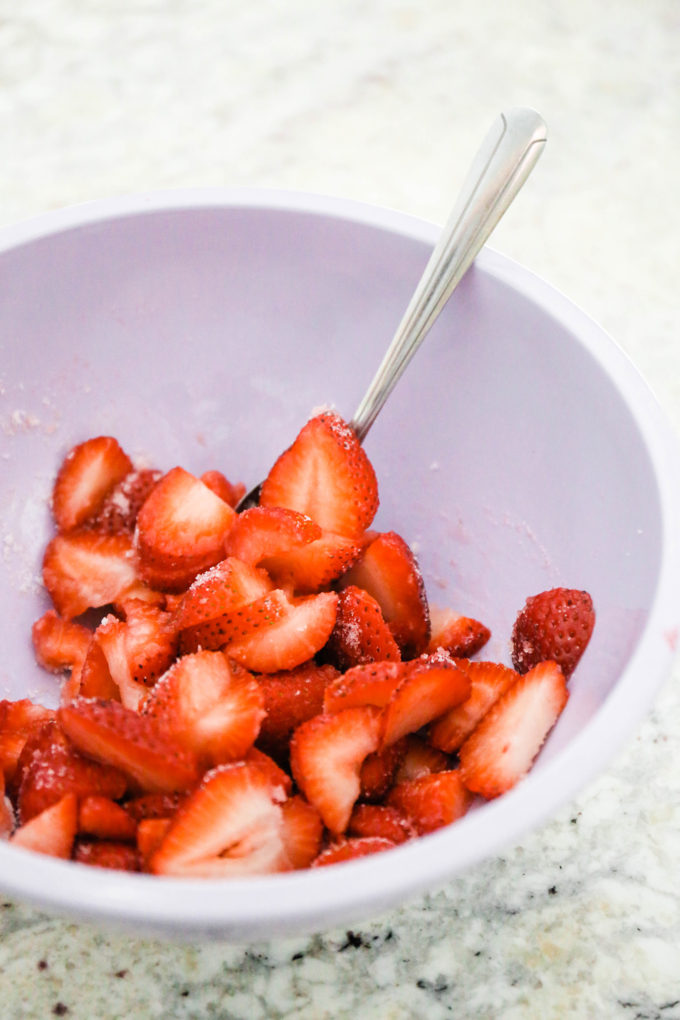 Another key to the perfect shortcake recipe is the macerated strawberries! Also, do you hate that word? "macerated"? I always picture a murder. But if a sweet sugary strawberry is the result, then I'm okay with murdering fruit.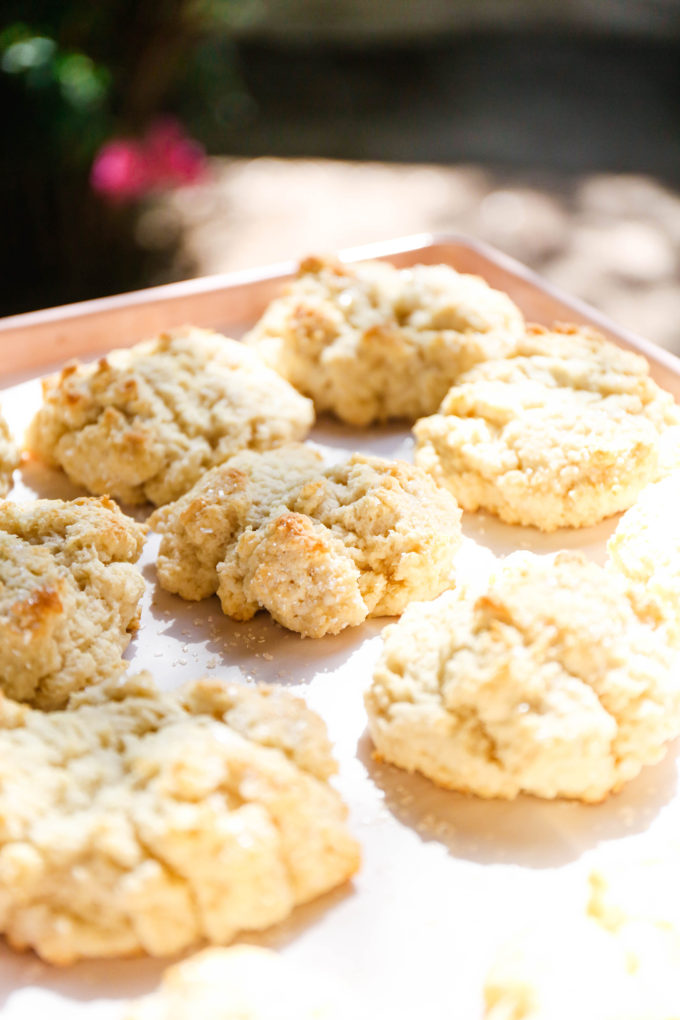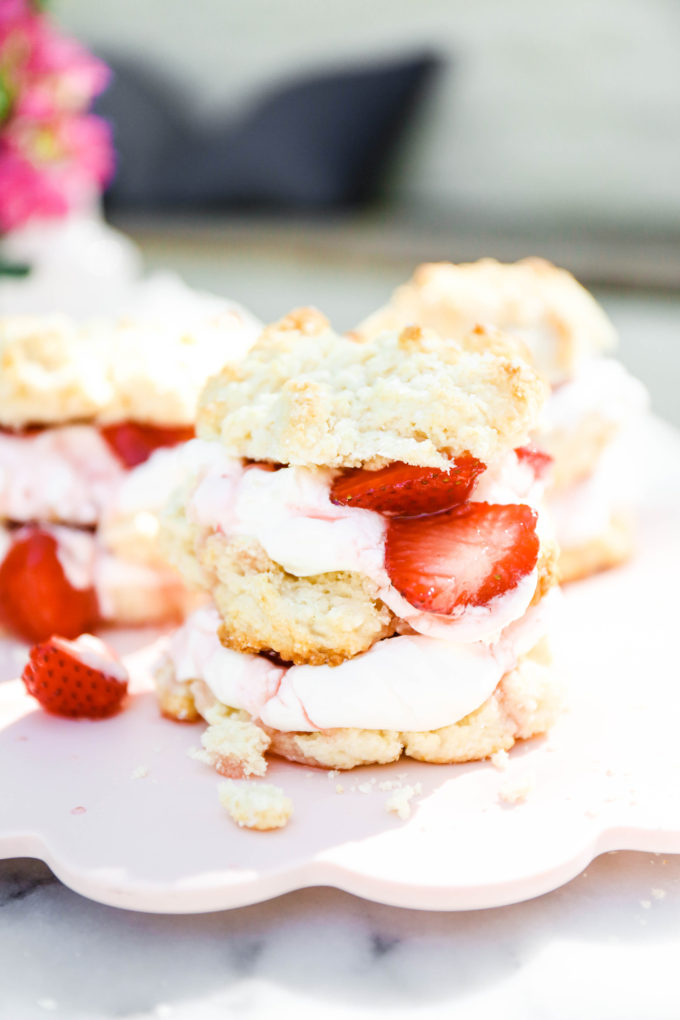 Some folks just halve them and then layer with whipped cream and strawberries. And that is perfectly fine, but we are over-achievers sometimes, and so a third layer is the only acceptable version.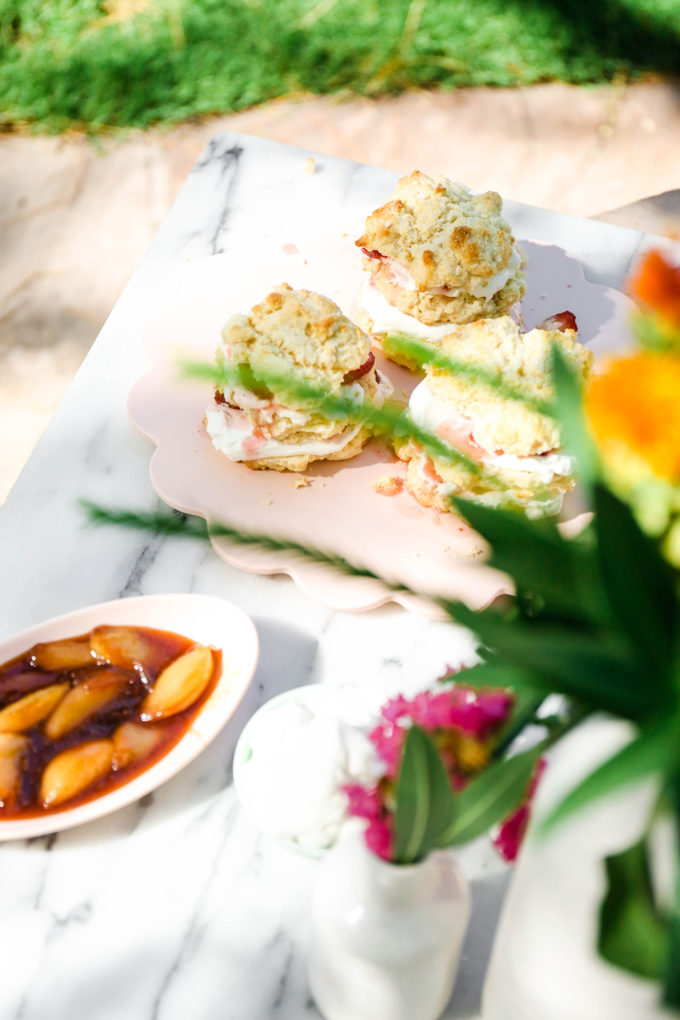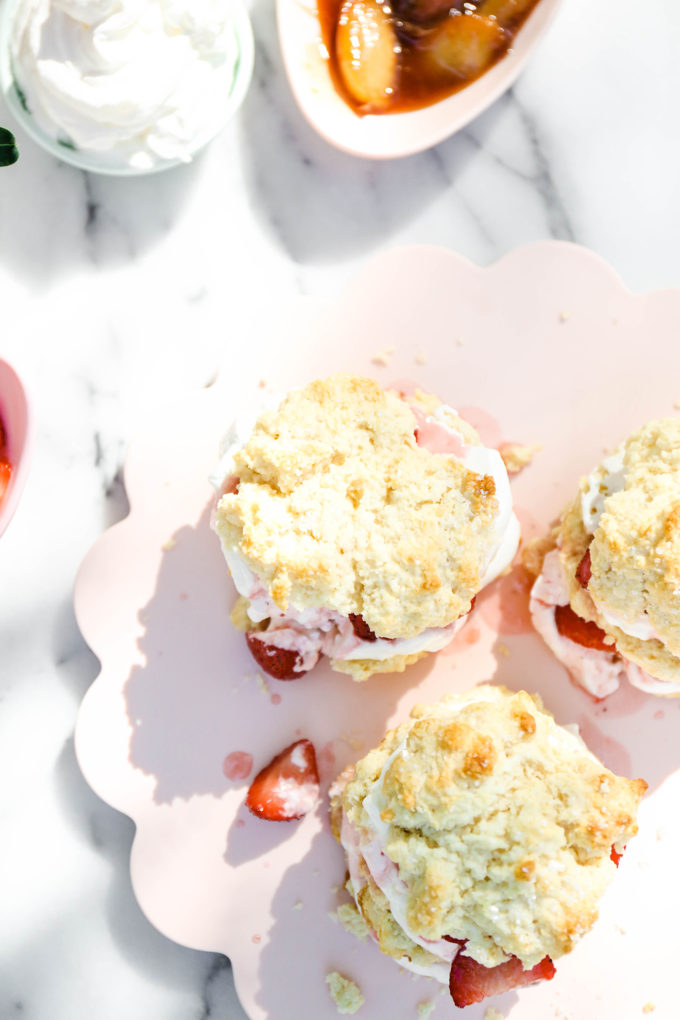 I used to work at a restaurant that served strawberry shortcake as one of their desserts. We prepped the desserts ourselves and we always poured melted butter on top of each cut layer of cake and then sprinkled sugar. And then we would layer the whipped cream and strawberries. Holy yum.
This recipe includes your typical strawberry version and a bonus round with the browned butter peaches. And anything browned and buttery is a win in my book! So if you're lookin' for a dessert for tonight, give this a go!
Print
Easy Strawberry Shortcake with Browned Butter Peaches
Author:
Prep Time:

30 min

Cook Time:

20 min

Total Time:

50 minutes
3

cups

flour

4 1/2

teaspoons

baking powder

1

teaspoon

baking soda

5

tablespoons

sugar (sanding sugar for a yummier option!)

1/4 tsp

of salt

1

stick (8 Tbsp) cold unsalted butter

1

cup

buttermilk

sanding sugar for finishing
STRAWBERRY TOPPING
4

cups

fresh sliced strawberries

5

–

6

tablespoons

sugar

Whipped Cream
PEACH TOPPING
3

peaches, pitted and sliced

1

stick salted butter

1 cup

brown sugar
Instructions
FOR THE STRAWBERRY TOPPING:
In a mixing bowl, combine the strawberries and sugar and allow to sit for 30 minutes to get juicy! Set aside.
FOR THE PEACHES:
In a small saucepan, melt the butter and brown sugar. Slice the peaches and add to the mix. Bring to a boil and then reduce heat to allow the butter and sugar to caramelize. Keep warm.
FOR THE SHORTCAKES:
In a mixing bowl, combine the dry ingredients. Using a pastry cutter or your hands, cut in the butter and mix until there are small pea-sized flecks of butter in the mix. Slowly pour in the buttermilk and stir mixture with a fork. It will be clumpy and sticky.
Drop large spoonful of the batter onto a parchment-lined cookie sheet. Sprinkle with sanding sugar. Bake for 12-15 minutes at 425 degrees Fahrenheit until the tops are just golden. Remove from oven and allow to cool for ten minutes.
Assemble the shortcakes by slicing each in half. Spread a dollop of whipped cream and top with either the strawberries or peach mixture. Sandwich another layer of shortcake on top and keep layering with whipped cream and fruit until you've reached the desired size! 3 or 4 layers is tops!
Enjoy!