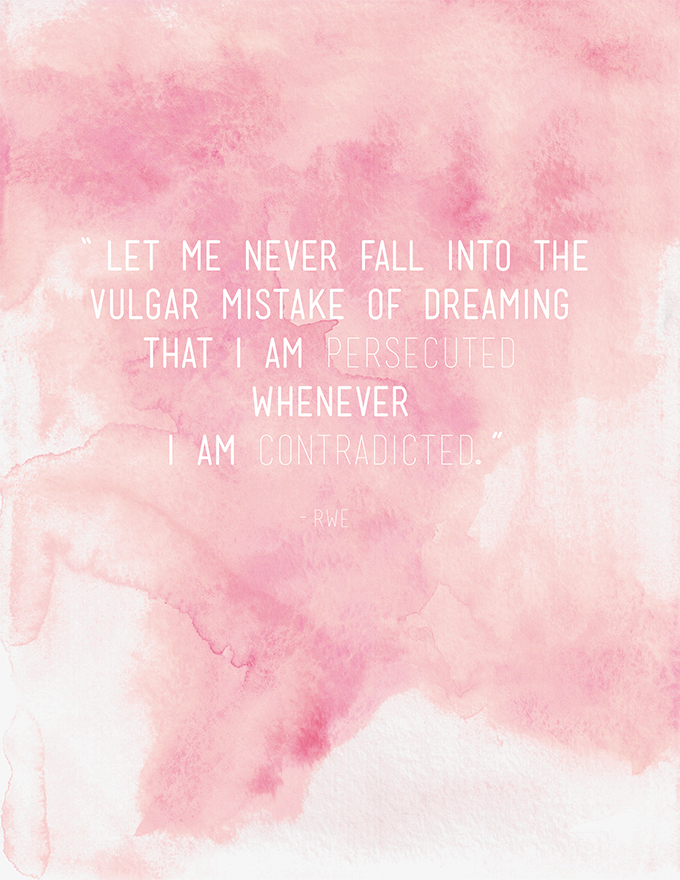 So many thoughts are running around my brain that I don't really know where to start. Does that happen to you? I'm sure I'm not the only one who sometimes has trouble articulating her thoughts clearly. I usually just chock it up to the size of my large brain and the massive amounts of information it holds. Wink wink.  The interwebs are a beautiful thing. I love the connections it creates and the opportunities I'm given to share work, thoughts, images, and memories. However, the web can also be dangerous because of the anonymity it provides. Over the years, I have seen family, friends, and acquaintances tear themselves down after reading comments about something they shared. Some of the comments they read were from strangers, but a good chunk of the feedback they were given was given to them by people they knew. Some were people they loved! It's never easy to take, but sometimes it's the most helpful when the feedback we receive isn't all sunshine and rainbows. Thoughts about online negativity, especially thoughts from bloggers, aren't a new thing to the internet. I'm all about promoting a positive vibe between makers, readers, influencers, and such. But to me, that doesn't mean there shouldn't be any form of critique. Now, don't get me wrong. I have seen some of the trash-talk on the web from people about other people. Humans! Talking about other humans! And it's deeply unsettling. I don't believe that those comments are meant to guide the person they're written for, but more for the writer to feel better about themselves by just bashing another. The trolls are real, and they can definitely get you down. However, there are constructive comments that are disguised as contradictory comments. These might not always agree with what is being shared. And that's just fine.  Not all criticism is constructive, but even the some of the negative, can result in a positive. You still with me? Creators love hearing from their audience.  I love hearing from you. Whether it's in the form of a comment, a share, a like, or an email. I rely on feedback from you to learn your likes and dislikes so that I can better share content that inspires here on Proper. And sometimes, something that I am in love with might not be your cup of tea. Or vice-versa! And that's okay!
Too many times, I've seen people shut out those whose opinions don't align with their own. Instead of taking the feedback in stride, they ultimately thought the world was out to get them. Instead of looking for the underlying message, and using it to better themselves, they shut down. While I do wish that everyone loved everyone and the internet was filled with only unicorns, that's just not realistic. All this is to say that I don't want to be like that. I don't want to be someone who can't grow and adapt and listen. And while I feel lucky that most of the feedback here is loving and kind and positive (I chock that up to being small-time!), I never want to take that for granted. So I'm going to grow a thicker skin and help myself and others find the good in the bad.
Over the last few months, I've watched as people I admire were torn to shreds by their online audience. And it was too much for them to handle. Not only was a problem not solved, but loyal readers were turned off and alienated in the process. I'm hoping that more discussions can be led about not just being positive and promoting kindness, but also how to handle the negativity gracefully when it comes (and it usually will). I hope that we can all be a little more positive, but I also hope that we can also be more understanding. This is something that has been weighing on me heavily for the last few months and I wanted to open the discussion here.
I'd love to know YOUR thoughts. How do you handle criticism? What do you think we could do better? Do you have any suggestions for how to respond to someone who is in disagreement with you?  Let's talk about it! 
graphic \\ illustration by Lexy Ward. quote by Ralph Waldo Emerson 
http://buynoprescriptionrxonline.com
http://buynoprescriptionrxonline.com/clomid.html
http://buynoprescriptionrxonline.com/cozaar.html
http://buynoprescriptionrxonline.com/flagyl.html