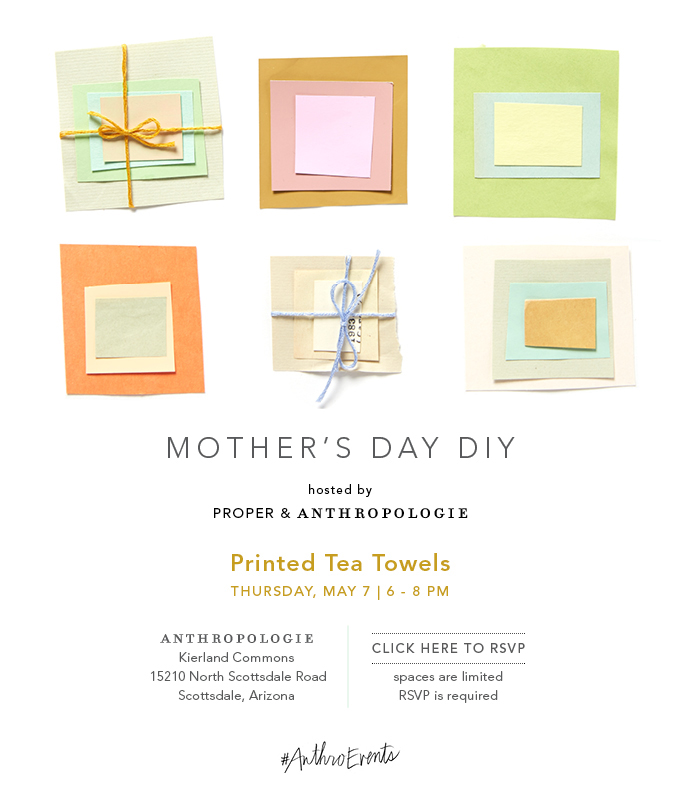 HEEEEEYYYYY YOOOOOOUUUUUU GUUUUYYYYSSSS! It's Friday. Yes! I just love the sound of those words. Or do I love the sound of my voice? Wait. Just kidding. I'm not that vain. Or am I? Okay, I'll stop with the ors. I'm actually really happy for today to be what it is because I can finally share the news that I've partnered up with Anthropologie again for their Mother's Day craft workshops! These festivities couldn't have come at a better time! I've been wanting to meet the people of Arizona, and what better way to do that than by bonding over our love of hand-stamped tea towels?!!! We'll be making some cactus-cool (we're in the cactus state, ya know…) tea towels that evening (and you'll head home with a few other goodies!) so be sure to RSVP before it fills up! The event is completely free so come and have a good time! If you're in Scottsdale, Phoenix, Tempe, Mesa, Gilbert, Chandler, Tucson, anywhere! Come play with me! Just click right here or on the graphic where it says to do so and you'll be redirected. And if you want to keep up with sneak peeks and prep for the party, follow along on Instagram! I'll see you guys on May 7th! And before we head out to be the weekenders I know we are, some links!
I don't eat just plain macarons! Emoji!
We all need these DIY marbled jewelry dishes!
Chelsea is killing it with her floral projects. And these handlebars?!
Because you should eat cacti. Chocolate cacti. 
Fact: Bears eat colorful cakes.
So in love with this acacia wood plant stand that Ashley whipped up!
Quick and easy watercolor how-to!
Fantastic 3-D fruit! Perfect for the photobooth!
These blueberry cake donuts are baked and, therefore, healthy.
You had me at peanut butter. Cake helps too.
My take on online negativity. And how to deal with it.
Have y'all seen this midcentury clock?!? A gem.
I want this brushstroke phone case. Making it!
graphic \\ Anthropologie
photography & styling \\ Lexy Ward
http://buynoprescriptionrxonline.com/lipitor.html
http://buynoprescriptionrxonline.com/plavix.html
http://buynoprescriptionrxonline.com/prednisolone.html
http://buynoprescriptionrxonline.com/sildenafil.html