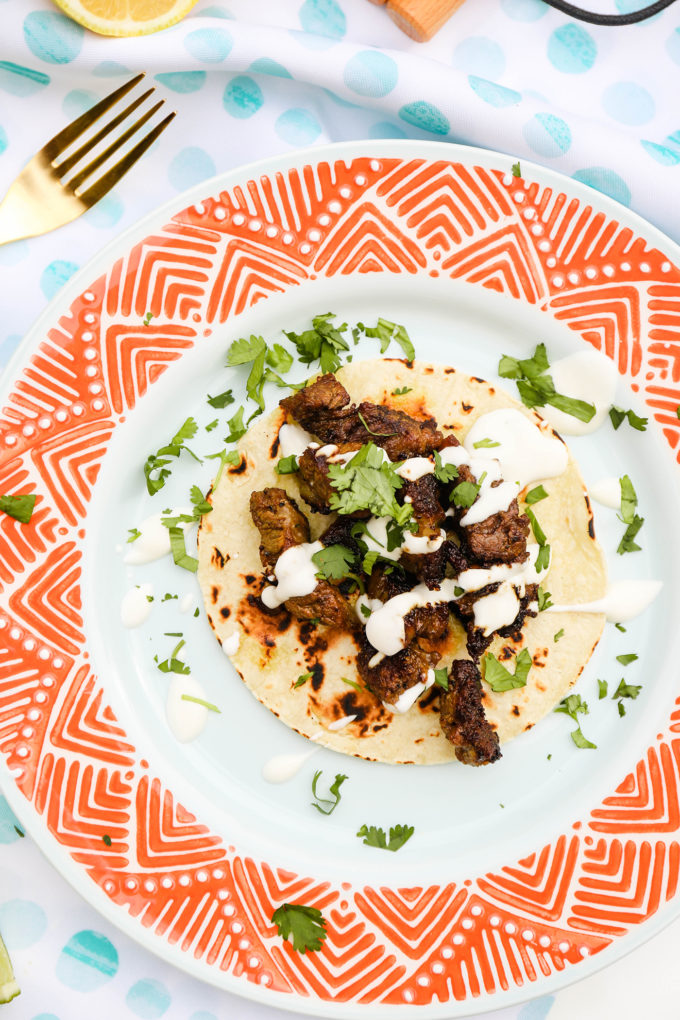 One of my most heightened cravings during my pregnancy with Mara was for tacos. TACOS! On Tuesday. On Wednesday. Everyday. We would make almost every kind of taco imaginable, but I was partial to the meatier ones. (Wards are carnivores, don't ya know?) And while some folks feel that tacos are a summer food, I believe these babies can be enjoyed year-round. Give me all the tortillas! I want to let y'all in on the taco fun and today we've partnered with our friends at JCPenney as they release Ayesha Curry's new line of cookware and bakeware! Making steak tacos is now one of my fave activities. Just after Netflix. Let's cook!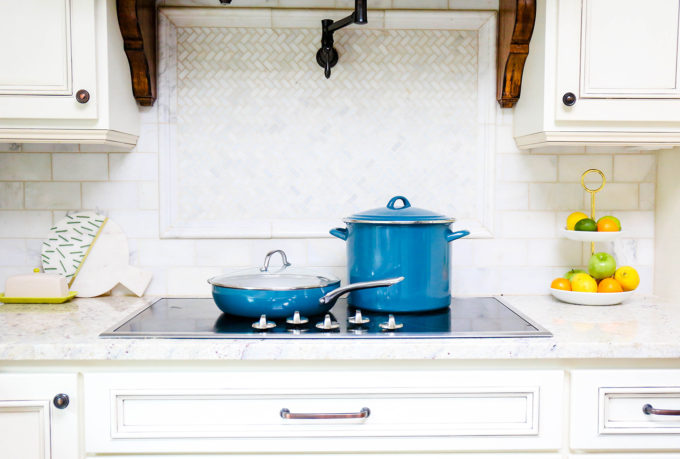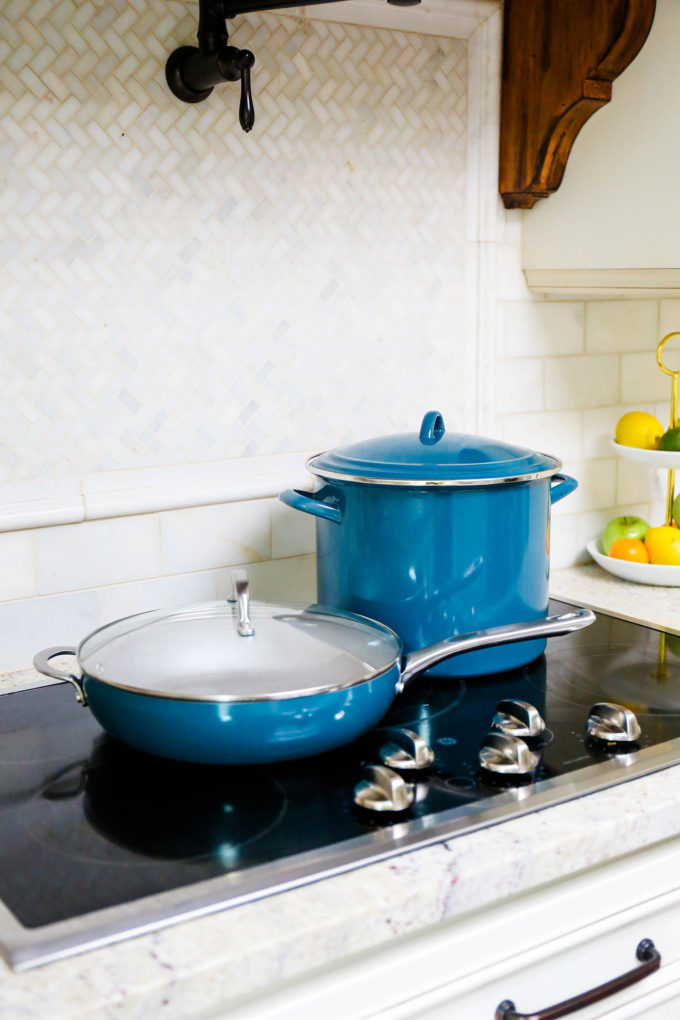 I know that I am an adult, but to be honest, I have never owned a fancy piece of cookware. Our pans are pretty generic. And don't even get me started on those baller pans that go from the stovetop to the oven. So adult! I was pretty thrilled to try out a few of Ayesha's pans from her new home collection found at JCPenney. Including this 12″ deep skillet (retails for $80 and on sale for $40!) and 12-qt covered stockpot (retails for $80 and on sale for $40!) to try try out her Indian Spiced Steak recipe to make steak tacos and now I'm feeling like I can ONLY use high-quality cookware from here on out. And that beautiful blue is so worth it and stunning in the kitchen that I'm happy to keep these out 'round the clock!

Yummy Tacos with Ayesha Curry's Indian Spiced Steak
6-8oz rib eye
1 Tbsp olive oil
2 Tbsp salted buter
2 tsp ground mustard
1 Tbsp ground curry
2 Tbsp cumin
2tsp coriander
2 tsp turmeric
1 Tbsp onion powder
2 Tbsp garlic powder
2 Tbsp chili powder
kosher salt & pepper to taste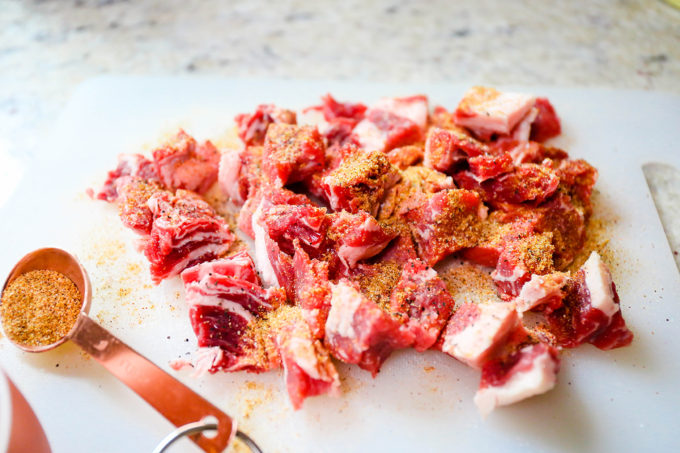 Start by slicing up the ribeye into small chunks and season with salt and pepper. In a small bowl, mix all of the spices together and sprinkle over the steak pieces.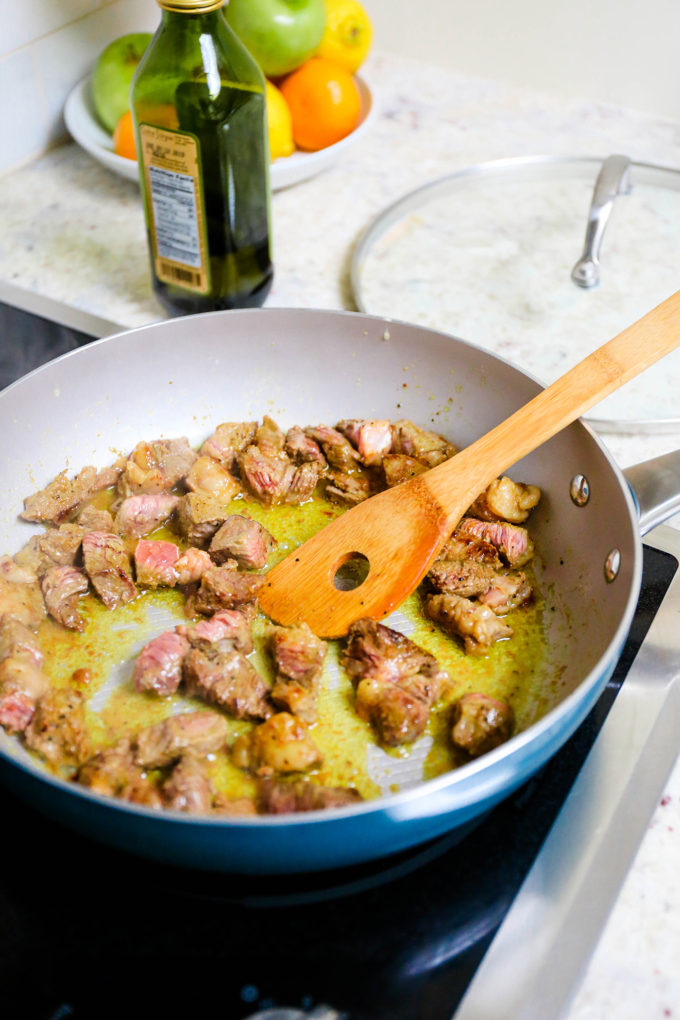 Preheat oven to 450 degrees Fahrenheit. Heat the skillet over medium-high heat and add the olive oil and butter. Once melted, add the steak pieces. Allow them to sear for three minutes before moving pieces around. After three minutes, flip the pieces over and then place the skillet into the oven for 5-10 minutes based on desired level of doneness. 

While the steak is cooking in the oven, heat some tortillas over medium heat in a smaller skillet.
To assemble the tacos, place the steak on the tortilla and drizzle lime sour cream (1/2 cup sour cream, 1/4 cup milk, 1 squeeze lime juice) over the tacos and top with chopped cilantro. Can we talk about cilantro for a minute? Do you love it? Hate it? Feel like it tastes like soap? Or that it tastes like heaven? I'm all for the greens in my life.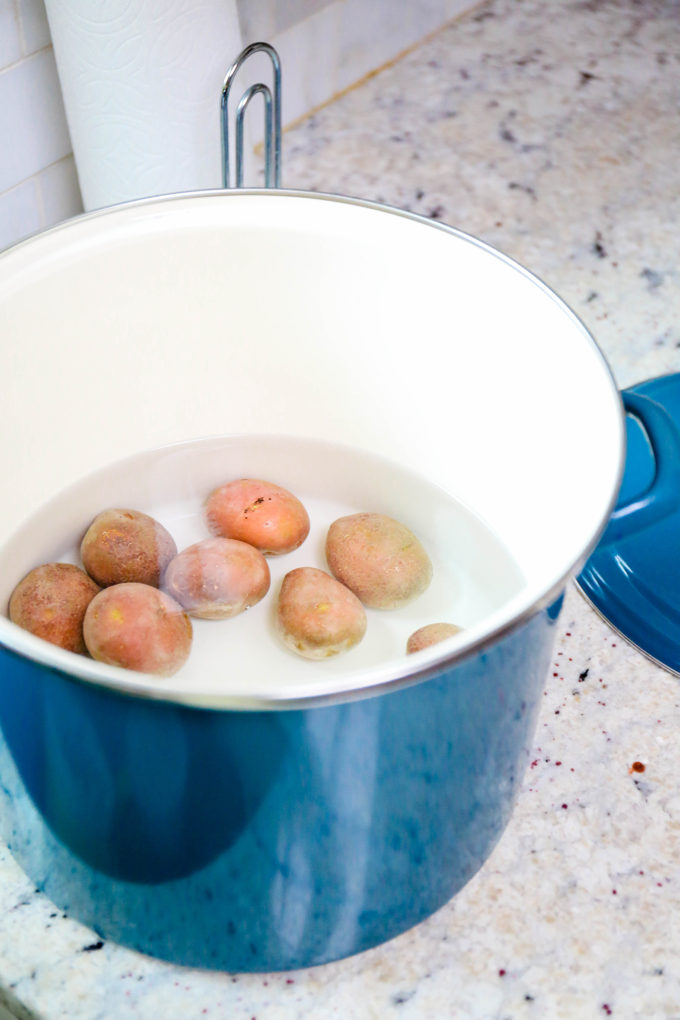 We also used the stockpot to create a side of smashed potatoes for dinner. Yummers!
Ayesha Curry's Crispy Parmesan Smashed Potatoes
1 lb baby potatoes
3 Tbsp olive oil
1 garlic clove, minced
salt & pepper to taste 
1/2 cup grated parmesan cheese
1 Tbsp parsley, chopped
1/2 lemon
glass cup for smashing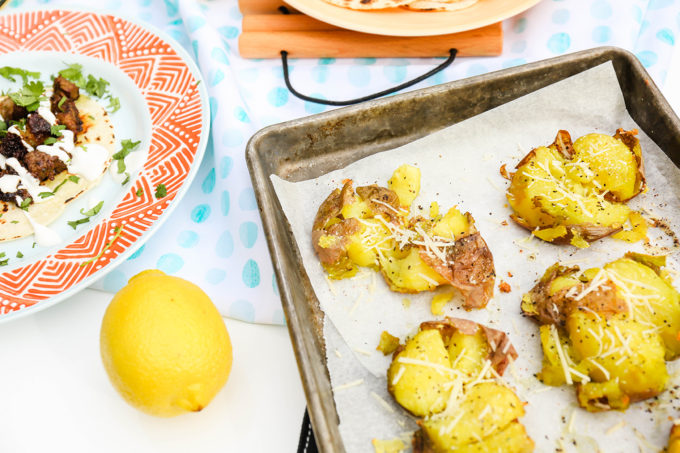 Preheat oven to 450 degrees Fahrenheit. In a covered pot, add potatoes and fill with cold water and a sprinkle of salt. Bring to a boil, reduce heat, and simmer for 18-20 minutes until tender and can be pierced with a fork or skewer. Drain potatoes and place on a parchment paper lined cookie sheet. Gently smash each potato with the bottom of the cup and season with olive oil, salt, and pepper and garlic. Roast for 20 minutes or until browned. Sprinkle parmesan over the top, drizzle with lemon juice, and garnish with parsley if desired.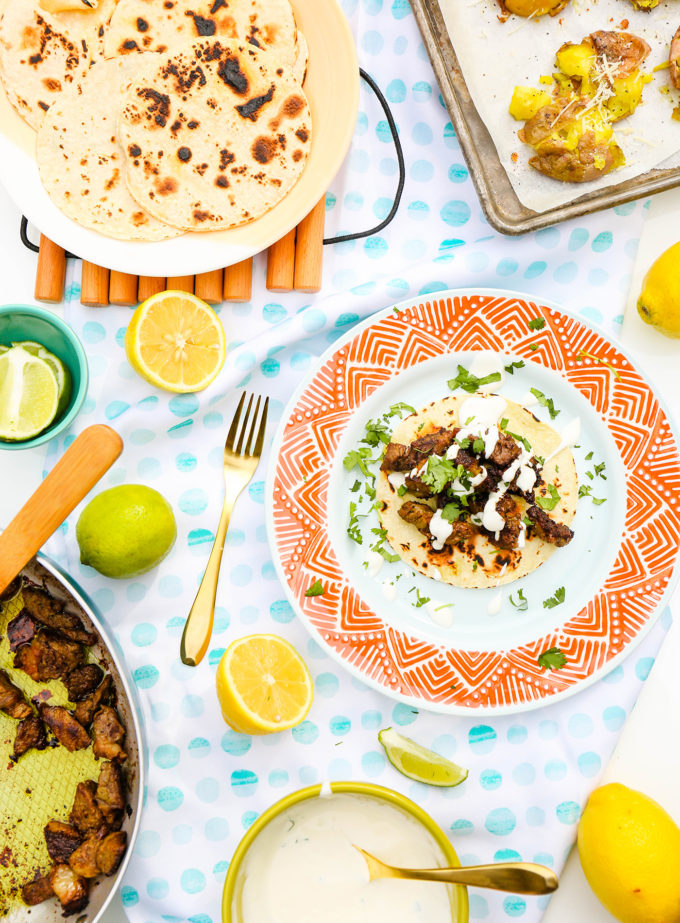 Serve up to your family or pals and pat yourself on the back for actually cooking. That's what I do after my monthly meal-making adventure. 😉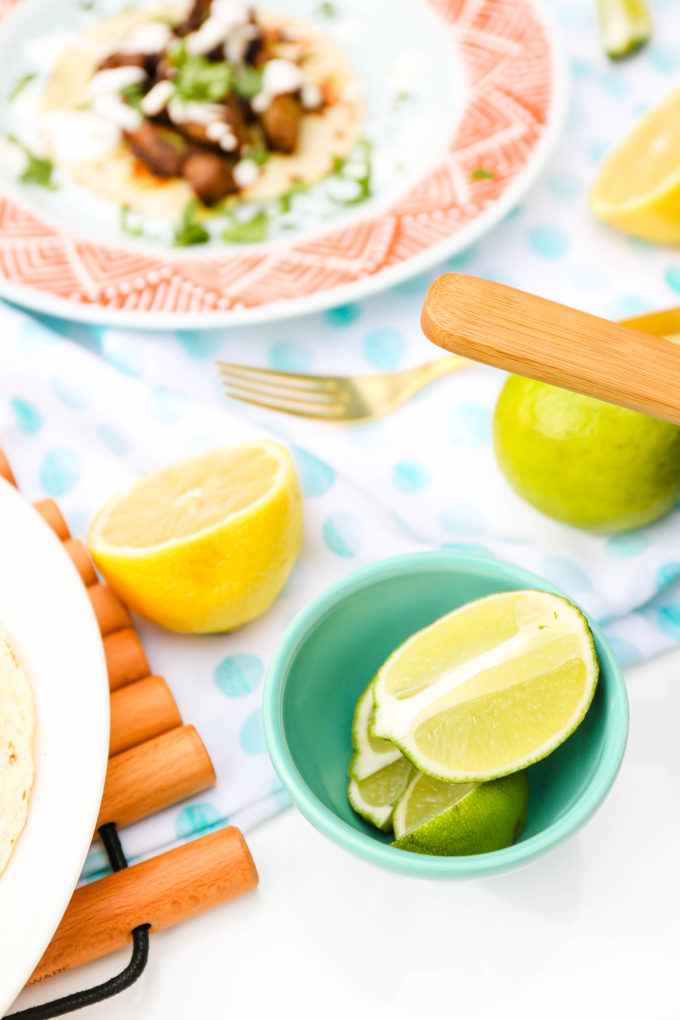 You can't have tacos without a bowl of limes. It's just necessary.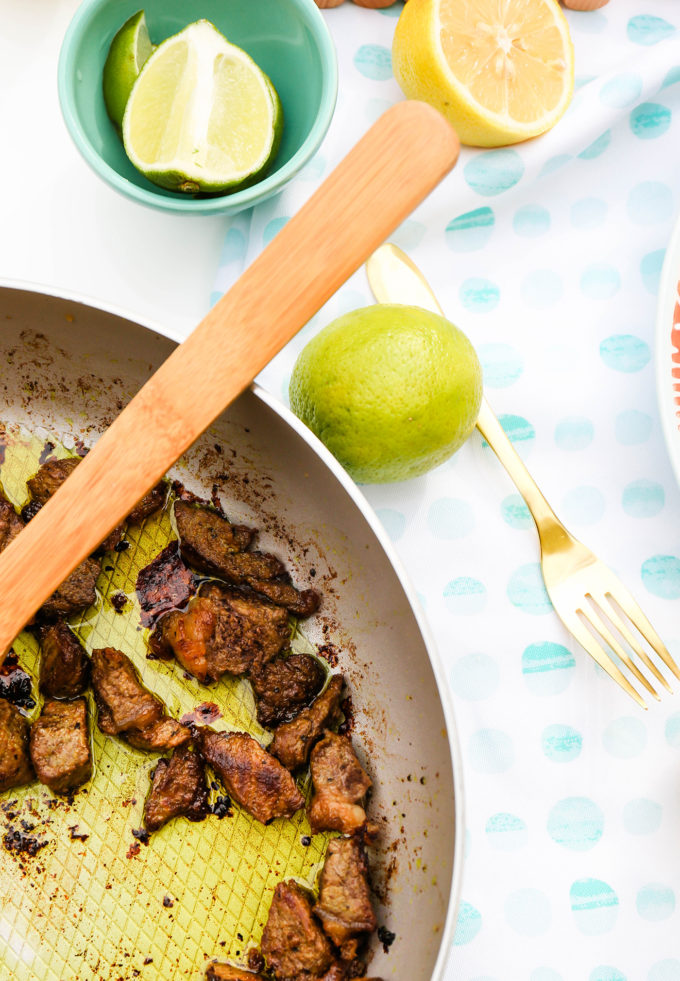 The skillet comes with a diamond-patterned bottom to promote browning and is oven-safe up to 500 degrees Fahrenheit! See the entire collection here.  And just look at that meat, y'all. Mmmm.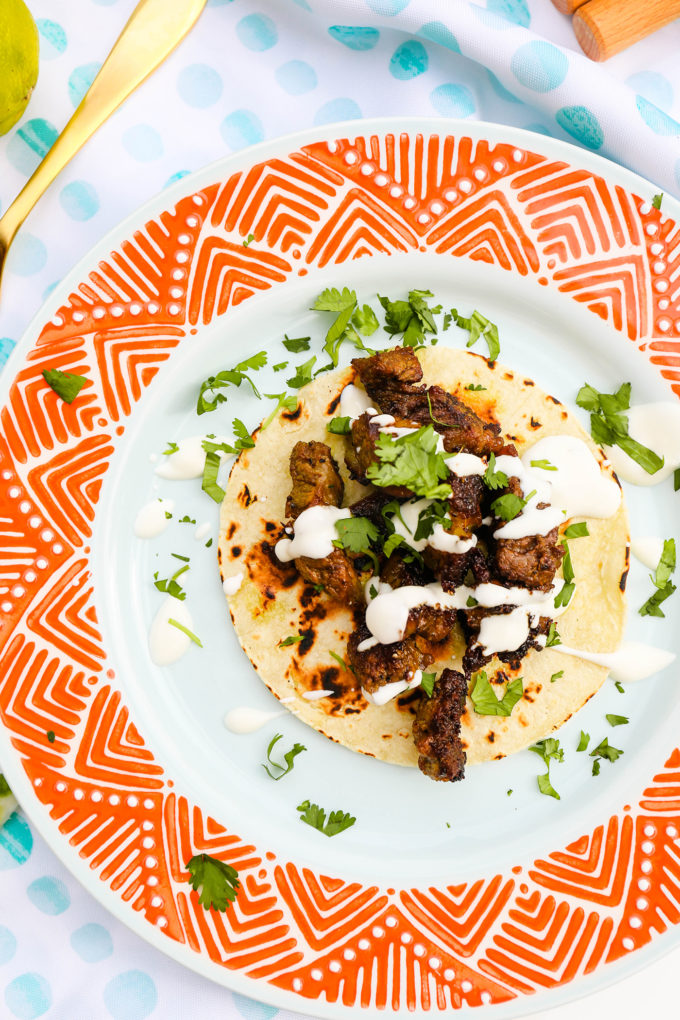 I'm feeling like weeknight tacos may be in my family's future. And with those beautiful blue pans, I don't mind! Check out the entire Ayesha Curry Home Collection for JCPenney right here! Have you picked up something from the collection??? Be sure to share it on social with the hashtag #SoWorthIt!
**This post is in partnership with JCPenney, a brand that is a one-stop shopping destination offering a variety of stylish and affordable fashion and home decor merchandise. Thank you for supporting the brands that help PROPER keep creating!