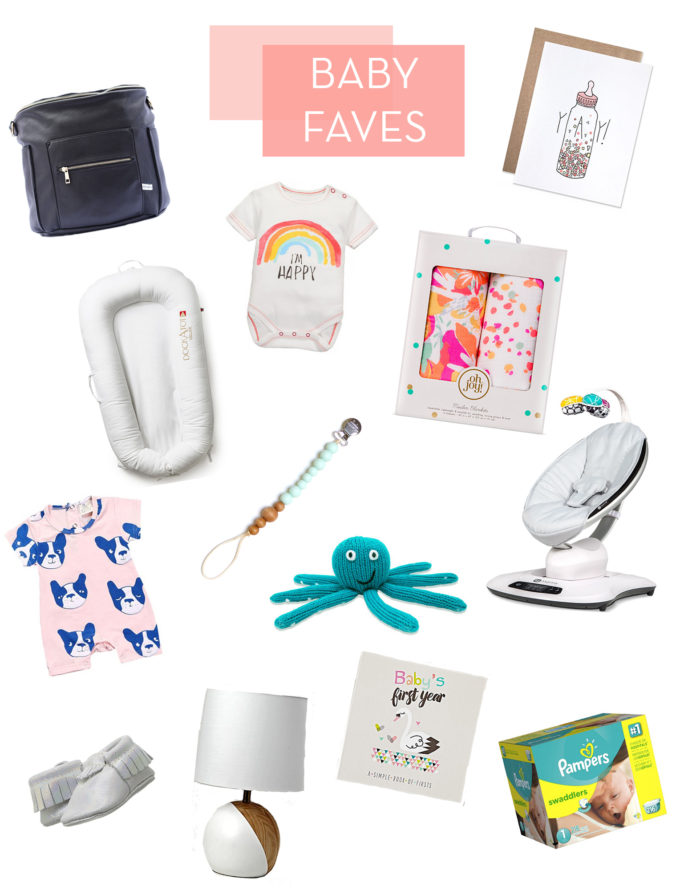 Guys. I don't know how, but this pregnancy has FLOWN by. I'm 37 weeks today! Which means we could have this kid anytime! If that's not enough to shock you and freak out, then I don't know what will. After purchasing our new house (read all about that adventure here!), we've been hustling like mad to get baby girl's nursery complete. It's been a total chore, but you know, we love our kids and we do things for them. Also, it feels good to nest a little bit after these stressful months. I haven't had a chance to really dream out a bunch of things I wanted for baby girl, but I DID have a small list in the back of my mind with things I knew I would for sure want/need/beg for this time around. And I thought I'd share a little bit of that baby wishlist to make mom's life easier! A few of these things were items I used last time around with V, and a few are new things that I know I have to have to stay sane! (And semi-stylish. Er, the baby will be stylish. I'll be in sweats.)
Organic Octopus Baby Toy from Estella NYC – Okay, so this is one of those darling toys that I just feel needs to sit on the shelf in baby's room and be admired. And how cute is that blue knit?!?! 
Cute Dogs Short Sleeve Romper – It's hot all the time out here in the AZ, so girlfriend will prob be sporting onesies for the first year of her life. I'm okay with this cute lil' puppy romper.
Happy Rainbow Printed Bodysuit – Speaking of onesies, gimme all the happy rainbows. 
DockATot Deluxe+ – I am SUPER STOKED OUT OF MY MIND to get to try one of these this time around. My sister just had her little boy (we're about a week apart!) and she swears by it! I'm planning to cart sis all over the house and let her chill in this little number forever.
Baby's First Year Book – If you haven't grabbed a book for the first year of life, then I don't know what to tell you. It's so fun for me to go back and look through Vita's book (the parts that I actually updated!) and read funny memories that I have completely forgotten!
Split Circle Table Lamp – A cute lamp like this one is more for you than it is for baby. I'm feeling like I'd happily change midnight diapers if this lit the way.
MamaRoo4 Infant Seat – These chairs are literally a gift from the gods. I wouldn't have survived those first few months with V without one of these babies. It was the only way to get her to sleep and it saved me most of my sanity. They're also great for those babies struggling with reflux issues because it keeps them propped up! 
Amazon Diaper Subscription Service – diapers delivered to your doorstep. 'nuff said. 
Oh Joy! Muslin Swaddle Blankets – First, they're so cute! And second, these muslin blankets are perfect for swaddling, using as a nursing cover, and even a carseat/stroller cover! They have so many uses and these Oh Joy! ones come in the cutest patterns. 
FAWN Design Black Bag – Okay, so this one is a bit of a splurge for me. I need a good diaper bag, but don't want one that looks like a diaper bag, ya know? This fits the bill for sure. And let's talk about those gold accents, mmmkay? 
Freshly Picked Hologram Moccs – Just picked up a pair of these for sister from Freshly Picked's huge sale happening this week! I may have overdone it and snagged an additional 4 pairs. BUT BABIES NEED THEIR MOCCS! 
Silicone Pacifier Clip – Where 'dat binky at? V didn't really go through a pacifier phase, but it's important to be prepared. This silicone clip is a perfect way to keep track of that necessity for many babies! 
YAY Confetti Bottle Card – Okay, confession: I frame a lot of cute cards. Some have been gifted to me, some I have purchased and then hoarded to myself and refused to give it away. This confetti print is perfect to double as some nursery art!
Honorable Mention: The Baby Jogger Vue stroller! It's a step up from your traditional umbrella stroller. We snagged this guy to take on a few work trips and I can already tell you the baby will be so cozy! The hood can almost completely cover the seat, and the seat has some mega recline capabilities. win win!
What are a few of your baby must haves? I'm positive there are things I'm missing and I would love to know what it is you and your little can't live without!