This post is in partnership with Bed Bath & Beyond.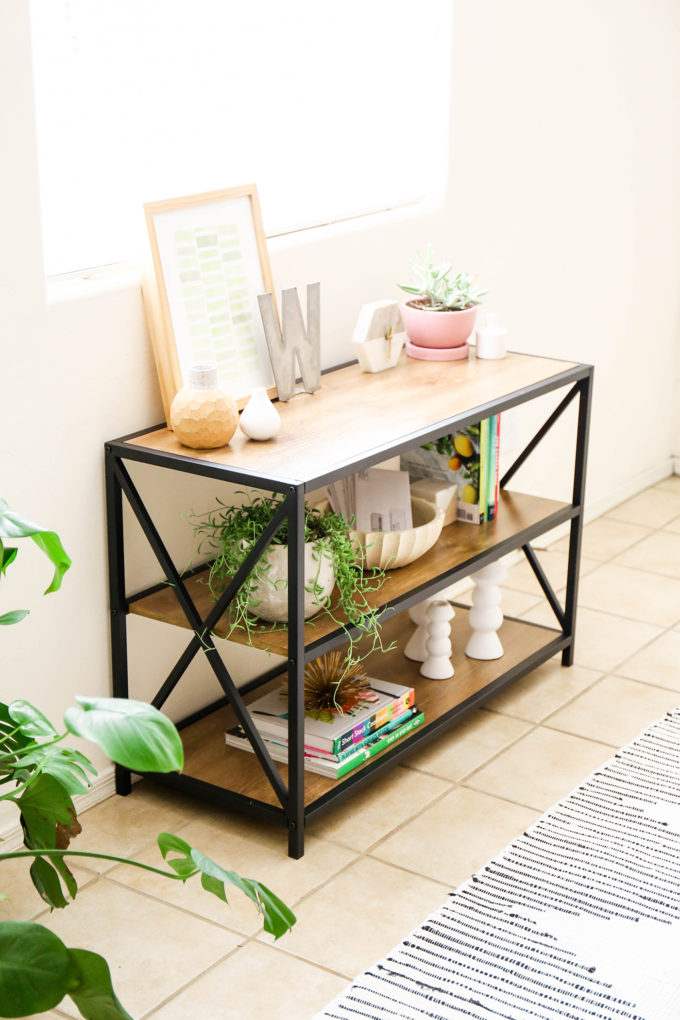 So we have now been in our place here in the desert for 2+ years and I'm pretty embarrassed to tell y'all that our entryway has been almost as bare as the day we moved in! It's not that I completely 100% forgot about it (maybe only like 60%), but I've spent so much time trying to complete other spaces in the house. We're still renting, so I'm a bit limited as to what we can do to transform certain spaces in our home, but I wanted to be able to reflect my personality somehow in the entryway. I decided it was high time to get my act together and finish the entryway. So we partnered with Bed Bath & Beyond for a little spring refresh in the form of an entryway makeover and I'm really digging the way everything looks now!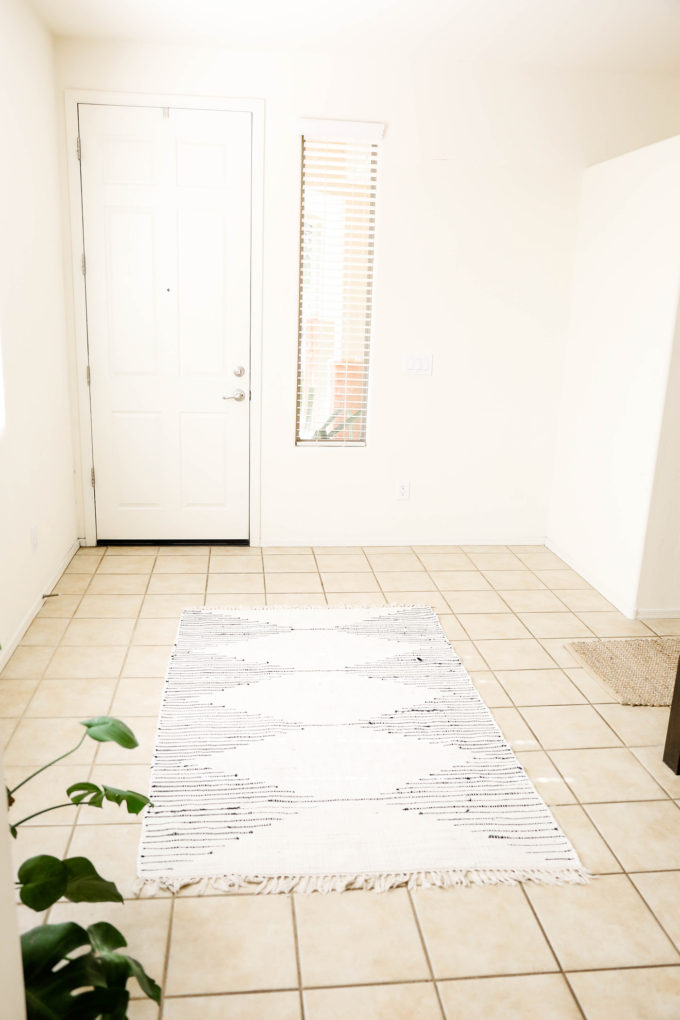 Here is what it looked like most of the last two years. When we were first planning to move to Arizona, I told Logan that I just wanted to find a place to rent with white walls. I can work with anything if it's got white walls! So we found a house and slowly started making it our own home. But the entryway totally suffered. This shot was taken on a good day when I had just cleaned and cleared the clutter! We get a lot of packages for work delivered almost daily and they sometimes sit in this spot until they can be processed. Aside from the rug and that little monstera plant in the corner, this guy was definitely begging for some decorating love.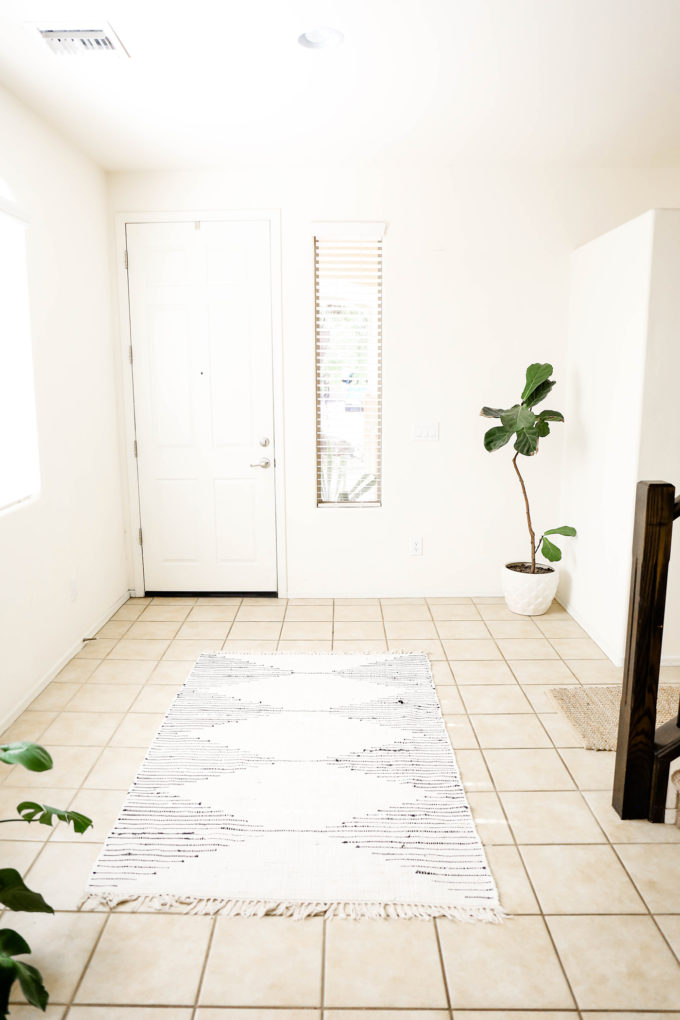 One of my favorite tricks for livening up a space is to bring in a plant or seven. If you've ever been to our house, or just seen snaps of it on Instagram, you'll notice that I am a sucker for plants. Succulents, cactus, figs, I love 'em all! I picked up that geometric planter and added a skinny little fig in the opposite corner. This was still just a temporary solution.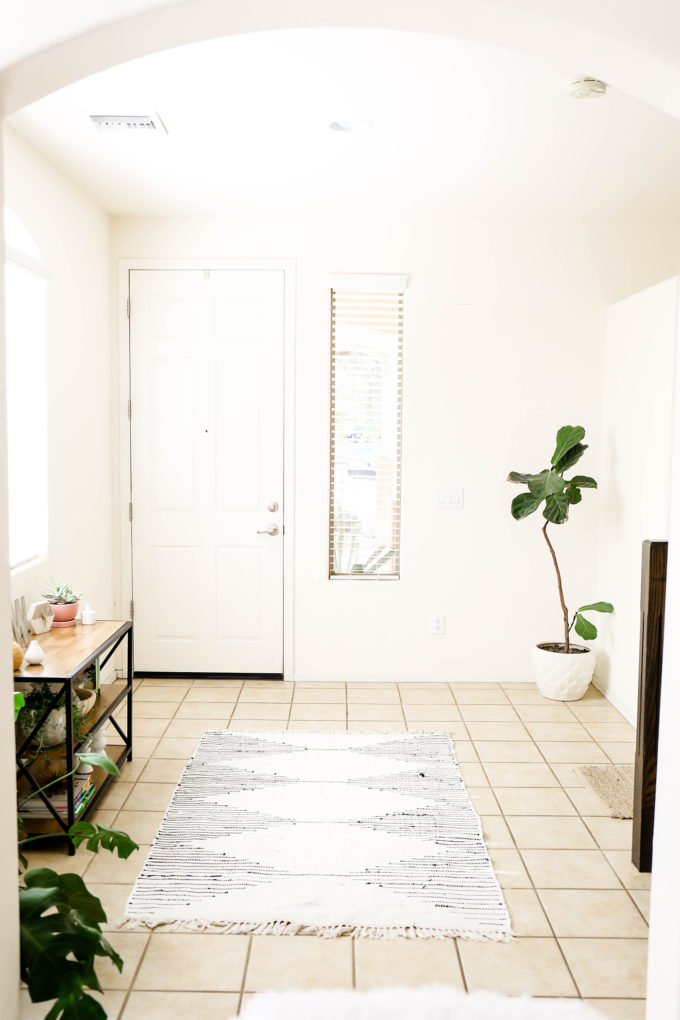 I knew that I wanted to have a small console table to hold a few of my favorite knick-knacks, as well as a bowl to catch keys, mail, and other odds and ends that I might walk through the door with. I spent a few days scouring the Bed Bath & Beyond website looking at all the furniture options offered. There's a great selection in store, but you can totally score a homerun online! We actually ordered a new rocking chair for Vita's room (pics coming soon!) and a new dining chair that recently broke! This X-frame metal table was the perfect answer and seemed to fit in well with some of the other industrial fixtures we have in our home. It was a breeze to set up and was the perfect width to fit underneath that window to the left.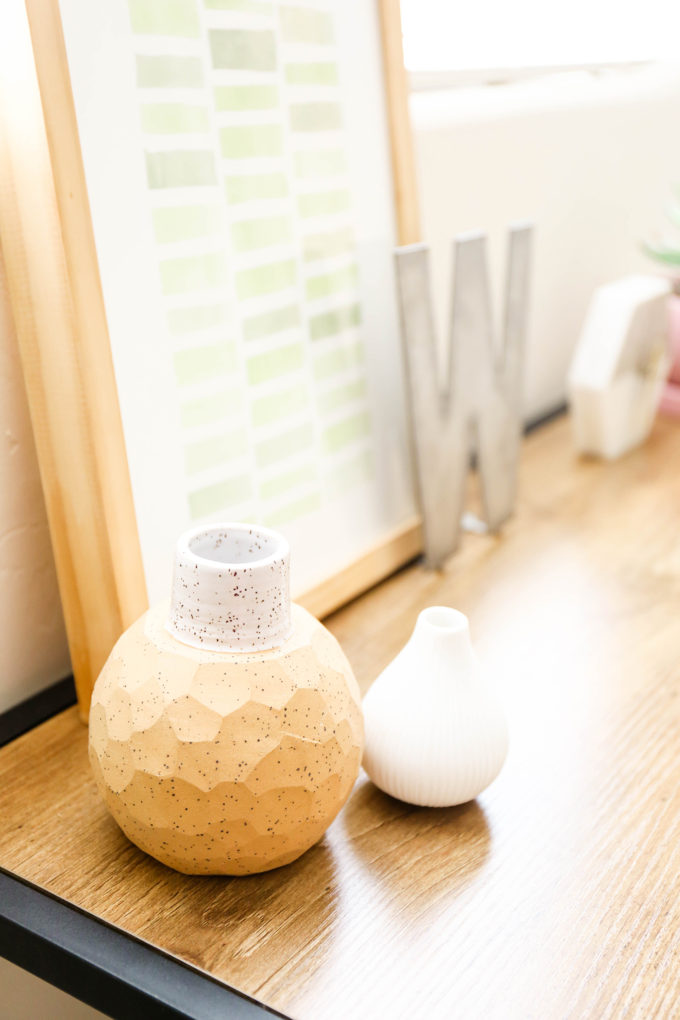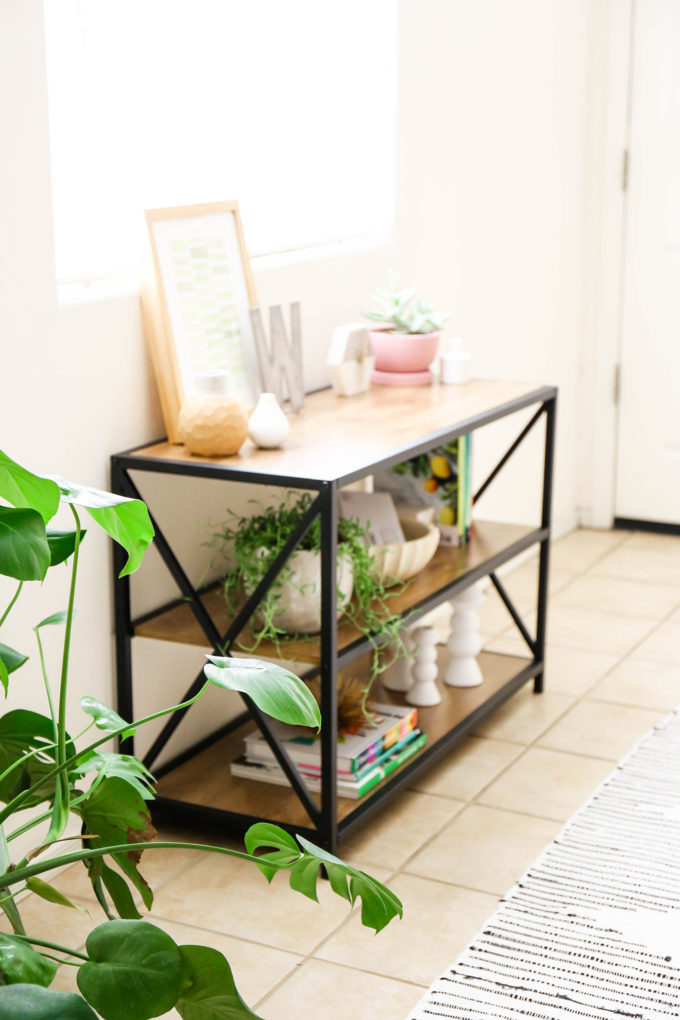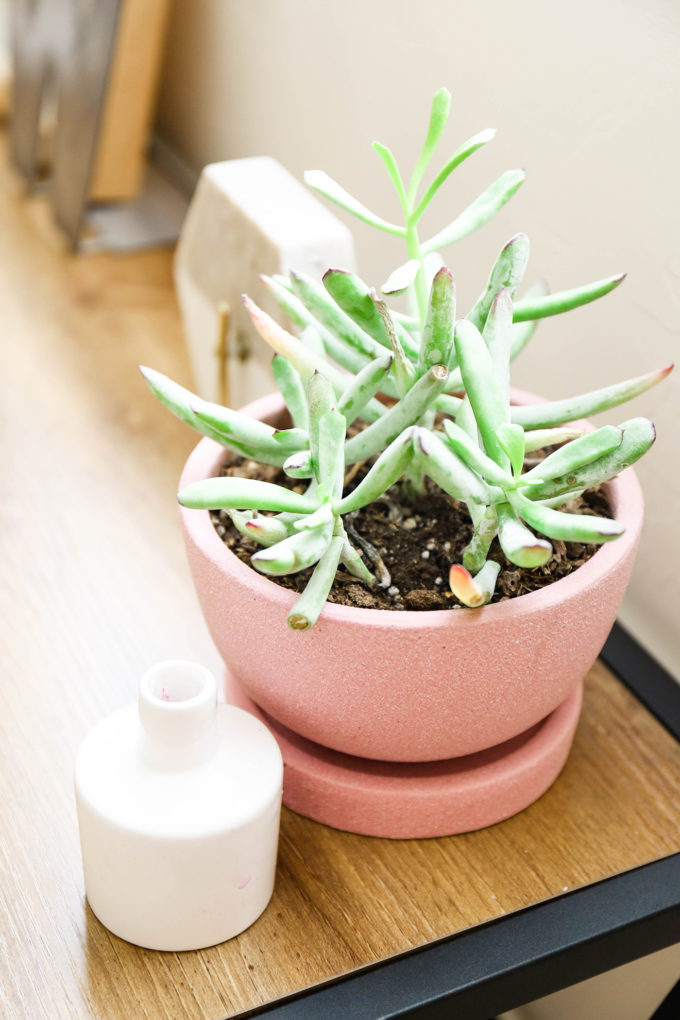 I told you. An abundance in succulents.
It's kind of turned into my favorite view when walking through the door. Now, we've got the toddler running around the house constantly moving and "styling" (her words, not mine) objects to her heart's content. So it's a rare occasion that this console stays how I like it after V wakes up every morning. The joys of parenthood!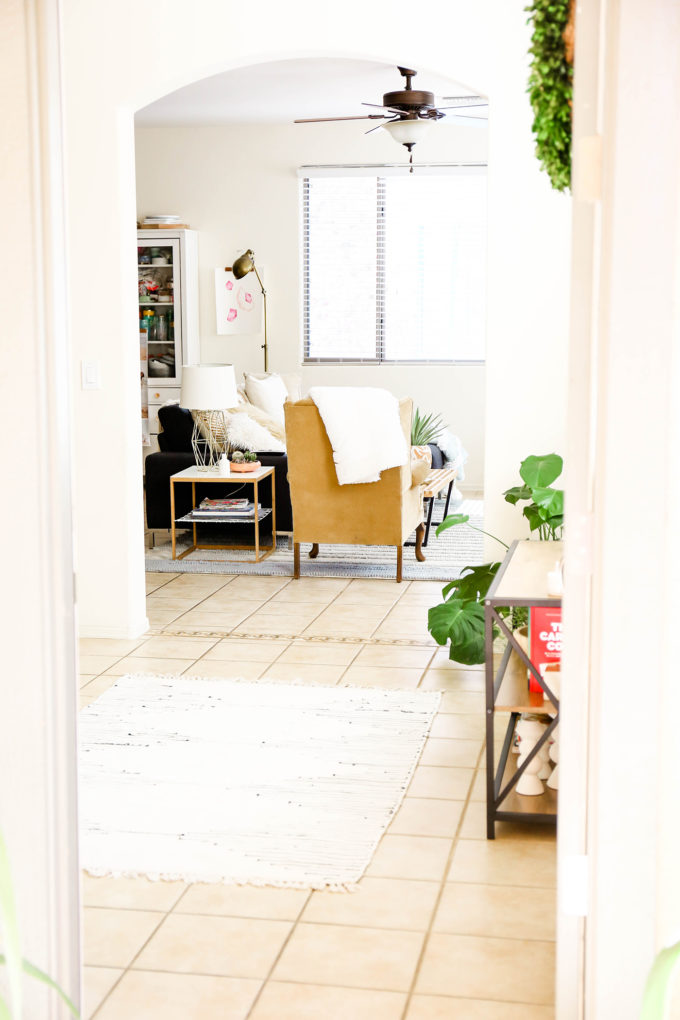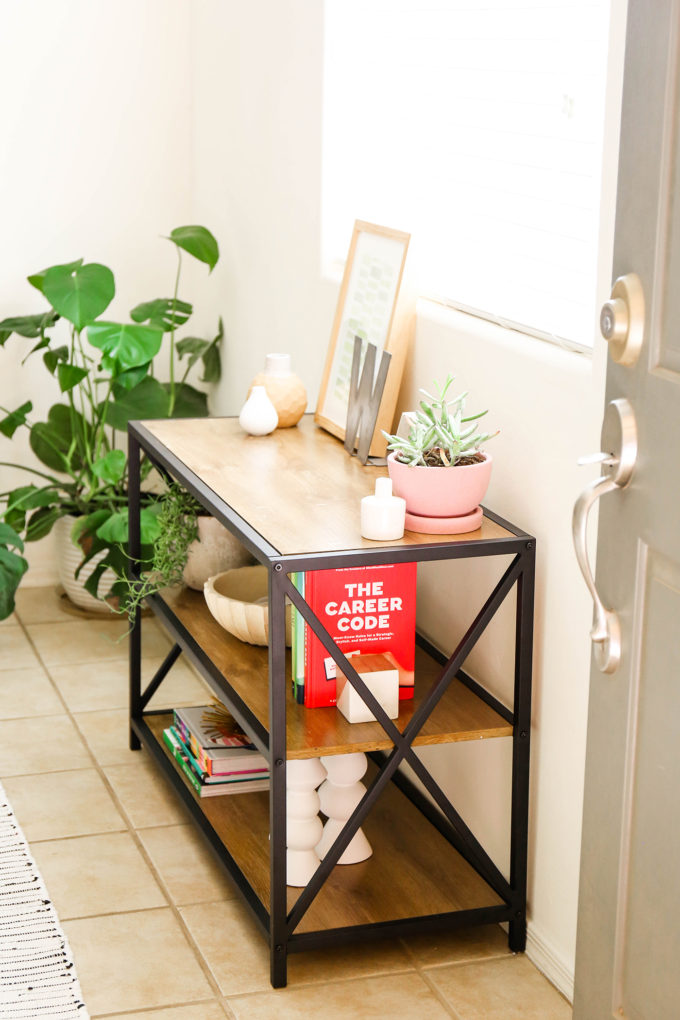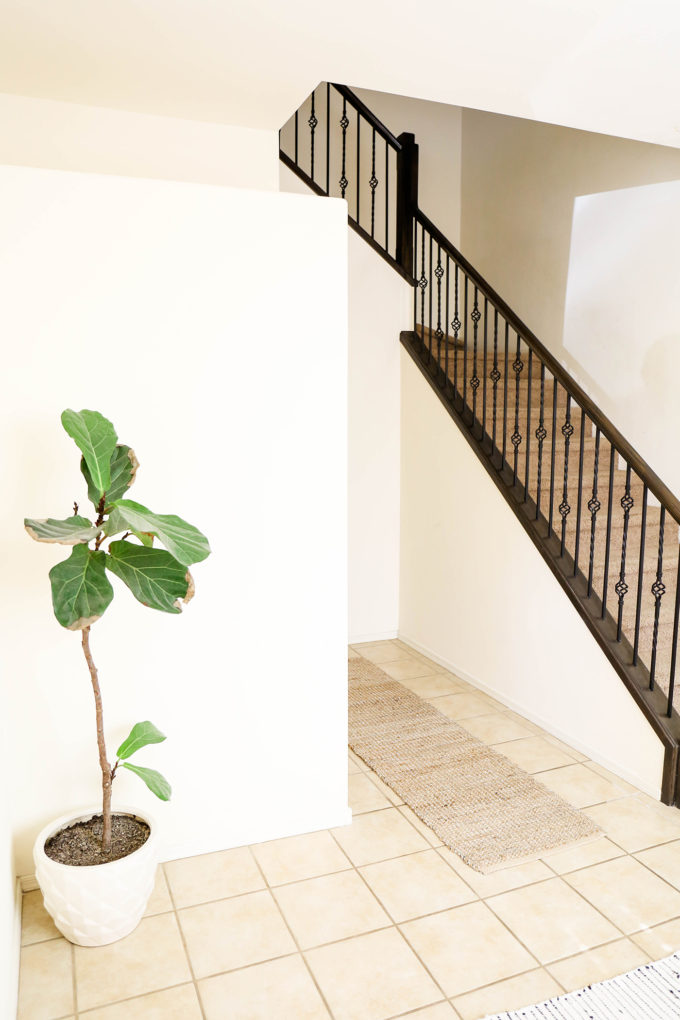 On an unrelated note, for some reason, the fig just can't handle the desert heat. I water that guy frequently, but he's seemed to ignore my desire to have a green thumb and it's starting to show. Any tips? I'd love to keep him around!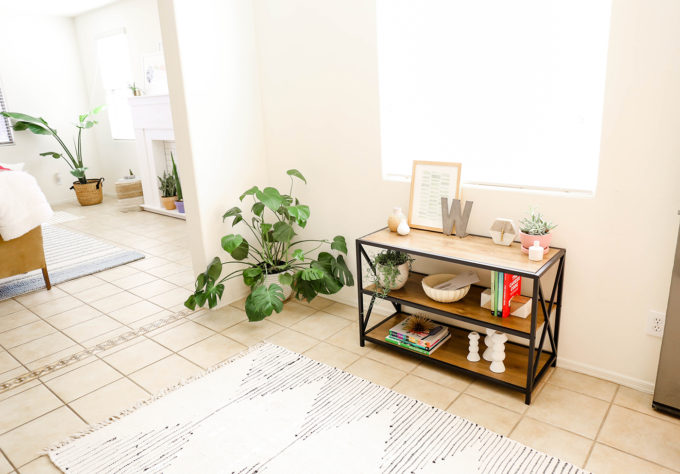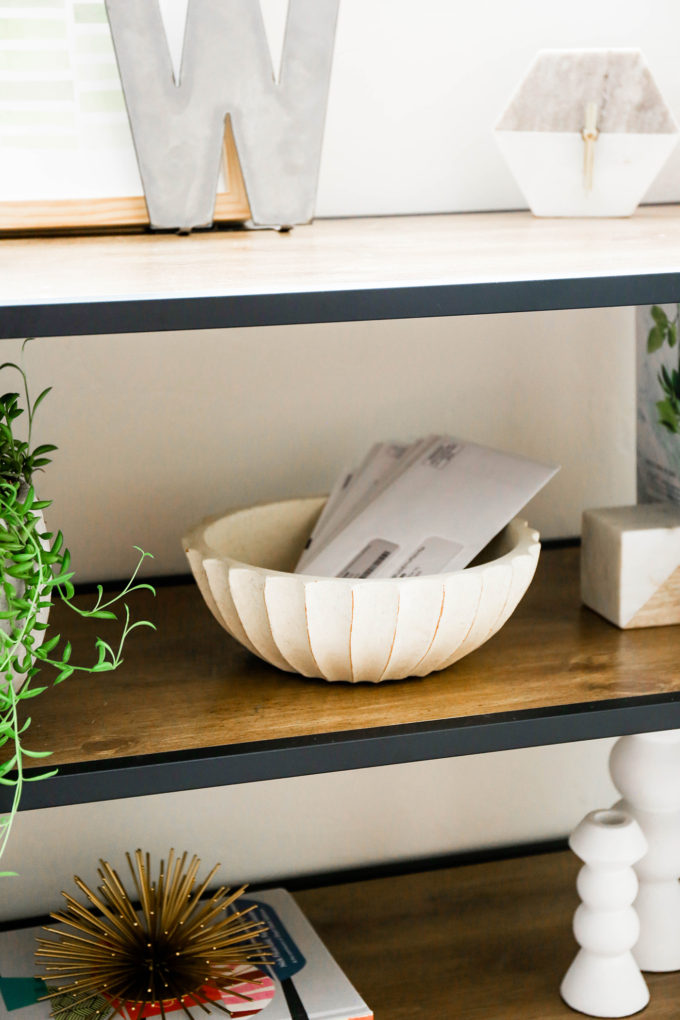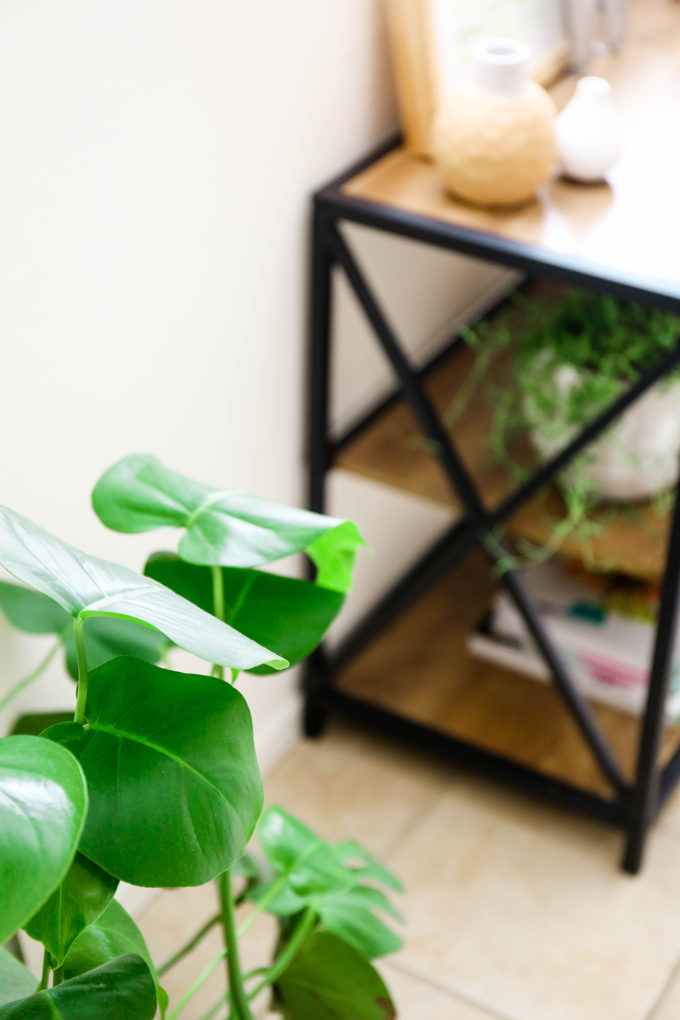 Of course, I had to add in another rug because jute is my fave and stands up so well to heavy foot traffic. I was able to snag that one for $9.99 at BB&B! I'm thinking I'm gonna need to go back and snag a few more for the kitchen. Find them right here!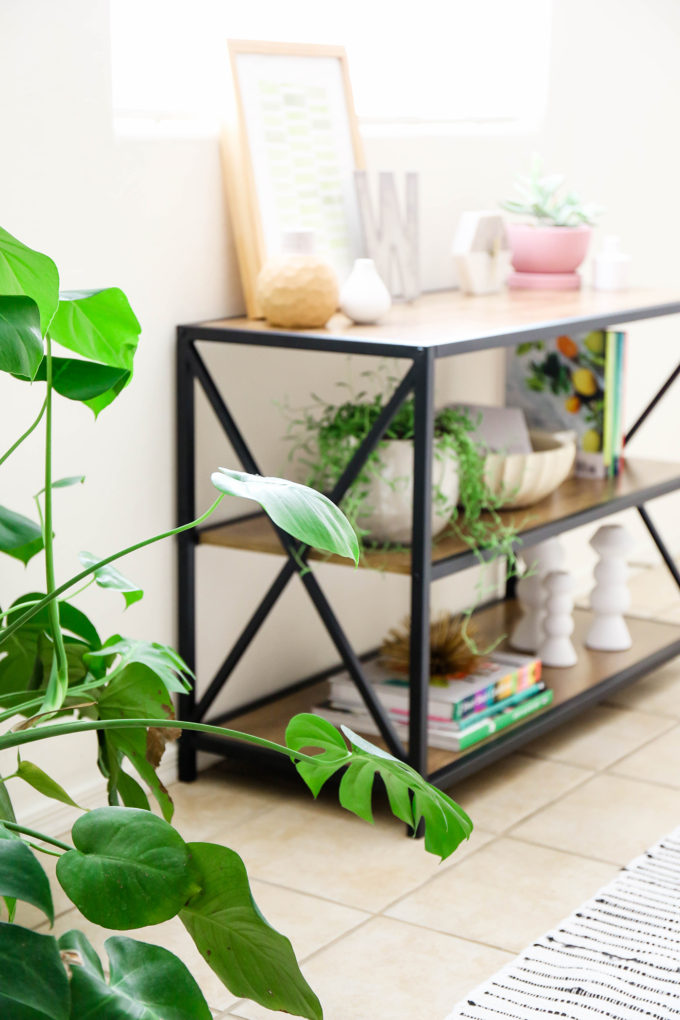 I really love how this entryway makeover turned out and feel like I'm okay if someone knocks on our front door and wants to come in! I'm no longer hanging my head in shame! In partnership with Bed Bath & Beyond, we created a little shopping guide to help you get a look similar to this one! All of these options (minus the monstera plant!) can be found at Bed Bath & Beyond and you can totally score free shipping online! Pull off your own spring refresh!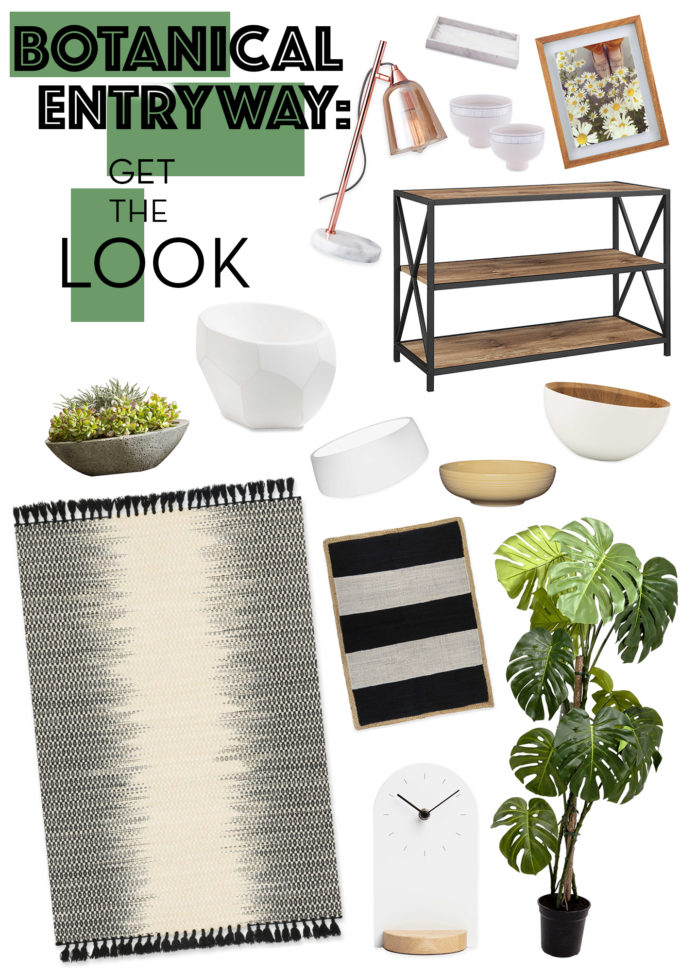 GET THE LOOK
Copper Marble Table Lamp || Camarillo Marble Vanity Tray || Glazed Ceramic Mirror Bowl || Umbra Walnut Wood Frame || X-Frame Metal & Wood Bookshelf || Celine Planter in Alpine Stone || Geometric Planter || White Glazed Ceramic Planter || Yellow Catchall Bowl || Large Wood Bowl || Magnolia Home by Joanna Gaines Chantilly Rug || Black & White Jute Border Accent Rug || Umbra Architectural Desk Clock || Monstera Plant
I definitely feel like our home is almost complete and we can just enjoy it and live in the space until we grow old. Renting forever? I hope that won't be the case, but I'm totally cool staying here for a little while longer!
** This post is in partnership with Bed Bath & Beyond, a brand that believes in creating beautiful spaces at affordable prices. Thank you so much for supporting the brands that help PROPER keep creating!
styling & photography \\ Lexy Ward