Today's Saguaro Sweet comes from my gal, Lizzy of Sugar Plus Butter. She knows her sugary-sweets and is an expert at important matters such as this. Take it away, Liz-lady!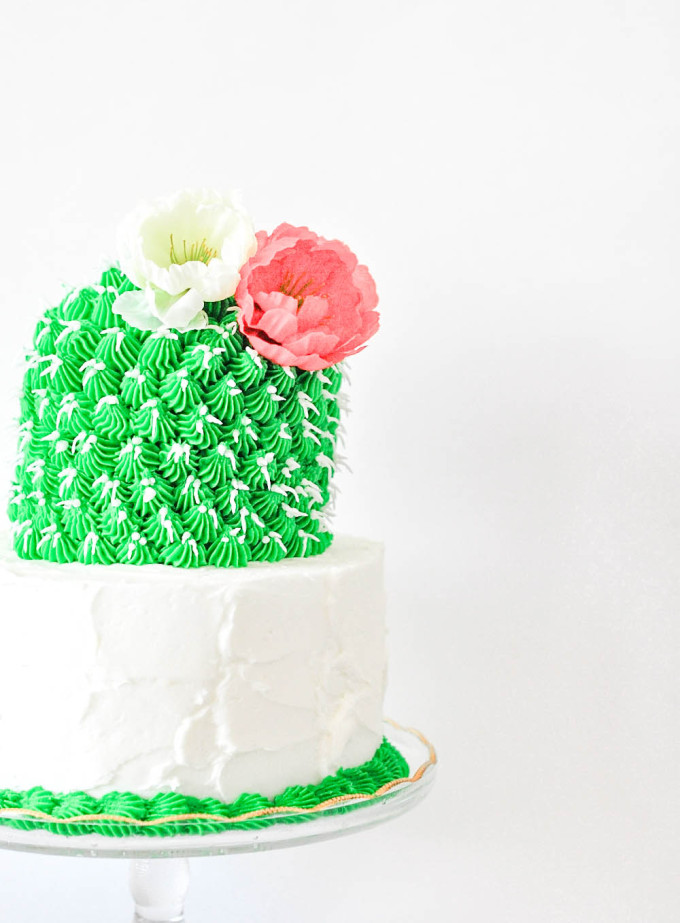 Hey, guys, it's Lizzy again.  I know you're like, "what's she doing here again?" Well, I'm bringing you cake, so shush.  Since Lexy just moved to the desert, I made a cactus cake to help her acclimate.  This colorful cactus cake is also perfecto for Cinco de Mayo – which, as we all know, is the best holiday.  I suggest that you show up to a sangria-soaked Cinco de Mayo event with this cake.  People will lose it.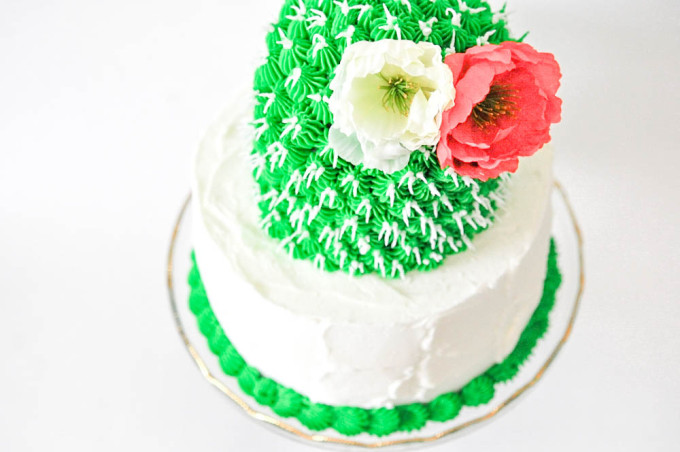 So, to have enough batter to make the cake pictured, you'll need to make this yellow cake recipe twice.  I wouldn't suggest just doubling the recipe and making it all at once unless you're super confident in your cake baking skills.
Yellow Cake Recipe
To make the cake pictured, you'll need to double this recipe
INGREDIENTS
1 cup unsalted butter (16 tablespoons), softened
2 cups granulated sugar
4 large eggs
2 large egg yolks
1 teaspoon salt
3 teaspoons baking powder
3 cups all-purpose flour
2 cups buttermilk
2½ teaspoons vanilla extract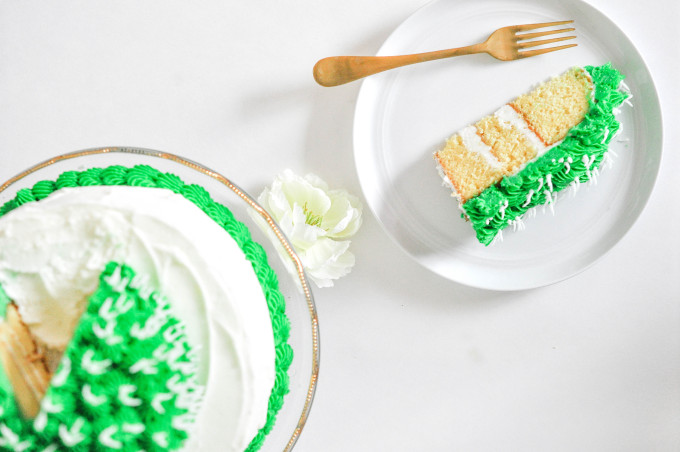 DIRECTIONS
Preheat your oven to 350. Prepare two or three 4″ pans or 2 8″ pans with nonstick baking spray or with butter/shortening and lightly coating the sides with flour.  Make sure to shake away excess flour if you choose this method.
Cream together butter and sugar until a light yellow in color.  This should take a little more than 2 minutes. Incorporate eggs one at a time, making sure they're fully incorporated before adding the next. After that add the egg yolks one at a time.  Then add the vanilla.
Sift together salt, baking powder, and all-purpose flour in a large mixing bowl using a mesh sieve.  If you don't want to/have the equipment to sift your dry ingredients, make sure to whisk them really well. Add 1/3 of the dry mixture into the butter, sugar and egg mixture and mix until just combined. Add half of buttermilk, stir until almost completely incorporated (you'll see a bit around the edges).  Add another 1/3 of the dry mixture and mix until just combined.  Add the remainder of your buttermilk, mix, then add the remainder of your dry ingredients.
Pour your batter into your prepared pans and put those things in the oven.
Bake until a toothpick or knife inserted into the middle of the cake comes out clean.  This will take about 25-30 minutes for 8″ pans, and about 15-20 for your small 4″ pans.  After they're done baking, let them rest about 10 minutes in their pans before turning them out onto a wire rack.
If you're putting together the cactus, leave the rounded top on one of your 4″ cakes, and use a serrated knife to cut the other two flat.  If you're putting together the base, you'll need to cut both layers flat.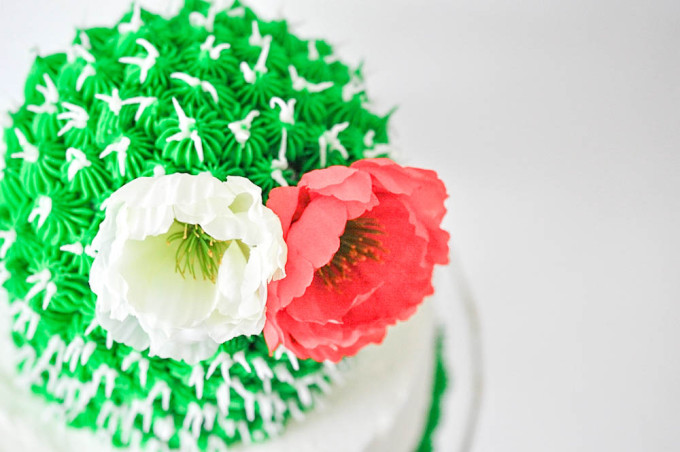 My favorite frosting recipe
INGREDIENTS
3 cups shortening
1 1/2 cups (3 sticks), room temp butter
5-7 cups powdered sugar
1 teaspoon of vanilla
2-3 tablespoons milk
DIRECTIONS
Beat together shortening and butter.  Scrape down the sides of your bowl and add 2 cups of powdered sugar at a time.  Add your vanilla.  Add the milk as/if needed.  Your frosting should be fairly stiff by the time you're done, so that it 100% holds it's shape when you lift your whisk out.
Take about a third of the frosting and place in another bowl.  Add your green food coloring and mix very thoroughly.  This is what you're going to pipe on the outside of the cactus!  Keep in mind, if you're using gel colors, your color will keep developing up to a day later.  It isn't a very stark difference, but if you just can't get your frosting a dark enough green, it will likely develop further over time.
To assemble your cake, first frost and layer your 8″ round cake.  I took a messy approach to frosting the bottom portion because it kind of reminded me of stucco which helped accentuate the dessert feel!  Don't spend too much time trying to make this part perfect because the cactus is going to take you a while.  Place two skewers through the center of your cake, leaving about 3 inches sticking out of the top.
Take your small layers and place some frosting between each layer and stack them.  Place them on top of the skewers in the very center of the 8″ cake.  This will keep it from moving around too much when you're frosting.  Next I took my remaining white frosting and put a very quick thin layer over the cactus portion.  This is just to give your green frosting something to really stick to or cover any imperfections in your cake layers.  Again, you don't need to spend a lot of time on this because it won't show!
Take your green frosting and put it in a piping bag fitted with a Ateco 1M tip.  Starting from the bottom, pipe spikes with your green frosting, pointing down at a diagonal.  This will have your "spikes" kind of facing upward.  Go around the cake in a row.  Window the next row of spikes in between the others in the row below to fill all empty space between them.  Continue until you get to the top of the cake and cover the entire thing.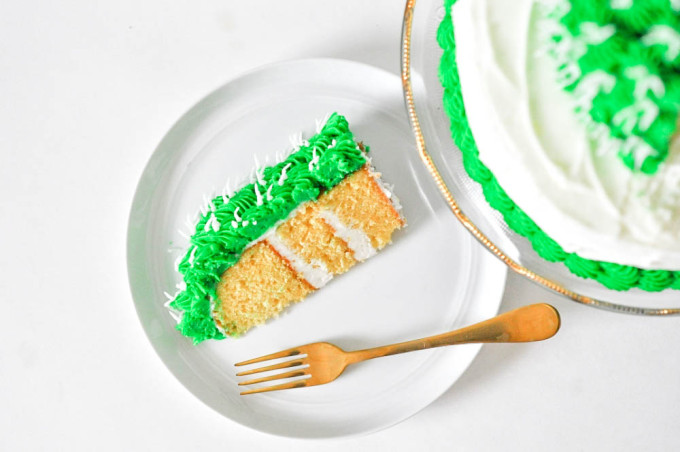 Next take your remaining white frosting and put it in a bag with a very small round tip, ideally an Ateco 261.  Out of the center of each spike pipe 2 or 3 pricklies.  To do this, just pull straight out from the cake while squeezing the bag.  Tip: If you maintain pressure on the bag all the way until the end of your prickly, it's more likely to stick straight out.  Imagine you're trying to draw a straight line and make the entire line the same thickness.
Continue this until every spike has a few white pricklies coming out of it.  Add a faux flower or two to the top (available at Michael's or most craft stores) and you're all done!
See Lizzy's last amazing (and gorgeous!) pink and blue cake
right here
! And check out more of her delicious treats over on her blog,
Sugar Plus Butter
!