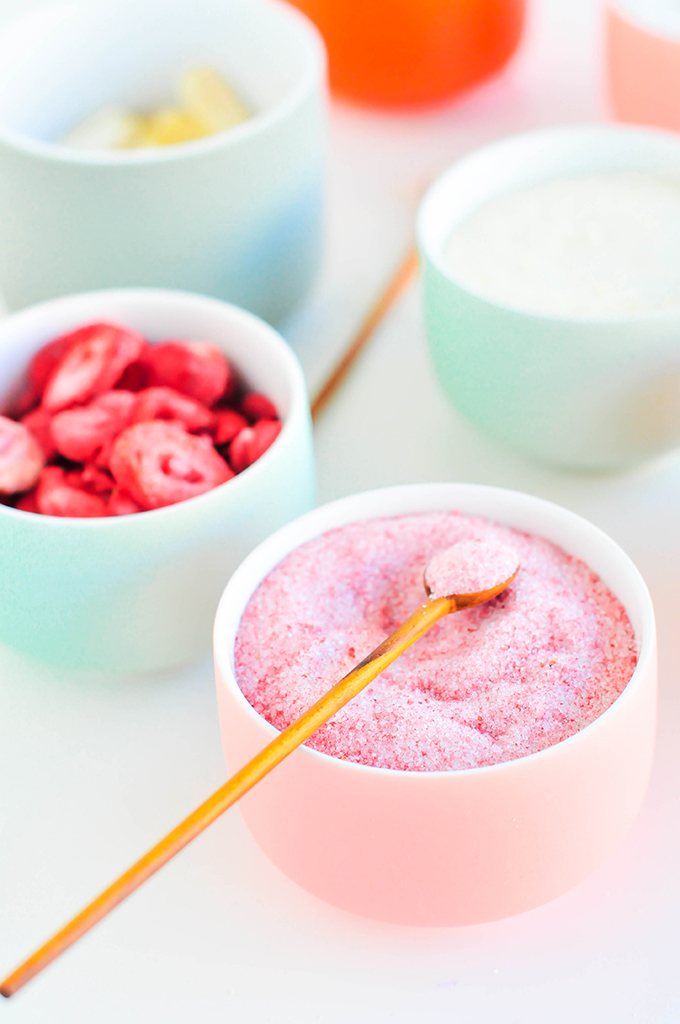 When I was in college, I was a waitress at a few different restaurants. That's right. I made my living working 'round the clock serving others delicious food and then devouring my own free breakfast, lunch, and dinner before and after my shifts. One of the restaurants I worked at used to make the most delicious gourmet sugars to add to their desserts. The people loved the sugars. Fo' real. And honestly, who doesn't love sugar? I've been making assorted sugars for our house as long as I can remember, and it's time you knew the magic. These DIY fruit-infused sugars are the real deal. Not only are they a great addition for the kitchen, but they make the cutest little gifts for anyone you've wronged. Or anyone you love. Tomato-Tomahto.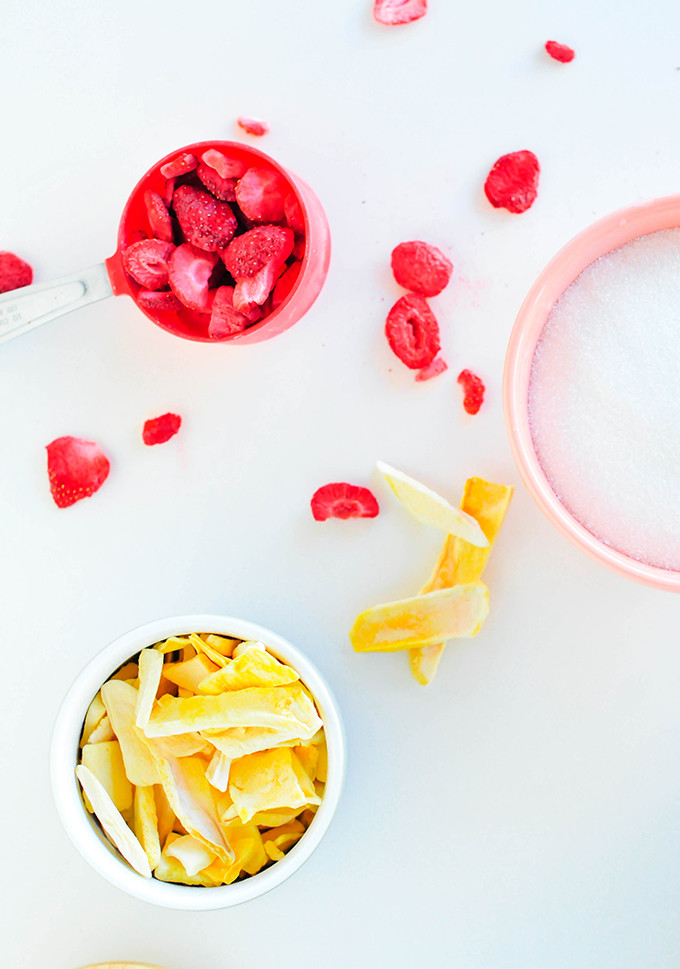 Make your own DIY fruit-infused sugars
1 part freeze-dried fruit (we used strawberries, pineapple, coconut, and mango)
2 parts cane sugar
1/4 tsp water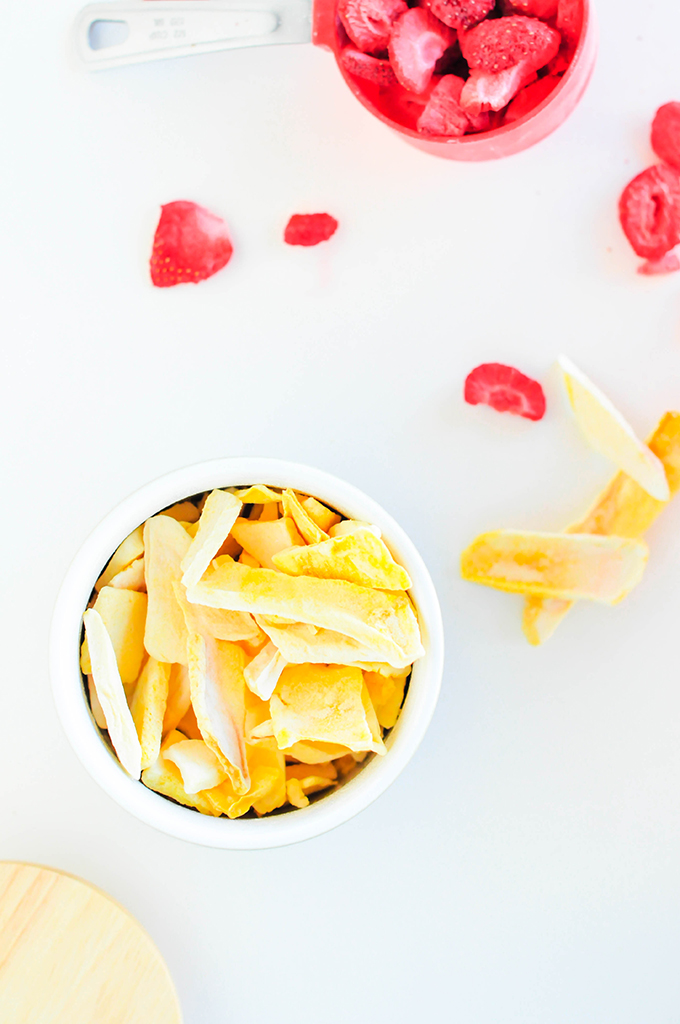 It's important to use freeze-dried fruit here. You're basically pulverizing the fruit in a food processor or blender, so you want there to be almost zero-moisture in the fruit so it turns into a powder.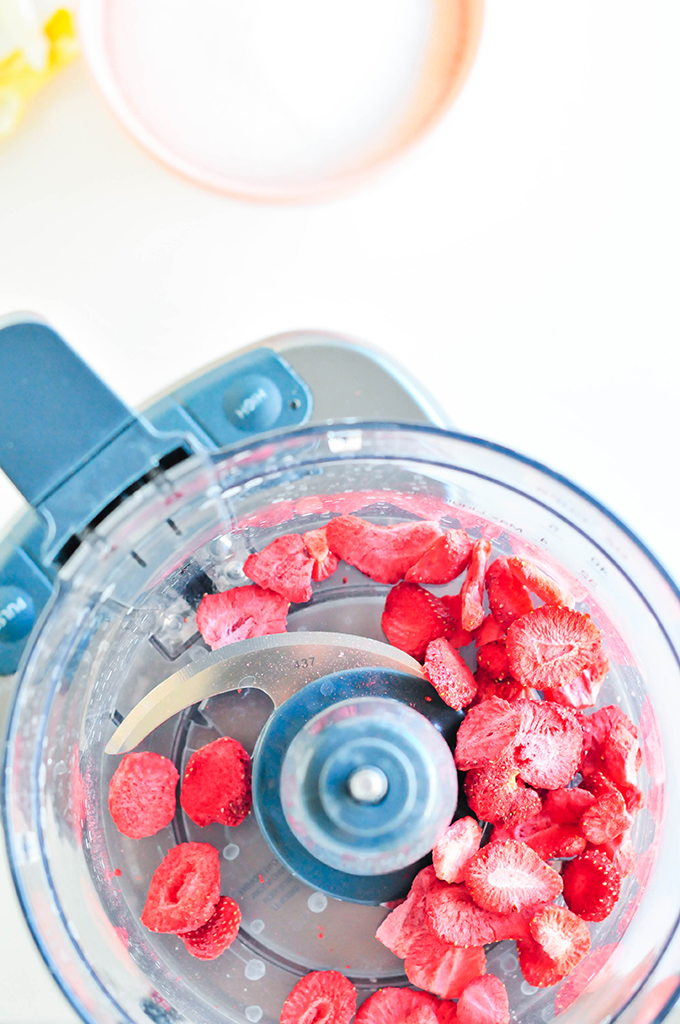 Pour 1 cup of the fruit into a food processor and pulse that sucker! Keep chopping it up until the fruit has turned into a fine powder.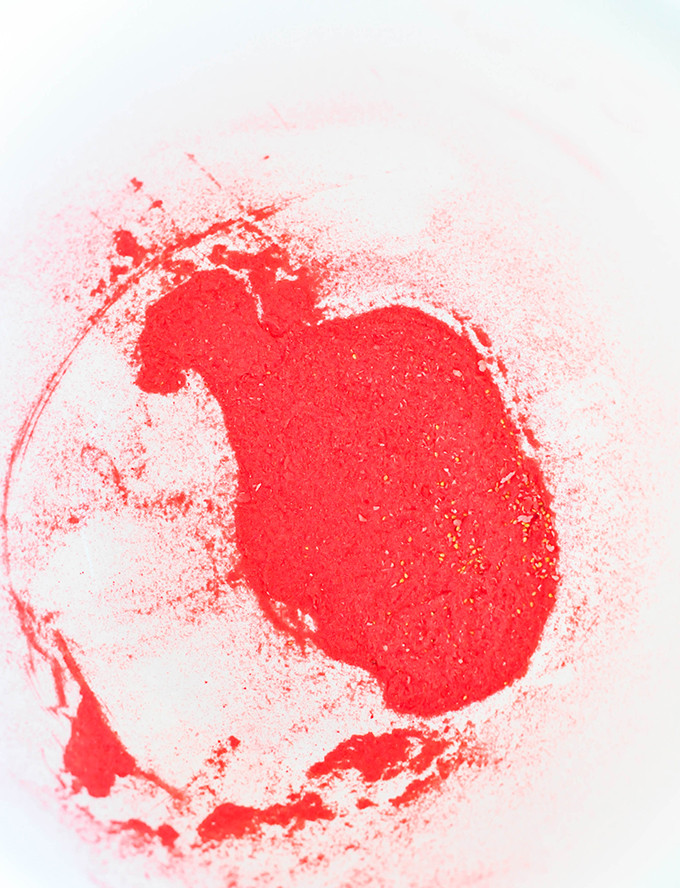 Use a sieve or strainer to remove any chunks or bits that were too stubborn to disintegrate. Pour the fruit powder into a large mixing bowl.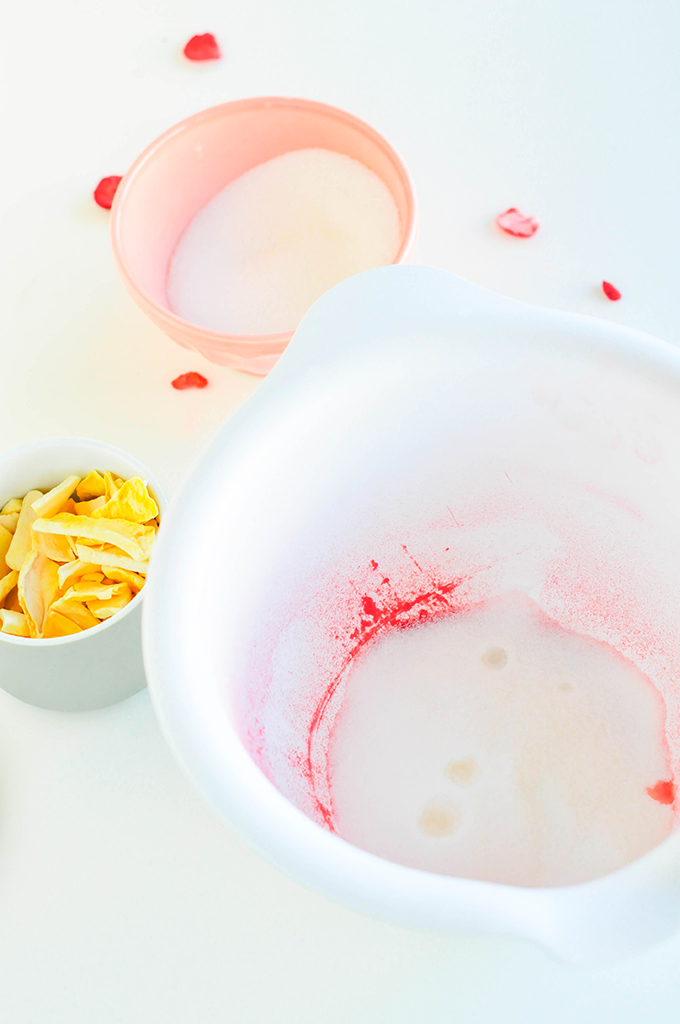 Add 2 cups of granulated cane sugar to the fruit powder, along with 1/4 tsp of cold water and use your hands to mix and rub the sugar and fruit powder together.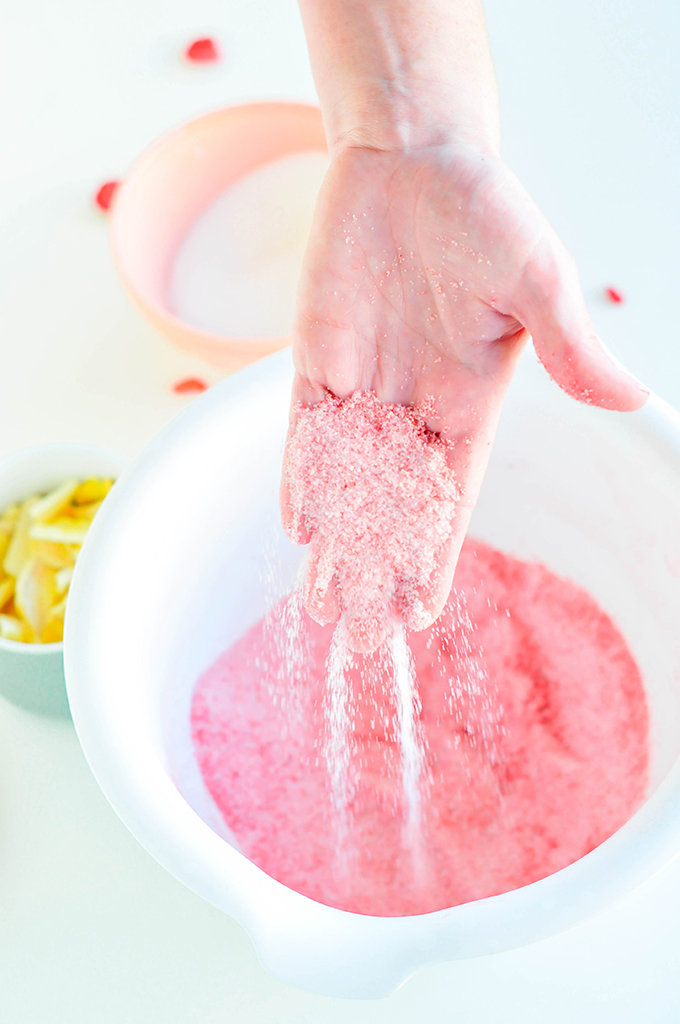 Mix the sugar well and rub any lumps out.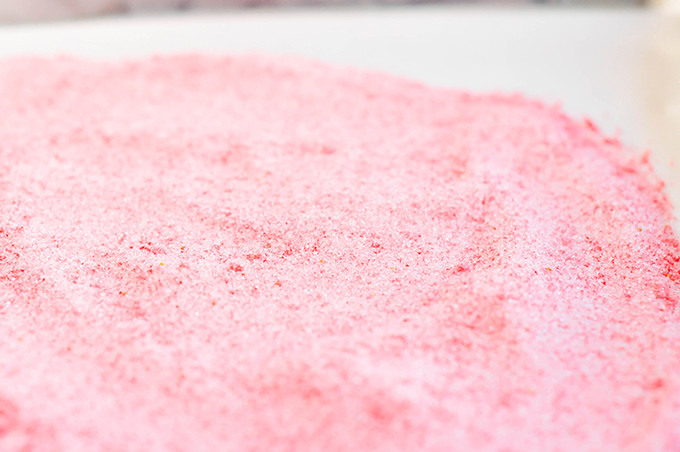 Pour the newly-fruited sugar onto a parchment-lined cookie sheet and spread out.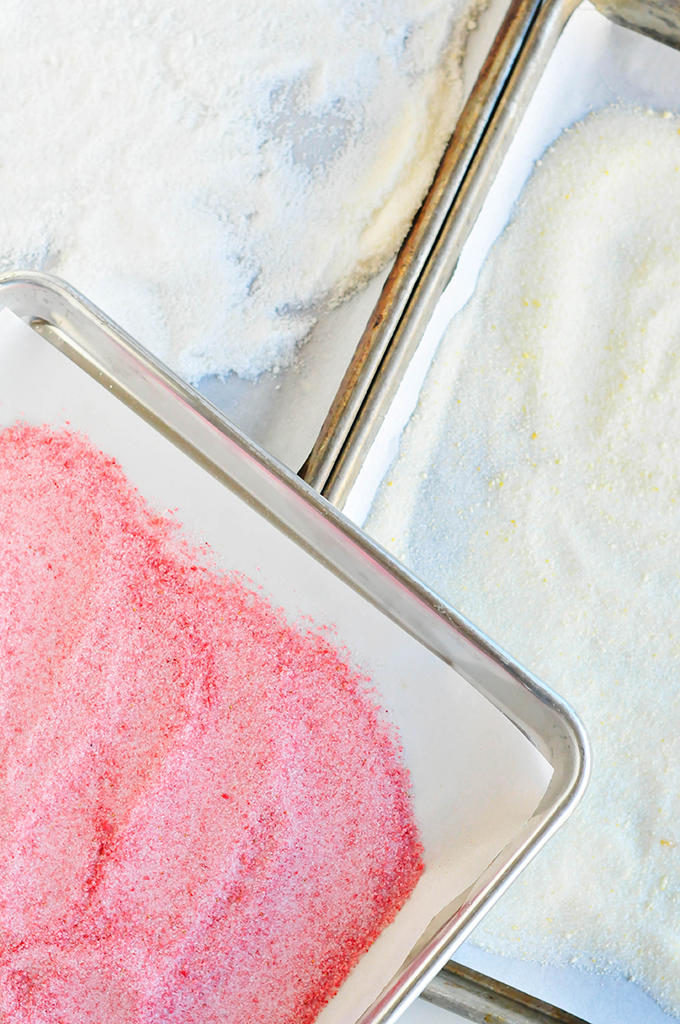 Allow the sugar time to dry for 2 hours before using or packaging up for gifts.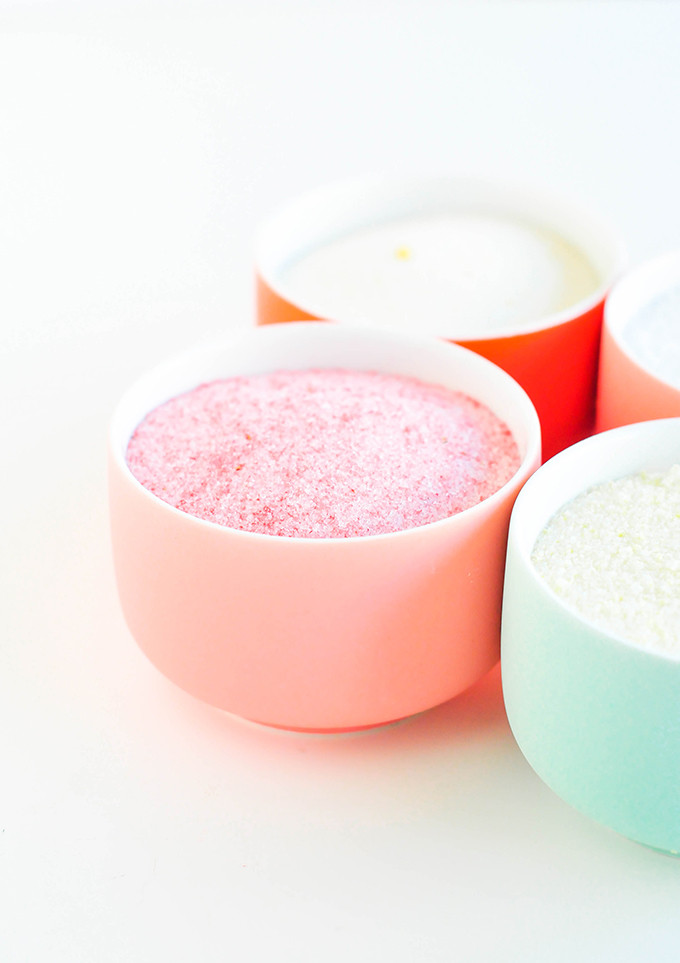 And then get ready for all sorts of sugary goodness!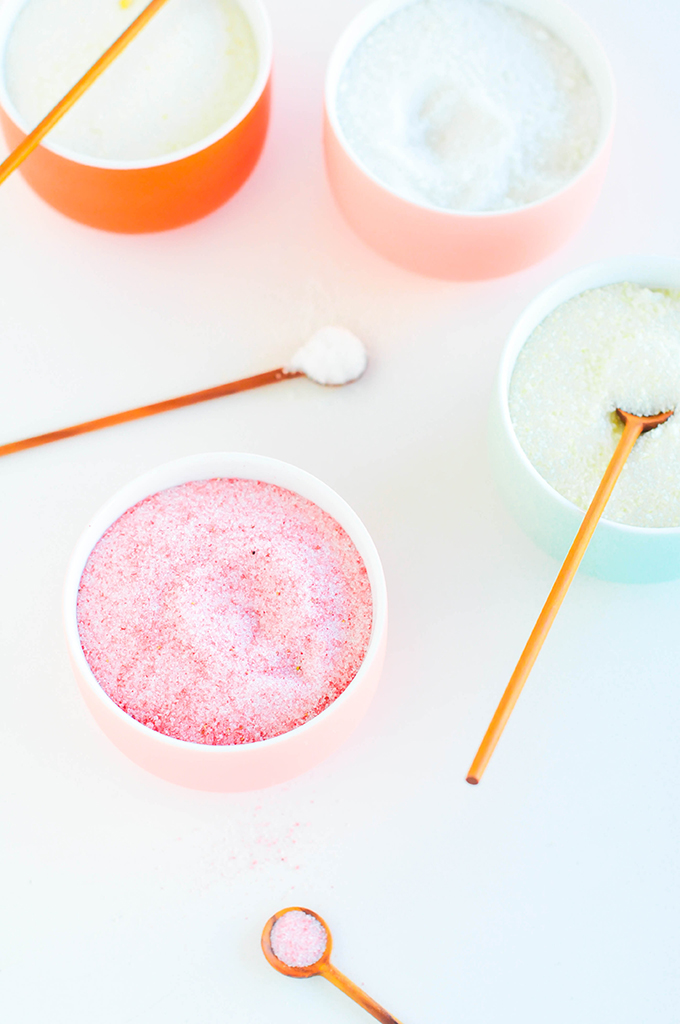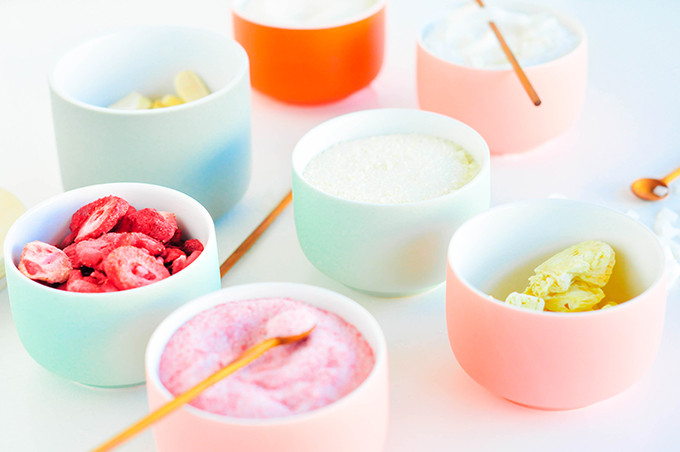 I have this love for freeze-dried fruit that goes deeper than I can explain. In a world where everything I eat is decided by blood glucose levels, freeze dried fruit has been a real life-saver. So why wouldn't I just add it to a cup of sugar?!?!?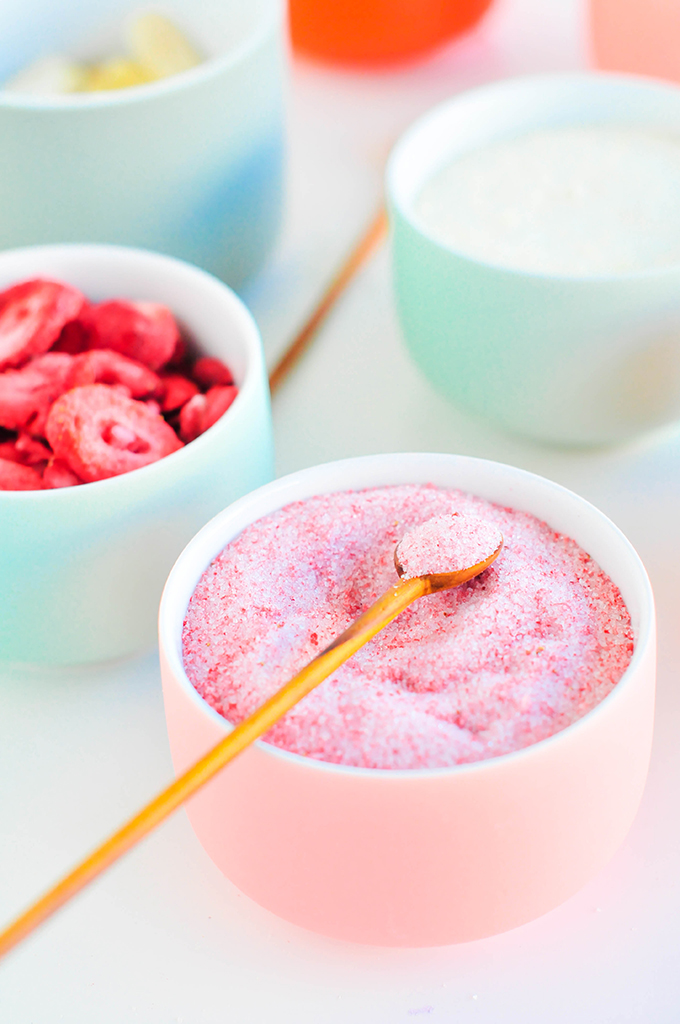 Is there anything better than a bowl of pink sugar? Maybe a bowl of pink chocolate? Nope, I take that back. The sugar has it.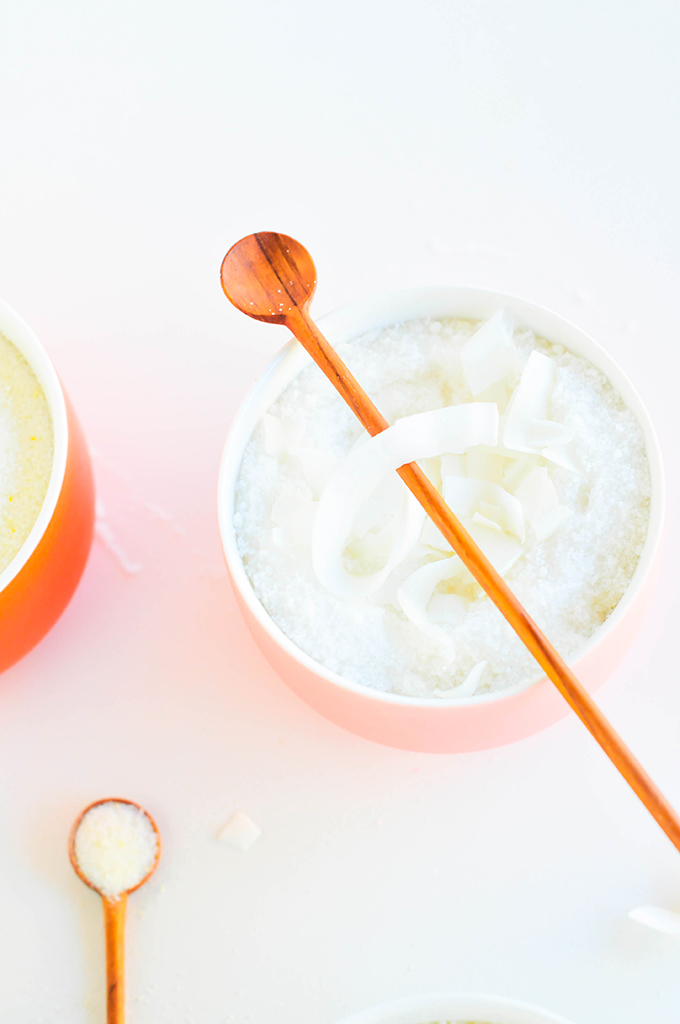 The coconut sugar is absolutely divine. It tastes like the beach. If the beach were to be a sugar flavor.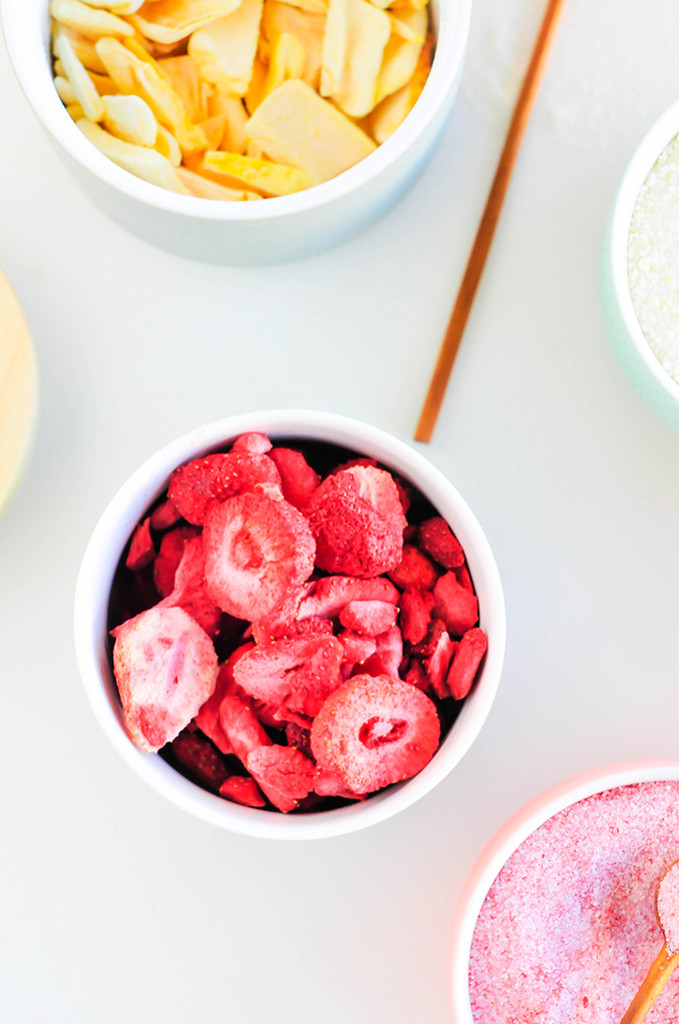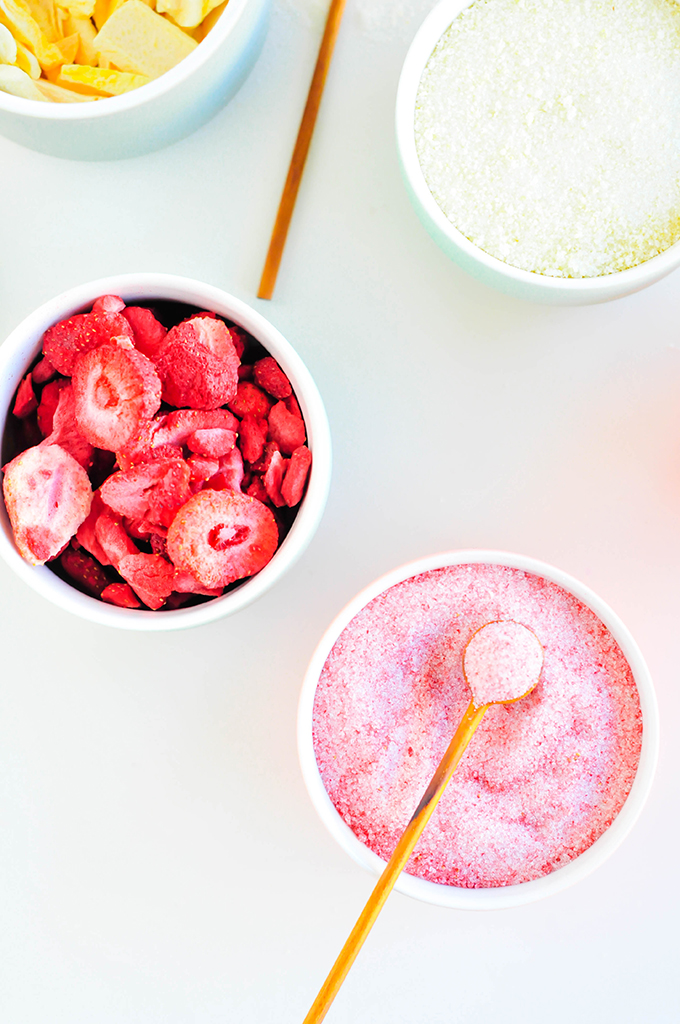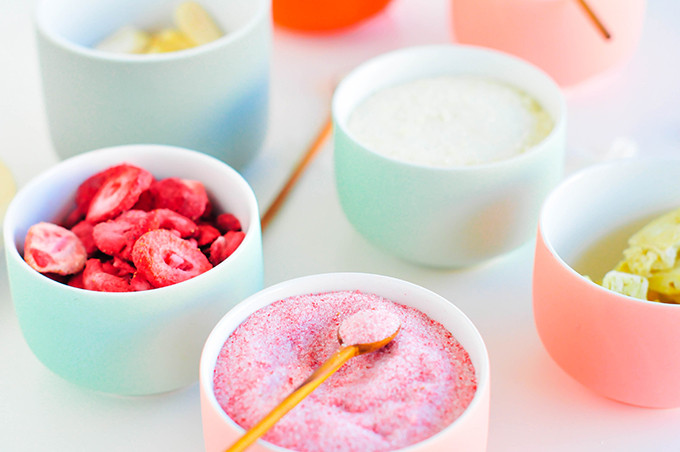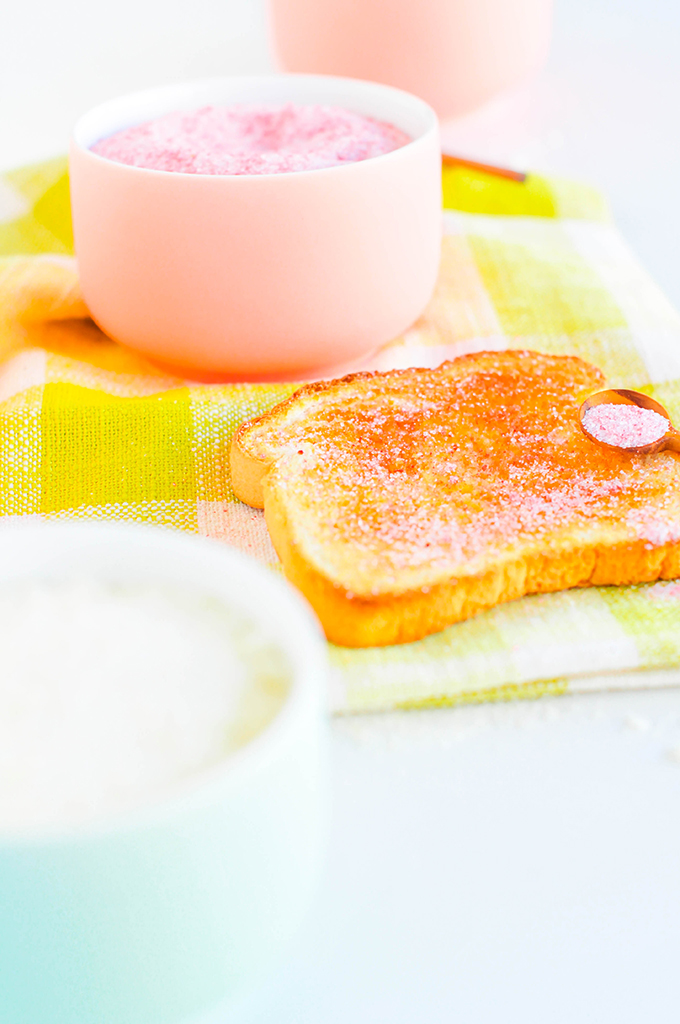 These sugars are excellent on toast. The strawberry might just be Vita's favorite. We go through a lot of toasted bread in our house.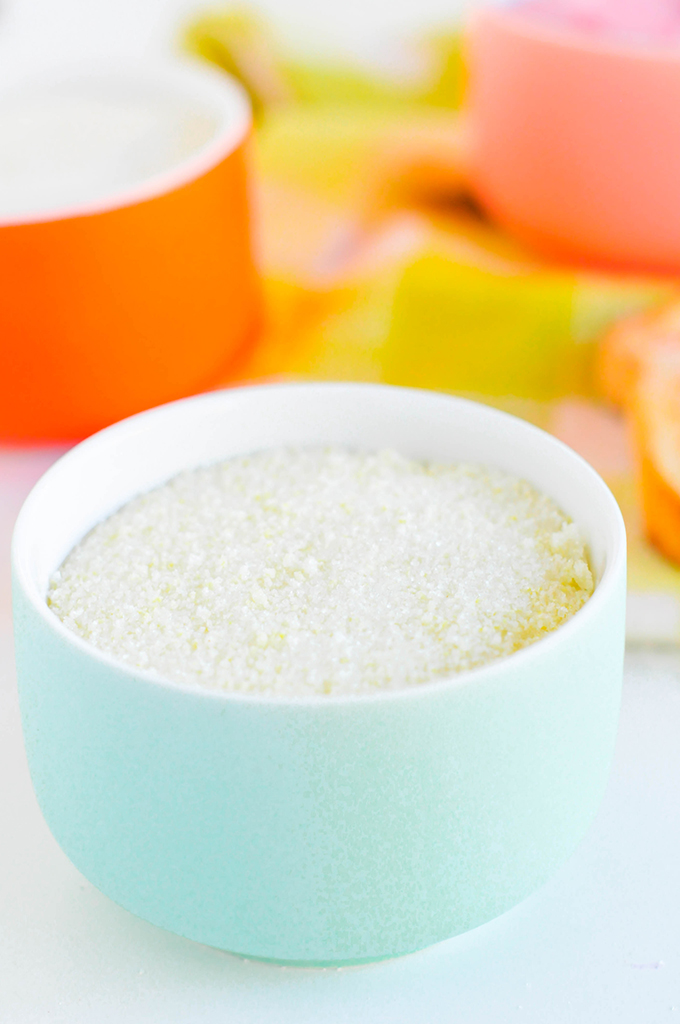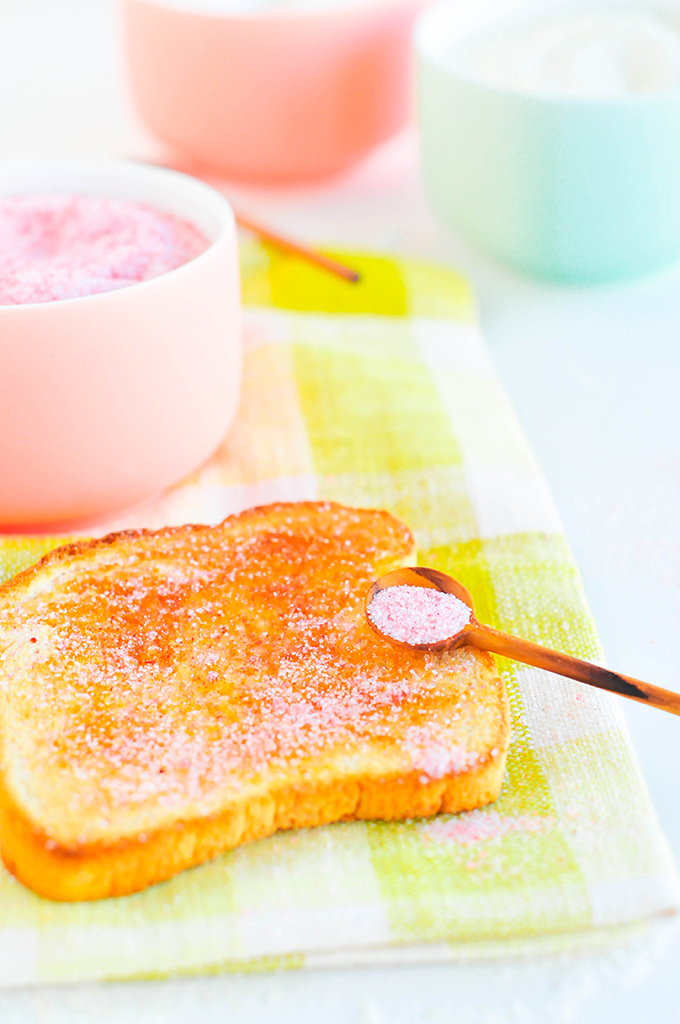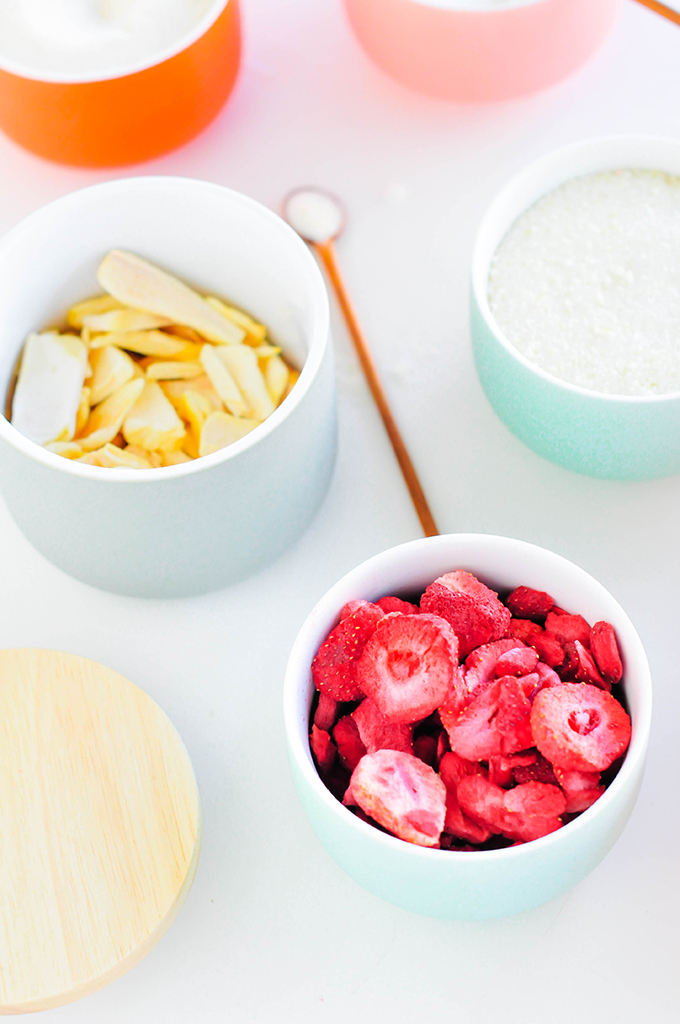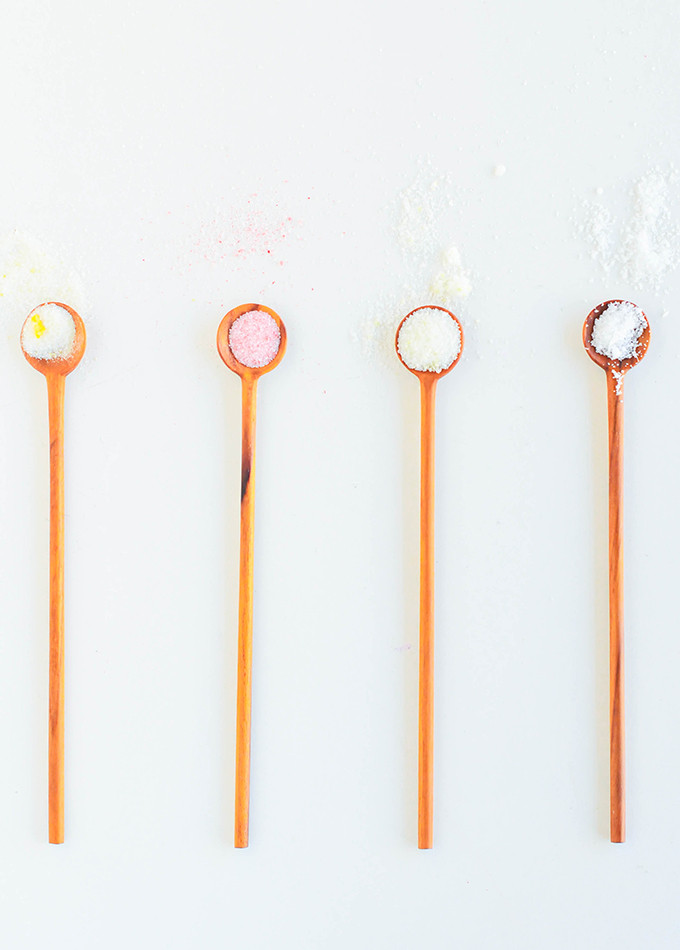 From the left: mango, strawberry, pineapple, coconut
Gang's all here!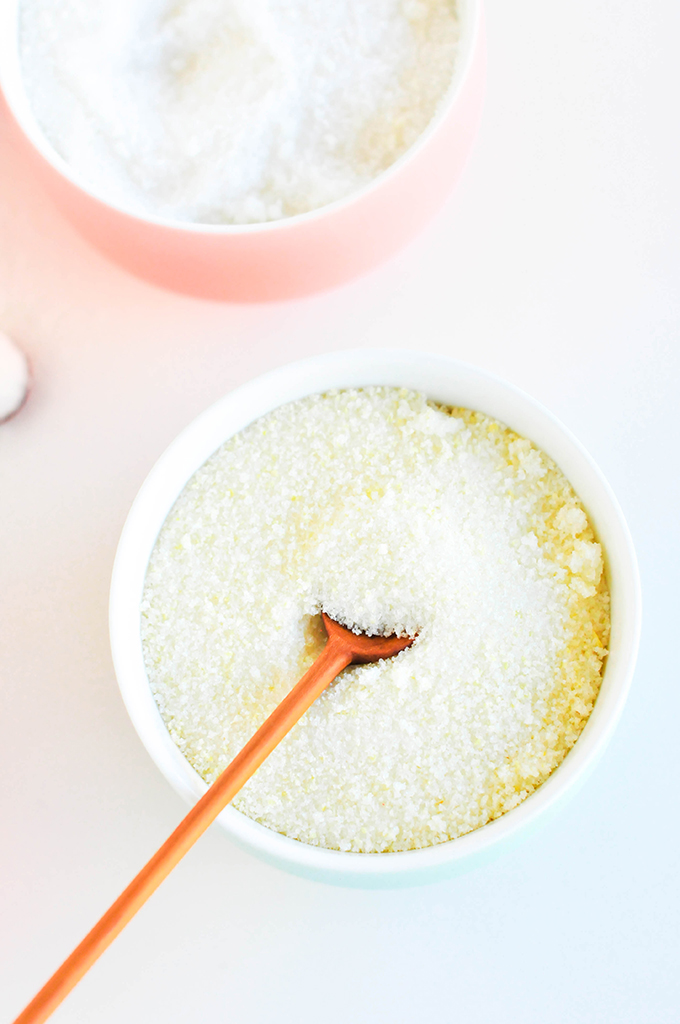 The sugar takes on the loveliest color based on the fruit you pair it with. The pineapple and mango are a beautiful yellow that I just can't capture properly with a photo! I'm no Ansel Adams.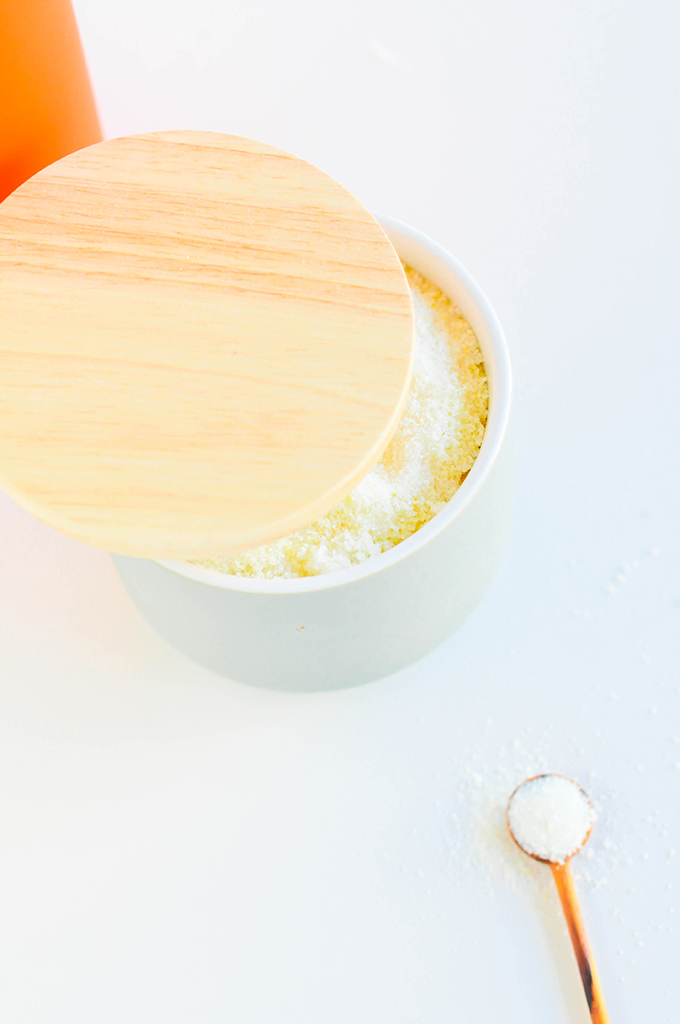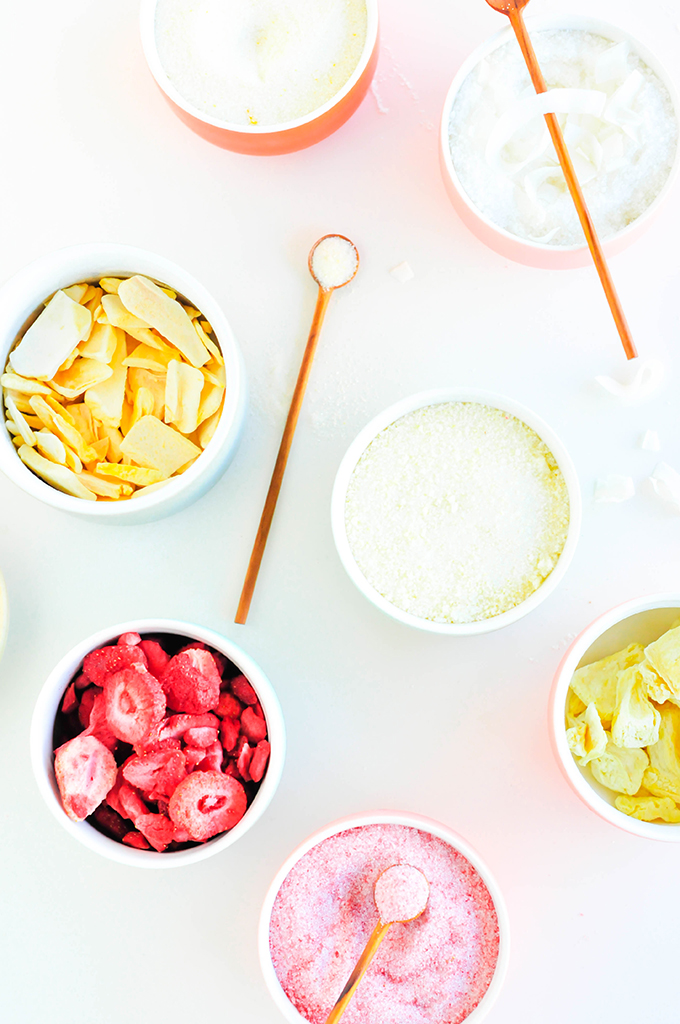 Pack up the sugar of choice in a cute jar and deliver to all your neighbors. Or just the ones you like. You're sure to be everyone's favorite! I guarantee it! What flavors would you try? I'm on the hunt for some new fruit options!
Check out some more recipes from our kitchen right here! 
photography \\ Lexy Ward