This is a sponsored conversation written by me on behalf of Cricut. The opinions and text are all mine.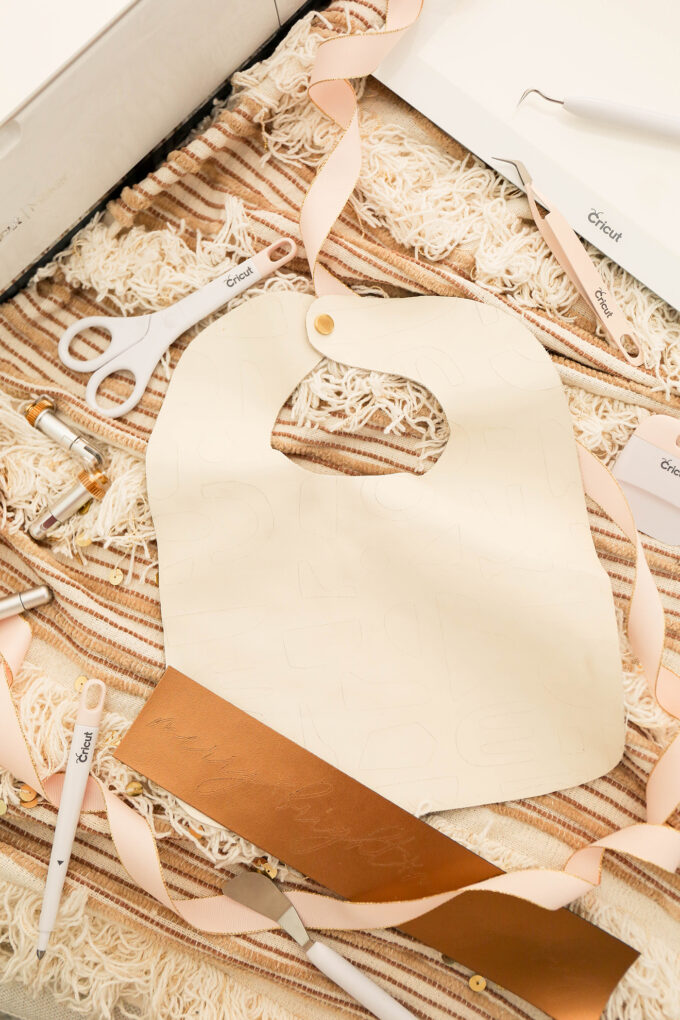 This has been a year full of Cricut-themed projects for me! I got the Cricut Maker exactly one year ago and have been blown away by all of the possibilities for making. Every time I share one of our projects made with Cricut, I get a lot of messages asking all sorts of questions about the machine! I thought I'd share a little more about the materials I like cutting with my machine. If you've had your eye on one, hopefully this post will help you see the potential for alllllll the creativity!
What Materials Can I Cut With Cricut?
When I first got the Cricut Explore years ago, I was floored when I saw all that it could do. I have always enjoyed paper crafts, but didn't really understand all of the hype behind Cricut's machines. Until I got one. Paper crafting is, like, the entry-level skill. It's a basic skill that is beautiful when you think outside the box! And there is so much that can be done using the expansive list of tools that Cricut has created. The Maker takes all of your favorite things about the other machines and packs a more powerful punch allowing you to really push your creativity. It's about more than just the paper!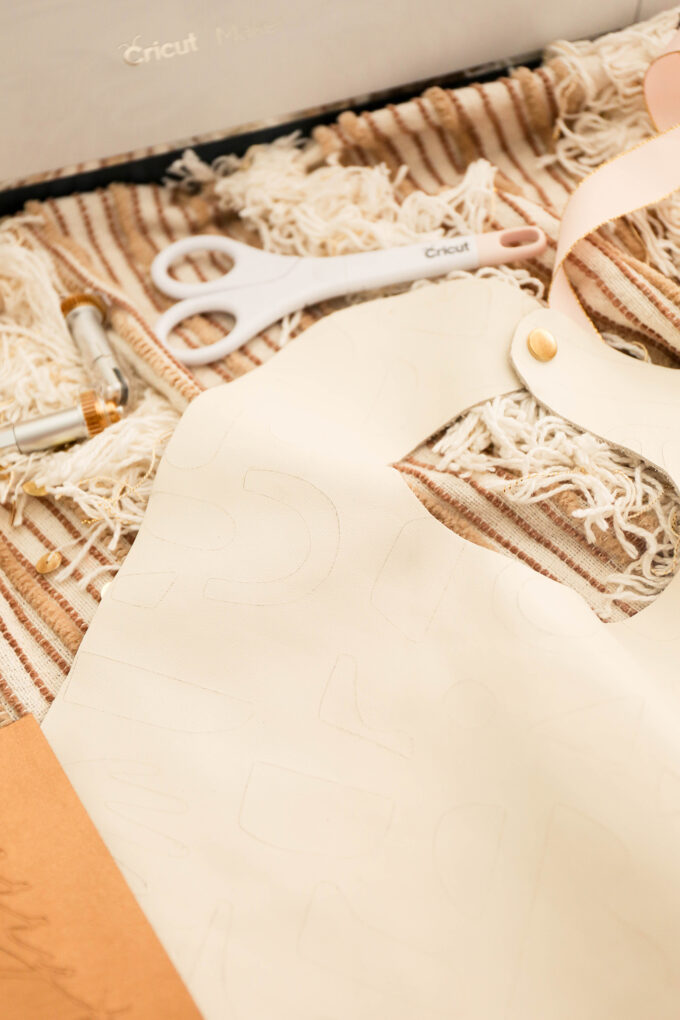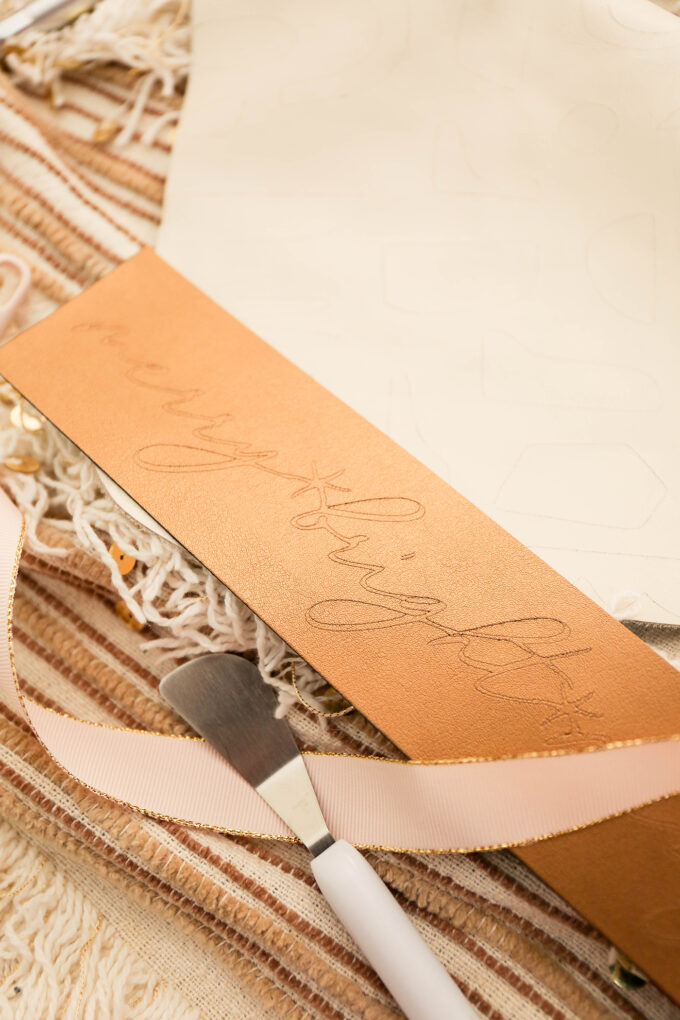 Leather – I think leather is my ultimate favorite material to use with my Cricut Maker. I started cutting out hair accessories and keychain supplies. One day, I had the idea to cut out a bib for Mara and decided to use my Debossing and Engraving Tips to add some designs to them. That project solidified my (already-deep) love for my machine. Since then, I've been selling bibs as a little side gig and it has been so fun to create these unique bibs! I just picked up a large piece of white-ish leather and it has been producing my favorite ones yet!
Paper – Yes, this paper cutting machine is what started it all. The Maker cuts paper, but it does so much more than that. This isn't just a machine for scrapbookers anymore. I made a popsicle photo booth backdrop entirely from paper several years ago for You Are My Fave and it's still one of my favorite party ideas! I've seen dresses and props for window displays cut completely from paper using the Cricut. Take a cue from The House That Lars Built and make some giant paper stars for the holidays!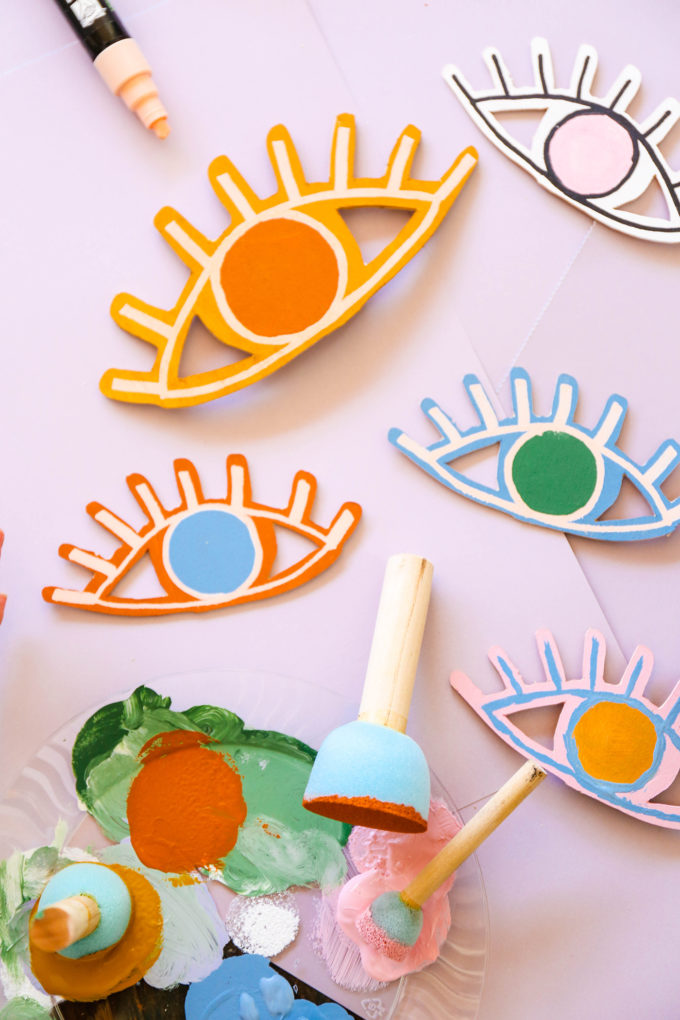 Wood – This was a game-changer for me. The Cricut Explore can cut thin balsa wood and the Maker can cut thicker materials like basswood! We cut out wooden "eye-like-you" valentines earlier this year for Vita's class and they were such a huge hit! I saved a few for myself because they make excellent keychains. You can cut out home decor items, tall skinny tree shapes for holiday decor, puzzle pieces, and more. Just scroll through Cricut's Design Space for loads of inspiration.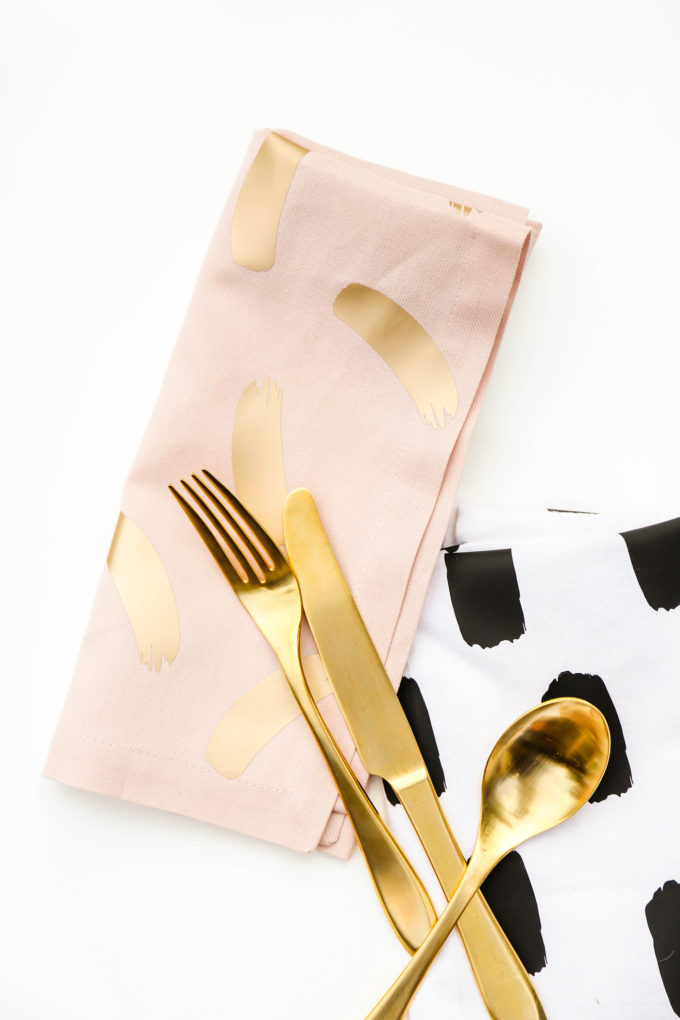 Vinyl – Guys, cut out adhesive material! This is also a vinyl cutting machine and the projects are endless. I made these dinner napkins using iron on vinyl and it was so easy to cut the shapes we had designed. You can customize backpacks, water bottles, notebooks, hats, clothing, and so much more.
Fabric – I am not a huge sewer/quilter. I do enjoy sewing, but I always go for the easy projects. It can be a little intimidating when working with fabric! But you guys! The Maker can cut fabric in multitudes of designs. You're really only limited by your imagination! There is even a mat specifically for cutting fabric. It's sticky enough to hold your fabric steady while you cut the most intricate designs for your projects! These felt stockings have really got my head spinning for some custom stockings for the girls!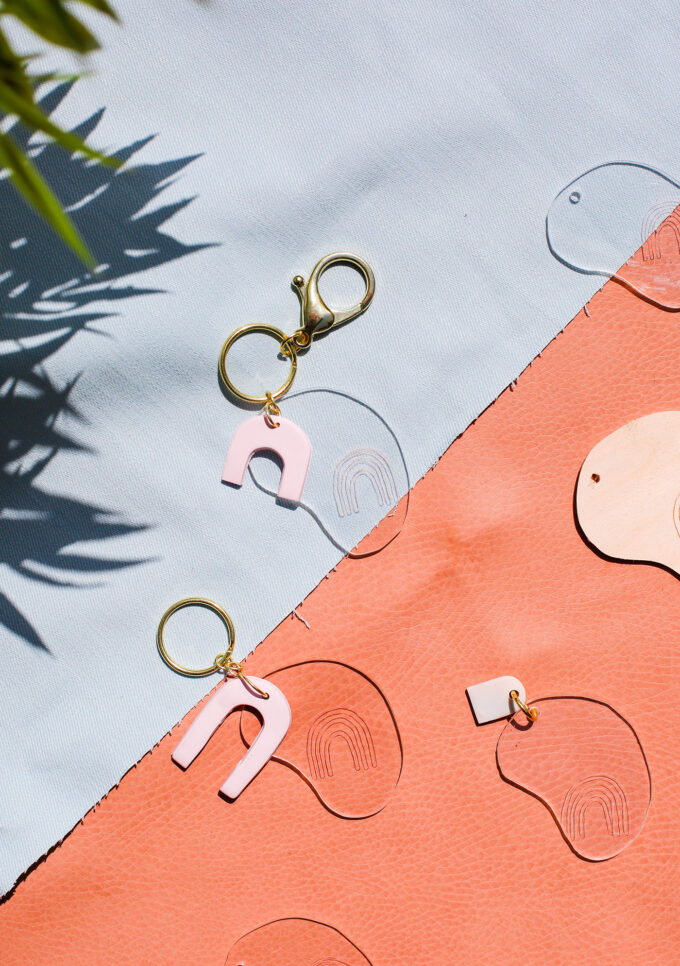 Acrylic – Using the Engraving tool, you can engrave designs into acrylic! I had this idea for acrylic keychains with an organic shape in my mind for sometime. I was able to engrave the shape into the acrylic and also engrave a small rainbow. After the engraving was finished, I used a bandsaw to follow the lines that were engraved. It was the perfect template!
What materials can I engrave?
metal
acetate
leather
foil posterboard,
plastic
aluminum
acrylic
watercolor paper
vinyl record
and more!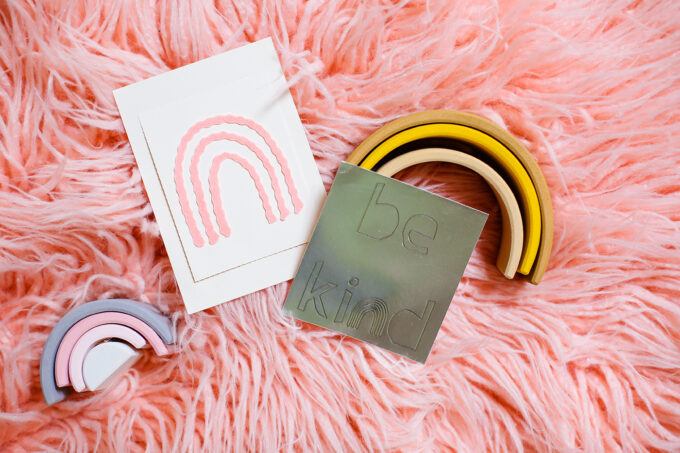 What about the accessories?
One of my favorite tools I've been using lately has been the Cricut Bright Pad. This has helped when I'm weeding the most intricate designs and can't find where they begin and end. You place your material on the surface, flip the switch, and it illuminates your project! Totally saves you from the eye strain and your little ones will think it's a really cool iPad. Mara likes to pretend it's hers when I'm not using it.
I also love the Maker because I can connect to it wirelessly via bluetooth. This makes it very easy for me to design projects comfortably from my desk or couch, and send them directly to the Maker when it's time to cut. Hooray for less clutter!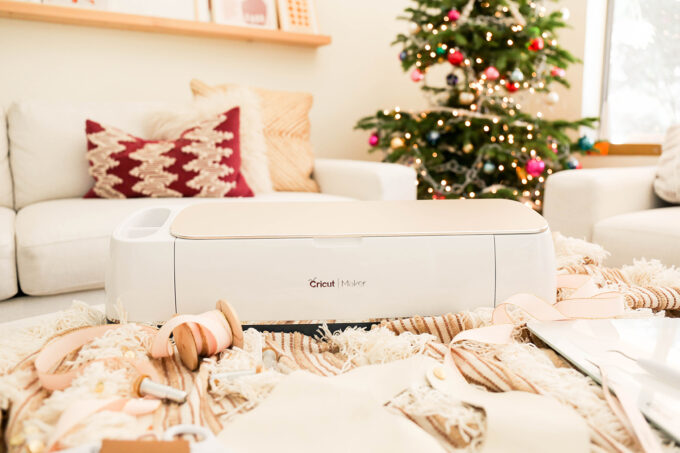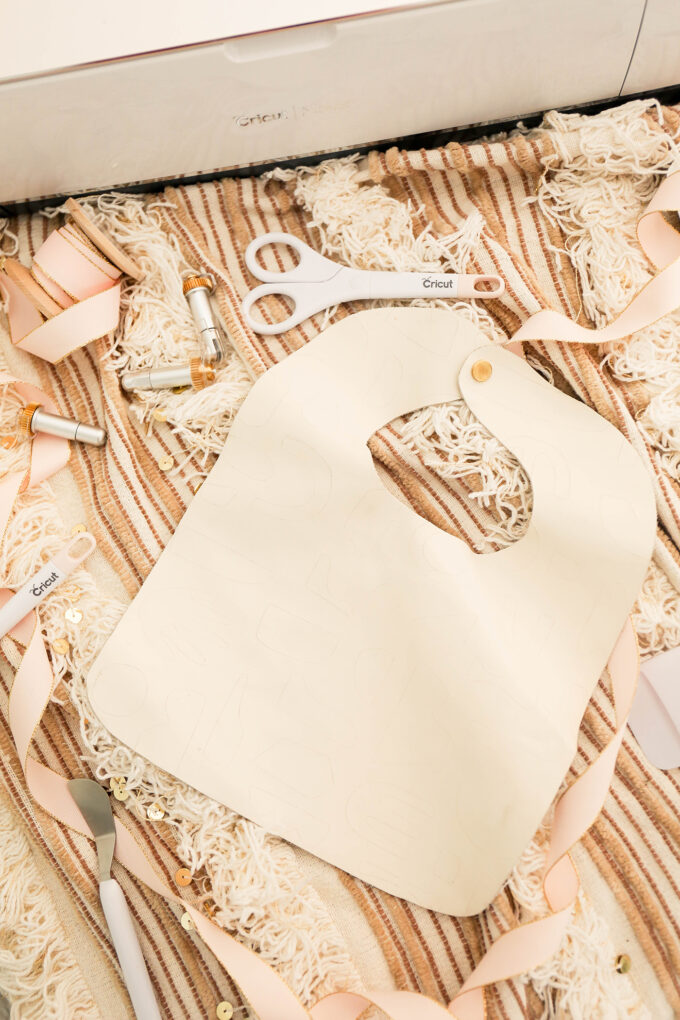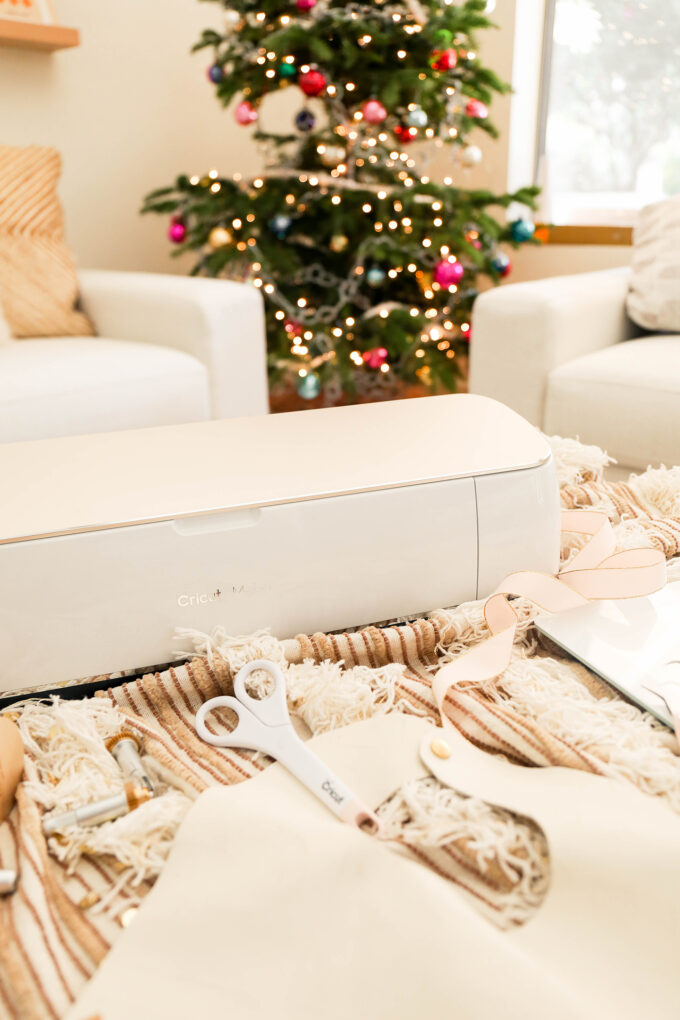 We've had several posts in partnership with Cricut this year and it has really been so much fun. I truly love my machine, the brand, and the mission behind the company. I can only say that it's worth the financial investment. We use our cutting machine for seasonal decor, school projects, blog projects, and so much more. I wish I were Ellen because I would give one away to each of you! ("Everyone's going home with a Maker!!!!") If you've been on the fence and are hoping to buy one for someone special for yourself, I cannot recommend the Maker enough and it is on sale right here for $50 off! Just looking at it sparks creativity! Here's hoping you find one under your tree this year! 😉