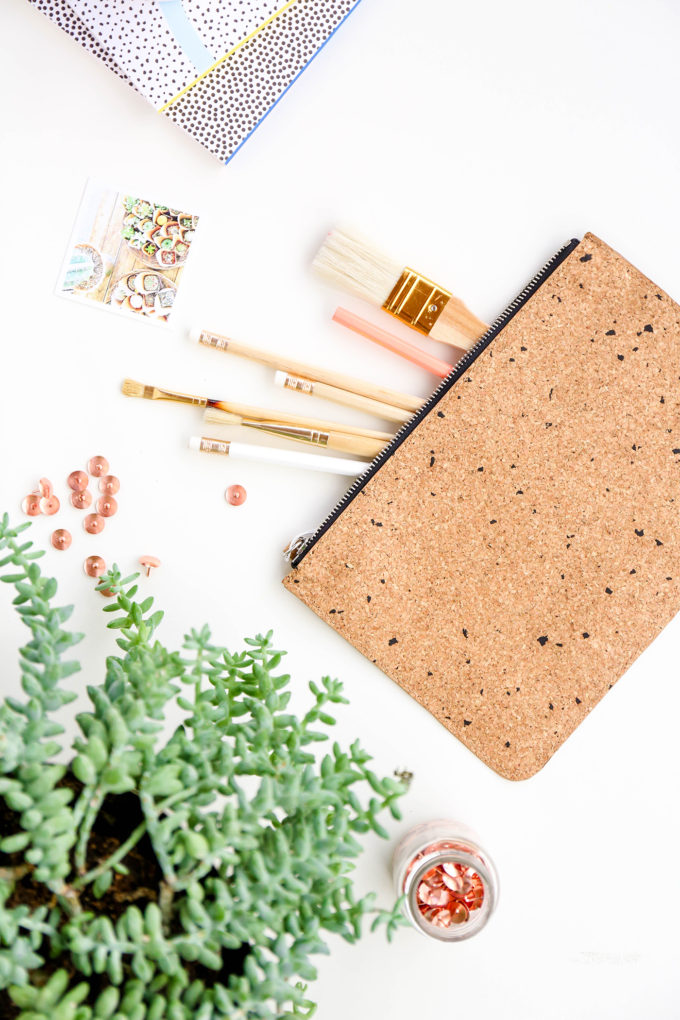 I feel like I'm more productive when I'm surrounded by things I enjoy. Friends, family, and most importantly (yes, more important than loved ones! ha!), beautiful things. If my desk is more organized, I'm more prone to actually working there. And if there is pretty stuff on my desk, well then I may just actually get some work done! I don't want to make any promises though. Ya know? I thought I'd share a few of my favorites with y'all today. These are some of the stylish workspace items that I love and you may just want that cork pouch that I use to hold some of my paintbrushes and pencils. Or the killer notebooks that I just stare at. I don't write anything in them because they're super pretty and if I was stranded on a deserted island, I would bring these notebooks to keep me sane.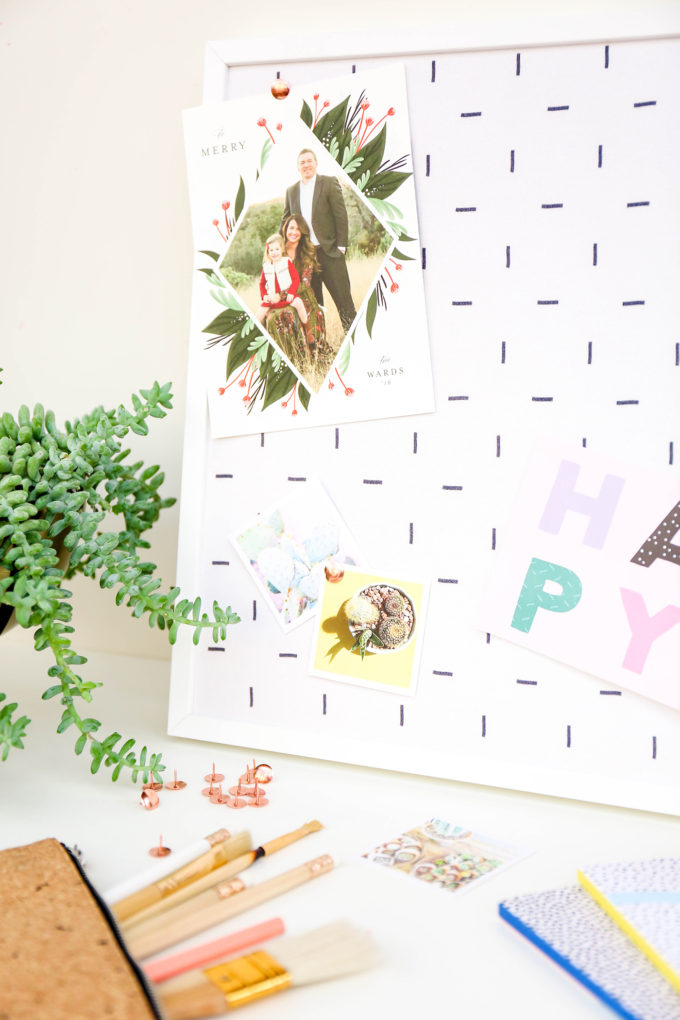 I'd probably also bring this pinboard to put all of my favorite things on. This was a new addition to my desk from Minted just before Christmas and I'm slowly deciding what would be lovely enough to keep up there all the time. Maybe there will be a monthly rotating mood board? Who knows. I'd better bookmark that idea.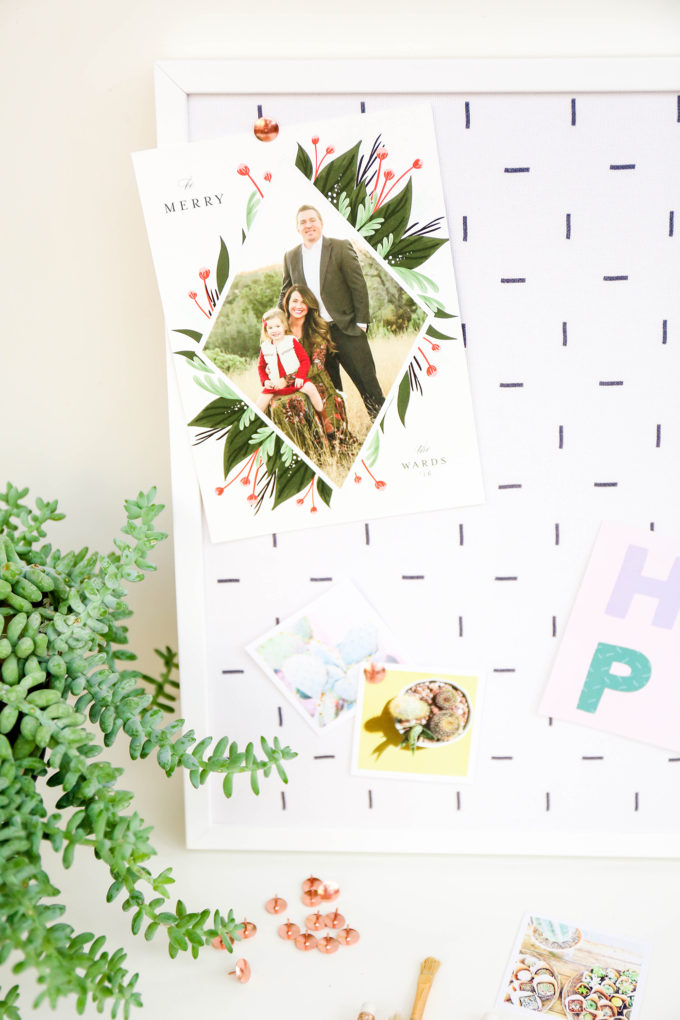 I've currently attached our Christmas card for 2016 because it's basically the only photo of the three of us looking like we've got our act together. And we're all looking at the camera at the same time. That's a first.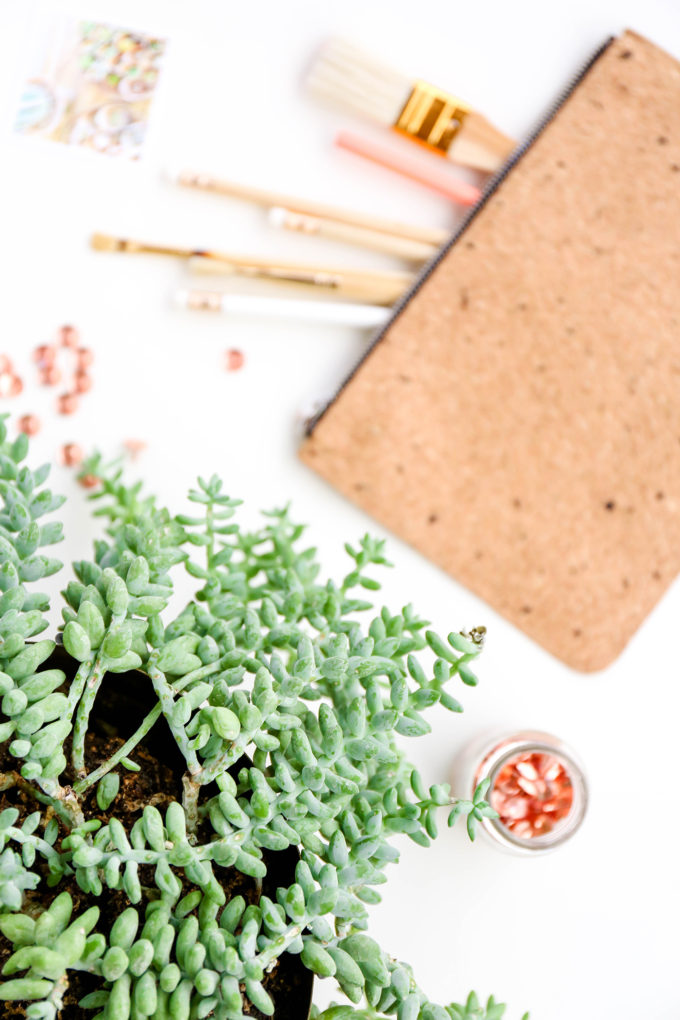 I need to be surrounded by plants. Whether or not I keep them alive, I won't disclose here. This succulent has lasted several months though and I'm thinking it might have something to do with the gold planter it's hanging out in. I don't know.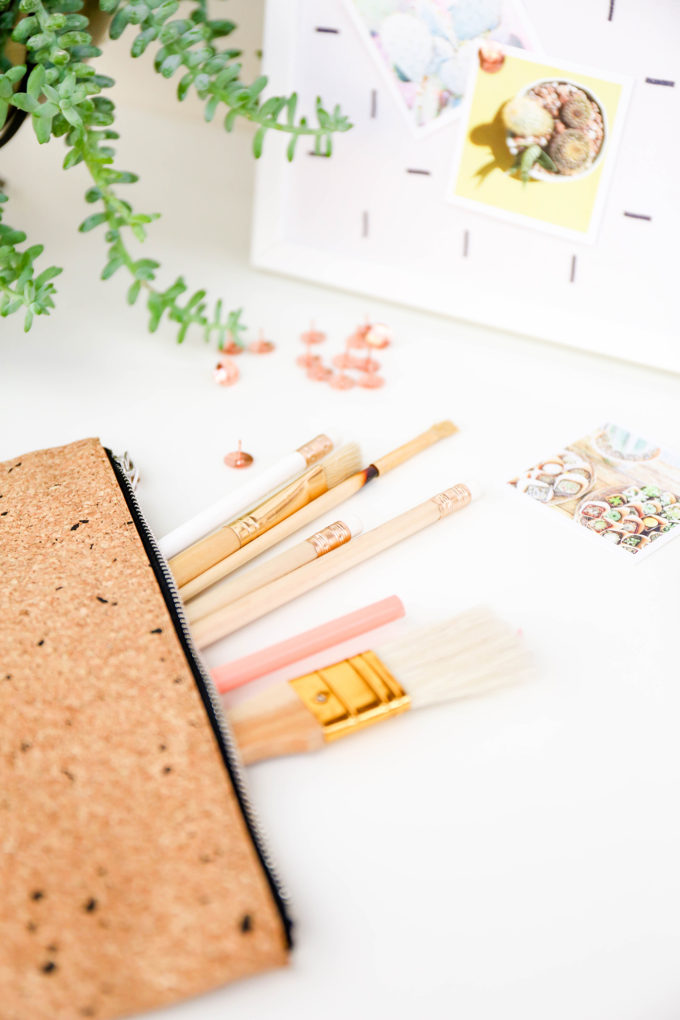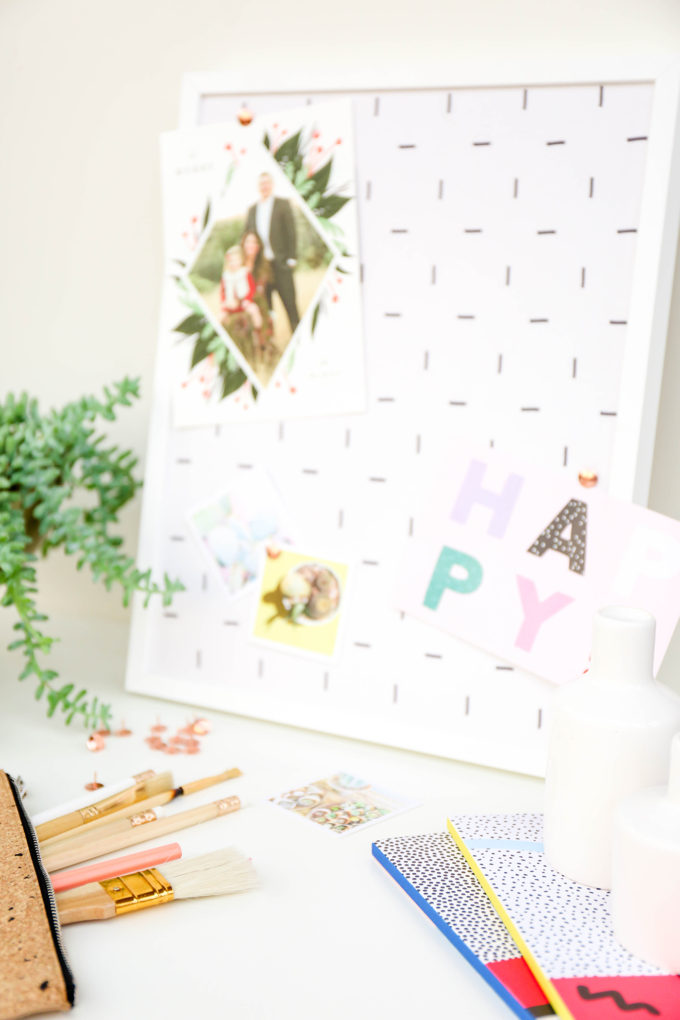 I saved that "HAPPY" print from a shipment from Ban.do a few years ago and it's still just my favorite thing! I've also attached a few of my favorite biz cards from Social Print Studio. They pull images from your Instagram (you choose which ones) and they're printed on quality mini squares with your contact info on the bag. They're my fave. I have a ton of faves!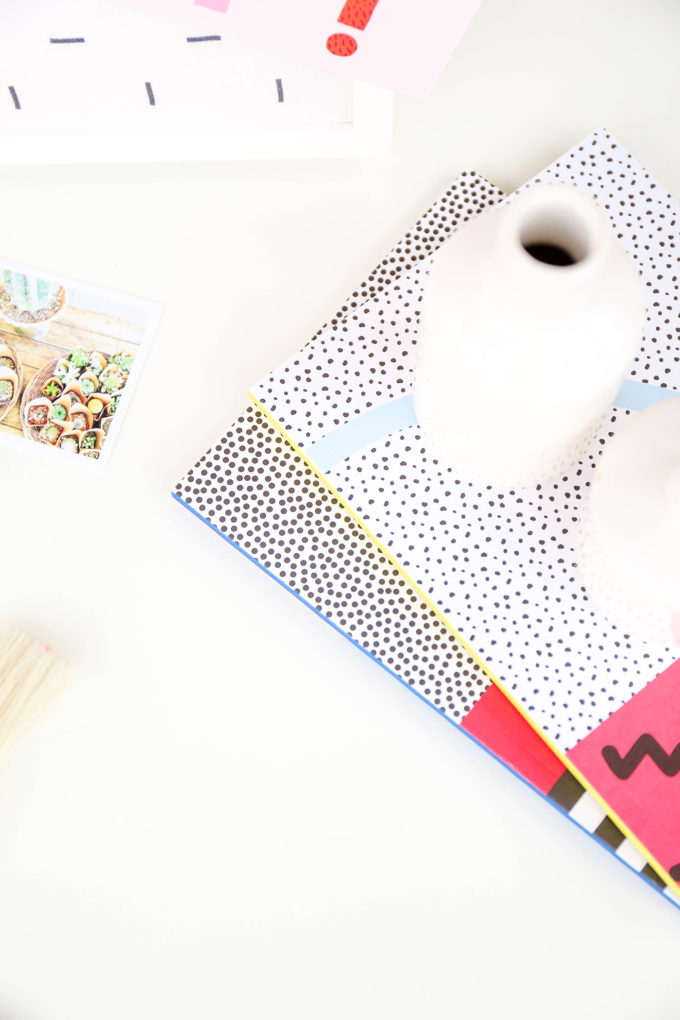 You gotta keep some notebooks handy incase an important thought enters your mind! But then you should also keep a backup notebook to actually write in, because these ones are too pretty to do such a thing.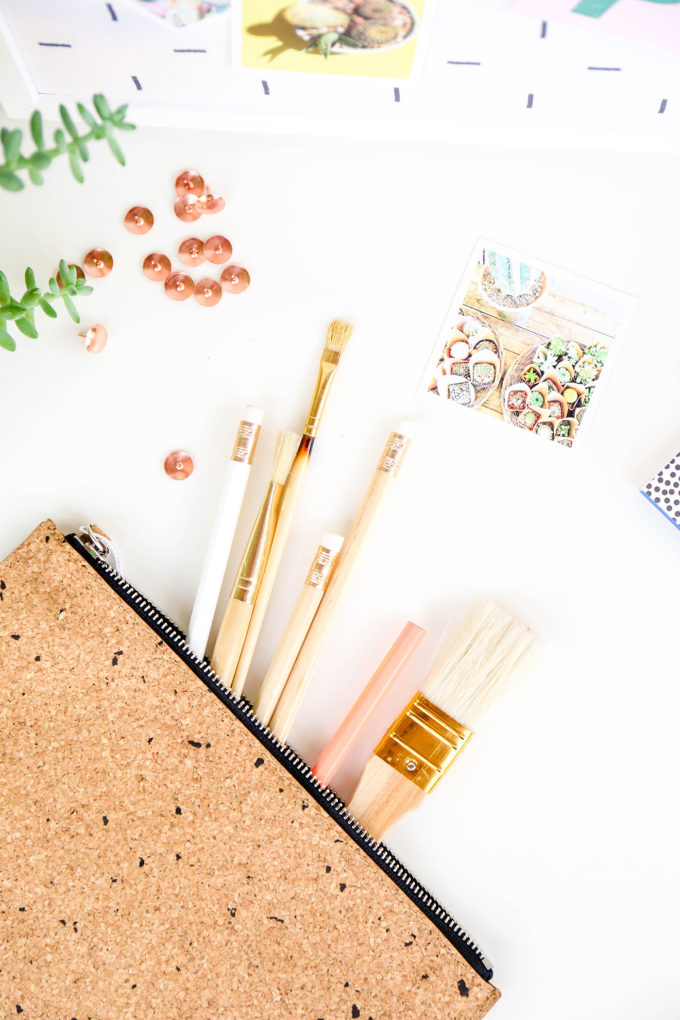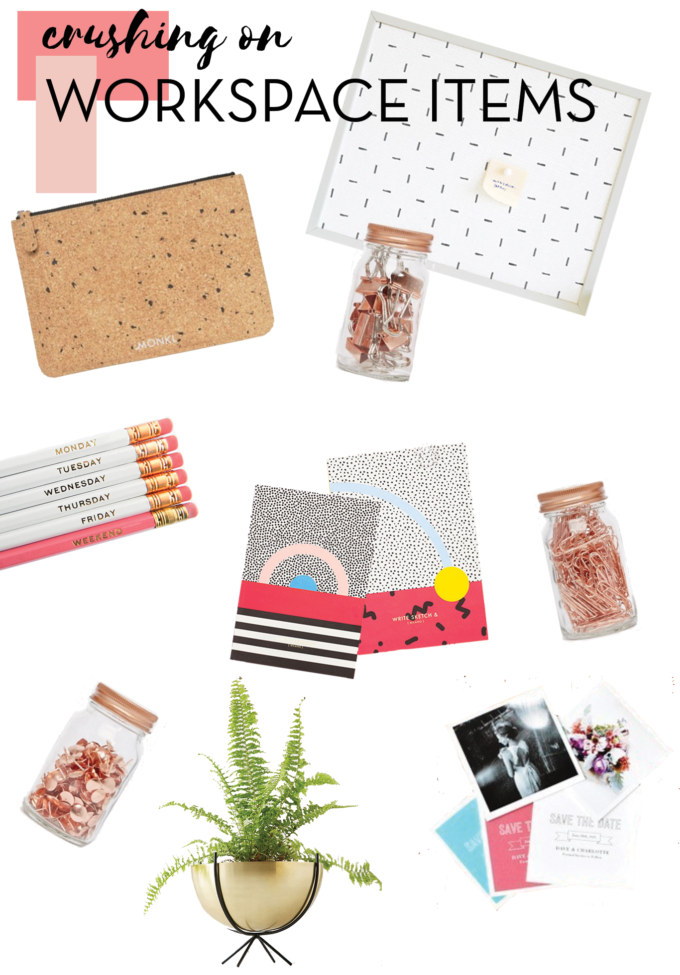 Doesn't that cork clutch just make your heart skip a beat?! Mine too! Links to all the faves below!
Paperchase Get Organized Copper Clip & Pin Jars
Monki Cork Clutch (this one is currently sold out, but here's great alternative!)
Minimalist Grid Framed Pin Board from Minted
Pavlos Metal Planter from Urban Outfitters
Mini Square Calling Cards from Social Print Studio 
Hello Weekend Pencil set from ACD Shop on Etsy
What are some office items you can't live without?
**styling & photography \\ Lexy Ward