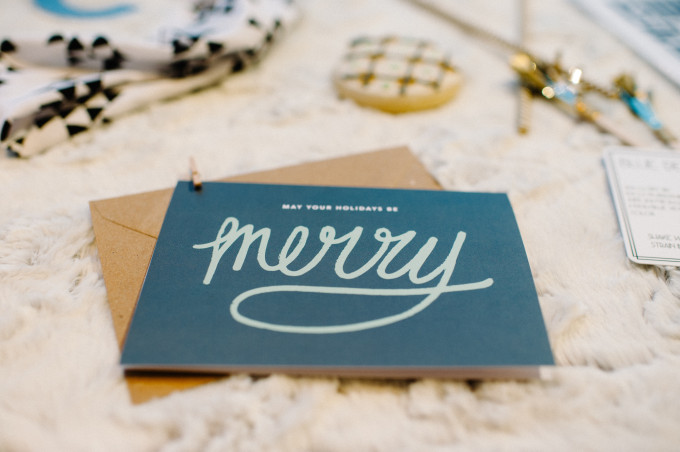 I'm always so sad when a party is over. I love to party. But these days, I also love my sleep! (Thanks, Vita.) The holiday EAT DRINK CREATE event went by fast fast fast. And it was such a blast this year. Last year's event was a huge blowout, and while that's super fun, I wasn't able to have a really great convo with every attendee. Instead, I was running out like a crazy person saying "hi" to everyone in my path. This year, I made things a little more intimate by capping it so only 50 attendees could come. I can handle talking to 50 people. I'm Italian. We can juggle our conversations. 😉
I teamed up with West Elm again to host the event. I'm thinking we jmight just make that our annual holiday location because they are way too great when it comes to coordinating everything. Not to mention, the store is already gorgeous so the styling for me (while that's my favorite part!) is minimal.
I set up several DIY stations where folks could craft to their heart's content.
Get ready for picture overload! You want to see them so click on~!
We set up a sugar cookie decorating station where everyone was able to decorate mitten and stocking-shaped cookies. It was a sprinkles and icing fest up in there. And the cookies turned out beautifully. I made all the cookies and icing using The Alison Show's e-course, Cookie Party. You guys. Please go get that. It is soooooooo worth it! If you want the recipes (which you do), then head over here to download and watch and read as many times as you like!
My fave station had to be the DIY gift wrap station. When I was in Utah of Thanksgiving, I came upon these amazing score boards by American Crafts that create all sorts of gift boxes and bags. Pillow boxes. Candy boxes. Gift bags! Paper gems! What the whaaaaaat?!?! This was the busiest table and everyone wanted in on the gift box action! I don't blame them. Folks left with some amazing boxes in all shapes and sizes. And in every color you can imagine! I'm partial to the kraft paper boxes.
You want to make all the boxes, don't you?
We had a DIY ornament station where you could paint and embellish white and gold geometric ornaments, as well as handmade clay Christmas tree ornaments. I should have brought my bedazzler. That would have been a hit, I'm sure.
This score board is not for the faint of heart. I had to re-read the instructions about 12 times, but got through it and now I'm a gem-making fool! A FOOL!
NO party of mine would be complete without the sugar. Even if I can't enjoy it, my guests damn sure will. Happy Cakes Bakeshop is my go-to place for the sweets here in Denver. I discovered them years ago and we always make it a point to get cupcakes from them for every little celebration. It's Friday? Get a cupcake. Mid-season Walking Dead finale? Get a cupcake. It's how we do. Happy Cakes was wonderful and provided delicious sugar cookies (the frosting is ridiculously good) and some tasty cupcakes in all sorts of holiday flavors like egg nog, chocolate bourbon pecan, and chocolate pistachio. Holy crap. My mouth just filled with saliva. Needless to say, those treats were gone in a matter of minutes.
I have to give the biggest shout out to the brands and shops that contributed to all the gift bags. I mean, we don't like to admit it, but people like the swag. They do. You can't not have a gift bag filled to the brim with fun fun things. Everyone headed home with a bag filled with a mix of stuff! All holiday and/or creativity-oriented!
HUGE HUGE "thanks" to the following:
clomid over the counter
These bags were so fun to assemble and it's because the brands that contributed made such quality goods. That is always the funnest part!
Thank you so much to everyone who came to EAT DRINK CREATE! I honestly freak out when it's time to announce another event. I stress because I think that nobody will come to the party. Honestly. So thank you for making me feel all cool and like I have friends! I love love getting to chat with new faces and old. I love Denver. I love America. diflucan over the counter
EAT DRINK CREATE is an event series by Lexy Ward for creative folks of all types to come together to party and create something awesome! To see more photos of EDC events past and present, check out the #eatdrinkcreate hashtag on Instagram! Interested in partnering for our next event? Email [email protected]!
Photography: all photos by the talented lady behind Michele Hart Photography. The girl is good. lasix over the counter