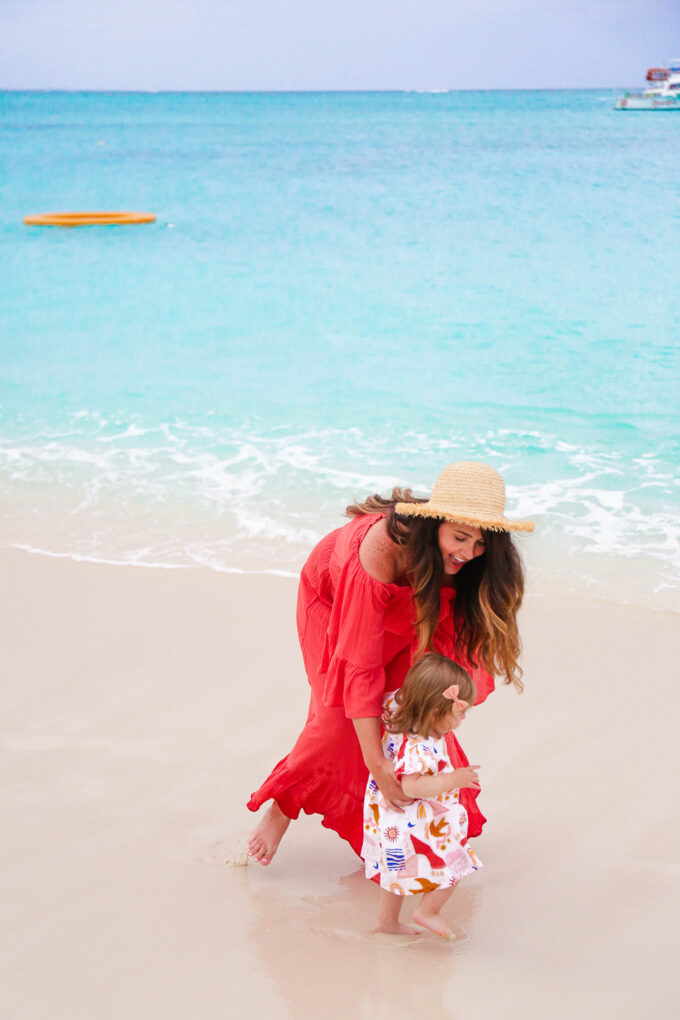 We have been traveling with kids for as long as I can remember. Before I had Vita, I would travel with my nieces and nephews all over. When Vita was just a few months old, we took her on her first flight and she was a champion. That positive experience gave me the courage to keep exploring and showing her new places. And now it seems like Mara has a knack for travel as well. We get asked all the time how traveling with kids works for us, and I wanted to share a little insight on our experience today as part of the Real Talk with Real Moms series! There are some seasoned pros sharing their tips today and I'm excited to hear their tricks for traveling with kids too! So be sure to check out the other mamas sharing their thoughts:
Studio DIY \\ Lovely Indeed \\ The Effortless Chic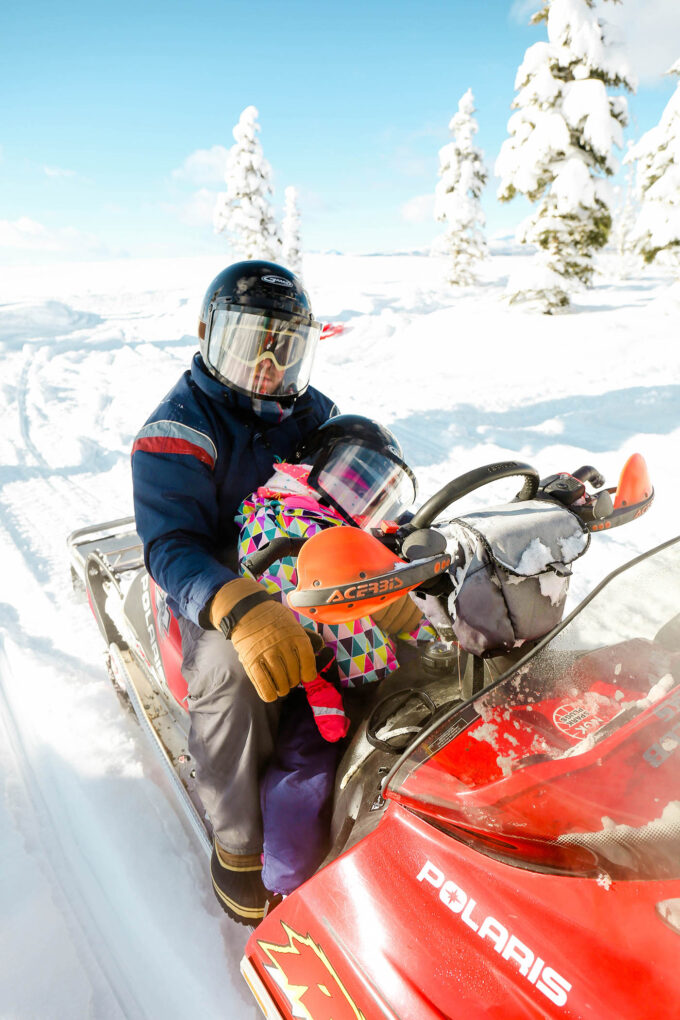 Tips For Traveling With Kids
We live in southern Arizona but don't have any family that live even remotely close to us. Because of that, we travel to see our extended family a few times a year so that our kids can know and love their grandparents, aunts & uncles, and cousins. Some of our family is located in northeast Idaho, so that can be quite a trek whether flying or driving. (Though let's be real, two days in a car with children isn't ideal!) Whether we're off to visit family, or taking an international trip with friends, these are a few of my tried and true tips for traveling with kids!
Research Your Destination
Are you heading to a cabin in the snowy woods? Traveling with kids to the beach? I am very Type A when it comes to travel and need to have every last detail planned out. No matter where we are headed, I always research the destination ahead of time to see what activities and amenities are provided for children. (Is childcare available? Is there a physician close? If you're heading to a place where water activities are involved, are life jackets provided?, etc.) Packing for different activities while on the trip can really add up. You don't want to overpack a suitcase with items that will already be provided for you, so it's worth doing a little detective work beforehand!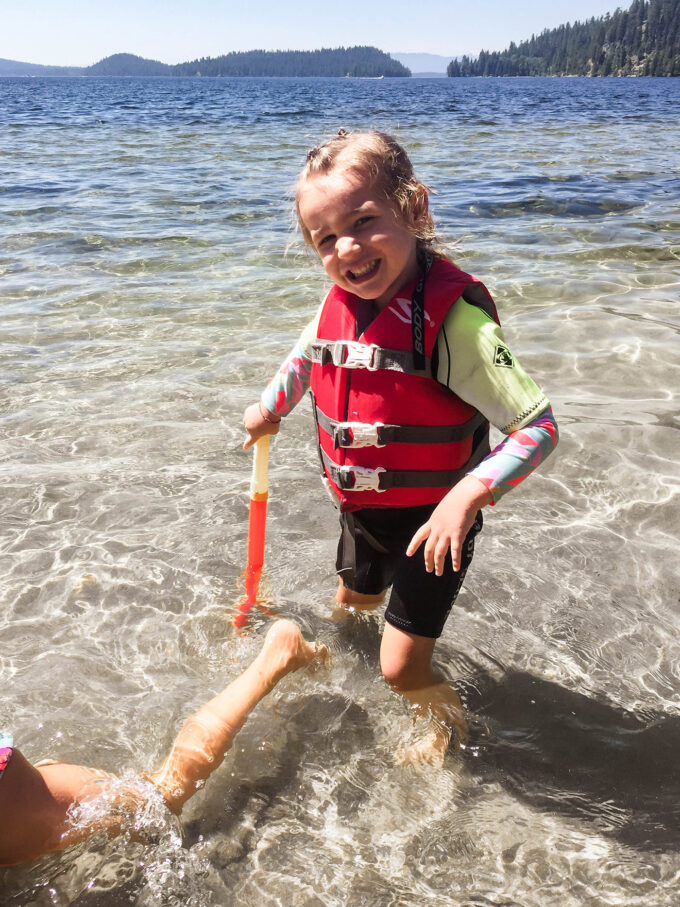 Plan Your Route
Sometimes driving in the car just makes more sense. Think about how your children behave in the car for long periods of time. How often will you be stopping? We have done many-a-road trip with Vita and I have to say that it was a lot easier when she was a little baby! She would mostly sleep in her car seat during those early months and years allowing us to cover a lot of ground quicker. As she got older, she felt more restricted in her car seat when we were driving for long hours. It helped to know when and where we were stopping on our route, and we tried to do no more than 2 or 3 hour intervals before getting out and letting her stretch. These breaks can really add up, and we've always tried to be conservative when it comes to estimating how many hours/days we'll spend in the car each trip. Because we have had such long road trips, we've spent nights in hotels/motels/and even camped in a tent to help break up the monotony of road travel. When traveling by car, we always pack a small cooler with meals and snacks to get us by, and I always OVERPACK that thing, but we go through every ounce of food ever time!
Charge Your Electronics (and then some…)
Here's where things can be a little controversial. Some parents refuse to let their children play with iPads or iAnythings while traveling. I am not one of those parents. For me, it's about survival when I'm traveling with kids. Sometimes my kids want to watch a movie or play a game on the iPad and I WILL LET THEM. When we are at home, we limit screen time so that our children have healthy play and learn how to use their imagination. But when we are on the road or in the air, I'm a little more lenient when it comes to screens. If it will make my life easier (and possibly the surrounding folks on an airplane), I'm all for it!
Before any trip, we charge every electronic device to its fullest, and we also bring along a few power banks for those instances where power might not be available to us. If you don't have a power bank (portable charger), I'd recommend this one or this one! They're small and lightweight, but are able to fully charge a device or two more than twice on a single charge!
Don't forget the headphones!
We also bring along two pairs of headphones because sometimes both girls want to wear them at the same time and if you have siblings, you know how sisters can fight over stuff like that. Even though Mara is only 20 months old, it starts early, guys. If you're looking for a pair of character headphones, I know a guy…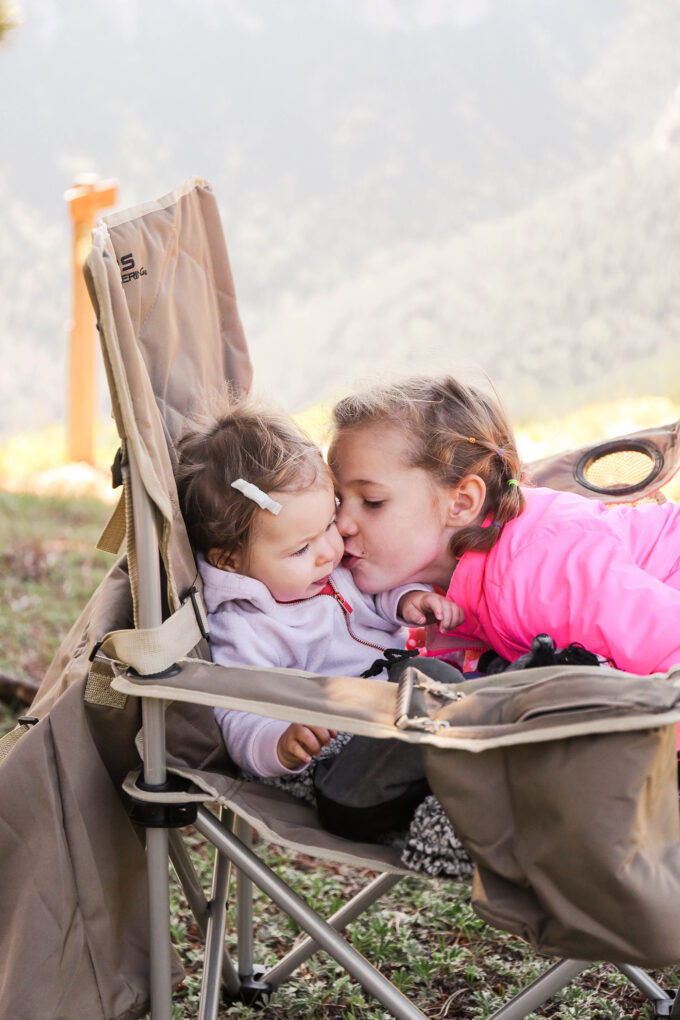 Pack A Busy Bag
We always pack a little busy bag for each girl. It's filled with things like coloring books (these magic marker ones are great!), sticker books, a few snacks, flashcards, anything found in the Target Dollar Spot. I don't spend a ton of money on new items every trip, but something about the novelty makes the girls SO into it and will help distract them for a good portion of the trip. Everybody wins!
Aside from all the above, we have the electronic devices that we use as a Hail Mary. Before we leave on a trip, we'll download a movie or a few episodes from Netflix (to be used if there is no WIFI). We also have a running list of apps that keep the girls happy and content:
Favorite Apps For Traveling With Children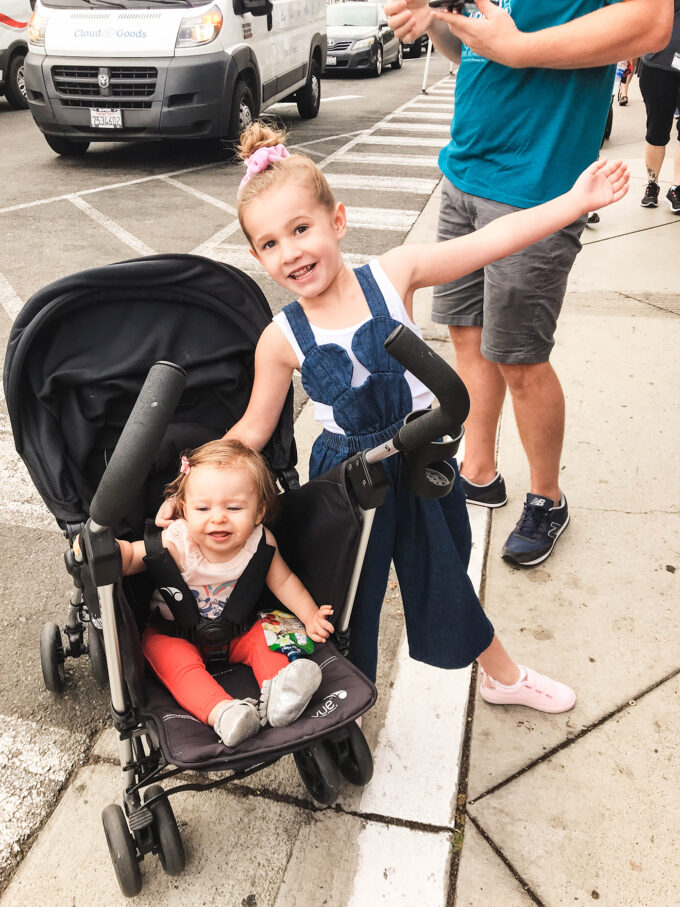 Bring The Stroller
In our early years, we didn't want to lug the stroller around with us as it seemed unnecessary. But as we've learned, the stroller is THE ITEM we need when going through the airport and then some. It not only holds a few extra items, but it locks one of your kids in place! This is so nice when our hands are full and Mara doesn't want to walk on her own. Most airlines allow you to gate check them so use this to your advantage! We use the stroller right up until we board the plane and then we stuff it into a gate check bag like this one before we get on. It was a must when we were at Disneyland. There are plenty of amazing travel strollers out there. In the photo above, Marz is sitting in the Baby Jogger Vue – I love this stroller for the reversible seat and many reclining positions!
The Carseat: to bring or not to bring?
If you're on the fence about the car seat when traveling with kids, those can be checked via most airlines for free. We toss it in a bag as well and then pick it up with the rest of the checked baggage. Sometimes, we get by without a car seat if we're not planning to drive anywhere once we reach our destination. And many car rental places also have car seat rental. However, some of those car seats seem a little too flimsy for me and I stress about the safety so I pack our own! There are car seats like the Doona that double as strollers and they are compact enough to fit right onto the airplane cabin! These are perfect if you're traveling with a little one and need them to have their own seat!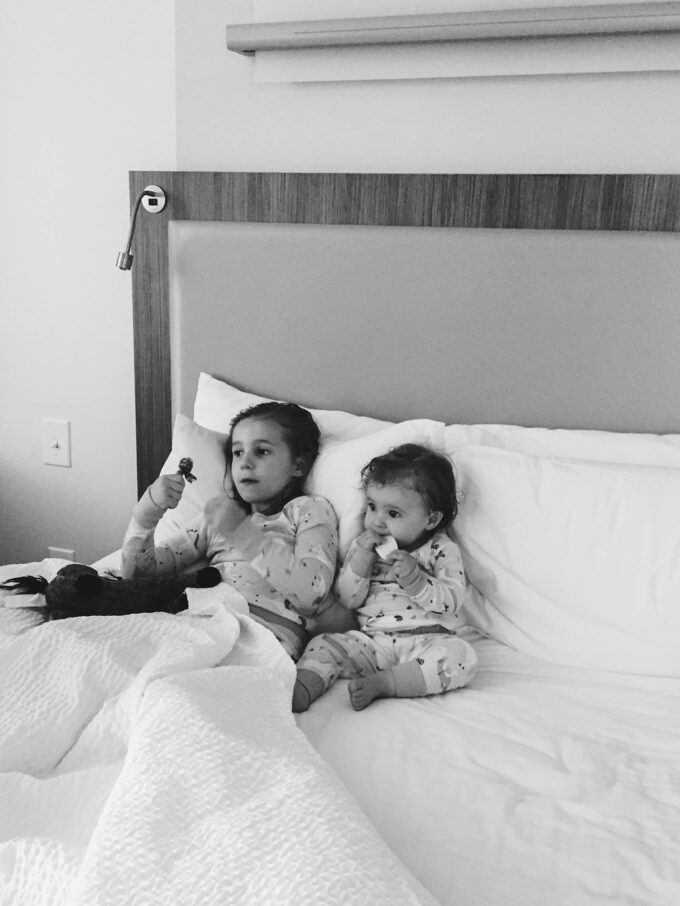 Bring The Security Blanket
Vita has a plush horse that she sleeps with EVERY NIGHT NO MATTER WHERE WE ARE. For our sanity, we've learned that "Pickles" travels with us wherever we go. It may seem like extra weight, but the calm it can provide to her when her surroundings are unfamiliar is unparalleled. Whether it's an actual blanket, a stuffed animal, or some other random little thing, it's worth the extra effort to guarantee your child is happy at the end of the day!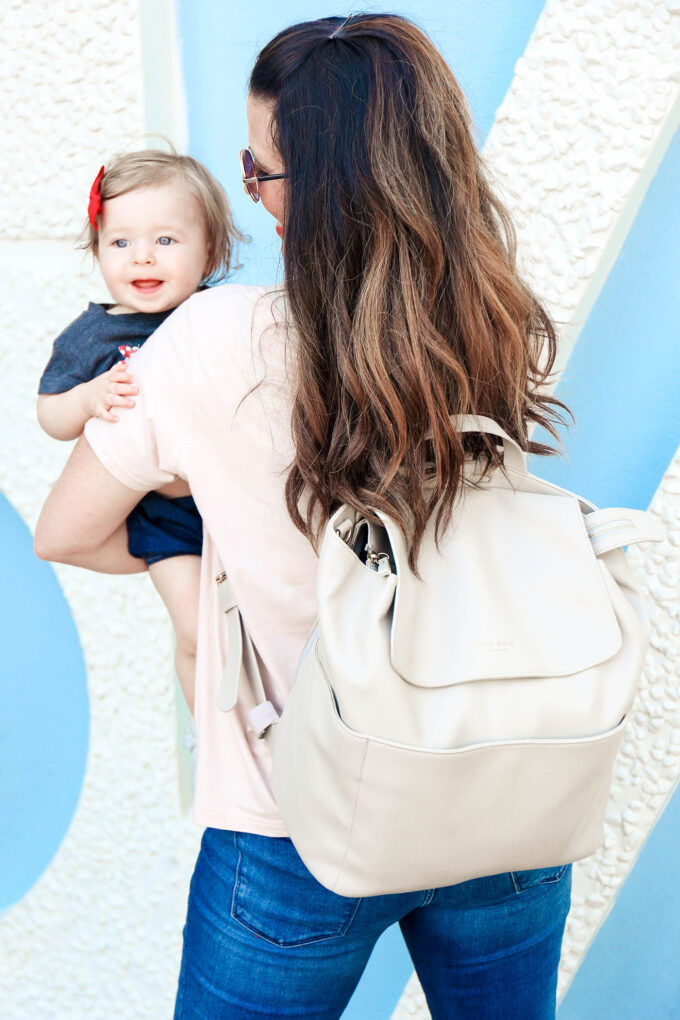 Pack Your Diaper Bag or Purse Carefully
I've shared about this Mina Baie bag before, but it is like the ULTIMATE friend when we travel. It has a million pockets to keep myself extra organized, and everything has a place. Before each trip, I clean out the bag and make sure that I have all the travel necessities below:
sanitary wipes and spray – gotta basically hose down our area on the plane before the kids touch anything, and again when we deplane.
snacks
diapers, wipes, and cream
medicine
portable electronics
wallet/passport/identification
Tide-to-go pen
extra kid clothes for mishaps
single grocery bag for trash
bottle or drink (or both!)
books
chapstick
breath mints
other supplies you might need
This bag holds all of the above at one time. And it's not ridiculously full. And it's super chic and looks good on anyone. There are also pockets on the inside that I use to store my diabetes supplies, and they're easy to grab in a pinch!
Use SkyMiles or Points
We travel frequently by air with the girls. Children under the age of 2 are free if they sit in your lap. We've flown with Vita right up to her birthday because of that!  We earn a lot of reward points through our credit cards, and have frequent companion passes that we take advantage of. At the beginning of each year, we plot out any trips and allow ourselves 1 or 2 extra slots for the unplanned-last-minute stuff. And we're constantly watching last minute airfare deals to see where we can save! Flying with kids isn't cheap, but it CAN be affordable if you play your cards right!

Remember The Medicine
On our most recent trip to Turks & Caicos, I was a bit of a pharmacist. I pack a bag with any kind of medication I think we will need. And because we were traveling with kids somewhere out of the country, I was unsure of the medicine available to me once we got there. So, I was sure to pack the basics like Tylenol and Motrin, as well as extras like meds for motion sickness, upset stomach or nausea, bug spray, hydrocortisone cream, and more. I also added a mini first aid kit and kept it all together in a small-ish pouch that was patterned and easily recognizable when going through my luggage!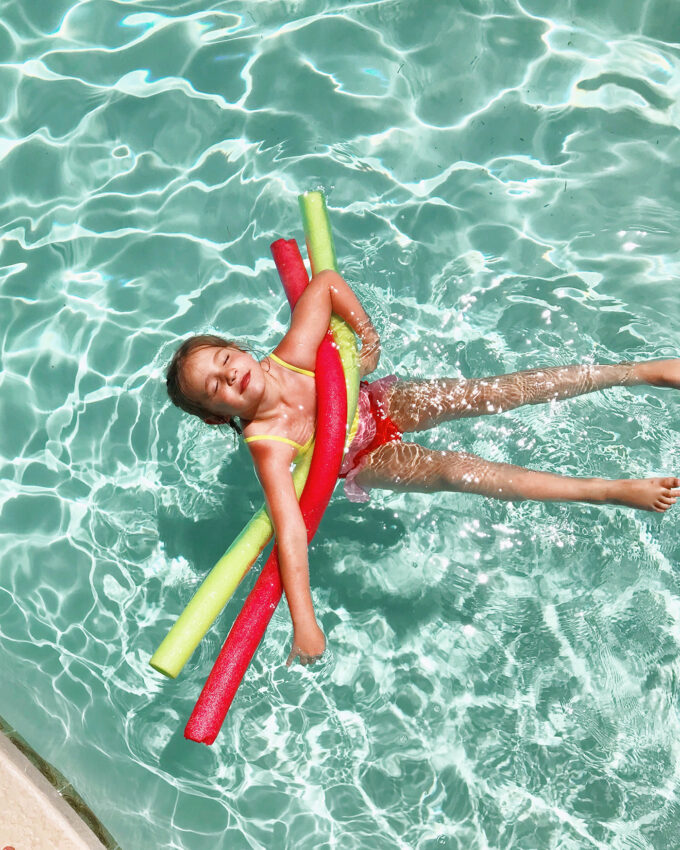 Be Sure To Relax
Vita is living her best life here. lol! Traveling can be exhausting whether or not you have kids with you. Be sure to take some time each day to decompress. To help everyone chill out, we'll take a walk on the beach, a dip in the pool or lake, or just chill out and watch a show on TV if we're in a hotel. Sometimes you just need some peace so figure out how you can make it happen! I personally have to have a little time to reset each day I travel. I can calm myself and it helps me to be a better mother to the girls and a better travel companion to Logan! You would have to see me going through TSA at the airport to know what I'm talking about. I can be quite high-strung!
Visit With People Who Love Your Kids
This seems like a no-brainer, but I'm so grateful to have many friends that love my children almost as much as I do. Traveling with kids ain't easy, so it's nice that we have the opportunity to visit with pals who are patient with our kids when they might not be at their best.
Legal pharmacies offer online consultations that are provided by qualified pharmacists or medical advisers who will let you know everything you need about the given drug.
As such, buying drugs from
canadapharmrxon
Canada is an easy and convenient way to get all you need for an effective and productive treatment in order to guarantee the success of the treatment process and prevent any possible threats to your health.
We just went to Turks & Caicos with some of our closest friends and there were 5 kids between us! If you're traveling with family, they have to love your kids because they're family. But it's a coin toss when traveling with friends! Find yourself some awesome travel companions that can celebrate those parenting wins and losses when you travel!
Plan For Things To Not Go As Planned
As a parent, I completely understand that I can plan and plan until I am blue in the face, but something can always go wrong. We've forgotten medication in carryon luggage, or our devices were dead before we got on the plane, or we've run out of snacks and it was another hour or so before the next rest stop. There are so many ways a trip can go wrong, but if you prepare yourself mentally beforehand, it will be less of a blow.
I'm constantly grateful for the opportunities I've had to show my children the world we live in. It's certainly not perfect, but the memories we have made on trips with issues are some of the best we've had!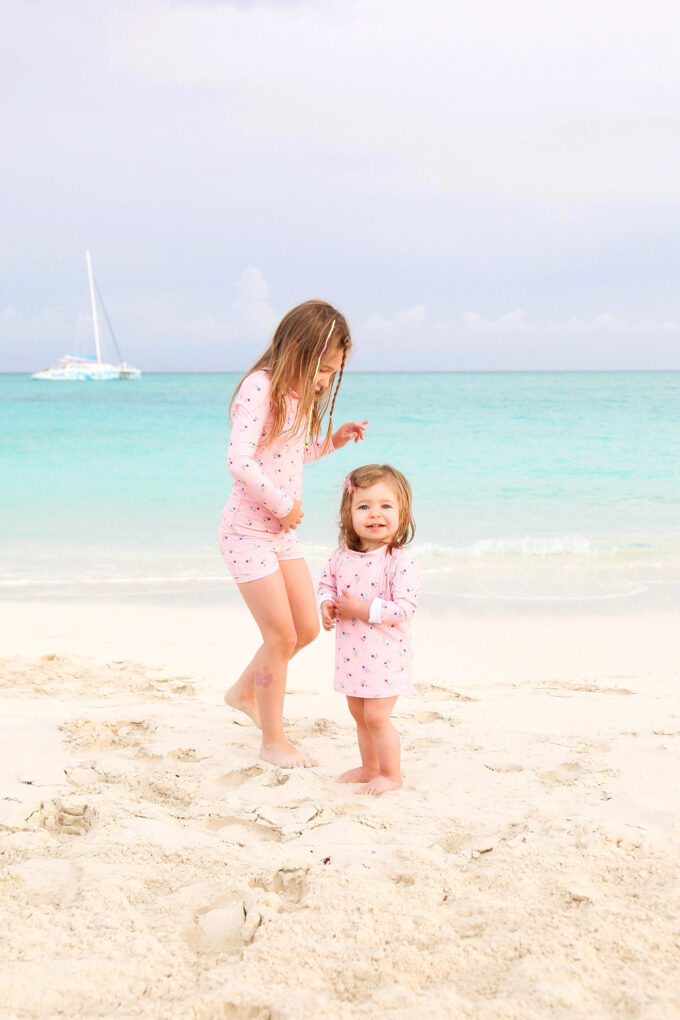 Traveling with kids is a different experience for everyone, and you really just have to figure out what works best for you. You know your kids best and you know what will ultimately create an airport meltdown! (Solidarity, bro.) Just take your time and plan out what you can. The rest will work itself out.
I really do feel so fortunate to have taken the girls to so many places while they're this young! It's not always pretty, but I like to think that their experiences will have a lasting impression! Even if it costs me a fraction of my sanity!
Be sure to check out the wise words about traveling with kids being shared by the other mamas today: