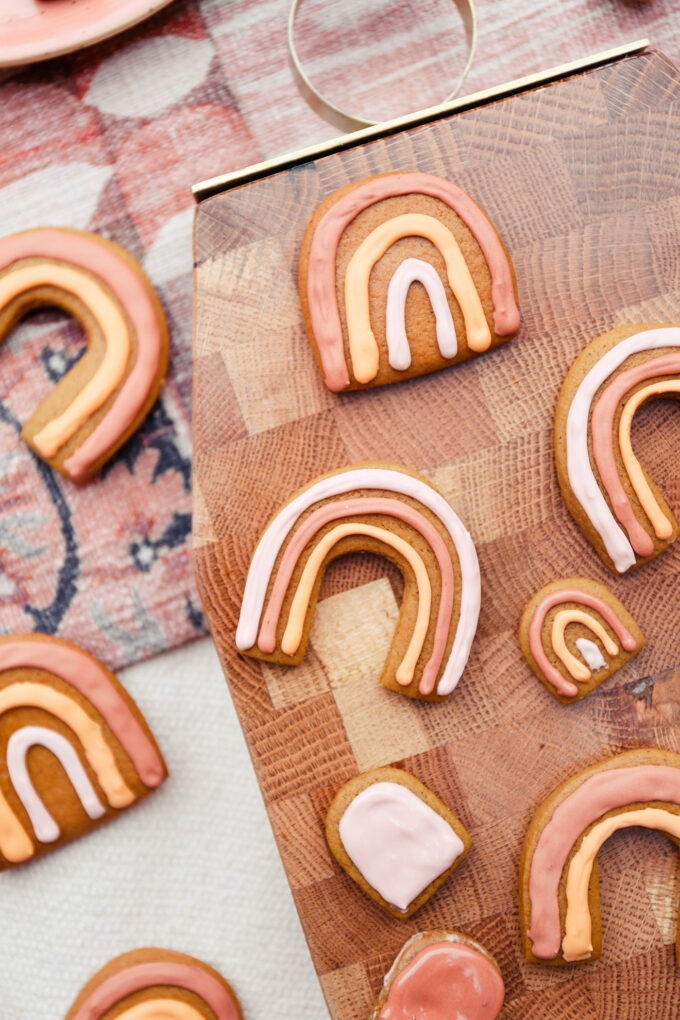 Alright, alright, alright! We've made it to the twelfth and final month of the year! That deserves a reward. What is it? Cookies!!!! I personally enjoy cookies every month of the year, but people really fill their calendars up this time of year with holiday parties and cookie exchanges/swaps. Do you call it a cookie swap or a cookie exchange? Anyway, I'm always scouring the web for the best holiday cookie recipe and I don't want to toot my own horn, but I feel like these boho rainbow gingerbread cookies might be it. They only lasted an afternoon at our house. They're soft. They're tasty. And they're SUPER cute. So if you're ready to make this season's trendiest cookie, I am here for you. Let us bake.
BONUS — The #ChristmasCookieSquad is back! I teamed up with a bunch of my internet faves and we're each sharing a delish holiday cookie recipe so be sure to check out all those links at the bottom of this post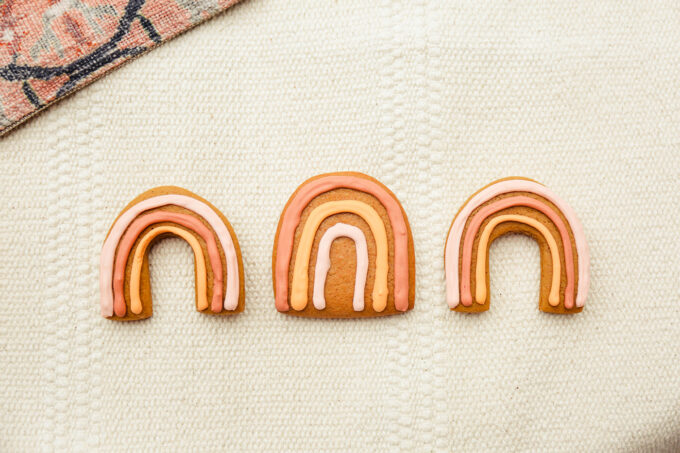 Boho Rainbow Gingerbread Cookies
Now, there are a ton of rainbow cookie cutters out there. I do not have ONE! However, I have this curved cutter from my modeling clay tool set and then I used a piece of flexible metal bendy ruler thing (my technical term) and used that to make larger rainbows. I also used it to shorten my rainbows so they weren't so tall and skinny. See below: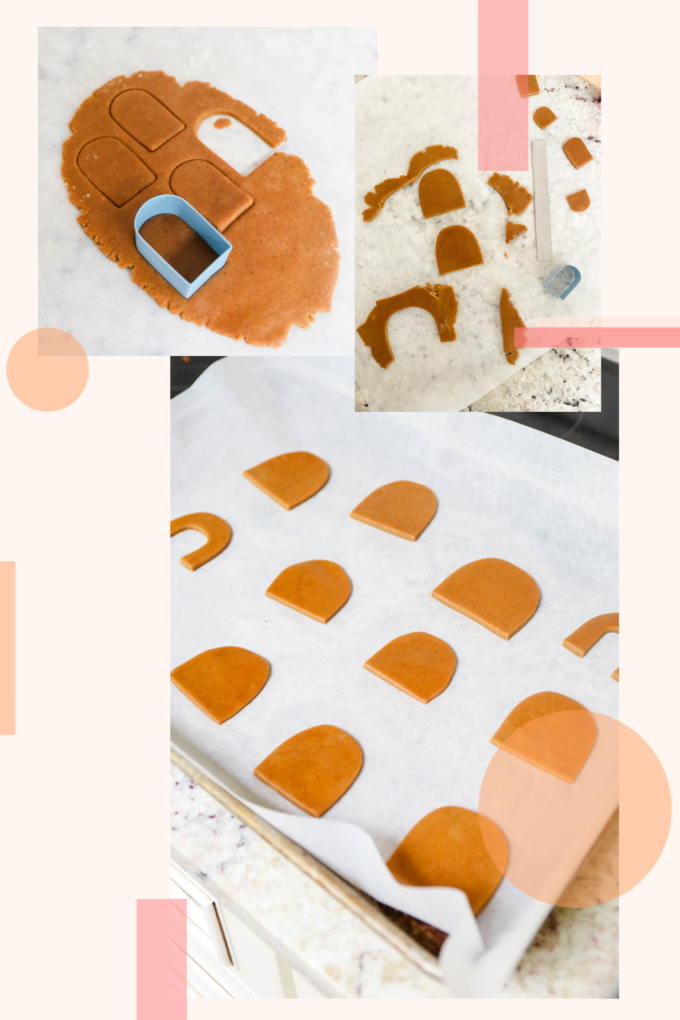 I cut out curved shapes and then used my smaller cutter to remove the inner portion of some of the cookies. Because these were smaller, these cookies only baked for 5 minutes.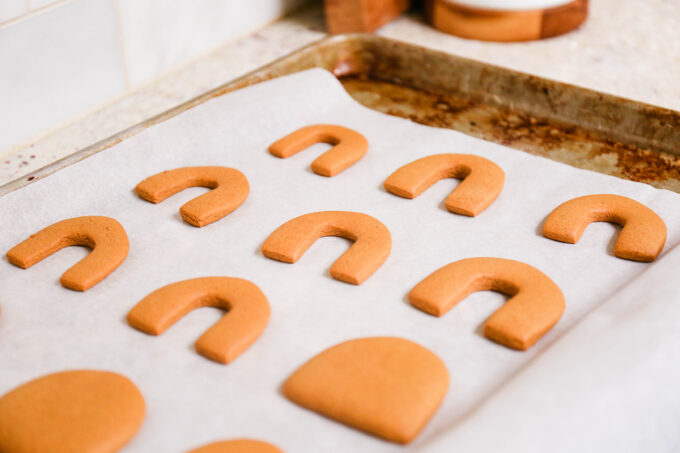 Let the cookies cool for a few minutes before removing from the sheet. You don't want them to fall apart if they're too hot! But like, how cute are they already? You could even just forego the frosting at this point.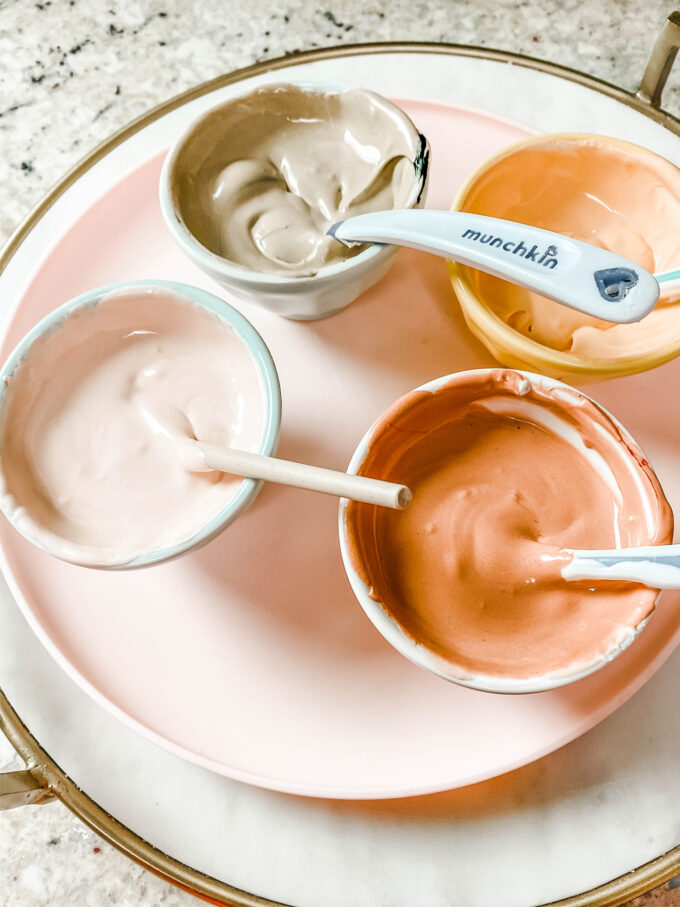 Time To Frost
But I'm a little bit extra and needed to tint royal icing into 5 different shades for the ultimate in boho rainbow gingerbread cookies art. Somebody save me. This is all the frosted cookie evidence you need.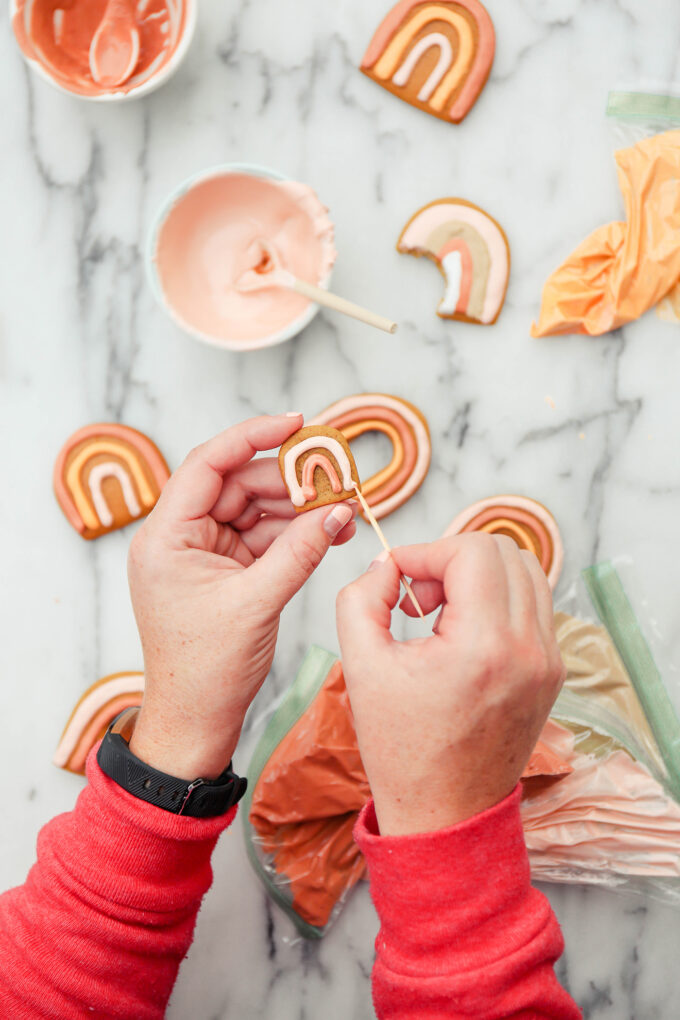 We played around with a few different styles before I found my groove. I also ran out of piping bags, so little plastic sandwich baggies can always do the trick. I always keep a toothpick handy when piping icing to help even out the icing or fix any mistakes.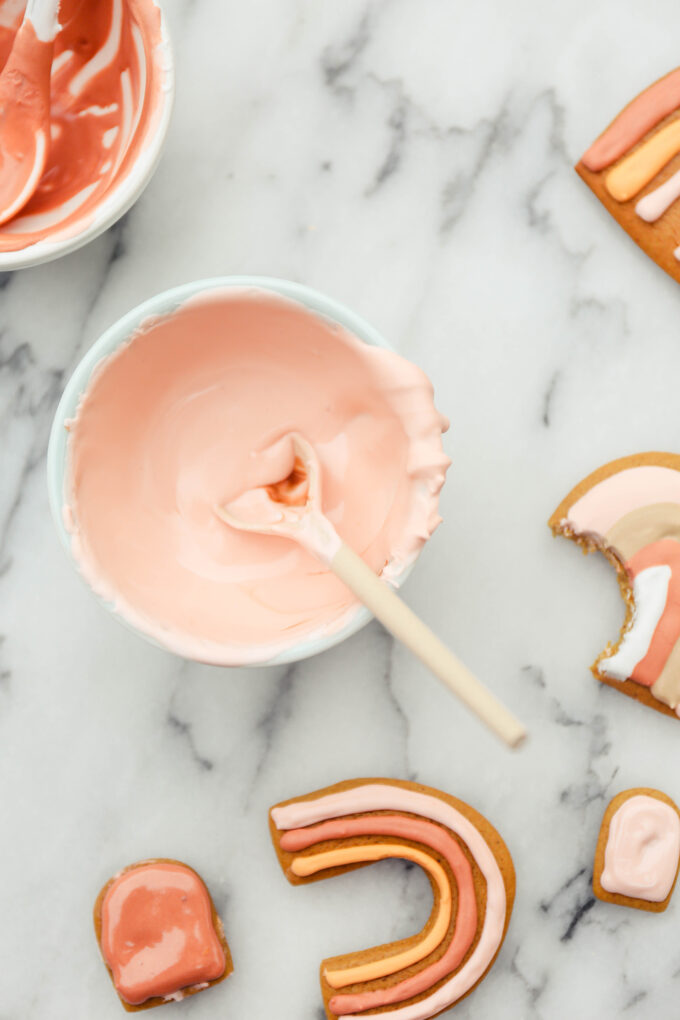 And if a few get eaten during the process, then a few get eaten during the process. It took me about an hour to ice 2 dozen rainbows. I'm kind of a perfectionist, and I was also working with Vita-girl. So you know, my eyes were twitching uncontrollably whilst she was piping frosting. But you could definitely frost these while watching The Christmas Prince 3 on Netflix.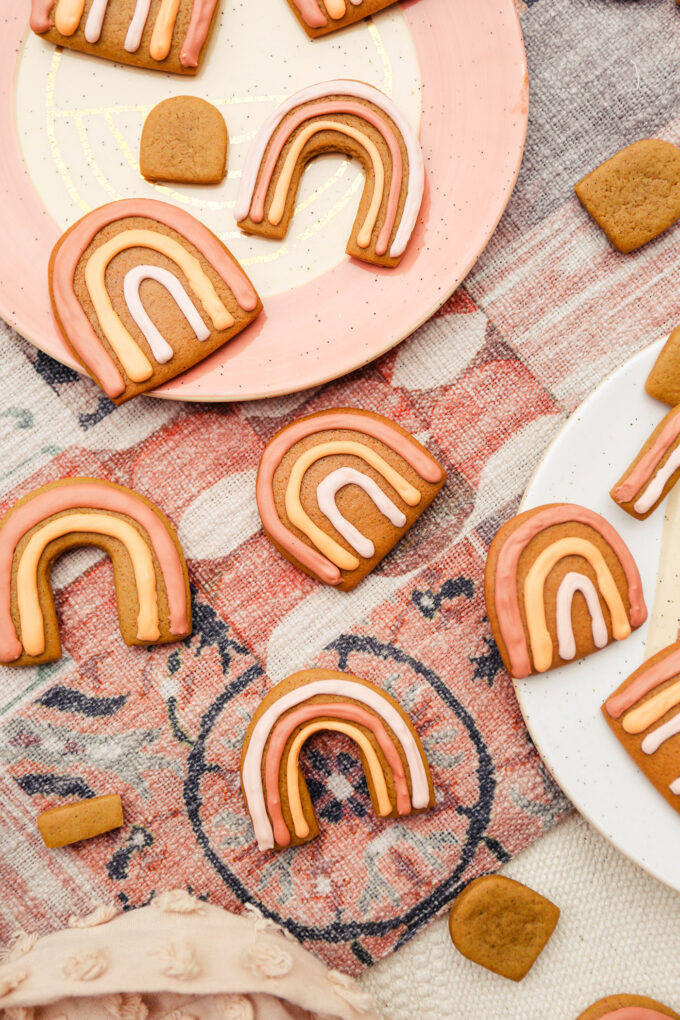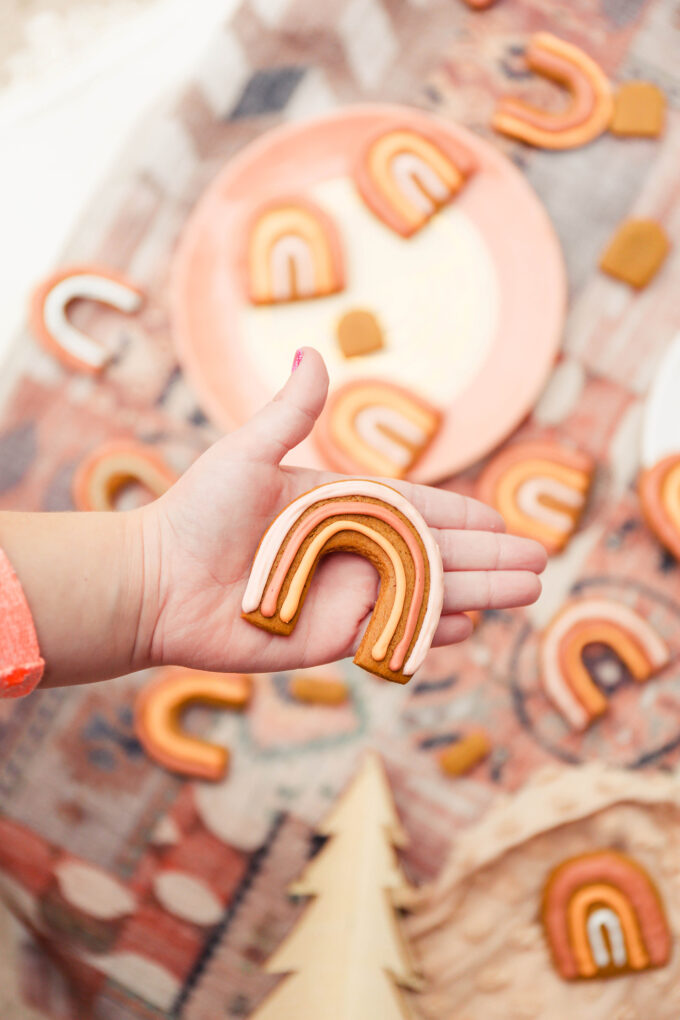 This guy was probably the best boho rainbow of the bunch.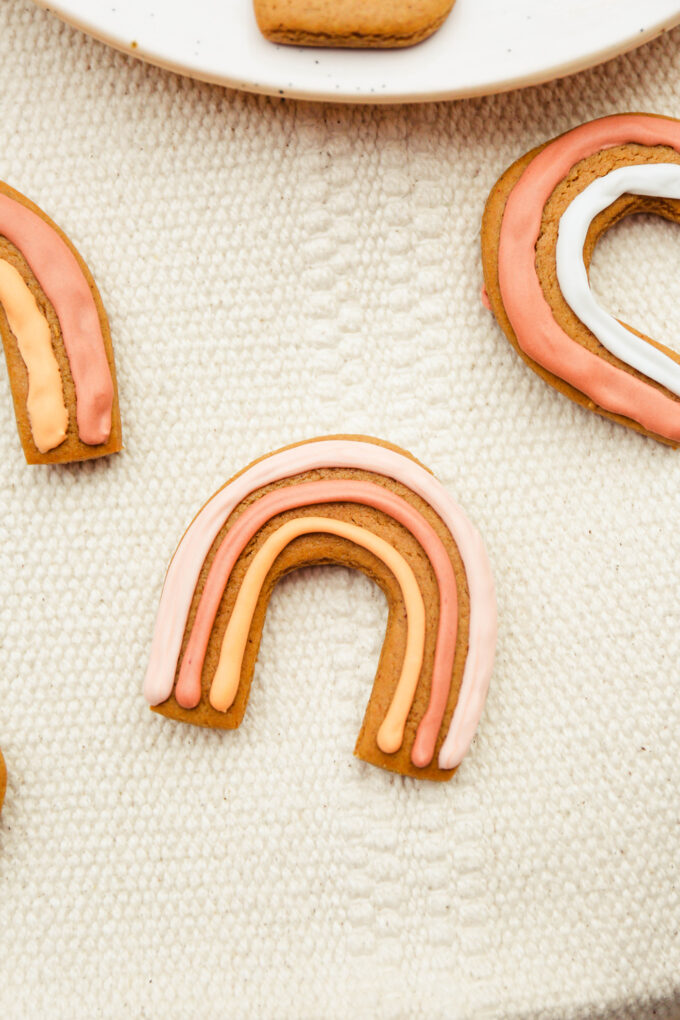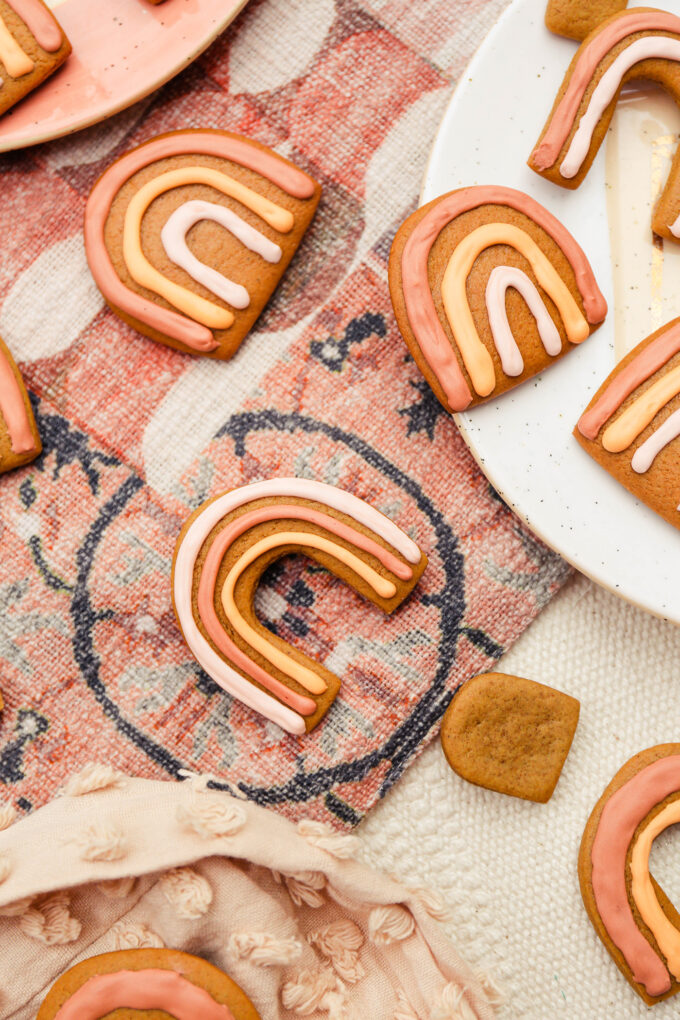 These boho rainbow gingerbread cookies are my fun take on the classic gingerbread. The dough needs to rest for about 2-3 hours before you roll it out to cut cookies, but it's so worth it. And when you cut into it, you can see those fluffy layers inside the dough! And I only bake these four about 5-ish minutes so they're super soft and yummy.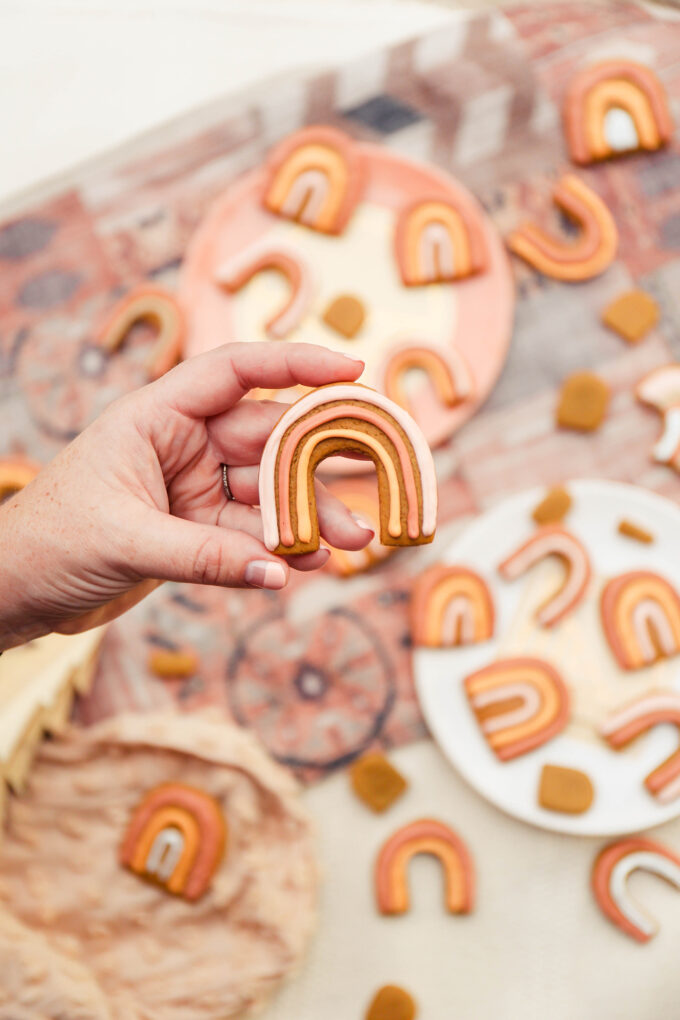 I'm heading to a Christmas dinner with a few of my girlfriends tonight, and I'm feeling like these need to be gift tags on their presents! So who wants a cookie gift tag?!?!?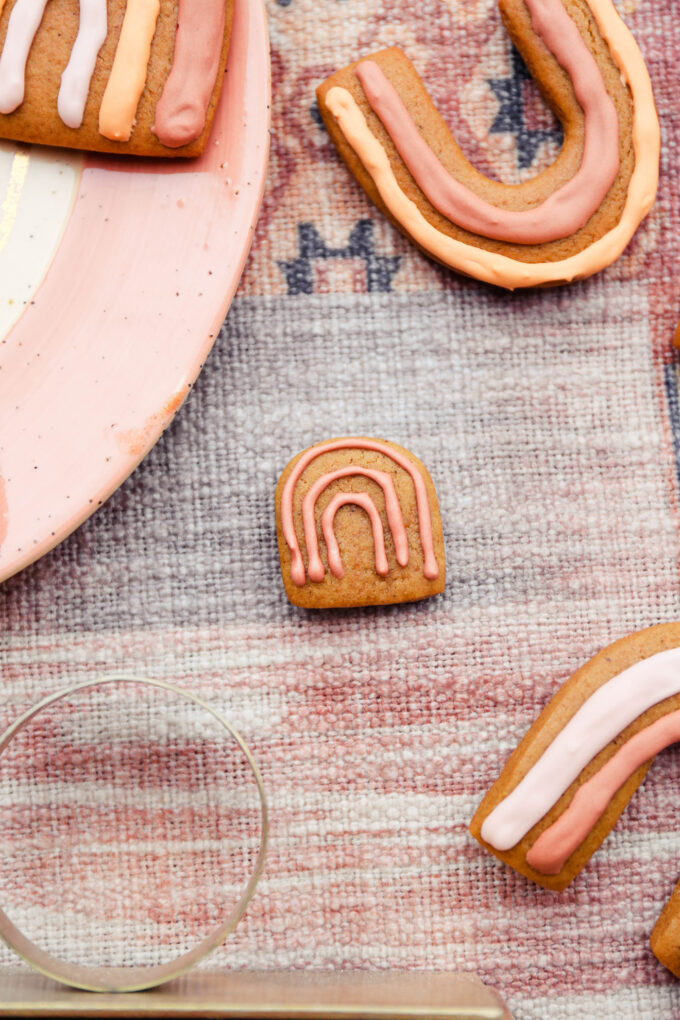 I also used the mini cut-outs from the inside of each rainbow to make teeny tiny rainbows. These suckers are like popcorn and shouldn't be eaten without supervision. Just saying.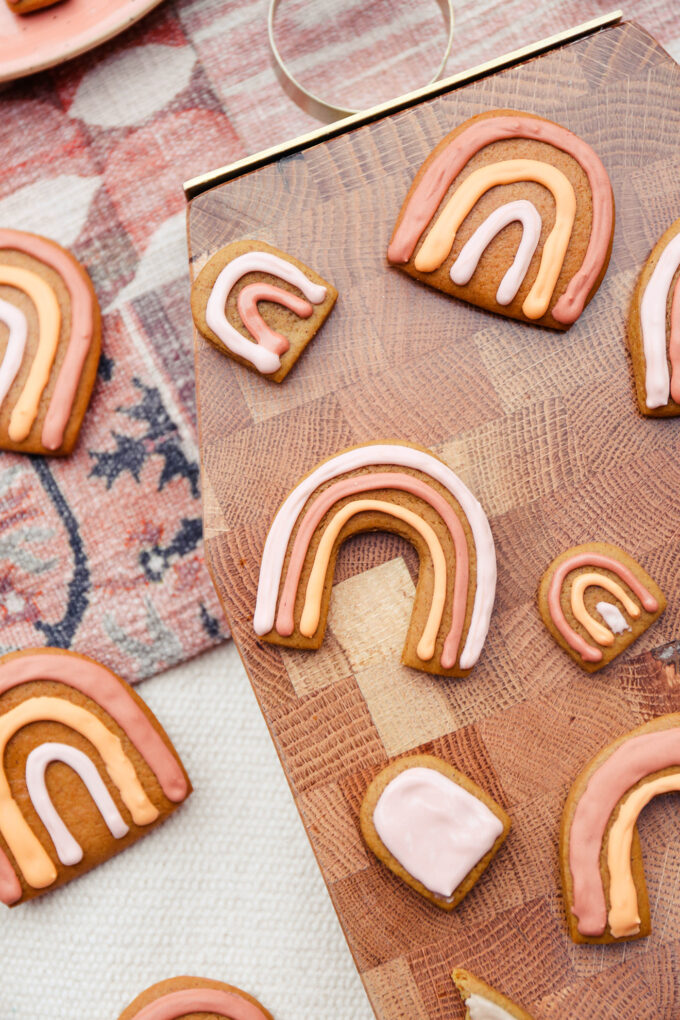 Each batch makes a little more than two dozen cookies. Depending on the size of your rainbows, you could stretch that out to quite a bit more. The icing part is the most tedious part, but it is totally worth it and will be sure to win you first prize if there is a prize somewhere at some point. These little rainbows just make me so giddy!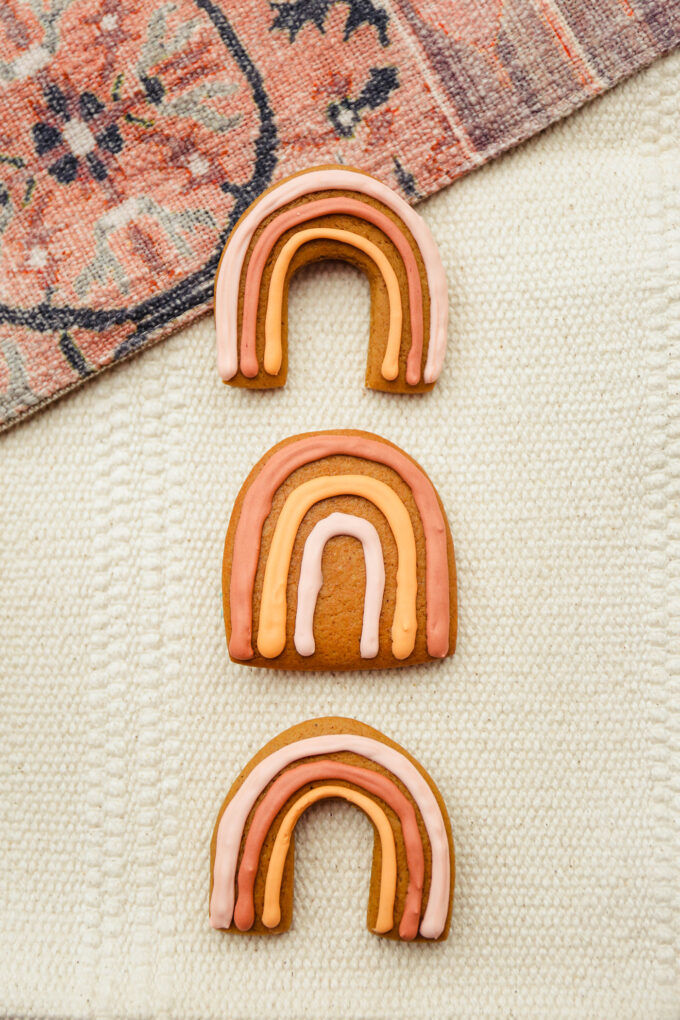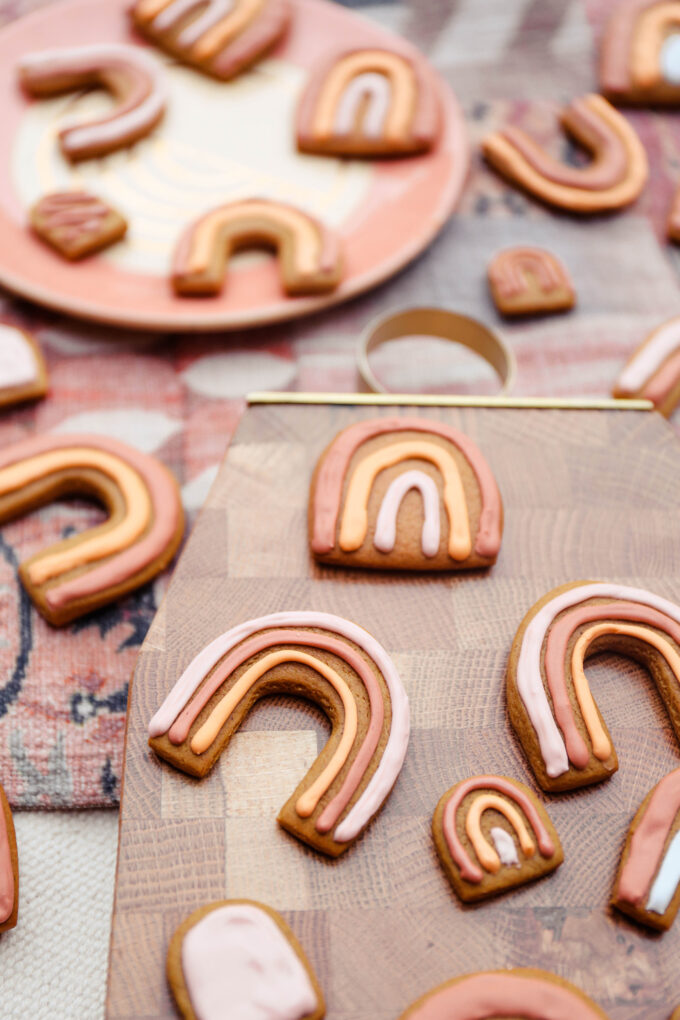 So, be the ultimate friend/neighbor/coworker and gift someone a plate of these. It might be hard to part with them, but they'll certainly brighten someone's day.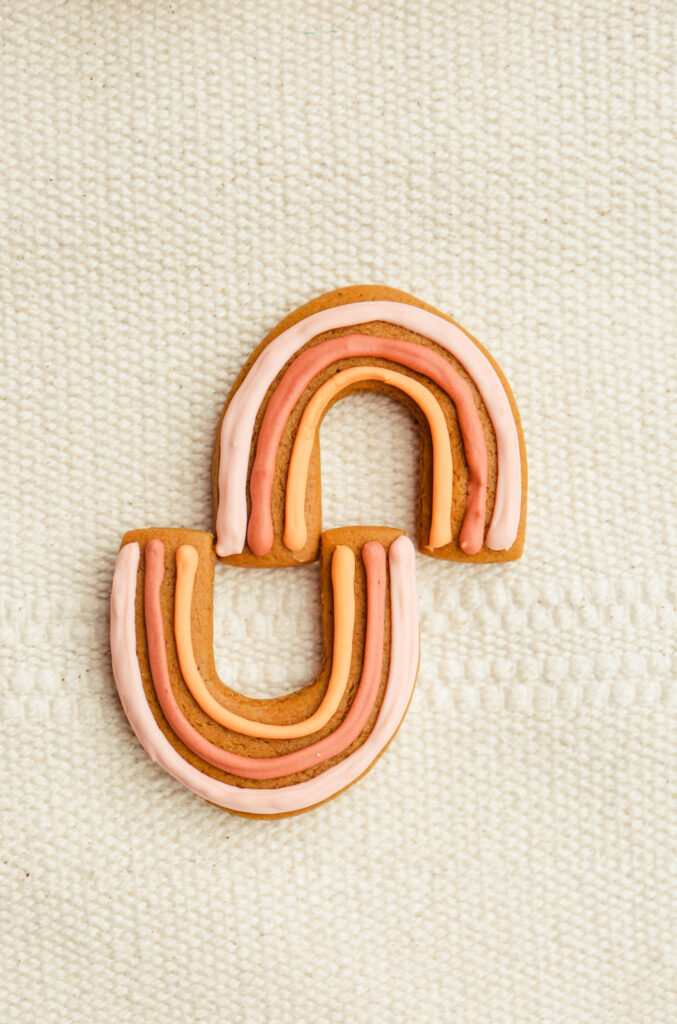 Print
Boho Rainbow Gingerbread Cookies
Give the classic gingerbread holiday treat a modern makeover with these boho rainbow gingerbread cookies! They're beautiful, on trend, and so so delish!
Author:
Prep Time:

15 min + 3 hours

Cook Time:

5-7 min

Total Time:

3 hours 20 minutes

Yield:

2

dozen

1

x
For the cookies:
For the icing:
2

egg whites

3

–

4

tablespoons lemon juice

3 cups

powdered sugar
In a medium bowl with a hand mixer, beat the eggs and lemon juice until frothy. Slowly add the powdered sugar in small increments until combined. Beat on high for 5 minutes until stiff peaks form. Add a few spoonfuls of icing to a piping bag for your outline color. Make the icing a little runnier to act as your "flood" icing by adding a little lemon juice to thin it out. You don't want it to be too runny, just enough to easily spread around the cookie if necessary. Separate into small bowls and tint as many colors as you need. Happy frosting!
Instructions
In the bowl of a stand mixer, whip the butter until soft. Add the sugar and egg and mix until combined. Add the molasses and vanilla, and beat on high for 30 seconds.
In a separate bowl, combine all of the dry ingredients and whisk until mixed well. Slowly pour dry ingredient mix into the wet. Mix on low until everything is combined. Dough may be slightly crumbly.
Separate dough into two halves. Roll into balls and wrap in plastic and chill in the refrigerator for 3 hours. (If you're not using the dough right away, you can keep it in the refrigerator for a few days.
When you're ready to roll out and cut your cookies, preheat your oven to 375 degrees Fahrenheit. Place one half of the dough on a lightly floured sheet of parchment paper. Top with a second sheet of parchment paper and gently roll out to about 1/4″ thick with a rolling pin.
Cut out the cookies with a cutter and place on a parchment-lined cookie sheet. Bake for 5-7 minutes for soft cookies, longer if you like them crisp. Let cool before frosting with icing.
Keywords: gingerbread cookies, boho rainbow, holiday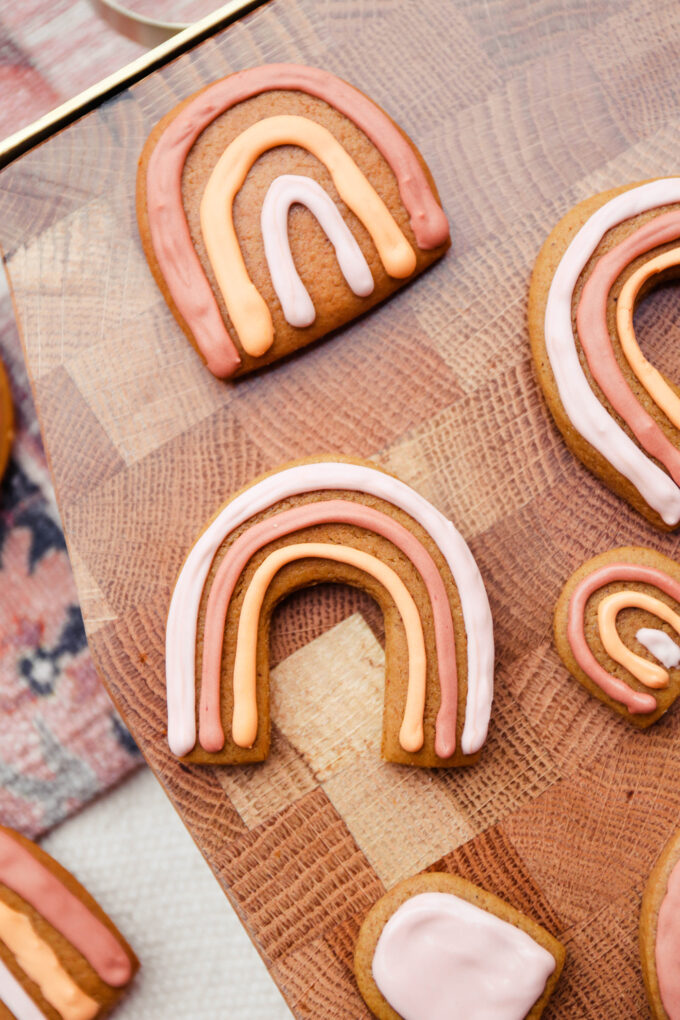 Be sure to check out the links below for all the other delicious #ChristmasCookieSquad cookies! Get ready to pin all of these tasty treats! You're going to be the ultimate baller at all of the cookie parties this season.
Rudolph Nose Dough Balls by Julie Blanner
Chocolate Cherry Chunk Cookies by Sugar & Charm
Chai Spice Sugar Cookies with Vanilla Bean Drizzle by Lovely Indeed
Christmas Sugar Cookies by Paper & Stitch
Reindeer Truffle Cookies by Pizzazzerie
Peppermint Kiss Cookies by Inspired By Charm
Hot Chocolate Marshmallow Linzer Cookies by Freutcake
And in case you're looking for more holiday cookie inspo, check out last year's cookie swap recipe – we hacked all the macarons! OR these ornament-painted macs! <—- This one comes with a whole treasure-trove of free printables too! Happy making and baking!
photography \\ Lexy Ward